---
Northampton Mercury - Saturday 18 May 1861
COMPACT FREEHOLD - HOUSE AND LAND,
COSGROVE, Northamptonshire.
TO BE SOLD BY AUCTION,
By Mr. DURHAM,
On Friday, the 7th day of June, 1861, at the Cock Hotel, Stony Stratford, Bucks, at Five o'clock in the Afternoon (subject to conditions to be then produced),
FREEHOLD stone built and slated DWELLING HOUSE, comprising entrance hall, two parlours, kitchen dairy, cellar, and five good sleeping rooms, with gardens, farm yard and convenient buildings, together with 20 ACRES (more or less) of very superior PASTURE LAND in three Closes, situate at Cosgrove Green, and now in the occupation of Mr. Joseph Forster; also, SIX COTTAGES, with large garden well planted with fruit trees adjoining the same.
There is a Land Tax of £3 1s. per annum. The property will be sold subject to the existing rights of way over it to other properties. Particulars may be had at the Inns in the neighbourhood, or the office of John Jeffery, Esq., Solicitor, Northampton, of Mr. Durham, Land Agent, &c, Stony Stratford, Bucks, or at the office of Flint, Whichello and Durham, Leighton Buzzard, Beds.
---
Northampton Mercury - Friday 18 July 1902
COSGROVE, Northamptonshire,
Two and a-half miles from Stony Stratford, and
two miles from Castlethorpe Station, and N.-W. Ry. Main Line.
DESIRABLE FREEHOLD ESTATES AND COTTAGE PROPERTIES
TO BE SOLD BY AUCTION,
BY PEIRCE and THORPE
at the GEORGE HOTEL, NORTHAMPTON, on Saturday, August 2nd, 1902, at Three o'clock precisely, by order of the Trustees of the late H. P. Gates, Esq.
Lot 1 The GREEN FARM, COSGROVE, a compact and highly desirable small Freehold Farm, comprising a substantial stone and slated House and Homestead, with gardens and appurtenances and Two Enclosures of rich old PASTURE LAND, the whole containing 15a. 1r. 27p. or thereabouts, now in the occupation of Mr. Geo. Valentine, as yearly tenant.
---
Northampton Mercury - Friday 08 August 1902
AGRICULTURAL PROPERTY SALE AT
NORTHAMPTON.
Mr. C. E. Thorpe, of firm of Messrs. Peirce and Thorpe, auctioneers, Northampton, conducted a sale of agricultural property, at the George Hotel. Northampton on Saturday afternoon. The property, all which is situated in Cosgrove, was sold by order the trustees of the late Mr. Henry Pearson Gates, Peterborough, Registrar of the Diocese. The first lot was the Green Farm, Cosgrove, consisting of a farmhouse, with yard and outhouses, and two enclosures of land, with a total area 15a. 1r. 27p. This was sold to Mr. G. F. Branson, neighbouring landowner, for £825. Three brick and slated cottages and two stone-built cottages, with a small piece of land adjoining this lot, were sold for £480 to Mr. Jelley. A close of pasture land, 3a. 3r. 32p. area, was bought by Mr. Branson for £350. In the centre of the lot "St. Vincent's Well." described as "the widely-known and never-failing Chalybeate spring, the properties of which are of great value". Three stone cottages with gardens, 2r. 38p. in extent, fetched £290, Mr. Branson being the purchaser. The solicitors concerned were Messrs. Percival Son. Peterborough.
---
Northampton Mercury - Friday 05 February 1904
COSGROVE.
Two Miles from Castlethorpe Station, L. and N.-W. Railway.
9 Very Good SHORTHORN COWS. In-calf
and in Profit, and
2 Weaned CALVES, 8 PIGS, 24 FOWLS,
RICK Well-gotten HAY, about 13 Tons,
to go off;


Two-knife Chaff Machine. Pulper, Two Scotch Carts, Thiller and Chain Harness, etc.; a Tinkler's Churn, Dairy Vessels, and SURPLUS FURNITURE,
WILL BE SOLD BY AUCTION,
BY PEIRCE and THORPE
On Thursday, February 18th, 1904, by order of Mr. George Valentine, who is giving up business on account of ill-health. Sale to Commence at 11 for 11.30 precisely.
---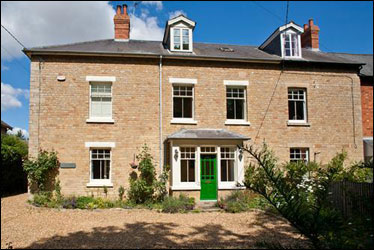 Longwood is the property which was the right hand half of the houses erected by the Rev Hewson in 1904. It continued in the living of the Church at Cosgrove until 1956.
27 December 1956 – Conveyance between
Rev J S Benson of the Rectory Cosgrove (vendor) of the first part
The Church Commissioners for England of the second part
Francis Arthur Alexander Hewson (Patron) of the third part
Gerald Freestone of 5 Bridge Road – Wood machinist and Maintenance Engineer (Purchaser) of the fourth part
Authorising the sale of Longwood for £675
Providing that the property shall never be used as or for a place of amusement, hotel, tavern, inn or public house nor shall any spiritous or fermented liquors at any time be sold in or upon the same property or any part thereof (also no nuisance clauses)