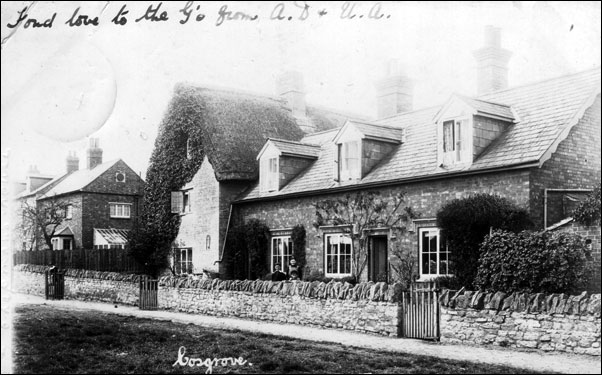 House History 7 The Green
Listing Text 1988
COSGROVE THE GREEN
SP7941 (North side)
16/16 No.7
II
Cottage. Mid C17, altered C20. Coursed squared limestone, corrugated asbestos
roof over thatch, brick ridge stack on stone base. 2-unit lobby-entry plan. 2
storeys and attic, 3-window range. Central C20 lean-to porch, 2-light casement
windows to ground floor, 3-light casements to 1st floor left and right of
central 1-light casement, all with wood lintels. Right gable end faces street
and has 3-light casement windows to ground and 1st floors and 2-light casement
to attic, all with wood lintels. Interior: bar-stop-chamfered spine beams,
blocked inglenooks back-to-back in central stack. Purlin roof.

Listing NGR: SP7958742771
The listing text above, written in 1988, adds weight to local belief that this house was originally built some time in the mid 17th century. We know from the roof descriptions that it was thatched in the first instance, as seen in the postcard below, from the early 1900s.
From the garden the nature of the stonework to the front of the house looks too fine to be a cottage property, and the window in the ground floor gable end appear at some time to have been a doorway. One might suppose that at the time the front garden walls and gates were erected the entrance to the house may have had a south facing aspect, whereas we know that when it was divided into two cottage dwellings, they faced towards the well in the garden to the west, which they probably shared.
In the 21st century the owner of this house removed some plaster in an upper room to embed a mirror in a bathroom wall.
A handful of screwed up paper was pushed into a plaster cavity, which proved to have handwriting on it, transcribed below:
H..es …. Augst ye 24 1703
I understand that you [have] not payd that money
that you are dew to Mrs Wilkinson which has
been now of longstanding I wold their for Advis
you to pay it to her and that upon sight other
(burnt) [wi]ll put you to more Charges So I give you
(missing) ing that if trouble Comes blame (missing) I do not de (missing) to
By (missing) for
Sheured you are (missing)
Justices of the (missing) Qua. (I believe this letter to be the old way of writing Q]
of the peace
for the County of Northants
on Tuesday the …. Day of Aprill instant? Hereto to pafye the (missing) your knowledge (missing) appeale there to be tr(missing)
between the Inhab(missing) in the sayd
County (missing Northants of (missing)
potterspury? the sd County of Northton
comencing the last legall (missing) Northton
his wife and Children and of John Clark
om(missing) penalty of one illeg (missing) you are not (missing)
North …. this sixth day of [Apri]ll
and dated
anno
i7i4
Wilkinsons appear in Cosgrove Church records from 1718. Possibly the tenant in 1703 was late with his rent, and screwed up the final demand in a temper, wedging it into the wall? There is no mention of the Wilkinson name in terriers or rentals.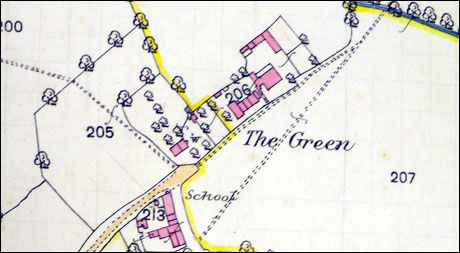 A plan of The Green, West side, drawn in 1884, shows the house as a single property, sitting in piece of land apparently including the four cottages to the east.
Thomas Packer
We believe that Thomas may have been a long term occupier of the house now called 7 The Green.
Thomas's birth may only have been registered in Potterspury in 1814 – as Thomas was later a boatman it is possible that he was born on the canal. He may have had a sister, Margaret, born in 1817.
Harriet was Harriet Henson before marriage in 1839. She was born in Cosgrove. Thomas Packer was a boatman at the time of his marriage, and signed the register with his mark, as he could not write.
In 1841 they were sharing a property in Cosgrove with the Buckingham family.
In 1851 Thomas and Harriet don't appear in Cosgrove Census. From 1853 to 1856 Thomas was paying £2 pa rental for a cottage in Cosgrove belonging to the Mansel / Cosgrove Hall Estate.
In 1861 Thomas was on his own in a cottage in Cosgrove which may or may not have been 6/7 The Green. He does not appear on the Mansel Estate rentals further. The "Burnal" family did not live next door to him at this point – but were either Packer or the Burnals at 6/7 The Green?
In 1871 Thomas and Harriet were described as both living in a cottage in Cosgrove. It is possible the cottage was the same one but sold to a different owner. Their immediate neighbours in this Census were the Burnells, so this was probably 6/7 The Green, as confirmed by the 1881 Census.
1881 Census
| | | | | | | |
| --- | --- | --- | --- | --- | --- | --- |
| William | BURNELL | head | married | 55 | | Factory Labourer |
| Elizabeth | BURNELL | wife | married | | 45 | Lace Maker |
| Mary Ann Frances | BURNELL | daughter | unmarried | | 23 | Lace Maker - Deaf & Dumb |
| Chas Ernest | BURNELL | son | unmarried | 13 | | Farm Labourer |
| Elizabeth | BURNELL | daughter | unmarried | | 12 | Scholar |
| Ann Maria | BURNELL | daughter | unmarried | | 9 | Scholar |
| Eliza | BURNELL | daughter | unmarried | | 7 | Scholar |
| Sarah Jane | BURNELL | daughter | unmarried | | 5 | Scholar |
| Thomas | PACKER | head | married | 67 | | Gardener (D) |
| Harriett | PACKER | wife | married | | 64 | |
Harriet Packer was buried in Cosgrove Churchyard 29 August 1888. A Margaret Packer was buried in Cosgrove in 1888 – was Harriet's middle name Margaret?
In the 1891 Census Thomas was living at 6 The Green West Side (later renumbered to 7). Aged 77, he was a domestic gardener.
On 12 April 1902, aged 88, Thomas was buried at Cosgrove Church from the Workhouse at Yardley Gobion.
Northampton Mercury - Saturday 18 May 1861
COMPACT FREEHOLD - HOUSE AND LAND,
COSGROVE, Northamptonshire.
TO BE SOLD BY AUCTION,
By Mr. DURHAM,
On Friday, the 7th day of June, 1861, at the Cock Hotel, Stony Stratford, Bucks, at Five o'clock in the Afternoon (subject to conditions to be then produced),
FREEHOLD stone built and slated DWELLING HOUSE, comprising entrance hall, two parlours, kitchen dairy, cellar, and five good sleeping rooms, with gardens, farm yard and convenient buildings, together with 20 ACRES (more or less) of very superior PASTURE LAND in three Closes, situate at Cosgrove Green, and now in the occupation of Mr. Joseph Forster; also, SIX COTTAGES, with large garden well planted with fruit trees adjoining the same.
There is a Land Tax of £3 1s. per annum. The property will be sold subject to the existing rights of way over it to other properties. Particulars may be had at the Inns in the neighbourhood, or the office of John Jeffery, Esq., Solicitor, Northampton, of Mr. Durham, Land Agent, &c, Stony Stratford, Bucks, or at the office of Flint, Whichello and Durham, Leighton Buzzard, Beds.
Our clue as to the purchaser of this sale comes from Philip Riden's work stating that "Green Farm was sold in 1861 by William Franklin to Henry Pearson Gates, the Peterborough diocesan registrar, who died in 1893." This sale included the six cottages mentioned in the auction above, two of which constitute 7 The Green today.
A familial link between this distinguished cleric and the farming Gates family of Cosgrove has yet to be established in detail, but seems probable.
Henry Pearson Gates had, in 1845, married Eleanor Maria Mansel, daughter of Reverend Henry Longueville Mansel, Rector of Cosgrove and Maria Margaret Moorsom, daughter of Admiral Moorsom. There is a memorial to Eleanor Maria in Peterborough Cathedral.
The Burnell Family
We can see from the Church registers that the Burnell family had nine children, the oldest boy of which, Robert, and the youngest, William, died in infancy, as well as a baby girl, Eliza, who lived only a week. This family occupied at least half of the property 6/7 The Green.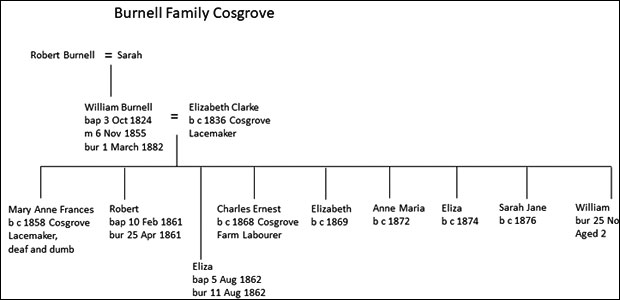 On 1st March 1882 William Burnell was buried at Cosgrove Church. His family appear in the following census in 1891 in the Workhouse Yard cottages. Despite her skills as a Lacemaker Elizabeth was reduced to charring work. Handmade lace was already a declining industry in the village as the fashion for machine made lace increased. Her remaining son Charles was in trouble in 1883 for stealing wood, presumably for the fire, from John Clarke's farm. He was fined 10 shillings.
| | | | | | | | |
| --- | --- | --- | --- | --- | --- | --- | --- |
| 4 Workhouse Yard | Elizabeth | BURNELL | head | widow | | 55 | Charwoman |
| | Mary Ann F | BURNELL | daughter | single | | 34 | help in Laundry |
| | Charles Ernest | BURNELL | son | single | 24 | | Railway Labourer |
| | Sarah Jane | BURNELL | daughter | single | | 15 | |
The missing children, Elizabeth and Eliza, do not appear in the Cosgrove Census for 1891, so it is possible that they were working outside the parish.
During the next ten years Charles Ernest became a brass fitter – probably at the Railway Works - married and went to live in the Blacksmith's cottages behind the Barley Mow, where his wife had four children. We know from newspaper reports of 1890 that he sang in the Church choir and was an able runner in sports races. By 1911 he had returned to farming work and was a horseman at Cobbs Bush Farm.
Elizabeth Burnell had been in service with Major Grant Thorold for 40 years when she died in 1919 at the age of 82. She had been given a cottage in the Hill Houses group by the Cosgrove Hall family, for whom, her daughter Mary Anne was still a laundress. Major Grant Thorold attended her funeral.
Northampton Mercury - Friday 18 July 1902
COSGROVE, Northamptonshire,
Two and a-half miles from Stony Stratford, and
two miles from Castlethorpe Station, and N.-W. Ry. Main Line.
DESIRABLE FREEHOLD ESTATES AND COTTAGE PROPERTIES
TO BE SOLD BY AUCTION,
BY PEIRCE and THORPE
at the GEORGE HOTEL, NORTHAMPTON, on Saturday, August 2nd, 1902, at Three o'clock precisely, by order of the Trustees of the late H. P. Gates, Esq.
Lot 1 The GREEN FARM, COSGROVE, a compact and highly desirable small Freehold Farm, comprising a substantial stone and slated House and Homestead, with gardens and appurtenances and Two Enclosures of rich old PASTURE LAND, the whole containing 15a. 1r. 27p. or thereabouts, now in the occupation of Mr. Geo. Valentine, as yearly tenant.
Lot 2 Three brick and slated and two stone built COTTAGES, adjoining Lot 1, with gardens, barns, and appurtenances, and small piece of Grass Land the rear. Tenants: Messrs. Briggs. Johnson, Toombs, Swain, and Moore.
Lot 3 An Enclosure of Rich Accommodation PASTURE LAND, near to Lot 1, containing 3a. 3r. 32p., now occupied by Mr. Geo. Valentine, as yearly tenant. In the centre of this Lot is the well-known and never-failing chalybeate spring, St. Vincent's Well.
Lot 4 —Three stone-built COTTAGES, with large and productive gardens, situate adjoining Lots 1 and 3, the occupation of Messrs. Chapman, Beasley, and Green, and containing an area of 2 roods 38 perches.
Descriptive particulars, with plan and conditions of sale, are being prepared and may be obtained of Messrs. PERCIVAL and SON, Solicitors, Priestgate, Peterborough; Of Messrs. Durham, Gotto, and Samuel, Land Agents and Surveyors, Northampton, Stony Stratford, and Newport Pagnell; or of the Auctioneers, Northampton.
This plan shows detail of the properties alongside Green Farm, mapped at some time after 1903.

The house now called 7 The Green lies at right angles to the lane nearest the Mission Hall path, and appears to be divided into two cottages, which would agree with the 19th century records.
The deeds of no 7 The Green show that after Henry Pearson Gates died on 6th May 1893, John Andrew and Herbert Percival, and Henry William Gates of Peterborough, his executors, acted as Trustees, and eventually, following the death of Eleanor Gates on 30th April 1902, conveyed the house and its appurtenances to A F Jell(e)y, for £480.
At that time the property included [text extended]
"All those five several messuages or tenements and garden with the appurtenances to the same respectively belonging situate at Cosgrove in the County of Northampton in a certain place there called The Green in the occupation of Messieurs Briggs, Johnson, Tombs, Swain and Moore and also all that small piece of grass land adjoining the North side of the said hereditaments as then staked out All of which said hereditaments intended to be thereby conveyed were more particularly described on the map or plan drawn on the 3rd page of those presents and thereon coloured pink.
Together with the full and free right and liberty to pass on foot or with horses, carts and other carriages when necessary by over and along the strip of land on the south side of the said hereditaments extending from the eastern boundary of the land thereby conveyed to the public road within the dotted lines shown on the said plan end to end from the land thereby conveyed to and from the public land."
The deeds record that Arthur Frederick Jelley died intestate on 17th September 1938 and probate was granted to Constance Louise Markham the wife of Arthur James Markham of Newnham Lodge Daventry, and Irene Margaret Ruff the wife of George Williamson Ruff of The Brewery House, Cosgrove.
This document excepted and reserved from the property "a portion of two small pieces of grass land which with a 6 foot pathway was sometime since the 11th October 1902 conveyed by the said A F Jelley to the Trustees of The Cosgrove Mission Hall."
On 11th October 1941 a conveyance between Irene Margaret Ruff (vendor), Amy Luie Heggs of Park Crest, Weston Road, Northampton (mortgagee) and Alice Theodora Feil, widow, of The Green, Cosgrove (Purchaser) transferred a mortgage of £150 to Mrs Feil to purchase the property, described as having "formerly consisted of two cottages occupied by Mrs and Mr Stewart" coloured Red and Pink on the plan "Together with the use of the Lavatory accommodation on other land of the Vendor".
The document reveals that Arthur Frederick Jelley had mortgaged the property several times from 1906 onwards.
The Feil Family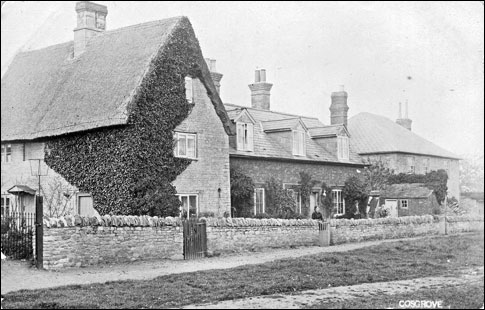 The postcard above was written by "Sarah" to a friend. Sarah Valentine was buried from a house on The Green on 1st December 1931 at the age of 84. We now know that an Aubrey Valentine later lived in one of the low thatched cottages on the opposite side of the Green.
Alice Feil was a Valentine before her marriage. She was often known as "Dora" for Theodora, in the village.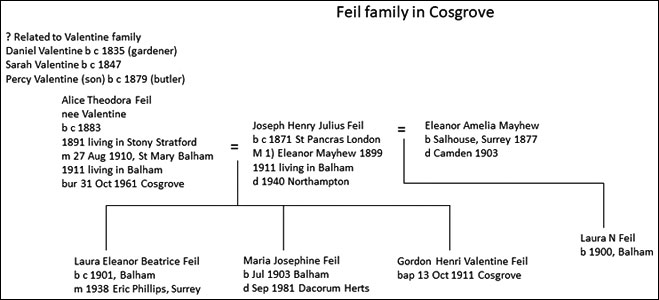 NRO NBP 55 Econ Hist Inns 1924
Philip Riden's notes record:
Co. offered small field adjoining Barge Inn, Cosgrove.
24 September bought for £75 from Mrs Alice T Feil.
We don't yet know why Alice held this piece of land, apparently unconnected with other property.
The Feils were great senders of postcards, particularly views of Cosgrove in the first decade of the 20th century. Much of the photographic archive compiled by Colin Kightley comes from their postcards.
Many of these cards were sent to friends and family in Balham, mostly to Joseph Feil, Alice's husband.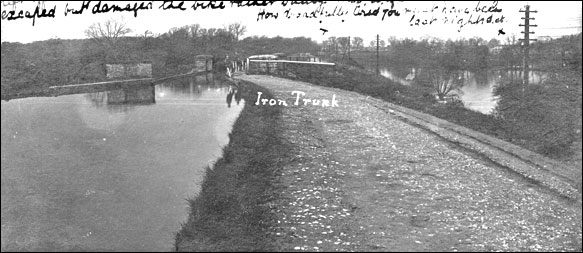 Posted to Mr. J. Feil 15 Oakmead Rd, Balham, S.W. February 10th 1909
Text on the postcard: This shows the "Broadwater" on the right hand side. It sometimes flows right into the river Ouse which is underneath the "Iron Trunk". The river separates Northants from Bucks. You will notice "Cosgrove Lodge" Mr. B's [Branson's] House on the right hand side and as you know our house is just behind it. You can also see the locks and lock house at the side of the canal. The "Towing path" is terribly rough and used to cut the tyres of my bike when I rode along here to the shop. I often used to ride over the "Trunk" to save the trouble of getting off my bike. I have left off doing it though now as I once had rather a bad accident I escaped but damaged the bike rather badly. This is of course looking towards C. [Cosgrove]
Wolverton Express 30th January 1942
Cosgrove Red Cross Effort
An example of what even a village can do in a good cause when it makes up its mind was provided on Friday week, when the Old School at Cosgrove was filled to capacity. The occasion was a social evening arranged in aid of the British Red Cross fund, and as a result a substantial sum will be handed over to that worthy organisation.
Altogether the Red Cross fund will benefit to the extent of about £21, and it may be mentioned by way of postscript that this highly satisfactory result is due in no small measure to Mrs. Feil and her daughter, [Marie], who planned and carried through the effort with enterprise and enthusiasm.
The Feils were great fund raisers and would loan their piano and organise events, like concerts, for Cosgrove causes and national charities.
In 1943 Mrs Feil was Churchwarden, described thus "She was a stout lady, but such a beaming smile, it made you happy to look at her," on the occasion of Joan Higgins wedding to Cyril Brockway. Mrs Feil had to collect the Rector, who was somewhat drunk and had forgotten that he had a wedding to perform, but who evidently succumbed to Mrs Feil's exhortations to attend.
NRO 81p/271 Church 1943-44
2 Oct 1943. PCC meeting to discuss services and how the duty was to be performed. Mrs. Feil churchwarden stated that Rector Hewson was incapable of performing duty owing to his age; everyone agreed that was obvious, but could see no way out of difficulty. Rev. Beasley to be asked to take Sunday afternoon services; no morning service possible; Hewson (patron) to pay for this.
In 1946 Alice and Marie Feil are recorded as living at 7 The Green on the Electoral Roll. Alice was about 63 and her daughter Marie was about 42. Alice's husband, Marie's father, Joseph Henry Julius Feil, who had been a shipping clerk in London when he married Alice in 1910, had died in Northampton in 1940. It seems from their dates that Alice's marriage came after Marie's birth and that of another daughter, Laura, born in 1901. All Joseph's estate was left to Alice, a total of £777 10s.
Joseph Henry Julius Feil appears to have had a previous marriage in 1899 to Eleanor Amelia Mayhew, who gave birth to a daughter, Laura, in Balham in 1900. Eleanor died in 1903 and is buried in Camden, by which time Joseph Henry Julius apparently already had two daughters by Alice Theodora [Valentine]. We believe that Dora Feil is the same person as Alice Theodora Feil.
In the Wolverton Express 17th March 1950 Mr L Feil is described as a talented show producer. We do not yet know of his connection to Alice's family.
We have a photograph showing the Women's Institute summer meeting at The Priory, Cosgrove, June 1950. Dora Feil is fourth from the left in the back row.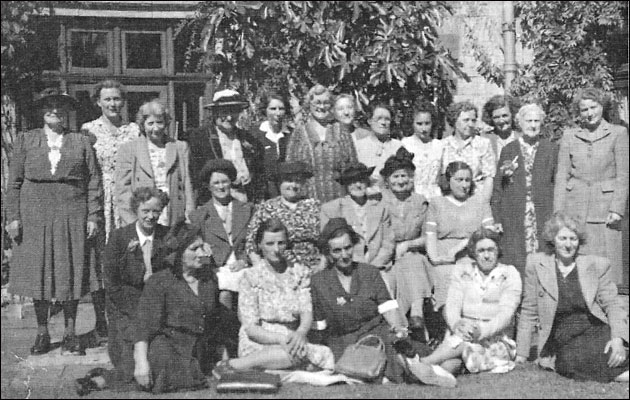 Back row left to right: Miss Gertrude Marlow, Kathleen Jones, Ethel Gallop, Dora Feil, Joan Brockway, Edith Brockway, Daisy Davis, Gertie Chown, Miss Ruby Kitsor (of New Zealand), Wyn Childs, Mona Hickford, Agnes Elderton, Alice Fitzgibbon.
Middle row: Mrs Proudfoot, Linda Lyman, Daisy Gascoigne, Florrie Castle, Mercy Clarke, Mrs. Bill Ratcliffe.
Front row: Mrs. Malcolm Jelley, Dorothy Hebson, Olive Johnson, Nellie Whitaker, Annie Tompkins
| | |
| --- | --- |
| | Mrs Feil was a very active member of Cosgrove WI, and would frequently give the votes of thanks to speakers and donate competition prizes. She was voted delegate to the annual meeting at the Albert Hall in 1956. |
In 1952 the Electoral roll shows Alice T Feil, Marie J Feil and Richard J Feil at the Green, although Richard was recorded as resident in Kensington. It seems likely that Richard was the second son of Alice, referred to in the article following, although no corroboration has been found.
Northampton Mercury - Friday 01 January 1954
A North Bucks representative in the honours list is Miss Marie Josephine Feil, The Green, Cosgrove, who has been awarded the M.B.E. Employed at the Foreign Office (London) she has held her present position for several years. Her family moved from London to North Bucks at the beginning of the war. Her mother has been people's warden at the parish church for 13 years, and has taken an active interest in village affairs. She has two daughters and two sons. The younger son is studying at the London School of Economics.
Mrs Feil regularly played the organ at Cosgrove Church
Wolverton Express 10th June 1955
Cosgrove Funeral of Mrs. Harriet Heap
Resident at the Little Manor, Cosgrove for 20 years, Mrs. Harriet E B Heap died on May 28 with unexpected suddenness in Northampton Hospital. Her late husband, a well-known builder and contractor in Northampton, died 20 years ago. Deceased lady was born at Wellingborough and had lived in Northamptonshire all her life. She was held in esteem by all with whom she came into contact.
The funeral was on June 2 at Cosgrove, the service in the Parish Church being conducted by the Rev. J S Benson, Rector; Mrs. Feil, organist, played for the hymns "The church's one foundation" and "Abide with me", also the 23rd psalm and the Nunc Dimittis. Interment was in the churchyard beside deceased husband's grave.
Both the Feil daughters were in Cosgrove in the mid 1950s, and supported Cosgrove Church like their mother.
Wolverton Express 2nd December 1955
A Record Sum for Cosgrove Church
A record sum was raised when SS Peter and Paul Church Cosgrove held a sale in the Victory Hall on Friday evening. The £80 raised, which was £17 more than any previous total, will go to church funds, with special emphasis on the need for relaying the church tower roof.
The opener was Mrs. W M Douglass, of Stony Stratford, who was introduced by the Rector, the Rev. J S Benson. A vote of thanks was given by Captain E G Purser, and Judith Hefford presented Mrs. Douglass with a bouquet.
There was a wide variety of stalls with a good display other articles for sale. Stallholders and helpers were Mesdames D Feil, P Y Atkinson, Harris, Hebson, F. Hillyer, E. Lambert, C Brockway, G Beasley, W. Brockway, J S Benson, Brassington, Durant, Elder, J. Johnson, Stubbs, Barton, the Misses M Feil, Hickford, Marlow, Hillyer, Messrs. L Feil, E Lambert, J. Higgins and Keith Stubbs.

Wolverton Express 6th December 1957
£92 RAISED FOR COSGROVE CHURCH
Sale of Work Well Patronised
Although it is one of the smallest places in South Northants the village of Cosgrove gives good support to the annual Christmas sale to raise funds for the parish church. Last Friday evening there was the usual crowd buying presents, and as a result of the work of the helpers the sum of £92 12s, was raised. The Rector, the Rev. J. S. Benson, congratulated these who are collecting for the church in boxes at home, and announced that the amount for last quarter was £35 3s. 3d. This raised the possibility, he said, of disposing with such events as the sale, which caused a great deal of work to fall upon a few. Work on Tower Dealing with the need to raise money, the Rector said repairs were urgently required to the tower of the church.
People might wonder why fund raising was necessary when they read that the income of the Church Commissioners last year was £11 million, but £7 million of that went on stipends of clergy and the rest in grants, Their own church had been granted £1,000 for the renovation and modernisation of the Rectory, but they were still faced with the prospect of having to spend hundreds of pounds on the church in years to come.
The Hon. Mrs. D. Lawson, of Passenham, opened the sale and congratulated those who had worked towards the effort with enthusiasm and keenness. She was thanked by Capt. E. Go Purser and handed a bouquet by Susan Eglesfield. Helpers were : Mesdames J. S. Benson. Mapley, Beasley, E. Lambert, F. Hillyer, J. Hebson, Fell, Harris, C. Brockway, W. Brockway Hickford, Johnson, Miss Hillyer, Miss Marlow, Miss Fell; Messrs. G. Feil, J. Higgins, and E. Lambert. Mr. E Lambert and Mr. J, Lambert gave a recital of handbell ringing during the evening.


Mrs Feil served on the Parish Church Council at Cosgrove for 15 years.
Wolverton Express 11th September 1959
Cosgrove Parish Church stalwarts
At a recent meeting of Cosgrove Parish Church Council the services of two retired members were placed on record. Appreciation was expressed for the valuable work performed on behalf of the parish by Mr. J. Higgins, for 13 years Rector's Warden and many years a bellringer, and Mrs D. Feil, who during the past 15 years has filled offices of Peoples' Warden, secretary and treasurer. Their successors are Capt. E. Gt Purser, Old Stratford, Rector's Warden, Mr, E. Lambert. Peoples' Warden, Mr. J. Wootton, Potterspury, a lay reader, treasurer, and Mr. K. Stubbs, secretary.


Wolverton Express 4th December 1959
CHRISTMAS BAZAAR AT COSGROVE
The annual Christmas Bazaar of Cosgrove Church was held in the Victory Hall last Friday evening and raised £80 for Church funds. Mrs C R Whiting of Old Wolverton opened the bazaar and was thanked by Capt P Y Atkinson. Miss Diane Stewart presented flowers to Mrs Whiting, who was introduced by Mr P Lambert, people's warden.
Stallholders and helpers were Mesdames P Y Atkinson, F Hillyer, Hickford, W Brockway, C Brockway, D Chown, Beasley, E Lambert, Harris, Hebson, G Feil, Stubbs and Barton, Misses Marlow, Hillyer and M Feil, Mr G Feil, Mr E Lambert and Mr J Wootton (treasurer) and Mr K Stubbs (secretary).
Clues to the Feils' relationship with the Valentine family are revealed in the article below:
Wolverton Express 29th January 1960
Mr. Percy Valentine Dies at Cosgrove
Four of a former Old Wolverton family of five have died within the last two years, two within the last week. Mrs. Dora Feil, of Cosgrove, lost a sister and brother last week. Mr. Percy Lesley Valentine, who was nearly 81, died at her home, 7 The Green, and her sister, Mrs. C. Phillips, who was 82, died at Kineton, Warwick.
Mr. Valentine was a native of Old Wolverton, where he was a member of the church choir until he left the village. His father was gardener for the Rev. Henry Wood at Old Wolverton for many years and his mother was cook housekeeper for Mrs. Percival at Passenham Manor. He was a butler for many years and after retiring went to Cosgrove during the last war to live with his sister. He was found unconscious in his bedroom by his sister on January 17, and died two days later.
The funeral service was on January 21, at Cosgrove church, when Mrs. Feil has been people's warden, and treasurer and Secretary for many years, and was conducted by the Rev. Paul Hoskin, Rector of Wicken. Interment took place in the cemetery.
The family mourners were: Mrs. Dora Feil (sister); Miss Marie Feil, Mr. Gordon Feil, and Mr. Aubrey Phillips, Kineton (nieces and nephews). Although a churchgoer, in recent years Mr. Valentine had not been able to walk very well and often listened to the service is taking place next door at the Mission Hall, from whose members a wreath was received. Funeral arrangements were by Messrs. J S Cowley and Son.
Alice Feil was buried at Cosgrove Church on 31 August 1961 at the age of 78, in the middle churchyard. Marie Josephine died in Dacorum, Herts in 1981. Alice's son Gordon married in 1939, moved to Devon from Streatham, and died in Exeter in 1986.
Listing Text 1988
COSGROVE THE GREEN
SP7941 (North side)
16/16 No.7
II
Cottage. Mid C17, altered C20. Coursed squared limestone, corrugated asbestos
roof over thatch, brick ridge stack on stone base. 2-unit lobby-entry plan. 2
storeys and attic, 3-window range. Central C20 lean-to porch, 2-light casement
windows to ground floor, 3-light casements to 1st floor left and right of
central 1-light casement, all with wood lintels. Right gable end faces street
and has 3-light casement windows to ground and 1st floors and 2-light casement
to attic, all with wood lintels. Interior: bar-stop-chamfered spine beams,
blocked inglenooks back-to-back in central stack. Purlin roof.

Listing NGR: SP7958742771
A document written for an estate agent before 2002, although possibly somewhat coloured by the need to sell no 7 The Green, identifies features that excited a "Heritage Consultant" in the later years of the 20th century. At this time the thatched roof was covered with sheets of hard asbestos.
The interesting features noted were
A bake oven behind the newly exposed parlour ingle nook – this is back to back with an inglenook fireplace in the next room, having an eight foot beam of solid elm;
A "priest hole" door and lock mechanism

A cupboard door on the first floor (of three floors) which is cut down from a door
from an earlier period and made to fit by being positioned upside down
The finials on the beam ends in all the rooms;

Oak floors in all the upper rooms;

A window in a top floor room half original and half 20th century;

Period windows on all levels;

There is a small building with a slate roof in the garden, possibly the "lavatory" described in the previous conveyance;
A well in the garden

This document implies an owner after Mrs Feil, possibly "Mrs Mack" (Mrs MacLean) before owners Matthew and Catherine Cole who evidently altered and renovated the house between 2002 and 2004.

The current owners in 2019 have further restored and furnished the house to an exceptional standard to preserve and display its historical story.