The Earliest Times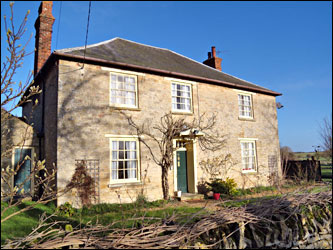 In the history of the settlement of Cosgrove, the place now known as Green Farm has always lain at the extremity of the village, on an ancient pathway out towards Castlethorpe, passed in earlier times by those taking grain to an older site of the water mill on the River Tove, which we believe to be the "molin" of the Domesday record.

XL. THE LAND OF WINEMAR
WINEMAR holds of the king half a hide and the fifth part of 1 virgate of land in COSGROVE.
There is land for 1½ ploughs. In demesne is 1 [plough], with 3 bordars. There is a mill rendering 13s , and 5 acres of meadow. [There is] woodland 3 furlongs in length and 2 furlongs in breadth. It was worth 10s ; now 20s.
Healfdene held it freely.
Green Farm's extraordinary place in the recording of village history will become evident later, as we reveal the residents of later years.
Medieval People
The "Grene" existed from the earliest written record we have, a land lease pertaining to "Forho" or Furtho, witnessed on 12th July 1274 by "John a la grene". As he is the only person connected with the Green at this time we surmise that Green Farm would have been his.

He would doubtless have known "Ralph de Molendino de Couesgrene", the miller at this time, who would have been his nearest neighbour.
We have a record of an assessment (of wealth or land) in 1301, in which John de la Grene is assessed at "iij iij o q" – this would have been 3s 3d in currency.
By 1305 John a la Grene had been succeded by John, son of John of Covesgrave, and the ancient path next to the farm had become "le Grenewey, next land once of Nicholas "de molendinis" of Cosgrave". We think that Nicholas may have been the son of Ralph the miller. The string of Johns inhabiting the farm on the Green makes for difficult identification! We know only of the heads of families in these times – the different Johns wives' never appear in documents.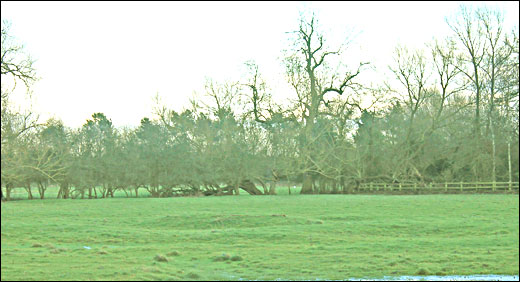 The Green itself, today a fairly unprepossessing field, held more significance in the past. The village of Cosgrove is thought to have been just one street leading through the Green, up the old path to Castlethorpe, but the land on either side of it belonged at different times in small pieces to other parishes, including Potterspury and Furtho. Eventually these anomalies were adjusted by exchanges and land agreements.
Some sources believe that the footpath to Castlethorpe could have been an ancient trackway, sometimes called a hollow-way. Neolithic finds have been recorded both at the Cosgrove end, and more recently in Castlethorpe following the building of new houses.
http://cosgrovehistory.co.uk/pdf/Quinnell1991
The excavation of the Roman villa across the canal revealed various flints and a beaker from Neolithic times, and work continues on similar finds at Castlethorpe.
Lidar impressions are now available to us, and traces of trackways leading to Castlethorpe from the Green can be seen. These are overlaid by ridge and furrow lines and are far from the deep and straight track of our imagination, but the footpath and right of way still exists across the fields and up the hill to Castlethorpe today.
There are bumps and dips in the fields in and around the Green which have been variously thought to be the outlines of older houses, gravel workings, and one "Mound" tantalisingly known to people who lived in Cosgrove as children as the Warrior's Mound.
| | |
| --- | --- |
| | Just yards from the line of the lane and footpath on the Green is St Vincent's Well – a chalybeate well, known from antiquity for its gases and healing water, and protected by Act of Parliament in 1767 from the Inclosures and later encroachment of the Canal. |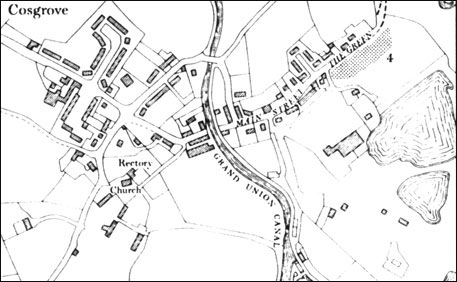 A Royal Commission on Historical Monuments from "An Inventory of Archaeological Sites in South - West Northamptonshire" gives the following plan, which shows some earthworks in the area.
Farming in Stuart Times
In 1686 William Lord Maynard, the second Baron Maynard, owned the Manor of Cosgrove amongst his many holdings. That year he held a Court Leet on 26th October, and a document was adopted setting out "Orders and bylaws made and agreed upon by the Jury and homage and Assented unto and Confirmed by the Steward", concerning use of lands by the residents of Cosgrove.
This document can still be viewed at Northampton Records Office, rolled up, rather like a toilet roll, and about the same size. Its calligraphy is still studied today by students in local schools.

It contains particular details of the Green, and how its liberties were to be used and controlled. Infringements of the rules were monitored by a bailiff working for Lord Maynard, and fines collected went back to him as Lord of the Manor.

A transcription of this document appears at www.cosgrovehistory.co.uk/doc/records/orders, but references to the Green, below, are of particular interest.

23.It is Ordered and agreed that all the persons that have blocke or blockes [bullocks] upon the green or any other place of the commons or wast shall take them of by the first of february next under the paine of ten shillings to be forfeited to the Lord of the manner xs [ten shillings]

24. It is Ordered and agreed that noe sheep which comes to be washed at Bray Perry's mill shall come any further upon the green then the gutter of John Merlons gate upon paine of every partie soe offending to forfeit to the Lord of this manner xs

32. It is ordered and agreed that no Sheep nor lamb shall be put out into the green Untill St Michaell day upon paine for every one Se offending Contrary to this Order Shall forfeit to the Lord of this Manner 10s
By 1715 William Gurney, a military man, was Lord of the Manor of Cosgrove, inheriting via his marriage to Elizabeth Beauchamp. He held ordered a Court Leet "ye 16th day of October 1715 and Continued by severall adjourments to the 19th of March in the same year."
The Land Orders composed on this occasion seemed to focus less on the health and hygiene of livestock and more on their ownership, for an entry pertaining to the Green declared:
6. Item it is ordered and agreed that all horses Cows Bullocks shall be branded twice in the year that go upon the green and Common fields in Cosgrave (that is to say) att or before the third day of May and also at or before Lamas day every one ofending contrary to this order to pay to the Heyward a duble pinlock and to the Lord of the Manner one shilling for a horse and six pence for a Cow and three pence for a bullock
Shortly after this document was produced, in 1719, Cosgrove was visited and recorded by a famous Northamptonshire historian as part of his volume about the County.

This was John Bridges, whose work is still highly valued by those who want a contemporary source today.

He includes this comment on the Green:

"On a green or common adjoining to the town is St Vincent's, corruptly called Finche's Well; a mineral water, resembling in its quality that of Astrop, and of a like efficacious nature in the cure of disorders. A part of this green and two houses upon it, are in the parish of Potters-Pirie."

It is not thought that Green Farm has ever been part of another parish but demonstrates that it was part of a small community of houses facing in towards the Green, through which villagers regularly walked.
The Smallpox Hospital
The public nature of this footpath became a major issue in 1771. At this time Green Farm was leased to a man from Roade, named Richard Whitmay. He evidently opened the house as a hospital or nursing home for those suffering from smallpox. He took in people from other parishes, and also started inoculating people, presumably using the "variolation" technique of applying pus from his existing patients into incisions in the skin of healthy persons. Twenty years later we know from the Cosgrove Poor Book records that such inoculations cost 7s 6d. At the time a man's daily wage was 1s 4d, so Mr Whitmay was making a great deal of money.
Major Mansel, at Cosgrove Hall, the local magistrate, sent men to stop this practice, pointing out to Whitmay the risk of spreading smallpox throughout Cosgrove, especially since people would walk right past the farmhouse to get to the mill every day.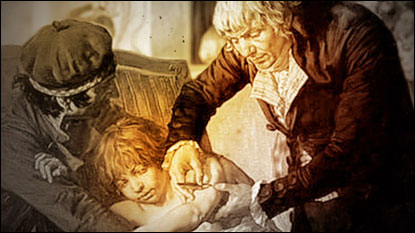 Whitmay was not the least disturbed by Major Mansel and continued to operate his business from Green Farm. He inoculated his four children to demonstrate the safety of his treatments, and disastrously his youngest child, Molly, died of her father's experiment and was buried at Cosgrove Church on February 27th 1771.
One of the earliest "Not in my backyard" cases in the region now began, from which paperwork the following quotations are taken:
John Biggin, "a man of fortune, has lately purchased an estate [The Priory] and laid out a great sum in repairing and building his seat, which is within yards of Whitmay's which is near in the front to Mr Biggin's, and so it is necessary to consider how to stop people making hospitals merely for gain near gentlemen's seats."
"Inoculation may be a good thing but it should be done in proper places; if a man does it in a town he threatens to ruin all his neighbours." Cosgrove, although around the same size as it is today, was always referred to as "the Town" at this time.
"Whitmay's house stands near the mill and another house and malting and adjoins the footway from the town leading to the mill and to Castlethorpe and Hanslope, where people daily pass."
"Whitmay may say that no-one in Cosgrove has caught the disease. But people must be shown they cannot open hospitals just anywhere, or it will ruin whole parishes."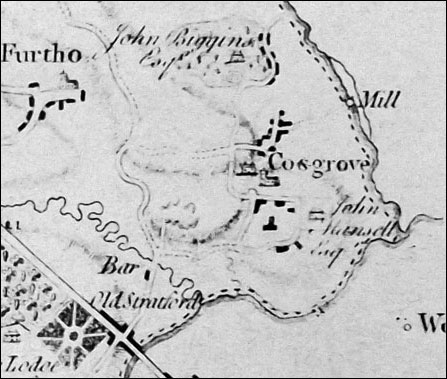 This plan, attributed to Eyres in 1779, shows the proximity of John Biggins' estate to the Green and the position of the Mill at that time.
As a result of these outraged comments, an indictment was made to prosecute Whitmay at Northampton Lent Assizes in 1772. Sadly, records for this case have been lost, or at least, not found at the time of writing. However, as Whitmay appears in no further records in Cosgrove, it may be supposed that he was forced to leave the village. Whether the farmhouse was altered, rebuilt or re-sold at this point we have yet to discover.
The documentation of this case says that Whitmay leased Green Farm. Clearly he did not lease it from either of the two main landowners at this time, Major Mansel, at Cosgrove Hall, or John Biggin, at the Priory, since either of them would have terminated his lease to close his "hospital". The ownership of Green Farm for the next half century is therefore unclear. None of the public lists and records show the names of farmers or owners linked to the names of the farms. Presumably in this tight community it was a matter of public knowledge and therefore not worth writing down. We may yet find additional clues!
The Inclosures of Cosgrove
The next great upheaval for the Green end of Cosgrove came in the years leading up to the Inclosures. We are fortunate in having a description of this in "A History of Agriculture: T. Bedford Franklin, Chapter 13 The Inclosure of Cosgrove."
Before 1766 Cosgrove was farmed on the medieval open field system. Land was divided into strips or selions, which were allocated to tenant families or owners for cultivation. Out of the growing season these areas could be foraged by livestock by anyone. In addition, areas like the Green were held in common and could be used by all. At this time, however, the farmer at Green Farm would have had to travel by cart to several strips of land elsewhere in the village, in addition to looking after a few acres near to the farmhouse on the current site.
In 1766 discussions were held throughout the parish of Cosgrove so that people who held or leased strips anywhere in the village could declare an interest in exchanging or combining strips with neighbours and combining them into more rational holdings, which would then be confirmed and fenced in. This was a radical departure for farmers and tended to favour the more land-rich. John Biggin owned the Manor of Cosgrove at this time, and the document outlining the "agreements to compound" are complex.
Philip Riden, researching in the 20th century, notes that the "Act states that there is in the township and liberties of Cosgrove one large and open common field called Cosgrove Field and consists of three distinct tithings, Cosgrove Tithing, Furtho Tithing and Potterspury Tithing. Furtho and Potterspury are intermixed and dispersed through the open fields of Cosgrove. Also within the boundaries of the open field there is a certain tract of ground called Cosgrove Green, near town of Cosgrove, containing 40 acres, an undivided part of which Green contains about 12 acres reputed to be in the parish of Potterspury. Also a tract pf ground, part of the Green, containing 55 acres reputed to be in the parish of Cosgrove though near the adjoining town of Potterspury. Greens have from time immemorial being mutually interchanged."
| | |
| --- | --- |
| | When the Act of Inclosure for Cosgrove was adopted, the map here appears to show the territories allocated to larger landowners. The situation of Green Farm lies between two definite holdings of John Biggin, the holder of the Manor title and The Priory lands, and a Mr Williams, with the Green, common land, in between. The occupant of Green Farm would probably have been a tenant of one of these owners. We know that a John Williams, in 1674, owned a large property of 3 "Hearths", but he appears nowhere else in Cosgrove records so it is difficult to say absolutely that he might have owned Green Farm. |
Nineteeth Century Owners
One source at the Records office P.R.O., E 169/155/130 (26 names), E 179/155/140 (28 names) claims that "almost the whole of Cosgrove east of Watling Street, apart from some freeholds on the Green (including Green Farm and what later became the Cosgrove Lodge estate) and at Old Stratford, belonged, at some point, to the Mansels".
If this is true, Green Farm had been sold on before 1843, when an Estate Survey was commissioned by John Mansel, of Cosgrove Hall. This can only be used to eliminate ownership of Green Farm in that year, as the survey map only identifies properties belonging to the Mansel estate, which did not by then include the Green end of the village.
The full survey map can be viewed at the following web page:
http://www.cosgrovehistory.co.uk/doc/records/1843.html
However, on the survey map, the greater part of the land surrounding Green Farm is marked as belonging to Mr J Frankland [also spelled Franklin, Franklyn or Frankling], and another tract of land belonged to Mr Gates, so we may assume that one of these two owned Green Farm at this time.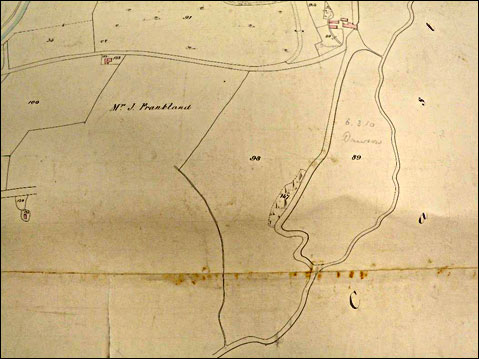 This section of the Estate map shows at middle left where the surveyor stopped recording at the cottage of William Browning, a tenant of the estate, midway along Main Street. Green Farm is a few hundred yards further to the right, presumably in Mr Frankland's grounds or that of Mr Gates, next to it.
Henry Foster's Family
A few years before this survey map we have additional clues to the occupation of Green Farm when the Cosgrove Electoral Rolls began to be published in 1833. From later records we know that a grazier, Henry Foster, leased Green Farm, and he first appears in these early Electoral Rolls of 1833 based on the rent that he paid of at least £50 annually, which entitled him to vote in certain elections. Despite several reorganisations locally and nationally in the qualification for voting rights, Henry Foster continues to appear on the Electoral Roll for Cosgrove from 1833 to 1855, still paying over £50 per annum in rent.
We can construct the family tree of Henry Foster from Cosgrove's records, both church and financial.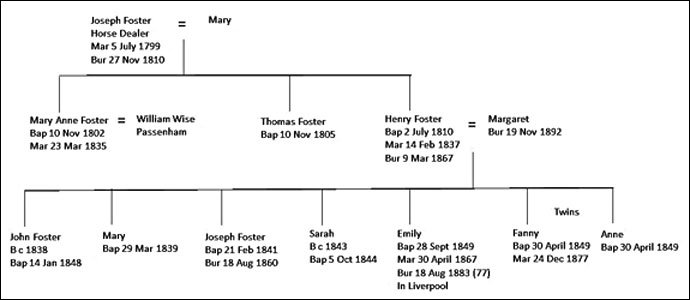 We do not know what happened to Thomas Foster, Henry's brother, but he does not appear at Cosgrove, so it may be that he farmed elsewhere or that Henry inherited his family's money, enabling him to rent Green Farm. We can see that Henry died in 1867, aged 57. He had eight children that we know of, but unfortunately for Henry only three were boys.
When tracking this family, it is important to know that there were two Joseph Fosters in Cosgrove at around this period, both in farming. One was Henry's son, who died aged only 19 in 1860. The other was a respected farmer, at one time farming at Rectory Farm on the other side of the village.
At Green Farm, Henry Foster's life was interrupted in 1833 when this incident occurred:
Oxford Journal - Saturday 13 July 1833
DESTRUCTIVE FIRE
An alarming fire broke out at Cosgrove, Northamptonshire, on Saturday morning, at about half past ten o'clock. It originated through the foulness of a chimney in a house occupied by a person named Browning, and the wind blowing almost a hurricane at the time, it set fire to the thatch of the house, which was soon in flames. The two houses adjoining luckily escaped the conflagration; but it very singularly communicated to the third house and two others adjoining, belonging to poor persons, and which were speedily consumed. It then continued its ravages to Mr. Henry Foster's farm yard, having caught a barn which contained between five and six tons of wood, and the farm-house, together with the hovels and barns, two carts, and upwards of 20 tons of hay were entirely destroyed. Such was the rapidity of the flames that the houses and out-buildings were burnt to the ground in less than an hour; and it was with great difficulty that a man named Hounslow was taken out of one of the houses, as he lay very ill, and, it is supposed, upon his death bed. The engines arrived from Stoney Stratford in about half an hour after the fire broke out; but so rapid were the flames that it was impossible to save all the furniture from the devastating element. It was very distressing to witness the poor people running about in despair for the loss of their homes. It will be a severe loss to the sufferers, particularly to Mr Foster, who is not insured.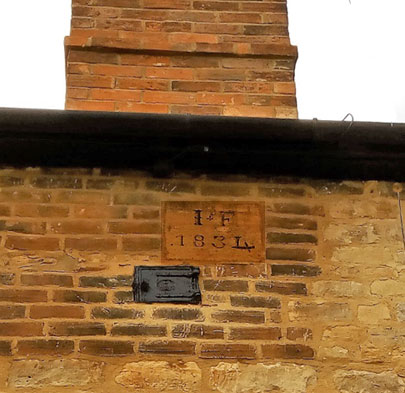 The implications of the fire on Henry's finances were probably catastrophic, as implied in the article.
As the Date stone at the base of the chimney stack at Green Farm reads 1834, we may suppose that this end of the current house was rebuilt following the fire described above. However, we can see from the repair, in brick, a cheaper material, overlaying the stone, that the original house must have been built a great deal earlier.
Four years after the fire in 1837, Henry married Margaret Ayres, a Cosgrove girl, in St Peter and St Paul's Church. Their first child was born soon afterwards. Curiously they seem to have been a family whose baptismal dates are not sequential and John's seems to have been made when he was ten years old. One wonders if the circumstances of his birth might not have been straightforward.
Searching the Census Records reveals more details of the family.
Cosgrove Census 1841

Males

Females

Occupation

Henry

FOSTER

25

Grazier

Margaret

FOSTER

25

John

FOSTER

4

Mary

FOSTER

2

Joseph

FOSTER

4mon

Ann

DANIELS

17

Female Servant
Cosgrove Census 1851

Henry

FOSTER

head

41

Grazier

Margaret

FOSTER

wife

38

John

FOSTER

son

13

Mary

FOSTER

daughter

12

Joseph

FOSTER

son

10

Sarah

FOSTER

daughter

8

Emily

FOSTER

daughter

5

Ann

FOSTER

daughter

1

Fanny

FOSTER

daughter

1
It might be thought that John Foster, Henry's oldest son, would be his father's mainstay and eventually take over his business. However, examination of several reports reveals a problem.
Northampton Mercury - Saturday 07 September 1861
Cosgrove. —John Foster, a smart-looking youth, was summoned before the bench on a charge of assaulting Henry Lowe, both of Cosgrove. Complainant assured the bench that defendant hit him without any provocation. This Foster denied, and said that Lowe challenged to fight him. Mrs. Foster said from what she knew of the matter Lowe was at fault, and, the latter having no witness, the case was dismissed.
Cosgrove Census 1861

Henry

FOSTER

head

51

Labourer

John

FOSTER

son

23

Labourer

Emily

FOSTER

daughter

15

Scholar

Ann

FOSTER

daughter

11

Scholar

Fanny

FOSTER

daughter

11

Scholar

Henry

LOWE

lodger

23

Smith
We can see that the man whom John was accused of assaulting was a lodger in his home at Green Farm at the time. Although John's mother, Margaret, defended him in this case in 1861, she is not listed in the Census for that year – perhaps she was visiting elsewhere. Poor Joseph had already died. But the family are now listed as "Labourers" rather than Farmers or Graziers, indicating perhaps a decline in their fortunes.
However the sale of Green Farm in 1861 tells us much about what the property was like under Henry's tenancy.
Northampton Mercury - Saturday 18 May 1861
COMPACT FREEHOLD - HOUSE AND LAND,
COSGROVE, Northamptonshire.
TO BE SOLD BY AUCTION,
By Mr. DURHAM,
On Friday, the 7th day of June, 1861, at the Cock Hotel, Stony Stratford, Bucks, at Five o'clock in the Afternoon (subject to conditions to be then produced),
FREEHOLD stone built and slated DWELLING HOUSE, comprising entrance hall, two parlours, kitchen dairy, cellar, and five good sleeping rooms, with gardens, farm yard and convenient buildings, together with 20 ACRES (more or less) of very superior PASTURE LAND in three Closes, situate at Cosgrove Green, and now in the occupation of Mr. Joseph Forster; also, SIX COTTAGES, with large garden well planted with fruit trees adjoining the same.
There is a Land Tax of £3 1s. per annum. The property will be sold subject to the existing rights of way over it to other properties. Particulars may be had at the Inns in the neighbourhood, or the office of John Jeffery, Esq., Solicitor, Northampton, of Mr. Durham, Land Agent, &c, Stony Stratford, Bucks, or at the office of Flint, Whichello and Durham, Leighton Buzzard, Beds.
Our clue as to the purchaser of Green Farm comes from Philip Riden's work stating that "Green Farm was sold in 1861 by William Franklin to Henry Pearson Gates, the Peterborough diocesan registrar, who died in 1893."

He is pictured here in his robes as the first Mayor of Peterborough.

Any familial link between this distinguished cleric and the farming Gates family of Cosgrove has yet to be established. However, Henry Pearson Gates had, in 1845, married Eleanor Maria Mansel, daughter of Reverend Henry Longueville Mansel, Rector of Cosgrove and Maria Margaret Moorsom, daughter of Admiral Moorsom. There is a memorial to Eleanor Maria in Peterborough Cathedral.
We do know the circumstances of Henry Foster's death, a few years later, reported below:
Croydon's Weekly Standard, March 9th 1867
FATAL ACCIDENT,- A sad accident occurred at the village on Sunday last, Mr. Henry Foster of Cosgrove, suddenly lost his life. The unfortunate man had been to Hanslope and was returning to his home, he was accompanied on the road by a person of Castlethorpe who had also been to Hanslope ; they parted in the village, and Mr. Foster passed over the stile into the fields leading to Cosgrove; within a few feet of the stile was a deep ditch, lately cleaned out, and it appeared (owing to darkness) he must have stumbled over the soil on the bank and fallen head foremost in. The body was found on Monday morning and taken to the Carrington Arms, when an inquest was held before J. Worley, Esq., coroner, on the same day. After hearing the evidence of those who last saw him alive, and also of T. N. Heygate, Esq., surgeon, who gave as his opinion that death had been instantaneous from dislocation of the neck; the jury returned a verdict of accidental death.
---
Buckingham Advertiser and Free Press Saturday 06 June 1868
COSGROVE,
NEAR STONY STRATFORD
CAPITAL CROP OF
MOWING GRASS,
The hay to go off.
Mr. G. BENNETT
Is instructed by Mr. J. Foster to sell by Auction, on THURSDAY, June 18th, 1868,
THE CROP OF MOWING GRASS growing in the Meadow near Castlethorpe Wharf, containing 28 Acres. Credit on the usual terms.
The company is requested to meet the Auctioneer at the Castlethorpe Bridge, at 5 o'clock.
The effect of His father's death on John Foster may be surmised from the following reports :
---
Northampton Mercury - Saturday 11 July 1868
COSGROVE, near Stony Stratford.
LUXURIANT GROWING CROPS OF CORN,
CONSISTING of 43 Acres of Wheat, 24 Acres of Barley, 4 Acres of Oats, 14 Acres of Spring Beans, 9 Acres of Winter Beans, 4 Acres Peas, and 4 Acres Beans and Peas,
TO BE SOLD BY AUCTION,
By GEO. BENNETT,
On Tuesday, July 21st, 1868, on the Farm in the occupation of Mr. Joseph Foster, at Cosgrove, and which he is leaving at Michaelmas next.
The company is requested to meet the Auctioneer at Lot 1 Top Woollens—near the Yardley Road, at Three o'clock.
Credit on the usual conditions.
---
Northampton Mercury - Saturday 25 July 1868

STONY STRATFORD. PETTY SESSIONS, July 17th.

Present, Rev. H. J. Barton, chairman, and C. Morrell, Esq. Cosgrove.

John Foster, of Cosgrove, was summoned by John Partridge, landlord of the Barley Mow Inn, of Cosgrove, for refusing to leave the said Inn when requested to do so, on the 2nd of July.- Convicted. Fine £1, and 14s. 6d. costs.
Northampton Mercury - Saturday 15 May 1869
PETTY SESSIONS, Friday, May 7th.
Present: Rev. H. J. Barton (chairman) and J. C. Mansel, Esq. Cosgrove.
A Serious Charge. John Foster, of Cosgrove, was summoned before the Bench by Sarah Ann Eakins, a domestic servant, whose parents reside at Castlethorpe, charged with having assaulted her.
Prosecutrix deposed: I have been living at the Barley Mow, at Cosgrove. On the 30th of last month the defendant came into the Barley Mow about half-past eight o'clock in the morning and was there till about half-past ten. He came again about two and wanted to know what master had been doing. I left Mr. Foster and mistress in the bar at ten minutes after two. Foster kept quarrelling all the time with mistress; at last mistress went upstairs. When I was in the bar he pushed me into a chair and assaulted me. I shouted to the mistress, but she would not come down, and said I had no business to go into the bar, and that he might do what he liked to me. I went into the bar to mind it.
Cross-examined by Mr. C. C. Becke, who appeared for defendant: I went to my master next day for my wages and clothes. He had previously assaulted me in the presence of my mistress. He once threw me down in the tap-room and pulled my clothes over my head.
Mr. Becke made a most able defence for his client, and called Mr. Partridge, landlord of the Barley Mow, said he was at home all the day. He never heard that Foster had been quarrelling. The prosecutrix told him she would not stop to be assaulted by Jarvis and Foster. His witness said he had seen men kiss her, and one man over 60 years of age, Copson, of New Bradwell. The case was adjourned for a fortnight, in order that Mrs. Partridge might be present.
The case was reheard on May 21st and ultimately dismissed.
Although John was acquitted in two of his three cases, it might be imagined that his father's death did not settle him to a farmer's responsibilities.
We have no trace of the Fosters as a family unit after Henry's death, although two of the girls' marriages are recorded at Cosgrove Church, Emily's to John Slater in 1867 and Fanny's to Robert Boughton in 1877. Neither girl settled in Cosgrove. Margaret Foster's death is not recorded at Cosgrove.
The Gates Family
In 1864 a Mr James Weston of Green Farm was voting on the Electoral Roll as an "occupier of house and land". In that same year the £50 annual rent requirement for voters had disappeared from the statute books. In 1862 James Weston had married, in Cosgrove, Elizabeth Sarah, a daughter of the Gates family from Beachampton, which strengthens the possibility that her father, Edward Gates, had a connection to Henry Pearson Gates, the owner of Green Farm. Edward was renting a very large acreage of land from the Mansel estate in 1861, for which he was paying £170 rent, which was presumably for Isworth Farm.
Elizabeth Sarah Gates, now Weston, was born in Beachampton in 1841. Her mother was Ann Betts and her father Edward Gates, who themselves lived at Isworth Farm.
James Weston continued to appear on Cosgrove's Electoral Roll until 1871.
| | | |
| --- | --- | --- |
| | | |
| Elizabeth Sarah Weston nee Gates | Charles Joseph Weston | Minnie Weston |
We know that he and Elizabeth had two children, presumably at Green Farm. Charles Joseph Weston, born in 1868, and Minnie, (right) who was born in 1870. Shortly after Minnie's birth in 1870 the little Weston family moved to Sharnbrook in Bedfordshire, where Minnie was baptised and a further seven children were born. Elizabeth and James eventually moved to Dunchurch, where they spent the rest of their lives.
In the 1871 Cosgrove Census William Gates, Elizabeth's brother, appears with his wife Mary, as living in a "Farmhouse and Shop", which could be Green Farm. He was a butcher. His household consisted of:
| | | | | | | |
| --- | --- | --- | --- | --- | --- | --- |
| Wm | GATES | head | married | 29 | | Butcher |
| Mary | GATES | wife | married | | 28 | |
| Wm Palin | DIXON | lodger | married | 37 | | Servant |
| Wm | SCOTT | lodger | unmarried | 18 | | Servant |
| Ed | CAUPLAND | lodger | unmarried | 30 | | Servant |
Later that year the couple had their first child, William James, followed by Edward John in 1874, Mary Rebecca in 1876, and Nellie Elizabeth in 1877, all born at Cosgrove. They appear in the Census of 1881 having apparently moved to Old Stratford, but later moved to Preston Deanery where their next child was born in 1883.
William and Mary were strong supporters of Cosgrove Church, as was the rest of the Gates family. They contributed generously to the restoration of the Church Tower in 1872, to the total amount of £5 17s 6d between them, when the Tower was struck by lightning.
There is a singular newspaper story regarding William in his Cosgrove years, as follows:
Northampton Mercury - Saturday 24 May 1873
NEWPORT PAGNELL. COUNTY COURT FRIDAY MAY 16TH
William Gates v. John Wadsworth.
Claim for £3 5s brought by the plaintiff, a butcher of Cosgrove, against the defendant, for the loss of a pig.

Plaintiff deposed that he left the pig in the defendant's charge in Newport Pagnell market, and went away. On his return the defendant offered him another pig (and a worse one) its place.

Defendant said that the pig he gave plaintiff his return was the same he received from him.

William Martin deposed to seeing Wadsworth mark the pig on the back of the neck and offer it to Gates, who refused to take it alleging that it was not his pig.

George Leeds deposed to seeing Gates sell Mr. Litchfield one of two pigs (the better of the two).

His Honour was of opinion that Gates's pig had been sold instead of another one, and therefore that the plaintiff was entitled to recover the value the pig (£3 5s as sought) and expenses.
Although we cannot be sure that the following auction article refers to Green Farm, the dates for William Gates' occupation and the size of the holding make it possible. These auctions refers to the sale of produce from the farm, as William Gates left, not of the land itself, which he did not own.
Bucks Herald Saturday 05 May 1877
THE RECTORY FARM and THE GREEN,
COSGROVE, Near STONY STRATFORD.
30 ACRES capital GRASS KEEPING, and 25 ACRES of valuable CLOVER and MEADOW GRASS,
to be Mown and the Hay taken off, 20 healthy Half-bred TEGS,
TO BE SOLD BY AUCTION,
BY Mr. GEO. WIGLEY,
On THURSDAY, the 17th Day of MAY, 1877.
On the Premises at Cosgrove Green,
By direction of Mr. William Gates, who is leaving the Rectory Farm, at Michaelmas next.


The Fields are well supplied with Water, and full of Keep. A Shepherd will be provided. Credit will be given till August 1st, on the usual Conditions.
The Company will oblige by Viewing the Keeping previous to the Sale, and meeting the Auctioneer at the Farm House at Three o'Clock, where it will be Sold.
Catalogues may be had of Mr. Gates, and of the Auctioneer, Winslow.
Northampton Mercury - Saturday 21 July 1877
COSGROVE, near Stony Stratford.
80 ACRES of capital GROWING CROPS of CORN, COMPRISING 30 Acres of WHEAT, 9 Acres of BARLEY, 6 Acres of OATS, 16 Acres of BEANS and PEAS, and 16 Acres of CLOVER; also a Rick of well-secured CLOVER HAY, about Tons, to go off;
TO BE SOLD BY AUCTION,
By Mr. GEO. WIGLEY,
On Thursday, August 2nd, 1877, on the Farm, at Cosgrove, by direction of Mr. WILLIAM GATES, who is leaving the farm at Michaelmas. Two months' credit will be given on the usual conditions.
The company will oblige by meeting the Auctioneer at the Farm Buildings, at Four o'clock in the Afternoon, and proceed to Sale.
Catalogues may be had at the "Cock" and "Bull" Hotels, Stony Stratford; and at the Offices of the Auctioneer, Winslow.
Buckingham Advertiser and Free Press Saturday 15 September 1883
COSGROVE, near STONY STRATFORD.
THE Excellent HOUSEHOLD FURNITURE, Plate, Linen, Glass, kitchen requisites and effects,
WILL BE SOLD BY AUCTION,
BY GEORGE BENNETT
On THURSDAY, September 20th, 1883, on the premises, in Cosgrove, by direction of the Trustees, under the Will of Mr. Joseph Foster, deceased.
The Sale will commence at Half-past Twelve.
Catalogues are in circulation.
Auction and Agency Offices, Buckingham.
---
Northampton Mercury - Saturday 20 October 1883
BUCKS and NORTHAMPTONSHIRE.
VALUABLE FREEHOLD ACCOMMODATION
LANDS,
At HANSLOPE, in the County of Bucks;
Close of Old PASTURE LAND,
Good DWELLING-HOUSES, with GARDENS;
HOUSE and BAKEHOUSE, and COTTAGES,
At OLD STRATFORD and COSGROVE, Northants.
GEO. BENNETT
Is favoured with instructions from the Trustee under
the Will of Mr. Joseph Foster, deceased,
TO SELL BY AUCTION,
On FRIDAY, OCTOBER 26TH. 1883, at the
"COCK" HOTEL, STONY STRATFORD, at Four o'clock the Afternoon,
The under-mentioned desirable and convenient Properties:
Lot 1 consists of all those three substantially brickbuilt and slated Dwelling-houses, pleasantly situate on the east Side of the main road at Old Stratford, and near the site of the old toll-house, having large gardens and outbuildings, and protected from the road by ornamental iron palisades, and approached therefrom by a flagstone path; in the several occupations of Thomas Atkins, William Ratliffe, and James Savage, producing a yearly rent of £24. Landlord pays rates. Present land tax, 17s. 10d.
Lot 2 comprises all that convenient close old Pasture Land, adjoining the road leading from Old Stratford to Cosgrove, having an area of 4a 3r. 2p., in the occupation of Mr. Robert Hamilton, at the yearly rent of £20. Present land tax, 13s. 1d.
Lot 3 consists of a convenient Dwelling-house, with bakehouse attached, situate in the village of Cosgrove, having coal oven, yard, stable, garden, buildings and premises, in the occupation Mr. Joseph Barker, at the yearly rent of £16 ; and adjoining two convenient Cottages, with small yard and outhouses, in the occupation of William Tombs and George Allen, producing a yearly rental of £11 6s. Present land tax, 12s. 10d. and 2d.
Lot 4 comprises all that field of productive Arable Land, conveniently situate near the populous village of Hanslope, adjoining the road leading to Tathall-End, containing, according to the recent Ordnance Survey, 14a. 3r. 27p., and now in the occupation of Mr. Sawbridge at the yearly rent of £30.
Lot 5 consists of all that convenient field of Accommodation Pasture Land, situate close to the village of Hanslope, and near the Half-way Houses, containing, according to the recent Ordnance Survey, 4a. 2r. 31p., and being in the occupation of Mr. William Gregory, at yearly rent of £14.
Printed particulars, with conditions, are .being prepared, and may be had 10 days prior to the Sale, at the place of Sale; of John Parrott, Esq., or W. R. Parrott, Esq., Solicitors, Stony Stratford ; or the Auctioneer, Buckingham, from whom any further information can obtained.
Buckingham Advertiser and Free Press Saturday 03 November 1883
Sale.—Mr. George Bennett, of Buckingham, submitted for sale by public auction on Friday, the 26th October, at the Cock Hotel, Stony Stratford, direction of the executors of the late Mr. Joseph Foster, several valuable freehold properties situate at Cosgrove, Hanslope, and Old Stratford. —Lot 1, three houses at Old Stratford, were knocked down to Mr. J. Boughton for £315, and Mr. Thos. Foxley became the purchaser of Lot 2, a close of pasture land near Old Stratford, for £500.—Lot 3, house, bakehouse and cottages at Cosgrove, were purchased by Mr. Jonah Brown at £430, and Mr. Varney bought Lot 4, field of arable land at Hanslope for £700.—Lot 5, field of pasture land near Hanslope, was knocked down to Mr. Stephen Branson for £330. A large company was present, and for some of the lots there was spirited competition. The vendor's solicitors were Messrs. J. and W. R. Parrott, Stony Stratford.
---
Sadly, we have no evidence as to whether Green Farm was occupied, and by whom, between 1877 and 1891. The Census of 1881 does not identify Green Farm by name, although we can see that the Gates family had left Isworth Farm. The map below shows the configuration of the Green Farm house in 1884.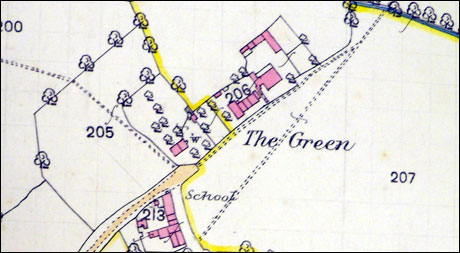 The Pedley Family
| | |
| --- | --- |
| | The 1891 Census, however, was thorough and shows the Pedley family, cabinet makers, from Bedfordshire, occupying the property. Two of the Pedley children were already learning trades – Charlotte as a pupil teacher and John as a printer – probably walking daily up the towpath to McCorquodale's print works at Wolverton. |
Cosgrove Census 1891

The Green West side
"Farm House"

Matthew

PEDLEY

head

married

46

Cabinet Maker

Caroline

PEDLEY

wife

married

46

William

PEDLEY

son

single

24

Cabinet Maker

Charlotte M

PEDLEY

daughter

single

18

Pupil Teacher school

John

PEDLEY

son

single

16

Printer Apprentice

Caroline

PEDLEY

daughter

11

Scholar

Marshall

PEDLEY

son

9

Scholar
We know very little about Matthew Pedley, but this family typify others in Cosgrove at this time in that they were artisan craftsmen, and their skills would have been increasingly valued in the area, particularly as the Carriage Works at Wolverton developed. There was work for both older men and John would have walked with them along the towpath to his apprenticeship probably at McCorquodale's Print Works.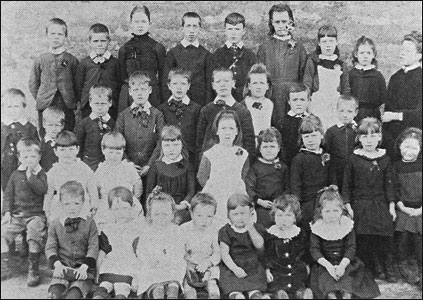 Charlotte would have been a pupil teacher at the recently built school a hundred yards from her home at Green Farm. It is possible that she is the young woman to the right of this picture, in 1889 or 1890.
In 1893 Henry Pearson Gates died, and the ownership of Green Farm passed to his widow, Eleanor.
The Pedley family, now Mrs Gates' tenants, were clearly community minded and enjoyed academic and artistic pursuits. William is listed amongst the singers in this article:
Northampton Mercury - Friday 27 April 1900
CONCERT. The Cosgrove Choral Society gave their second concert on Friday evening in the National Schoolroom, on behalf of the fund for the purchase of a piano for the school. There was a very good attendance. The cantata "The Lion of Judah," was rendered. Mrs. Seymour was practically responsible for the arrangements. Mr Owen Gee, secretary, assisting, and Mr. Seymour rendered valuable help. Mr Keen, of Wolverton, was the conductor.
The choruses were all vigorously rendered, and the soloists acquitted themselves admirably. Two of the most appreciated items were the "Easter Hymn" and "The Song of Jubilee "
The principal performers were as follows: —Soprano, Mrs. Burridge, Miss Banks, Miss C. Toombs, Masters W. Toombs, and Oliver Gee; contralto, Mrs. Seymour and Master H. Noble; tenor, Messrs. J. and W. Gee; bass, Messrs. W Pedley, O. Gee. and A. Hillyer. A capital orchestra rendered the accompaniments excellently, being composed of Miss L. Wildman and Mr. P. Sharp (first violins). Masters E. Grant and B. Bucknall (second violins). Mr. W. H. Lindow ('cello). Mr. Thorpe (contra bass', and Miss Wildman (organist).
William's motives for singing might not have been purely artistic, as on 6th August 1901 William Marshall Pedley married Amelia Grace Banks, also of Cosgrove, soprano! We think that the couple moved to Wolverton then returned to Cosgrove, eventually having three children.
By the 1901 Census the entire Pedley family had left Green Farm.
In 1903 a report was made to the Education Department about Cosgrove School, which listed Amelia Grace Banks now Mrs Pedley, born 1876, part qualified, appointed January 1898, as a teacher on a salary of £25.00.
The following advertisement explains that William's family were renting a cottage near the Navigation Inn:
Northampton Mercury - Friday 22 May 1903
Comprising the substantially-built FREE and
FULL-LICENSED PUBLIC HOUSE, known as THE NAVIGATION INN,
Together with THORP WHARF,
With Yard, Outbuildings and Cottage; also Three Enclosures of Excellent ARABLE and PASTURE LAND, with Buildings, containing about 32a. 2r. 0p., a portion of which forms an ELIGIBLE BUILDING SITE, and in the Village of Cosgrove SEVEN well-built COTTAGES with Gardens.
WILL BE OFFERED FOR SALE BY AUCTION, BY
GEORGE BENNETT and SONS, at the NAVIGATION INN (Thorp Wharf), COSGROVE, on Thursday, June 11th, 1903, at Two for Three o'clock precisely, in Convenient Lots.
The tenant of the Navigation Inn, Wharf and Land, is Mr. Ernest Weston, and the Seven Cottages are occupied respectively Messrs E Gee (2), W. Pedley, W. Wise, W. Toombs, J. Godfrey, and G. Lovesey.
In 1914 William Pedley was still living in Cosgrove and appears on the Electoral Roll as the chief occupier of a cottage, probably one of those at the Navigation. We know that he had used his skills to obtain a job at the Carriage Works.
After the Pedley family left Green Farm, it returned to its agricultural roots with the tenancy of George Valentine and his wife. We don't know why their grandson was living with them, but they had relatives of that name in Wellingborough.
Cosgrove Census 1901

The Green
The Farm

George

VALENTINE

head

55

Dairyman Ag. Cattle

Own acct.

Ann

VALENTINE

wife

56

William J

DRAGE

grandson

11
George appears on Cosgrove Electoral Register until 1904, but during his tenancy at Green Farm events took an interesting turn when Eleanor Gates, Henry Pearson's widow, died at Peterborough in 1902 and Green Farm was put on the market.
The Green Farm Auction
Northampton Mercury - Friday 18 July 1902
COSGROVE, Northamptonshire,
Two and a-half miles from Stony Stratford, and
two miles from Castlethorpe Station, and N.-W. Ry. Main Line.
DESIRABLE FREEHOLD ESTATES AND COTTAGE PROPERTIES

TO BE SOLD BY AUCTION,

BY PEIRCE and THORPE

at the GEORGE HOTEL, NORTHAMPTON, on Saturday, August 2nd, 1902, at Three o'clock precisely, by order of the Trustees of the late H. P. Gates, Esq.

Lot 1 The GREEN FARM, COSGROVE, a compact and highly desirable small Freehold Farm, comprising a substantial stone and slated House and Homestead, with gardens and appurtenances and Two Enclosures of rich old PASTURE LAND, the whole containing 15a. 1r. 27p. or thereabouts, now in the occupation of Mr. Geo. Valentine, as yearly tenant.

Lot 2 Three brick and slated and two stone built COTTAGES, adjoining Lot 1, with gardens, barns, and appurtenances, and small piece of Grass Land the rear. Tenants: Messrs. Briggs. Johnson, Toombs, Swain, and Moore.

Lot 3 An Enclosure of Rich Accommodation PASTURE LAND, near to Lot 1, containing 3a. 3r. 32p., now occupied by Mr. Geo. Valentine, as yearly tenant. In the centre of this Lot is the well-known and never-failing chalybeate spring, St. Vincent's Well.
George Frederick Branson
The 1902 sale was reported in the newspapers and must have been a topic of much speculation at the Barley Mow, as the purchaser turned out to be the larger than life George Frederick Branson. This character was a near neighbour with a colourful reputation:
Northampton Mercury - Friday 08 August 1902
AGRICULTURAL PROPERTY SALE AT
NORTHAMPTON.
Mr. C. E. Thorpe, of firm of Messrs. Peirce and Thorpe, auctioneers, Northampton, conducted a sale of agricultural property, at the George Hotel. Northampton on Saturday afternoon. The property, all which is situated in Cosgrove, was sold by order the trustees of the late Mr. Henry Pearson Gates, Peterborough, Registrar of the Diocese. The first lot was the Green Farm, Cosgrove, consisting of a farmhouse, with yard and outhouses, and two enclosures of land, with a total area 15a. 1r. 27p. This was sold to Mr. G. F. Branson, neighbouring landowner, for £825. Three brick and slated cottages and two stone-built cottages, with a small piece of land adjoining this lot, were sold for £480 to Mr. Jelley. A close of pasture land, 3a. 3r. 32p. area, was bought by Mr. Branson for £350. In the centre of the lot "St. Vincent's Well." described as "the widely-known and never-failing Chalybeate spring, the properties of which are of great value". Three stone cottages with gardens, 2r. 38p. in extent, fetched £290, Mr. Branson being the purchaser. The solicitors concerned were Messrs. Percival Son. Peterborough.
The biography of George Branson is given at the following web page.

http:www.cosgrovehistory.co.uk/doc/people/gfb.html

These sale descriptions answer several questions about the position of fields belonging to Green Farm, and explain how the Vincent's Well field came into the parcel of land belonging to Cosgrove Lodge, which was "Branson's Folly".

There was evidently no need for George Branson to raise money from leasing Green Farm for the next few years. He left Cosgrove in around 1903 but retained his properties there for a few years. He was reputedly living the high life in London, and was the subject of several court cases, amongst them a bigamous marriage. In the 1911 census Branson was living in Leytonstone, Essex as a boarder – a single man. He claimed to have been born in Stony Stratford. He wasn't.
Branson's decline of fortunes is described below by Philip Riden, indicated by the collapse of his Cosgrove property portfolio:
"Branson, then of Cosgrove House, Walthamstow, had previously bought a group of five cottages on the Green in 1889 and in 1902 acquired the adjoining Green Farm and a further 45 a. (including St. Vincent's well) for £1,515. In 1911-12 he mortgaged Elm Farm (as it was then called) for £3,000, tried unsuccessfully to sell both properties, and mortgaged part of Green Farm for a further £800. The following year Branson defaulted and the Green Farm mortgagees sold 4 a., including the well, to the London & South Western Bank."
He died on 26th December 1926. He was living as a guest of the Licensed Victualler's Association with his final wife Kathleen in their Almshouses in Peckham. His will showed his assets to be £28 15s. This would have included his clothes, any possessions having been sold, and any cash in his pockets.
When George Valentine gave up his lease of Green Farm the following advertisement outlined the sale of his assets:
Northampton Mercury - Friday 05 February 1904
COSGROVE.
Two Miles from Castlethorpe Station, L. and N.-W. Railway.
9 Very Good SHORTHORN COWS. In-calf
and in Profit, and
2 Weaned CALVES, 8 PIGS, 24 FOWLS,
RICK Well-gotten HAY, about 13 Tons,
to go off;
Two-knife Chaff Machine. Pulper, Two Scotch Carts, Thiller and Chain Harness, etc.; a Tinkler's Churn, Dairy Vessels, and SURPLUS FURNITURE,
WILL BE SOLD BY AUCTION, BY PEIRCE and THORPE
On Thursday, February 18th, 1904, by order of Mr. George Valentine, who is giving up business on account of ill-health. Sale to Commence at 11 for 11.30 precisely.
We know of some lettings of Green Farm during the years leading up to the Great War.
Cosgrove Census 1911

Herbert

CUTLER

head

33

married

Groom Domestic

Louisa

CUTLER

wife

33

married

Herbert

CUTLER

son

10

School

William

CUTLER

son

8

School

Edward

CUTLER

son

6

School

Noel

CUTLER

son

2
We are not yet certain whether Herbert was working for a tenant of Branson, who by that time was on the point of selling Green Farm to another owner wealthy enough to require a groom. However, the Cutlers did at times occupy the Mill House, which belonged to the Atkinsons at the Priory, so it may be that they had at some point before 1911 negotiated the lease of Green Farm for him.
The Atkinson Family as Owners
We know that by the outbreak of the Great War in 1914, Green Farm was occupied by the Rev. William Alfred Mandall M.A., curate in charge at Cosgrove Church.
The Rector since 1893 had been the Reverend Henry Newington Clarke Hewson. In 1908 he was "inhibited from performing any Clerical duty whatsoever within our Diocese and Jurisdiction" by the Bishop of Peterborough. We know that he and the Atkinsons at the Priory had a long running antagonism between them, and it would be easy to imagine that, as the Rectory was still occupied by Hewson or his tenants, his Cosgrove Nemesis, John Jepson Atkinson might have offered Green Farm to his replacement, Mandall.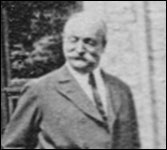 John Jepson Atkinson had a fairly extraordinary life himself, which can be discovered at
http://www.cosgrovehistory.co.uk/doc/people/at-01.html
During the Great War John Jepson's heir, William Henry Jepson St Leger Atkinson, who would have inherited Green Farm, was killed in action in May 1915 and was buried at The Hop Store, Ieper, West-Vlaanderen, Belgium. This devastated the Atkinson family, and John Jepson's second son, Philip York, surviving the conflict, began to prepare to inherit his father's interests, learning about farming and taking his place as a leader in all matters in Cosgrove.
Fanny and Joseph Lovesey
Housing and employment were in very short supply in the village between the wars, and from 1919 to 1924 Green Farm was leased to Fanny and Joseph Lovesey. We can see that Joseph was nobody's fool by the article following. Being assaulted by a blacksmith must have been a chastening experience for Dillow, living next door.
Northampton Mercury - Friday 10 February 1922
AN ASSAULT.
Before Mr. J. M. Knapp (in the chair), Messrs H. T. F. Weston, S. H. Wheeldon, and H. Cook.

Joseph Lovesey, blacksmith, The Green Farm, Cosgrove, was summoned by Thos. James Dillow for common assault at Cosgrove January 29.

Mr. A. J. Darnell (Messrs. Darnell and Price, Northampton) defended, and admitted the assault. Prosecutor stated he lived in adjoining cottage to the defendant, and the trouble arose over some fowls of defendant's which overran his garden. On Saturday, January 28 another complaint was made by the defendant, who the following day struck the prosecutor, using obscene language and threats.
In reply to Mr. Darnell, he had not been on speaking terms with defendant for a long time. The fowls came into his house. He had lived next door to the defendant for about three years.
Mr. Darnell suggested the proper course was to have claimed damages. In order that peace should be kept between the parties, he was willing that his client should be bound over and pay the costs.
The Bench decided to bind defendant over in the sum of £5 to keep, the peace for twelve months, and pay costs.
Although there were many Lovesey residents in Cosgrove at the time, Fanny and Joseph do not appear in the Church records. The Wolverton Express of May 26th 1922 reported that at the unveiling of the War memorial in Cosgrove Church the buglers were Mr. J. Tearle, of Wolverton, and Mr. J. Lovesey, of Cosgrove, who could be Joseph from Green Farm.
The Reverend Stockton
In 1924 the lease of Green Farm was given to another clergyman, a curate, Joseph Stockton, along with his wife Gertrude. In December of that year, John Jepson Atkinson, of The Priory, died and his estate was taken over by his son, Philip York Atkinson.
"The funeral service, which was of an impressive nature, was conducted by the Rev. J. Stockton (the newly appointed curate-in-charge), who was assisted by the Rev. A. G. St. John Mildmay (Vicar of Wolverton Holy Trinity), and the Rev. H. Nelson-Ward (Rector of Wicken). The coffin was met at the churchyard gate by the robed clergy, the Rev. J. Stockton reciting the opening sentences to the Burial Service."
Many Church events are recorded as being taken by Joseph Stockton during his time at Green Farm, and he was clearly fondly thought of, by past and present parishioners, as demonstrated by these snippets:
Wolverton Express 11th November, 1927
Outing: the choir of Saint Peter and Paul church, to the number of 28, accompanied by the Rev. and Mrs. J. Stockton and Mr. Stockton Jr., Visited Northampton by motor saloon on Saturday, and attended a performance of Ben Hur. Miss G. Atkinson, who made the arrangements, also entertained the party to tea afterwards.
Miss Gune Atkinson was Captain P Y Atkinson's sister, born at the Priory, and Ben Hur was one of the first "talkies" shown at the cinema.
Wolverton Express 3rd October, 1930
Cosgrove
The bell ringers of St Edmund's Church, Northampton, held their annual outing on Saturday, when they had visited Hanslope, Cosgrove, Bletchley, and Buckingham, and rang on the bells at the Parish Churches at the places named. Hearty welcome was accorded the ringers at Cosgrove by the Rev. JJA Stockton, a former curate of St Edmunds.
Gwen Jelley, a child in the 1920s in Cosgrove, wrote her memoirs in later life. Her father ran the Cosgrove bus company, and she remembers the Rev Stockton with the honesty of a nine year old:
| | |
| --- | --- |
| | "With father always working on Sundays we never went to church as a family, at for a good many years, I went with most of the other village children to Sunday School. Mr. Stockton, the priest in charge, was a strange man, kindly, eccentric and sanctimonious. He wore one of those flattish hats reminiscent of Barchester Towers, and always dressed in black from head to foot. On meeting you in the street, he would bow slightly, raise his hat, and intone "Good morning dear soul". As we filed out of the pews at the end of Sunday School, he would give each of us a penny, so we strolled along the canal bank to the Locks, where Mrs. Clarke kept the little shop to supply the bargees. She opened on Sunday so we were able to spend our pennies on sweets, before going home for tea." |
In 1930, Philip York Atkinson of The Priory married Miss Grace Penn, of Falcutt House in Helmdon. She was related by marriage to the distinguished Wake family of Courteenhall, and this began a close relationship between the Wakes and Green Farm itself.
In 1934 Charles and Jane Fancutt came to live at Green Farm. Sadly Charles died at the age of 71 only a short time later, and was buried at Cosgrove Church on 20th May 1936.
Joan Wake
At this point the relationship between the Wakes and the Atkinsons came into play, and one of Cosgrove's most significant residents moved into Green Farm. Miss Joan Wake, eccentric and brilliant historian, lived at Green Farm from 1937 to 1955.
She advertised for some domestic help:
Northampton Mercury - Friday 04 February 1938
MISS JOAN WAKE. Cosgrove, Bletchley, Requires Housekeeper for all duties. Over 40 preferred. Child not objected to. Small modernised house. Electric light.
The postal address at the time for Cosgrove was based on the sorting office at Bletchley, which caused enormous problems.
Miss Wake's biography is well documented and appears at.

http:/www.cosgrovehistory.co.uk/doc/people/wake.html

Joan was 53 years old when she came to Cosgrove. Her nephew paints a delightful picture of her:

"She was forceful, outspoken, very intelligent and had a remarkable memory. She had an enormous curiosity and loved a good argument. When one of her nephews said "I don't care", she said forcefully, "You MUST care, care about everything." She had a good sense of humour and a loud laugh. She sometimes wore a grey wig, often skewed or put on back to front to amuse the young. She was certainly not a practical person. Only on smart occasions would she attempt to use make up but was "not a very good shot with the lipstick." A liberal powdering of her face, still wearing her spectacles, impaired her eyesight."
However, there are other indicators of her involvement in the village of Cosgrove that are not nationally known.
She was one of the first lady members of the Parish Council, championing improvements like the Parish Burial Ground, clean mains water and the first street lights in the village, achieved in 1947.
Wolverton Express 15th March 1946
Women Elected also at Cosgrove
For the first time in the history of Cosgrove Parish Council women have been elected to that body to take part in its deliberations. The new council was elected at a parish meeting held in the Council Schools on Monday evening, and the interest aroused was evidenced by the very good attendance of parishioners. The women members of the new council are Mrs Mabel Jelley, Mrs. Ada L Smith, and Miss Joan Wake, whilst the remaining vacancies were filled by Messrs. Frank Hall, Jack Hebson, Horace C. Jones.
Joan attended all village events and was as likely to attend the funeral of a local landlady as that of a Baronet. She entered several fetes and contests in the village, notably dog shows, where she won "most handsome dog" amongst other titles.
Joan's lasting legacy to the nation was her work in the establishment of Northampton's Records office, systems from which were then rolled out across the country. This extract from her biography gives a picture of her personal style!
The main aims of Joan's work were to find Records, catalogue them and make them available to students, and finally to publish them. In the early days the collection was housed in a dingy part of County Hall which used to be the gaol. At the start of the Second World War the records were divided between Brixworth Hall and Joan's home at Green Farm in Cosgrove. For safekeeping many of the Records were stored in Furtho Church, although the only bomb that fell locally was just in the field next door!

Miss Wake was a formidable woman in pursuit of her beliefs about the maintenance of Records. All were transported wrapped in brown paper safely tied in string and marked clearly in 2HB pencil with the name of the donor and the date given. She drove in and out of Cosgrove in a battered convertible car stuffed with a portable typewriter, several briefcases, boxes and a big handbag where she kept rolls of postage stamps, her glasses, cracked and mended with Sellotape, a watchmaker's magnifying glass and a few useful clothes pegs. She was not a delicate flower in the manner of many of her contemporaries, scorning physical help with heavy lifting and expecting visitors to brave inclement weather, saying "We're not made of sugar, you know." It was said that her mind became sharper the greater her opposition.
Older people in the village have fond reminiscences of Miss Wake, as this tale from Phil (Bomber) Tustain shows :
"When I was a boy [living at Sunloch, now 27 Bridge Road] I remember Miss Wake. She used to bring her laundry to the old maids, Miss Marlow and Miss Hillyer.

[These were Gertrude Marlow and Mary Hillyer who had worked at the Priory for the Atkinsons and retired to Lillibridge View, now 23 Bridge Road].

Miss Wake was a very big woman and she would drive up in her Morris 8. [picture not her actual car]

When she came out we knew that it would take her a long time to get in the car and get ready to drive off.

So the boys used to go behind the car and lift the back wheels a bit off the ground. When she revved up ready to go we would drop the car down and Miss Wake would shoot off up the road!"
Joan left Cosgrove in 1957, and the next tenants of Green Farm were the Prisley family.
The Prisley Family
James Gibbons Prisley and his wife Gertrude Lilian came to Cosgrove in 1936 and lived at The Mounts, now 3 Stratford Road.
Their son, Leonard Eastman Prisley and his wife Marjorie lived at 3 New Buildings, in Main Street, Cosgrove, appearing in the Cosgrove Electoral Roll from November 1949.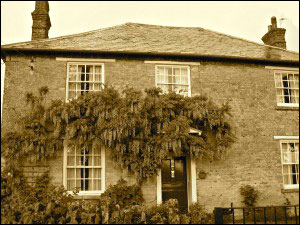 Marjorie was known in the village for her military service. Her maiden name was Hufford - WAAF No. 450056. She had joined the WAAF at 17, then rejoined later and became a corporal. She did her initial training at Horsham St Faith where she met her husband.

She was posted to Bicester during the war with New Zealand Squadron 75 who flew Lancaster Bombers. She talked about the pilots performing the famous Haka whilst drunk, and said "the All Blacks rugby team are not a patch on them".

Marjorie attended Remembrance Services at Cosgrove for the remainder of her life, as did Captain P Y Atkinson, owner of Green Farm, in his role as leader of Cosgrove Home Guard and British Legion.
The Prisley family lived at Priory Cottage, with their two daughters, Eileen and Jane, as tenants of the Atkinsons at one time, but when Eileen was seven years old, in 1956, they moved to Green Farm. They all took part in activities around the village – Eileen in Fancy Dress competitions – an indication, perhaps, of her future, and Jane helped in fundraising events for the Church.
The following article is the obituary of the Prisley girls' grandmother, who died in 1963, living with the family at Green Farm.
Wolverton Express 11th January 1963
Funeral at Cosgrove
Following a number of years' ill health, Mrs. Gertrude Lilian Prisley, of Green Farm, Cosgrove, died in Northampton General Hospital on December 28, four days after being admitted. She was 64.
A native of Leicestershire, Mrs. Prisley moved to a farm at Hanslope in 1919 following marriage. She moved to Cosgrove in 1936, and also farmed there, and was well known in the district. For a number of years she lived in Woodbridge, Suffolk, before returning to Cosgrove in 1956 to reside with her son and daughter in law, Mr. and Mrs. Leonard Prisley, at the Green Farm.
During the war Mrs Prisley was one of the organizers of the National Savings movement, and also billeting officer in Cosgrove at the time when children were being sent into the country. For a number of years she was a member of the Cosgrove WI.
At Parish Church
The funeral service at Cosgrove parish church on Wednesday of last week was conducted by the Rev. A E Bransby, RD, and was followed by cremation at Milton. The family mourners were:
Mr. and Mrs. L Prisley (son and daughter in law), Mr. and Mrs. D Chown (son in law and daughter), Mrs. W. Gregory (sister), Mrs. E. Lambert, Mr. and Mrs. F Woodall, Mrs. J. Burroughs (friends).
Also present were: Mrs. P Y Atkinson, also representing Captain P Y Atkinson and Cosgrove Conservative association, Mrs. C. Brockway, Cosgrove WI, and Mrs. N Castle.
Captain P Y Atkinson died in 1972 and his wife Grace passed away a few years later. Their wills made provision for Marjorie Prisley to remain at Green Farm for the rest of her life, and this was honoured by the Wake Family of Courteenhall, into whose hands the farm passed on the death of Philip Atkinson.
Wolverton Express 4th August 1978


| | |
| --- | --- |
| A reception at Wicken Country Hotel followed the marriage on Saturday of Eileen Prisley and Gareth Williams. The bride's home was at the Green, Cosgrove and the bridegroom's home is in Wales, where the couple will be living. | |
Eileen Prisley went on to become a world class designer of theatrical costumes, and later, bridal wear. From the 1990s her company, Qiana, designed for television programmes like "The House of Eliott" and "Mr Selfridge".

She worked with some of the best British couturiers, including Norman Hartnell, Lindka Ceirach, Caroline Castigliano and Lyn Ashworth.

Eileen Prisley appears at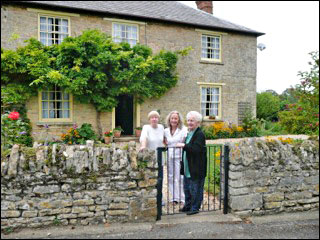 At Green Farm in 2009 Marjorie Prisley and her two daughters Jane and Eileen celebrated their anniversary of fifty years at Cosgrove.
Marjorie remained at Green Farm and died on 10th March 2013.

This obituary, written by a friend, gives an evocative description of Green Farm at that time:

"Jane and Eileen nursed their mother at her family home at Green Farm in Cosgrove until the day she died. Green Farm is as aged and cranky as it is possible to imagine, only more so. It is full of strange ceramic stuff, bed warmers, knick-knacks and things like horse brasses, as well as being furnished with all sorts of items that have appeared miraculously from other people's homes, to be used, sat on or made to store stuff in. You cannot begin to imagine the sheer quantity of weird stuff furnishing this house that just does not seem to match up to anything in any sensible way."
Following Marjorie's death, Green Farm was let for some months, notably to the Toms family, who were related to the Holman and Inwood families, long standing residents of Cosgrove.
Linda and Philip Karklis
In 2016 Philip and Linda Karklis bought Green Farm. Their daughter Lucy farms with her husband at Elm Tree Farm at Thrupp Wharf, Cosgrove. The Karklis family have restored Green Farm to a new glory.