The historical meaning of "Manor" is a landed estate. The Manor of Cosgrove therefore means the whole estate that covered the Cosgrove area, including the village. Manors were given, granted, sold, leased and annexed to and from sovereigns, lords, other estates and private owners from medieval times.

Francis, Lord Dacre, sold the manor (i.e. the estate) in 1653 to Gervase Andrews of London, who almost at once sold the manor house and farm only to Christopher Rigby of London and the manor estate itself in 1654 to William, 2nd Lord Maynard.

The house (still called The Manor House) and farm continued to be owned by the Rigby family for three generations, although the house itself was rebuilt at some point before 1719. In 1750 the original Christopher Rigby's grandson, also Christopher Rigby, managed to buy the rest of the estate.
In 1764 Rigby sold the whole of his Cosgrove estate, including the Manor House to John Biggin of London. In 1788 John died, leaving his Cosgrove property to his second son George, his heir by survivorship, whose story you can read in Cosgrove Characters.

In 1803, George died childless and the Cosgrove estate passed to his nephew, George Mansel, whose father had married George Biggin's sister, Mary Anne. The Mansel family also owned Cosgrove Hall and eventually the Manor House became the secondary house of the family and began to be leased to wealthy tenants.

Two sisters, Mary and Anne Lowndes, who had connections with a priory in another part of England leased the house and renamed it The Priory, having discovered that the Cosgrove estate had once been in the control of the Knights Hospitallers. They came from the Whaddon Hall, Winslow area. Mary has a memorial in the church, where she was buried in the Nave following her death on 3rd June 1812. As yet we do not know where Anne was buried, having died in 1817.

The sisters also had a niece, also called Anne Lowndes, who occupied the Priory and who died on 28th December 1852 and a great niece, Maria Selby Lowndes who died on 19th January 1856. Both these ladies are buried in the Nave of Cosgrove Church, marked by wall memorials.

Some texts imply that two of these wall memorials refer to a pair of sisters, but subsequent research into their friend Ann Gavey's letters has proved otherwise.
Northampton Mercury March 8th 1817

COSGROVE PRIORY near STONY STRATFORD, Buckinghamshire

Household Furniture, Library of Books, Linen, Chariot, Dairy Effects &c, &c.

To be SOLD by AUCTION

By JOHN DAY & SON

On Wednesday the 19th of March 1817, and two following Days, on the Premises of the late Mrs ANN LOWNDES at COSGROVE PRIORY aforesaid:

The Furniture comprises full-size four post Bedsteads, with mahogany feet Pillars and dimity, cotton and other Furnitures; fine large goose down and other feather Beds, Mattresses and cotton Counterpanes, Quilts and Blankets, mahogany, oak and other dressing Drawers, night Tables, basin Stands, floor and bedside Carpets, large pier, chimney and swing Glasses, two capital mahogany Wardrobes, with Furniture, Bedding &c. complete; several valuable India and other Cabinets; capital India six-leaf folding Screen, excellent month Clock in inlaid case, and two valuable eight day repeating table Clocks, Set of mahogany dining Tables, with circular Ends; Pembroke, card and other Tables; parlour and chamber Chairs, three Sofas, with Covers; a capital chamber Horse, for Invalids, in mahogany Frame, in complete Repair; medicine Chest, liquor Ditto, Harpsichord, dumb Waiter, large Quantity of Glass and Earthenware, upwards of 10 Pair of Sheets, pillow Cases, table Cloths, Napkins &c.; Sharp's patent stove Grate, with other Grates, Fenders and fire Irons; kitchen Furniture, as Grate, with Boiler, smoke Jack, patent Oven, and kitchen Furniture in general; 100 gallon brewing Copper, washing Ditto, double Cooler, mash Vat and Tubs, beer Pipes, hogshead and half hogshead beer Casks &c, &c.

Also a Library, consisting of upwards of 600 Volumes of Books, the greatest Part in excellent Preservation, amongst which are Chaucer's Works, with the Siege of Thebes, Life of Chaucer, and Table explaining old and obscure Words, Folin 1617; Brown Willis's Antiquities of Buckingham, Hundred and Deanry; Banks's Geography, Pope's Odyssey and Iliad, Dryden's Virgil, Life and Reign of Henry the Eighth by Lord Herbert; Travels into Divers Parts of Africa and Asia; Chamber's Cyclopaedia, Life of Prince James, Dodderidge's Family Expositor, Baskett's Bible; History of Russia, to the Death of the Empress Catherine, with a Number of other scarce and valuable Books, Paintings, Prints &c, &c.

Likewise a neat Chariot with Harness, one coach Horse, five useful dairy Cows, Part of a Rick of Hay, stout six-inch Cart, horse Harness, Quantity of Manure, cucumber Frames and Lights, iron garden Roll, stone Ditto, temporary summer House, a very great Number of garden Pots and Evergreens, garden Tools in general, upwards of 20 Dozen of Glass Bottles, and numerous other Articles, which will be expressed in Catalogues, to be had five Days before Sale, at the Inns in the Neighbourhood, and of the Auctioneers, in Stony Stratford.

N.B.: The Chariot, Cows, Hay, garden Articles, dairy and brewing Vessels, Casks &c. will be sold the first Day; the Books, Linen, Glass and part of the Furniture on the second Day; and the remainder of the Furniture on the Friday.

Catalogues of the Books to be had separately from those of the Furniture &c.

---

The Priory next saw a great change of tenant in General Thomas Graham, Lord Lynedoch - a national hero second only to Wellington. When peace was signed in 1814, he retired into private life at the age of 67. He was, however, still very active and, being fond of hunting in England, took a house in nearby Salcey Forest. He then rented The Priory for ten years, entertaining many distinguished guests. He departed from The Priory when he had to give up hunting at the age of 77, around 1824, not through any bodily weakness but on account of cataracts on both eyes.
Read Lord Lynedoch's story in Cosgrove Characters
No sooner had Lord Lynedoch left The Priory than another distinguished man arrived: Admiral Sir Robert Moorsom, who had been with Nelson at Trafalgar. He had been living at Little Linford Hall, and came to Cosgrove to be near his only daughter, Maria Margaret, the wife of the Rector, the Revd. Henry Longueville Mansell.


Lady Moorsom died at Linford before the move and was brought to Cosgrove for burial. Sir Robert died in 1835. Mrs Mansell placed so many Moorsom memorials in the local church that a guide book once said that Cosgrove was for a long time the home of the well known Moorsom family, and subsequently of the celebrated Mansells. The truth is that the Mansells had been local residents for over 300 years while Sir Robert Moorsom was there for only eight.
Read Sir Robert Moorsom's story in Cosgrove Characters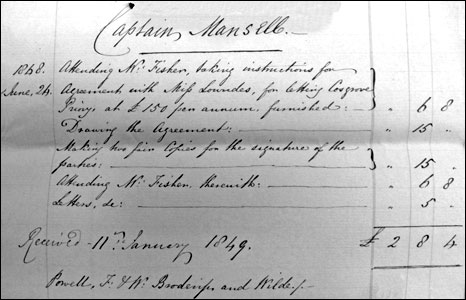 1848 Agreement with Miss Lowndes to let the Priory, furnished, for £150 per annum
---
By 1886 John Christopher Mansel and his wife were living across the road from the Hall in a smaller house called the "Cottage" where Mrs Mansel had extensive "Pleasure Gardens". The letters below show that at this time they were preparing to sell the Priory to Mr Thorold.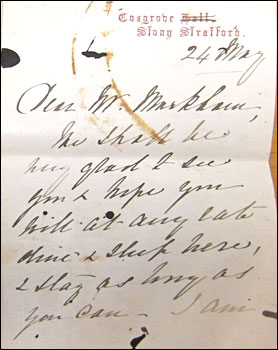 Cosgrove Hall
Stony Stratford
24 May
Dear Mr Markham
I shall be very glad to see you and hope that you will at any rate dine and sleep here and stay as long as you can. I am thoroughly ashamed of our Lord Lieutenant. I think he quite deserved the rebuke he is said to have received a few days ago, which you no doubt have heard of.
Very truly
K M Mansel

---
Cosgrove
Nov 11th 1886
Dear Mr Markham
In your letter received this mor'g you say : "that I assume you know that Mr Mills is quite willing to covey the Priory property without incurring any part of the purchase money." The letter I received from Mr Thorold in July last gave me to understand quite the contrary and I am in utter ignorance of anything that has taken place since; I saw both Mr Thorold and Mr Fisher last week but they did not either of them enter into the business with me.
I consider it very desirable that the Mill should be sold with the Priory. In fact I should think no-one would buy the Priory without the Mill.
Before this matter is settled I must see you, either here or Northampton.
Yours very truly
J C Mansel
H P Markham Esq
---
3 Grosvenor Gardens
27th Nov 1886
Cosgrove Priory
Dear Sir
I have yours of Saturday. If Mrs Mansel approves I shall be quite ready to carry out your suggestions about disposal of purchase money from Mr Atkinson.
Shall I find your disengaged at 12.45 pm on Tuesday or Wednesday next if I come to talk the thing over with you. I want to get away again by the 1.40 pm train from Northampton so as to have the afternoon at Cosgrove before returning to London.
Yours very truly
A Grant Thorold
H P Markham Esquire
Northampton
---
Market Harborough
March 25 1887
Dear Sir
Cosgrove
The following are an indication of the occupation of Mr Mansel which I consider to be included in Mr Grant Thorold's offer.
| | | | | |
| --- | --- | --- | --- | --- |
| | | A | R | P |
| 110 | Captain's Close | 0 | 3 | 32 |
| 136 | House, Garden, Yard and Pleasure Gardens | 0 | 3 | 15 |
| 112 | Cottage, Garden, Farm yard and Buildings | 0 | 0 | 37 |
| | | 2 | 0 | 4 |
I will see you tomorrow as letter
Yours faithfully
H W R Fisher
H P Markham
---
Diocesan Registry Peterborough
8th June 1887
Dear Sir
Cosgrove Estate
Mr H P Gates has placed in my hands your letter to him of the 6th inst & draft contract to peruse.
I presume the property mentioned is not entailed but that Mr Grant Thorold has the whole fee simple therein subject to the mortgage.
Is not the [said] Contract in its present form void for want of certainty, it being one for the purchase of the legal estate in land at some future indefinite period and the purchase money being payable at an indefinite time.
In the draft it is stated that "in as much as difficulties might occur in obtaining a Conveyance".
Have Mr Mills Trustees been communicated with at all in reference to them releasing the legal Estate or have they objected to do so until the mortgage or the whole estate is paid off or what are the difficulties apprehended?
The quantity of the land is not stated. From what date is it proposed that the purchaser should take possession under the Contract? And will the amount of interest be equivalent to the present rent payable?
Yours truly
H W Gates
H P Markham Esq
---
Market Harborough
June 27th 1887
Dear Sir
Cosgrove
I understand the arrangements to be per
| | | | | |
| --- | --- | --- | --- | --- |
| | | A | R | P |
| 110 | Captain's Close | 0 | 3 | 32 |
| 136 | House, Garden, Yard and Pleasure Gardens | 0 | 3 | 15 |
| 112 | Cottage, Garden, Farm yard and Buildings | 0 | 0 | 37 |
| 138 | pr of Orchard | 0 | 1 | 2 |
Price £1000
Interest at same rate as paid to J C Mansel Esq
I conclude that Mr M declines to pay more on account of 138 and..
Yours faithfully
H W R Fisher
H P Markham
Northampton
---
This window depicts the Atkinson family
Left to right: St Leger, Mary, York.

The Atkinson children are featured in the stained glass windows on the Priory staircase and in Cosgrove Church. One of them, St Ledger, joined the army and was killed in action on 13th May 1915, a Captain of the 1st Royal Dragoons. The Atkinsons were highly regarded in Cosgrove and some "living memories" are to be found in the stories of Dennis Tompkins and his sister Cynthia Smith.


At some point the Atkinson family renovated the Priory in the Tudor Style, taking out Georgian windows and replacing them with stone mullions.

Cosgrove Priory passed from J. J. Atkinson to his son Philip Atkinson, who died in 1972, leaving the Priory to Sir Hereward Wake Bt. of Courteenhall, although Atkinson's widow Grace continued to live at the house until her death. Sir Hereward sold the estate in 1979 to David Moore, who renovated the mansion before selling the main house in 1981 and moving to a new home he had created in the former stables.

---
In 1982, The Cambridge Diet purchased it as its UK headquarters. Because of a long, drawn out legal case over UK marketing rights, however, the building remained unused for five years before The Cambridge Diet lost the action and vacated the premises in 1987.

Pericom purchased the main building in 1987 as their UK headquarters and has subsequently purchased the remains of the complex and reintegrated it. The company began restoring The Priory to its former grandeur, making both internal and external improvements to complement the style of the building and enhance its flexibility as the administrative centre of the Group's international activities. In 2013 the house was again on the market and sold once again as a family home."


A BBC Northampton live broadcast 24th May 1993
John Stack
---
The Buildings
The Priory, which is not listed, is built of ironstone and limestone with a clay tiled roof. The house has beautiful reception rooms with a magnificent entrance hall, divided from the dining room by a Tudor rood screen, a large south west facing drawing room, sitting room and billiards room. There is a large kitchen and breakfast room also on the ground floor.
The upper floors may originally have had seven to eight large bedrooms, several with period fireplaces remaining. The original school room on the second floor has decoupage wall decorations which may have been made by the children and their governesses.

To the north of the main house are The Stables, built of stone with brick detailing, which in the 1980s was converted to a separate detached house. Close by is The Old Dairy, which has in the past been used as a cottage.

Adjoining The Stables is a large single garage. A boiler room is attached to the north side of The Priory. Adjacent is a store room. To the north of the The Stables is a former agricultural building, once used as stables with a loft over it. Further to the east is another timber framed stable building.