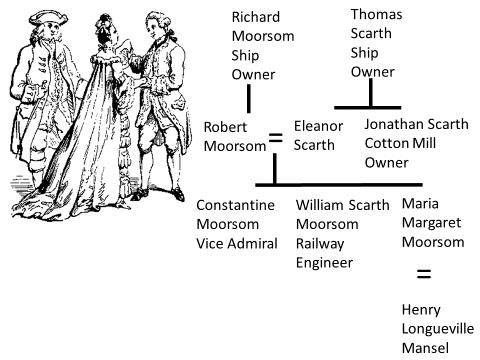 ---


Sir Robert Moorsom's ceremonial sword

FROM THE PATIOTIC FUND OF LLOYDS TO ROBERT MOORSOM ESQR CAPTN OF H.M.S. REVENGE
FOR HIS MERITORIOUS SERVICES IN CONTRIBUTING TO THE SIGNAL VICTORY OBTAINED OVER THE
COMBINED FLEETS OF FRANCE AND SPAIN OFF CAPE TRAFALGAR ON THE 21ST OF OCTOBER 1805
---
Robert Moorsom was born on 8 June 1760 at Whitby, the second son of Richard Moorsom (1729–1809), an influential Whitby shipowner, and his wife, Mary Ward (1729–1816).

He received an excellent education under the Revd Mr Holmes at Scorton Grammar School, and joined the Ardent, commanded by Captain Constantine Phipps, in 1777. Having removed with Phipps to the Courageux, he took part in the battle off Ushant under Admiral Keppel, the relief of Gibraltar under Admiral Darby and Lord Howe, the action off Cape Spartel, and the capture, by Admiral Kempenfeldt, of part of Admiral Guichen's convoy to the West Indies.

| | |
| --- | --- |
| He passed the Lieutenant's examination in 1784 and was appointed to the Sphinx and then the Thetis in the Mediterranean. After meetings with the prime minister, William Pitt, and Henry Dundas, later Viscount Melville, treasurer of the navy and member of the board for Indian affairs, he chose and commissioned in 1787 the sloop Ariel with confidential orders to examine potential harbours on the Bengal coast and report on the practicability of refitting ships there. | |
When illness forced him to return to England in October 1790, Admiral Cornwallis, commander-in-chief East Indies, was 'extremely sorry' and expressed his 'great regard' for him (TNA: PRO, ADM 1/167/47063). Sir George Cockburn was a midshipman on the Ariel, and his biographer recorded 'the great kindness and attention shown him by his commander who constantly afforded him the best instruction … at the taking of the different surveys and observations' (United Service Journal, 2, 1835, 242), of great importance to his career.

Moorsom was made Post Captain in November 1790 and married on 14 June 1791 Eleanor (1765–1828), daughter of Thomas Scarth of Stakesby, near Whitby; they had three sons and a daughter, who married the Revd Henry Longueville Mansel. When war against France broke out in 1793 he was appointed first to the frigate Niger to ascertain the enemy force in Brest, then to the frigateAstrea, and in 1795 to the Hindoostan; but when she was converted to a troopship and her destination changed, Captain Moorsom resigned a command he felt he could not retain with honour.

Moorsom remained ashore until 1804, when Pitt returned to power and Melville became first lord of the Admiralty; he was appointed to the Majestic, and in April 1805 he commissioned the newly built Revenge, joined the Channel Fleet and then Admiral Collingwood off Cadiz.


At Trafalgar Moorsom 'bore a distinguished and active part' (J. Ralfe, Naval Biography of Great Britain, 1828, 33). The Revenge was engaged for two hours with the Prince of Asturias and four other ships until they were driven off by British vessels. She was severely damaged and suffered twenty-eight killed and fifty-one wounded, including the
captain who 'fought his ship as coolly as if at dinner' (Revd John Greenly, chaplain of the "Revenge, to his father, 21 Oct 1805, Royal Naval Museum, Portsmouth, documents 1984/14 [130]).Revenge lay in the thick of battle, her men fighting like demons", Captain Moorsom's log sparsely reports. "...at 4.40 men firing with all expectation and spirit having upon us four French ships and a Spanish three decker."


| | |
| --- | --- |
| An anonymous seaman's account however was more voluble..... " A Spanish three decker ran her bowsprit over our poop with a number of her crew on it and in her fore rigging. Two or three hundred men were ready to follow, but they caught a Tartar; for..... our marines with their small arms, and the carronades on the poop leaded with cannister shot, swept them off so fast that they were glad to sheer off. While this was going on,.... we were engaged with a two decker French ship on our starboard side, and on our larboard (port) bow another, so that many of their shots must have struck their own ships and done severe execution." | |
"As one enemy vessel after another came within range Revenge fought them all. But in the midst of agonising death and the howling hell of the gundecks there were moments of humanity".....
Christopher Scott Wilson.
"Prince, the English 74 gunner, drew Achille away from Revenge and toppled her masts before an explosion set her ablaze. Working below in the magazine was a French woman called Jeanette who stowed away to be near her husband, a main topman."
Captain Moorsom tells her story in a letter to his father dated Dec. 4th 1805; "When the Achille was burning, she (Jeanette) got out of the gunroom port and sat on the rudder chains till some melted lead ran down upon her and forced her to strip and leap off".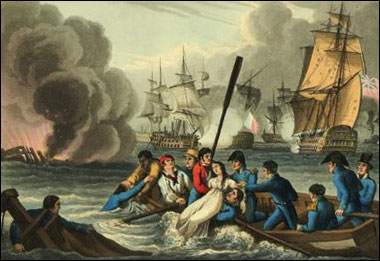 "She swam to a spar where several men were, but one of them bit and kicked her till she was obliged to quit and get to another which supported her til she was taken by The Pickle (an English schooner) and sent on board the Revenge. Amongst the men she was lucky enough to find her husband. We were not wanting in civility to the lady. I ordered her two Purser's shirts to make a petticoat; and other of the officers found something to clothe her; in a few hours, Jeanette was perfectly happy.....".

She did find her husband once the battle was over. Each officer on the Revenge gave her a dollar.
Later in heavy weather the crippled English fleet limped into the Mediterranean. Revenge anchored at Gibraltar on 28th October 1805, arriving back in England on Dec 5th in the company of the battered H.M.S Victory (Carrying Nelson's body)". Moorsom carried the great banner at Nelson's funeral.
| | |
| --- | --- |
| | The Revenge was severely damaged. One large bar shot entered the lower deck, damaging a 32 pdr and killing a midshipman and one entire gun crew. It finally lodged in the ship's timbers, from where it was retrieved when the REVENGE was docked for repairs. Moorsom kept it and had it mounted vertically on a stone plinth to support a sundial at his home at Airy Hill, near Whitby. The bar shot sundial was taken into the collection of the Whitby Museum where it remains |
After resigning his command in 1806, Moorsom was in 1807 made Private Secretary to Lord Mulgrave, First Lord of the Admiralty. In 1809 Moorsom himself became a Lord of the Admiralty, Honorary Colonel of the Marines, and MP for Queenborough.

He was particularly well suited to his appointment in 1810 as Surveyor-General of the Ordnance: his introduction of the turning lathe instead of the grindstone for finishing gun barrels saved many lives.

He was appointed Rear-Admiral (1810), Vice-admiral (1814), and KCB in 1815. At his retirement from the Ordnance in 1820 personal letters record the respect and affection with which he was regarded. He was commander-in-chief at Chatham (1824–7) and was promoted Admiral in 1830.
'Distinguished by his scientific and professional acquirements' (Annual Biography and Obituary, 20/2, 1836), he retired to Cosgrove, Northamptonshire, and died at his residence, The Priory, Cosgrove, on 14 April 1835. He was buried at Cosgrove Parish Church on 21 April 1835.



In October 2014 two direct descendants of Admiral Moorsom, Sue Thatcher and Robert Longmore, visited Cosgrove and were delighted to see that the village still celebrates his memory.
---
Two ships of the Royal Navy have borne the name HMS Moorsom, after Admiral Sir Robert Moorsom.