The Best Burglar in the County Neil Lyon
Joan Wake and the Northamptonshire Record Society 2021
Joan Wake, Northamptonshire's premier custodian of Northamptonshire's historical records, leased Green Farm, at Cosgrove, from 1937 to 1955, from Captain P Y Atkinson at the Priory.
The following pieces, relating to Cosgrove, are taken from Neil Lyon's compilation of Joan's own notes and diary entries, written in celebration of the centenary of the Northamptonshire Record Society, created by Joan Wake herself in December 1920.
Writing in 1952, of her childhood
A walk or a drive in the country with him [her father], or, above all, a day's canoeing as children on a fine day in May or early June along the River Ouse, or its tributary the Tove, was a wonderful experience…..
Equipped with a luncheon basket, off we used to drive in the dog cart, my father, my younger sister Phyllis and myself, starting operations at either Bozenham or Cosgrove Mill. Then down the stream we would quietly paddle, between the rushes and the meadowsweet and yellow flags, the ragged robin and the pollard willows, watching the flight of a distant heron, or listening to the song of the warblers, the splash of a water rat, or the scuffle of a frightened moorhen as we rounded a bend. For we stopped chattering on these occasions, when we saw the world from an entirely different point of view, richly enjoying every moment of the happy day.
One year, we happened for our expedition on the day on which peace was declared after the South African War [31 May 1902]. The world around us was in its fullest beauty, the sun was shining, the haymakers were abroad, and as we slowly made our way along the Tove, from every church tower the bells were pealing across the summer meadows.
Green Farm, Cosgrove
The year 1938 started on a high for Joan Wake, as she took a tenancy of the Green Farm in the village of Cosgrove, on the Buckinghamshire border. Situated some 12.5 miles away from Northampton, with Courteenhall about half way as a convenient staging post, this was the first house that Joan Wake could call her own. Here she would stay until she moved to Oxford in 1955.
Now aged 53, hitherto she had always stayed in lodgings since leaving her home at Courteenhall in 1917. Her financial position had improved when she received a sizeable legacy from her aunt, Miss Lucy Wake in 1935. This included two properties in Divinity Road Oxford. Which Joan would hold onto until her death, collecting the rents.
23 August 1938, Joan Wake to Hope Allen
I am idyllically happy at Cosgrove, happier than I have ever been in my life, except possibly those few pre-war months when I was living on 25/- a week as a student at the London School of Economics.
1939
I can see that the comfort of living in my little (!) house is going to be very good for me. I have taken stern measures with myself and firmly put my car away last Saturday (31st) and unless life is really impossible without it shall not have it out for three months. Mama will be in London most of the time so I shall not want it for WT (Weston Turville). I shall not be tempted away from my work and shall get much more exercise. There are hardly any buses to Cosgrove and to get the train or a bus to Northampton I have to walk two miles. I am really doing this to ensure more exercise and it will also be an economy.
11 July 1939 JW to the Master of the Rolls
I should now like to take this opportunity of informing you that in the event of war breaking out, the Council of this Society has made arrangements for the removal of all records, including manorial records in our custody, to my own house at Cosgrove in this County, and to Brixworth Hall, an empty house seven miles from Northampton. Both places would be dry, well ventilated and as safe as anywhere in the country. I have not quite completed the arrangements for transport and might think it necessary to trouble you later on for some sort of provisional order to enable me to use the furniture vans, petrol and labour without any interference.
The actual work began on September 2nd 1939 and occupied six days with one large van and six men, together with Miss Dover and Joan Wake herself. It was completed by September 12th by which date approximately 13 tons of records had been taken to Cosgrove and Brixworth Hall, the accumulations of twenty years.
The contents of the strong room were now in the Hon Secretary's dry and airy larder in her own house – the Green Farm, Cosgrove, and the rest of the records in the semi-basement at Brixworth Hall. The Society's own records were also at Cosgrove.
12 June 1940 Joan Wake to Hope Allen
Have joined the local Defence Volunteers as a messenger with Allegro. Practice this week. With all the signposts taken away I hope I don't get lost!
Hanslope Park, a country house near here is being sold up this week. Sale going on now. Former owner been staying with me, Harry Thorold's second wife. My god-daughters Rachel's husband is wounded and missing.
14 June 1940 Joan Wake to Hope Allen
My roses are out and Paris has fallen. I am waiting for the Queen to speak to the French…..
I have just heard her and daresay you were listening too. Marvellous fellow Hitler – always keeps to his timetable…..
When we hear the church bells we shall know the parachutists have arrived.
24 September 1940
This evening at 9.20 pm while listening to the news three heavy bombs fell in the vicinity and shook Green Farm considerably. Heard next day that all the doors of the Council Houses were blown open. Also Mrs Tombs' door close to me.
26 October 1940 NRS Council meeting
Reported that one of the rooms now in use for the storage of records at Brixworth Hall had not a sufficient circulation of air to make it satisfactory. The Hon Secretary was instructed to find another more suitable place for storage, if possible, in Brixworth. She was also authorised to buy a stirrup pump in case of an outbreak of fire in her house in Cosgrove.
12 November 1940
Joan Wake headed to London for a meeting. The previous day she wrote a letter to her sister-in-law Daisy; on the envelope she wrote "To be given to Lady wake if I should be killed – JW"
Dearest Daisy, in the unlikely but possible event of my getting bombed tomorrow I write to you as one of my executors and as a member of the Council of NRS as follows :
My keys are in the top drawer of the tallboy just inside the door of my study [at Green Farm] ,,,,, I am deeply sorry for the mess I have left my letters in, but don't bother too much. Just run through the unfiled ones in the large attaché case, abstract any NRS ones, and please put all my other letters into a large packing case, nail them up, mark them not to be opened for fifty years and hand over to the NRS.
16 – 21 November 1940
Nov 16 - To Priory. Saw Mr Brown. Filed Brudenell Book. Bombs night of 16-17 – two cottages hit at Beachampton and four people killed. Nov 17 worked at Bru book and finished chapter on Sir Thomas. Great relief. Nov 19 Furtho bombed 9 pm this night. Nights of 19-20, 20-21 and 21-22 very bad with bombs. Bomb at Roade 5.30 am on 21st.
9 February 1941
We are all getting on uncommonly well with hardly any meat or bacon or butter. Quite superfluous I assure you. We are all on the qui vive in every possible way, fire watching etc. I am one here (in Cosgrove) now, shall take my turn once a fortnight when there is warning, but all very cheerful, and pleased about the Lybian (sic) victories.
11 May 1941 Joan Wake to Hope Allen
I have been to London for the day to rescue and put into a safer place down here two very important Northamptonshire collections of manuscripts which after negotiations and some trouble, I forced a dilatory duke and a reluctant earl to let me get away. One collection had already been badly blitzed, one third of it ruined, and I am at this moment drying and cleaning some of the remainder in my garden.
20 May 1945 Joan Wake to Godwin Wake
I found all well here [in Cosgrove] and "my people" as Mrs Sotheby used to call her household, had scratched up a flag somewhere on V day so all was well.
The whole village was wreathed in smiles. They went wild on the nights of 7th and 8th and in spite of orders from the government to make merry also on the 9th, they were all so tired there was nothing doing, and the celebrations on the first official day were not very spontaneous as they had already had a bonfire the previous night. However, on the second night they had another bonfire and burnt Hitler in effigy in an old armchair which was likewise burnt. They danced in the village street and in the Old School and I understand got as drunk as they could manage on the very weak beer allowed by the government.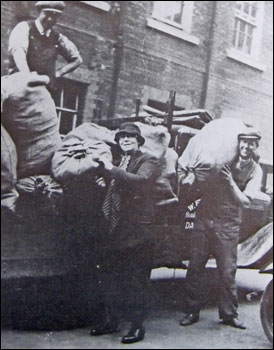 19-20 July 1945
To Northampton and moved sacks to new small rooms on the ground floor. One man ratted and I had to heave the sacks myself with the other man. To Cosgrove in van.
15 August 1945
Outbreak of peace at midnight August 14-15. Air raid warning with great gusto from Wolverton at 7.30. Nothing doing anywhere. Buses stopped. Worked at Chapter XIII. Village tea in school with Mrs Faulkner and Raymond. Bonfire at 8.0. All very friendly and jolly. Lorry from Phipps arrived with the beer just in time.
7-8 September 1945
Great excitement – fried fish and chip van in the village for the first time in five or six years. Everyone rushing out with plates and money, "like a fair" as one man said.
22 November 1945
Punctured on the way home along Watling Street from Potterspury to Cosgrove and stopped a gang of Italian prisoners coming along the road and got them to change my wheel, which they did, gabbling Italian all the while. Such a pity I forgot to tell them the name of my car [Allegro]. Gave them half a crown.
24 June 1946
Major Sir Frank Markham, 1 Calverton Road Stony Stratford, called on me at Cosgrove on Sunday 23rd June 1946. He asked for information on the history of Old Stratford and I gave him some references to Inclosure Awards of Northamptonshire parishes and the boundaries of Stony Stratford about which he is writing a history. Major Markham is a cousin of the late Major C A Markham. He was MP for Nottingham for 15 years, Private Secretary to Ramsay McDonald, and Secretary to the Museums Commission etc.
He told me that in the attic of Messrs Parrott, Stony Stratford, he had found a box of all the old Charity Records relating to Stony Stratford, and that in this firm also there are records of Arnold's and Whalley's Charities, which include all the old deeds going back to the 16th century, of a farm at Hartwell and much other Northamptonshire material. This is the firm who told me that everything had been destroyed when I called during the 1939-45 war. Major Markham said that the reluctance to disclose information was owing to very strong County feeling, much against yielding anything to Northamptonshire.
I promised that I would make no further attempt on the attic, until he has finished his work on Stony Stratford, as it took him some time to gain access himself.
25 February 1947 Joan Wake to Hope Allen (about the resignation of her Asst Sec, Mr Brasher)
It is maddening Brasher going. He has all the virtues I lack – punctuality, tidiness, method – and he is so reliable and writes excellent letters and knows exactly what he ought to do and what he oughtn't. His Latin and palaeography and very good too. Damnanddoubledamn as the Cosgrove miller 100 years ago used to say.
18 June 1949
Joan Wake spoke at the AGM of the Northamptonshire Association of Parish Councils in her capacity as Chairman of Cosgrove Parish Council, and proposed a motion calling for the compulsory restoration of land being devastated by the open cast mining in the County.
Wringing our hands and recriminating about how this dreadful thing has come about are quite useless. The question before Northamptonshire is how to find a remedy and see that the remedy is applied.
Already 3000 acres of land was lying waste. For temporary gain the future productivity of a beautiful and fertile district was being sacrificed forever.
Every day we read books and articles about the creation of dust bowls in America, soil erosion and deserts in Africa, but never a word about the desert we are ourselves creating in the middle of England. So the heart of England is to be gouged out to sell to America. Are we really going to allow ourselves to be destroyed by machinery?
21 October 1954 Joan Wake to Lord Exeter
I am leaving Cosgrove and have bought a house in Oxford, where I shall be able to get on better with my books. I am not at present resigning from my Honorary Secretaryship of the Record Society, not yet having found a successor, but think that I can manage it from Oxford, which is only 40 miles from Northampton, coming over for a night once a fortnight.
16 February 1955 Joan Wake to Deborah Webster
When I came to live at Cosgrove, my post town was 10 miles away at Bletchley, Bucks. A few years ago they changed it to Wolverton, Bucks. Cosgrove is, and always has been, on the right (Northants) side of the rivers Tove and Ouse which here form the County boundary.
Don't think I would live in Bucks? You might do so, I own, because my news is that I have bought a house in Oxford – 11 Charlbury Road, and should be moving next week, but caught influenza which laid me so low I have had to put it off for a month. My reason for going is to escape from half the jobs that I have to do in Northants. Life really has been one long weary struggle to try (and fail) to keep level for the last three years, and it is getting too much of a good thing.
I am hoping to be able to run the Record Society from Oxford, and to have time to write a short book on local records and to edit three more books for the Society. And now that the dears at Oxford have made me an Honorary MA to avail myself of the right that has given me of going to lectures. I shall also, I think, be in very congenial society where I have many friends.