Chronicle and Echo 29th October 1957
TO PRESERVE NORTHANTS ROMAN BATH-HOUSE
MAJOR J. B. Fermor-Hesketh, after consultation with the Ministry of Works, has agreed permanently to preserve part of a Roman villa discovered on his land at Cosgrove. The find is a bath-house complete with hypocaust—the under floor system of hot air heating used by the Romans—and includes a cement-line plunge bath. The curator of Northampton Museums (Mr. Alan Warhurst), revealing this to the Chronicle and Echo to-day said the Cosgrove site promised to be one of the most important villa sites in Northamptonshire. `If the remainder of the villa is as well-preserved as the bath-house, it will be an outstanding find for the whole of the country," he added.
HOW IT BEGAN. As it is it means that anyone interested in Roman history will now be able to see a hypocaust at Cosgrove where previously they had to go to Leicester or St. Albans. The discovery of the villa concludes a story which began in 1801 when an urn containing 60 silver coins was found at Cosgrove. Earlier this year members of Wolverton Archaeological Society led by Mr. Robert Harris, of 57, Western-avenue, Wolverton, decided to look for the villa. Mr. Harris discovered the probable. locality by means of pottery and tile fragments found in the fields at Cosgrove. As a result the exact position was discovered.
UNRELIABLE, BUT— - For this a steel probe was used. Mr. Warhurst said: "This is a notoriously unreliable method which tin this case proved satisfactory." The original bath-house would compare with modern Turkish baths. There remain at Cosgrove now, remarkably intact, the floor-supports (pilae) made of square tiles, which stand to a height of two-and-a-half to three feet. The walls of the building also still stand to a similar height. It is divided into two rooms, which would have been maintained at different temperatures. The plunge bath adjoins these rooms and still has iron nails in the floor which probably held a lead lining. Work on the site has now finished for the season but it is hoped that excavations will be resumed next summer.
---
Wolverton Express 24th November 1960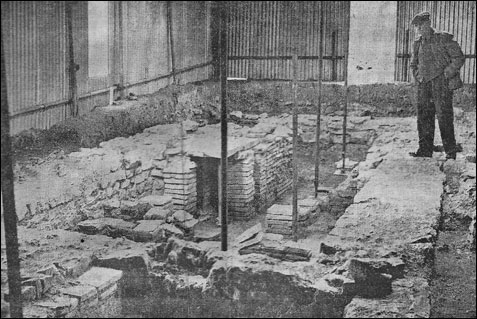 "Viatores' " search for country's past
Miles of dead straight, in unmapped highways are being discovered every week in the South-East Midlands by a group of nine men, known as the Viatores, or "Roman travellers." All amateur historians with a common interest in ancient roads, they have now unearthed over 500 miles of Roman roads. The one local member is 65-year-old Mr. Charles Green. 23, Victoria Street. Wolverton, who has been engaged in archaeological work in North Bucks for ten years.
Co-ordination
Mr. Green explained that the Viatores were started by a Hertfordshire archaeologist. Mr. Richard Bagshawe, four years ago. He was anxious to collect and co-ordinate the work of the principal archaeologists, in his area who were interested in Roman remains, and in particular Roman roads. Discovered roads were to be confirmed, and new roads sought. The results of this research are to be published next year in a book. Areas of operation were allotted to each member, and Mr. Green, took charge of North Bucks. For years he has played a prominent part in the Roman villa excavations around Wolverton. Finest Among others, he has worked on the Cosgrove villa, which is said to be one of the finest examples of a Roman bath house in the country. But, added Mr. Green, it is very difficult to draw a distinction between villa and road work. If you find a villa then sooner or later you will come across a road, and vice versa. The two are complementary. The work is strenuous, involving digging and cross-country trekking. "We have got some Viatores who plod 20 miles a day, but I stick at ten," he said. Mr. Bagshawe, he continued, was interested in the Watling Street because he had found that in some places it did not conform with the modern A5.
---