The Sheldon Tapestries - 1615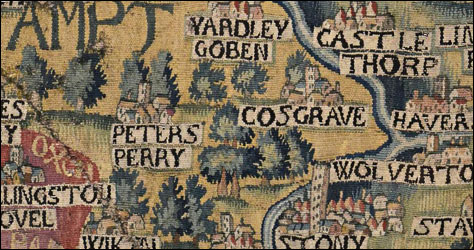 Ralph Sheldon was born in 1537, the son of William Sheldon, who had a tapestry weaving business at his manor house at Barcheston, Warwickshire.

Ralph married Anne Throckmorton, born in 1540, daughter of Sir Robert Throckmorton and Muriel Berkeley, in 1557. Anne had been married previously to William Catesby.

By this means Ralph became part of the extended family of the Throckmortons.

In 1487, the Manorial rights of Cosgrove, along with those of Paulerspury, Tiffield and others, had been conveyed to Henry VIII by Anne, Countess of Warwick. Cosgrove was annexed to the Honour of Grafton in 1542, and in 1551 these lands were granted to Sir Nicholas Throckmorton by his patron Elizabeth I.
The family table below shows the relationship between the Lords of the Manor of Cosgrove at the end of the 16th century, and Nicholas's niece Anne [Throckmorton] Catesby, who married Ralph Sheldon.
In around 1586 Ralph and Anne began to build a house at Weston, Long Compton, Warwickshire. For four walls of a room at this house Ralph commissioned his father William's tapestry works to create four huge tapestries depicting the counties of Gloucestershire, Worcestershire, Warwickshire and Oxfordshire together with the edges of bordering counties. These were woven in around 1615. They were designed to show places in which had a connection with Ralph Sheldon's family or friends.
The Oxfordshire tapestry includes parts of Northamptonshire and Buckinghamshire. It shows the earliest clear depiction of Cosgrove that we know of, together with the original manor at Grafton, which was later completely rebuilt. The map is now owned by the Bodleian library at Oxford and has recently been conserved by the National Trust's workshop in Norfolk. From 2019 it will return to the Bodleian where it will be once more available for the public to see.
A copy of the tapestry was made around 30 years later. This is considered not so fine and can be distinguished by the weaving of each capital N in reverse. This is currently on display at the Ashmolean Museum.
We do not yet know why neighbouring Potterspury appears as Petersperry!
Our thanks to Ella Toms who discovered this depiction, and to Nick Millea, Map Librarian of the Bodleian Library.