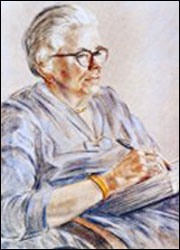 Joan lived in Cosgrove from 1937 to 1955 at Green Farm, which she leased from Captain Atkinson. Had it not been for her, this village website would not exist, as she was responsible for leading the drive to preserve local history records and for the establishment of the Northamptonshire Record Society.

Joan Wake was born at Courteenhall, Northamptonshire on February 29th 1884 and was proud of being a Leap Year baby, claiming that her low number of birthdays gave her the vigour and mind of a young woman. She was the second daughter of Sir Herewald Wake, the 12th baronet and his wife Catharine, daughter of Sir Edward St Aubyn, Bart, of St Michael's Mount, Cornwall.

She had three older brothers, all of whom had distinguished military careers, two in the Army and one as a Naval Admiral. Joan's older sister was a famous trainer of gun dogs and her younger sister married and settled in Rhodesia. Joan loved talking to all the people who lived and worked on the Estate and knew all their names.

Joan was fiercely proud of Northamptonshire and claimed "of course, there is only one County". Although she could number twenty seven generations of Wakes from Geoffrey Wac, who held lands in Normandy and Guernsey, she never allowed her family history to encroach on her research. Joan was educated by governesses at home. Her father apparently did not allow her to hunt on the grounds that it would be too expensive to provide a mount for "such a stalwart girl," although Joan herself said later that she found foxhunting the only equal in excitement to finding a 12th century charter!

Joan's main interest, as a girl, was music. She bought a Church organ in 1909 and had it installed in Courteenhall Church where she played for services. Joan conducted the Courteenhall choir as well as writing an article in 1911 about Christmas Carols. She was also interested in medical matters and became Secretary of the Courteenhall and District branch of the County Nursing Association, taking on the County Secretary's role during World War 1.

Personal memories of Joan are colourful. Her nephew recalls:

"She was forceful, outspoken, very intelligent and had a remarkable memory. She had an enormous curiosity and loved a good argument. When one of her nephews said "I don't care", she said forcefully, "You MUST care, care about everything." She had a good sense of humour and a loud laugh. She sometimes wore a grey wig, often skewed or put on back to front to amuse the young. She was certainly not a practical person. Only on smart occasions would she attempt to use makeup, but was "not a very good shot with the lipstick." A liberal powdering of her face, still wearing her spectacles, impaired her eyesight."

In 1913 Joan, feeling the lack of formal education, decided to embark on courses at the London School of Economic and Political Science. At the age of 30 she learned Latin and savoured the tuition and friendship of Eileen Power and Frank Stenton, who engendered Joan's lifelong belief that there is no distinction between national and local history. She transcribed hundreds of medieval charters in the Hesketh collection at Easton Neston during this time.

In the course of her work during the Great War Joan travelled to many villages in Northamptonshire and realised the extent of valuable historical material lying, unappreciated and undiscovered, in old houses, lawyers offices and church buildings, at risk of damage and loss. After the war she became a Fellow of the Royal Historical Society, and with Frank Stenton and the financial support of Mr James Manfield began to collect documents which became the core collection of the Northampton Record Society, formed in 1920. By 1922 Copyright tenure was abolished and the Master of the Rolls ordered each County to make provision for preserving Records, largely based on Joan's Northamptonshire model.

Joan was the Society's first Secretary and held the post for the next 43 years. She was also their editor for most of that time, starting in 1924 with the publication "The Quarter Sessions Records". Her final piece of editing was "The Letters of Daniel Eaton", published in 1971 when Joan was 87.
| | |
| --- | --- |
| | |
| Furtho Church | Green Farm |
The main aims of Joan's work were to find Records, catalogue them and make them available to students, and finally to publish them. In the early days the collection was housed in a dingy part of County Hall which used to be the gaol. At the start of the Second World War the records were divided between Brixworth Hall and Joan's home at Green Farm in Cosgrove. For safekeeping many of the Records were stored in Furtho Church, although the only bomb that fell locally was just in the field next door!
Miss Wake was a formidable woman in pursuit of her beliefs about the maintenance of Records. All were transported wrapped in brown paper safely tied in string and marked clearly in 2HB pencil with the name of the donor and the date given. She drove in and out of Cosgrove in a battered convertible car stuffed with a portable typewriter, several briefcases, boxes and a big handbag where she kept rolls of postage stamps, her glasses, cracked and mended with selotape, a watchmaker's magnifying glass and a few useful clothes pegs. She was not a delicate flower in the manner of many of her contemporaries, scorning physical help with heavy lifting and expecting visitors to brave inclement weather, saying "We're not made of sugar, you know." It was said that her mind became sharper the greater her opposition.
Joan induced Lord Greene, then Master of the Rolls, to restrict the activities of the wartime paper salvage campaign, which she condemned in a letter to the Times as "footling and dangerous", as solicitors were widely sending valuable historical documents to the salvage effort. Joan personally visited 36 Northamptonshire solicitors and rescued many documents, as well as advising the British Records Association about exclusions from salvage. From one solicitor's office in Daventry she collected 76 sacks of manuscripts and deeds.

Lamport Hall
Joan was offered the use of rooms at Lamport Hall to house the Records after the war. The Hall was still under requisition by the Ministry of Works, intended to house German prisoners, but Joan went to see George Tomlinson, the Minister, and pressed him to transfer the prisoners to Brixworth, thus releasing Lamport for the Records! With exemptions from rates and the securing of grants, Joan's work on the publication of volumes resumed.
One of these publications was the annual "Northamptonshire Past and Present", which allowed local historians to publish small articles and attracted new members to the Society. Joan published herself, notably "Tales of Whittlewood Forest", under the pseudonym of Wimersley Bush", as well as finding subjects, authors and speakers to lecture to the Society. She and a hardworking team gathered a membership of over 1000. During this period Joan moved from Cosgrove in 1955 when she inherited a house of her own in Oxford.
It soon became necessary for the Society to share the work of preserving the Records Collection, and Northampton County and Borough Councils, along with Peterborough Council assumed responsibility for the Records and the lease of part of Lamport Hall. A Technical and Advisory Committee was appointed at Joan Wake's insistence, upon which the Record Society was represented to give academic support.
Joan believed that the Records should be housed "in Northampton on a town bus route" and by 9th May 1959 had organised, with the Society for the Protection of Ancient Monuments, the restoration of Delapre Abbey, already in Borough ownership, having raised the money via the Record Society. Although eventually Joan did have to relinquish both the Editor and Secretary roles in the Society she was able to attend the 50th birthday of the Society at Delapre in 1970.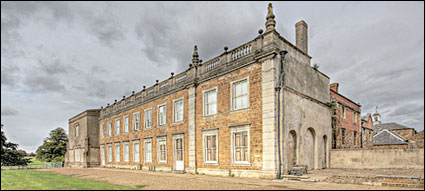 Delapre Abbey
By this time Joan Wake had received several honours, notably an Hon.M.A. from the University of Oxford in 1953, an Hon. LL.D from the University of Leicester in 1959 and was made a C.B.E. in 1960. Gyles Isham, who lived at Lamport Hall, writing in "Northamptonshire Past and Present" identified her real success in that "her interest in history derived from her interest in people, and that is what humanised her work as editor, archivist and historian."
Joan died at Northampton on 15th January 1974, 6 weeks before her 90th actual birthday.
Sources :
Gyles Isham 1975
Patrick King 1975
Sir Hereward Wake, Joan's nephew 2008