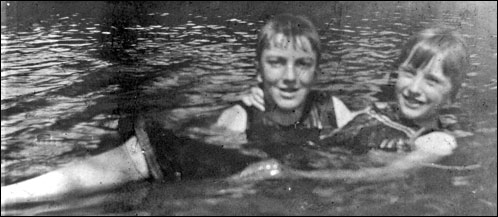 Photographs of the Atkinson children are very rare, but we discovered by accident a family bible in a prayer stool in Cosgrove Church. Inside Isabella Atkinson's family bible was this photograph of children swimming in the river Tove. By the costumes we take them to be Philip York [PY] and Gune.
---
The daughter of John Jepson and Isabella Atkinson, Gune was greatly respected in Cosgrove during the early 20
th
century and was remembered by older people well into the 21
st
century.
"Miss Gune" was the baby of the Atkinson family and was born in Cosgrove, baptised in Cosgrove Church on 14th June 1891. Her middle name, Aire, presumably derives from the River Aire, in West Yorkshire, the area from whence the Atkinson family name comes. Her first name "Gune" means "womanly" in Greek.
According to Dennis Tompkins, recalling her in 2012, this attempt at making her into a very feminine lady was one more idea that failed, as she became a "daring, high spirited" person, a tomboy. As an adult, she and Mary rode over from Paulerspury frequently, to visit Philip at the Priory for a swim – Mary would use her usual side saddle, but Gune always rode astride.
Gune evidently had a good singing voice, and could play the piano well enough to perform at local events,.We know that she attended a local music school in Northampton.
---
Northampton Mercury - Friday 19 June 1914
THE SCHOOL OF MUSIC. MISS MARY BEASLEY'S PUPILS' CONCERT.
On the invitation of Miss Mary Beasley, the talented directress of the Northampton School of Music, a large number of people met the Town Hall Tuesday afternoon, when a most enjoyable concert was given by students at the School. There was considerable variety in the programme, for several branches of the art of music are taught: pianoforte playing by Miss Beasley, the violin by Mr. Oliver Williams, violoncello Mr. Percy Such, singing Mr. Hubert Curling, while ensemble classes are also conducted by Mr. Such and Mr. Curling. The execution of the various items on the programme was in itself sufficient evidence of the excellent training received by the students, who all well merited the hearty applause with which their efforts were received. Three members of Mr. Percy Such's Ensemble Class Miss Catherine Smyth, Miss G. Wells, and Miss Christian Guthrie —opened the concert with a trio by Haydn for the pianoforte, violin, and violoncello, and Miss Christian Guthrie also contributed a charming violoncello solo, Bourreo Menuetto (Moffat and Percy Such). The three students who gave pianoforte solos —Miss Muriel Cave, Miss Catherine Smyth, and Miss Winifred Linnell all acquitted themselves admirably. Miss Cave, for so youthful a pianist, gave a wonderfully good rendition of Hummel's Rondo, Op. 11. Her touch and expression left nothing to be desired, and indeed this was the feature all the playing. The singing, too, was very pleasing. Miss Bertha Richens, the possessor of a beautiful contralto voice, fall and deep, sang two charming songs, Yerborgenheit (Wolf) and Like to the Damask Rose" (Elgar), which were both received with hearty applause. Two little soprano songs —one German and the other French —were prettily interpreted by Miss Gune Atkinson, and Miss Letts' contralto voice was heard to advantage in Slumber, Dear Maid" (Handel). The part songs, "Fly, Singing Bird, fly" (Elgar) and "The Chapel (Schumann) were effectively sung Mr. Hubert Curling's vocal ensemble class —Mrs. Linnell, Miss LinneJl, Miss Nelson. Miss Badcock, Miss Sackville, Miss Williams, Miss Sylvia Turner, Miss Margaret Turner, Miss O'Rafferty, Miss Letts, and Miss Bertha Richens. Mr. E. Howes, A.R.C.0., accompanied, and the violin obligato was played by Mrs. Gibson and Mr F. Wills. The last three items on the programme were contributed by the preparatory teachers. Miss Christine Parnell, Mr. Prank Wills, and Mr. E. Howes, A.R.C.0., who were formerly trained at the School of Music. Mendelssohn's trio in Minor for pianoforte, violin, and violoncello, was very finely played the three teachers; Miss Christine Parnell proved herself to be an accomplished pianist by her brilliant execution of the Air and Variations in Minor (Haydn), and Mr. Wills delighted the audience exquisitely playing Max Bruch's Concerto for violin.
---
Gune was to use her musical talents in many events for fundraising.

Cosgrove Red Cross Day 1916

Wolverton Express 20th October 1916

Held in the beautiful grounds of Cosgrove Priory, the seat of Mr and Mrs J Jepson Atkinson, the former popular County Councillor for Passenham Division of South Northants, and enjoyable and remunerative Red Cross Day was held. There was a very large attendance. Amongst those present were seen the Dowager Lady Temple, Miss Bayliss, Mrs Lucas, Miss Pouncefort Duncombe, Mr and Mrs Honston and Mrs H Honston (the latter was helping Miss Atkinson with her sweet stall), Mrs and Miss Guinness, Mrs Borrett, Miss V Maguire, Miss Capell, a large party from Towcester, including Mr and Mrs Linthwaite, Mrs Knight, Mrs Browning, Mrs Bywater (who kindly assisted with the arrangements), Miss Linnell and Mr Polman.

There was a good show of vegetables in the tent. The prizes of tobacco given by Mrs Atkinson were mostly returned by the winners as gifts to wounded soldiers. The exhibits were sent to the Northampton General Hospital. The prizewinners were Messrs Seymour, Swain and Childs. Among other attractions were four excellent half hour entertainments, two given by the "Pom Poms", a charming concert party from Wolverton. The other two concerts were of a varied character, showing a great deal of local talent. Mrs Grant-Thorold and Miss Capell performed a scene from "Northanger Abbey", which was very well done. Mrs Atkinson gave a beautiful rendering of "Who is Sylvia" (Shubert) on the harp, accompanied by Miss Gune Atkinson, who also sang. Mr Garratt opened the concert with pianoforte solos, and also accompanied. Sapper J O'Connor, who has a fine baritone voice, sang; and Lance-Corpl Jackson, cheered everyone with his funny humorous sketches.

Tea was provided by the Committee – Mrs Buttram, Mrs Jelley, Mrs Penson and Mrs Seymour. Much amusement was caused by the draw for a Leghorn hen, given and raffled for by Mrs Guinness and won by Mrs Atkinson. The proceeds amounted to £17 7s 3d.

Like Mary, Gune received her Red Cross certificate in home nursing, but she never took part in the Girls' Friendly Society.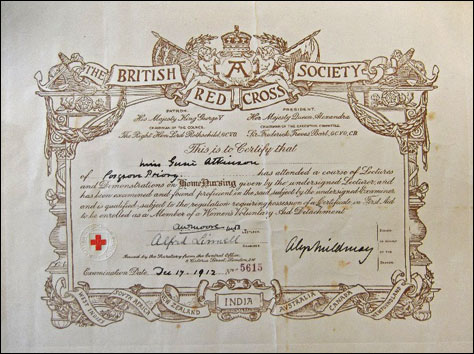 No mention of a suitor for Gune has been discovered in local reports or anecdotes.
Like Mary, Gune took an active part in helping with Cosgrove events. The more active and "comic" activities in the Fete described below must have appealed to Gune's spirited nature.
---
Northampton Mercury - Friday 07 June 1929
COMIC DOG SHOW.
ATTRACTIVE FEATURE OF FETE AT COSGROVE.
An attractive fete was held Saturday in the charming surroundings of the Cosgrove Priory, lent by Mrs. Atkinson. The proceeds were behalf the Parish Church funds. Captain Philip Atkinson, who presided at the opening ceremony, pointed out that for the past twenty years the church roof had been patched and patched until it could go no longer. The cost of repair would be about £350. Lady Hillingdon opened the fete, and a bouquet of golden yellow noses, named after her, was afterwards presented to her by little Miss Mary Whiting.
Among those present were the Rev. J. Stockton, the Rev. E. Ken worthy Browne (Paulerspury), Sir Walter Carlile, Bart., and Lady Carlile (Gayhurst), Lieut.-Col. R. H. F. Lombe (Grafton Regis), and Captain Gore Langton (Padbury). Lady Hillingdon was accompanied by her two daughters, the Hon. Ursula and the Hon. Penelope Mills, who brought large baskets of carnations grown at Wakefield Lawn. Mr. Ian Matheson, Oxford undergraduate, on a visit to Cosgrove Priory, gave selections with the bagpipes, and a little girl in Highland costume executed some pretty dancing. An amusing event of the afternoon was a comic dog show. There were small dogs with large barks, and large dogs with small barks. In the competition for the dog that wagged its tail quickest, the winner was easy first for it started wagging its tail furiously the moment it entered the ring and continued until it left. The dog race was also amusing, for some of the owners, who had to run with their dogs, either got entangled with the lead or fell over the dogs. Mr. Reg Whiting had charge of the show, assisted by Major V. D. S. Williams, of Greens Norton, and the judges were Mr. W. Pope, of Paulerspury (huntsman to the Grafton) and Mr. Leaf, Newport Pagnell.
The results were: Largest dog, . 1 Mrs. Harrison, Tringford (Irish Wolfhound); Miss V. Inning, Greens Norton. Fattest, 1 Mrs. Stevens (spaniel); 2 Mrs. Lombe, Grafton Regis (alsatian). Dog that wagged its tail the quickest, 1 Miss Gore Langton, Padbury (brown and white spaniel); 2 Miss Hope Brooke, Brackley. Best coat, 1 Mrs. Harrison; 2 Miss Hobson. Paulerspury. Queerest looking, 1 Mrs. Ryan, (Yorkshire terrier); 2 Mrs. A. U. Habgood, Old (bulldog). Dog with best looking owner, 1 Miss Gunning, Miss Fraser. Most sporting looking dog, 1 Miss. Ramsey. Miss Fraser. Dog race, 1 Miss Benson, Miss Hope Brooke.
Aquatic sports and dancing were amongst other attractions. Amongst the stalls and sideshows those in charge were: Sweet stall, Lady Wake and daughters; produce, Mrs. Winterbottom; Bunty pulls the String: Mrs. Gore Langton; ices. Miss. W. S. Parrott and Miss Maguire, assisted by Miss Balfour. Miss Wills, Miss Clare, and Mr. W. S. Parrott; tobacco stall and hidden treasure, Rev. J. Stockton; cocoanuts, Major V. D. S. Williams.
Various other sideshows were under the charge of the following members of the Cosgrove Football Club: Messrs. C. E. King, T. Cummings, E. Hillyer, E. Gascoyne, I. Dunkley, W. Luck, S. Eglesfield, E. Eglesfield, E. Kingston, A. Tompkins, F. Johnson, R. E. Johnson, G. Noble. R, Brown, A. Meakins, and C. Knight Members of the G.F.S. looked after a bran pie. Miss Mary Atkinson assisted by Miss Gune Atkinson, superintended the general arrangements.
---
Gune moved with Mary to the house they shared at Paulerspury in the early 1930s.
---
Gune was a staunch supporter of the Grafton Hunt Puppy club, and was known locally for more than just her dogs!

Northampton Mercury - Friday 10 July 1931

GRAFTON REGIS FETE.

Miss G. Atkinson Wins a Prize for a Smile.

Fetes and other events were often described as "comic" when Gune was involved

Rain fell during a fete on behalf of church funds at Grafton Regis Manor on Saturday, and brought the outdoor proceedings to an abrupt conclusion.

In spite of the threatening sky there was a large attendance at the opening.

Stalls were under the charge of; China and fancy goods, Mrs. Alexander and Mrs. Barry Blacker, sweets and produce, Mrs. R. N. Beasley; teas and refreshments, Mrs. Russell, Mrs. Banting, Mrs. and Miss Richardson, Misses Morton, Mrs. Blunt, Mrs. Allen, Mrs. Holloway, Mrs. Crow, Mrs Warren, Mrs. Littlehales, Miss Allen, and Mr. A. W. Russell.

Side shows: Bowling for pig given by Messrs J. R. and G W. Fountaine, Rev R. N. Beasley and Mr. H. C. Irwin; houpla, Miss Mason and Miss Elliott; squares and hidden treasure, Mr. P. B. Sherwood and Mr A. L. Nicholson; spinning wheel, Mr. H. Rush; farthings in bran, Mr. C. J. Rossiter - shilling in bath. Miss Margaret Rossiter; table skittles, Mr. L. Prothero and Mr. Waller; rifle range, Mr. D, Shakeshaft; character delineation, Mrs. H. M. Hurst.

Buffet teas were served in the house by Mrs. Loombe, who worked very hard for the success of the fete. She was assisted by Captain C. O. Alexander, R.N., Mrs. Alexander, and Mrs. Barry Blacker.

DOG SHOWS.

A dog show was judged by Mr. J. Simonds, of Newnham Hill Farm, Daventry. His awards were;— Any variety; 1 Miss Turner, Flore ; 2 Mrs. Loombe. 3 Mrs. J. D, Paten, Hanslope Lodge; 4 Mrs. Holt, Potterspury; 5 and 6 Mrs. Loombe, 7 Mrs. Winterbottom, Cosgrove Hall. A comic dog show was judged by ballot with the following results

Best kept dog, Mrs. Winterbottom; ugliest dog, Mr, Richardson; most desirable dog, Mrs J. D. Paten; fattest dog, Mrs. Loombe; sporting dog, Mrs. Paton; dog with best trick, Mr. Richardson; prettiest dog, Mrs. Holt; owner with most pleasing smile, Miss G. Atkinson.

The dog show was under the supervision of the Misses Atkinson (Paulerspury). A bridge tournament in the house was under the charge of Mrs. Winterbottom, of Cosgrove Hall. Mrs. Liddell won the contract bridge and Mrs. Driver the auction bridge.

Fetes and other events were often described as "comic " when Gune was involved

Northampton Mercury - Friday 14 June 1935

PAULERSPURY A FETE in aid of the church bells was held on Monday in the rectory grounds. The proceedings were opened by the Hon. Louise Fermor-Hesketh, after which the large number of entrants for the fancy dress parade were judged by Miss Fermor-Hesketh and Miss Clare. The prize-winners were: Adults, Mrs. W. Pope, Miss Tew, Mr. B. Smart; children, Alice Hams, Mary Harris, Doris Wootton, Eileen Elliott, Audrey Wootton. Stalls and various competitions were managed by Mrs. Joe Frost, Mr. H. Webb and Mrs. Stone, general; Miss Shepheard, Miss Swannell, and Miss Dare, sweets; Mr. and Mrs. B. Smart, Mr. and Mrs, E. Smart, and Miss Emery, plant stall; Messrs. P. Foster and W. Smart, coconut shies; Messrs. E. Smart and A. Clarke, skittles; Mr. A. Course, egg in ring; Mrs. Pope and Mrs. Trace, houp-la; Mrs. E. Lepper and Miss Clipstone, pop and flop; Mrs. Ritchie, slappers; Messrs. E. Lepper and S. Bignell, darts.
Much amusement was caused by the various items in the programme of comic sports arranged by the Misses G. and M. Atkinson, who were assisted by Messrs. W. Pope and J. Trace. Teas were in the charge of Mrs, Hammond assisted by Mrs. A. Clarke, Mrs. F. Timms, Mrs W, Foster. Mrs. P. Foster, Mrs. D. Smart, Mrs. A. Dunkley, Mrs. A. Wootton. Mrs. J. Dawbes, and Miss N. Dunkley. The Towcester Studio Silver Prize Band played during the afternoon and for dancing in the evening.
---
The sisters continued to sponsor political events at their home, with special emphasis on women.

Northampton Mercury - Friday 16 August 1935

A meeting of the Paulerspury Women's Conservative Association was held on the lawn of Paulerspury House, by invitation of Miss M. Atkinson and Miss G. Atkinson. Miss Deakin, of the Central Council, gave an interesting address.
---
During the Second World War, when her brother Philip was in charge of the local Home Guard, Gune was not left behind in defending Cosgrove. She joined the Women's Home Guard Auxiliary and received a letter recording the King's appreciation to this effect.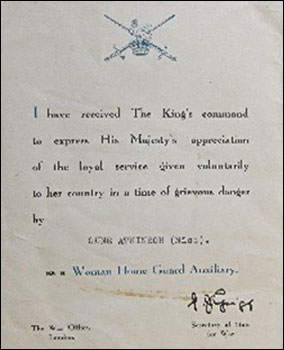 ---
Northampton Mercury - Friday 20 February 1931
PAULERSPURY
A MUSIC RECITAL, arranged by Miss G. Atkinson on behalf of the fund for repairing the damage done by the death watch beetle, was given in the church on Sunday afternoon. Solos wore rendered by Miss Gune Atkinson and Capt. Trevor, Mr. Charles Morley played violin solos, and Mrs. Geoghegan violincello solos. Mrs. Hammond and Mr. Hornsby were at the organ. The church was crowded, and the collection amounted to £22 16s.
---
Whenever Gune's name reached the newspapers things became lively, from her exploits in the Hunt to the day she was elected Churchwarden of Paulerspury Church!

Buckingham Advertiser and Free Press - Saturday 19 January 1952

THE BUCKINGHAM MEET
(From a Correspondent)

This has not been good scenting week, but on each of the days this week a large amount of ground has been covered, though only once have hounds run really fast. This was from Alithorne to Weedon Bushes on Friday, when the brook, taking its usual toll, stopped most of the field.
On Saturday the meet was Buckingham and a large crowd turned out on foot to welcome the hounds. The morning was very bright and hounds found it hard to make much of the first fox that came away from Stratford Hill. The second fox went away across the Brackley Road unnoticed and it was some time before the field found hounds again. In the afternoon a fox left Dadford Osiers in full view of the field and was hunted well across to Stowe Ridings and back towards Akeley and into Stowe.
Once again an unusually large field turned out, among the regulars being Mr. Harvey. Colonel Smyly, Mr. Mc-Elwee, Mr. Spencer Ivens, Miss Hill, Miss Connor with Rosemary Athay and Diana Forsyth, Miss Mary Atkinson and Miss Gune Atkinson, the latter none the worse for her submersion last week at a flooded ford. Major Young from Thornton was also out, with his wife and daughter, and a number of farmer friends from the Bicester country.
At the beginning of the first hunt Mr. Dorian Williams, the Master in charge, had a heavy fall, but was none the worse for it.
---
Northampton Mercury - Friday 02 May 1952
HIS JOB IS TO KEEP RECTOR IN ORDER
PART of the job of a rector's warden is to keep the rector in order, said the Rev. C. L. Dunkerley, rector of Paulerspury, in reply to an inquiry on the point by Miss G. Atkinson, whom he nominated to the position at the annual parochial church meeting held in the church school. Miss Atkinson succeeds Mr. H. G. Wills who has been rector's warden (under three rectors) for 31 years, and secretary of the parochial church council for many years. Mr. S. Bignell peoples warden for 23 years also found it necessary to give up the post and Dr. A. E. Reid was elected in his place. Both Mr. Wills and Mr. Bignell were warmly thanked for their services. Presenting his report as secretary of the church council Mr. Wills said the council's main concern during the past year had been to raise funds for rebuilding the churchyard walls. That this was successful was shown i n the treasurer's report, where Mr. P. Poster said there was a balance of £570, much of which would be spent in rebuilding the walls. Mrs. S. P. Tyzack was re-elected lay representative to the diocesan conference, and Mrs. C. L. Dunkerley and Mrs. A. E. Reid were elected representatives to the ruri-deaconal conference. The election of council members resulted: Miss O. Atkinson. Mrs. E. Lepper. Mrs. T, Smart, and Mrs. J. Weston. Messrs. C. W. Pugh. Tucker, J. Booth, J- Foster and P. Foster. Sidesmen elected were Messrs. H. E. Spencer. G. Johnson. J. Lewis, D. Dunkerley, S. Bignell, C. W. Pugh. Tucker, J. Poster and J. Booth. The rector spoke gratefully of the services of Mrs. Hammond, who completed 25 years as organist on April 26. He said there were now 170 names on the electoral roll and 15 new applications for inclusion.
---
It might be imagined that the genteel arts did not interest Gune at all. However, she did receive a Baden Powell award from the Girl Guide movement in 1957, when she was 66 years old. This was only awarded to those who had contributed greatly to the movement, but there is now no record on the Baden Powell archives of just what Gune's service entailed, other than the various references to her having been the Captain of Paulerspury Girl Guides. The outdoor, energetic emphasis on service in the Guide movement brought to many young women like Gune opportunities to break free from the restrictions of being trained to be a lady.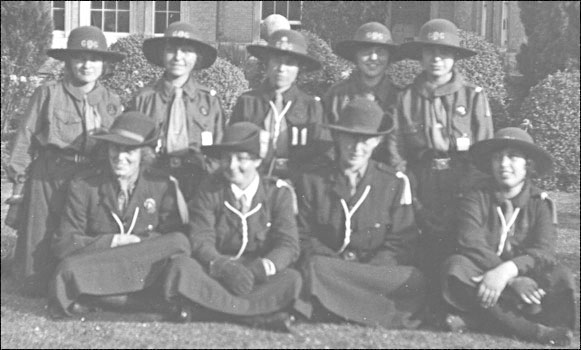 It is thought that there was a Guide company in Cosgrove, said to be pictured here at Cosgrove Hall in the 1920s or 1930s.
It is not known whether Gune is one of the three leaders pictured to the left in the front row.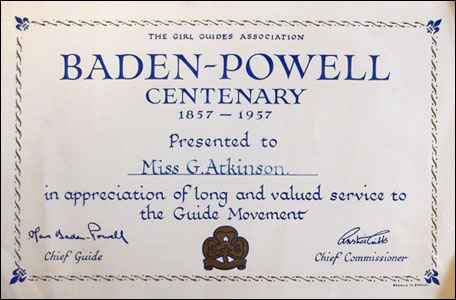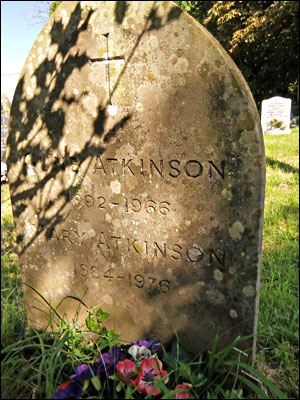 Gune died before her older sister Mary in 1966 at the age of 74.
Mary and Gune Atkinson were buried together in Paulerspury churchyard.
They are still highly regarded for the work they did for the village of Paulerspury and its people.
---