Go to Atkinson Family Tree at the bottom of the page
Daughter of John Jepson and Isabella Atkinson, Mary was greatly respected in Cosgrove during the early 20th century and was remembered by older people well into the 21st.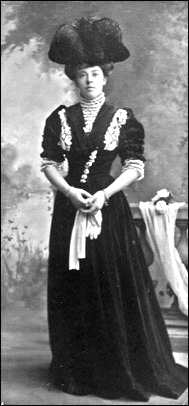 "Miss Mary" was born Evelyn Mary Atkinson in 1885 in Drayton, Oxfordshire, and was evidently raised in the best traditions of ladies at the time. She still used a side saddle when she rode out, and took part in "good works" with her mother, Isabella, who, of course, was brought up in a great stately home, Apley Park, in Shropshire, the daughter of William Orme Foster, the Ironmaster of Stourbridge.
In 1901, when Mary was 16, Isabella started the Girls' Friendly Society and Mary was a founder member. This was a group which aimed at high moral standards for its members; they attempted to supply for every working girl of unblemished character a friend in a class above her own. There were two classes of membership: the working class girls, known as members, and the ladies, called associates. Both classes paid annual subscription fees tailored for their class, half of which went to the local group and half to the central office. Associates provided "recreation rooms" often in parish facilities, although sometimes in their own homes, where working-class girls could meet with associates and each other, read, sew, sing, and enjoy simple refreshments.
It is easy to imagine ordinary Cosgrove girls coming to the Priory and their pride in reporting back at home that they had met "Miss Mary" in her own home. Later the girls met at the Old School, and Mary Atkinson continued to be involved until its closure in 1930, helping with the organisation as an associate member after 1915, when she was 30 years old.
---
Northampton Mercury - Friday 09 August 1901
GIRLS' FRIENDLY SOCIETY FESTIVAL AT
EASTON NESTON PARK.
The-annual festival of the Brackley Second Rural Deanery and the Preston Second Rural Deanery Branches of the Girls' Friendly Society was held at Easton Neston on Thursday, in beautiful weather. A service was first held in Easton Neston Church, when an address was delivered by the Vicar (Rev. R. C. Collins). A special order of service was used, and special hymns were sung. Miss Collins presiding at the organ. At the close a collection was made on behalf of the Girls' Friendly Society "Sick Members and Homes of Rest." After the service an adjournment was made to Easton Neston Park, kindly placed at the disposal of the society by Sir Thomas Fermor Hesketh, where games were indulged in. An excellent tea was provided, to which about 300 sat down. Amongst those present were Sir Thomas Fermor Hesketh, Rev. — Bevan (Whittlebury), and Mr. Ogilvy (estate agent, Easton Neston). The arrangements for the tea were carried out by Mrs. Amos (Abthorpe), Mrs. Baldock (Ashton), Mrs. Atkinson and Miss Atkinson (Cosgrove). Mrs. Elliott, jun. (Green's Norton), Mrs. Gross (Milton), Miss Sams (Paulerspury). Rev. E. Kinloch Jones and Mrs. Jones (Silverstone). Mrs. Hulbert (Towcester). Mrs. Andrews and Miss Andrews (Wicken). Mrs. Barnes and the Misses Aris (2) (Helmdon). Mrs. Howes (Cold Higham). Mrs. Fitzroy (Yardley Gobion). Mrs. Collins and Miss Collins (Easton Neston), Mrs. Rickards, Mrs. Plant and Mrs. Chettle (Potterspury). Mrs. Elliott, sen. (Leamington), and Mrs. Ellison (Pattishall). After tea a pleasant time was spent in games and in walks round the park. The Yardley Gobion Band, under the conductorship of Mr. J. Lambert, was in attendance, and played selections during the afternoon, and in the evening for dancing. The secretarial duties were ably carried out by Mrs. Fitzroy (Stony Stratford).
---
The sisters attended prestigious social events with their mother, which were reported in glorious detail in the newspapers.

Buckingham Advertiser and Free Press - Saturday 05 February 1910

BUCKINGHAM COUNTY BALL.
FASHIONABLE GATHERING
BRILLIANT SCENE.

The annual County Ball held in the Town Hall Tuesday night, February 1st. The attendance was large, the company numbering about 250, and everything passed off most pleasantly and successfully, under the admirable arrangements Mrs. Stacey, Castle Fields, who discharged the duties of hon. secretary. The whole of the decoration and furnishing had again been entrusted to Mr. James Putman, of Aylesbury and Paddington, and they were of most pleasing and attractive character. The orchestra was divided from the ball-room with Gothic arches, resting on gold and white pillars and open lattice work, and a line of lovely palms and exotics (supplied by Mr. T. H. Tailby) gave a nice finish to this design. The roof was latticed with crimson and pink rambler roses, and the windows and doors were draped with old French crimson curtains, and the sides panelled with oval gilt mirrors and ormolu and crystal pendants. The floor was laid with Putman's patent spring parquet. A portion of the room was covered with Turkish carpet and furnished with couches and easy chairs in glazed white chintz covers, and on the sides of the ball-room were arranged Louis XIV. furniture in gold. Tulip shades softened the electric light, and the scene was a most enchanting one. The Small Hall was utilised as the supper-room, and was covered with Brussels carpet 40 by 20, and on the walls were suspended oval gilt mirrors and old gold plush curtains draped the windows. There were three retiring rooms, covered with Turkish carpets and furnished with couches and easy chairs in glazed chintz covers, and handsome screens. The main staircase was clothed in crimson cloth, and the walls draped, as was also the case with the entrance. The company included the following: ..... Mrs. Atkinson's Party—Mrs. Atkinson, Miss Atkinson. Miss Gune Atkinson, Miss Gordon Ives, Miss Waterhouse, Miss Templer, Mr. R. Cooper, Mr. E. Cooper, Mr. G. Vernon, Mr. Daly, Mr. Turner, Mr. Gatehouse.
---
Mary and Gune both rode well and were supporters of the Grafton Hunt.

Northampton Mercury - Friday 18 February 1910

WITH THE GRAFTON

A biting north easier swept the broad acres of Wakefield Lawn on Wednesday, when the followers the Grafton met at the Duke of Grafton's Kennels. The extensive woodlands near abound with foxes, and sport being variably good, a large field is always attracted. The Master, Mr. C. F. P. McNeill was in command, and the distinguished company included Sir Samuel Scott, Bar;. M.P. (Joint Master). Lady Penrhyn, Honourable Alan Douglas - Pennant Wicken Park, Mrs. Atkinson. Misses Atkinson. Captain Hodgkinson (Cosgrove), Mr. W. Bairstow, Miss Bairstow (Towcester), Mr. Browning (Old Wolverton) Miss Aureole Brougham (Potterspury). Mr. G. Robarts (Tingewick), Miss Robarts (Tile House), Major F. Douglas Pennant (Sholebrook) Colonel Wood (Syrasham), Mr Ramsgate (Turweston), Mr. and Miss Budgett (Buckingham), Colonel Kirk (Brackley), Miss Gould (Salcey Lawn), Mr. C. Falconar MacDonald (Greens Norton), Mr. D. Bagnell (Field Burcote), Mr. C. Kenward Court (Wood Burcote) Mr. and Mrs. J. Stanley Watson, Miss Esme Watson (Park View), Mr. W. D. Grant-Ives (Bradden), Mr and Mrs G. Cooper (Lois Weedon), Mr. J. Cathcart White (Blakesley), Mr. Seph Clarke (Lillingstone), Mr. J. F. Franklin (Paulerspury), Mr. R. Vernon (Stoke Bruerne), Mr. H. Montgomery, etc. etc.

At Grafton Ridings hounds found their first fox running a ring round the cover, through the wood Beers Cover, and Dog Kennel Cover to Buckingham Thick. The pack running very fast indeed, forced the leader through Linshire Wood, and on to Shrines, doubling back to Buckingham Thick, then turning right-handed Reynard was bowled over in Holly Brook, a capital hunt of an hour's duration. At Wakefield Pheasantry hounds fastened on a line through Priory Wood, across Sootfield Green into Wicken Wood, turning right-handed in cover and doubling back to Priory Wood, straight through to Buckingham Thick and pointing away for Paulerspury. Leaving Pury on the right the leader turned to the left for Fuller's Spinney, through the cover, and across Mr. Tapper farm for Heathencote Spinney. ringing round by way of Pury End, across Park Farm to Buckingham Thick, where he saved his brush getting to ground.
In Priory Wood hounds disturbed another fox running across to Wicken Wood, right-handed for Buckingham Thick, and by way of Fuller's Spinney and Heathencote Spinney, past Mr, Franklin's House, and crossing the turnpike as if for Stoke Park, eventually getting to ground after an hour's run. For woodland sport was first rate, scent being remarkably good, and "going" capital order.
---
In 1912 Mary received a certificate for "Home Nursing" from the Red Cross. She was 27 years old and must have attended a course in First Aid with her sister Gune, who was 20.
This kind of occupation was growing in popularity amongst wealthy young women who may have found the English country house life restrictive. It was seen as a modern, but safe subject for women whose main duty continued to be running a home.

There is no indication that Mary ever had a suitor – but this does not mean she didn't. She would have been older than the group of young women who lost men in the Great War – by that time Mary would have been considered already a spinster.

Mary and her sister Gune appear in several reports of village events, and it was clearly quite a coup for the organisers if the "Misses Atkinson of Cosgrove Priory" put in an appearance.
---
Wolverton Express April 30th 1915
COSGROVE
WHIST DRIVE
A whist drive was held in the Old School Room, at Cosgrove, on Thursday, in aid of the Sunday School. It was arranged by Miss Penson, Miss Jelley, Mrs. Seymour, and Mrs. Buttrum. There was a good attendance and the prizes were won by the following ladies and gentlemen.
Ladies: 1st, Mrs. Coles (Wolverton); 2nd, Miss Duffett; Booby, Miss A. Knight.
Gents: 1st, Master Hillyer (Cosgrove); 2nd, Mr. E. J. Adkins (Yardley Gobion); Booby, Pte. J. J. Bues.
At the close of the drive the prizes were kindly presented by the Misses Atkinson, of Cosgrove Priory, and the Vicar proposed a vote of thanks to the Misses Atkinson for so kindly coming to present the prizes; to the ladies who had arranged the drive and also to the M.C. Mr. E. T. Cockerill, of Stony Stratford, who had managed this and also other drives held during the winter in the most able way. The whist drive was followed by dancing. Refreshments were provided by Mr Malcolm Jelley (Cosgrove), assisted by Mrs. Jelley, of Stony Stratford.
Mary's older brother, St Leger, was already an officer in the Dragoon Guards when the First World War began, and he was killed very early on in May 1915. From his father's eulogy it can be inferred that her younger brother, Philip, was in the same unit. This must have been devastating for Mary, and she ensured that St Leger was memorialised in a window at Cosgrove Church. The attribution "By his sister Mary" leads us to believe that this was done after the death of Mary's parents.
The family were, of course, stunned by the loss of St Leger, and there are few reports of any activities by any of their members for some time after his death.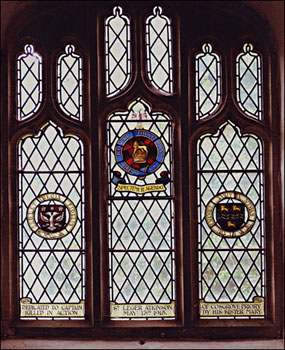 The Girls' Friendly Society would certainly have undertaken war work, such as providing parcels for soldiers and so on. Mary undertook training in massage in 1917, and received a certificate for this. Massage in those days was a popular treatment for older ladies, convalescents, and also for those suffering with polio and other paralysis.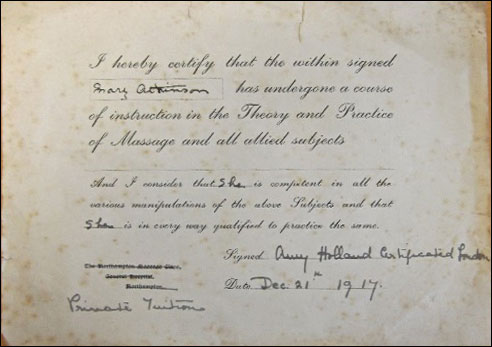 In 1924 Mary's father, John Jepson died, and six years later, in 1930, Isabella, her mother, also passed away. From 1922 her younger brother, Philip, had been living away from Cosgrove at Mount Mill Farm, managing his own household, but later in 1930 he married Grace Penn, and the couple took up residence at the Priory as Philip was the heir to the estate.
Mary received the vote in 1922, and we can see from the Electoral Rolls that she continued to live at the Priory until her mother died and her brother inherited. She and Gune attended Conservative party meetings with their brother.
---
Northampton Mercury - Friday 19 November 1926
WICKEN CONSERVATIVES.
CAPT. FITZROY AND COL. KERR'S
NEW CONSTITUENCY.
The first annual dinner of the newly formed Wicken Conservative Association was held on Friday, and attended by company of 150.
Lord Penrhyn, the president of the association, was in the chair, supported Lady Penrhyn, Captain the Right Hon, E. A. Fitzroy, M.P., and Mrs. Fitzroy, Captain P. Y. Atkinson, Miss Atkinson, Miss Gune Atkinson, Mr. A. E. Catt (Passenham Manor), Mr. J. Timms (Brackley), Mr. Jenkinson, Rev. H. Nelson Ward, and Captain Glanville Langden, M.C. (agent and organiser).

---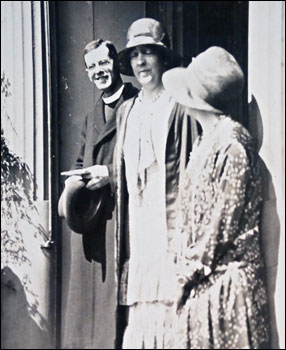 L-R: Rev. Kenworthy Brown, Mary Atkinson, Gune Atkinson
We know that Mary and her sister Gune took a house in Paulerspury after their mother's death and their brother's marriage. They lived together in Paulerspury House until Gune died in 1966.
Mary and Gune began to support Paulerspury, and to bring to that village the skills and knowledge learned from their mother back in Cosgrove.
Mary may have been the croquet player described in this article, although we have no proof of this.
---
Northampton Mercury - Friday 15 August 1930
CROQUET. Northampton Lose to Warwickshire. The Warwickshire Croquet Club defeated Northampton Club at Northampton, by live games to one. Details (Warwickshire player first in each instance): Singles.—J. N. Lovett captain, beat Mrs. W. L. Green (1£) 2 points; W. D. Lovell (2-J) lost to Rev.' R. H. Tadman (2) 16 points; P. G. Loveitt (7) beat Rev. W, H. Shari and (J6) by 13 points Miss M. Atkinson i 8) beat J. F. Bliss (9) by 6 points. Doubles. —J. N. Lovett (captain) and Miss M. Atkinson (,9£) beat Mrs. W. L. Green and Rev. W. H. Sharland (7s) 10 points; W. D. Lovell and P. G. Lovitt beat Rev. R. H. Tadman and J. F. Bliss by 12 points.
---
Mary judged the lace and presented the prizes in a local show that still runs annually.

Northampton Mercury - Friday 07 August 1931

PRIZE LIST AND SPORTS RESULTS. A record number of entries was received at Paulerspury Horticultural Society's thirtieth annual show on Monday. The exhibits were of splendid quality. The committee was headed the Rev. E. Kenworthy-Browue, with Mr. E. Smart and Mr. John Frost as joint secretaries. The judges were Mr. B. Mason, of Potterspury Lodge, and Mr. Philpott, of Duucote Hall, for the horticultural section; Miss M. Atkinson, of Paulerspury House, for lace.
---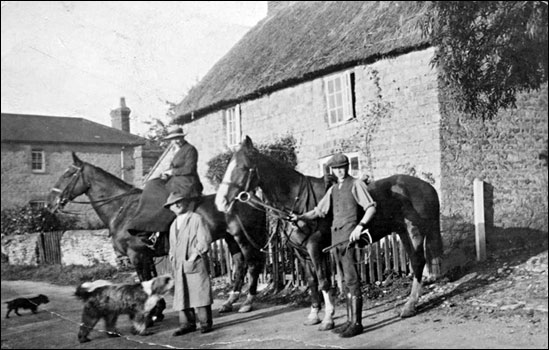 Miss Mary was a well known figure riding side saddle through the villages.
---
Northampton Mercury - Friday 07 April 1933
BILLIARDS. —On the suggestion of Miss M. Atkinson, who provided the first and second prizes, a billiards tournament was played at the Alen's Institute during the winter, and on Thursday week Miss Atkinson presented the prize, a. silver challenge cup, to Mr. S. Wootton, who won 17 games out of 20, a smaller cup to Mr. F. Cousins, who won 16 games, and a third prize, given by Mr. H. Fleming and Mr. E. Lepper, to Mr. A. Wootton, won 14 games. Mr. S. Wootton holds the challenge cup for year. Thanks were proposed by Mr. Fleming, who said the Institute would be proud to have the challenge cup for this competition, and seconded by Mr. H. G. Wills. An exhibition game was played by the winner and runner-up, and was won by Mr. Wootton.
---
The Misses Atkinson were frequently reported in newspapers for their loyal attendances at funerals. In the Northampton Mercury on Friday 29 December 1933 both sisters were reported attending the funeral of the Paulerspury Doctor's wife, Mrs Caroline Walton.Both sisters attended the funeral of Miss Lucy Wake, Hereward's aunt, at Courteenhall, reported on Friday 16th August 1935
---
Mary continued the example of her mother in Cosgrove by taking the role of President of the Paulerspury Womens' Institute.

Northampton Mercury - Friday 21 December 1934

PAULERSPURY At the annual meeting of Paulerspury Women's Institute, at which 28 members were present, officers for 1935 were elected as follows; President, Miss Atkinson; vice-presidents, Mrs. Kenworthy Browne, Miss G. Atkinson; committee, Miss Emery, Mrs. Bryan Edwards, Mrs. Joseph Frost, Mrs. A. Lepper, Mrs. B. Lepper, Mrs. Luckett, Mrs. Rayson, Mrs. E. Smart, Mrs. B. Smart, Mrs. Swain, Mrs. Timms, and Mrs. Walker. Mrs. [Grace] Atkinson, of Cosgrove Priory, was teller. A Giving and receiving of Christmas presents and a draw organised by Mrs. Walker, Mrs. Swain, and Mrs. Rayson followed. The tea hostesses were Mrs. Timms and Mrs. Joseph Frost.
---
The sisters supported other sporting groups, whether for the excitement of the game or the social involvement.

Northampton Mercury - Friday 15 May 1936

PAULERSPURY CRICKET CLUB. Officers elected at the annual meeting were: President, Mr. G. Beale; vice-presidents, Lord Hesketh, the Rev. K. Brown, the Misses Atkinson, Mr. W. Vincent, Mr. H. Wells, Mr. H. Swain, Mr. W. Pope, Mr. S. Tyzack, Mr. E. Bennett; committee, Mr. C. Dunkley, Mr. F. Dunkley, Mr. R. Wootton, Mr. S. Wootton. Mr. D. Smart, Mr. P. Smart, Mr. A. Elliott; secretary, Mr, R. T, Wootton; treasurer, Mrs. H, C. Swain; captain, Mr. C. Smart; vice-captain, Mr. H. G. Wills.
---
Clearly the Misses Atkinson made the most of their home at Paulerspury House, as their brother did at Cosgrove Priory.

Northampton Mercury - Friday 17 July 1936

PAULERSPURY The July meeting of the Women's Institute was held by the invitation of the Misses Atkinson at Paulerspury House. Mrs. Downing, of Old Stratford, gave a fruit bottling demonstration. A competition in which every member represented a flower was won by Mrs. A. Clarke. After tea. games and competitions were enjoyed.
---
They were always in attendance at any village events.

Northampton Mercury - Friday 02 October 1936

NEW CHAPEL INSPIRATION FOR FUTURE The bells of Paulerspury Parish Church, which have been re-hung and repaired, were re-dedicated on Sunday by the Bishop of Peterborough (Dr. Claude Blagden), who also dedicated a chapel in the south aisle. Room has been made for a sixth bell. Instead of the former wooden frame, which had become dangerous through the attacks of the death-watch beetle, and which had not been repaired for nearly century, a steel frame has been substituted The chapel in the south aisle is a handsome addition to the already beautiful interior of the church, and various gifts have been made for this by parishioners and friends. There was large congregation for the service, which was conducted by the Rector (the Rev. E. K. Kenworthy-Browne), and in addition to the Bishop, the robed clergy were: The Rev. E. V. Martin (Ashton and Hartwell), who acted as Bishop's chaplain, the Rev. H. P. Hoskin (Wicken), Canon H. c. Beasley (Yardley Gobion), and the Rev R. N Beasley (Potterspury). In the church were: The Dowager Lady Penrhyn, Lady Hillingdon. Lady Hamond - Graeme, Miss Hoskin (Wicken Rectory), the Misses Atkinson, Dr. Walton (Paulerspury), Dr. and Mrs. A. H. Habgood (Stony Stratford). Dr. Walton asked the Rector's acceptance of the gifts for dedication, and acknowledgment was made by Mr. H. G. Wills (senior churchwarden). The other warden in attendance was Mr. S. W. Bignell. The congregation faced the western end of the church, whilst the Bishop rededicated the bells, and a short peal was afterwards rung by Messrs. W. Rogers (Northampton) treble, B. Smart, H. Ridgway (Deanshanger), E. C. Lambert (Cosgrove), and J. Foster. The dedication of the chapel followed.
---
They also gave generously to the local schoolchildren.

Northampton Mercury - Friday 18 June 1937

PAULERSPURY EMPIRE DAY was celebrated the schools on Friday last before a large number of parents and friends. The first item was the crowning of the May Queen (Gwendoline Hinds), who was attended by the maids of honour (Hilda Patrick and Joyce Cook), the trainbearers were Brenda Watson and Patsy Simpkins, the herald being Gordon Goff. This was followed by songs and country dances, an address by the Rector, the chief Item a pageant entitled "Loyal Hearts," in commemoration of the Coronation, and had as its chief theme the loyalty the Empire. The characters, all children, were as follows; Britannia, Doris Smith, train-bearer Iris Wootton; England, Doris Stone and Kathleen Smith; Scotland, Joyce Scott; Ireland, Vera Dunkley; Wales, Betty Bignell; India, Evelyn Smith; West Indies, Eileen Elliott: Australia and New Zealand, Pauline Chambers; Canada, Margaret West; Africa, Joan Smart; Boy Scouts, Aubrey Scott; Girl Guides, Marie Wedley; Brownies, Georgina Webb. It was well carried out and reflected great credit on the headmaster (Mr. H. G. Wills) and the staff. The May Queen was presented with a jewelled filigree brooch by Miss Sheila Lewis, of Northampton. Through the generosity of the Misses Atkinson, 50 of the school children were taken by motor-coach to see the Aldershot Tattoo on Tuesday afternoon. On the way back they were given tea at Windsor, reaching home about 10 p.m.
---
The local scout troop also benefited from their kindness.

Northampton Mercury - Friday 19 November 1937

PAULERSPURY A PLEASING CEREMONY took place at the Mission Room, Pury End, when a standard given by Miss M. Atkinson was handed over to the Boy Scouts. Colonel P. Penn (County Commissioner). supported by the Rev. P. Hoskins (Assistant Commissioner), the Misses Atkinson, the Rev. E. Kenworthy-Browne, and members of the Paulerspury Boy Scouts' Association Committee, spoke to the boys on the meaning of the flag, and after short dedicatory prayer by the Rev. Kenworthy-Browne, made the presentation to the troop. Scoutmaster G. Chambers briefly thanked Miss Atkinson and Colonel Penn, after which a demonstration of Scout work was given.
---
Mary, although most of her pursuits were more ladylike than her sister Gune, was not averse to joining events with a will.

Northampton Mercury - Friday 02 December 1938

LADY CADOGAN

To raise the funds necessary to pay for the new church heating apparatus a bazaar and sale of work was held in the Schools, Paulerspury. Introduced by Lord Hesketh, Lady Cadogan opened the bazaar. The Rev. C. L. Dunkerley (rector) proposed a vote thanks, which was seconded by Mr. H. G. Wills (churchwarden). A bouquet of chrysanthemums was presented to Lady Cadogan by Master David Dunkerley, and a bouquet of roses to Lord Hesketh for Lady Hesketh by Miss L. Reid. The stallholders were: White elephant stall. Miss Shepheard and Miss Pope; dairy. Miss Emery, the Misses Gunton; sweet, Mrs. Reid, Mrs. Gilson, Miss Dare; provisions, Mrs. Wills, Mrs. Lepper Mrs. Stone; fancy, Mrs. Dunkerley, Mrs. Hammond. Mrs. Hobbs; soaps and scents, Mrs. Bignell, Mrs. Lucas, Mrs. F. Wesley, Mrs. A. Hall; toys, Mrs. Tyzack, Miss G. Atkinson: flowers, Miss M. Atkinson; bran tub. Miss Esme Garlick. Miss D. Stone; teas and buffet. Mrs. Joe Frost. Mr. John Frost. Mrs. A. Clarke, Mrs. E. Smart. Mrs. Mrs. Smart, jun., Mrs. F.
---
As the Second World War began, the Atkinson sisters turned their attention to the Womens' Voluntary Service and local hospital groups.

Northampton Mercury - Friday 20 January 1939

WAKE SISTERS HELP


In the photograph above, Miss Mary Atkinson is the shadowy face at the extreme right hand end of the table. It is one of the only existing images of her!
In charge of the W.V.S. members was Miss Margaret Wake, eldest daughter of Sir Hereward and Lady Wake, of Courteenhall, and two of her sisters, Diana and Mary, were enthusiastic workers. The W.V.S. members answered an appeal by Mr. C. E. Jones, clerk to (Potterspury), Miss P. Mills (Potterspury), Mrs. L. Clulow (Roade), Mrs. W. Blamire (Roade), Miss B. Mackaness (Little Billing), Miss B. Smythe (Little Houghton), Miss C. Mordaunt (Castle Ashby), Miss D. Wake, Miss M. Wake (Courteenhall), Miss L. Fortescue (Pitsford), Miss M. Atkinson (Paulerspury). Behind the front row stands Miss Margaret Wake (also inset). Visible in the second row are Mrs. H. Barker (Duston), Mrs. L. M. Crockett (Quinton). Mrs, R. George (Little Houghton), Hon. Ursula Mills (Wakefield Lodge). Standing: Mr. R. J. Miller, Mr. C. E. Jones, and Mr, G. A. Burke.
---
Northampton Mercury - Friday 10 February 1939
PAULERSPURY The annual general meeting of the Paulerspury Hospital Association was held in the parish room on Thursday week. The secretary's report and balance sheet, which showed that Is. 6d. had been paid to the hospital, was presented and adopted. Miss M. Atkinson was elected president and Miss G. Atkinson, Dr, Reid, Rev. C Dunkerley and Mr. J. Edwards vicepresidents. Other appointments were: Treasurer, Mr. H. G. Wills; secretary, Mr. A. Clarke; committee, Rev. G. Matthews, Messrs. E. Lepper, H. C. Swain, H. W. Bignell, W. L. Watson and R. Tomlin. It was suggested that Mr. Battle be approached to show the film of the hospital, the proceeds to be for the Paulerspury quota the Special Appeal Fund.
---
The village of Paulerspury honoured the two sisters in the following article.

Northampton Mercury - Friday 05 January 1940

PAULERSPURY'S SOCIAL WORKERS

Two of Paulerspury's most prominent social workers are the Misses M. and G Atkinson, of Paulerspury House. Miss M. Atkinson has been president of Paulerspury Women's Institute since started some eight years ago. She has been president of Paulerspury Women Conservative Association for a number years, is president of Paulerspury Hospital Week Committee, a school manager and represents the Women's Voluntary Services in the village. Miss G. Atkinson is secretary of the Women's Institute and captain of Paulerspury Girl Guides. Both sisters are well-known followers of the Grafton Hunt.
---
Here Mary is speaking as one of the first volunteer blood donors in a village collection during WW2.

Northampton Mercury - Friday 07 March 1941

I feel it is one's duty to help the country in this way," said Miss Atkinson, of Paulerspury House, a wellknown follower of the Grafton Hunt. Her sister, Miss G. Atkinson, was another volunteer. A number of the women were worried about whether they would get the Sunday dinner ready in time, while many men of the Home Guard went away as soon as they could to practise shooting. The youngest volunteers were Reginald Holman, the baker's boy, and R. A. Roswell, another youth, who had only just recovered from influenza and insisted on being a blood-donor. Paulerspury might well be proud of the lead it has given to the country, and there are indications that other villages may quickly follow. The neighbouring village of Potterspury, for instance, already has over 20 volunteers. "We will go out to them, if people can't come to the hospital," Dr. Sturtridge stated.
---
The sisters set a fine example in contributing financially to the war effort.

In the Northampton Mercury of Friday 09 May 1941 each of the Atkinson sisters was reported as having purchased £500 in National War Bonds.
---
After the war, the Atkinson sisters found it necessary to advertise for staff, like many wealthy people. Clearly their grounds had by this time become similar to a smallholding, where they presumably Dug for Victory.

Northampton Mercury - Friday 07 January 1949

WTD Strong Willing Girl, able to look alter two hunters and help with garden and small farm. Miss Atkinson Paulerspury House, Towcester.
---
Mary continued to take an interest in Cosgrove even after her sister Gune died in 1966.
---
Wolverton Express 29th June 1973
Cosgrove fete
VISITORS to Cosgrove Church Fete spent over £700 on Saturday. They enjoyed the music of Stowe School Band, played skittles and darts, saw the view from the Church Tower and watched the children's races. The fete was opened by Miss Mary Atkinson of Paulerspury, late of Cosgrove Priory, who was thanked by the Rector's wife. Mrs. Helga Beatty.
---
Mary Atkinson The death last month, in her 92nd year, of Miss Mary Atkinson was the last link with a family who were part of Grafton history. Living at Cosgrove Priory, they hunted with the Grafton for the whole of their lives. The elder brother, Leger, died, but Philip managed the stud of the late Lord Penrhyn, Master of the Grafton at the turn of the century, and was for many years on the Hunt Committee. His widow, who has also lived all her life in Grafton country, still lives at Cosgrove. On Philip's marriage, Mary and her younger sister, Gunk, set up house in Paulerspury, where the kennels are now situated. They both hunted regularly, and although Paulerspury is on the edge of the country, and Cosgrove even more so, they never once used any form of transport to the meet, riding anything up to 20 miles to the venue and returning home at the end of the day. Perhaps their heyday was when Lord Hillingdon was Master, as they shared his affection for hounds and became " unofficial aunts " to the Hillingdon children who, as was the case with all children in the district, adored them. Their parties at Cos-grove—at which Guile sang in a marvellous voice to the accompaniment of her mother on harp—were an absolute delight while their kind-ness out hunting was legendary. Hunting, and to a lesser extent racing, was their life and many will remember the undaunted spirit of " Mighty ". and " Kid " as they called each other, their enormous sense of fun and their simple unswerving standards, with very great affection. D.W.
Both sisters are commemorated in a plaque at Cosgrove Church. Mary's name on the plaque, engraved after she, as the last member of the Atkinson family had died, does not correspond with her name on public records. Mary outlived her younger sister by ten years, dying at Paulerspury at the great age of 92.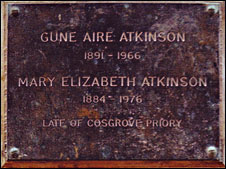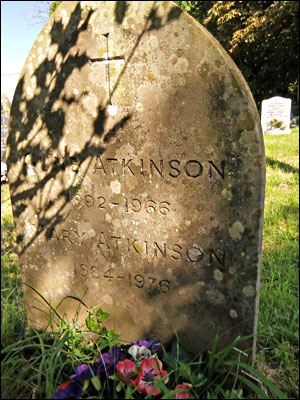 Mary and Gune Atkinson were buried together in Paulerspury churchyard.
They are still highly regarded for the work they did for the village of Paulerspury and its people.
---