Go to Atkinson Family Tree at the bottom of the page
Portrait of Mr William Orme Foster by

Sir Francis Grant, 1850

Portrait of Mrs W. O. Foster by Sir Francis Grant, 1850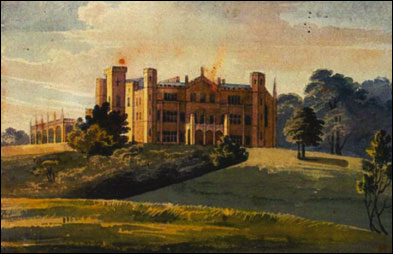 Apley Park, John Homes Smith, 1836 (source - Shropshire Archives)
Apley photographs by kind permission of Lord [Gavin] Hamilton of Dalzell, Apley Estate, Shropshire
---
This window, and the monuments below are found at Stockton Church at the estate of Apley Park
---
WILLIAM ORME FOSTER

OF APLEY PARK, BORN OCTOBER 29, 1814.

DIED SEPTEMBER 29, 1899

HE THAT BELIEVETH IN ME, THOUGH

HE WERE DEAD YET SHALL HE LIVE. ST JOHN XI, 25, ,

ALSO ISABELLA HIS WIFE
BORN OCTOBER 27,1823
DIED NOV 17, 1910
---
Worcestershire Chronicle 04 November 1899
WILL OF
A WORCESTERSHIRE MILLIONAIRE.
Probate has been granted of the will which bears date July 1. 1887. with codicils of June 5, 1888, July 7, 1890, and February 14, 1893, of William Orme Foster, Apley Park, Salop, J.P. and D.L.. High Sheriff 1883, formerly of Stour Castle, near Stourbridge, and the firm of John Bradley and Co., ironmaster. M.P. for Staffordshire 1857-68, who died on September 29 last, aged 84 years.
The gross value of the whole estate, so far as at present can be ascertained, is £1.000,000. The executors are his sons. Mr. William Henry Foster, of Spratton Grange, Northants, and Capt. James Foster, late of the Grenadier Guards.
The testator bequeathed to his wife, Isabella, daughter of Mr. H. Grazebrook, of Liverpool, £20,000, his leasehold house in Belgrave square, and such of the effects there as she may choose, a life annuity of £5,000, and the use and enjoyment during her life of his paintings and watercolour drawings, which, subject to her life interest, are to devolve as heirlooms with the settled estate.
He bequeathed to his daughter. Charlotte Vandeleur, in addition to settlements made in her favour, £10,000; to his daughter, Constance Evelyn Foster, £50,000; upon trusts for his daughters, Isabella Atkinson and Julia Mary Tyrwhitt, £20.000 each, in order to make up their fortunes to £50,000 each. The late Mr. Foster bequeathed to his brother James £10,000, and by his will he bequeathed to his son James £200,000, the Spratton Grange Estate in Northamptonshire, and the Elmley Park Estate, and other real estate in Worcestershire, but by a codicil the testator transferred the Spratton Grange Estate to his son William Henry, and bequeathed £250.000 to his said son James.
He devised the Apley Park Estate and his other estate in the county of Salop, as far as not already settled upon like trusts, with those of the settlements of the Apley Park Estate on March 3, 1874, and left all the residue of his property to his elder son, Mr. William Henry Foster.
---
Household of William Orme Foster 1891 Census
Apley Park
| | | | |
| --- | --- | --- | --- |
| William Orme Foster | Head | 76 | Ironmaster |
| Isabella | Wife | 67 | |
| James | Son | 38 | Retired Officer (Army) |
| Constance | Dau | 31 | |
| Charlotte Watchett | Servant | 61 | Domestic Servant Housekeeper |
| Clarice Lines | Servant | 35 | Ladies' Maid Domestic Servant |
| Louisa Jarvis | Servant | 36 | Housemaid Domestic Servant |
| Louisa Hill | Servant | 29 | Kitchen maid Domestic Servant |
| Elizabeth Brazier | Servant | 26 | Housemaid Domestic Servant |
| Julia Hudson | Servant | 18 | Housemaid Domestic Servant |
| Emeline Carter | Servant | 17 | Stillroom Maid Domestic Servant |
| Annie Bevans | Servant | 27 | Stillroom Maid Domestic Servant |
| Mary A Rogers | Servant | 38 | Laundrymaid Domestic Servant |
| Emma Matthews | Servant | 26 | Laundrymaid Domestic Servant |
| Martha Thomas | Servant | 20 | Laundrymaid Domestic Servant |
| Julia Stephens | Servant | 20 | Scullerymaid Domestic Servant |
| William Cummins | Servant | 38 | Butler Domestic Servant |
| Joseph Absolom | Servant | 31 | Cook Domestic Servant |
| Frederick Barker | Servant | 21 | Usher Domestic Servant |
| William Scarlett | Servant | 31 | Valet Domestic Servant |
| William Vidgen | Servant | 25 | Footman Domestic Servant |
---
On the south side of Stockton church, just yards away from the master they served, are the graves of some of William Orme Foster's servants. Some are badly worn, but we can identify his butler, who also appears in the 1891 census. Hugh McKenzie, his stud groom, does not appear in the census as, of course, he didn't live in the Foster household.




IN
MEMORY OF
HUGH MCKENZIE
FOR 27 YEARS STUD GROOM TO
W O FOSTER ESQ
HE DIED AT NORTON
ON THE 2ND OF SEPTEMBER 1873
AGED 54
ALSO OF HIS WIFE
MARY ANN
WHO DIED ON THE 24TH DECEMBER
IN THE SAME YEAR

IN
MEMORY
OF
WILLIAM CUMMINGS
Died December 22nd 1866
Aged 63
line illeg
Butler .. W. O. Foster
of Apley Park
---