In 1989 a singular business was established in Cosgrove by Howard Yates and Morag Beattie, living at the Wharf. They eventually developed horse drawn services known throughout the area. They were interested in tradition and history and were a source of pride to Cosgrove people for their unique way of life, knowledge and for their conservation of old country skills.
Their images appear in Milton Keynes Museum at Stacey Bushes, where they worked each week for many years, and in a wall hanging in Cosgrove Church. Their story is told in the pages of the village newsletter, "The Old Mail".
---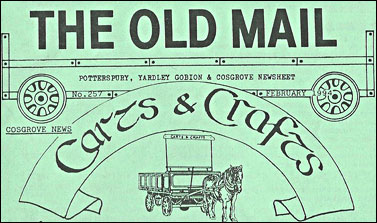 Carts & Crafts Horse Drawn Service
The Old Mail February 1994
Carts & Crafts was set up in 1989 to provide alternative to delivery and collection. Our horse 'Prince' is a Dales Pony, a representative of a rare breed, and with his good nature and calm disposition has proved himself very able in his work with Carts & Crafts.
The vehicles which you see us driving were built in Cosgrove by Carts & Crafts specifically for 'Prince', and designed for commercial use. Our yard is situated at the Wharf in Cosgrove, and here we provide a horse-drawn vehicle building and restoration service.
It has always been our aim to provide regular horse-drawn deliveries within the local area, and we have been delivering coal with 'Prince' for 3 years. It is brought to us at the Wharf by -working canal boats from Stoke Bruerne, and once loaded onto the waggon, it is delivered to our customers in Cosgrove and Castlethorpe. We have a range of educational facilities including our work with Stacey Hill Museum and Stoke Bruerne Canal Museum. We do a good deal of demonstrational work with schools covering 'The Victorians' arid 'Horse-Drawn Transport'.
Throughout last year Carts & Crafts were in negotiations with South Northants Council to introduce a horse-drawn reçycling facility for Cosgrove, and finally on Wednesday November 10th, in partnership with SNC, the scheme began. Door to door, we collect glass, cans and paper every 2 weeks from the residents of Cosgrove in our specially adapted vehicle. Once the items are collected we take them to the Neighbourhood Recycling Centre in The Barley Mow car park and unload the vehicle.
Collecting door to door horse-drawn, we think, has many green and environmental advantages.
We would like to take this opportunity to thank the residents and local businesses in Cosgrove and the surrounding area for their continued care and patience when meeting us on the road. We always welcome visits to our yard to view our ongoing restoration work and our vehicles.
Howard Yates & Morag Beattie.
---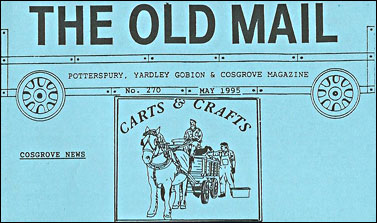 The Stable Yard
The Old Mail May 1995
CARTS & CRAFTS HORSE DRAWN SERVICES have recently moved premises to the canal stables which we have restored, at The Stable Yard, Cosgrove Wharf, Lock Lane, Cosgrove.
Our Summer SPECIAL EVENTS will be on: May 8th, June 4th, July 2nd, August 6th and September 10th. Look out for harness demonstrations, the harness maker, the blacksmith, shire mare and foal, chickens and lots of other small animals, cake stalls, facepainting, and craft stalls.
We will be open to the public most weekends and weekdays, so come and meet 'Prince"; watch a harness demonstration and see him in full Boat Harness. We have horse drawn vehicles on display, including the Cosgrove Recycling vehicle, along with our ongoing restoration work. We have informative displays and guided tours are by appointment. The Stable Yard is a Visitor Centre for scouts, guides and youth groups, and walkers may find it an interesting resting point to eat their packed lunch during their canal side-walks. Our visitors will be able to gain a rare insight into the workings of a contemporary horse drawn vehicle business.
Carts & Crafts facility for schools includes the study of the working horse past and present combining demonstrations with discussions. We focus on relevant project work such as 'The Victorians' and 'The Boat Horse'.
The Recycling Scheme and coal deliveries will now operate from The Stable Yard.
Howard Yates & Morag Beattie
---
The Old Mail May 1995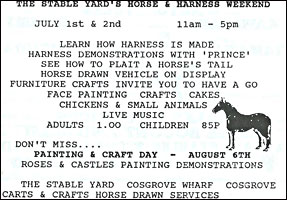 ---
Carts & Crafts Horse Drawn Service News
The Old Mail May 1996
In March there was a new addition at The Stable yard. "Jessie" is a 6 year old Shire Mare and has joined us to work with "Prince".
We are extending our services to cover a wider area as our deliveries reach further afield, and often are of larger quantities. "Jessie" will cover our heavier haulage work, meanwhile "Prince" will continue in his regular duties.
"Prince" being a very experienced draught horse is the ideal example for "Jessie". You will often see them out together, and we would welcome this opportunity to thank you for your patience and consideration when you meet our horse drawn veicles on the road.
"Prince" and "Jessie" will of course be at our Open Day on May 12th.
Howard Yates & Morag Beattie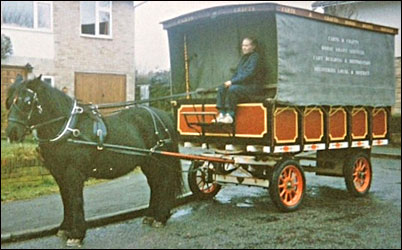 "Prince" collecting in 1993
---

The Cosgrove Recycling Scheme was launched in November 1993.
Local business Carts and Crafts Horse Drawn Services, established as horse drawn carriers in the area since 1989, approached South Northamptonshire Council in the autumn of 1992 with a view to introducing a door to door collection of recyclable materials within the village of Cosgrove, After many meetings, with the Environmental Services team, a start date was set for November of 93. During that summer a specially adapted horse drawn vehicle was prepared by Carts and Crafts, meanwhile the council installed an extra large neighbourhood recycling centre in the Barley Mow car park to serve the Scheme. Letters informing residents about the Scheme were delivered by Carts and Crafts along with their recycling boxes.
So the day eventually arrived when the Carts & Crafts team started the very first Recycling collection. That day has been remembered not only as the first, but also the wettest. In fact during that first winter's collections it rained very heavily indeed.
Prince, a sturdy Dales pony, was employed for the first five years of the Scheme until Jessie, a Shire horse, took over. The specially adapted horse drawn vehicle has been adapted threç times to cater for the ever increasing participation in the Scheme, and was finally rebuilt by Carts & Crafts in the summer of 2002. It had served over 10 years of work carrying not only recyclable materials but also innumerable deliveries in the area, covering over 3500 horse drawn miles.
Today the Scheme thrives with immense support from the recyclers of the village of Cosgrove. During the life of the Scheme the village have recycled over 260 tonnes of materials. This can be looked upon as a very substantial reduction in the contents of the household refuse bin and is up there among the highest in the country; something that is indeed worthy of note.
Carts and Crafts Horse Drawn Services are marking the 10 year anniversary of the Cosgrove Recycling Scheme by inviting all the participants to an evening celebrating the continuing success and future of the partnership between the residents of Cosgrove, South Northamptonshire Council and Carts & Crafts Horse Drawn Services.

---
The Old Mail February 2011


Farewell to Recycling by Carts and Crafts

The village sadly bade farewell to our unique recycling collections by Carts and Crafts in December. This was due to a decision by the council. We will miss the sound of the hooves coming down the road and thank Howard for all his years of conscientious hard work in Cosgrove. We wish him well for the future.
---