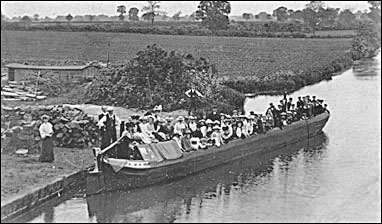 Boat trip leaving from the wharf at the Navigation Inn early 1900s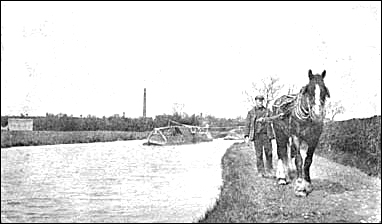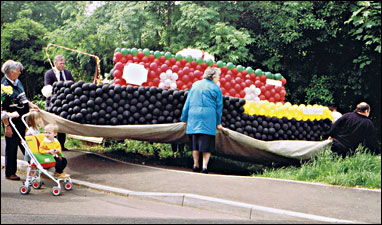 1993 May 24th launching the balloon boat on the canal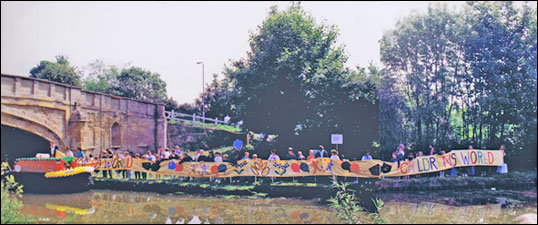 Balloon boat in the water - banner fo Children's World displayed by Cosgrove school children.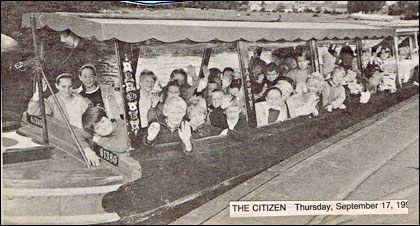 The Citizen Thursday, September 17th 1992

It was Happy Birthday 80 times over last Friday as the youngsters from Cosgrove School took to the canal.
This year sees the village school celebrating its 80th birthday.
What better way to mark this special anniversary than a trip on the canal boat Linda, also 80-years-old in 1992.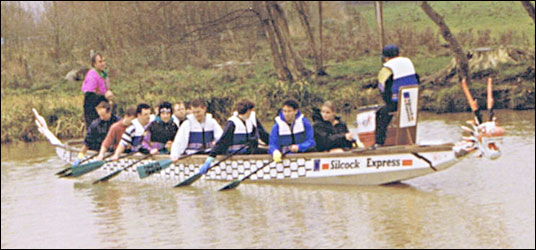 1992 - Saturday 14th November dawned cold and frosty. It saw the first positive moves towards our Festival week-end in June next year.
A Dragon Boat was launched onto the canal by Alan Roat and an eighteen strong crew of enthusiasts. Alan is the M.K. co-ordinator of the British Dragon Boat Racing Association. Peopl arrived at 10am to either watch, or assemble the two halves of the boat on a very cold morning - half inch thick slabs of ice were removed from the bottom of the boat as the Dragon's head and tail were bolted to the bow and stern - the drum was fitted, the crew entered the boat armed with paddles... and off they went up the canal at great speed. The reason for the launch was to make sure all would be well on the canal for two Dragon boats in June - for example, was the water deep enough? - could the boats turn round (they are 42 feet long) and so on. All went well, photographs were taken, and the crew refulled at the Barley Mow.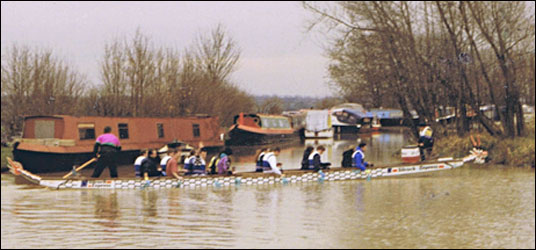 The Dragon Boat, also showing boats moored at Cosgrove Marina (the "Buckingham Arm of the canal" )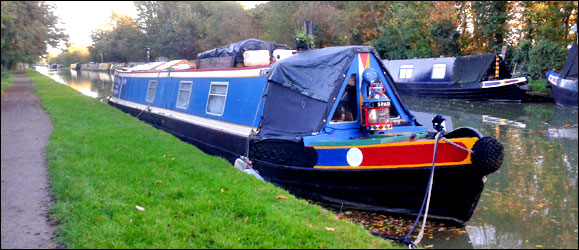 The Spade - the oldest boat moored at Cosgrove in 2014