As a child, Mrs Susan Maycock was told that the old farmhouse at Cosgrove Hall was dismantled and re-erected across the road to the Little Manor site. The auction details above would support this. Inside the front door of the Little Manor itself is a date stone for 1652, the supposed date of the original farmhouse.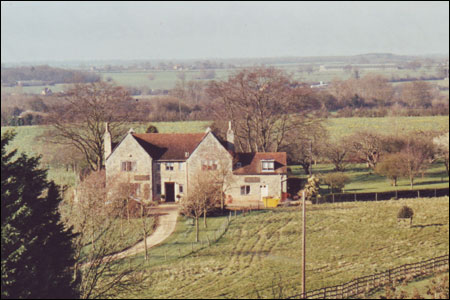 Photographic evidence suggests that the two buildings were almost identical in style.
---
Croydon's Weekly Standard Saturday 27 May 1882
COSGROVE HALL FARM,
Near Stony Stratford.
TEN and a Half Acres of luxuriant crop of CLOVER, to go off, with the Afterfeed up to September 29th; eighteen-months-old Alderney HEIFER, twenty-one-months-old BULL, useful Brown PONY six years old. Farming IMPLEMENTS, comprising thill and trace harness, wagon on iron arms, 2 carts on ditto, iron horse hoe, scuffler, ploughs, harrows, turnip cutter, capital bean mill by Roberts, nearly-new barrel water cart, three-cylinder iron land roll, weighing machine and weights ; 100 feet of Oak and Larch Timber, Rowing Boat with oars and sail complete; and about 60 Lots of Household FURNITURE and Effects.
To be Sold by Auction,
BY MR. GEORGE WIGLEY,
On TUESDAY, JUNE, 6, 1882,
At the Barley Mow Inn, Cosgrove, removed, for convenience of sale, by direction of Mr. James Reed, who is giving up the occupation of the Hall Farm at Michaelmas.
Credit will be given for the Clover till August 1st on the usual conditions.
---
Buckingham Express Saturday 05 August 1882
Cosgrove Hall Farm
Near Stony Stratford.


40 ACRES of capital growing crops of Wheat, Barley and Beans. with the Wheat Straw to go off, 10 Acres of Lattermath Clover to go off, a Rick of well-secured Clover Hay, about 20 tons, to go off.
TO BE SOLD BY AUCTION BY
Mr. GEORGE WIGLEY
On Tuesday, August 8th, 1882,
The crops are good and the Wheat Straw and the Clover may be taken off.
Two months credit will be given on the usual conditions.
The Company will oblige by meeting the Auctioneer at the "Barley Mow" Inn at 4 for 5 o'clock
Catalogues may be had of the Auctioneer, Winslow, and the Town Hall Offices, Fenny Stratford.
---
Cosgrove Estate Sale 1919
Stone-built and Tiled Gabled House
(Dated 1652),
now used as Stores, there being Three Staircases, Kitchen with old open Hearthed Fireplace,
Store Room with three Rooms over, Larder, Two Sitting Rooms, Two Bed Rooms. Outside,
Two E.C's. and Pigeon Cote. Ferret House.