The Cottage or Old Dower House
| | |
| --- | --- |
| | |
| | The back of the Dower House in 1998 |
It has been suggested that this stands on the site of the second house of Edward Furtho which was inherited by his grandson Edward Mansel. Edward Mansel died in 1696 and his widow in 1711. Their surviving children all lived in the north of England, and there seems to be no evidence of who lived in it after this until about 1840, when Mrs. Maria Margaret (Moorsom) Mansel, the widow of the Rector, moved in and lived there for 37 years till her death in 1877. It was then let to a Mr. Horsfall, who did nothing but complain about the deficiencies of the house, and perhaps with good reason, as it seems it rained through the roof of the best bedroom. Mr. Mansell apparently did not consider this at all serious, and their relations became so strained that all communications had to pass through the agent Mr. Fisher who lived at Market Harborough. Mr. Mansel was of course under increasing strain at this time, and was relieved when Mr. Horsfall departed, about the time the estate was sold, and so Mr. Mansel moved in, no doubt after having the roof seen to.

After the death of John C. Mansel in 1895 followed soon after by that of his widow, the next tenant was Mr. F. D. Bull the late owner of the Brewery in Northampton who had sold out to Phipps. Later, Mr. Harry Grant-Thorold lived there till he sold the estate and moved to Cranford Hall near Kettering. Miss Balfour and Miss Wells then bought the Cottage, which they renamed The Old Dower House, for some years now past being lived in by Mr. A. Rickaby.

• Editor's note: Francis Lord Dacre held Cosgrove by right of his wife's inheritance. She was one of the daughters and coheiresses of Sir Arthur Throckmorton of Paulerspury whose Northamptonshire estates were granted to his father, Sir Nicholas Throckmorton by Edward VI in 1551. (see Raleigh and Throckmortons, A.L. Rowse). The later mention, under The Hall, is therefore probably not relevant to that section as his land clearly ties in, by Dacre's sale, with the Priory part of the parish. Mrs D. Warren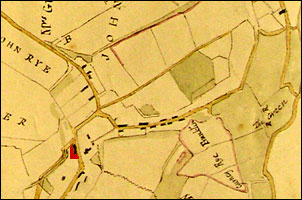 On this map of 1767 "The Cottage" is marked in red
Ref:
Date
Occupant
Census

1841

John Chase
Note: Mary Elliot Chase, Baptised November 1st 1826 therefore the Case family may have lived here since the early 1820s. See Mercury Newspaper advert dated 5th August 1820.
Whellan History of Northamptonshire

1849

Mrs. M. M. Mansell
Census

1851

Maria Mansel
Kelly's Directory

1854

Mrs. Maria Margaret Mansel
Census

1861

Maria Mansel
Kelly's Directory

1869

Mrs Mansel
Census

1871

Maria Mansell
Whellan & Co

1874

Mrs. H. L. Mansel
Census

1881

Robert Horsfall
Kelly's Directory

1890

John Christopher Mansel J.P.
Census

1891

John Christopher Mansel
Kelly's Directory

1894

John Christr. Mansell J.P.
Kelly's Directory

1898

Francis Desvaux Bull
Census

1901

Francis Desvaux Bull
Kelly's Directory

1903

Francis Desvaux Bull
Kelly's Directory

1910

Harry Grant-Thorold J.P.
Census

1911

Harry Grant Thorold
Kelly's Directory

1914

Harry Grant-Thorold J.P.
Kelly's Directory

1924

Miss M.A. Balfour & Miss E. Constance Wells
Kelly's Directory

1928

Miss M.A. Balfour
Kelly's Directory

1931

Miss M.A. Balfour & Miss E. Constance Wells
Kelly's Directory

1936

Miss M.A. Balfour & Miss E. Constance Wells
Kelly's Directory

1940

Miss M.A. Balfour & Miss E. Constance Wells
Northampton Mercury
5th August 1820
COSGROVE
(In the Centre of the Duke of Grafton's Hunt).
To be LETT.
And entered upon immediately.
A house; consisting of three Rooms on the ground Floor, with Kitchen, back Kitchen, and other Offices, four bed Rooms, three Attics, and a Servants' Room over the back Kitchen; Stable, coach House, kitchen Garden, &c. &c. with or without 18 Acres of pasture Land.
There are fire Grates in most of the Rooms, two kitchen Ranges, and other Fixtures.
For further Particulars, apply to Mr. ABEL, Northampton; or J. C. MANCEL, Esq. Cosgrove, if by Letter, Post paid.
---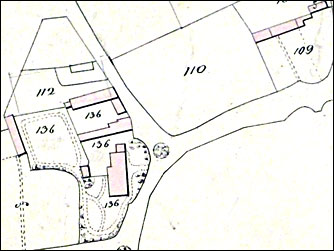 The Cottage / Dower House plan 1843
---
Survey 1881 -

The Cottage/ Dower House

House and other premises in the occupation of R. Horsfall



136
House Garden Yard & Pleasure ground

3

15

109
Cottage Garden & Orchard

1

18

110
Captains Close

3

32

112
Cottage & Garden with Farm yard and buildings

37

A

2

1

22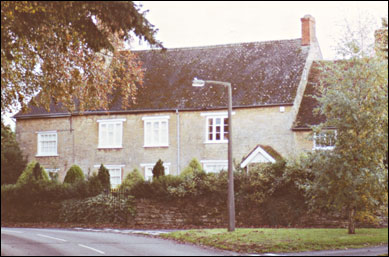 ---
---
(Coloured Brown on Plan Inset)
A Desirable Small Country Residence
KNOWN AS
THE COTTAGE," Cosgrove,
together with pretty Flower Garden, Orchard, Kitchen Garden, Stabling, Outbuildings and Cottage,
being Nos. 95, 96 and 98 on Plan, forming an area of about

1a. 1r. 27p.
THE PICTURESQUE HOUSE
standing on rising ground in a very pleasant Garden, is built of Stone with part Slated, and part Tiled
Roof, and provides the following accommodation—.
ON THE GROUND FLOOR—Entrance Passage, Dining Room, Drawing Room, Study with Casement
Window to Lawn, Kitchen, Scullery, Larder, Pantry, Back Hall, W.C., Cellar and outside W.C.
| | |
| --- | --- |
| ON THE FIRST FLOOR—- | Five Bedrooms, Lobby, fitted Bath Room (h. & c). W.C. |
| | |
| --- | --- |
| ON THE TOP FLOOR—--- | Two Attic Bedrooms. |
Acetylene Gas. Alain Drainage.

The Stabling and Outbuildings
include Brick Built and Slated Harness Room, Coach House, Gas House, Three Stalls, Loose Box,
Cow House for three, Stone Built Old Cottage of Two Upper and Two Lower Rooms used as Store,
Barn, Lean-to Open Shed.
The Gardens
consist of nice Lawn with Gravelled Path and Herbaceous Border, sheltered by a high Hedge, productive
Kitchen Garden and Orchard.
Stone-built and Slated Cottage of Four Rooms
In addition to a Well under pump, Water is supplied by the owner of Lot 1 at a charge of £10 per annum
who shall have the right of entry to this lot for the purpose of repairing and maintaining the supply.

Tithe Free.
This lot is in hand and sold with possession.
| | | |
| --- | --- | --- |
| | | |