As a child, Mrs Susan Maycock was told that the old farmhouse at Cosgrove Hall was dismantled and re-erected across the road to the Little Manor site. The auction details above would support this. Inside the front door of the Little Manor itself is a date stone for 1652, the supposed date of the original farmhouse.
Photographic evidence suggests that the two buildings were almost identical in style.
The third lot, the Little Manor, 7a. 0r. 3p, comprised a newly erected residence of old stone, with gardens. Bidding began at £1000 and after three bids of £100 this lot was also withdrawn.
---
Northampton Mercury - Friday 17 October 1930
CLAIM FOR FURNITURE.
Cosgrove Case in the High Court.
Enid Mary Lindsay Stewart, of the Little Manor, Cosgrove, Stony Stratford, Bucks, was sued before Mr. Justice Roche, in the King's Bench Division on Tuesday by Messrs. Maple and Co., Ltd., decorators furnishers, of Tottenham Court-road, London, W. 1., who claimed that she was indebted to them for a quantity of household furniture and effects, and for work done on her instructions. It was stated that the total amount of Messrs. Maple's account against Mrs. Lindsay Stewart, was £269, relating to the period from April, 1929, to October, 1929. The defendant paid on £50 May 9, 1929, and she had since paid £61 into court.
By her defence Mrs. Lindsay Stewart admitted liability for certain of the items against her, but maintained that for part of the account she was not liable, as, contracting with Messrs. Maple in certain matters, she had acted as agent for her husband, against whom she had since obtained a decree nisi. Mr. Justice Roche held that the defence forward Mrs. Lindsay Stewart failed in respect of the matters in dispute. He said he was satisfied that she acted as principal, and not as agent for her husband. He gave judgment for plaintiffs for £158.
---
Northampton Mercury - Friday 06 November 1931
ATTRACTIVE MODERN HUNTING
BOX.
THE LITTLE MANOR, COSGROVE.
Commanding delightful views of the surrounding picturesque country. Long winding drive.
Two floors only. Entrance hall, fitted cloak-room, three reception rooms, five bedrooms (two with lavatory basins), two bathrooms, usual offices.
Good repair, Costly fitments. Telephone. Pleasant garden, paddocks, grasslands and woodlands, in all about
31¾ Acres
With vacant possession
HAMPTON and SON
Will sell the above BY AUCTION
At the ST. JAMES' ESTATE ROOMS,
SW1
On TUESDAY 1st DECEMBER Next
(Unless previously sold)
Solicitors Messrs. KENNETH BROWN BAKER BAKER Essex House Essex-street W.C.2
Particulars from the Auctioneers Hampton and Sons 20 St James Square S.W.1
---
Northampton Mercury - Friday 01 January 1932
THE LITTLE MANOR,
COSGROVE.
About 2 Miles from Stony Stratford
THE VALUABLE FURNITURE,
including:
Hair and Wool Mattresses, Inlaid Mahogany and Oak Bedsteads, inlaid Mahogany Washstand, Oval and Shield Shaped Mirrors, Mahogany Cupboard, Mahogany Chest of Drawers, Casement and Chintz Curtains, VALUABLE BEDROOM SUITE in polished grey walnut, QUEEN ANNE TALLBOY. QUEEN ANNE TABLE, Wilton Pile Carpets and Persian Rugs. SET OF SIX CHIPPENDALE CHAIRS, JACOBEAN CARVED OAK SIDEBOARD. JACOBEAN DINING TABLE. CARVED OAK SETTLE, CARVED OAK CHEST, Set of Dining Chairs in Oak, Carved and Cane Seat Chairs, Mahogany Half Circular Table. CHINA CABINET, MAHOGANY SUTHERLAND and OCCASIONAL TABLES, PIANOFORTE by Chappell, AEONIC PORTABLE WIRELESS SET. Brass Coal Vases, also the Kitchen and Outside Effects,
which MR. P. C. GAMBELL,
WILL SELL BY AUCTION,
By Direction of Mrs. Lindsay Stewart
---
Wolverton Express 27th October, 1933
Mr. GBP, Cosgrove, asked the council to supply the Little Manor with water and it was decided that water could only be laid on to that residents at applicant's expense.
Application was received under the Housing Act 1924, from tenants of council houses at Cosgrove, Paulerspury, and Potterspury, for the payment of their rates with rent and it was decided that those who wished it might be allowed to do so.
---
Northampton Mercury - Friday 03 August 1934
PICTURESQUE WEDDING AT COSGROVE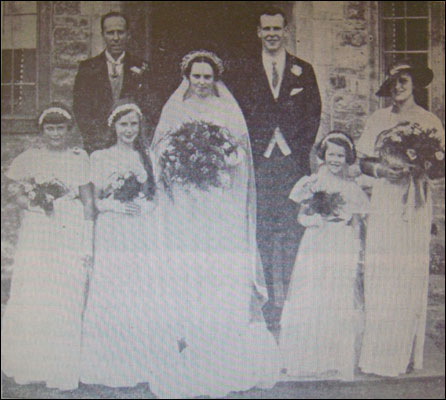 The bridal party photographed after the wedding at Cosgrove on Tuesday of Miss Mary Emily Heap, daughter of the late Alderman W. Heap, of Northampton, and Mrs. Heap, of Bedford, and Mr. John Richard Pocock, master at Bedford School.
A magnificent princess gown of satin in a delicate shade of peche was worn by Miss Mary Emily Heap, daughter of the late Alderman William Heap and of Mrs. Heap, of Bedford, and formerly of Northampton, who was married on Tuesday to Mr. John Richard Pocock, only son of Mr. and the late Mrs. Pocock, of March, Cambridgeshire. Mr. Pocock is a master at Bedford School. The yoke and puff sleeves of the gown were made entirely of French hand-veined rouleaux of satin. There was a long train cut in one with the skirt, and a fine tulle veil of tinted peche, held in position with a dainty coronet of miniature orange blossom in the same shade. The bride wore pearls (gift from Mrs. Winston Smith) and carried lilies of the valley and rosebuds.
The ceremony was conducted at Cosgrove Parish Church by the Rev. H. I. McNeice, Vicar of Melbourne, Cambridgeshire (friend of the bridegroom), assisted by the Rev. Harrison (Vicar of Cosgrove). The chief attendant. Miss Betty Heap (niece of the bride), wore a peche georgette gown flared from the knees, with a shoulder cape, a brown hat trimmed with peche, and brown gloves. She wore a diamante bracelet, gift from the bridegroom. Her bouquet was composed of roses.
CHILD BRIDESMAIDS
There were three child bridesmaids. Miss Margaret Whiting, Miss Isobel Beattie and Miss Helen Brown (Bedford). They were in peche silk net over taffeta dresses with tight bodices, Victorian shoulders and long full skirts finished with deep frills at the hem. They wore sashes of brown and peche twisted satin ribbon and Victorian headdresses tied with bow and ends satin ribbon. They carried rosebuds. From the bridegroom they received silver shingle combs.
Mr. J. F. Scott, of Bedford (friend of the bridegroom) was best man, and Mr. George Heap gave away the bride, who is his half-sister. During the signing of the register a duet was sung by Madame May Sturgess and Mr. Sam Worley.
Following a reception to about 120 guests at the Little Manor, Cosgrove, Mr. and Mrs. Pocock left for their honeymoon, which is being spent on the Continent, the bride wearing a suit of moss green wool tweed with hat to match and a stone marten fur.
---
Northampton Mercury - Friday 06 December 1935
CONTRACTOR
Well-known in Northampton as a public works contractor, Mr. George Bennett Heap, of the Little Manor, Cosgrove, died on Tuesday at Northampton General Hospital, He had been ill for six months. Mr. Heap, who leaves a widow and daughter, was the eldest son of the late Alderman William Heap, of Birchfield, Abington-grove. Northampton.
Northampton Mercury - Friday 13 December 1935
MINISTER'S TRIBUTE
Northampton business men and former colleagues of Mr. George Bennett Heap, of the Little Manor, Cosgrove, public works contractor, who died on December 3, were represented at his funeral at Cosgrove on Friday. The service throughout was taken by the Rev. A. Fielding Daniel, Northampton, assisted by the Rector (the Rev. H. C. Hewson).
At the Parish Church, a psalm, "The Lord is my Shepherd," was chanted, and the hymn, "Lead us, Heavenly Father," sung. Mr. C. Compton, who was at the organ, also played voluntaries Handel's Largo and O, rest in the Lord (Mendelssohn). In the course of an address, the Rev. A. Fielding Daniel said it was easy to read a man's religion, but it was not easy to read his heart. They were mourning for one who was respected and loved as a friend. It was not his pleasure to have known him in health, but it was his privilege to have known him in sickness, and he felt sure that Mr. Heap had passed through this life a Christian man. He was struck by the remarkable patience with which Mr. Heap bad borne suffering.
The interment was in the adjoining churchyard. The family mourners were: Mrs. Heap (widow), Miss B. Heap (daughter), Mrs. John R. Pettit, Bristol (sister), Mrs. William (Stepmother) Mrs. Frederick Heap (sister-in-law), Mr. Peter Heap (nephew), Mrs. John Pocock and Mr. Pocock (half-sister and brother-in-law), Mr. Henry Ellis (brother-in-law)., Mr. Charles Pettit, Thrapston, and Mr. Frank Harrison. Mr. Arthur Heap (brother), Sheffield, was unable to attend owing to illness.
Among others present were Captain P. Y. Atkinson (Cosgrove Priory), Mr. R. A. Winfield (Northampton Borough Engineer), Mr. F. H. Hawtin and Mr. L. G. Hawtin (representing the Master Builders' Association), Mr. F. H. Allen (representing the architects). Mr. and Mrs. H. Musk Beattie, Mr. and Mrs. W. E. Watts, Mr. Clifford Towers, Mr. W. H. Fox, Mr. and Mrs. F. C. Whiting, Mr. Leal, Mrs. King, Miss Revitt, Mr. R. Pell. Mr. and Mrs. C. Hardwick (Northampton). Mr. C. H. Cowley (Stony Stratford), Mr. G. Judkins (representing Mr. Bert Green), and the following employees: Messrs. L. W, Scott, A. E. Trindle, F. Franklin, H. Warringer, and F. Brawn. The wreaths included one from Mr. Heap's employees.
---
Northampton Mercury - Friday 29 May 1936
£17,778 ESTATE
BUT NO WILL
WELL-KNOWN NORTHANTS
CONTRACTOR
A large intestacy is revealed connection with the estate of Mr. George Bennet Heap, contractor, of the Little Manor, Cosgrove, and formerly of Northampton, who died on December 3 last, aged 51.
Mr. Heap left an estate of the gross value of £17,778 17s. 9d., with net personalty £5,947 4s. 7d.
He left no will, and letters of administration of his property have been granted to his widow, Mrs. Harriett Elizabeth Beatrice Heap, of the same address, and William Ewart Kingsley Watts, of St. Elmo, Abington Park-crescent, Northampton house furnisher.
---
Wolverton Express 10 April 1980