Cosgrove Hall Estate Sale 1919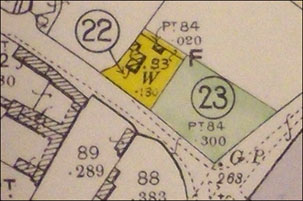 A Picturesque Modern Stone-built and
Gabled Cottage
with Tiled Roof, containing ON THE GROUND FLOOR—Passage Entrance, Sitting Room, Living
Room, Scullery and Pantry. ON THE UPPER FLOOR—Three Bedrooms. OUTSIDE—Coal
House and E.C.
The above is situate in Cosgrove Village, being Nos. 83 and Pt. 84 on Plan, having an area of about

24 perches
POSSESSION ON COMPLETION.

Tithe Free.
The Purchaser of this lot shall erect a fence to join up the existing wall on the south east boundary

to the Point F as shewn on Plan.