There were three estates in Cosgrove in 1066, held freely by Alden, Ailric and Godwin.
Godwin's estate was given to Robert, Count of Mortain, 2nd Earl of Cornwall (c. 1031–1090). He was a Norman nobleman and the half-brother of William I of England. He was one of the known participants at the Battle of Hastings and the time of the Domesday Book he was one of the greatest landholders in England.
In 1086 the Domesday book recorded "In COSGROVE [the count] holds 4 parts of half a hide. There is land for 1 plough, which [plough] is there, with 3 villans. It was worth 5s ; now 4s."
Alden's estate, the largest, assessed at half a hide and a fifth of one virgate, was given to Winemar the Fleming, landowner of an area in Normandy.
Winemar, who held a small barony centred on Hanslope (Bucks.), adjoining Cosgrove, was succeeded by Michael of Hanslope. In c. 1131 Henry I gave Michael's estates to William Maudit, the king's chamberlain, since Michael in his lifetime had made Henry his heir, and also gave Michael's daughter Maud to William in marriage. (fn. 62) The gift was confirmed in 1153 by Henry duke of Normandy (later King Henry II). (fn. 63)
In the early 12th century Cosgrove remained divided into three fees, of which the largest (9 virgates) was held by one Adam, (fn. 67) who was perhaps Michael of Hanslope's sub-tenant.
In the reign of Henry I the two smaller estates in Cosgrove, containing eight small virgates and six small virgates, were held by Robert Revell and William le Brun respectively. These presumably represent the Mortain share of Cosgrove, although of which fees they were held is not stated. (fn. 41)
In 1186-7 Robert Revell was in dispute with Adam son of Warin concerning eight virgates of land in Cosgrove, (fn. 42) and in the early 1190s Robert owed three sums of £100, £50 and 20 marks for his lands in Cosgrove, Puxley, Tiffield and 'Watfeld'. (fn. 43)
In 1226-9 Robert's son Hugh Revell was involved in litigation concerning 3½ virgates in Cosgrove and Puxley, (fn. 44) and in 1235 Roger Revell held one of the small Mortain fees in Tiffield, Puxley, Cosgrove and Long Buckby. (fn. 45)
Robert Revell held the same estate in 1243. (fn. 46) In 1275 it was said that the fee of Robert Revell in Cosgrove, except his demesne, was accustomed to make suit in the hundred court until about twenty years previously, when it was withdrawn without warrant. (fn. 47)
The Revell family
The original Sir Hugo de Revell was a Frenchman thought to have been born in the old extinct Province of Dauphine France but more recently from Normanton, France. He is supposed to have crossed into England with William the Conqueror but the facts are that he had been in England for some time prior to 1066 and he served Edward the Confessor. Later he did side with William the Conqueror and is mentioned in the rolls of Battle Abbey.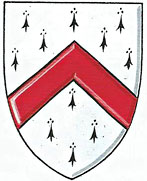 Sir Hugo's son, Henry Revel of Swinford, became the Lord of Swinford, living in Leicestershire. He is recorded still living in 1183. Henry had two sons; Robert and Richard. Robert claimed his father's lands in Swinford while Richard became Lord of Langport & Curry Revell. Richard's lands were granted by King Richard 1.


Henry's son, Robert Revel, had a considerable interest in Swinford, Leicestershire, all of which he gave by deed to the Knights Hospitaller. He is named in the Pipe Rolls of Essex 1177.
Robert's son, Hugh Revell was born c1197 in Newbold Revell and married Alice de-Wappenbury in 1190. Alice was the daughter of Thomas de-Wappenbury born about 1175 in England. Hugh was a rebel against King John and his lands were taken but later restored.
---
The following extracts were recorded in on line correspondence between Matt Tompkins and Mike Clifford:
A Latin document in Rotuli Curiae (1194) involves a transfer of four virgates in 'Pokesleia [Puxley] et in Alfwinesfeld' between William Brun and Hugh Revell and contains a phrase beginning 'Hug Reuel ven et dic …' and continuing 'defendit jus suu t saisina Ric avuncli sui'.

This can be translated as 'Hugh Revell came and spoke ….', and 'made a plea for the law to defend his maternal Uncle Richard's seisin'. In the last sentence, this document mentions 'Walt. Reuel' and 'Hug' Reuel'.
An entry dated Sunday in the feast of St Edmund, 6 Ric I [ie 20 November 1194] says:

"Northamptonshire. William Brunus seeks 4 virgates of land [in the region of 120 acres] with appurtenances in Puxley and in 'Alfwinesfeld' against Hugh Revel as his right, and which Nigel de
Beachhampton gave to Richard Brahu', uncle of William's father, for his homage and service in fee and heritably, and whereof the same Richard, his father's uncle, was seised in the time of king Henry the grandfather as of right and his fee, taking thence profits to the value of 5s. or more, and this he offers to prove against him by Walter de Brackley, his man, who offers to prove this against him by
his body as by his father's knowledge. [trial by battle! fought by champions]

Hugh Revel comes and says that of the aforesaid land he holds only 1 virgate and a quarter part of a virgate of land in demesne, but others hold the other parts of the aforesaid land from him, and if he ought to answer without the others for that part which he holds [then] he defends his right and the seisin of his uncle Richard by his man who offers to defend this by his body.

It was decided that Hugh ought not to answer for the lands of his free tenants and that the free tenants should be summoned to be at Westminster in the Quindene of Hilary at Westminster to answer for the aforesaid lands. The names of the free tenants are Robert Victricus Hugh Revel and Walter Revel, and Hugh son of Osmund."


---
There are two further references to this Hugh Revell and land in Pokesley dated 1200 available at http://contentdm.lib.byu.edu/cdm/compoundobject/collection/FHMedieval/id/98400

Page 210
Witt de Pokesle po . lo . suo Hug de Brokeshott vs 9 Hug Revett de pl svic 16.
William de Puxley put in his place [ie, appointed as his attorney] Hugh de Brokeshott against Hugh Revell in a plea of service.

Page 226
Witt de Pokesle qstus fuit qd Hug Revel n vult adq'etare eu de svico tre sue i Pokesle sic cirogaphu int eos fcm testatr. s . qd debet eu acq'etare de forinseco svico. t dic qd debet eu acq'etare de hidag t de auxiliis dni Reg.

Considatu t qd auxiliu t hidag n sunt forinsec mia sviciu .t ido " Will i mia p fo . claim
William de Puxley complained that Hugh Revel would not acquit him of the service from his land in Puxley as the chirograph [contract] made between them states, but that he ought to acquit him of forinsec service and says that he ought to acquit him of hidage and of the lord king's aids. [basically an argument between landlord and tenant as to who pays the property taxes]

It was decided that aid and hidage are not forinsec service, and therefore William is in mercy for false claim.

---
The 1202 Assizes are recorded in a volume at Northampton Records Office, and reveal the following entries:
613 (295)
Hugo Reuel ponit loco suo Robertum Bibias uersus Willelmum de Esteneston' et Robertum f. suum de placito j virgate terra in Tifeld'. Et uersus Willelmum personam de Couesgraue de iij rodis terre .et uersus eundem Willelmum personam petentem de j mesagio in Couesgraue . etc. (Marg. Norht')
Hugh Revel attorns Robert Bibias against William of Easton Neston and Robert his som touching one virgate of land in Tiffield and against William the parson of Cosgrove touching 3 roods of land, and against the same William the parson, the plaintiff, touching one messuage in Cosgrove.
619 (187)
Ass. ven. rec. si Robertus pater Huegonis (Reuel1) seisitus fuit in dominico suo ut di fuedo de iij rodis terre c.p. in Couesgraue tenit qui uenit et uocauit ad warantum Emmam de Bereuill' Que uenit et ei warantizauit et uocauit ad warantum heredes Johannes de Beruill' scilicet Alam et Matillidem. Habeas eas apud Donestapl' di dominica post festum omnium sanctorum . et assisa remaneat eo quod predicte Ala et Matillis sunt in custodia predicti Hugonis et dicuntur esse infra estate. Et hipse Hugo hoc cognouit. Et (ideod) preceptum est Hugoni ipsi quod ipse habeas illas ad predictum terminum apud Donestapl'. (Marg. Norht')
An assize comes to recognize if Robert father of Hugh Revel was seized in demesne as of fee of 3 roods of land with appurtenances at Cosgrove on the day he died etc. Which land William the parson of Cosgrove holds who has come and vouched to warranty Emma de Berreville, who has come and warranted to her and vouched to warranty the heirs of John de Berreville, namely Ala and Maud. Let her have them at Dunstable on the Sunday after the feast of All Saints, and let the assize stand over because the aforesaid Ala and Maud are in the wardship of the aforesaid Hugh and are said to be under age. And Hugh has admitted this and therefore Hugh is commanded to have them at the aforesaid term at Dunstable.
622 (192)
Willelmus f. Michaelis petit uersus Hugonem Reuell' viij virgatus terra c.p. in Couesgraue . ut ius et hereditatum eius. Et Hugo uenit et vocauit inde ad warantum . Willelmum f. Ricardi de Caines. Habeat eum aput Dunestapl' di dominica post festum omnium sanctorum. (Marg. Norhamt')
William son of Michael seeks against Hugh Revell 8 virgates of land with appurtenances in Cosgrove as his right and inheritance. And Hugh has come and vouched to warranty William son of Richard de Caines. Let him have him at Dunstable on the Sunday after the feast of All Saints.
---
There are several references to the Alwinsfield property –
Feet of Fines page 41 available here. http://contentdm.lib.byu.edu/cdm4/document.php?CISOROOT=%2FFHMedieval2&CISOPTR=32272&REC=0&CISOBOX=riuel
A foot of fine (plural, feet of fines) is the archival copy of the agreement between two parties in an English lawsuit over land, most commonly the fictitious suit known as a fine of lands or final concord. The procedure was followed from c.1195 until 1833, and the considerable body of resulting records is now held at The National Archives, Kew, London.
An entry dated October 28th 1195 states

'Int Will de Koueg'ue petete . 7 hug Riuel . Tenete . De .iii. v'gatas .tre In Aluenesfeld',

William de Koueg'ue petitioned Hugh Revell concerning three virgates in Alwinsfield [presumably the William de Hengrave in the item dated 1204]

and on pages 29 and 30 of the Curia Regis Rolls http://contentdm.lib.byu.edu/cdm4/document.php?CISOROOT=/FHMedieval&CISOPTR=58576&CISOSHOW=58087 there is an entry dated 1203
Curia Regis is a Latin term meaning "royal council" or "king's court." It was the name given to councils of advisors and administrators who served early French kings as well as to those serving Norman and later kings of England.

'Rogerus filius Roberti petit versus Hugonem Revell' quatuor virgatas terre cum pertinentiis in Aluindesfeld'',

Roger son of Robert petitioned Hugh Revell concerning four virgates with appurtenances in Alwinsfield


Page 169 of the same volume of the Curia Regis Rolls dated 1204 state:

'Norh'.—Rogerus filius Roberti petit versus Hugonem Revell' quatuor virgatas terre cum pertinentiis in Aluindesfeld' sicut jus suum : et Hugo venit et dicit quod placitum fuit inter ipsum et Willelmum de Henegrave de eadem terra in comitatu, et postea in curia domini regis, et ibi terminatum per cirographum inter eos factum ; et cum ipse Rogerus esset in comitatu manens, nullum apposuit clamium ; et inde petit considerationem curie si debeat ei respondere ; Rogerus dicit quod non fuit in partibus illis. Et quoniam nullam produxit sectam quod non fuit in patria, consideratum est quod Hugo recedat quietus'

Roger the son of Robert petitioned against Hugh Revell concerning fout virgates in Alwinsfield with appurtenances as it certainly is his property; and Hugh comes and says that [the ownership of?] this same land in the court had been agreed between him (Hugh) and William de Hengrave, and afterwards in the king's court, and it had been completed there by a contract between them; and although Roger has remained in the court nothing changes the claim ; and he asks the court to consider whether he is required to answer to it ; Roger said that it [the land] was not in those parts; and because nothing was put forward the land was not split and it was decided that Hugh withdraw peacefully.


---
From Bracton's Note Book Volume 2, Note 311 available at http://www.archive.org/stream/bractonsnoteboo01maitgoog#page/n266/mod...,
Henry of Bracton (or Bratton) (c. 1210-1268) was a jurist who worked as a Justice of Assize in the south-west of England, and was the author of the first systematic discussion of English common law. His notebook is a collection of cases decided in the reign of Henry III.

'Hugo Reuel attachiatus fuit ad respondendum Hugoni Coco et Agneti uxori eius et Alicie sorori ipsius Agnetis, quare non tenet eis finem factum in curia Henrici Regis aui inter Robertum Reuel patrem ipsius Hugonis cuius heres ipse est, et Willelmum filium Hugonis patrem predictarum Agnetis et Alicie, cuius heredes ipse sunt, tenentem de tribus virgate et xx acr terre et viij acr prati cum pert. In Pokeste et in Couesgrauc, unde chirographum, etc. et unde idem Hugo Agnes et Alicia queruntur quod idem hugo reuel contra finem illum assartauit boscum quondam in quo deberent habere husbote et heybote. Et Hugi Reuel venit et cognoscit finem illum et concedit husbote et heybote secundum proportum suum quantum boscus ille durauerit, etc

Hugo Reuel was summoned to court in order to respond to Hugh Cocos and Agnes his wife, and Alice Agnes' sister, and explain why he has not held to the agreement (conveyance?) made in the court of king Henry (grandfather?) between Robert Revell, Hugh's father whose heir he is, and William fitttz Hugh ? father of the aforesaid Agnes and Alice whose heirs they are, holding three? Virgates and 20 acres of land and eight acres of pasture with appurtenances in Puxley and in Cosgrove as defined in that agreement and on the basis of which Hugh, Alice and Agnes complain that Hugh Revel contrary to that agreement has cleared woodland (assarted) whereas formerly they had been able to take wood for building repair and fuel. And Hugh Revel came and recognised that agreement and conceded a quantity of wood in proportion to?-
Hugh Revel was attached to answer Hugh Cocus [Cook?] and Agnes his wife, and Alice, Agnes' sister, why he does not hold to the fine made in the court of king Henry the grandfather between Robert Revell, Hugh's father, whose heir he is, and William son of Hugh, father of the aforesaid Agnes and Alice, whose heirs they are, the tenant of three virgates and 20 acres of land and eight acres of pasture with appurtenances in Puxley and in Cosgrove, as in the chirograph etc., and on the basis of which the same Hugh, Agnes and Alice complain that the same Hugh Revel contrary to that fine has assarted [cleared] a certain wood in which they ought to have husbote and heybote [wood for building and fencing].

And Hugh Revel comes and acknowledges the fine and grants husbote and heybote in accordance with its terms ['proportum = purport] for as long as the wood shall exist etc."

That last qualification seems a bit weaselly, given that Hugh Cocus has been complaining that he can't take his husbote and heybote because Hugh Revel has cut the wood down.

Puxley and Cosgrave lay on the edge of Whittlewood, an area of ancient woodland which saw a great deal of assarting at this period, much of it in Puxley. Assarting is the act of clearing forested lands for use in agriculture or other purposes. In English land law, it was illegal to assart any part of a Royal forest. This was the greatest trespass that could be committed in a forest.
The area was recently the subject of a five year archaeological and historical investigation by Richard Jones and Mark Page at the Centre for English Local History. (see http://www.le.ac.uk/el/whittlewood/index.htm ).
Unfortunately the project area excluded Puxley itself, but nevertheless their publications mention it and its assarts occasionally -

https://lra.le.ac.uk/bitstream/2381/541/3/Characterizing%20Rural.pdf

and in their book: R Jones and M Page, Medieval Villages in an English Landscape: Beginnings and Ends (Windgather Press, 2006)
---
Curia Regis Rolls volume 3 Page 272 1205
Hertf.—Willelmus Revel petiit curiam suam tercia die ante placita de loquela que est inter Rogerum de Burun et Thomam de Herlaue de terra de Beninghoe : et Rogerus non clamat tenere de Willelmo set de comite Albrico. Et ideo non habet inde curiam suam.

Hertfordshire. William Revell wished his case to be pleaded three days before the pleading between Roger de Burun and William de Herlane concerning land in Bengeo. And Roger did not claim to hold of William but of the Count Albrico. And therefore he [William] did not have his hearing
---
Record dated 1220 and from the Curia Regis Rolls Volume 9 page 297-8. http://books.familysearch.org/primo_library/libweb/action/search.do?d...


Norht'.—Prior hospitalis Jerosolim in Anglia per attornatum suum optulit se quarto die versus Hugonem Revel de placito quod permittat eum presentare idoneam personam ad ecclesiam de Couesgrave, que vacat et ad ejus spectat donationem, ut dicit etc. ; et Hugo non venit etc, et summonitio etc. Judicium. Attachietur quod sit in octabi sancti Hillarii.

The prior of the Hospital of Jerusalem in England represented by his attorney pleads against Hugh Revell on the fourth day regarding [Hugh's] plea that he is the appropriate person to present to the church of Cosgrove, that is vacant, and to inspect his gift ****. Hugo did not come, etc. and was summoned, etc. Judgment. Attached in October.



This presumably relates to whether or not Hugh Revell has the advowson as referred to in the 'Rolls of Hugh of Wells

'http://www.archive.org/stream/canterburyandyo00socigoog#page/n115/mod...and discussed previously in https://groups.google.com/forum/?hl=en&fromgroups#!topic/soc.genealog...

If so, it is particularly useful because it allows the other related records to be more precisely dated.

Northamptonshire. The prior of the Hospital of Jerusalem in England by his attorney appeared on the fourth day against Hugh Revel in a plea that he [Hugh] permit him [the prior] to present a suitable person to the church of Cosgrove, which is vacant, and in his [the prior's] gift, as he says etc.; and Hugh did not come, etc. and was summoned, etc. Judgment. He is to be attached to be here in the octave of Hilary.

This was a lawsuit brought by the prior - it is only plaintiffs who 'optulit se' and only defendants who are summoned and attached to appear.
---
The following item is puzzling because it seems as though this is the Hugh Revell previously associated with Puxley and Alwins Field. Could Conegrave be Couegrave = Cosgrove? If so, why is the case heard in Suffolk?

Suff'.—Henricus de Conegrave positus loco Willelmi filii Michaelis optulit se iiij. die versus Hugonem Revell', qui se essoniaverat de malo lecti versus eundem Willelmum, de placito terre ; et vicecomes mandavit justiciariis quod ipse preceperat ballivis Sancti Edmundi quod facerent fieri visum de eo et scire facerent justiciarios in octabis sancti Martini quem diem posuerint eidem Hugoni, et ballivi nichil inde fecerunt. Ideo consideratum est quod vicecomes faciat fieri visum et quod abbas Sancti Edmundi summoneatur quod sit ad eundem terminum ostensurus etc.

Suffolk. Henry de Conegrave by his attorney William son of Michael appeared on the fourth day against Hugh Revell who had excused himself from his sickbed in his plea against the same William concerning land; and the Sheriff required ***


In 1275 it was said that the fee of Robert Revell in Cosgrove, except his demesne, was accustomed to make suit in the hundred court until about twenty years previously, when it was withdrawn without warrant' and cites (fn. 47) Rot. Hund. (Rec. Com.), 11.

This means that Robert Revell and his tenants were obliged to attend the court of the local hundred every time it was held and contribute to its proceedings - a rather burdensome duty ('suit of court' was the obligation to attend a court - 'to make suit' was to attend). In about 1255 they stopped going ('withdrew their suit'). The 'without warrant bit' just means that they had no legal justification for the
withdrawal.

Helen Cam wrote extensively on the Hundred Court - see in particular HM Cam, The Hundred and the Hundred Rolls (London, 1930).
---
The Cosgrove Church connection
Robert Revell, Hugh's father, was a faithful follower of the Knights' Hospitaller and gave many pieces of land in Leicestershire and in the Cosgrove area to the Hospitallers' cause. Humphery-Smith's book include the following map showing these lands:

AP Amongst Robert's gifts to the Hospitallers was the advowson of Cosgrove Church. It was the Hospitallers who presented Richard Giffard to the living in 1220. (fn. 28) Other presentations by the Hospitallers followed later in the 13th century. (fn. 29) In 1330 the Hospitallers' attorney claimed that it had held a frankpledge court in (amongst other places in Northamptonshire) Cosgrove and Furtho since time immemorial. (fn. 30)
According to Cecil Humphery-Smith in his book 'Hugh Revel: Master of the Hospital of St John of Jerusalem 1258–1277' there was a Hugh Revell Rector of Cosgrove ca 1200. Humphery-Smith believed that Hugh of the Knights' Hospitaller may have been a close cousin of Cosgrove's Hugh Revell.

Bridges' Northamptonshire cites (Reg. Hug. Wells. Ep. Linc.). Bridges gives no date but says that Hugh Revell is listed as previous to Richard Giffard who is dated at 1220. The Rectors' roll in Cosgrove Church does not list Hugh Revell as a Rector.
---
The Episcopi Lincolniensis record is available at
http://www.archive.org/stream/canterburyandyo00socigoog#page/n115/mode/1up
The abstract describes this as being the induction of Richard Giffard, clerk, and Hugh Revell renouncing his claim to the patronage.

Ricardus Giffard, clericus, presentus ad ecclesiam de Covesgrava per fratrem Hugonem de Alneto priorem fratrum hospitalis Jerosolimitani in Anglia, facta prius inquisitione per R., Archdiaconum Northamptonie, per quam etc, et Hugone revel qui in eadem ecclesia jus patronatus vendicavit, eidem juri in pleno capitulo coram ipso Archdiacono renunciate, admissus est, et in eadem ecclesia persona institutus. Et injunctum est eidem Archdiacono presente, etc, ita tamen quod dictus clericus veniat ad proximos ordines ordinandus.

There is a footnote: faciat nobis habere litteras presentationis

Richard Giffard, priest, is presented to the church of Cosgrove by Brother Hugh de Alneto, Prior of the Brothers of the Hospital of Jerusalem in England, enquiry having been made previously by R., Archdeacon of Northampton, by means of which, etc. And Hugh Revell who in the same church has claimed the right of patronage has publically renounced to the Archdeacon of the full cathedral court the same right ….


---
Hugh and Alice had three children recorded as living - William Revell (Knight), Simon Revell (Knight), and Dame Agnes Revell. William is referred to as "William Revel of Cosgrove" at the birth of his son William in 1297, so presumably was living in Cosgrove at that time. Also that year he obtained a charter of free warren in his demesne lands in Swinford. He died c1299.
William was succeeded by Sir John Revell, knight, who married the daughter of Thomas Bellers. Sir John Revell had three sons – John. William (Knight) and Nicholas, and three daughters – Margaret, Helen and Joan. All the sons died without issue and the Revell lands were divided between the daughters.
Margaret Revell married John Mallory between 1312 and 1377 and inherited the Manors of Swinford and Newbold Revell in 1393. It is believed that from this union descended Thomas Malory, who is thought to have been the author of Le Morte d'Arthur.
http://www.rotherhamweb.co.uk/revill/swinford.htm
Later connections recorded by Humphery-Smith and Bridges can be summarised thus:
| | |
| --- | --- |
| Before 1100 | Richard Revel's descendants at Cosgrove |
| Reign of Henry I (1100 to 1135) | Robert Revel held a small fee at Cosgrove |
| Hydarium Henry II (1150 – 1175) | Robert Ryvel holds 8 small virgates in Cosgrove in Cleley Hundred |
| Reign of Richard 1 (c1191) | Robert Revel owed £100 for seizing lands in Coagrove, Puxley and elsewhere |
| Between 1200 and 1220 | Lay Rector of the Church of St Peter and St Paul before Richard Giffard is Hugh Revel (son of Robert). |
| Reign of Henry III (c1235) | Roger Revell held a small fee in Covesgrove, Tiffield, Puxley and [Long] Buckby. Register of Hugh Wells shows Prior of the Hospital of St John of Jerusalem as patron of Covesgrove |
| Reign of Edward I (c1287) | Robert Revel, son of William Revel of Cosgrove, born. |
| c1290 | William Revel a great magnate of Northamptonshire |
| Reign of Edward II (c1316) | Hospitallers hold one acre of arable and one acre of meadow in Cosgrove. |
| Reign of Edward III (c1330) | The Hospitallers' Prior was summoned by a writ of quo warranto to show cause why he claimed to have view of frank pledge of all his tenants in Covesgrave, to which he pleaded prescription. |
| (c1357) | The Hospitallers still held lands of the Revell family in Cosgrove and [Long] Buckby. |
| Reign of Henry VIII (c1532) | Cosgrove lands removed from the Hospitallers at the suppression of the religious houses. |
| Reign of Queen Mary (c1558) | Some Cosgrove lands returned to the Hospitallers. |