'Sandy' retired in 1960 and Bill ran the District before taking a warrant as District Commissioner in 1962. He handed over the reins to 'Dick' Bird in 1968 then took over as Warden of the Quarries and District Service Officer.
Bill was the Quarries Warden for 15 years until 1983 and even carried on as Treasurer to the Committee after this but at the same time accepted the position of County Archivist (Buckinghamshire) until resigning in July 1990 completing 62 years membership of the Scout Association.

He was awarded the Medal of Merit in 1960 and a Bar in 1978.

A sobering thought - Bill attended every Saint George's Day Parade at Windsor from 1935 -1975 (when held)
Cover design taken from the original 1924 log book of the Local Association written by Rob Fisher depicting Oswald Hamilton's emblem and signature.


---
INTRODUCTION
I suppose anyone involved with a place for a great number of years and has managed to gather together a lot of historical minutes and press cuttings about the same place has a very good basis on which to start writing a history of the place.

Because of this and the assistance of some people with long memories I hope in the following pages to tell the story of the Happy Hunting Ground, as it was called, and is now better known as the Quarries.

It may seem strange that anyone should want to write about a quarry, and a worked out one at that, but it has been 'home' to many Scouts in this area since 1924 and they, like the hawthorns that abound there, have clung on to it tenaciously. What a good job they did too!

I do ask the reader to give due consideration to the period when the epistle starts and even into the late 50's and early 60's.
Life was at a much slower pace and communications and general movement of people and information was at a much reduced rate in comparison with today. Please take this into account.

It was as a small boy of 11 or 12 that I first became aware of the Quarries when I camped with the 1st. Wolverton Scouts. Although we camped there several times it was not a place I 'took to'.

It was many years later that changes in circumstance made me change my mind and stop and take another look at the place. Strange as it may seem there was some coincidence in the way things worked out.

As I was responsible for the change and the chain of events that followed, I trust you will bear with me because this was as it was.

In the early 50's I became Scout Master of the 1st. Wolverton after a time as A.S.M. for three years. This after returning from 6 1/2 years in the R.A.F.

The Group always used the Bath House Field at Gayhurst as their camping ground and because of this, rarely used the Quarries. It was a delightful site right by the River Ouse with woods and spinney very handy. It was also the property of the County Commissioner of those days, Sir Walter Carlisle, who was a very close friend of the Chief Scout, Lord Baden Powell. B.P. was known to visit anyone in camp when he was on a visit to Gayhurst House.

This was a natural choice for the Group whenever they went to camp, and had been going on since the First World War. The Quarries were only used on the odd occasion.
1
---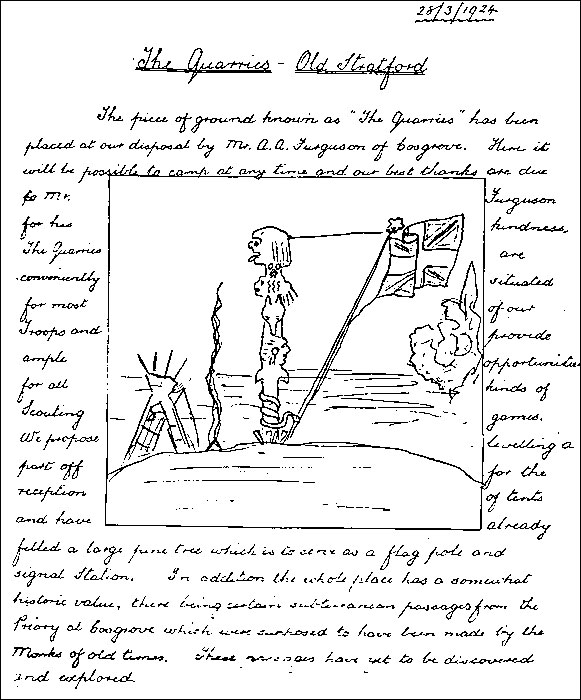 2
---
Naturally I carried on with the tradition and we camped there on every occasion we could. Until post-war development took a hand and property developers and land speculators stepped into our nice cushy going on.
I remember ringing up the farmer and asking permission to camp on his land only to have our request turned down. He was now the tenant farmer and the adjacent woods and spinnies were being used to breed birds, mainly pheasants, and our camp would not help.
I was referred to the owner of the farm etc. the Fermor Hesketh Estate. I rang Fermor Hesketh who lived at Cosgrove Hall at that time and he gave us permission, but I sensed a thin end of the wedge and to cut a long story short, within twelve months we ceased using Bath House Field.
About this time 1956 I became Assistant District Commissioner, the District was growing and suitable sites for camping large numbers of Scouts were not too plentiful so we started looking around for places that were available.
We had one site that was always available to us and that was Shenley Hill Farm, the home of Mr. & Mrs. F. W. Woollard. They always welcomed us and tried wherever possible to join in some part of the fun during the camps. I know we availed ourselves of this generosity for quite a number of District Camps and Competitions.
At that time we seem to alternate between there and the Quarries rather than overcamp at the farm.
This was all taking place in the late 50's, some improvements had taken place at the Quarries, transport was becoming easier and therefore distance was not so much a hassle. This saw the phasing out of the trek cart, so familiar in those days.
Gradually the Quarries won the day, although the distance to both places was about the same. After all it was ours!!
The strange coincidence I mentioned earlier was as follows: -
In the first place the Quarries was given to us by the owner of Cosgrove Hall, a Mrs. Ager and the man who really made us change our minds in the 50's, was the then owner, Mr. George Fermor Hesketh.
Another strange coincidence is the fact that the Scouts acquired the Quarries in 1928, the year the Movement also acquired me as a Cub!
3
---
September 19th 1926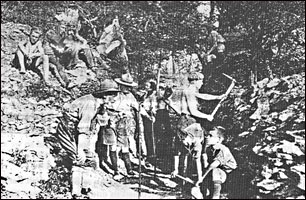 Hiawatha supervises the excavations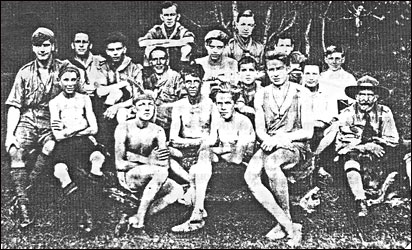 The hottest day of the year - September 19th 1926
4
---
A BRIEF HISTORY OF
THE HAPPY HUNTING GROUND
OF HIAWATHA OR THE QUARRIES
At the time of writing this, the Quarries as it is now called, has just celebrated its 60th anniversary in grand style with the opening of a new Training Centre by none other than the Chief Scout himself. This is quite a land mark and quite an achievement to capture the services of the Chief Scout.
My congratulations to all concerned and for the concentrated effort that has been needed to accomplish this in time. That comes from one who has known it all that time and celebrates his own 60th anniversary in the Scout Movement in the same year.
Hiawatha's Hunting Ground was always a very happy place to be in, particularly for camping, but many are the stories I will unfold that may put a different light on some of the problems over a large number of years.
The Trust Deed was drawn up and Trustees appointed on the 18th January, 1928. The Trustees were Hiawatha, Oswald Hamilton, Mr. H.T.F. Weston of Yardley Gobion and Lt. General Sir Arthur Holland of Hanslope and Dr. A.H. Habgood of Wolverton Park and a practising Doctor at Stony Stratford. This was the date that the Quarries belonged to the Scouts.
It is recorded that the site was used for many years before the actual acquisition date and camping was recorded as early as 1924.
A new Local Association was formed in 1920 and it was very soon after this that arrangements were made for the Scouts under their District Commissioner Oswald Hamilton and with the knowledge of the gamekeeper, Mr. Pinney, looking after that area for the owner Mrs. Ager, of Cosgrove Hall.
To allay any fears and to understand the title on the Deeds, it is as well to know that the name of the District for Scout purposes at the time was called The North East Bucks and Pottersbury District of Northamptonshire. This has been altered several times since then and is now known as the Milton Keynes Districts.
It is recorded in the log book of 1924 that the Quarries was put at the disposal of the District Scouts by Mr. A.A. Ferguson of Cosgrove. Scouts were allowed to camp there at any time.
Early reports went so:-
"We propose levelling a part off for the reception of tents and have already felled a large pine tree which is to serve as a flag pole and signal station. In addition the whole place has a somewhat historic valuey there being certain subterranean passages from the Priory (Cosgrove) which were supposed to have been made by the Monks of old time."
5
---
As a matter of interest the Census figures for 1924 read:- 391 Cubs and Scouts, 11 Troops, 9 Packs and 36 Warranted Scouters. Yes there were such things as the Census every year, even then.
The Mr. Ferguson mentioned earlier was also a very keen follower of the District Scouts and was a close friend of Hiawatha. He lived at the Little Manor in Cosgrove. It is not known what relationship there was with Mrs. Ager who gave us the Quarries but it seems it was through his approach to her that we were to acquire them. It was in 1925 that Mr. Ferguson was formally admitted as a member of the tribe. This aspect of Scouting will be covered later in this story. His wife was also admitted as a member at the same time and both awarded Indian names Prairie Chief and Prairie Dew. This was a mark of appreciation for the many kindnesses they had rendered the Scouts.
This is the first mention made of the tribe, although one might have gathered that there was some reason for Oswald Hamilton being called Hiawatha and the camp site being called his Hunting Ground. I hope to cover this story later and add a long list of those who were awarded Indian names.
In 1926, the year of the General Strike, Hiawatha was awarded the Medal of Merit and it was presented to him at a presentation dinner at the Victoria Hotel, Wolverton. Reports by the Secretary in October 1926 indicated what a rough time the District went through. He reported several Packs and Troops suffered badly financially and some went under.
In 1927 things picked up a little and I read that many camps were held in the Quarries, mainly by Wolverton and Stony Stratford. This was understandable, they being nearest to the site. The main means of transport at that time being 'shanks pony' or bicycle. It was during this year that things started apace and development in the Quarries took place.
In May foundations were laid by Stony Stratford Rovers for Hiawatha's Wigwam. Old railway sleeping saloon beds were used as a framework. Money to cover the cost of this was given by Mrs. Ager of Cosgrove Hall. Sand and cement in plenty was delivered in September for the Wigwam but the weather and lack of labour seems to have cut down efforts.
Who says history does not repeat itself!?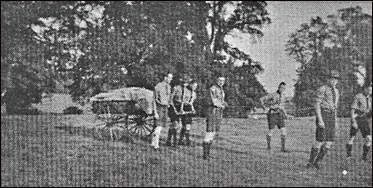 7
---
"Hiawatha's" Wigwam
Fixing the receptacles for concrete




After removal of wooden receptacle
Inspecting the finished wall

"Warbeck" and "Wa da ga"
1928
8
---
To get back to the purpose of this history. It was in April 1927 that a special meeting was held at Wolverton to draw up a Draft Trust Deed. The following resolution was agreed:-
1. That all the property for the time being of the Local Association should be vested in Trustees and held by them upon the trusts declared in the Draft Trust Deed now produced.
2. That Oswald Hamilton of Old Stratford, Northants, Henry Thomas Franklin Weston of Yardley Gobion, Northants, Lt. General Sir Arthur Holland of Hanslope, Bucks and Arthur H. Habgood of Wolverton Park, Bucks, shall be the first Trustees and forthwith execute a Trust Deed in the Terms of the said Draft.
3. That the future Trustees shall be appointed from time to time in accordance with the provisions in that behalf contained in or incorporated with the said Trust Deed.
It was proposed by Mr. W. Holloway and seconded by Mr. T.G. Dicks that this resolution be passed. - Carried.
Perhaps to end this hopeful period of the Quarries existence as a camp site I should give the Local Secretary the last word of 1927 and nearly the final word on Hiawatha's Wigwam.
"In may 1927 a start was made to the Wigwam. It was that month that a concrete foundation was laid under the personal supervision of Hiawatha by 1st Stony Stratford Rovers.
In June a number of old sleeping saloon beds were purchased from the L.M.S. Railway. Hiawatha said he has a certain amount of cash in bonds given by Mrs. Ager. These beds have been bolted together thus forming a framework. Certain work in this direction was carried out under Hiawatha's supervision by Messrs, W.J. Parker, W.T.C. Holloway, P. Perrin 1st Stony Stratford Rovers, woodwork by G. Cook 1st Wolverton.
August 1927 Hiawatha has had a shed pulled down at his Works (he owned a garage at the crossroads at Old Stratford on the A5). The roof framework was transported to the Quarries and re-erected by Scout Egan 1st Kempston, Beds.
In 1928 November at that, we find a comment and I quote, "I visited the Quarries and the Wigwam reminds me of a 'shelled shocked place of the war nothing done, everywhere neglect, thieves have been busy looks even as if tramps have made a nest there. The Wigwam stands as a monument of apathy"
Progress was never made.
9
---
Hiawatha's Hunting Grounds
The dangerous corner by the '"Dog's mouth". Scouts have on more
than one occasion been required to render first aid at this place.




The Garden of Baloo is thriving, and this
corner of our demesne will soon be dotted
with colour and redolent with fragrance
10
---
Recorded under Spring 1928:- "We find that in the Hunting Grounds the Corral has been handed over to the Stony Rovers. A lot needs to be done this year in the camping grounds. Fences need to be built and maintained, a drainage system installed and further more the Wigwam should be pressed on with. Trees have been planted, a need we should have looked into ages ago, but during the next planting season we should take definite steps in this direction."
As an interesting aside to all this, and to really inform the reader there are two trophies in existence in the District -both are Statuettes- they are known as the Weston Trophy and the Holland Trophy - donated by two of the Trustees of the Quarries. For historical information Dr. Habgood was later to become District Commissioner and incidentally was the father of the present Archbishop of York, Dr. John Habgood.
Now to get on with the period of our ownership, and because of it I have made up my mind there is a story to tell and one that shows what can happen to the best of organisations and not least the Scout Movement.
When I thought about this history I was fortunate in obtaining a collection of minute books etc. and I knew in the back of my mind who to approach from the outset. I had known this person for over 50 years and although we had only met on odd occasions, at Scout reunions or like, I knew he was a fund of information.
This person was Rob Fisher, and he turned out to be the first Secretary of the District from its inception in 1920 and certainly responsible for the books that I had handed to me. I hope to refer to Bob in more detail in a few "Potted Personalities" I have in mind for later.
To start off with, I received a long letter from Rob in return for my request for information, I will give you this in full.
"Interest was first centred on these grounds about 1924. A lot of our Scouting in those days had to do with make believe, and was based more on Rudyard Kipling's Jungle Book. We all had Indian names and the idea of it all was enthusiastically taken up by the District Commissioner, Mr. Oswald Hamilton.
We used to get permission to camp in the Quarries from a Mr. Pinney who was the custodian come gamekeeper. Mr. Hamilton liked to call the camp site his Hunting Grounds and he added a lot of romance to the place by his suggestion that there were underground tunnels which were used by Monks and others who occupied centres in Stratford in the days of Catholic persecution. There are certainly underground caves.
All this went on until about 1929 or 1930 by which time I had left Wolverton for Euston on the transfer of my Job to London.
11
---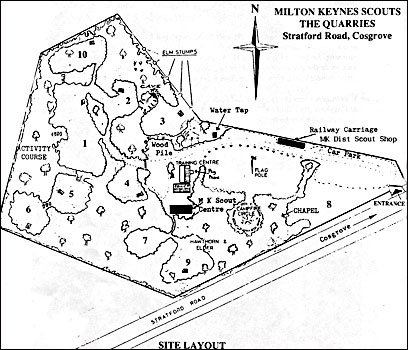 ---
Wolverton Express 5th August, 1927
The quarries at Old Stratford known in the scouts circles as "Hiawatha's Hunting Grounds" is always a much favoured and pleasant spot for camps, and here during the present week, several visiting troops have pitched their tents and are spending a happy time in work and play. Everybody in these camps are expected to put in an hour's service each day in such use or occupations as road making and building for the ultimate improvement of the grounds.
The 101st Bedfords (the Kempston Troop) arrived on Saturday by bus and include Scouts and Cubs. 34 in number, they are under the charge of ASM Lesley Egan and the troops have their own chaplain in camp in the person of the Rev. I Hewson.
---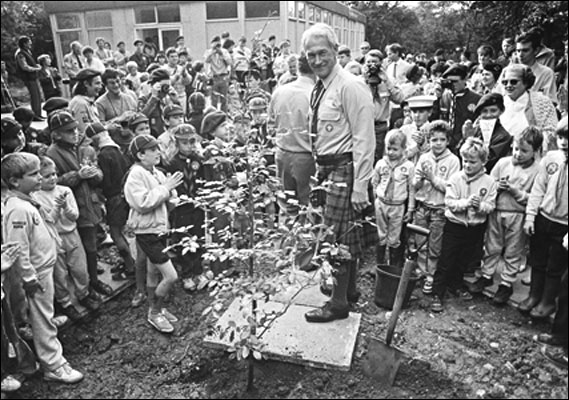 Chief Scout Garth Morrison planting a tree at the opening of the new residential building at Cosgrove Quarries in 1988

Courtesy of the Living Archive