In 1487-8 Anne dowager countess of Warwick conveyed the manor of Cosgrove to Henry VII. In 1507 the King granted the stewardship to Sir Richard Empson. At the time Empson was in high favour with the Crown but on the death of Henry VII he was thrown into prison by Henry VIII for constructive treason, and convicted at Northampton in October 1509. He was beheaded 17th or 18th August 1510.
Sir William Parr was appointed to the Cosgrove stewardship in 1523.
In 1521 the site of the manor was leased to Christopher Wren for 21 years, and in 1541 was leased in reversion for the same term to Robert Matthew.
In 1542 Cosgrove was annexed to the honor of Grafton on its establishment.
Nine years later in around 1551 the manor of Cosgrove (together with Paulerspury and other premises in the honor) was granted to Sir Nicholas Throckmorton.
The Throckmortons had at different times been in and out of favour with the sovereign of the day. Nicholas, a fourth son born in 1515 or 1516, was a clever boy who had been brought up in Royal households. He became a server in waiting to Queen Catherine Parr, and in the wars against France was a Captain of a hundred light horsemen. In June 1546 he received gifts of land leases and was granted manors in Coughton in Warwickshire, and Panshanger in Hertfordshire.
Nicholas and his brothers tended towards the Protestant church, moving away from the Catholic groups which their family had supported with Princess Mary. When Henry VIII died, Nicholas was still in high favour, courted the company of Princess Elizabeth, and was a favourite and Gentleman of the Privy Chamber of the young King Edward. He married Anne Carew, of Beddington in Surrey in around 1549 – she was a poor catch, her father having been executed ten years before.
King Edward gave Nicholas the job of under-treasurer of the Mint. This set him up financially and in 1551 he was able to buy the rights to the manors of Paulerspury, Cosgrove, Silverstone, Tiffield, Paulerspury Park, the Priory of Luffield and the manor of Baddesley. These were held of the honour of Grafton, paying the Crown rents, but without any fine. The Cosgrove lands were convenient to Nicholas being on Watling Street, down which he passed between his other estates.

When King Edward died, Nicholas's world was far less secure, and he spent two years on the Tower of London accused of treason – he conducted his own defence and was released on a technicality, celebrated by the public, who hated Queen Mary. Nicholas was later implicated in a plot to defraud the Exchequer – he broke his bond and escaped to France.


After a riding accident, Nicholas, lying low in France, began to send intelligence back to England. It eventually bought him a pardon, and he was able to return to his Northamptonshire lands. He continued to make political deals and rose by degrees both into and out of the favour of Elizabeth I. Nicholas Throckmorton died on 12 February 1571, and is buried in the church of St. Catherine Cree, Aldgate, where there is a monument to his memory.
Nicholas's Cosgrove lands went to his widow for life. Nicholas's second son Arthur inherited the Northamptonshire manors over his older brother William, who is assumed not to have been competent. Arthur was educated at Magdalen College, Oxford. His sister Elizabeth incurred the Queen's displeasure by secretly marrying Sir Walter Raleigh. Arthur married Ann, the daughter of Sir Thomas Lucas of Colchester, Essex, with whom he had four daughters, opting to reside at Paulerspury in Northamptonshire. He travelled abroad from 1580 to 1582 after which he joined the court of Queen Elizabeth I. He was elected the Member of Parliament for Colchester, Essex in 1589.
Arthur kept a remarkable diary through which we see glimpses of Tudor Cosgrove.
The Michaelmas rent for Cosgrove in 1593 was £60 13s 9d. Arthur set aside £56 for his men to buy cattle and sheep at Banbury Fair. For the Fair he went over to stop at Norton with Sir Richard Knightley. At the fair thirty ewes were bought for £15. Altogether of all kinds of sheep he had 344.
Arthur was knighted in 1596 whilst on a military expedition to Cadiz and appointed High Sheriff of Northamptonshire in 1604.
By 1609 Arthur's half year's rent for Cosgrove was £63 8s 8d. In mingled sunshine and rain he set out on 6 November 1609 for a visit to London, £18 in gold in his purse, £15 18s in silver, with Mr Southerton for company and five servants in attendance. His diary describes a sightseeing and spending spree of massive proportions – at the end of his trip he received £318 10s in wool money and sent £100 back to his country home.
During the following two years Arthur was rebuilding and redesigning his house and gardens at Paulerspury. It is clear that this was a busy time and that Throckmorton was deeply involved in the minutiae of the work. When one of his plumbers was "playing the Knave" with a girl called Jane, Arthur went to Cosgrove to speak to the parson, Mr Whalley, about it – if the liaison had resulted in a child the parish would have to support her.

In 1617, Arthur's daughter Elizabeth married Richard Lennard, Lord Dacre of the South. Arthur Throckmorton settled the manor of Cosgrove on Elizabeth as part of her dowry. He died in 1626 and is buried in the church at Paulerspury.
Source "Ralegh and the Throckmortons" – A L Rowse.
The Sheldon Tapestries - 1615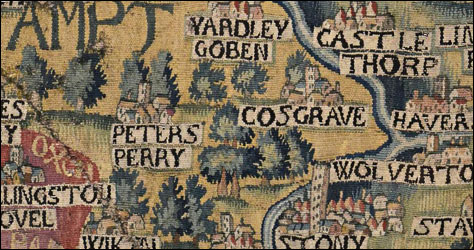 Ralph Sheldon was born in 1537, the son of William Sheldon, who had a tapestry weaving business at his manor house at Barcheston, Warwickshire.

Ralph married Anne Throckmorton, born in 1540, daughter of Sir Robert Throckmorton and Muriel Berkeley, in 1557. Anne had been married previously to William Catesby.

By this means Ralph became part of the extended family of the Throckmortons.

In 1487, the Manorial rights of Cosgrove, along with those of Paulerspury, Tiffield and others, had been conveyed to Henry VIII by Anne, Countess of Warwick. Cosgrove was annexed to the Honour of Grafton in 1542, and in 1551 these lands were granted to Sir Nicholas Throckmorton by his patron Elizabeth I.
The family table below shows the relationship between the Lords of the Manor of Cosgrove at the end of the 16th century, and Nicholas's niece Anne [Throckmorton] Catesby, who married Ralph Sheldon.
In around 1586 Ralph and Anne began to build a house at Weston, Long Compton, Warwickshire. For four walls of a room at this house Ralph commissioned his father William's tapestry works to create four huge tapestries depicting the counties of Gloucestershire, Worcestershire, Warwickshire and Oxfordshire together with the edges of bordering counties. These were woven in around 1615. They were designed to show places in which had a connection with Ralph Sheldon's family or friends.
The Oxfordshire tapestry includes parts of Northamptonshire and Buckinghamshire. It shows the earliest clear depiction of Cosgrove that we know of, together with the original manor at Grafton, which was later completely rebuilt. The map is now owned by the Bodleian library at Oxford and has recently been conserved by the National Trust's workshop in Norfolk. From 2019 it will return to the Bodleian where it will be once more available for the public to see.
A copy of the tapestry was made around 30 years later. This is considered not so fine and can be distinguished by the weaving of each capital N in reverse. This is currently on display at the Ashmolean Museum.
We do not yet know why neighbouring Potterspury appears as Petersperry!
Our thanks to Ella Toms who discovered this depiction, and to Nick Millea, Map Librarian of the Bodleian Library.