Rowland H Herbert was born on 28 July 1926 in Cosgrove. His family lived at 12 Bridge Road (later renumbered to 15). He was a fan of Jimmy Knight as a little boy and by the age of seven used to cycle along the towpath to Wolverton Park to watch Jimmy race. He even went to watch Jimmy train on the rollers and eventually Jimmy gave Rowland a pair of his own.
Row went to Cosgrove School, where he was a favourite of Miss Keverin. As the class cycling expert she would say "Pump my tyres up, please, Rowland!" to the envy of his classmates.
Eventually Row went off to Wolverton Technical College, then entering Wolverton Works as an apprentice Bodymaker and continuing his education at night school. From 1934, encouraged by his hero Jimmy, Rowland joined cycling clubs like the Swan Wheelers at Buckingham. He went on to win the Midland NCU Novice Award at Coventry Butts stadium in 1938 at the age of 18. He rode track and grass events of different kinds and held almost all NCU championship titles.
In 1939 Rowland Herbert was in a reserved occupation at the Works and was engaged on evacuation and ambulance trains and aircraft, working a 12 hour day in a six and seven day week. When it could be managed he trained in time trials with the Eleanor Road Club, an offshoot of the Northampton CTC.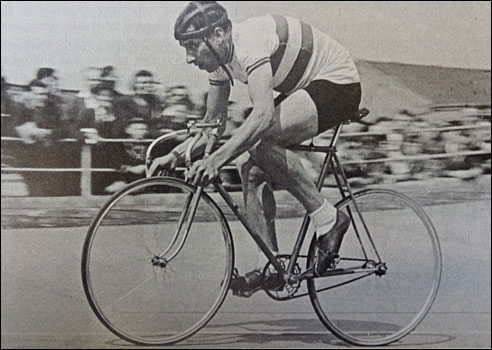 At the end of the war Rowland's cycling career restarted, and he raced at distances up to 10 miles on all kinds of tracks around the country. In 1948 he was selected as a non-travelling reserve in the London Olympics, Cosgrove's second cycling Olympic selection after his hero Jimmy Knight. In 1949 he came third in the BSA Gold Vase at Bourneville. By 1950 he was part of a great team pursuit squad ranked third in Britain, and was in the East Midlands squad which won the Nationals in 1951. Sadly, injury curtailed his cycling in 1952.
Rowland Herbert left Wolverton Works in 1955 and went to Africa to work on the railways, first on the Gold Coast Railway at Takorai as Chief Foreman and then Superintendent, and later on the Nigerian Railway, living at Ebutte Metta, Lagos.
Returning to England in 1968 Rowland took over the Post Office at Aspley Guise and remarkably, in 1970, returned to cycling. By 1985 at the age of 64 he took part in the Veterans' Olympics in Toronto and came second in the World's Masters Games Time Trial!
From his Post Office, Rowland continued to deliver the mail by PO bike – probably the fastest round on the road. He averaged 250 miles per week training in the season, including 10 miles a day on his post round. He was a life member of the East Midlands Cycling Club.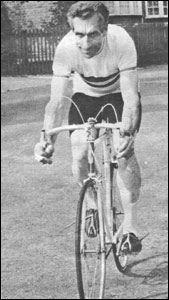 Wolverton Express 7th September 1973
GIVE village postman Rowland Herbert a bike and he does more than deliver the morning post. For the former Cosgrove man, who grew up in Bridge Street, has won an impressive number of championships during a 40-year cycling career and is still racing in top form at 53. Each day Mr. Herbert sorts the mailbags at his sub post office at Aspley Guise, pedals off on a 10 mile delivery round and then swaps his postman's uniform for a sporting kit. He trains for top events by cycling 200 miles a week in his spare time and it pays off. He has just returned from Austria where he rode in the veteran cycling championships of the world over a 26 mile mountainous circuit.
There were 90 starters from 20 nations in his class, including many professionals and ex Tour de France riders, and he and his team mate, from Gloucester came 10th and 11th. Their time: 59 minutes. 14 seconds. The two men were the only representatives from Great Britain. A former Wolverton railway man, Mr. Herbert now runs the post office with his wife. Helen, who comes from Buckingham Street Wolverton. Both rode with the then Wolverton Amateur Athletic Club on their youth and resettled in the district in 1968 after 13 years abroad. Termed by his friends as a wizard on two wheels, he says: "I love cycling because it's great fun and keeps you fit. But it's more expensive than running a car and you have to really love it to keep it up". He started his cycling career at 14 with the Wolverton club after the late Jimmy Knight, an Olympic rider whose parents kept the Plough Inn at Cosgrove, encouraged him into the sport.
"By the time I was 17 I was racing and was an Olyrnpic reserve ten years later. In 1951 I was national team pursuit champion and by 1955 had won all the National Cyclist Union championships from quarter mile to 90 miles in Northamptonshire, Buckinghamshire and Bedfordshire."
During those years, due to lack of interest in cycling in Wolverton. Mr. Herbert had worked his way up in the cycling world by joining the East Midlands club. He retired temporarily in the late 'fifties, when he was posted from Wolverton Works to the Gold Coast Railway as a carriage and wagon superintendent. The Herberts returned home after the Biafran troubles and Mr. Herbert resumed competition cycling. He soon made up lost ground and this season he has beaten younger men to chalk up five wins, four places and four team races with his partner, Cliff Smith of Leicester.
As a veteran cyclist he is the healthiest postman in the area and intends to pedal his way vigorously through middle age.