Settlepot Jelley 1781 - 1869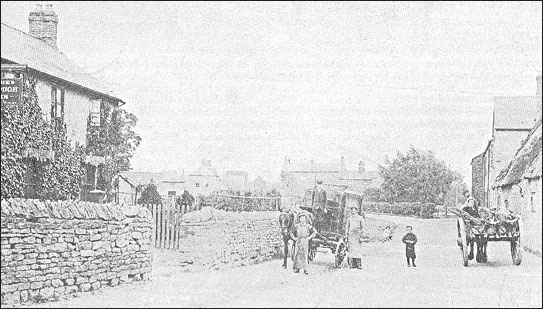 Cosgrove records show that John Jelley was the landlord of the Plough from at least 1822. He must have retired by 1867 when the next publican appears in the lists, by which time "Settlepot" would have been 86 years old, two years before his death.
Old Settlepot Jelley reputedly kept the Plough Inn at Cosgrove during the late 18th and early 19th centuries when the Grand Junction canal was being cut. The navvies would crowd into the bar, order pots of ale, and then refuse to pay, saying that someone else in the throng had ordered them. The landlord soon got wise to this, and would come back from his brew house across the yard with two pots at a time, put them on the counter, and with one large hand over each say "Now who is going to settle for these pots?" refusing to let go until the money was forthcoming. Hence the name Settlepot. At least that is the story told by my father, but he was such a leg-puller, but we never really knew how much was fact! Did it Settlepot actually exist? Research seems to show that he did.
This Settlepot character was apparently one John Jelley. In the 1841 census there is mention of the John Jelley, publican (premises not actually named the Plough Inn), aged 55, and in the next census, ten years later, presumably the same John Jelley, now called a "victualler" is aged 69. This age discrepancy can be explained, for at the earlier census adults were required to round down their age to the nearest multiple of five, so that someone claiming to be 55 could well have been as old as 59. The 1851 census was taken in June; John Jelley gives his age of 69; so depending on the month of his birth, he would have been born in 1781 or 1782. This same 1851 census was the first to give actual place of birth and from it we learn that our John Jelley was born at Alderton, a village six or seven miles to the north of Cosgrove. In the search continued in the parish records there, sure enough and John Jelley was baptised in 1781.
He was the son of John Jelley and Elizabeth Harris, who had been married at Alderton in 1776. On that marriage certificate the Rector had spelled the name "Jelly", but John himself had written "Gelly", and not until the next generation does "Jelley" become the accepted spelling.
The fact that John had signed his name Gelly may point to a French origin for this rather unusual surname. Gellé is apparently quite a common surname in Northern France and certainly South Northants and North Bucks received many French Huguenot refugees after the Saint Bartholomew's Day massacre in 1572 and again after the Revocation of the Edict of Nantes in 1685. These people brought their lace making skills to our area, and right up to the late 19th century, many of the village women and girls were supplementing the family income with lacemaking.
Although my father always referred to him as "Old" Settlepot, John and must have been little more than 20 when he left Alderton to become a Cosgrove publican. Then in 1812 he married Elizabeth Parsons. She came from Deanshanger, and the marriage was witnessed by "Elizabeth Jelley - her mark", most likely the groom's mother. The groom wrote his name quite legibly, but the bride's signature was very shakily written written, almost as though her name was about all she could manage.
In 1830 Settlepot's wife Lucy died aged 39, but he'd lived on for a good many years sharing the home with some Thomas and daughter Selina. Then in 1849 he remarried. The bride was Sophia Battams whose father William had been a farmer. In 1861, Settlepot, now aged 80, was still living at the pub with Sophia. Settlepot survived until 1869. Sophia outlived him and in 1881 was a lodger at the post office.
Settlepot's son Thomas was born in 1820 and married in 1851 or 1852. The first of his nine children was Lucy, who at the age of 10 was a lace maker, as was her mother. In 1874 she married her cousin Celim, after Betsy, his first wife, had died.
Emily, the second of Thomas as children, together with my own grandfather, is the oldest of the people on the family tree that I actually remember. When I was about eight, she lived at Castlethorpe, and was the widow of a Mr. Taylor. He had been a Roman Catholic and she a convert, and even as the old lady in her seventies she thought nothing of walking the four miles to Wolverton and back to attend Mass.
Emily's brother Thomas, born 1860 seems to have lived in Cosgrove all his life. He married Elizabeth Wise, but she had died in 1911 and when I remember him he lived in a little stone and thatched cottage in the main streets, almost opposite the post office, one of four cottages which turned their backs on the road and faced inwards to the yards, gardens, communal well and outside loos. Tom had a younger brother Arthur Frederick whom I knew very well. He was a gardener at the Priory where he met and married Sarah Bowyer, the cook. The first years of their married life were spent at the mill, which is part of the Priory Estate, and no longer a working mill. Around the turn of the century they left their jobs in service and took over the village shop, post office and bakehouse. The second daughter Irene was born in 1902 and remembered quite a lot about her early years living at the shop, notably that every evening she was sent across the street to her grandmother's house to take the old lady had daily half pint of beer.
In 1910 in my mother arrived at Cosgrove to teach at the village school and she took lodgings with Fred and Sarah Jelley and her two daughters. Connie was the same age as my mother and they became firm friends. Some time before the First World War (we think in 1912) the Jelleys left the shop and moved to the old Brewery House. Fred took up farming, renting the glebe land and which included fields along the Yardley Road, the field behind the Brewery known as Doctor's Piece and farm buildings which then existed near the Brewery gateway. My mother continued to lodge with a family, while the shop, post office and bakehouse passed to Malcolm Jelley, the great grandson of Settlepot and a cousin of Fred.
My parents, Malcolm and the village school mistress, were married in 1916, on Christmas Day, because that was the only day when bread was not baked! The wedding was at the bride's home of Stanwick near Wellingborough, and Connie Jelley was a bridesmaid. A few months later, Connie herself married Arthur Markham, a Castlethorpe farmer, and their three daughters were my companions as we grew up. Fred and Sarah's younger daughter, Irene married George Ruff in 1928. Three Markham girls, myself, and a niece of Georges were all bridesmaids at the wedding, though I don't remember much about it.
The Ruffs farmed at a place called New Buildings between Castlethorpe and Hanslope, but eventually moved back to Cosgrove, first to a cottage at the bottom of the Brewery yard, looking out at the canal. Later they lived at a farmhouse near the Dog's Mouth and later still at another farm in the village on the road towards Yardley and Castlethorpe.
Fred Jelley met rather a sad end. Even at 70 he was still farming, and still riding his battered old bicycle to the Yardley Road fields. On one of these journeys he was in a collision with a car and died of his injuries. There were no other witnesses to the accident, and no one really knew exactly how it had happened. To me, as a little girl, he and his wife were Uncle Fred and Auntie Sara. Auntie Sara had a great sense of humour and wasn't a bit prim and proper like most elderly ladies of my acquaintance. The short dresses of the 1920s she insisted on calling "bum freezers", an expression which made my very correct mother purse her lips in grave disapproval! "not in front of the children" sort of attitude! Auntie Sara also enjoyed a friendly game of whist, for which I would sometimes get roped into make up a foursome. At the age of 10 I was obviously not much of a card player, but she never minded - it was all a game, and great fun to her. I was very fond of her, and Auntie Rene always had much of her mother's zest for life.
---
Malcolm Jelley – father of Gwen Brown, nee Jelley 1889 - 1954
My father's life was one of interest and variety. He was the manor of little formal education but he had great initiative, business acumen, and zest for living, and the ability to get on well with all sorts and conditions of men.
Malcolm Eckford Jelley was born on June 1, 1889 at Stony Stratford. I know little of his childhood, for he seldom reminisced. I believe he went to St Mary's Elementary school and had about a year at the newly-opened Wolverton Secondary School, before starting to earn his living at the age of about 16. His first job that I know of, was as a clerk in the offices of the Cooperative Society, then in Guildhall Road Northampton. I imagine that he had lodgings in the town, and I think it was during these years that he joined the Yeomanry.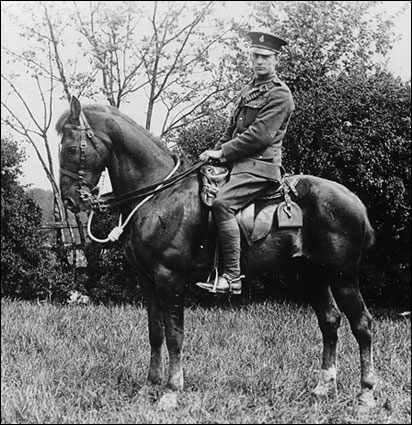 Malcolm Jelley , Yeomanry
Then, I think in 1912, he went to Cosgrove and took over the shop, post office and bakery from his father's cousin, Fred Jelley. By coincidence his grandfather had, according to his marriage certificate, been a baker, 65 years earlier - probably at the same bakery. During the 1914 - 1918 war, father escaped military service because he was the only baker for miles around. At frequent intervals official letters would arrive, announcing that his call up was imminent, but each time it would be deferred because no one else could be found to bake until evaporated to Cosgrove and neighbouring villages.
He must have lived a very hectic life; up half the night baking the bread and out much of the day delivering it, by horse drawn van, to Cosgrove, Castlethorpe and Hanslope. He had the help of an elderly man in the bake house, but I don't know who looks after the post office, before he married my mother in December 1916. I believe my grandmother used to walk over from Stony Stratford at least once a week, laden with homemade cakes and pies for him, and would clean and tidy up his bachelor home while she was there.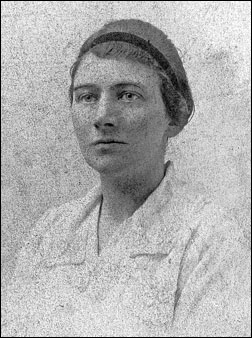 My mother
Mabel Louisa Popham, born 8th May 1892

This photograph was propbably taken when she was about 18 years old, and taking up her teaching post at Cosgrove.
During those early years of the 20th century there were several poor families in the village trying to feed 12 or 13 children on a farm labourer's wages of a few shillings a week. Some of them ran up very large debts and the village shop, since my father couldn't have let them go hungry, and the improbability of ever recouping those debts was, I think, one reason for my parents leaving the shop in October 1921. Besides which, my own arrival four months earlier, had doubtless reduced the number of hours that my mother could give to the business.
So we moved to the Barley Mow. With three pubs in such a small village, I don't imagine that any one of them provided a particularly good living, and doubtless that is why they all had a paddock, pigsties, and small orchard attached. Publicans were obviously expected to dabble in a bit of farming as well. Not so my father - that wasn't his scene at all. To supplement his income he bought a motor car in 1920. I suppose he taught himself to drive and there was of course no test to be passed in those days. This was almost the only car in the village, except for one owned by Mr. Atkinson, one of the gentry who lived at the Priory. So Dad became the village taxi man – not much custom in a tiny village you may think, but people did use the railway and so needed to get to either Wolverton or Castlethorpe station. One of the best customers was a Mr Kingersley Johnson who rented the Rectory and there ran a cram school for aspiring Oxbridge entrants.
Father's next step was to provide a cheaper transport for the majority of the villagers – he bought a bus, or charabanc, as it was called. It was primarily to give Cosgrove a link with Wolverton on market day, Friday. There was a return trip in the morning, another in the afternoon and back in plenty of time to open up the bar for the evening. On winter Saturdays the local football team would hire the bus for their away matches, and in the summer, the Mothers' Union would take their annual outing by Jelley's bus. Perhaps more important was the daily service to and from the railway works at Wolverton, for by this time most of the male population were employed there, and had until now, walked or cycled to work along the canal towpath.
I don't know exactly what prompted the move to Leighton Buzzard in 1926, but there we took a much bigger pub, called the Bridge Hotel (now demolished). The bus was left at Cosgrove, and every Friday, mother was left in charge at the pub, while father drove to Cosgrove to oversee the bus business, left in charge of a Mr. Eglesfield. The bus business must have prospered and held out better prospects than the licensed victualler trade, for the fleet of buses grew and in 1929 we moved back to Cosgrove, rented the old Brewery for use as a garage, and father concentrated all his effort on being a bus operator.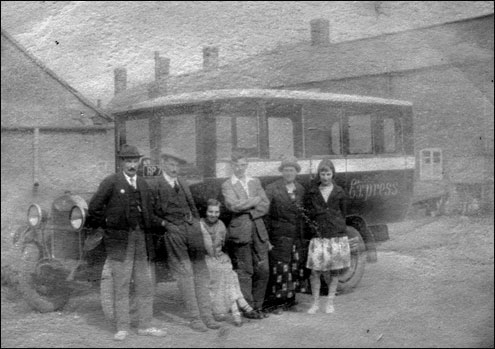 He really enjoyed those next five years, he relished the challenge, he liked the contact with the general public; he liked being his own boss, although I have no doubt that it was at times a very precarious business, through a time of countrywide depression. There were several other bus men in the immediate neighbourhood and competition was fierce. They all ran daily services between Stony Stratford, Wolverton and Bradwell and all were concerned with getting staff to the railway works and the printing works. They were all competing for private hire and in summer all ran special excursions to various sea side resorts that were within day trip distance.
Father's most regular income came from his twice weekly service to London and from his twice weekly services in the Leighton Buzzard area. The first of them took a rather circuitous route through many villages that were miles from a railway station; the second covered much of the same ground but concentrated on linking those villages with Leighton Buzzard's Tuesday and Friday market. The other local operators didn't bench so far afield, and there wasn't the competition of the home area. The majority other passengers were regulars, and as far as possible each route had its regular driver, so the personal touch was very much in evidence and very much appreciated. Dad and his drivers were also inundated with presents at Christmas - homemade wine and butter, eggs, garden produce, jams, pickles - the lot!
We had for buses by 1930, painted brown and cream - the earliest ones had been purple and white. The largest, a 36 seater Crossley, was the luxury coach with comfortably upholstered seats, headrests and carpets on the floor. But even this one had no heating, so rugs were supplied, which did help to keep legs and feet warm on a three hour run to London in midwinter. The second best bus was an AJS, rather an unreliable vehicle as I remember it. The others were I think Revs.
The drivers were local lads. Len Barby, father's most trusted man, lived in one of the cottages next to the church and was everybody's favourite. Tom Bushell lived opposite the Brewery in the Barley Mow cottages (long since demolished). John Swan came from Thetford, but his relatives lived in Cosgrove. "Chirp" Eglesfield (I had no idea what his real name was - no one ever used it) was one of an enormous family that lived in Bridge Row. He later left are employee and set up in business on his own in direct competition. When he then had a nervous breakdown, my father ran his business for him until he was fit again. I was amazed and gratified to hear that this charitable act is still, in 1988, talked of in the village.
Traffic Commissioners, with the inevitable red tape and restrictions, plus tougher competition from large bus companies, like Eastern National and United Counties, made life increasingly difficult for the small businessman, and in 1934 dad finally succumbed to these pressures, and sold out for £4000.
He decided to take a year's holiday before looking for another job, and I think that was the most miserable year of his life. He had thoroughly enjoyed the bus business; he missed the contact with the general public, and with his rival operators, who works for the most part good friends who would always help each other out in an emergency; he simply did not know what to do with himself. Then a year or most of the day, after selling the buses, he was offered work by Mr. Littledale. This gentleman owned the London Road garage, on the Watling Street at the southern approach to Stony Stratford. He was a bachelor of about my father's age; a qualified engineer, and a wealthy eccentric to boot! Having inherited three fortunes from his father and two uncles, and an imposing mansion at Bracknell Berkshire, he had no need to work. The garage was more of a hobby for him. It was at that time, one of the biggest and best equipped in the area, and one of the few but could cope with heavy lorry for repairs, as well as car maintenance. It also included an ever open "caff" very popular with long distance lorry drivers on the A5.
Dad went to the initially as the car salesmen; then Mr. Littledale bought a local haulage business that was near bankruptcy, and father had the job of getting that on its feet. It didn't take him long -businessman that he was - to discover that Mr. Littledale's hobby was in fact a very expensive one, losing money quite unnecessarily, and that he was instrumental in tightening things up all round and was eventually made managing director and a partner.
When we had returned to Cosgrove from Leighton buzzard in 1929, father had rented the old disused Brewery from Phipps, a firm of brewers in Northampton, and he used part of this large edifice the garage the buses. Soon afterwards, Phipps decided to sell the property, but we so we had no option but to buy. Then, once the buses were sold, this was a bit of a millstone until 1939. At that time, with war imminent, London firms were scouring the countryside for storage premises that might be safe from bombing. The Brewery was let, and afterwards sold, to a firm of carbide manufacturers, who stored their products there throughout the war.
So for the last years of his life, father had a more regular and reliable income. I suppose he was better off financially than he had ever been, but until three months before his death he was working all hours and enjoying it. Once settled at the London road garage he became very much a creature of habit. A reluctant to "getter up" in the morning, he would dash out of the house at about 8.30 and drive to Stratford; home for lunch at 1pm; home again for tea at 6pm, then a few hours in the house to read the newspaper and listen to the wireless. Promptly at 9pm he would return to the garage to check that the night staff had reported for duty. From there to the Royal Oak to have a half pint with his brothers, thence to the Cock Hotel in the High Street, where all his cronies and business associates foregathered.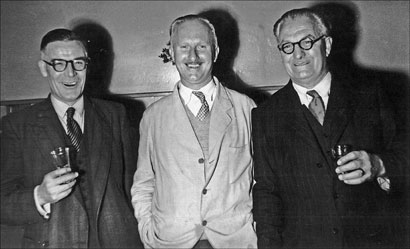 Malcolm Jelley on the right
Most of them had grown up together in the town; there was Bill Higgs the butcher, Tom Tibbetts, the grocer, and Charlie Cowley the undertaker. After a convivial evening with them, dad would arrive home on the dot of eleven o'clock, by which time supper would be ready and he and his and my mother would linger over the meal for an hour or so discussing the events of the day and their individual activities.
This was a regular and almost unchanging routine from Monday to Friday for years. The garage usually demanded his attention at least in the mornings, on Saturdays and Sundays alike, but on Saturday afternoon he enjoyed watching a football match if Northampton Town was playing at home. Sunday afternoons could be devoted to the family and we usually drove out in the car, either to visit friends, or, in the summer, to picnic, perhaps at Burnham beeches, or Dunstable downs, where in suitable weather, one could watch gliding.
Throughout their married life my mother had been very much a working partner in the various business enterprises. At the shop she had obviously been kept very busy behind the counter; at the pubs she had had most of cleaning to do, and had had to man at the bar when father was bus driving. During the heyday of the bus years, she, Edna, and I had all done our share of cleaning the inside of the vehicles. Then every Thursday for years, mother went on the bus to London. The Crossley was the only bus on which the driver was in his own cab, separated from the passengers, so a conductor was needed. It would have been uneconomic to pay an extra man to spend most of the day unproductively in London, so mother had to go, to collect the fares, while Len drove. On the Sunday Service Dad himself drove, and Edna had to go with him.
Once the buses were sold, my mother had more scope for pursuing her own interests. She got very involved with the Women's Institute and later got elected to the parish council. She enjoyed that and eventually became Cosgrove's representative on Towcester Rural District Council. She had learned to drive, back in the 1920s, and after dad had sold the buses, she was able to buy a car of her own, so that she could more easily get around to all her meetings.
---
Gwen Brown, nee Jelley 1921 - 2017
My own childhood recollections are rather fragmentary and it is sometimes difficult to distinguish between what I actually remember and what I have been told. Certainly I have no memories of living at the shop in Cosgrove, being only four years old when we left there, but I understand that the summer of 1921 was one of the hottest and driest on record, and my mother used to say that the nappies dried almost as soon as they were put out on the line, and there were no spin dryers then!
I was baptised at Cosgrove Church at the age of five weeks, on Feast Sunday. The godparents were my paternal grandparents and a Mrs. Dewick (whom I later called Aunt Elsie) who had long been a friend of my father's family. Grandfather decreed that I should be named after one of his own daughters; either Eugenia or Gwendolin and my mother chose what she considered the lesser of the two evils, and added Mary as her own preference!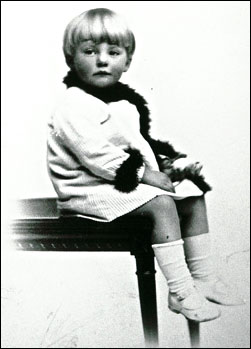 Gwen age 2
The coat was considered very chic at the time - white corded velvet trimmed with black swans down.
As for the Barley Mow years, I can visualise quite clearly what the house looked like, inside and out, but I don't really remember much about the four and a half years we spent there. There is a picture showing the exterior of the pub in those days with M E Jelley's name board over the door. I believe the building dates from the 17th century, and the pitch of the roof suggests that it was once thatched. To the left of the door was the "parlour". I suppose it would be called the saloon bar today and seldom used except at weekends. To the right of the door was the skittle room. Table skittles was a common pub game in South Northants and North Bucks but I think rare in other parts of the country.
Beyond the skittle room, there was another part of the premises, with a less steeply pitched roof, and probably a later addition. Here was our living room and kitchen, with the "club room" above. This was a large bare room used by the village football club for changing, for meetings, and for socialising after their home matches, played on the Barley Mow field behind the pub. Access to this club room was by an outside wooden stair at the back.
More recent photos of the Barley Mow taken in August 1985 show the once pleasant and well-proportioned facades has been completely spoiled by the infilling of the front door. In August 1985 the rear of the pub was outwardly little changed since the 1920s. The lean-to part was the bar. I remember its dark brown woodwork and tobacco coloured walls and ceiling, the spittoons and the dartboard and the perpetual smell of beer and cigarettes. The beer, mild and bitter, was drawn from the wood, and the cellar opening is apparent under the parlour window in other photographs.
At some time during the 1980s the whole of the interior of the property was altered. The dividing walls were abolished, and cast iron fireplaces ripped out; the counter was relocated, so that internally the place is to me almost unrecognisable.
During those years that we spent at the Barley Mow, Doris Hurst came to work for us, to look after me, and to give help with the housework, as my mother often had to serve in the bar, while father was out with bus or car. Doris, known to us all as Doll, were 17 or 18, and lived next door in the thatched house adjoining the pub. I used to love to go down the garden path to that house and see her mother whom I called "Hurstie". She made me pastry men with currant eyes; she taught me to play Patience; she let me "help" to make her potent potato wine, and she taught me my first poem which I would recite to dear old Mr. Hurst when he came home from work.
"Hurstie" seemed very old, but I don't suppose she was more than 50. She was short and fat and like every other elderly lady in the village, always dressed in black. Black ankle length skirt, black jumper, voluminous black apron tied around her waist, black buttoned boats, and for going to market on Fridays, a long black coat and a vast black hat secured to her bun with dagger like hat pins.
If I was very good I was allowed into her "best room", where a chenille draped mantelpiece displayed her china ornaments which I loved. The little china cottage that I still have was one of them, which she gave me not long before she died. I have since learned that it is a Staffordshire piece dating from about 1870.
Not only did Doll become part of life at the Barley Mow, but when I was two, Edna joined the family. Her mother was my mother's older sister, who suffered badly from rheumatism and from frequent pregnancies. For several years Edna had been living with our maternal grandparents, a few doors away from her own overcrowded home at Stanwick, and when grandma died in 1923 she came to live with us.
I remember playing in the yard at the rear of the pump; I remember that we kept chickens; I remember that at one time we had an Old English sheepdog called Laddie. He had to be destroyed because he could not be dissuaded from chasing motorcycles, endangering life and limb. We had fruit trees in a small orchard; the apples were stored in one of the attics, and even today the smell of apples records that "apple room" at the top of the house. The little the old garden on the end of the house visible on the right of photographs had a lilac tree and a laburnum tree overhanging the road, and a bay tree grew up against the parlour wall; the scent of bay leaves is another evocative of Barley Mow days, and I was delighted to find the bay tree still flourishing in 1986.
In 1925 a Great Empire exhibition was held at Wembley. Jelley's bus took a party from Cosgrove, including my mother, who brought back for me a marvellous book called "My Dolly's Home" which I still have. It and Hurstie's china cottage are my two tangible relics of my early years at Cosgrove.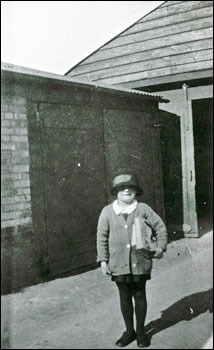 Gwen, aged 5 - photo taken in the yard of the Bridge Hotel, Leighton Buzzard
After four and a half years at the Barley Mow, we moved to Leighton Buzzard, to a much bigger pub called the Bridge Hotel. During those three years at Leighton, I never lost touch with Cosgrove. Father went there every Friday to drive one of the buses and in the school holidays I often went with him and spent the day with Hurstie. Sometimes she would take me with her to the market, or to see her oldest daughter in Stony Stratford, or I would stay and play with the village children until dad was ready to take us back to Leighton. So when we eventually returned to live at Cosgrove, it was a bit like going back home.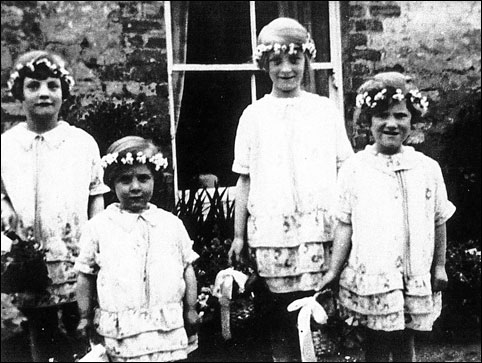 Bridesmaids at the wedding of Irene Jelley and George Ruff
L-R: Gwen Jelley, Evelyn Markham, Dorothy Markham, Iris Wray
Sylvia Markham was also a bridesmaid but seems to have missed the photo-session.
The main problem in returning to Cosgrove was finding somewhere to live, as there were no empty houses. The buses were garaged at the old Brewery, but Mr. and Mrs. Fred Jelley occupied the Brewery House. It was however much too big for them, so we had a part of it - two very large ground floor rooms (a sitting room and kitchen dining room) and two small bedrooms. The only inconvenience was sharing a bathroom, and sharing one staircase to get upstairs, but it worked very well for nearly ten years. After all the older couple were relatives of my father's, and mother had lodged with them before her marriage, so they were in no sense strangers. In any case, we had to live where the business was; domestic arrangements had a very low priority.
What we missed most was piped water, gas and electricity, to which we had become accustomed at Leighton Buzzard and which was still absent from most small villages in the 1920s. We were back to oil lamps and candles for lighting, a paraffin stove for cooking, and water had to be pumped from a well in the Brewery yard. A large three gallon white enamel pail was used to hold water, and it was kept in the kitchen covered with a pastry board to keep out dust. It was an unwritten law that whoever used the last drop had to refill the bucket – immediately - and no matter how hard it might be raining. After nine years old I couldn't manage a full bucket, but had to fetch as much as I could carry. No electricity meant no electric iron (we use flat irons heated on the cooker, no electric toaster (the toasting fork was standard equipment in the house), no refrigerator, no washing machine, no vacuum cleaner; and the housework was arduous and time consuming. Laundry was a particular problem because we didn't have a coper in the kitchen like most of the cottages hand, but there was always someone in the village glad to take in washing to supplement the family income, so my mother usually got the larger items done before her. I have mentioned sharing a bathroom, but that didn't mean that we could simply turn on taps. Trailers there was a bath in the room, but water had to be heated in large pounds on the kitchen stove. And we were lucky, most houses didn't have a bath, let alone a separate room for washing. That had to be done at the kitchen sink, or a wash hand stand in the bedroom. Again we were fortunate in that the previous owners of the Brewery House had devised a somewhat primitive indoor flush toilet. Rainwater collected in a large tank outside the loo, and as long as you held on to the chain, some of that water was released into the lavatory pan. Where did it go from there? To a cess pit? I never thought to ask! At any rate it was a great deal better than the bucket in the little house at the far end of the garden, which was the norm, and a problem only arose during a drought, when the tank would run dry, and that of course meant that more pails of water from the pump to swish down the loo.
The village had only one shop, where I had been born. It sold general groceries, paraffin, and other day to day necessities like pens and pencils, needles, cotton and darning wool, but little else, although one counter was the post office, for stamps and postal orders. Bread was baked at the adjoining bakehouse and delivered six days a week. Twice a week the Co-op butcher's van came from Stony Stratford; almost everyone grew their own vegetables, in cottage garden or allotment, and three farmers sold milk at their dairy door, warm from the cows, after morning and evening milking. Every household owned a couple of cans, either enamel aluminium and either pint or quart size, with a well fitted lead, for carrying milk home from the farm.
From my frequent visits to Cosgrove during the Leighton buzzard years, I already knew most of the local children, so it didn't take me long to settle in at the village school. The right hand wing was the infants' room, presided over for many years by Miss Keveren. I remember her as Sarah brown shouldered little old lady who rode in from Stony Stratford every day, on an enormously high "sit up and beg" bicycle, and was never ever deterred by bad weather. She had taught infants for so long, but she spoke to everyone in the same kindly, patient, sing-song voice that she had used to five year olds! She was totally dedicated to her job.
The left hand wing of the school building was one large room that could be divided by a sliding partition. In Edna's day there had been three teachers, and the partition was always closed, but by the time I was there in the late 1920s, numbers on roll had dropped, only two teachers were employed, and the partition was always folded back, to make one room where the Headmistress taught. Between the two wings was the hall, and behind the hall were the cloakrooms. By today's standards, facilities were very poor. There was no library, no visual aids and no staff room for the teachers.
The Head teacher was Mrs. Thacker, to whom I owe my first interest in Geography. She communicated her own enthusiasm to me, very early on. But mainly, of course, we concentrated on the three R's. Morning always began with hymn, prayers and a very short scripture lesson followed by sums, every day until the mid-morning playtime.
After play, we had English - grammar, spelling, composition - until dinnertime. Afternoons were more of their raids. We learned poetry - some but I remember "Lilac Time" by Alfred Noyes, "Sea Fever" by John Masefield, "Daffodils" by William Wordsworth, and passages from Longfellow's "Hiawatha". We did a bit of geography such as the life of the Eskimo or the Prairie Farmer; we had sewing lessons, we sang songs like "The Raggle Taggle Gypsies", "Oh no John", and "The Miller of Dee", but for much for the time we had to work quietly on our own.
The teachers had all ages from 9 to 14 which was the leaving age, so while one group was being taught, the others had to get on with their assignments. Physical activities consisted of team games on the asphalt playground behind the school, but the most popular was Country Dancing.
There were no school meals and the only children who could not get home to dinner were the two or three who walked from Furtho. They had to bring sandwiches and would sit round the coal fire in the infant room, with Miss Keveren, who would make them a hot drink in the winter.
Out of school my playground was mainly the old Brewery with its huge stony yard. Father used only the larger open shed to garage the buses; some of the outbuildings were used as coal sheds, but most of the Brewery was an echoing, cavernous place, with rickety wooden stair ways, thick with deer and bird droppings. One part was an enormous empty room, stone flagged and at least two storeys high, and this is where we played on wet days that is to say me and half the village kids of under age. We didn't have much in the way it always, that everyone possessed a skipping rope, a whip and top, a for loop, or a selection of balls. We played hopscotch, various forms of hide and seek - the Brewery was ideal for this, and a game that we called "statues" which I think is what the Rev. Audrey refers to as "Grandmother's Steps" in "Henry the Green Engine"!
In summer we played cricket in the yard if one of the boys possessed a bat. We used an upturned bucket for a wicket; there were no bails to fly off, but the loud clang of the ball on bucket proclaimed "out", without the need for umpires. Sometimes my dad would join in, but he usually swiped too hard and lost the ball for us!
In those days there was still a good deal of traffic on the canal. The narrow boats were still largely horse-drawn but the "steamers" were rapidly taking over. Fellows, Morton and Clayton plus Samuel Barlow were the two companies whose names I best remember. The museum at Stoke Bruerne brings back so many memories - the crocheted ear caps that the horses wore to keep the flies off; the beautiful bonnets that the barge women wore; and the rose and castle painted over the cabins and on the water cans. The barge he's where a race apart. They would Clara stone Mullions as as we stood at the towpath, and never respond to wait for a smile. We love to watch the boats as they went through the locks, and to "help" open and shut the heavy lock gates.
The Buckingham Arm was already disused but it was at least recognisable as a canal, and we could walk for several miles along its rather overgrown towpath. The exciting times were when the canal froze; the ice-breaking boat had to be used; also when cleaning and maintenance was done at Bank Holidays, necessitating the draining of stretches of the canal between locks.
The bus business was of course, as big a tie as the pubs had been, and family holidays were out of the question, at least until the buses were sold in 1934. Nevertheless, I was very fortunate, in that during the early 1930s I was able to see so much of the country beyond Cosgrove. In school holidays I often went to London with my mother, on the Thursday Service, and in summer we almost always went on excursions to the seaside. So by the time I was 13 I had visited all the major coastal resorts of South and East England, had been often to Stratford on Avon, Warwickshire, the Vale of Evesham in blossom time, Portsmouth in Navy Week, and the Aldershot Military Tattoo. In the process I had learned to read a map.
With father always working on Sundays we never went to church as a family, at for a good many years, I went with most of the other village children to Sunday School. Mr. Stockton, the priest in charge, was a strange man, kindly, eccentric and sanctimonious. He wore one of those flattish hats reminiscent of Barchester Towers, and always dressed in black from head to foot. On meeting you in the street, he would bow slightly, raise his hat, and intone "Good morning dear soul". As we filed out of the pews at the end of Sunday School, he would give each of us a penny, so we strolled along the canal bank to the Locks, where Mrs. Clarke kept the little shop to supply the bargees. She opened on Sunday so we were able to spend our pennies on sweets, before going home for tea.
During the years at Cosgrove school, the only ones remember being ill, with cold sores all round my mouth. The Doctor was called in. He dressed in striped trousers, black jacket and wing collar, and seemed to come from another – higher - world. He prescribed plenty of rest and a glass of port wine every morning! No antibiotics then, of course. I hated staying away from school, but at least it gave me a chance to indulge my passion - reading. There was no library, either school or public, and no bookshop, so choice was limited to some of the classics on my mother's bookshelf. I had read the more popular of Dickens' novels by the time I was ten. "Alice in Wonderland" was a perennial favourite and Arthur Mee's Children's Encyclopedia kept me occupied for many hours. Often on a Thursday I got a treat. Mother would bring a book from London. If the weather was good she would pass some of the time in Foyle's second hand department, where books cost 3d, 6d or at most a shilling. I still have a copy of "Wind in the Willows" and of "Pride and Prejudice" which were among my Thursday surprises at the time.
Looking back over 55 years, life then seems to have been very placid and quiet. The "steamers" chugged along the canal and a few lorries, small by today's standards, went to and from the gravel pits, but by and large the roads in the village were almost empty. I don't think there were more than half a dozen car owners, and I can't remember that any of the farmers even owned a tractor. Aeroplanes were a rarity, and I clearly recollect dashing out of the house at the sound of a plane to see what sort it was. Most were biplanes and we were quite excited when a monoplane went over. I remember going on a bus trip to Carding to see the airship R101, a week or so before its ill-fated maiden flight in 1930 when it crashed at Beauvais in France, with the loss of 40 or 50 lives.
We had no television, of course, but we listened to the wireless a good deal - news programmes, orchestral and brass band music, and Children's Hour which was a daily favourite with all the family. I can remember that it included a weekly current affairs programme for young people, given by someone called Commander Stephen King-Hall, and in light of 18 we all enjoyed the dramatization of the Toy Town stories by S G Hume Beaman. The humour appealed to all ages, and father would make a point of getting home in time if he possibly could.
I think we children were much less sophisticated than today's nine and ten year olds. We were not at all clothes conscious. We couldn't afford to be, and above all, we were not bombarded with advertisements, so perhaps we were more contented with the little that we did have. All my friends had their own particular chores to do before they could go out to play. Most of the boys were expected to help their dads with the gardening and the girls had to look after younger brothers and sisters. None of us had heard the word "sexist".
My Saturday job was sorting bus tickets. On the local Stony Stratford to Wolverton to Bradwell service, a ticket purchased on one bus was valid for the return journey on any other operator's vehicle. Each week the bus proprietors had a settling up, so that tickets had to be sorted, ready for this meeting, a job for which I got my weekly pocket money of sixpence - 2½p in today's money.
I have talked much about "going out to play", and we did just that. We never played in each other's homes. Most people lived in tiny cottages with one small living room, and an even smaller scullery; cooking was done on the kitchen range and there simply wasn't space for children to play. Nor did we play in the gardens. Gardens were the growing vegetables and perhaps a few flowers in the front of the house, but certainly not to be used as playgrounds. Most of the cottages were built in groups around a communal yard and water pump, and it was in the yards that we played, or in the street. Some of the cottages were so overcrowded that it was quite usual for some children to sleep out, and the home of grandparents or aunts, as indeed Edna had done in the early years at Stanwick.
So in spite of the rather Spartan life, with few basic amenities, I was really one of the lucky ones, for we had a car, and the telephone and free travel on the buses to all sorts of interesting places.