Articles between 1960 and 1980 are from a private collection by Mrs Dorothy Warren, whose family donated the album in which she pasted them each week, and they are her personal selection. For instance, she didn't like sport! We believe she used mainly the Wolverton Express, but did not specify whether the articles were from there or from the Northampton Mercury and Herald, which she also read.

Wolverton Express 4th January 1980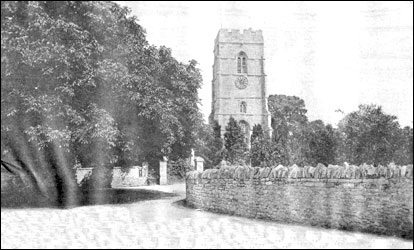 This week we have a look at Edwardian Cosgrove, through the latest set of postcards from Mr Ron Odell's comprehensive collection of local views. On the left is the village church with stone wall and chestnut tree, a scene that has hardly altered at all.
But below are two views of the aqueduct, the narrow passageway under the canal [horse tunnel] linking the two parts of the village.

Bottom left is the ornate bridge, quite the most beautiful bridge on the whole stretch of the canal.
On the right are two of the village's older homes.
---
Wolverton Express 14th March 1980
Altar Plate stolen
Thieves broke into Cosgrove Parish Church and stole £3000 of Communion silverware and £200 cash. Using a steel rod, they poked out a stained glass window in the vestry, climbed in and wedged open the church safe. The Rev Harold Beatty said, "They broke the lock on the door once inside to make sure they had a quick way of escape.
"The police believe they must have left in haste because they left all sorts of tools, including the rod and large spanners scattered on the floor. It was an amazing sight and not a very professional job." He estimated the break in took place some time after evening service on Sunday night.
The burglary followed an attempted theft at Wolverton St George's Church on Saturday night. The Re Vernon Jones said, "Burglars tried to drill the back of the safe off and took the strongbox outside. But there were only ordinary documents inside and nothing was taken."
---
Wolverton Express 21st March 1980
How about that?
The villagers of Cosgrove raised £108 at a coffee evening at the house of Mr and Mrs B Richards. The money is to be sent to Stoke Mandeville Hospital as a contribution to the Jimmy Saville Appeal Fund. The tombola stall was run by Mr R B Richards and Mr J Lamont and cakes were sold by Mrs J Ford. The raffle winners were Mrs D Lambert and Mr D Ford.
---
Wolverton Express 28th March 1980
Cosgrove WI had an early taste of spring when Mr. R Ferrari showed cine films of Cosgrove Hall and gardens at daffodil time. He also showed two of his cartoon films and explained how these were made. Thanks were by Mrs. C. Smith.
President, Mrs. E Crewe presented pot plants to two members, Mrs. P. Shervington and Mrs. C. Smith who recently celebrated their silver weddings. Members aired their views on a consultative document about the future of the WI movement. The Annual Dinner was provisionally arranged for May 13. The competition for 'My Favourite Antique' was won by Mrs. Barnes and the raffle by Mrs Mackaness. Teas were served by Mrs E Chown and Mrs. D. Clark.
---
Wolverton Express 28th March 1980
Cosgrove man dies at wheel
MINUTES after doing the week's shopping at the Agora market, Wolverton, a Cosgrove man suffered a fatal heart attack at the wheel of his car. Mr Thomas Cummings, 58, had just started up his Mini in the Church Street car park on Friday. It went out of control and crashed into the fence.
A spokesman for Wolverton police said he was taken to Northampton hospital and was certified dead on arrival. There were no injuries from the collision. Mr Cummings, who had worked in the frame and fitting shop at Wolverton Works since he was 14, had been suffering with a heart condition for some time.
"He was a very active man but for the last nine months he has been off sick from work." said a neighbour in Manor Close. Cosgrove. "He used to do the shopping in the market every Friday and then drive over to Stony Stratford to pick up his wife."
A keen sportsman, Mr Cummings played for Cosgrove football team in his younger days. He was a member of the North Bucks Football League committee for many years. He was born in Cosgrove and lived there all his life. He leaves a widow, Mrs Rose Cummings, a married daughter, Bridget, who lives in Slough, and two grandchildren. Northampton Coroner's office said no post mortem was held as it was clear Mr Cummings had died from a heart attack.
---
Wolverton Express 10th April 1980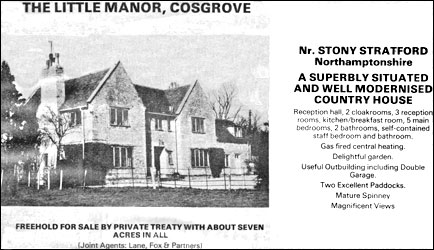 ---
Wolverton Express 10th April 1980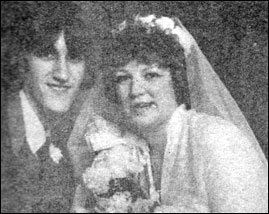 Miss Denise Taylor of Yardley Road Cosgrove and Mr Derek Daybell of Meadale Road Beanhill who were married at St Peter and St Paul Church Cosgrove. The bride was attended by three bridesmaids and a reception for 60 guests was held at Cosgrove Village Hall.
---
Wolverton Express 23rd May 1980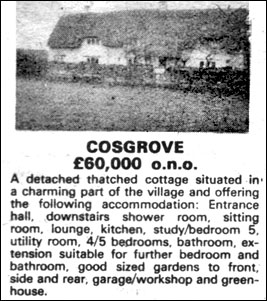 ---
Wolverton Express 30th May 1980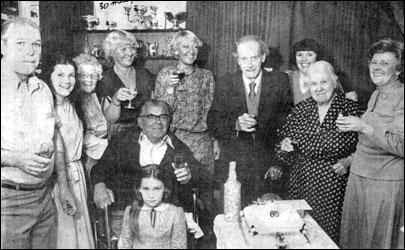 ALL the family and "half the village" turned out to help Lily and Frederick Holman (second and third from right) celebrate sixty years of married life on Friday. Sons Frederick and John organised the party at their home in Cosgrove.
Mr Holman, 86, was born in Calverton, and worked in Wolverton Works for more than 40 years. Frederick, the eldest son, said: "There were about sixty people at the party. All our family - and half the village."
---
Wolverton Express 6th June 1980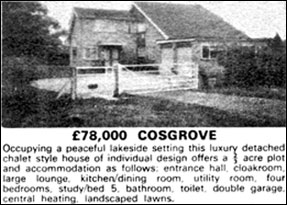 ---
Wolverton Express 6th June 1980
Cock crow at Cosgrove is a phenomenon that rarely disturbs rural slumbers. Few people slept after dawn in Bridge Street [Road] on Tuesday however, when a bird of a different size and sex took over from the rooster.
Alarmed at the unusual, unwanted, raucous noise they found the unwelcome alarm clock was a peahen!
---
Wolverton Express 6th June 1980
Cosgrove pub in top twelve
The Navigation Inn Cosgrove has achieved a rare distinction – it has been chosen as one of the top twelve "Pubs Which Welcome Children."
Jimmy Young – no relation to the DJ – has researched 23,000 pubs in his time – he even featured in the Guinness Book of Records as the man who had visited the most pubs in Britain.
For his book Pubs Which Welcome Children, David and Charles £1.95, he actually visited 600 which were known to make special facilities for families. Mrs Betty Brassett, a widow with grown up children and grandchildren, keeps a special family room.
---
Assumed to be from the Northampton Chronicle & Echo c.1980
BONNIE'S A HAPPY COW – AT 28
by Lesley Sharp
Meet Bonnie – more than 20 times a mother with countless grandchildren.
But before you gasp with horror, you ought to know that Bonnie is – if she will excuse the phrase – an old cow.
For the Guernsey cross heifer, who is spending a life of luxury as the pet of a Cosgrove family, celebrates her 28th birthday this year.
Her special treatment began at the age of two weeks when she was given to Mrs Eileen Wray as a 21st birthday gift from her father. Until 5 years ago when she went into retirement, Bonnie provided all the family's milk and more. But now she spends her days in the company of a pet goat in the paddock adjoining the Wray's Lock Lane home.
Apart from a touch of rheumatism in the knees Bonnie is in fine shape and thoroughly enjoys her daily meals of corn, maize and other cereals.
Said Mrs Wray: "We didn't really expect her to live this long. She seems healthy enough, but whether she will live another five years, I don't know."
---
Wolverton Express 5th September 1980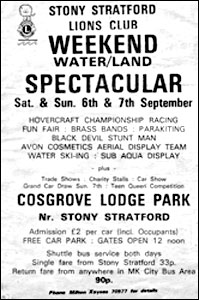 ---
Wolverton Express 12th September 1980
THINGS went with a splash at the Water Land Spectacular at Cosgrove Park at the weekend. Organised by the Stony Stratford Lions, the two-day event was highlighted by a death-defying car jump into one of the park's lakes by the Black Devil. Now in its fifth year, the show was a great success with about 7,000 people turning up for the excitement of, water ski-ing, hot air balloons, model aircraft, a funfair, sideshows and charity stalls. But the event they all wanted to see was the Black Devil - real name Dishon Star - dicing with death as his car ploughed into the murky waters. In two leaps - one on each day - the black daredevil from Northampton drove his car up a ramp and dived headfirst into the lake. A plan to jump the River Ouse on Sunday was scrapped at the last minute when the event organisers decided it would be too dangerous.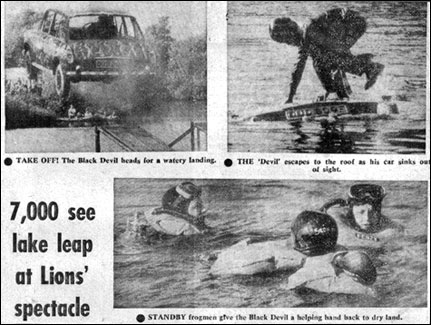 All money raised from the spectacular will be donated by the Lions Club to local charities. The total amount raised is still being calculated. One of the show's organisers, Mr John Jessup, said: "We were very pleased with the way things went. The crowd turnout was disappointing on Saturday, but we were quite pleased with the number of people who came on Sunday." He added: "A good time was had by all, and the weather was lovely. We were very pleased with the whole event." Another person pleased with the weekend's proceedings was the holder of the winning raffle ticket, which won him a brand new Ford Fiesta. The winner, from Northampton, will be presented with his price at Wolverton Motors on Monday evening.
---
Wolverton Express 12th September 1980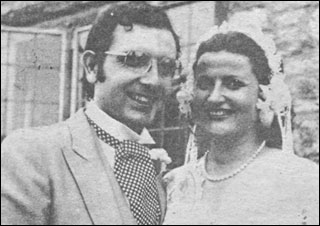 Lavinia Anne Elder of Little Manor Cosgrove, married David Fraser Cowin from Ulverston Cumbria on Saturday at the Cosgrove Parish Church. The bride was attended by a Matron of Honour. The reception was held at Little Manor.
---
Wolverton Express 10th October 1980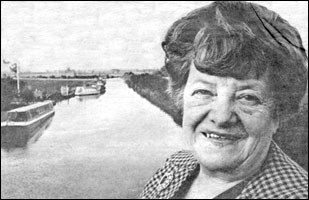 LEAVING THE CANAL FOR AN ADVENTURE DOWN THE NILE
Report: Stephen Bell
INNKEEPER Beryl [Betty] Brassett, left the helm of the Navigation Inn, Cosgrove, last week for a trip down the Nile. Mrs Brassett left this week for her 10-day trip to Egypt which includes the trip down the Nile. "I'm being very adventurous, I'm going on my own," said Mrs Brassett who is keen on archaeology. With her husband Trevor, Mrs Brassett, 56, took over the Navigation 15 years ago. After her husband's death 10 years ago, Mrs Brasseti, ran the pub with help from her son, John, now 28.
Mrs Brassett, who in January decided to retire, has spent most of her life in Stony Stratford and Cosgrove - where she was horn. "I think the Navigation is really me. I've put my stamp on the place in the last 15 years. It's been happy all the time I've been here," she said. "I feel I have done my thing and just want to retire. It will be an awful wrench tonight," she said on her last day at the canal side inn. Last night, her customers for the last 15 years gathered to give her a send-off. "It was absolutely super. It was a full house and to my delight there was not one who was not a regular."
The customers chipped in to present her with a bouquet of red carnations and a ring. The Licensed Victuallers Association gave Mrs Brassett a floral display and a cheque. She also received numerous cards and telegrams. "I'm quite looking forward to it. I'm going to lead a full life," she said of her retirement. But locals need not worry that they have seen the last of Mrs Brassett. The pub is being taken over by Hamilton Taverns and the company plans to redevelop it with emphasis on the canal side aspect, though the plans have not been finalised, says the firm. When the overhaul has been completed Mrs Brassett says she will be back, at the invitation of the new owners, to pull the first pint.
---
Wolverton Express 6th February 1981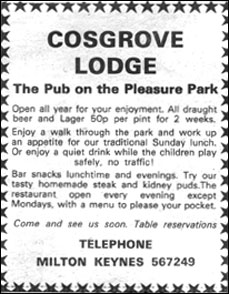 ---
Wolverton Express 8th May 1981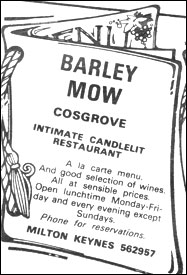 ---
Wolverton Express 18th June 1981
Girls' Fete helps Jim
Three Cosgrove school girls held a back garden fete and raised £16 for the Jimmy Savile Stoke Mandeville Appeal. Emma Tanner, 9, Louise Berry, 10, and Alison Callow, 10½, sold toys and books, organised guessing games and made cakes and drinks. All three live in Mansel Close.
---
Wolverton Express 16th July 1981
I, too remember
THERE must be dozens of your readers who can "remember" like your correspondent Mrs Dines last week. I don't know the age of the writer but at 63 I can remember barges bringing granite to Yardley Wharf and the roads being made with them and with soil from the road. There were no coal lorries, only carts. I remember my first bell ringing outing was by wagonette from the Cock Hotel stables to North Crawley, Turvey, Chicheley, Sherington, Olney and Emberton. Points I remember about that day out were the number of rabbits at Tyringham and having to walk from Olney to Emberton to give the horses a rest.
We still had oil lamps when we moved to Cosgrove in 1933. Electricity was installed just pre-war. Our first radio was worked by an accumulator, collected by Len Dewick for recharging. Al this time Mussolini had invaded Addis Abbaba. I also remember as a boy Whattons felling trees to let electricity pylons spoil the then clear countryside — and we went on that old English activity of "wooding" to collect chips. I could go on for ever when reminiscing, but I won't.
JIM LAMBERT Cosgrove
---
Wolverton Express 23rd July 1981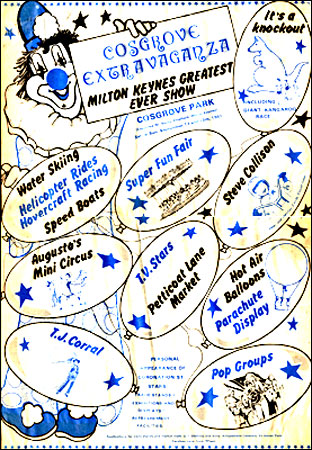 ---
Wolverton Express 30th July 1981
Pupils at Cosgrove Primary School have won a £5 voucher at a science fair held in Northampton. They had designed equipment to measure the thickness of oil. Head Teacher Mrs Norah Horton said that the money will probably go towards buying science equipment.
---
Wolverton Express 20th August 1981
Pint pullers push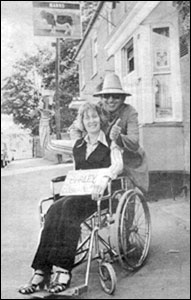 Landlord Gordon Cowley, of the Barley Mow, with passenger Nancy Forsyth.
TWENTY landlords from South Northants took some time off from behind the bar on Sunday and joined in a sponsored wheelchair push. The annual Publicans' Push organised by Towcester Lions and the Licensed Victuallers' Association raised around £1,500. The wheelchairs and passengers were from Northampton's Gladstone Centre for the disabled. The shield for the best fancy dress entry went to Mr Gordon Cowley, land lord of the Barley Mow, Cosgrove, who disguised himself as a barley mower. The cash raised will be split three ways, between the Gladstone Centre, the LVA and Towcester Lions Charity Account.
---
Wolverton Express 20th August 1981
Burglary victim fights back
SHOPKEEPER Eileen Filer is fed up being burgled, so she is launching a beat-the-burglar campaign against the robbers who are making her life a misery. Mrs Filer who runs the shop and ski lake kiosk at Cosgrove's Leisure Park with husband Daniel intends to make things difficult for the thieves who have repeatedly raided both premises.
Her anti-theft measures include closed circuit TV, extra big locks and bolts and other special security protection.
"We have been burgled repeatedly - last year we were broken into 14 times, and this year, two break-ins happened close together," said Mrs Filer, who lives near the park. The latest burglary was at the lakeside kiosk, when several hundred pounds' worth of ice-crearn, sweets, crisps and soft drinks were stolen. "We are fed up with it and we have spent a lot of money security measures to try and stop the break-ins." she added.
Mr and Mrs Filer took over the shop and kiosk five years ago and since then raiders have
· tried to burn the kiosk down
· caused hundreds of pounds' worth of damage by vandalising the premises
· returned regularly to steal the stock
---
Wolverton Express 10th September 1981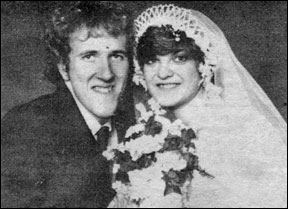 Karen Freestone of the Green Cosgrove was married to Kevin Farmer of Westfield Road Bletchley on Saturday. The wedding was at Cosgrove Parish Church. Seventy guests attended the reception at the village hall.
---
Wolverton Express 8th October 1981
A charity lunch will be held at Cosgrove Church Rectory on October 23 from 12.30 to 2pm. The lunch will be provided by the Rector's wife, Mrs Helga Beatty and will consist of soup, bread and desserts – all for 50p. Proceeds will be donated to the Church Army for youth work in Milton Keynes.
---
Wolverton Express 8th October 1981
Cosgrove ladies or men with slimming problems can enlist the help of Mrs Thelma Mayne at Cosgrove Post Office. Every week, Mrs Mayne holds a Slimming Club meeting at her home from 7.30 to 9.30 pm on a Tuesday.
A harvest festival supper was held at Cosgrove village hall on Saturday, October 3. Food was provided by ladies from the parish church and the event was a family affair. A recent harvest sale raised £76 for charities chosen by church members.
CHILDREN at Cosgrove county primary school entertained 40 pensioners to tea last week. The school sent out invitations to all the village pensioners and the harvest tea was prepared by pupils. After enjoying home-made scones baked by the pupils, the visitors were entertained with songs and poems. Harvest gifts were distributed to elderly residents, including those who were unable to attend the tea.
COSGROVE Senior Citizens meet once a month at the Victory Hall. The Golden Hour Club meets at 2 pm. on the second Thursday of the month. Members of the Parish Church provide transport.
A Nearly New stall held in aid of Cosgrove Playgroup funds has raised over £80. The playgroup meets twice weekly at the Victory Hall on Tuesdays and Thursdays from 9.30 to 11.45 am.
RENNY Lodge Hospital at Newport Pagnell is to receive a helping hand from members of Cosgrove Women's Institute. They will be helping out on a rota system at the hospital as unpaid volunteers.
COSGROVE village hall committee has been raising funds for building repairs. A mini market raised around £300 which will help pay for improvements to the kitchen and interior. Rewiring and repainting has already been carried out.
---
Wolverton Express 8th October 1981
OUCH! DANIEL FEELS ALL WASHED OUT
DANIEL Filer felt really washed out last week, after trying to move his new laundrette equipment. As soon as he bent down to shift the newly-delivered machinery from the front lawn of his bungalow near Cosgrove Leisure Park, he slipped a disc.
Now he and his wife Eileen have a front garden filled up with eight washing machines, six tumble driers and a large boiler. The couple, who already run the leisure park laundrette, bought the new equipment for another laundrette they plan to open in Stony Stratford.
"It's very unfortunate that this happened as soon as we took delivery of the new stuff," said Mrs Filer. "We have just had to leave it in the garden until we can get some help to move it to our premises in Stony Stratford." she added. Meanwhile, Mr Filer has been told to take things easy until he feels better - and he's decided to leave his unusual garden crop where it is.
---
Wolverton Express 15th October 1981
COSGROVE
THE new husband and wife team behind the bar of the Barley Mow at Cosgrove intend to keep their customers happy with plenty of home cooking. Terence and Susan Murphy moved into the pub on Monday from their previous home at the Bell Inn, Tong, Shropshire. The couple have been in the licensed trade for the past 14 years, first with Trust House Forte, now with Mann's Brewery.
Terence, 33, says he was attracted to Cosgrove because he likes canals. Susan, 33, was famed for her home cooking at their previous pub and her speciality is a delicious steak, kidney and mushroom pie.
---
Wolverton Express 5th November 1981
Crime wave beats Eileen
COSGROVE shopkeeper Eileen Filer has finally given up her struggle against thieves and vandals and closed her lakeside kiosk for good. Mrs Filer ran the kiosk at Cosgrove Leisure Park, supplying soft drinks, sweets, ice cream and cigarettes to holidaymakers and water sportsmen. But vandals caused so much damage and the premises were raided so often that last week she put up the shutters and the kiosk was taken away and sold. "It was broken into so many times that we were losing money and there was no point in continuing," explained Mrs Filer.
---
Wolverton Express 14th November 1981
Police probe 'canal fiddle'
THE alleged private enterprise initiatives of British Waterways Board staff are being investigated by detectives and board investigators. They are investigating claims that board workers built a slipway at Cosgrove for the Navigation Cruising Club during board time and using board materials. But the club secretary, Milton Keynes Mayor Maurice Howell, says neither the police nor the board men have approached him on the matter.
"I don't know anything about that. It's a mystery to us." he said this week. He said figures of £2.800 quoted for the slipway job were fictitious. The club had no record of the total cost. Northampton detectives this week confirmed they were making inquiries. But no one had been interviewed yet. Water board press officer Graham Avery said the board was making inquiries through its normal grievance procedure. These were yet to be completed. He confirmed the board was cooperating with the police. The allegations police are checking are believed to cite other alleged instances of illegal use of board time and materials.
---
Wolverton Express 26th November 1981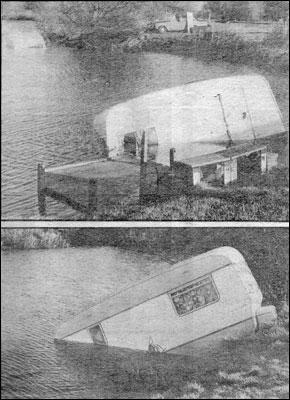 The great wind which hit Cosgrove Park sent four caravans like these bowling across the grass and into a lake.
Aftermath of Nature's fury

Twenty caravans, many like these massive 6-8 berth static units, which weigh 1½ tons, were bowled over by the ten minute tornado which hit Cosgrove Lodge Caravan Park. Seven were totally destroyed and damage amounts to many thousands of pounds.
---
Mercury and Herald, Thursday, November 26, 1981
Nature's fury
Witness tells of 10-minute terror
A TORNADO brought 10 minutes of terror to a Northamptonshire caravan park when great gusts of wind blew over 20 caravans, destroyed seven of them and dumped four into a lake. The big wind struck at about 2.30 pm on Monday and was seen only by the Cosgrove Lodge park manager, Mr. Mark Steele (22).
He said: "It was just a fantastic gust of wind, that's all I can describe it as. It was just as if a tornado or hurricane had hit. "I actually saw static caravans weighing one-and-a-half tons lift up, and turn straight over.
Fortunately, the site was closed and Mr. Steele was the only person present. But the damage is going to run into many thousands of pounds.
---
Wolverton Express 26th November 1981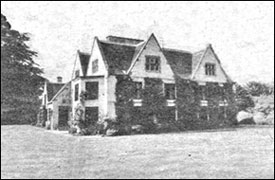 South Northants
M1 9 Miles. Main Station 4 miles.
A magnificent period country house, set in private well-timbered grounds. Entrance and reception halls, three reception rooms, billiards room, attractive kitchen, playroom, work room, master bedroom with shower. Five further bedrooms, bathroom. Self-contained flat. Central heating. Attractive gardens. In all 2½ acres. Further land available.
---
Wolverton Express 21st December 1981
Smokeless Fire
Three fire engines raced to Restall, Brown & Clennell's at Cosgrove Hall when the alarm went off at 4.40 pm on Tuesday week. But firemen found the staff still at work – and no sign of smoke.
"A burst pipe allowed water to leak into the smoke detector system and set the alarm off," said an employee. "We realised there was no fire and carried on working as usual."
---
Wolverton Express 24th December 1981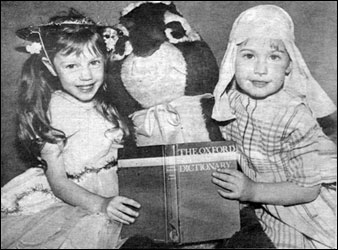 These two youngsters are word perfect – at least when it comes to raising money for charity. For five year olds Natalie Tugg and Ian Doubell are among the 32 pupils at Cosgrove Primary School who raised £212.50 for the Blind by a sponsored spell. Last week a cheque was handed to Harvey the Rabbit – the National Association for the Blind's cuddly rabbit.