Articles between 1960 and 1980 are from a private collection by Mrs Dorothy Warren, whose family donated the album in which she pasted them each week, and they are her personal selection. For instance, she didn't like sport! We believe she used mainly the Wolverton Express, but did not specify whether the articles were from there or from the Northampton Mercury and Herald, which she also read.
---
Wolverton Express 10th June 1977
Happy Birthday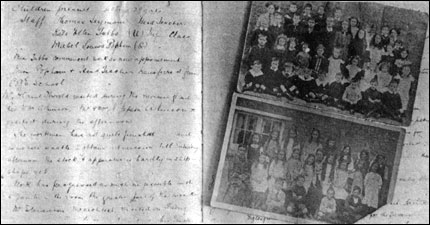 So sang Cosgrove children last week during a party to celebrate their school's 65th birthday, as well as the Jubilee, of course. All the 55 pupils of the school took part in an entertainment for their guests. The younger children sang two songs with percussion accompaniment, and the older ones gave a dancing display and a number of short plays.
After the performance, the children gave out red white and blue flowers which they had made, and gingerbread men to the older people. While the infant class was being handed over to waiting mums, and the junior class was preparing tea for their guests, the school television was wheeled into the hall so that the visitors could watch the Derby!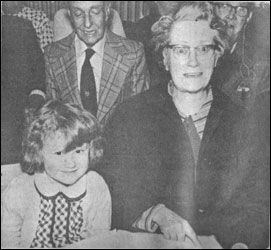 Among the guest was Mrs Annie Georgina Augusta Castle (nee Wilson) who was one of the original pupils at the school when the old National School in the village closed. She is now 77 and was 12 when the school opened. She moved to Stony Stratford later, but now lives in Bridge Street [Road] Cosgrove.
Since 1912, 847 pupils have passed through the school, but its size has remained fairly constant with about 60 pupils each year.
Another guest at the party, Mrs Gladys Goodridge, a former pupil and "Cosgrove born and bred" works as a school dinner lady. "It certainly makes a change for me to be waited on for once," she said.
When the school opened there were three full time teachers. Now there are two full time and two part time. The Head Teacher, Mrs Norah Horton, takes the Infants and the other full time teacher, Mrs H Hunt, takes the Junior Class. Mrs S Clark and Mrs J Ford teach part time.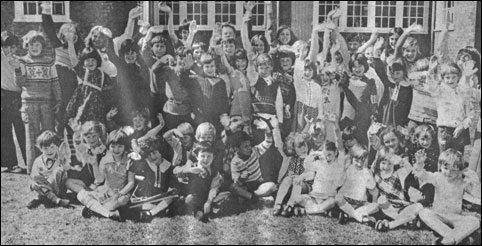 ---
Wolverton Express 17th June 1977
by SALLY MURRER
A FRAIL 89-year-old widow was robbed of antique china and silver valued at £4,000 when her country mansion was ransacked by thieves in broad daylight. Mrs Grace Atkinson was away from her home, Cosgrove Priory, near Cosgrove, visiting her sister when the raid took place last Friday afternoon. Police believe that the robbery may be connected with a series of break-ins in the Thames Valley area. Mrs Atkinson is the wealthy widow of Lieutenant-Colonel Philip Atkinson, a former High Sheriff of Northamptonshire. She is almost permanently bed-ridden with arthritis.
Sgt Roger Jennings, of Towcester CID, said that the thieves had driven all round the house over the lawns - leaving distinct tyre marks - presumably looking for the rear entrance. He said the thieves had forced open the very heavy wooden rear door and had then ransacked every room. "They have been selective about what they have taken," he added. Sgt Jennings is appealing for witnesses who may have seen anything suspicious.
Mrs Dorothy Tustain, aged 66, who has worked for Mrs Atkinson for 15 years, visits the Priory daily from her home in the village to keep an eye on things. She thought about taking her dog for a walk up to the grounds on Friday afternoon, but it was raining heavily and she decided to stay at her Cosgrove home, she said.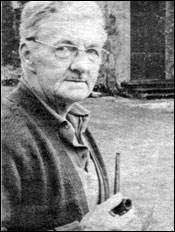 Mr Norman Goodridge, 68, who discovered the robbery and called the police, has also worked at the house for many years. He walked up to the house at about 6.30 p.m. on Friday - he is responsible for locking up and making sure that bed-room lights are switched on when no one is staying at the house. "I knew as soon as I stepped in the back door that something was up", he said. "The door had been forced open, and every drawer in the house was left hanging out", added Mr Goodridge. "The place looked like a bomb had hit it, especially the smoking and drawing rooms." Mrs Atkinson, who returned to her home on Friday evening, did not employ a housekeeper at the time of the break-in.
"Really she took it very well", said Mrs Tustain, who has been at the house with Mr Goodridge helping police draw up a list of stolen items. "She sat down and had a cup of coffee and then went back to her sister's home in Holcot, Northants," she added.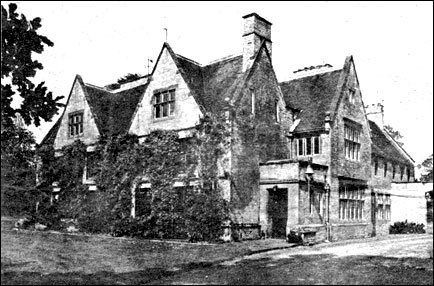 Cosgrove Priory and the lawn the thieves drove over to get to the rear entrance.
Among the items stolen were: a valuable Victorian bell-shaped clock which stands about 12 inches high, silver tureens, Wedgwood china bowls, with red and blue floral designs, 20 bronze miniature figures, all over 100 years old, 32 Staffordshire Pottery animal figures valued at £25 each, 100-year-old china figurines, a white china swan, £200 Italian cockerel-shaped tureen, a blue and white china swan on a china nest, and a white china bowl supported by two cherubs. Fortunately Mrs Atkinson had some of her most valuable items, including her engagement ring and her jewellery, with her.
---
Wolverton Express 20th October 1977
BECAUSE of the kindness of one man, handicapped children from all over the county have experienced every child's dream ... candy floss, lemonade, and the run of a fairground - all completely free. The man who opened his fair last Friday and this Friday, is Mr Keith Emmett, owner of Cosgrove's residential fair and also a travelling fair. With the help of the Bucks Association of Youth Clubs and Aylesbury Youth Action Group, special schools in Bucks were invited to take their pupils along during the day to the Aylesbury fairground for as many "rides" as they wanted.
"I know it's expensive - each day has cost about £600, but it is worth it to see the children having such fun," said Mr Emmett, 42, who lives in Whitchurch. His fairground friends have travelled from all over the country with their rides to help him out. In 1960 Mr Emmett had tubercular meningitis, and was left paralysed in the face, and could not walk for some time. "I see children who have had this disease, and others and are in a far worse state. That is why I have determined to do all I can for them," he explained. Schools in Milton Keynes who visited the fair last Friday are: Slated Row School, Wolverton, Unit Three for Impaired Hearing at Knowles School, Bletchley, Romansfield School, Queens School and White Spires, from Bletchley.
---
Wolverton Express 13th January 1978
Pensioners Thanks
Can you please find space to thank all those who by words and deeds brought so much Christmas good will to so many lonely and incapacitated old age pensioners?
The Wolverton Rotarians for the Christmas dinner, the wonderful ladies of the WRVS who through fair weather and foul never fail to bring Meal on Wheels; the neighbours and all friends who so readily offer help to us; those who help at elderly people's gatherings; and Mrs Bailey for those logs to warm our homes.
God bless them all for their kindness.
OAP (Cosgrove)
---
Wolverton Express 31st March 1978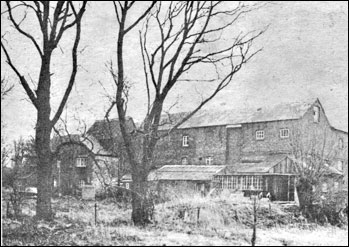 Cosgrove – industry in the countryside
Ideally situated between the new city of Milton Keynes and the expanding town of Northampton is the village of Cosgrove. Just outside the village is an area called The Stocks which has been chosen by a handful of small firms as the ideal place to set up business.
Industry in the countryside has the advantage of not only being pleasant but also cheap, and most of the companies have been able to buy their own property. It is the fact that on the vast new industrial estates factories can only be rented. That deters the small businessman from moving into undoubtedly more efficient and modern premises.
---
Wolverton Express 31st March 1978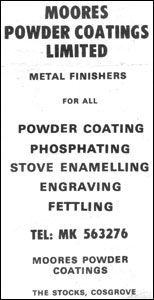 David Moore set up Moores Powder Coatings Ltd at Cosgrove 2½ years ago and each year his turnover has doubled. In his 8000 square foot factory Mr Moore employs eight people but ruefully admits that because of his success he will be forced to expand.
He moved to Cosgrove from Olney where he had built up the Bowmore Stove Enamelling Company. This he sold as a going concern so when he moved to South Northants he was forced to build up a new business on new contracts. By casting his eyes further afield Mr Moore quickly built up his new company.
Although people may know little about the factory most people will have seen one of its end products. Moores spray supermarket shelves and library shelves.
The geography of Cosgrove is one of the reasons Mr Moore moved to the Stocks, plus the fact that he could buy his own property. "It is close to the A5 and the M1 and the main railway line, so we can get almost anywhere fairly quickly," he added.
---
Wolverton Express 31st March 1978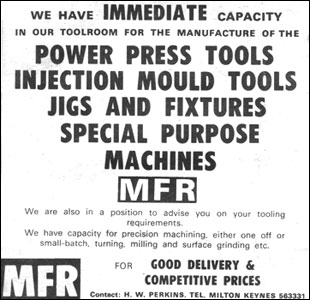 Quality and deliveries on time – that's the selling technique of Henry Perkins, working director of MFR at Cosgrove. And it's a sales technique that works, for one of the contracts that Mr Perkins has landed is providing jigs and fixtures for the new Lagonda being produced by Aston Martin at its Newport Pagnell factory.
As in many a small company, it is the boss who is the salesman, and Mr Perkins said he landed the Aston job just "putting my nose round the door and being a nuisance!" But seriously, Mr Perkins feels he captured the contract by being able to guarantee a delivery date, which many large firms are not in a position to do.
MFR was founded 14 years ago and used to manufacture caravan components. Now the firm plans to shut that side down to develop the tooling division. "We plan, instead of manufacturing ourselves, to make the tools and machines for use by other manufacturing companies," explained Mr Perkins.
This year will see a complete change for the company. Managing Director Michael Robertshaw will become a shareholder and will be registered under another name as the tooling division is expanded.
---
Wolverton Express 31st March 1978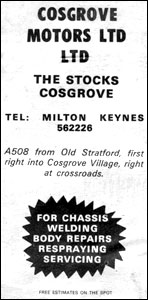 ---
Wolverton Express 19th May 1978
Playgroup in state of crisis
Cosgrove playgroup is beginning a new year in a state of crisis and gloom. Membership of the group has dropped dramatically in recent months and the members were told at their annual meeting that only six children remain as the new financial year begins.
It was voted at the meeting, however, to continue the playgroup and to make a special effort to attract children from outside Cosgrove. The group conducts two play sessions a week on Tuesday and Thursday mornings and any parents interested in letting their children join in should contact either Anne Oakley or Dorothy Luke. The charge for each child per session is 40p.
---
Wolverton Express 19th May 1978
Holiday Gratitude
Could I say "Thank you" to the kind people who in various ways help and bring some happiness to the elderly and lonely people in this area? I would especially thank Mr and Mrs D Gardner of Wolverton, for the happy and invigorating carefree holiday in Scotland last week for over 100 people.
I hope the warm sunny days, the beautiful scenery and air in "them thar mountains" and the homely fun in the evenings we all enjoyed were to them rewarding after their long and arduous task of preparing for it.
To everyone, too, in the party, thank you and God bless you all.
A Tack
---
Wolverton Express 2nd June 1978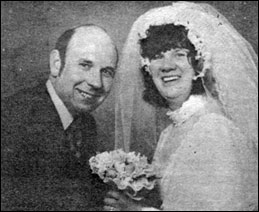 Hazel Richardson and Martin Hayle were married on Saturday at St Peter and St Paul Church Cosgrove. The bride's home was at Manor Close Cosgrove and the bridegroom lived at Althorpe Crescent Bradville. The couple will be making their home in Newport Pagnell.
---
Wolverton Express 4th August 1978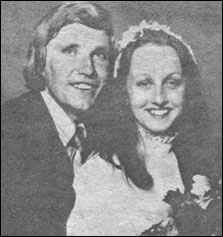 A reception at Wicken Country Hotel followed the marriage on Saturday of Eileen Prisley and Gareth Williams. The bride's home was at the Green, Cosgrove and the bridegroom's home is in Wales, where the couple will be living.
---
Mercury and Herald 7th September 1978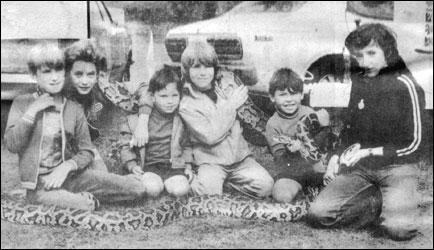 Two pythons were a big attraction at Stony Stratford Lions Club Fete at Cosgrove Park. There were hovercraft demonstrations, model boats, clay pigeon shooting, parachuting, sideshows and a fair.
---
Wolverton Express 15th December 1978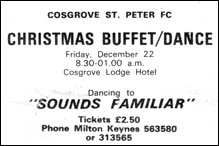 ---
Wolverton Express 4th January 1979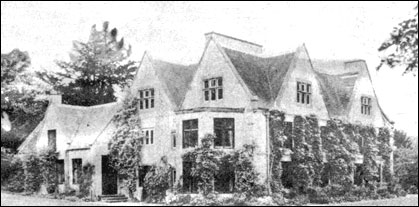 The Priory at Cosgrove is situated in its own rolling parkland, close to Milton Keynes. It is believed to date from at least Tudor times. The present house is Georgian in origin, but was substantially rebuilt at the end of the last century.
The prime feature of the house is the carved oak panelling in the reception hall, which is believed to date from the time of Henry VIII. The interior requires modernisation, but there is great scope for the creation of a spacious yet comfortable family home. Accommodation includes four reception rooms, seven principal bedrooms and three bathrooms. There are extensive out-buildings, including a stable cottage. The property amounts to about 24 acres. Offers were invited in the region of £80,000 for the property and a figure in excess of this was achieved. James Higgins acted for the purchaser, who has business interests in Milton Keynes.
---
Wolverton Express 5th January 1979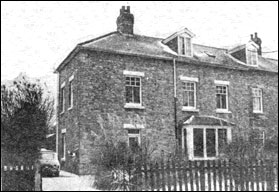 £46,950 COSGROVE A fine example of a late 19th century residence built of Sawn Faced stone beneath the slate roof and situated in grounds of approximately 32 of an acre in this much sought after South Northants village. The property having the advantages of full gas central heating and attached garage and some out building plus the following accommodation: Entrance hall, 3 reception rooms, kitchen, 5 bedrooms and bathroom.
---
Wolverton Express 31st March 1979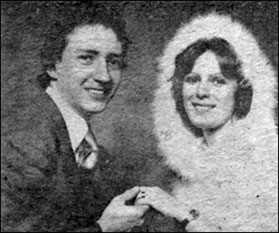 Former Bletchley Carnival Queen Karen Tweedale was married at Stony Stratford. Her bridegroom was Graham Payne of Cosgrove. The marriage at St Mary and St Giles Church Stony Stratford was followed by a reception for 75 guests at the Green Man Little Brickhill.
---
Wolverton Express 24th August 1979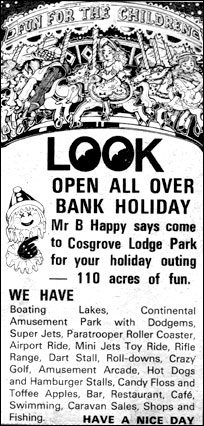 ---
Wolverton Express 31st August 1979
Lions Spectacular
Weekend of fun
For the fourth year at Cosgrove running Stony Stratford Lions will be staging a mammoth fund-raising event at Cosgrove Park. Saturday, September 1 and Sunday, September 2 is when it will all be happening and they've called it their Spectacular Weekend, an appropriate title if ever there was one. There'll be nine action-packed hours spread over the two days, with events coming thick and fast - on land, in the air, and on the water. In fact, it's on the water where most of the thrilling activities will be held. On both days there'll be hovercraft races on the main lake, on Saturday there'll be a water ski display, and on Sunday powerboats and raft race. You'll be able to go for a row, or see canoe and model boat displays, and the really adventurous have been invited by the Milton Keynes Sub-Aqua group to bring along their costumes for a dip into the pool. Up in the air there'll be thrills as well.
On Saturday and Sunday you'll see Parakite displays as well as thrilling manoeuvres by the Avon Cosmetics Aerobatic team. The Avon planes were used in the BBC TV series Wings, set in the days of World War I. In spite of the fact that they looked just like 'the real thing' - they are actually remote-controlled models!
Meanwhile, on the land there's plenty happening too. Spanning the years there will be vintage cars and there will be 'V' registration cars. There'll be a recovery display by men of REME, and a careers exhibition by the Green Jackets, and, of course, there'll be all the usual attractions you've come to associate with the Lions Spectacular Weekend. Stalls and sideshows; swings, roundabouts and the fun of the fair; and local charities raising money for good causes. Every year the Lions hold a draw with first prize that's worth thousands of pounds - this year the prize is a Ford Fiesta, and the winning ticket will be drawn on Sunday at 5.30 pm. Hopefully the lucky ticket-holder will be present, ready to drive the car away!
As usual, there will be first-aiders standing by, in case of emergency, and there'll also be a creche where the younger children can be left to play - and where the ones who lose their mums can be looked after until they are claimed. Another highlight of the Weekend will be the finals of the Beauty Queen Competition on Saturday afternoon. The top prize is a weekend for two at the Leomont Terrace Hotel, Edinburgh, as well as £60 spending money and £25 worth of jewellery. The second prize is worth £60 - hair dos at Howard Hair Fashions. One of the judges will be Anglia Television announcer Michael Speake. Entries can be taken on the field. Girls should contact the organising secretary by 2.30 pm.
The proceeds from the Weekend will be used to fit out the kitchen at Willen Hospice, and if there are any funds left over they will be donated to other local charities. Admission to the event will be £1 per car, or 25p for those on foot. The gates open at 12 noon on Saturday and Sunday and Lions' events end around 6 pm. The funfair, however, will re-main open into the evening.
---
Wolverton Express 7th September 1979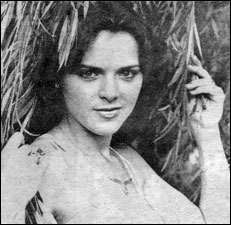 Cosgrove's Spectacular Success
OVER 12,000 people enjoyed Stony Stratford Lions' Weekend Spectacular at Cosgrove Park on Satur-day and Sunday. Organisers estimate £2,000 was made, an agreeable improvement on last year when they made no profit. It was the fourth spectacular to be organised by the Stony Stratford group, who made the most of the venue, with water sports being a feature of the entertainment. There was a hovercraft grand prix, water skiing, parakite and canoe displays, rowing boats and model boats, a raft race and powerboat rides. Lion's treasurer Mr Chris Deer thinks concentrating on water events was: the secret behind this year's success. "Last year we committed ourselves too heavily on land events. We could only just recover our outlay," he said. "This year we had twice as many people, probably as the entrance fee was lower than last year".
Special buses were running every 25 minutes from Stony Stratford. This year's commitment was to fit out the kitchens at Willen Hospice. "The proceeds from the weekend, with the money from a car which was raffled, made nearly £6,000. We made £5,500 for the kitchens," said Mr Deer. "We sold £1,200 worth of raffle tickets for the car over the weekend."
SATURDAY
1.00 pm Hovercraft Race
1.15 pm Parakites Display
1.30 pm Hovercraft Race
2.00 pm Hot Air Balloon
2.15 pm Hovercraft Race Avon Cosmetics Aerobatic Display
2.30 pm Water Ski Display
3.00 pm Carnival Queen Competition
4.00 pm Band — Biggleswade and Sandy Scouts and Guides
4.15 pm Hovercraft Race
4.30 pm Five Star Security Dog Team.
Water Ski Display
5.00 pm Hovercraft Race
5.15 pm Parakites Display
5.30 pm Avon Cosmetics Aerobatic Display


SUNDAY
1.00 pm Hovercraft Race
1.15 pm Parakites Display
1.30 pm Hovercraft Race
2.00 pm Avon Cosmetics Aerobatic Display
2.15 pm Powerboat
2.30 pm Hovercraft Race
3.00 pm Hot Air Balloons
3.30 pm Raft Race
4.00 pm Band
4.15 pm Hovercraft Race
4.30 pm Five Star Security Dog Team
5.00 pm Hovercraft Race
5.15 pm Parakites Display
5.30 pm Grand Draw for Fiesta Trophy Presentations
All events or times are subject to alteration without notice.


There were many land events - several local charities had a stall. "They pay us a nominal fee, and then keep their own profits", said Mr Mike Ward, one of the organisers.
The beauty competition attracted five contestants. Katy Harte, 16, from Swift Close, Newport Pagnell came first, Teresa Shepherd, 16, Priory Crescent, Roade, second and eighteen-year-old Stephanie Snead from Simpson was third. Katy conducted her first duty by drawing the raffle for the car. During the year she will appear at Lions Club functions. Beauty competition judges included Michael Speak of Anglia TV, and a member of the famous Barron Knights. Top prize of a holiday weekend for two was donated by Yorks Travel of Weston Favell Centre, Northampton. Other prizes came from British Rail, jewellers Sarah Coventry and Howard Hair Fashions.
For those who were not so keen on the water there was the chance to take a pony ride, or a "cat" ride. Terence Freshwater, 31, from Woodchurch, was giving rides in his pony cart. The "cat" rides were in an amphibious vehicle with eight wheels used for spraying and spreading on farms. Tony Parsons of Wolverton Mill took the farm equipment off and was giving rides across land and through water.
The afternoon proved a little too exciting for balloon pilot Fred Willmer. His hot air balloon ended up stuck in a tree. "There was a sudden change in wind direction, and it got blown into the side of a tree," explained Mr Willmer. "It did little damage, and no one was hurt."
Saturday's raft race was won by an East Midlands Electricity Board team, with the Northampton A team Plus Club second and Mann Egerton and the Venture Scouts tying for third place. On Sunday Animal Aid were first. EMEB second and the Broomwade Apprentice Association third. Dunlop and Rankin won the most unusual raft section. In the hovercraft races, Philip Alderman won the Haycock and Johnson Trophy, Barry Oakley the Howard Hair Fashion trophy, and Graham Nutt the Wicken Country Hotel trophy.
---
Wolverton Express 7th December 1979
Council rejects Mill Plan
A PLAN to restore a derelict mill at Cosgrove has been turned down by South Northants District Council. Savills, Banbury estate agents, made the application on behalf of the estate of the late Mrs Grace Atkinson, who owned Cosgrove Priory. The firm is to appeal to the Department of the Environment. The council refused planning permission because it claims that renovation of the mill is a "new" development and so would contravene the County Structure Plan. It says that extra traffic on the lane leading to the mill would be undesirable and the proposed method of sewage disposal is unsatisfactory.
Mr lan McConnell, of Savills, thought the problem of the access road and the sewerage could be overcome. We feel that the council is interpreting the County Structure Plan very strictly - what we want to do is restore the mill, the mill house and the mill cottage to its original condition. It has not been occupied for a number of years but we feet it could be restored."
The appeal is to be conducted on the basis of written representations to the Department of the Environment.
---
Wolverton Express 28th December 1979

---