Articles between 1960 and 1980 are from a private collection by Mrs Dorothy Warren, whose family donated the album in which she pasted them each week, and they are her personal selection. For instance, she didn't like sport! We believe she used mainly the Wolverton Express, but did not specify whether the articles were from there or from the Northampton Mercury and Herald, which she also read.

Wolverton Express 17th January 1975
Mrs Nellie Whitaker
The funeral service for Mrs Helen (Nellie) Whitaker was held at Milton Crematorium on Friday, conducted by the Rev A Bransby.
Mrs Whitaker died at her home, Bridge Road, Cosgrove, the previous Monday. She was 79. Although she was a native of Turvey Mrs Whitaker had lived in Cosgrove for over 40 years. For many years she had been unable to walk because of arthritis.
Family mourners were Mr Alf Whitaker (husband), Mr and Mrs L Meacham, Mr and Mrs L Lintott, Mr and Mrs P Bower, Mrs C Crossley (sons in law, daughters and daughter in law); Mr E Whitaker (brother in law), Mr and Mrs W Whitaker, Mrs R Johnson, Mrs J Kidder (nephews and nieces); Mrs G Barby, Mrs F Cook, Mr and Mrs B Goodman, Mr C Crossley (friends).
---
Wolverton Express 7th February 1975
From Knitting to Poetry
Gladys Goodrich [Goodridge] likes to keep busy. So when a painful shoulder condition forced her to give up her favourite hobby, knitting, she swapped her needles for paper and pen. And this week she achieved her ambition by having four poems published in the subscription based book, 20th Century Poets.
Mrs Goodrich [Goodridge], 61, who lives in Bridge Road, Cosgrove, tells me her success hasn't spurred her on to greater literary aspirations, but she will continue to add to her collection of 83 poems. She keeps her poetry in a special book.
"Some of them I have made up in my head while I have been lying in bed and then in the morning jotted it down on paper and later in the day got down to it and added more verses."
Publication of the poems came as a great surprise to her family.
"A friend persuaded me to send them off and I didn't say anything to anyone until the book arrived." Mrs Goodrich [Goodridge] tells me she has sent one copy to her daughter as a birthday present.
---
Wolverton Express 7th February 1975
BRUSH OFF FOR OFFICE PLAN
Mackenzie Hill's plan to change Cosgrove Lodge Hotel into offices has been turned down by the local planning authority. Although the decision has yet to go before a full council the planning committee thinks there is a clear need for a hotel in the Cosgrove area. The committee considered it inappropriate to turn a hotel, in ideal surroundings, into offices.
The decision over the hotel cancelled out a package deal offered by the developers to the planning authority. Originally Mackenzie Hill had agreed to the withdrawal of planning consent on various other schemes in return for approval of six other applications. These were to change the use of the hotel to office accommodation and to build 13 homes in the village.
But the scheme raised a storm of protest from councillors when it was first brought before them several weeks ago. They did not accept the planning officer's assurances that sewage disposal facilities would not be aggravated if permission was granted for building to go ahead. Some councillors felt that Mackenzie Hill had an unfair advantage over individual applicants who were not in a position to "bargain".
A sub-committee was formed to look into the collective package offered by the developers and to discuss the applications with the Anglian Water Authority. The planning committee accepted its recommendations to refuse permission to change the hotel into offices and to consider the remaining applications individually and refuse them on the grounds of inadequate sewage disposal facilities.
---
Wolverton Express 14th February 1975
School events at Cosgrove
The first committee meeting of the newly formed Cosgrove School Association held last week, discussed the aims of the association and a programme of events. The association – open to all who are interested in the school – was formed to foster the welfare of the children and to give parents an understanding of modern methods of education.
The committee of twelve hopes to arrange a mixture of social and educational functions throughout the year. The first event is a cheese and wine evening on March 12.
---
Wolverton Express 14th February 1975
DEPARTMENT OF THE ENVIRONMENT
THE HIGHWAYS ACTS 1959 TO 1971
THE TRANSPORT ACT 1968
THE LAND COMPENSATION ACT 1973
THE ACQUISITION OF LAND (AUTHORISATION PROCEDURE) ACT 1946
THE LONDON HOLYHEAD TRUNK ROAD
(DIVERSION THROUGH MILTON KEYNES)
COMPULSORY PURCHASE ORDER (No. CE ) 197

NOTICE IS HEREBY GIVEN that the Secretary of State for the Environment in exercise of the powers conferred on him by the above mentioned Acts has pre pared a draft compulsory purchase order entitled The London-Holyhead Trunk Road (Diversion through Milton Keynes Compulsory Purchase Order (No. CE ) 197. which he proposes to make, authorising him to purchase compulsorily:
(a) the land and rights described in the Schedule hereto for the purpose of
(i) the construction of a new trunk road from Old Stratford to Fenny Stratford in the District of South Northamptonshire and the Borough of Milton Keynes in the County of Buckinghamshire in pursuance of the London- Holyhead Trunk Road (Diversion through Milton Keynes) Order 1974.
(ii) the construction and improvement of highways and the provision of new means of access to premises in connection with the new trunk road in pursuance of the London-Holyhead Trunk Road (Diversion through Milton Keynes Side Roads) Order 197.
(iii) the diversion of watercourses and the execution of other works on watercourses in connection with the construction of the new trunk road, the construction and improvement of other highways and the execution of other works mentioned above, and
(iv) use by the Secretary of State in connection with such construction and Improvement of highways and such execution of other works as aforesaid.
Note: - THE SCHEDULE
a. The number appearing in brackets after each item in this Schedule is the number given to that item on the plan referred to in the draft Compulsory Purchase Order.
b. References to ownership are references to ownership or reputed ownership at the time of preparation of the draft compulsory purchase order, and are stated only for the purpose of identification of the land.
In Cosgrove in the District of South Northamptonshire.
Arable land (owned by R. H. Tandy) (1). [Cosgrove Glebe Farm]
Arable land, pasture land, part of track and half bed of Dogsmouth Brook: the right to construct and maintain a watercourse and to divert Dogsmouth Brook to flow therein, to fill the abandoned watercourse, to construct a private access track and to regrade land, all in pasture land and half bed of Dogsmouth Brook (owned by E. D. North) 2. 2a. 2b. 2c. 2d. 2e. 21. 2g. 2h and 2k.
In Old Stratford in the District of South Northamptonshire.
Pasture land, arable land, a tipping site, part of an access track, part bed of a stream, half bed of Dogsmouth Brook, prt of Public Footpath RS2 (Old Stratford) and part of Cosgrove Road (A508): the right to construct and maintain a watercourse and to divert Dogsmouth Brook to flow therein, to fill the abandoned watercourse, to regrade land and to construct and maintain a footbridge, all in pasture land, arable land, half bed of Dogsmouth Brook, part bed of ditch and part of Public Footpath RS2 (Old Stratford) (owned by J. W. Marchant) (3. 3a. 3b. 3c. 3d. 3e. 3f and 4).
Part of market garden, part bed of stream, private access track, and part of Public Footpath RS2 (Old Stratford) (owned by C. A. Townsend) (5)
Part of Watling Street (AS) and part of Cosgrove Road (A508) (owned by Northamptonshire County Council) (6. 13 and 13a).
Arable land (owned by D. A. Lawson) (7). [Shrob Lodge Farm Passenham Parish]
Part of Water Board, Depot and part of Cosgrove Road (A508) (owned by the Anglian Water Authority) (8).
Pasture land: the right to construct a private access track in pasture land (owned by K. S. Slaymaker) (14. 14a. 14b. 14c and 14d).
Pan of bed and towpath of disused remainder waterway known as Stratford Arm Canal: the right to construct a private access track in disused remainder waterway known as Stratford Arm Canal (owned by the British Waterways Board) (15. 15a. 15b and 15c).
Pasture land, part of Oxhouse and part of Public Footpath RS3 (Old Stratford): the right to construct and maintain a viaduct, to lower and regrade the north bank of the River Ouse, to construct and maintain a watercourse, to divert the River Ouse to flow therein and to fill the abandoned portion of the watercourse all in pasture land (owned by J. W. G. Adams) (16. 16a. 16b. 16c, 16d. 16e and 16f). [Firs Farm near bridge]
---
Wolverton Express 4th April 1975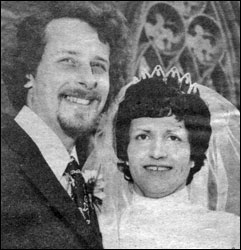 The wedding took place on Saturday at St Peter and St Paul's Church Cosgrove of Miss Hazel Lavington and Mr Richard Canvin. The ceremony was conducted by the Rector, Dr Beatty. The bride is the only daughter of Mrs I Lavington and the late Mr D Lavington of Main Street Cosgrove.
The bridegroom is the eldest son of Mrs C Canvin and the late Mr F Canvin of Edinburgh. After the wedding a reception for 60 was held at the Cock Hotel, Stony Stratford. When the couple return from their honeymoon in Wallingford they will be best man and matron of honour for friends, Mr Derek Lamb and Miss Rosemary Dennison, who were best man and chief bridesmaid on Saturday.
---
Wolverton Express 18th April 1975
A small windfall of £15 has dropped into the coffers of Cosgrove School Association. When the association held a social evening recently the aim was to increase membership. Unexpectedly it also boosted the funds of the newly formed association by more than £15. First fund raising event planned is a concert by Wolverton and District Orchestral Society and children from the village school.
---
Wolverton Express 14th May 1975
SOUTH Northants District Council is un-likely to buy Cosgrove Park, the caravan and leisure complex, put up for sale last month by Mackenzie Hill, the estate developers. The price is thought to be beyond the pocket of the council which is faced with cuts in public spending, but exploratory talks on future policy went ahead with Northants and Bucks county councils this week. District councillors are anxious to set the park re-opened for public use because of strong feelings that an important leisure facility is going to waste. But an informed source said hope of a council take-over was dim and could remain a pipedream for years to come. The whole subject is terribly open and it is presumptuous to think the council might buy it at this stage. "In fact it is fairly certain there will be no move to buy the park in the near future. It is too pricey a project for the times."
Last time the park changed hands it is thought to have fetched around £¼ million. The owners are tight-lipped about their bid to sell the 110-acre complex, which includes water sports amenities and an hotel. The price is undisclosed and a spokesman for the organisation said "It's a private company matter. The park is licensed for 300 caravans and 400 tents. It was closed and caravan owners were given notice to quit last year after Mackenzie Hill failed to get planning permission for a luxury housing estate and more caravans.
---
Wolverton Express 16th May 1975
Cosgrove Concert
Pupils of Cosgrove School joined with Wolverton and District Orchestral Society to perform a concert in Cosgrove Hall last week. The society presented a programme of classical and light music, while the children sang a wide variety of songs and a small group of them played a short selection of violin pieces. The evening raised £19 for the recently formed Cosgrove School Association.
---
Wolverton Express 16th May 1975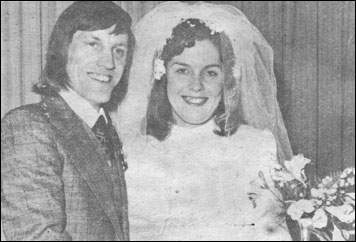 A honeymoon in London followed the wedding on Saturday of Yvonne Reynolds and Roger Tapp. The wedding took place at St Peter and Paul Church Cosgrove. The bride is the only daughter of Mr and Mrs L Reynolds of Manor Close, Cosgrove. She was attended by her two cousins, Edwina and Marina Brown, and the bridegroom's nephews, Andrew and Graham Tapp.
The bridegroom is the youngest son of Mr and Mrs W Tapp, of High Street Potterspury. His brother, Roy Tapp, was best man.
After the ceremony a reception for 112 guests was held at Cosgrove Victory Hall. When the couple return from their honeymoon they will live in Wolverton.
---
Wolverton Express 23rd May 1975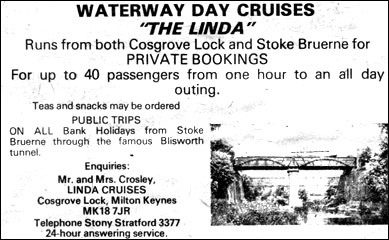 ---
Wolverton Express 23rd May 1975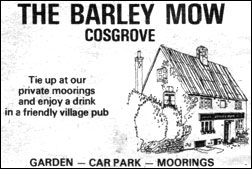 ---
Wolverton Express 23rd May 1975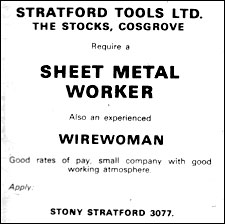 ---
Wolverton Express 28th May 1975
Plans for 250 holiday caravans at Cosgrove Park have been turned down by Milton Keynes Borough Council. The proposal comes from Mackenzie Hill, who refused to make any comment on the plan.
But it is understood that the existing holiday caravans are still under notice to quit the site. These caravans are in the South Northants District.
---
Wolverton Express 6th June 1975
PROPERTY TYCOON QUITS COUNTRY LIFE
Cosgrove Hall, the country home of property king Mr Charles Mackenzie Hill, is up for sale. The millionaire tycoon is quitting the rural life completely to live at his London residence in Belgravia.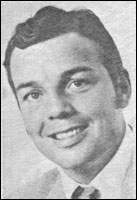 Mr. C. Mackenzie Hill
And his decision comes soon after the failure of a scheme to transform Cosgrove Lodge Park, which he also owns, into a luxurious "millionaire's row" housing estate. The plan raised a strong clash of opinion in Cosgrove. Some villagers were for it, but others opposed it hotly – and local councils fought the scheme at every turn.
At one village meeting he hinted that Cosgrove might end up with something much more unpleasant if his plan was squashed. He offered the village a park and a swimming pool if the plan went through. Now, Mr Mackenzie Hill has accepted that his scheme has no chance of planning permission. And the park – he bought it for around £250,000 nearly three years ago – is also on the market.
Price tag on the 18th century Georgian mansion – which has ten bedrooms, five bathrooms, swimming pool and heated stables – and its 66 acres of ground is about £250,000. Thrown in as part of the deal will be five cottages and over 7000 sq ft of office accommodation.
A company spokesman said the international nature of the company meant Mr Mackenzie Hill spent increasing periods abroad. "It is logical he should dispose of his country residence, which he rarely visits." The company chairman had no immediate plans to live abroad permanently, he added.
Mr Mackenzie Hill bought Cosgrove Hall eight years ago when the UK company was essentially operating in the Home Counties, and Cosgrove was a natural centre. But now the group operates worldwide in eight countries and London has become the natural business centre. The sale will not affect the 25 administrative and office workers based at the Hall. They will operate from a new office at Stony Stratford. But domestic staff could find themselves out of a job. "It ultimately depends on the new owner," the spokesman added.
---
Wolverton Express 13th June 1975
Leisure Park bought out
Cosgrove Park is to re-open as "the best leisure complex in the country", according to its new owner, Mr David Steele, chairman of the David Steele and Sons group. The Northants based firm of developers and leisure centre operators took over the 160 acres of parkland and lakes, following a £195,000 deal earlier this week.
The firm is already responsible for the success of the Whilton Marina. Included in the deal with Mackenzie Hill Ltd is the hotel. Mr Steele went on to say that as soon as it was possible he intends to open a new caravan site in the area.
---
Wolverton Express 27th June 1975

---
Wolverton Express 27th June 1975
COSGROVE CHURCH FETE
South Northants MP Mr Arthur Jones opened Cosgrove Church fete, which was held on Saturday in the grounds of Cosgrove Hall. Mr Jones was then presented with a geranium plant by four year old Caedmon Oakley.
Money raised at the fete, totalling £150, will go to the church restoration fund. The usual stalls, sideshows and competitions were supplemented by the music of Roade School Band and rides on the model railway, supplemented by the Milton Keynes Model Railway Society. The high spot of the afternoon was a display of the martial art by the British Aikido Association.
The afternoon finished with the awarding of the competition prizes, and children's games.
---
Wolverton Express 4th July 1975

---
Wolverton Express 4th July 1975
Holidaymakers arrived for the opening of Cosgrove Park on Tuesday morning – to find the gates locked. They waited optimistically – some for two hours – before being told of "unforeseen difficulties" facing the company which was due to open the pleasure park. The opening had been well advertised and at least half a dozen car loads of people turned up for the event.
About mid-morning, Mr Michael Watts, who is to run the park for the new owners, David Steele and Sons, announced to people waiting that it would be another ten to 14 days before the gates opened. He said: "We have run into unforeseen difficulties with getting the park open; there is nothing more I can say.
"I am choked about it. There are people here with a caravan who want to get on the park and have a holiday – the interest we have had is tremendous. I just wish there was something more I could tell everybody."
Another spokesman for the David Steele company said there was unforeseen work to do on the site and opening had to be delayed.
The previous owners of the park, Mackenzie Hill Ltd, sold out at an auction a few weeks ago and were due to hand over the keys recently. The firm offered "no comment" after the latest developments. Mackenzie Hill closed the park last year after failing to get planning permission to increase the caravan site.
---
Wolverton Express 9th July 1975
Canal Boats Burgled
Three holiday boats on the canal at Cosgrove have been broken into and a small amount of property stolen. Police are still trying to trace the owners of the boats which were moored near the lock. It was the third time in a month that boats near that stretch of the Grand Union Canal have been burgled.
---
Wolverton Express 11th July 1975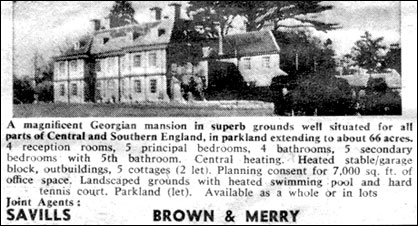 ---
Wolverton Express 23rd July 1975
£100 FOR COSGROVE SCHOOL
The recent fete at Cosgrove Primary School organised by the Cosgrove School Association brought in over £100. The slightly chilly weather made sure the hot dog stand did a roaring trade. School children followed their procession round the village with displays of maypole, country and morris dancing.
Winners of the decorated cycle completion were: 1 Simon Harwood 2 Joanna Lumb 3 Dorothy Lumb. Funny face contest winners were : 1 Tania Moseley 2 Adrian Moseley 3 Andrew Gee.
AND £50 FOR THE CHURCH
The £50 profit, made at the recent Cosgrove fete, will go towards church repairs. Mrs A Oakley, a member of the Parochial Church Council, who organised the fete, said that they were pleased with the outcome.
"We were not primarily organising the fete to make money, but to revive an old Cosgrove tradition of a two day festival in July. Considering the weather was so bad we were happy with the way things went, and hope to hold a similar function next year," she said.
---
Wolverton Express 1st August 1975
FRIDAY, AUGUST 1, 1975
AUCTION
By direction of Charles Mackenzie Hill, Esq.
COSGROVE HALL
COSGROVE, NORTHANTS
The Valuable Antique
CONTENTS OF THE MANSION
A 19th century satinwood Library. Bookcase, a pair demi-lune Side Tables, and pair of Corner Display Cabinets, 17th century oak Refectory Tables, Dressers, Coffers, Armchairs, Cricket, Gate-leg and Side Tables, Chests and Wardrobes. Georgian mahogany breakfront Library Bookcase, Card, Pembroke and Silver tables, Chests of Drawers, pair of Table Globes, also a pair of red lacquer Display Cabinets, pair of Side Tables and a Chest on Stand, an Italian marquetry Centre Table, a Bureau Plat and Regency Bird Cage, Armada Chest, Long Case and Bracket Clocks. Andirons, Bluthner Pianoforte, expensive upholstery, Chippendale design Wall Mirror, Oriental Porcelain Lamps and Cisterns, Pewter, Silver and Plate, Linen, Carpets and Curtains, Garden Vases and outdoor model Railway Engines, Silk and fine Wool Persian Carpets and Rugs, important Sporting and other Oil Paintings, which
PHILLIPS will sell by Public Auction on the premises on WEDNESDAY AND THURSDAY August 13 and 14, 1975 at 11 a.m. each day
On view Saturday and Monday prior (10 a.m. to 4 p.m. each day)
Illustrated Catalogues (Price 50p by post) from the Auctioneers
Blenstock House, 7 Blenheim Street, New Bond Street London W1Y OAS
Telephone: 01-629 6602
---
Wolverton Express 1st August 1975
Cosgrove Lodge Re-opens
Cosgrove Lodge Hotel is to re-open as a public house at the weekend – the first step towards developing the surrounding park as a multi-activity leisure centre. Millionaire builder Mr David Steele, of Whilton, Northants, who bought the park for £195,000 from the previous owners, Mackenzie Hill, said this week that he hopes to introduce ice-skating, squash, tennis, and possibly a garden centre.
He said he has no intention of appealing against refusal of planning permission to develop the park into a luxury housing estate. "Obviously whatever we do must be commercially viable, although we're not out to make a fast buck," said Mr Steele. "We do hope to keep the park open during the winter months, perhaps with outward bound courses, clay pigeon shooting, fishing and so on. And a prime consideration is the preservation wherever possible of the wild life there."
Mr Steele, a father of six, also owns Whilton Marina, which he excavated and built himself, and Norton Park, near Daventry.
"We are in the leisure and pleasure business for sure, but I can't say yet how much we will spend on Cosgrove. I will say that ounce for ounce as much energy and effort will go into the project as money," he said.
Obviously any increase in business will aggravate the village's bottleneck situation. Mr Steele hopes to build an entrance at the Wolverton side of the park.
---
Wolverton Express 1st August 1975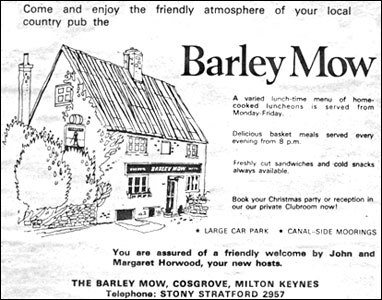 ---
Wolverton Express 8th August 1975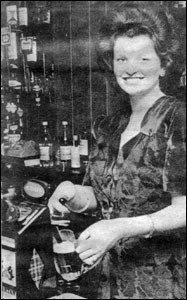 Bitter moment of truth
A mouth-watering sight – all that lovely bitter! It was great news for the campers at the newly re-opened Cosgrove Lodge Park this week – for the hotel was back in business as a pub for the time being. And pictured pulling one of the first pints is lovely Express girl Lynne Johnson, who just happened to be around at opening time.
---
Wolverton Express 12th September 1975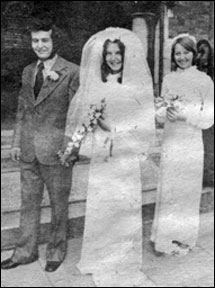 Garage owner, David Bridge, married Miss Catherine Pearson at Wolverton Methodist Church on Saturday. The bride is the only daughter of Mr and Mrs J Pearson of Church Street Wolverton. She was given away by her father and her bridesmaid was Mrs Gay Jones.
The bridegroom is the only son of Mr and Mrs R E Bridge of the Stocks Cosgrove. He owns Cosgrove Motors Ltd. The best man was his brother in law Mr F Jones.
The reception was held in the Victoria Hotel Wolverton. The couple's future home is in Park Road Stratford.
---
Wolverton Express 10th October 1975
A minor crime wave hit Cosgrove on Sunday night when three houses were broken into by thieves. They stole more than £14 in cash and got away with a pedal cycle from a fourth house in the village.
---
Wolverton Express 17th October 1975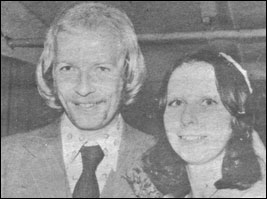 Stony Stratford will be the home of Miss Elizabeth Castle and Mr Keith Lloyd, who were married at St Peter and St Paul's Church Cosgrove on Saturday. Miss Castle is the only daughter of Mr and Mrs N Castle of Manor Close Cosgrove. The groom is the eldest son of Mr and Mrs N Lloyd of Jersey Road Wolverton.
The bride was attended by the groom's sister Stephanie, Christine and Denis Lewis (bride's cousins), Miss Diane Jackson and Miss Sarah Mills (bride's god-daughters). Best man was Mr Alan Russell.
---
Wolverton Express 31st October 1975
Barley Mow
Cosgrove's village pub "The Barley Mow" has been given a facelift. The alterations to the 200 year old pub have been made by the new licensees, John and Margaret Harwood, who moved in about six months ago.
The couple, who have a six year old son, Simon, come from Kettering, and the Barley Mow is their first pub. Although John was formerly in the catering business, working for British Transport Hotels on sales and marketing.
"We are doing a full range of lunches and evening basket meals," John told me.
---
Wolverton Express 23rd January 1976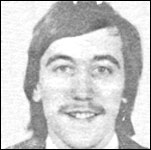 A degree of success
Ian Lambert, of Manor Close, Cosgrove, has been awarded a BSc degree by Lanchester Polytechnic in Coventry. Ian is 24. He began his schooling at Cosgrove village school and went on to Sponne School, Towcester. He joined British Timken in mechanical engineering at Northampton Technical College and then took up a "sandwich" course in Coventry. Ian now works as a junior quality control engineer at Duston.
---
Wolverton Express 20th February 1976
A COSGROVE man has travelled the world to build up one of the best aquarium and water garden centres in Britain. John Chalmers is the proud owner of the Hobby Fish Farm on the Towcester Road near Old Stratford, which he opened four years ago. And now John, who is 33, has ploughed several thousand pounds into a super showroom complete with its own quarantine centre. It already sports what must be the biggest display of tropical freshwater fish in the area There are cold water fish too. And by this weekend, when the tanks have "matured," John will be building up the biggest display of marine fish to match.
That apart from the dozens of tanks and stands and all the equipment - pumps, filters, heaters and other paraphernalia - that goes to make up a successful home aquarium. John has been as far afield as Singapore to visit suppliers of fish and aquarium plants. He is the only British outlet for some of the rare plants he imports. He has also visited France and Holland and hopes to travel to Germany, Sri Lanka (Ceylon) and Java this year to widen his contacts and widen his stock of plants and fish.
John sells some expensive and exotic fish and rare plants, sought by the specialists. But his main market is for the beginner and "Mr Average" home aquarist, people who are fascinated by the hobby and like to learn, though with no great desire to be experts.
"We have many beginners come to the shop and the advantage with these people is I can start them off on the right foot so they get the best rewards possible," said John.
He has kept fish since he was five and he joined the Hendon Aquatic Society at the age of 13. The society is regarded as the leading scientific aquarium society in England and John puts on a display of aquarium plants at their annual convention.
John's assistant manager is Mr Paul Stevens and they have worked together for over a year. John opened his centre four years ago after a lot of hard work and building. "But it's all been worthwhile," he says. He offers over 100 varieties of tropical plants, 50 varieties of pond plants and 150 varieties of tropical fish.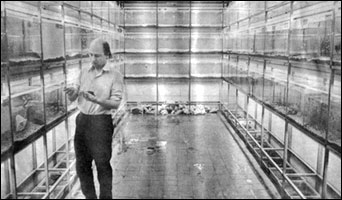 John's hot line to success
John's purpose designed fish house has thick insulation, which helps Britain "save it", and a sloping tile floor for easier cleaning. He has special tanks in a quarantine room to ensure the fish settle down after their air ride to Britain and are in perfect condition when they are sold.
"And importing direct means that I can keep prices as low as possible," he says.
But John does not just sell to private aquarists. He supplies numerous shops with fish and plants and he has become the largest supplier in the area. An indication of the size of John's business is that he spent £7000 on air freight last year. And he is continually searching for rarities to offer his customers.
The centre is open seven days a week and John is always willing to give advice.
---
Wolverton Express 27th February 1976
Cosgrove: no sale
RUMOURS that Cosgrove Lodge had been sold to Trust House Fortes were denied this week by owner David Steele. But Mr Steele who took over the Lodge and park last year told the Express he is leasing the lodge so he can concentrate on developing the park.
A private individual he declined to name at the moment, is leasing the lodge and well run the bars and restaurant. Contracts will be signed within the next month.
---
Wolverton Express 12th March 1976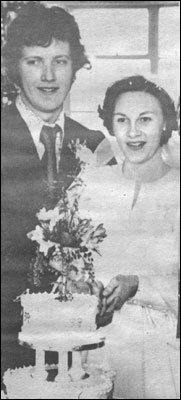 Miss Jacqueline Lesley Hart and Mr Stephen John Hall were married at Cosgrove Church on Saturday. Miss Hart is the only daughter of Mr and Mrs R Hart, of Bridge Road, Cosgrove. Mr Hall is the only son of Mr and Mrs H Hall of Cosgrove Road Old Stratford. He is a member of Old Stratford Village Association.
The bride wore a cream dress with a Juliet cap and veil and carried a bouquet of freesias. She was attended by Miss Rachel Harris, her cousin, Miss Sharon Hall, the groom's cousin, and Miss Sarah Johnson, the groom's niece. The best man was Mr Lenny Wray.
After the service the couple left for a honeymoon in the Cotswolds.
---
Wolverton Express 18th March 1976
Three young poachers who went to Cosgrove after "a bit of sport" found it in the shape of PC John McMahon…
The constable, a 16 stone Gaelic footballer, was on a day off at the time. But when duty called he went into an impressive sprint to snare his prey.
It was near the Cosgrove pits that he spotted the three poachers running in different directions. Mustering all his football field fervour he went for his men, rounding them up and tackling them one by one. The poachers were exhausted and constable 743 McMahon was fresh as a daisy.
"We didn't know you could run so fast," said the captives admiringly.
The story of constable McMahon's stamina in the top speed chase was told at Stony Stratford this week when the three men were accused of poaching.
Trevor Ray and his brother George Evison, of Bullington End Road Castlethorpe, pleaded not guilty to trespassing with guns to look for game one Sunday last September. Trevor's brother Martin denied aiding and abetting them in the area of the pits at Cosgrove.
The court heard that a special constable called PC McMahon when he heard shots and saw two men behind bushes with shotguns and a dog. He saw mallards flying over and a duck fell to the ground. The three men said they had not got anything, although they were on the lookout for duck and rabbit.
They thought they were within their rights because an acquaintance, who had business connections with the land, had told Trevor Ray in a pub that he could go shooting there. This was denied in court and the three men were found guilty and fined a total of £160. Of the constable's chase, Trevor Ray was said to have complimented PC McMahon: "It was a fair cop."
---
Wolverton Express 2nd April 1976
VANDALS caused nearly £400 worth of damage to tents at Cosgrove Park over the weekend. Three tents, which were part of a display by Binley's Camping Centre, of Victoria Street Kettering, were torn. One was damaged beyond repair.
---
Wolverton Express 15th April 1976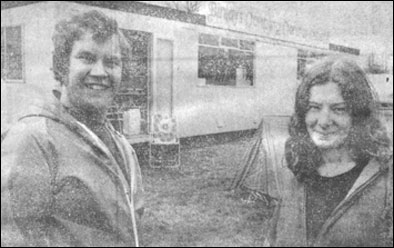 RODNEY and Jennifer Robinson (above) have swapped the dim lights of a Piccadilly pub for a brick built detached house at Earls Barton — and a job managing the open air camping centre at Cosgrove Lodge. They enjoyed their two year experience running the Duke of Argyll in Soho.
"We have lots of happy memories," says Rodney, "but enough is enough, and we felt it was time to settle down." Towards the end of last year things began to get difficult for them. The IRA bombing campaign started and the bombs in Piccadilly rocked their home and shattered their windows. It was that, and the weekly jaunts into the country they managed on a Sunday morning, when the pubs were shut, that decided them to quit.
Rodney and Jennifer found their house and commuted for a while before coming to live In Earls Barton in January. Rodney took several jobs and then Binleys, the Kettering camping firm, decided to open a centre at Cosgrove Lodge. Rodney and Jennifer got the job of managing it.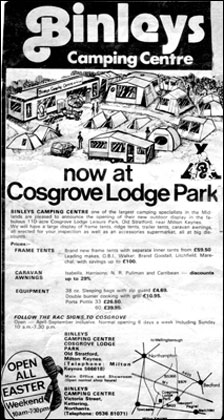 ---
Wolverton Express April 1976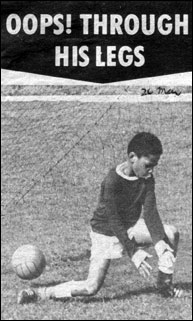 Keeper's nightmare for Darren Queeley
SHARPSHOOTERS of the future were on the ball on Saturday when they competed in a school football tournament at Cosgrove School. There were 27 goals scored during this annual Cosgrove Primary Schools' Football Tournament and there was plenty of action as our pictures show. Above, poor Darren Queeley faces the nightmare that every goalkeeper has had at some time as he lets the ball slip through his legs for a goal. Six schools took part, all playing against each other with three points for a. win, two for a draw and one for playing.
The standard of play was very high and the large crowd thoroughly enjoyed themselves and who knows may have been watching a future budding English internationalist. Although there was very keen rivalry between the sides it was a real sporting competition with the losers enjoying themselves every bit as much as the winners. Deanshanger emerged as winners and were also top goal scorers with nine goals, followed by Yardley Gobion with seven and Old Stratford six. The final placings were: Deanshanger (1), Old Stratford (2), Yardley Gobion (3), Paulersbury (4), Cosgrove (5), and Potterspury (6)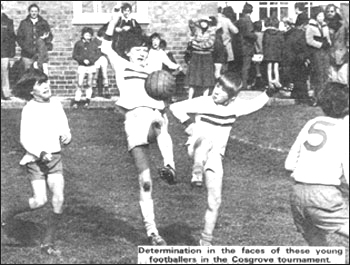 ---
Wolverton Express 7th May 1976
COSGROVE Hall, the Northants home of property developer Charles Mackenzie Hill, is on the point of being sold after many months on the open market. The buyer, an established firm of London antique dealers, is expected to clinch the deal for the handsome country mansion as soon as South Northants District Council agrees to a change of use for the hall.
Its proposal is to set up a centre for the wholesale sale of antiques. Cosgrove Hall is seen as an apt setting for the business move - when Mr Mackenzie Hill was in residence the mansion was furnished with valuable period pieces which realised many thousands of pounds at a subsequent auction. A spokesman for the Mackenzie Hill organisation said this week that the sale of the property was still speculative, pending the planning consent. It could be up to two months before the sale is confirmed. Mr Mackenzie Hill, who once had high hopes for turning Cosgrove Park into something of a "Millionaire's Row", had his development dreams thwarted by planners and now lives most of the year abroad.
---
Wolverton Express 13th June 1976
Girls assaulted
CARAVANS at Cosgrove Park were searched by police after a man with a knife had forced two school girls to submit to an indecent assault.

He confronted three girls — aged 11, 14, and one only four — on a footpath in north Milton Keynes.
A tracker dog led police in the direction of the lakeside holiday camping centre, where weekender families were knocked up in the hunt for the danger man dubbed — from his appearance - as 'The Sailor'.

Later this week, Wolverton Police appealed for help from any members of the public who might have seen him last Saturday night, in the vicinity of Wolverton Mill Lane.

He wore a white peaked cap, sunglasses, dark blue shirt and jeans, and carried a brown parcel. Age —about 30: hair — dark, collar length: complexion — fresh: cheeks — sunken: face — thin: accent — local.
Just after 9 p.m. he appeared from the hedge in Mill Lane as three girls were walking along.
"He talked to the children and then took both of the older ones to a barn nearby when he indecently assaulted them," said a police spokesman "He held in his hand a penknife which he had taken from his front pocket. The girls were distressed as result of what happened but they were not injured."
Farmer's wife Mrs Joan Maycock told how the children came to Mill Farm after the attack. "The children came here straight after the incident and naturally they were very upset," she said. "They were crying and I called the police" she added.
Mrs Maycock gave the children a cup of tea and helped to calm them down. "The girls had been out for a walk along the lane —we get A lot of people using the lane during the day" continued Mrs Maycock, "It is an awful thing — they are very young."
---
Wolverton Express 2nd July 1976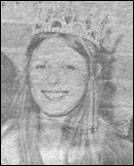 BACK IN THE ARMS OF FIANCE
BECOMING a carnival queen was a love story for blonde-haired Karen Tweedale. After the crowning, 18 year old Karen rushed to the arms of her ex-fiance. "We're back together again - the carnival queen competition has 'brought us together," she explained.
Karen, of Stratford, Road. Cosgrove, topped the line-up of six finalists at the Saturday night dance after Bletchley Carnival. Her engagement to 21 year-old Chrysler worker, Graham Payne, who lives on the new city estate of Primrose, was broken off recently. Bachelor Graham's terraced house was the closest home to a nearby factory development, which had him and other Primrose residents protesting for weeks.
"We had been going out together for three years," said Karen. "The business over the factories was upsetting." A former pupil of Deanshanger Secondary School and Bletchley College of Education, Karen is the daughter of Mr Terence and Mrs Jean Tweedale. Mr Tweedale is a civil engineering inspector with the water authority.
---
Wolverton Express 9th July 1976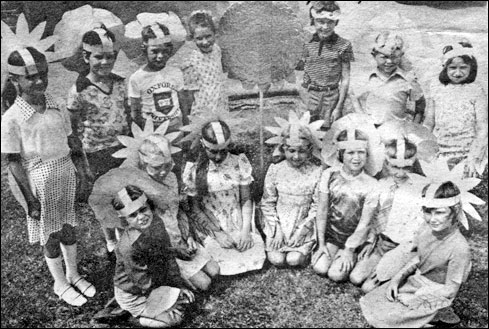 These "buttercups and daisies" entertained with country dances at Cosgrove School fete last Saturday – an event which raised £110 for school funds. There was the customary procession round the village led by the fete queen, Tanya Moseley, and her attendants Robert Ford, Alan Hickford, Christopher Gee, Andrew Morton, Rebecca Luke and Lorraine Beechey.
Valerie Ford was "the girl in the garden picking daisies" in the country dancing, with Robert Ford as the sun. The programme included the traditional maypole dance.
The New City Model Club organised train rides. There were donkey and pony rides on animals supplied by Mrs Alderman and Mrs Snelson.
One way children and their parents found to keep cool was to visit one of the classrooms where Mr Chris Covington of Yardley Gobion gave a marionette show, his last performance in the area before dashing off to Blackpool for the summer season there.
There was a dance in the Victory Hall in the evening.
---
Wolverton Express 23rd July 1976
Yellow was best!
Yellow team won the recent Cosgrove Primary School sports.
Class winners were: Track event: Jayne Mayo, Richard Saunders, Shaun Bushell, Symon Scott, Richard Clark, Philipa Bidgood, Glen Beavis, Robert Ford.
High Jump: Caedmon Oakley, Lisa Tustain, Paul Scott, Symon Scott, Richard Clark, Philipa Bidgood, Robert Ford.
Egg and Spoon: Caedmon Oakley, Richard Saunders, Paul Scott, Symon Scott, Richard Clark, Annette Bailey, David Cattermole, Paul Snelson.
Bean Bags in Bucket: Andrew Morton, Richard Saunders, Shaun Bushell, Symon Scott, Richard Clark, Mervyn Alderman, Glen Beavis, Neil Thompson.
Dribblers
Netball Shooting: Helen Tweedale and Sharon Beavis. Throwing cricket ball, Adrian Hickford. Dribbling football, Robert Ford. Bowling at Wickets, Helen Tweedale.
Sack Race: Louisa Barry, Richard Saunders, Shaun Bushell, Symon Scott, Richard Clark, Philipa Bidgood, Neil Thompson.
Personal Scores went to: Caedmon Oakley, Richard Saunders, Paul Scott, Symon Scott, Richard Clark, Glen Beavis, Philipa Bidgood, Robert Ford, Helen Tweedale.
Winner of the Leroy Hart cup for the best individual score went to Symon Scott.
---
Wolverton Express 20th August 1976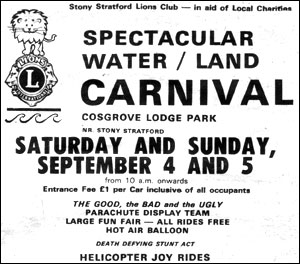 ---
Wolverton Express 3rd September 1976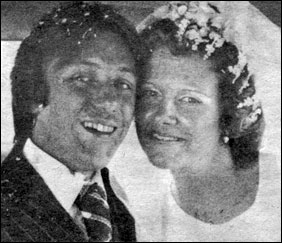 Miss Teresa Cook and Mr Andrew Tweedale were married at St Peter and St Paul Church Cosgrove recently.
Teresa is the second daughter of Mr and Mrs Ronald Cook of Stratford Road Cosgrove. Andrew is the son of Mr and Mrs Terrance Tweedale of Stratford Road Cosgrove.
---
Wolverton Express 10th September 1976
Arrest after Park punch-up
Four youths were arrested by police after a Saturday night punch-up at Cosgrove Lodge Park. They all came from the Edmonton area of London, said a spokesman for Towcester Police, who added that no serious injury had been reported.
---
Wolverton Express 10th September 1976
IT WAS a roaring success — that's the verdict on the two day water and land carnival organised by Stony Stratford Lions Club, last weekend.
The carnival at Cosgrove lodge Park was a success on two scores — financially and on an entertainment front. There's no doubt that the 32 strong Stony Stratford Lions Club can look back on the spectacular with pride and already plans are being made to make the carnival an annual event. A 'mane' event in their calendar, you might say.
Although profits from the carnival will not he announced for another week there's no doubt it was a big money spinner. All of the Lions Club profits will go to charity, including the Blind, British Red Cross Society, St. John Ambulance, Leukaemia Research, the Samaritans and Willen Hospice. Although the Lions Club Is only a year old members have already raised £1300 and last weekend's carnival could well double that.
Eight hours of entertainment had been lined up on both Saturday and Sunday and more than 20,000 people turned up to enjoy the fun. Saturday was very much a rehearsal for the crowds who flocked to the park for the second day of the carnival. Only 600 cars went through the gates on the first day but on Sunday more than 2500 vehicles streamed into the park. The carnival was the brain child of Lions Club member Peter Starr who saw the show as replacing the cancelled New City Show. Willen Lake was looked on as an original venue but the club changed its mind and seized on David Steele's offer of Cosgrove Lodge Park. It was lucky members had a change of mind as the Witten Lake has since dried up and many of the evnts would have had to be shelved. The organisers certainly made full use of the space, land, air and water — at Cosgrove. The land was covered with stalls, sideshows, static displays and demonstrations on land, in the water it was the turn of the water skiers, canoeists, raft racers, model boat enthusiasts, sub aqua club members, speed boat fans, and shark surfer Roy Weatherley. and in the air were helicopter rides, parachutists and hot air balloonists.
Climax of the show on both days was the death defying stunt by lorry driver Tom Williams. Tom aimed to drive his souped up car from an 8 ft ramp and over a row of parked cars. Hr cleared nine the first day and seven the next. And already he has plans to go for a world record at next year's Lions Club carnival.
The only snag at the event war the planned Formula Ford car display. Unfortunately the car engine blew up during the weekend as it was due to race at Silverstone within a few days the mechanics were busy at the weekend making last minute repairs.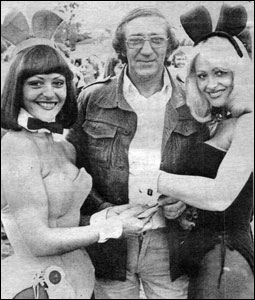 JUST look who dropped into the carnival on Sunday - two cuddly bunnies from London's Playboy Club. Sisters Leah and Penny were a big attraction on Buckingham Lions Club pick a lucky card stall and certainly boosted takings. Leah and Penny, who arrived by helicopter, are pictured with John Down.
Picked up their raft and walked
The raft race around the big lake proved an entertaining sight, although at one point the water was so shallow one team picked up their raft and ran part of the route! Wolverton Motor Company won the race on the first day with the Carrington Arms, 1st Wolverton Venture Scouts and Perrys of Bletchley in second, third and fourth places. On Sunday the more professional looking raft from the Northampton Drapery Branch of Natwest streaked home into first place. And raft race organiser Terry Jones of the Spire Garage, Hanslope, had to look on helplessly at his garage's entry drifted away out of sight while the raft entered by E. Wilder and Associates, consulting engineers from Bletchley, sank. Wolverton Motors took second place on Sunday, with Venture Scouts third and Perry's in fourth place.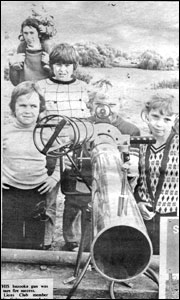 This bazooka gun was a sure fire success. Lions Club member Eric Coles managed to pick up the compressed air cannon while on a business trip up north.
The gun was made for a Walt Disney film and these are just a few of the children and adults who tried their hand at shooting tennis balls at tin targets. But the cannons had to be "doctored". When Eric first tried out the bazooka he could fire tennis balls straight through a sheet of plywood at 30 yards.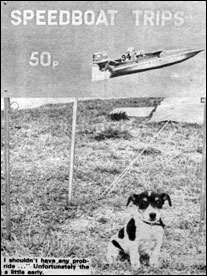 "With a queue this size I shouldn't have any problem getting on the next ride". Unfortunately the passenger was queuing a little early.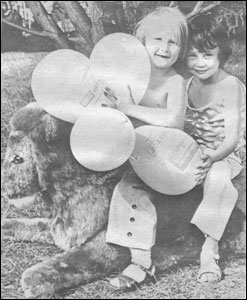 How about taking this cuddly Lion to bed? Joanne Millard and Fenella Laird of Hanslope certainly would not mind. But the lucky winner of the Lion, which was the Stony Stratford Club's mascot, came from Northampton.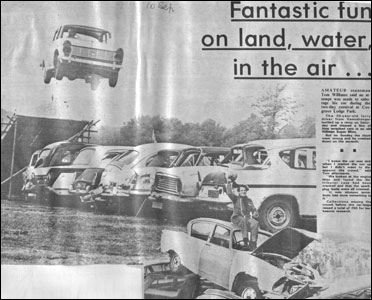 Fantastic fun on land, water, in the air…..
Amateur stuntman Tom Williams said an attempt was made to sabotage his car during the two day carnival at Cosgrove Lodge Park. The 30 year old lorry driver from Deanshanger hurtled up a ramp on Saturday and cleared a line of nine wrecked cars in an old Hillman Super Minx. But on Saturday the stunt went wrong and he crashed down on the seventh.
"I knew the car was sick when I started the run up, but I didn't want to disappoint the crowd," said Tom afterwards. "We looked at the engine later and found the distributor case had been cracked and that the spark plug leads were all crossed. It was obvious somebody had done something to it."
Collections among the crowd before the car leaps raised a total of £80 for leukaemia research.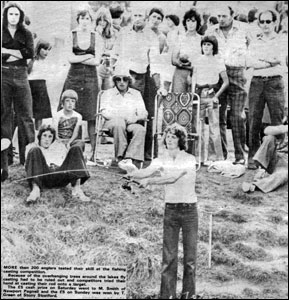 More than 200 anglers tested their skill at the fishing casting competition. Because of the overhanging trees around the lakes fly casting had to be ruled out and competitors tried their hand at casting their rod onto a target.
The £5 cash prize on Saturday went to M Smith of Newport Pagnell and the £5 on Sunday was won by T Green of Stony Stratford.
---
Wolverton Express 16th September 1976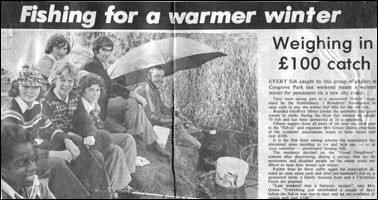 Fishing for a warmer winter
Weighing in £100 catch
Every fish caught by this group of anglers at Cosgrove Park last weekend meant a warmer winter for pensioners on a new city estate. They were taking part in a sponsored "Fish-in" organised by the Stantonbury Residents' Association to raise cash to pay the winter fuel bills for the old folk.
Bearded Geoffrey Oliver (under the umbrella) had good reason to smile: during the three day venture he caught 70 fish and has been sponsored at 5p a specimen. 15 anglers from all parts of the new city took part in the fish-in and organiser Mrs Grace Quinn, chairman of the Residents Association hopes to have raised well over £100.
It is the first fund raising scheme the association has attempted since deciding to try and help pay – or at least subsidise – pensioners' heating bills. The residents decided on the "Good Neighbour" scheme after discovering during a survey that the 46 pensioners and disabled people on the estate could not afford to heat their homes last winter.
Rather than let them suffer again the association decided to raise some cash and after last weekend's fish-in, a sponsored swim, a family treasure hunt and a Christmas Fayre are planned.
"Last weekend was a fantastic success," said Mrs Quinn. "Everything just snowballed a couple of days before the fish-in was due to start and we are confident of raising well over £100."
---
Wolverton Express 24th September 1976
By Direction of Messrs. Amos
"Quarry Hill Farm"
COSGROVE
1 mile North Stony Stratford
12 miles South of Northampton
For Sale with Vacant Possession
by Public Auction
A DETACHED
DOUBLE FRONTED BUNGALOW
with Mature Gardens of 0.60 Acres and Useful Outbuildings together with
PADDOCK of 1.50 ACRES
And
8.30 ACRES ROUGH GRAZING
A total area of 10.40 ACRES
in all or thereabouts
(Subject to Conditions of Sale to be then and there produced and unless previously sold by Private Treaty?)
at
THE COCK HOTEL, STONY STRATFORD
on
WEDNESDAY, OCTOBER 13, 1976 at 6.00 p.m.
To view and for all further particulars apply to the Auctioneers
---
Wolverton Express 19th November 1976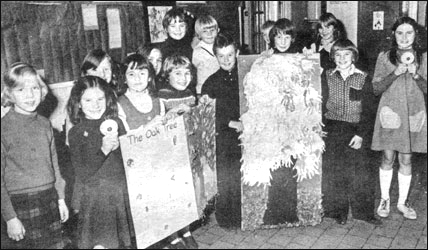 TOPS WITH TREES
Proudly holding some of the entries that gained them five awards are the children from Cosgrove Primary School. The competition, run by the Men of Trees organisation was open to all the schools in Northamptonshire and this year the school won more prizes than before.
Valerie Ford won a prize with a tree study on a beech and Philipa Bidgood wrote the story of Peter and the Tree to gain a prize under the poetry and prose section. All the girls of Class 1 won with a needlework picture of the horse chestnut tree and the boys of Class 1 got their award with a hand print tree showing spring and autumn colours. Fifth award went to Class 2.
---
Wolverton Express 17th December 1976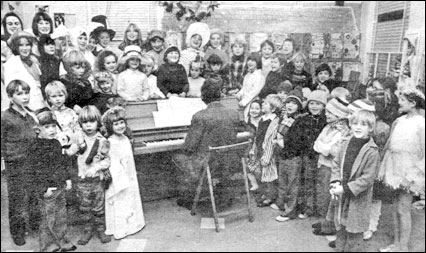 Christmas time is music time
For the third year in succession Mr Lewis Clark of Stony Stratford played a Christmas carol he compiled himself for the annual end of term party at Cosgrove Infants School. The carol was a rhythmic number called "Christmas time is music time" and our photograph shows him at the piano with the children.
"Music is a hobby for me and I always try to fit in a number for the school," said Mr Clark. "It's always a catchy number so that the children can pick it up." Mr Clark is also an organist at Cosgrove Parish Church.
---