Articles between 1960 and 1980 are from a private collection by Mrs Dorothy Warren, whose family donated the album in which she pasted them each week, and they are her personal selection. For instance, she didn't like sport! We believe she used mainly the Wolverton Express, but did not specify whether the articles were from there or from the Northampton Mercury and Herald, which she also read.

---
Wolverton Express 26th January 1973
COSGROVE Parish Council still feels a bend skirting the ditch in the Spinney in Stratford Road is a traffic hazard. Councillors heard at the meeting last week that Northampton County Council had recently lifted reflectors on the bend. Butt councillors still felt it was dangerous. They are to ask the county council if the ditch can be piped and refilled.
Members also heard there was still no possibility of a doctors' surgery and suggested exploring ways of supplementing local bus services. They are to ask the county council if Cosgrove can be included in a local "surgery" bus service.
It was confirmed that the Old Mill, recently gutted by fire, is a listed historical building.
The chairman reported there was still no light in the telephone box in Main Street, although he had been in touch with the G P.O four times. The council approved an increase in spending for 1973-74 from £264 to £320 for street lighting, and from £134 to £220 for General Purposes. The council has been asked to report any effects of proposed "monster" lorries travelling through the parish.
---
Wolverton Express 2nd February 1973
Rode in 1924 Paris Olympics
MR. JAMES George Knight, of Stony Stratford, who represented England as a pursuit cyclist in the 1924 Paris Olympics, died in Northampton General Hospital on Saturday. He was 77. A native of Cosgrove, where his father was a licensee, Mr. Knight had lived at 20 Wolverton Road Stony Stratford for many years.
He was employed as a fitter in the railway works at Wolverton until 1938 when he left to take over a corn and seed merchants' business in Stony Stratford High Street. He retired seven years ago. Mr. Knight enlisted in the Army in 1914 and with the 7th Wiltshire Regiment served in Salonika, being demobbed in 1919. He after wards joined the local branch of the Salonika Reunion Association and was its chairman. During the 1939-45 war he was a major in command of the Stony Stratford Home Guard Company.
It was in 1921 that Jimmy Knight started on a sporting career that won him many trophies and a place in the England team in the Paris Olympics of 1924. He became a track cyclist and was soon a firm favourite not only on his home circuit at Wolverton Park but at tracks throughout the country. His best performance was perhaps at Herne Hill when he beat the reigning English champion to collect the Danish cup. He was still racing in 1936 but then had to give up the sport because of a knee injury.
In the 1940s in partnership with his brother Charles he ran a bookmakers business in Stony Stratford for over 20 years. Mr. Knight, who had been ill for some time, leaves a widow, a son and a daughter. The funeral service was at St. Mary and St. Giles Church, Stony Stratford, on Wednesday.
---
Wolverton Express 2nd March 1973
The funeral of Mrs Rose Jane Lovesey, of Cosgrove, was held at Milton Crematorium last Friday. Mrs Lovesey died at Northampton Hospital the previous Monday, aged 77. She was born at Stony Stratford and had lived in Manor Close, Cosgrove for the past 15 years.
Family mourners were Mr J Lovesey (widower); Mr and Mrs T Lovesey; Mrs and Mrs V Lovesey (sons and daughters in law); Mrs and Mrs K Lovesey, Mrs D Lovesey, Mrs C Lovesey, Mr A Lovesey (grandchildren); and Mrs E Greaves (sister).
---
Wolverton Express 2nd March 1973
Northants County Council is to buy 0.15 of an acre from Towcester RDC for £450 to provide an extension to the Cosgrove Primary school.
---
Wolverton Express 2nd March 1973
MRS. FONGE of Sulgrave gave a wonderful talk on herbs at the Cosgrove meeting. She described their uses in olden days for cures and the countries they come from. Due to repairs to the Victory Hall the meeting was held at Bridge House, the home of Mrs. P. Holman, who was thanked by Mrs Alderman. Birthday button holes were given out and a letter of thanks from Mr Barker for the donation to handicapped children was read. Competition winners for handmade flower pictures were Mrs. D. Clarke, Mrs O. Lambert and Mrs S. Richards. Raffle winner was Mrs. Lumb. Tea hostesses were Mrs. L. Watkins, Mrs. Thompson and Mrs Weldon.
---
Wolverton Express 9th March 1973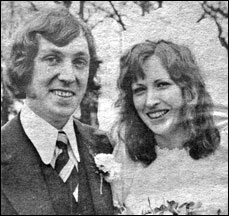 Footballer weds
A playing member of both, White Horse Football Club, Stony Stratford and Wolverton McCorquodale's Football Club, Mr. Michael John Baldwin was married with Miss Linda Christine Meakins at St Peter's Church, Cosgrove, on Saturday. The bride is the daughter of Mrs D. A. Cannings and step daughter of Mr D. A. Cannings, of Bridge Road, Cosgrove, and is a hairdresser. The bridegroom, a technical representative, is the eldest son of Mr and Mrs G. H. Baldwin of the School House, New Bradwell.
Given away by her step father, Linda wore a white nylon organza dress trimmed with guipure lace on sleeves and bodice and carried apricot rosebuds, freesias and lilies of the valley. She was attended by her cousin, Claire Berrill and the bridegroom's godson, Shaun Bluck, both four years old. Best man was Mr Ricky Martin.
The service was conducted by the Rev Beatty and flowers for the church were kindly given by Mr K Berrill. The bride later placed her bouquet on her father's grave. A reception for 100 guests was held at the Victory Hall, Cosgrove, before the couple left for a honeymoon in London. Their future home is at Horsefair Green, Stony Stratford.
---
Wolverton Express 9th March 1973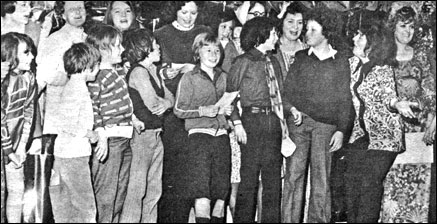 COSGROVE'S Variety Show on Friday was voted a great success by the audience who called for several' encores during the performance, and whose obvious enjoyment was reflected by the £31 raised for Victory Hall funds.
The show began with a lively dance by the Diddy men, Julie Holman, Debbie Moore Trudi Higgs and Denise Taylor. David Smith, as "Doddy" also made an excellent compere. Eight-year-old Tanya Moseley followed with a tap dance, a polished performance on a pocket handkerchief sized stage. Mrs. Phyllis Holman turned the audience's thoughts to holidays with a Seaside Monologue, and the WI group of Gloria Alderman, Susan Richards, Kath Gordon, Pat Fowlds, Molly Kightley and Marianne Markham echoed the theme with a Victorian costume sketch of songs, recitation and a sand-dance to "The Sheik of Araby."
The Osmond Brothers, Peter Moreton, Andrew Gordon, Neil and Martin Stephenson sang "You're my long-haired lover from Liverpool", and then four ladies from the Keep Fit group, Gloria Hickford, Margaret Wilkins, Cynthia Smith and Mavis Hudson demonstrated how graceful exercise can be. Phyllis Holman and Rose Ridge sang Bud Flanagan songs, and then five boys from the Primary School, Stuart Forrester, Martin Stephenson, David Moore, Andrew Gordon and Adrian Moseley gave a hilarious performance of Tchaikovsky's "Dance of the Little Swans." complete with football boots and mothers' wigs. The first half ended with the singing of "Amazing Grace" by Julie Holman, Debbie Moore and Denise Taylor accompanied by Trudi Higgs playing the recorder.
During the interval refreshments were served by the Playgroup mothers and a basket of fruit was raffled. The winner was Mrs. Hillyer. The audience then settled down to watch "The Star Dusters", a comedy about six cleaning ladies, played by Clive Lambert, Elsie Chown, Rose Ridge, Molly Kightley, Pat Shervington and Phyllis Holman. Susan Richards, Kath Gordon, Gloria Alderman and Molly Kightley then appeared in costume and sang a trio of Elizabethan songs. They were disappointed that Mrs. Dora Clarke, who normally accompanies them on the spinet was prevented by family illness from appearing. After a song by "Hairy Mopkins" (Phyllis Holman), the audience was invited to join the whole cast in singing old and new favourites. Mr. Jim Barnes was the pianist.
Julie Holman closed the show with a realistic "Janet Webb" type ending.
---
Wolverton Express 30th March 1973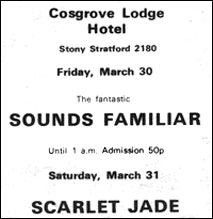 ---
Wolverton Express 6th April 1973
Mr. E. Lambert, People's warden at Cosgrove Parish Church for 15 years, resigned at last week's annual vestry meeting. Dr R H Beatty, Rector, thanked him for his valuable service to the parish, especially during three periods when the church was without a Rector. Mr H. McClean was reappointed Rector's churchwarden and Mrs. R. Elliott agreed to become People's warden.
---
Wolverton Express 20th April 1973
Cosgrove Warden thanked
At the Cosgrove Parochial Church Council meeting last week the retiring People's warden, Mr Ted Lambert, was presented with a table lighter in thanks for his 15 years' service to the village church.
The Council agreed to begin repair work to the church costing £150, and to start activities to raise the other £2500 needed for repairs to the 14th century Tower.
---
Wolverton Express 20th April 1973
SING ALONG
ONE of the talking points at the Cosgrove Golden Hour Club meeting on Thursday of last week was the recent visit of 25 members of the club to the Wellingborough Salvation Army Silver Threads concert at Wicken. About 200 people from old peoples clubs in Yardley Gobion, Potterspury, Old Stratford and Wicken listened to the concert party, under their leader and pianist Mrs. Seamark, sing "songs Old and New" from "Sing as we go" to "I'd like to teach the world to sing".
Mr. Arthur Snaith a retired local headmaster, provided many other points for discussion with his lecture on superstitions which was by followed by tea and raffle competitions.
---
Wolverton Express 20th April 1973


---
Wolverton Express 27th April 1973
Piglet at the Playgroup
At the Cosgrove Playgroup Annual Meeting on Wednesday of last week, the treasurer, Mrs C Bury, reported a healthy bank balance. Chairman, Mrs G Ford, summarised the year's working, commenting especially on the formation of a Tufty Club for the promotion of road safety, the Christmas party and the visit of a two day old piglet to the playgroup.
Details of a Whitsun outing were discussed and Mrs Valerie Mayo was joined on the fund raising committee by Mrs Margaret Stephenson and Mrs Gloria Hickford.
The Playgroup's Easter bazaar the previous evening raised £28. Mrs Sheila Tustain guessed the number of teabags in a jar, Mrs Mel Chambers the weight of a jar of sugar and Mrs Valerie Mayo the correct weight of a decorated cake. Mrs Mavis Hudson won a pair of bathroom scales, and a brandy glass and an Easter egg were both won by Mrs Olive Lambert.
---
Wolverton Express 18th May 1973


---
Wolverton Express 25th May 1973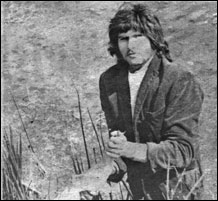 One disconsolate Towcester angler with what would have been a beautiful catch with rod and line.
A FULLSCALE investigation is under way into the deaths of thousands of prize fish in a five mile stretch of the River Tove between Towcester and Cosgrove at the weekend.
The shock discovery has caused an outcry among anglers and alerts have been sent to all fishing clubs along River Ouse warning that thousands more fish travelling that way are in danger from pollution. Members of Towcester and District Angling Club sad this week that toxic sewage was chief suspect for the mass deaths and that an incident of some sort had been anticipated by many anglers for several weeks. One fisherman, Mr. Trevor Johnson, said "This as a terrible blow to the area. We spent eight hours lifting the dead fish out."
The Tove, which Is a coarse fishing river and a trout stream, has been a well-stocked "anglers' paradise for years and had a reputation for being one of the cleanest rivers in the country. The dead roll include 15 lb pike, bream to 3½ lbs, chub to 3lbs and roach.
Pike, bream, chub and roach die
Mr. Fred Dixon, an official of Towcester Angling Club, said "This disaster could take 10 to 15 years to put right. Three months ago we told the Great Ouse River Authority and Towcester RDC that raw sewage was entering at a dried up flyer bed that has been drained for bridge repairs on the A43. We have been terribly worried that fish would be in danger when the bed was flooded again, but the River Board dismissed our worries and the council gave no satisfactory reaction." He added: "There is no evidence yet that the pollution has come from this source, but there is a sewage outfall entering the river at Cappenham Bridge, Shutlanger and it is from this bridge right down to the Northampton-Stony Stratford Road that every fish is dead. The evidence is there for all to see. An inspector from the River Board has taken samples and said it is the worst cast of pollution he has ever seen. This stretch of river now looks like being a watery desert and if a fault at the sewerage station is the cause, serious action must be taken. However long it takes the river must be restocked and brought back to its original state."
A spokesman for the River Board said: "We received a report through our emergency service that there were dead fish in the river on Sunday. Samples have been taken and submitted to laboratories. We are trying to trace the source, but we can't be certain of doing this. A full report will be made later."
At Towcester RDC. Mr. William Prior, surveyor, told the Express: "The deaths are a mystery at present, but it is certainly nothing to do with the bridge works on the A43. It may be that there was a toxic discharge from premises in Towcester or Paulerspury, which drain into our sewage disposal works at Cappenham Bridge. Extensive tests are bring made and we cannot decide what action to take until the results are known in a few days."
---
Wolverton Express 15th June 1973
COSGROVE CHURCH NEEDS £2,500
THE MAIN discussion at the Parochial Church Council meeting last week centred around plans for the Garden Fete on June 23. Visitors will he entertained by Stowe School Band. Another attraction will be conducted tours of the 14th century Church tower and belfry, for which the Church needs £2,500 for repairs. The council also heard that the Diocesan Committee had approved in principle the sketches for a memorial window for the late Captain P Y Atkinson. A faculty has been applied for.
---
Wolverton Express 16th June 1973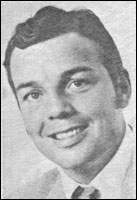 Mr. C. Mackenzie Hill
RUMOURS THAT Cosgrove Lodge Park may be wound up as a leisure centre and weekend haven for caravan owners and day trippers swept the village this week. One of the tales in circulation is that owner development company boss, Mr. Charles Mackenzie Hill is planning a complete transformation of the 110 acre canal – side site.
This could mean a combined nature re- and luxurious secluded housing estate for wealthy peace lovers with £50,000 to spend on a home.
Informed village opinion says that the caravans - more than 200 owners rent sites at the park - will have disappeared by the end of the year. And, if they are right, villagers will have few regrets. For ever-increasing traffic congestion in Cosgrove's winding and narrow main road has been a constant source of aggravation in recent years.
PLANS
A statement released on behalf of the company chairman on Tuesday said: "My company has acquired Cosgrove Lodge and caravan site and a number of properties in the village. We are formulating plans and the prime object will be to reduce traffic congestion and other detrimental effects the park has on the village life. We propose to request the parish council, members of Towcester Rural District Council and any members of the Planning Officer's Department who wish to meet us to discuss informally our plans in approximately two months' time. It may be that following this that the parish council will wish to call a meeting of the village."
I pointed out to the company that the statement could only be interpreted in two ways - either the caravans were going or the company intended to relieve traffic pressure by building a new road.
But a spokesman could only add to the general air of mystery. "We are in the middle of formulating plans and until these are completed and discussed with the proper authorities we are not willing to comment on these rumours," he said.
ABANDONED
Since Mackenzie Hill acquired the estate for £250,000 late last year various schemes for the future of Cosgrove Park had been considered and abandoned, added the spokesman. And the situation was still completely fluid. He was not prepared to say whether or not the company thought of building houses there. But, he added, whatever happened to the park it would be in the best interests of Cosgrove. It was Mr. Mackenzie Hill's own village. The chairman commutes to overseas business meetings by helicopter from the lawn of stately Cosgrove Hall and he would be most anxious to act in the best interests of the community. In fact, any plan which incurred the displeasure of villagers would be abandoned, said the spokesman. At the village pub the general verdict was that Mr. Mackenzie Hill would be doing Cosgrove a favour by getting rid of the caravans. "They are just a blasted nuisance," said one drinker. "At one time it was all Jaguars, Oxford accents and `would you mind cashing a cheque old boy?'. Now they drive old vans and don't seem to have cheque books. Very little money gets spent in the village."
---
Wolverton Express 22nd June 1973
REGARDING the possible closure of Cosgrove Lodge – Park, it would seem that only the feelings of the Cosgrove villagers are to be considered in this matter. What about the feelings of the 200 caravan owners? We may not all have Jaguars. Oxford accents and cheque – books, as stated by one snobbish villager, but many of us have spent up to £1000 on buying and equipping a caravan in order to give our children some of the freedom and country air that we never had. It is not possible simply to move to another site, as most sites are only available when buying a new caravan at the site. One major complaint by the villagers seems to be that "very little money gets spent in the village". Perhaps someone would enlighten me as to what we are supposed to spend it on! We, the caravan owners, are the people most affected by any development plans, but we are not advised what is going on or given any chance to speak in our own interest. Could we not he shown some consideration in this matter as well as the villagers?
K. J. MARTIN (Mrs.) 104 Poynters Road. Luton. Beds.
---
Wolverton Express 22nd June 1973
Farm is badly hit by blaze
FIREMEN spent seven hours, using water from the nearby canal, to put out blazing farm buildings at Castlethorpe Wharf Farm, Cosgrove, on Friday. Luckily, the farmer, Mr. Robert Alderman and his wife Gloria managed to rescue all the animals from the buildings with no injuries and also got out several farm implements.
But the couple, who have built up a cattle rearing business at the farm over the past seven years, lost all the calf breeding boxes and will now have to start from scratch again. Mr. and Mrs. Alderman who are tenants at the farm, returned from a fortnight's holiday abroad only the night before. The fire started in straw in one of the wooden buildings on Friday afternoon, and destroyed half of the outbuildings. The farmhouse and dutch barn were not damaged.
---
Wolverton Express 29th June 1973
Cosgrove fete
VISITORS to Cosgrove Church Fete spent over £700 on Saturday. They enjoyed the music of Stowe School Band, played skittles and darts, saw the view from the Church Tower and watched the children's races. The fete was opened by Miss Mary Atkinson of Paulerspury, late of Cosgrove Priory, who was thanked by the Rector's wife. Mrs. Helga Beatty.
---
Wolverton Express 6th July 1973
POSTERS GOOD, ENTRIES 'PATHETIC'
AT THE Cosgrove Parish meeting last week, entries for the Tidy Village Poster competition were on display. Members felt that, although the standard of work was high, the number of entries, seven only, was disappointing - "pathetic", one councillor put it.
In Class 1, under 5 years old, Dorothy Lumb, Joanna Lumb and the Playgroup were awarded prizes of £1 each. In Class 3, 7 to 9 years old, Philippa Bidgood was awarded first prize of £2, and Peter Lumb and Rebecca Runacres prizes of £1 each. The only entry in Class 5, over 11 years old, from Juliet Bidgood, an exceptional aerial view of Cosgrove, was awarded first prize of £3.
The entries were judged by Mrs Edna Read of the City Gallery at Little Brickhill, and will be displayed in turn on the village noticeboard.
---
Wolverton Express 7th September 1973
Mrs. K. Ware
LANDLADY at the Navigation Inn, Cosgrove, for five years, Mrs. Kathleen Constance Ware of 15 St. Johns Avenue, Ryde, Isle of Wight, died on August 18, aged 75. With her husband, Major A C W Ware, MBE, she ran the "Navigation" between 1950 and 1961. They had lived at "Colwich." Deanshanger Road, Old Stratford, and more recently has resided at Overstone, Northants. Mrs. Ware was one of the first to enlist in the women's section of the Royal Flying Corps.
---
Wolverton Express 7th September 1973
Rowland, 53 a wizard on two wheel.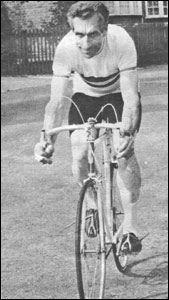 GIVE village postman Rowland Herbert a bike and he does more than deliver the morning post. For the former Cosgrove man, who grew up in Bridge Street, has won an impressive number of championships during a 40-year cycling career and is still racing in top form at 53. Each day Mr. Herbert sorts the mailbags at his sub post office at Aspley Guise, pedals off on a 10 mile delivery round and then swaps his postman's uniform for a sporting kit. He trains for top events by cycling 200 miles a week in his spare time and it pays off. He has just returned from Austria where he rode in the veteran cycling championships of the world over a 26 mile mountainous circuit.
There were 90 starters from 20 nations in his class, including many professionals and ex Tour de France riders, and he and his team mate, from Gloucester came 10th and 11th. Their time: 59 minutes. 14 seconds. The two men were the only representatives from Great Britain. A former Wolverton railway man, Mr. Herbert now runs the post office with his wife. Helen, who comes from Buckingham Street Wolverton. Both rode with the then Wolverton Amateur Athletic Club on their youth and resettled in the district in 1968 after 13 years abroad. Termed by his friends as a wizard on two wheels, he says: "I love cycling because it's great fun and keeps you fit. But it's more expensive than running a car and you have to really love it to keep it up". He started his cycling career at 14 with the Wolverton club after the late Jimmy Knight, an Olympic rider whose parents kept the Plough Inn at Cosgrove, encouraged him into the sport.
"By the time I was 17 I was racing and was an Olyrnpic reserve ten years later. In 1951 I was national team pursuit champion and by 1955 had won all the National Cyclist Union championships from quarter mile to 90 miles in Northamptonshire, Buckinghamshire and Bedfordshire."
During those years, due to lack of interest in cycling in Wolverton. Mr. Herbert had worked his way up in the cycling world by joining the East Midlands club. He retired temporarily in the late 'fifties, when he was posted from Wolverton Works to the Gold Coast Railway as a carriage and wagon superintendant. The Herberts returned home after the Biafran troubles and Mr. Herbert resumed competition cycling. He soon made up lost ground and this season he has beaten younger men to chalk up five wins, four places and four team races with his partner, Cliff Smith of Leicester.
As a veteran cyclist he is the healthiest postman in the area and intends to pedal his way vigorously through middle age.
---
Wolverton Express 7th September 1973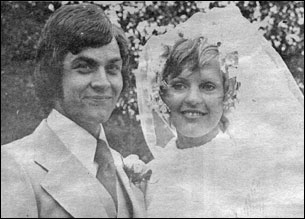 Miss Margaretta Elizabeth Carter and Mr Philip John Lancaster were married at St Peter's Church Cosgrove on Saturday. Margaretta, a secretary, is the daughter of Mrs R White, of 21 Main Street Cosgrove, and Philip, who is a project engineer, is the elder son of Mr and Mrs J W Lancaster, of Rambler Lane Slough.
Given away by Mr Robert White, Margaretta wore a white Edwardian style dress trimmed with a pink sash and a pin and white head-dress. She was attended by Miss Suzanne Robinson, a friend. Mr Martin Broadley, friend, was best man and the service was conducted by the Rev Mr Beatty.
---
Wolverton Express 26th October 1973
RESIDENTS of Cosgrove are overwhelmingly opposed to any plans to develop their village - either on infill sites or on the 110-acre Cosgrove Lodge Caravan Park. Already more than 200 of them have signed a petition to register their protest. Feelings ran high at a public meeting called by the Parish Council in the village hall on Tuesday night to discuss four planning applications which have been submitted by property developers Mackenzie Hill Holdings Ltd. After the meeting, which was attended by about 150 residents and caravan owners, villagers were accused of witch hunting Charles Mackenzie Hill, chairman of the company, which has its headquarters in Cosgrove.
"There was a terrific amount of passion shown - it turned out to be a personal matter between the village and one man, said Mr. G Runacres, a parish councillor. Mr. Ted Lambert. chairman of the parish council, who presided at the meeting, began by outlining the four applications, and reading a letter from Mackenzie Hill to Mr. David Woodall, Northampton County Planning Officer. The letter detailed Mackenzie Hill's reasons for wishing to develop the village, in particular the plans to build 55 luxury "residential units" in the caravan park. Mr Lambert's voice was drowned on several occasions by jeers from the audience who did not appear to agree with Mackenzie Hill that most of the caravan owners now lived in Milton Keynes, or that the proposal would have substantial benefits reducing the traffic in the village and of course the activity.
One Cockney caravan owner said most of the people who visited the park came from Coventry, Birmingham and London. Another caravanner said that the park had existed in its present form for about 10 years. "It provides a small measure of local employment and more important, it is a place where villagers' children may swim and fish and play to their hearts' content. I earnestly believe that the closure of the park in exchange for the proposals mentioned would prove to be nothing more than a tragedy for Cosgrove."
Even the small infilling plans met with strong disapproval. Villagers wanted to know what "residential units" were before giving their approval to five being built adjacent to 15 Main Street. "It might mean blocks of flats for all we know. We would have to see a model and detailed plans before we could agree", said one.
PETITION
In fact, the only proposal which met with any bulk support from the audience was that to build four stall cottages in the grounds of Cosgrove Hall (the offices of Mackenzie Hill). A vote taken on this plan went about 50-50. Mr. David Crewe, one of those responsible for organising the petition said that 200 people - about two thirds of the adult population of the village, have registered their opposition in principal to the plans.
"We want no company looking down from a great height deciding what should go in the village just because they can afford high prices," he said.
However amongst the dissent there were a few voices offering more philosophical opinions Mr. Bob Hughes of Park Close said: 'What about our children and grandchildren? They might want to live in the same village as their forebears. If you are going to say No en bloc to any development to the village you are doing them a disservice." After the public meeting the parish council met to discuss the feelings expressed by the audience - and what their own recommendations would be to the Planning Officer at Towcester RDC. In each ease the question of the village's already over loaded disposal system for sewage was brought up.
---
Wolverton Express 2nd November 1973
Sewer Scheme will cost £19,500
A £19,500 scheme to lay a pumping main for Cosgrove pumping station to Old Stratford has been approved in principal by Towcester RDC. The existing sewage pumps were installed 20 years ago to deliver 65 gallons per minute. But tests made in recent years proved the pumps were only delivering about 50 gpm. The council's consulting civil engineers have reported that new pumps capable of coping with twice the present delivery rate are needed.
---
Wolverton Express 9th November 1973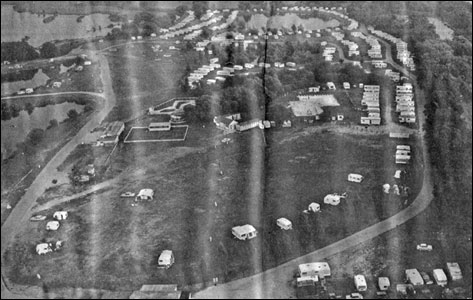 This aerial view of Cosgrove Park shows the large number of caravanners
who enjoy spending their leisure time by the lakes.
---
Wolverton Express 16th November 1973
COSGROVE WORRIES ABOUT CARS
COSGROVE councillors are still concerned about the number of cars parked in Manor Close. The parish council was told by the Towcester RDC that parking of cars on grass verges in the Close was permitted provided there was no contravention of tenancy agreements. Many councillors felt that the congestion in the Close was such as to warrant further inspection by the rural council. They proposed to count the number of cars parked in the Close before informing the RDC of their concern.
The chairman talked about a meeting held recently at Towcester with local parish councils, to discuss future development and involvement of parish councils under the new Local Government reorganisation. The district councils will be compulsorily required to consult with parish councils on development, but parish councils will only have 14 days' notice in which to object to plans. District councils might also help in such ways as mowing of playing fields, it was said. The council agreed to accept the electricity board's estimates for an electric light at the Cosgrove aquaduct. Ten poplar trees are to be planted in the playing field, but councillors were concerned about the dangerous condition of a wall there. It is proposed to obtain estimates for its repair. Cosgrove came equal fourth in the tidy village competition in the Towcester area. The chairman thanked everyone for their help in the competition. He hoped that Cosgrove would do even better in 1974. Mr. Basil Richards has been accepted as the council's representative on the school managers' board. Mrs. G. Alderman will be delegate to the Whalley Charity.
---
Wolverton Express 23rd November 1973
Poppy Power
The Poppy Day collection at Cosgrove, organised by Mrs P Atkinson of Cosgrove Priory, brought in £17.31. The collectors were Mrs Longman, Debbie Moore, Julie Holman and Jackie Hart.
---
Wolverton Express 23rd November 1973
Few listen to Folk
There were only 20 people present to enjoy a pleasant evening in Cosgrove recently when Rod and Tish Hall and Len Holden entertained with folk songs and music. Derek and Ann Oakley gave the singers a rest by reading a variety of poems. Coffee and refreshments provided by the ladies were available in the interval.
Thanking the singers for their entertainment, Mr Ted Lambert commented that he was only sorry that more people had not come along to enjoy it. Although the singers waived their fees for the evening in favour of the Church Tower Fund the evening was a financial loss.
---
Wolverton Express 23rd November 1973
A 36-YEAR-OLD housewife was badly burned when a gas cylinder exploded at her home. Mrs. Patricia Shervington was engulfed in a ball of flame when the blast rocked her home in Manor Close, Cosgrove. Her arm, legs and hand were badly burned and her hair, lips and nostrils seared. The accident happened as Mrs Shersongton tried to fit the 6in gas cylinder to a portable camping stove. She had got the stove out of the attic and planned to use it if her home was hit by a power cut. But she was unable to fit the cylinder and gas began escaping onto her kitchen. Alarmed, she tried to throw the cylinder into the garden. Suddenly the gas exploded in a ball of flame. Mrs. Shervington was knocked off her feet by the blast and her clothing set alight. She rolled frantically on the floor to extinguish the flames and screamed for help.
Mrs Shervington's husband John ripped the smouldering clothes from his wife and covered her with wet towels in an attempt to ease her pain. She was taken to Northampton General Hospital and later transferred to the burns unit of Stoke Mandeville Hospital. The cause of the explosion is unknown. But it is believed the gas was ignited by the heat of Mrs. Shervington's electric oven. Later she said: "I really don't know what happened. When the gas started to escape I was worried I would be gassed and tried to throw it away. I was lucky that I had already let go of the cylinder when it exploded. If I had not, I might have been killed or had my face horribly burned. As it was I was lucky to have my face untouched."
Mrs. Shervington still plans to keep the stove on standby in case of a power cut. But it will be her husband's job to fit the gas cylinder.
---
Wolverton Express 25th January 1974
Fined for Hoarding Petrol
A CIVIL servant who kept 45 gallons of petrol in a drum at his Cosgrove home was fined £45 by Towcester Magistrates on Monday. Kenneth Cecil Bailey, of The Lock House, was told by the magistrates: "We feel this is one of those cases in which an example should he made. We have to bear in mind that you are a civil servant and as such a man with special responsibilities towards the community in matters of this kind."
The magistrates also ordered that the 45 gallons should be confiscated. Mr. Bailey, who had pleaded guilty to keeping petrol without a licence, was fined a further £5 for keeping petrol in a drum not marked "highly inflammable or "petroleum spirit". Mr. Bailey explained that although he worked at Hanslope Park he had a 27 acre small holding. He said he had various petrol run machines. "I did not know I had to have a petroleum store or a licence to keep that amount of petrol." Mr. Bailey said he had since been granted permission to build a store.
---
Wolverton Express 8th February 1974
RENEWED FOR THE CANAL MEN
NO NEWS is good news to a band of canal enthusiasts who are busily restoring a derelict section of the Grand Union between Cosgrove and Old Stratford. The 1¼ mile long strip of the long-disused branch was threatened with total extinction last year when the Department of the Environment announced plans for a new A5 bypass. Originally it was planned to drive the road right through the dried up canal.
Members of the Inland Waterways Association protested and demanded that the canal should be bridged instead – a refinement which, it was later estimated, would have added an extra £¼million to the bill for the bypass. Undeterred by the opposition, volunteers set to work on clearing the canal which had been choked for years by trees and undergrowth.
Then last May a long public inquiry into the Government's proposals was held at Stony Stratford when the association figured among the objectors. Result of the marathon inquiry was expected later in the summer. But now – eight months later – a decision has yet to be announced. And now association officials are hoping that Britain's unhealthy economic climate may have saved the canal.
Said chairman Mr David Blagrove this week: "We are not making any assumptions at this stage but we have a feeling that the A5 bypass may have fallen victim to the big cuts in road expenditure. We think that the economic crisis may have come to our aid considerably."
Meanwhile weekend parties of volunteers are pressing ahead at full steam. They have cleared all but 150 yards of the canal and the next stage will be to call in engineers for a survey to determine what constructional faults will have to be corrected. Mr Blagrove believes that the arm could be put back in action again for around £40,000.
"We intend going ahead as fast as we can," he said, "We can't wait forever for civil servants to make up their minds."
---
Wolverton Express 8th March 1974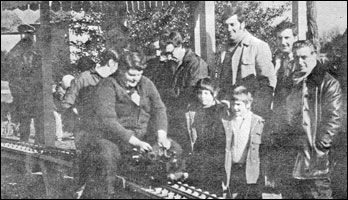 Enthusiastic train fans look on admiringly as the working model loco
chugs round the track carrying its two passengers.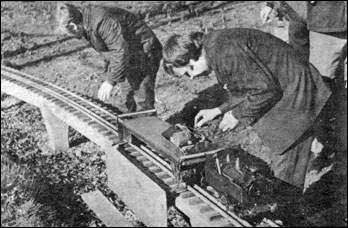 Mick Kingston, busy firing up while Bryan Grimmett inspects the track.
Getting All Steamed Up
Not many steam train enthusiasts can boast of a loco track in their back garden. One of the few is Cosgrove property developers Charles Mackenzie Hill. But on Sunday members of the New City Model Club had the chance to let off steam at Mr Mackenzie Hill's home.
The 250 foot working model steam track was handed over to the steam fans who brought along two locos. Armed with 7lb of coal, the club members, headed by president Charles Coleman, of Galley Hill, prepared to get up steam.
Members are building a portable track which they will take around with them to various fetes in the district. The track should make its first appearance at Weston Underwood at Easter.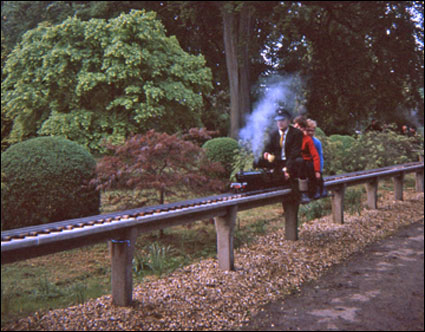 ---
Wolverton Express 15th March 1974
RENT RISES FORCE PEOPLE OFF HOLIDAY PARK
Rent increases of almost 70% have forced more than two dozen caravan owners to move from Cosgrove Lodge Park – which the owning company wants to develop for housing. The rent rise has shocked and angered a number of static caravan owners and faced with a rent bill of more than £90 for the seven month holiday season they been hurriedly looking for alternative sites.
Last year people paid £55 for the open season and £10 to leave caravans at the park over the winter. But the park owners, property developing company Mackenzie Hill, has applied for permission to develop the park with luxury homes. And with the planning application now going through the channels the company has decided to rent plots on a casual monthly basis – at the casual user's rate of £13.20 a month.
One of the people forced to move is Mrs Dennis Wells of Shenley, Hertfordshire. Said Mrs Wells, "We just cannot afford to pay out money like that in rent." They were lucky and found an alternative site. "Otherwise we would have been forced to sell the caravan."
A spokesman at the park said the rent increases included VAT, which was not charged last season. The future of the caravan park could not be guaranteed, and the rents had to be taken in monthly, he said. About 25 people had already moved to other sites, he added.
... but village backs luxury homes plan
COSGROVE property tycoon Mr. Charles Mackenzie Hill, now has the backing of villagers for his plan to build £50,000-plus luxury homes at the park, his company said this week. A village referendum showed that 90 per cent of people who answered backed the project, although some with provisos, a company spokesman told the Express. And the results gave credence to a company claim that only a small minority opposed the scheme, he added.
The company withdrew the plans after initial hostility. But then it promised the village a swimming pool and exclusive use of 40 acres of parkland if the "millionaires* row" scheme went through, and re-submitted plans to the local authority. Replies came from 205 of the 384 people on the electoral roll. Only 19 people were definitely against the scheme.
---
Wolverton Express 29th March 1974
Cosgrove Lodge Hotel closed on Monday. The owners, Mackenzie Hill Ltd, plan to use the building in the park for extra office accommodation.
---
Wolverton Express 5th April 1974
BIG NO FOR "MILLIONAIRE'S ROW" PLAN
The "Millionaire's Row" Luxury housing estate planned for Cosgrove Lodge Park has been given the "thumbs down" by a planning authority. Towcester RDC has recommended to Northants County Council, that the plans, submitted by Mackenzie Hill Ltd, be turned down.
The council says the proposed development would be outside the village map and partly within the flood plain. It also considers that the green belt of the Cosgrove area should be protected and building would detract from existing leisure facilities. Three other applications for residential development, roads and sewers in Main Street, Stratford Road, Cosgrove Lodge and converting the main house of the hotel to residential use were also recommended for refusal. The reasons given were inadequate sewerage and sewage disposal facilities and as far as the hotel is concerned "likelihood of problems caused by multi-occupation" But the RDC supports Cosgrove Parish Council in raising no objections to a proposed lake next to the Grand Union Canal provided the Regional Water Authority has no objection.
Mackenzie Hill Ltd. has given its reasons for closing down Cosgrove Lodge Hotel. At present the company's village headquarters centre on Cosgrove Hall – home of managing director Mr Charles Mackenzie Hill. Twenty five people work there in five separate office units. Now it has been decided that it would be more efficient if all the office accommodation was under one roof. And the hotel, says the company, is the obvious choice for a new company building.
It is right in the middle of the caravan park and has been a popular spot with weekend visitors for years. Originally the hotel was incorporated in the company's plan to turn the park into a luxury housing estate. It was earmarked for conversion into a millionaire style home. An application asking for permission to change the use of the hotel has been submitted by Mackenzie Hill. If all the company's plans fall through the hotel will be reopened after renovation work.
Says a spokesman: "The fact that we have been operating for several years at Cosgrove Hall in a very similar environment suggests that our use of the hotel as offices is not incompatible with the proposed residential nature of the locality."
---
Wolverton Express 19th April 1974
Walk on – for 12 miles
A 12 mile walk is to be developed between Cosgrove and Greens Norton. Work will go ahead on the walk during the summer and a booklet describing the walk in detail will be published later in the year.
Named The Grafton Way the walk will follow existing footpaths and bridle ways from Cosgrove through Yardley Gobion, Potterspury, Whittlebury, Paulerspury, Pury End, Towcester and Greens Norton. It will be waymarked with special circular metal discs. Loop routes are to be incorporated, diverging from the main path into the villages to provide shorter walks.
---
Wolverton Express 31st May 1974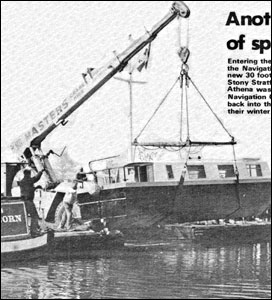 Another sign of spring!
Enter the water for the first time at the Navigation, Cosgrove is Athena, a new 30 foot narrow boat owned by Stony Stratford printer Maurice Howell.
Athena was one of 23 boats of Navigation Cruising Club which went back into the Grand Union Canal after their winter lay up.
---
Wolverton Express 28th June 1974
Holiday Site owners to be prosecuted
The site owners of Cosgrove Lodge Park are to be prosecuted by the local council. It will accuse them of breaking the conditions of the site licence. Legal proceedings will be started against Mackenzie Hill Ltd by the South Northants District Council.
In a report to the council meeting last week it was claimed that about double the permitted number of caravans and tents had been allowed to use the site over the spring bank holiday. This caused a potential fire hazard and the toilet facilities were inadequate for the number of campers using the site, the report stated.
The report added that the site owners had been warned on a previous occasion, during the 1973 bank holiday period, and at that time the owners gave an assurance that the site licence conditions would be strictly observed.
---
Wolverton Express 5th July 1974
COSGROVE CHILDREN WAIT TO START SCHOOL
IN FUTURE Cosgrove children will not be able to start school before they reach the age of five, said headmistress Mrs. Nora Horton last Friday. Mrs. Horton was speaking at the school's open day and prize-giving ceremony. She pointed to the increased primary school population and said that children can now only start school at the beginning of the term in which they are five, and no earlier, as had been the case in the past. Mr. Garner, headmaster of the Old Stratford primary school, who presented progress prizes, was handed a small gift by Geraldine Hardy. Mrs. Gloria Alderman, on behalf of the parish council, presented the school with a cheque as a token of appreciation for the school's recent efforts to promote tidiness in the village.
Prize-winners
Prizes went to Matthew Crewe, Mervyn Alderman, David Cattermole, Sharon Davies and Susan Forrester. Leavers prizes were awarded to David Moore and Geraldine Hardy.
---
Wolverton Express 17th July 1974
Helicopter Pad tea room
THE RAMBLING four-acre grounds of picturesque Cosgrove Hall, the home of local property tycoon, Charles Mackenzie Hill, are being thrown open to the public on Sunday July 21st to raise funds for gardening charities. Visitors will be able to admire the flowers and shrubs; stroll in the woodlands and play with Mr. Mackenzie Hill's lavish model railway which will be on display. Tea will be available on the Hall's spacious lawn, which is used as a helicopter pad during less leisurely moments. Proceeds from the open day will be going to the Gardeners Royal Benevolent Society and the Royal Gardeners' Orphan Fund. Mr. Mackenzie Hill is not a great gardening enthusiast himself. "He doesn't really have the time." said a member of his staff.
---
Wolverton Express 12th July 1974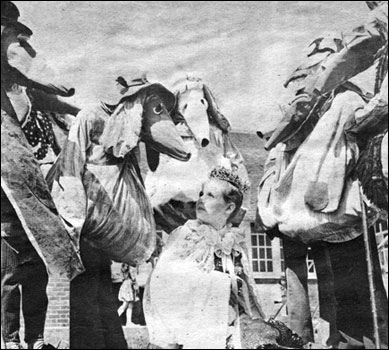 The wombles wobble into Cosgrove
The Wombles strayed from Wimbledon Common on Saturday and made their way to Cosgrove to meet 10 year old Carnival queen Geraldine Hardy. Geraldine was queen at the village school fete held in the school grounds. Earlier Geraldine, her attendants Petrina Waller, Jaimie Colin, Lucy Richards, Rachel Clarke, Valerie Ford and Mark Dando drove around the village by tractor.
Following behind on another farm vehicle were the wandering Wombles, Adrian Hickford, David Slaymaker, Seth Thompson, Robert Ford, Martin Stephenson, Mark Robinson and Timothy Hudson. . More than £130 was taken at the fete. After the crooning the court was entertained by Maypole dancing. Folk dancing continued with Kalinka. a Russian dance and then Tanya Moseley performed a French national dance. Traditional American square dancing set the mood for a spirited Cowboy and Indian episode complete with Cavalry officer (Mervyn Alderman) and his lady (Angela Alderman) and an lndian brave and his squaw (Andrew and Claire Sansome) on horseback. A complete change of mood was accomplished by the dancing of "My Mother said I Never Should Play with the Gypsies in the Wood', by Tanya Moseley, and the performance ended with the reappearance of the Wombles.
---
Wolverton Express 26th July 1974


Story by MIKE BURROWS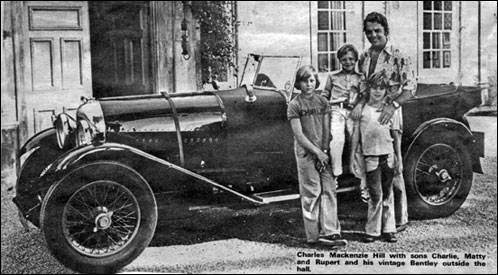 THERE was, as a member of the staff was quick to point out, none of that "Woburn Abbey stuff" when stately Cosgrove Hall opened its gates to the public on Sunday. Entertainment consisted largely of gazing at exotic shrubs and sipping tea on the lawns. But the 500-plus people who attended the Gardeners Sunday all enjoyed themselves in a discreet kind of way and helped to raise £110 for gardening charities. Owner of the hall, property tycoon and village celebrity, Mr. Charles Mackenzie Hill, did not play an over prominent role in the festivities But delighted children queued up all afternoon for rides on his lavish model railway which runs a circuit through the hall grounds. Members of Milton Keynes Model Society were organising the rail trips "Mr. Mackenzie Hill has always been interested in model engines but he is too busy to use his own very much now," it was explained. The hall itself was out of bounds for the afternoon. But staff members served teas from the garage from which Mr. Mackenzie Hill's vintage Bentley and Mercedes saloon had been removed for the occasion. Another spot of unscheduled entertainment came when the property magnate's private helicopter whirred onto the lawn bearing a weekend guest. Visitors were all extremely well behaved, it was reported. Some did peer through the windows of the hall in an obvious attempt to see how the other half lived but nobody trampled shrubs or helped themselves to souvenir bunches of flowers.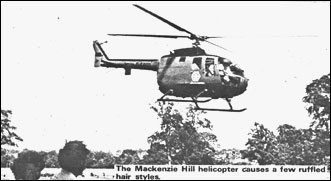 "It was an extremely pleasant gathering," said the spokesman. "People used the grounds freely but there was no abuse. A tremendous amount of work of has been put into the gardens in the last two years and they looked most attractive".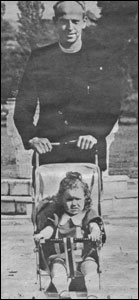 Rector of Cosgrove, the Rev. R. H. Beatty, with his daughter Monica - he told our photographer that he was trying to obtain the secrets of the gardeners who managed to stave off blight on the greens and fruit in the garden.
Seven kids an adult is some big load for the railway, run by Milton Keynes Model Society.




Good shot sir... croquet on the lawn -

a traditional pastime in English country houses.

Admiring the red-hot pokers is Angela Dytham
and daughter Annabelle




Casting a critical eye over the blooms in the greenhouses.
---
Wolverton Express 2nd August 1974
There has been some speculation and research on the knotty question of whether or not trout – sensitive fish with a taste for cleanliness – could survive in the murky water of the canal, which from time to time proves too much even for the local roach.
But apparently Mr Mackenzie Hill [proposed lake in Cosgrove Hall grounds] is planning to purify the water by making it flow over limestone chippings.
"If the water isn't good enough he trout will just turn over and die," commented the man fro the Waterways Board.
---
Wolverton Express 9th August 1974
Property king hits new planning snag
PUT CHOCKS UNDER CARAVANS PLAN – COUNCIL
A row is threatening to blow up over the controversial caravan development at Cosgrove Park. South Northants District Council last week urged Milton Keynes Borough Council to block the scheme. For it fears the development would cause a backlash of chaos in the area.
The application comes from property developers Charles Mackenzie Hill Ltd. The company has asked the Borough Council to license 250 caravans on the Bucks side of Cosgrove Lodge Park. The council is still considering the application. At the district council's planning committee last week councillors were told that if the application was granted sewerage and traffic problems would occur in South Northants. The committee immediately asked the borough council to ensure that no caravans are licenced until and unless the problems are resolved. A spokesman for Mackenzie Hill refused to comment on the district council's action.
---
Wolverton Express 30th August 1974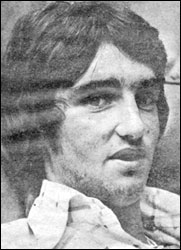 Wolves young up and coming striker Tony Cowan looks like missing the start of the season. Tony, who was enjoying a holiday in the sunshine of Spain, caught a throat infection and spent the last three days of his holiday in bed with a high temperature. He only managed to get out of bed to catch the plane home and has been confined to his house since his return.
There was talk of Tony leaving Wolves to join neighbours Stony Stratford. From his home in Cosgrove, Tony said, "I have never felt so weak in all my life. I have not been able to eat since I came back but fortunately I am gradually getting my appetite back. It will be another two weeks before I even start training and until I am fit again I shall not decide where my future lies next season."
No doubt quite a number of clubs in the area will be eagerly awaiting Tony regaining his fitness.
---
Wolverton Express 30th August 1974
Cosgrove Playscheme
The summer play-scheme in Cosgrove ended on Wednesday afternoon with a sausage barbeque and singsong. About 50 apparently starving children, aged from three to 13, rapidly demolished a pile of hotdogs and crisps and finished off the orange squash before sitting down to sing such favourites as This Old Man and ending with old Macdonald had a Farm.
The organiser of the plays-scheme, Mrs Jackie Morton, and her helpers were thanked, and the afternoon ended with four rousing cheers – a Cosgrove custom of just one more!
---
Wolverton Express 30th August 1974
Cosgrove camp plan
Local scouts have applied to the South Northants District Council for permission to build a toilet block and an equipment store on their camping site at Cosgrove Quarries. This improvement would mean that the Quarries could also be used by Girl Guides and Brownies and possibly by Scouts from abroad, in addition to being available to the new scout troops which will be formed in Milton Keynes.
The store is needed for the new equipment already bought with the help of a grant.
---
Wolverton Express 30th August 1974
Tracker Dogs search for boy, 10
A wide search was launched in the Cosgrove area on Wednesday for a 10 year old boy missing from the Lodge Park. Police with tracker dogs combed the Park and surrounding land for the boy who had been on holiday with his parents for the past fortnight.
He is Mark Hillman of Helmsley Farm, Thames Road, Dinton, near Aylesbury. A Police spokesman explained that Mark was fishing in the Park with a borrowed rod on Tuesday morning. His father went to buy a fishing rod and when he returned saw Mark running off. As he got to the spot where the boy had been fishing he noticed that the borrowed rod had been broken.
A search was organised on Tuesday evening with the help of other holidaymakers, but had to be called off after dark. Mark is described as tall, well built with blond hair, blue eyes and a ruddy complexion. He was wearing a white tee shirt and green jeans.
---
Wolverton Express 6th September 1974
The 10 year old boy missing from his Cosgrove holiday home was found at Old Wolverton on Wednesday afternoon last week. Mark Hillman, who had been on holiday at Cosgrove Lodge Park with his parents for the previous fortnight went missing on Tuesday. Police with tracker dogs launched a wide search for the boy but he was eventually found by his father.
---
Wolverton Express 6th September 1974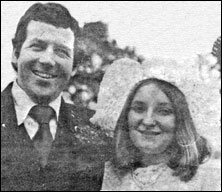 District Nurse, Mrs Susan Jane Eglesfield, was married with Mr Allen Levitt at SS Peter and Paul Church, Cosgrove, on Saturday. Susan, district nurse in Stony Stratford, is the youngest daughter of Mr and Mrs S Eglesfield, Manor Close, Cosgrove. Allen, who works in the Wolverton Works, is the only son of Mr A Levitt and the late Mrs E Levitt, of Gloucester Road Wolverton. They are to make their future home in New Street, Stony Stratford.
---
Wolverton Express 6th September 1974
Stolen from a boat
Sleeping bags, blankets, toolbox and other items were stolen from a cabin cruiser moored near Cosgrove between August 14 and 29. The goods, valued at £130, belonged to Mrs Alan Wildsmith of Rugby.
---
Wolverton Express 27th September 1974
Better "Cover" for Cosgrove
Cosgrove Parish Council decided to increase many of its insurance policies at the last meeting. Among the increases planned is one to put Public Liability Insurance at £10,000 – at a cost of another £5 on the premium.
At the meeting members decided to contact the County Surveyor bringing his attention to the problems on the Castlethorpe Road. The narrow road, between the canal bridge and river bridge, is breaking away at the edges.
---
Wolverton Express 27th September 1974
Church needs another £2000
Almost £2000 will be needed for further work on Cosgrove church tower. This was the news given at the Parochial Church Council meeting last week. The church people feel that this is beyond their means as current repairs on the tower will cost £4500.
Plans for the Harvest Festival were discussed at the meeting and for the harvest sale. These will be held on the 22nd and 23rd of this month respectively. The harvest supper will be held the following Friday.
---
Wolverton Express 4th October 1974
COSGROVE Lodge caravan park will be shut down at the end of the month. More than 150 people with holiday retreats at the park were told of the decision in a letter from the owner, Mackenzie Hill Ltd.
The property development firm has refused to discuss plans held for the park's future. The caravanners have until March to find alternative sites for their mobile homes. They each stand to lose between £600 and £1,600. Those are the value of the vans on today's prices. But if the vans are still at Cosgrove by the end of March the owners will be happy to take any price offered in an attempt to cut their losses.
The scheme was finally turned down a few months ago. In the meantime Mackenzie Hill had applied to develop another section of the park that fell within the Bucks County Council area. The company wanted to increase the number of caravans that the park would hold. South Northants District Council wrote to County Hall and asked the authority to block the scheme unless certain major provisions were promised by the firm. These included drainage and traffic density problems. Last month Mackenzie Hill announced it would close the caravan park. A spokesman said the park had become unprofitable because of planning restrictions.
Caterer, Mr. Derek Taylor, of Central Restaurant, Wolverton, is one of the caravan owners hit by the decision. He said: "There is nowhere I can keep a caravan in Wolverton. I will keep the van in winter storage at Cosgrove until March in the hope that somewhere can be found in the designated area. "If the situation is still the same in March we all stand to lose a lot of money. People whose caravans are worth a lot of money will be happy to take any price for them. After all by March the vans will be comparatively worthless. And if one is offered any cash for them then it is better to cut one's losses and accept the cash." Mr. Taylor hopes the borough council will relax restrictions at the Emberton Park caravan site to help local residents.
A certain number of sites at Emberton are left vacant to accommodate short stay caravanners on touring holidays. But a spokesman for the borough said on Wednesday that this procedure could not be altered. She added: "Only recently the council's committee decided on its policy of allowing caravans to park at Emberton. It is very unlikely that this will be reconsidered in the financial year."
Wolverton builder Harry Winsor is now trying to get a friendly farmer to allow him to use a field for temporarily storing his caravan. He said: "We all know that Mackenzie Hill has to make a profit but it seems like sour grapes to close the park so soon after his planning application was turned down." Milton Keynes Development Corporation provide caravan sites for the city's labour force within the designated area, but a spokesman said there were no similar sites planned for recreation use. One man said: "At the moment there is nowhere I can keep the van. If we cannot find alternative sites come March there will be a glut of vans from Cosgrove on the market and prices will plummet."
Property magnate Charles Mackenzie Hill has now been accused of making a sour grapes decision by closing the park. For the caravanners believe that he took the decision because a housing development scheme was blocked by Northants County Council.
The majority of people with caravans at Cosgrove are businessmen from the Milton Keynes area. They use the park as a holiday weekend retreat from the pressures of work, but a place that is not too far away in the event of a crisis. The future of the park has been in the balance for more than a year when the development scheme first saw the light of day. The company applied to the old Towcester Rural Council for permission to build 41 luxury homes on the park. Mr. Mackenzie Hill said that if the scheme was not realised the park would become a much larger concern with many more caravans.
---
Wolverton Express 4th October 1974
Fewer veg this year
COSGROVE'S Harvest festival service was held two weeks earlier than usual this year. A wide variety of vegetables and flowers were given on Saturday to decorate the church. The service was conducted by the Rector, the Rev. R. H. Beatty. There was a lack of root vegetables, this year, due to poor weather conditions. The gifts were auctioned and the proceeds - £27.40 - were given to the Church tower fund. The auctioneer, Mr. Knight, from Old Stratford, was able to sell gifts of 2 lb. bags of sugar for 22p each.
---
Wolverton Express 25th October 1974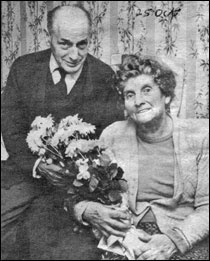 A Cosgrove girl left for London to stay with friends at the age of 17, and decided to stay. She worked in a hotel and met a wine cellar worker. Last week the cellar worker and the girl, now Mr and Mrs Charles Hill, celebrated their Golden Wedding – back in Cosgrove. They were married at Clerkenwell, London, in 1924, and moved to the South Northants village soon after.
Mr Hill, 72, began work in London bottling and mixing wines in a cellar. In Cosgrove he spent twenty years as an excavator driver at the gravel pits which now make up Cosgrove Park. He dug most of the lakes and came across some extraordinary things during his time there. His most famous discovery was teeth and pieces of jawbone of a prehistoric mammoth. They are now in the British Museum.
On leaving that job he went to Pianoforte Supplies at Roade to make car accessories. He retired from there seven years ago.
Mrs Doris Hill, 69 and Mr Hill are both founder members of Cosgrove Golden Hour senior citizens' club. They still attend and are on the committee.
---
Wolverton Express 1st November 1974
Complaints of overcrowding at Cosgrove Lodge caravan park led to an official visit by local councillors. They found that far more caravans had been allowed into the park than the number specified by the site licence.
On Monday, Mackenzie Hill of Cosgrove Hall was fined £25 by Towcester Magistrates for a breach of the licence conditions. The company was fined a further £65 for two offences of allowing caravans to park on areas not governed by the site licence. Costs of £45 were awarded against Mackenzie Hill Ltd.
Mr James Arnold, prosecuting for South Northants District Council, said the original site licence was issued in 1966. It was taken over by Mackenzie Hill in 1973. Complaints about overcrowding at the park were made to the local authority during the autumn of last year and the spring of this year.
Councillors and officials visited the park on May 27 and August 25, both bank holidays. They also saw that far more caravans had been allowed into the park than was permitted on the licence. Caravans were also parked on other areas not on the licence.
"The whole aim of the conditions is to ensure that people using the site have adequate facilities for residential accommodation and the interests of public health should be observed.
"The summonses have been issued not merely because the council feels that rules are rules – but because of the interests of the public," Mr Arnold said.
Mr Hugh Astley, representing Mackenzie Hill Ltd, said that on Bank Holidays caravan owners descended on the site unannounced. "Their staff took the view that it was better to put up with overcrowding than reject the people who had driven a long way," Mr Astley explained.
---
Wolverton Express 8th November 1974
CARAVAN "refugees"' from Cosgrove Lodge Park could find themselves in trouble if they rely on a friendly fawner to help then, out of difficulties. For the law is fairly strict on where a caravan can or cannot be parked. The Cosgrove site closed down at the end of October over 150 caravan owners have got to start looking around for alternatives by April next year. Mackenzie Hill Ltd. has said that owners can keep their caravans inside the park for winter storage — but they must be out by April. South Northants District Council is rather concerned at what will happen after that date. Its advice to all owners, if they are faced with any difficulties in finding sites for their caravans, is to contact the planning office which will advise on the legal position.
Mr .K. J. Goldie, chief planning officer with the Council, explained that planning permission is not needed if a caravan is stored "within the curtilage" of the owner's home. But oven then the caravan must not be used as an individual unit of accommodation. In other words mother-in-law could sleep in the caravan in the front garden provided she was only sleeping there. In all other cases planning permission is needed before a caravan can be sited anywhere. Mr Goldie commented, "I am giving the green light for people to go ahead and park their caravans in front gardens. I don't particularly want to do this but it is the law." He added that the authority would not be particularly happy if there was a glut of planning applications to site caravans within the county.
"But we might have to reconcile ourselves to the fact that there are 150 caravans that have to be found a site. If the whole lot of them find they are having a problem then we shall have to pull our fingers out together with the county council and find one or two sites within the area to deal with this problem."
He warned that if owners indiscriminately parked their caravans without planning permission then the local authority could, and probably would take action against them. Obviously the situation is going to cause problems for some people but Mr. Goldie said the local authority was not unsympathetic. He would rather caravan owners contact him to explain their situation and he would do his best to help.
---
Wolverton Express 15th November 1974
A RECOMMENDATION that a batch of applications by Mackenzie Hill Ltd to build homes in Cosgrove village should get the go-ahead drew a fiery protest from two local councillors. They felt it was grossly unfair to allow development in the village when applications by other people had been turned down on the grounds of inadequate sewage facilities.
The storm blew up at a meeting at South Nathan's a District Council planning committee on Thursday last week. Five applications were put in by Mackenzie Hill Ltd to build a total of 13 dwellings in the village. There was a further application for change of use and extension of the former Cosgrove Lodge hotel to provide 10,000sq. ft. of office accommodation.
Chief Planning Officer Mr K. J. Goldie recommended the committee to approve all the applications subject to a number of conditions. These included revocation of permission to build four dwellings and office space totalling 5.360 sq ft and removal of Terrapin type buildings from Cosgrove Hall. Mr Goldie said the barter deal would not worsen the sewage disposal situation "and it may be marginally improved", he added. The regional water Authority was happy with the package, he said. But the parish council rejected to the applications on grounds of sewage disposal difficulties.
Mr O. Tee said he objected strongly to all the proposals except for the change of use for the hotel. "We have just turned down an application from Old Stratford on these grounds so we cannot now grant permission for 13 units of accommodation at Cosgrove."
Mr Ted Nicholls explained that Cosgrove was one of six villages connected to the sewerage system at Wolverton and all were restricted from putting additional sewage through these works. It was completely unfair that someone should be in a position to "barter" with a package deal when others could not. Mr Tee added Mr Goldie said investigation had shown there would be no sewerage difficulty at all. "If we refuse on these grounds we shall be standing up at an inquiry all by ourselves because the water authority are happy with the situation."
But Mr Nicholls retorted: "This tarries no weight with me at all - I don't think the Water Authority know what they are doing half the time. The committee deferred all the applications for a month for further investigations.
---
Wolverton Express 13th December 1974
Boat Raid
The Taverners' Boat Club at Cosgrove was broken into on Saturday night and 500 cigarettes stolen. A number of boats moored nearby were also broken into.
---
Wolverton Express 20th December 1974
Leaving the Railway
Two vehicle builders, Lawrence Giles and Syd Newman retired from Wolverton Works this week after a total of 95 years' service. Mr Giles, of Bridge Road, Cosgrove, ended his 45 years' service last Wednesday. Apprenticed as a bodymaker with the railway Mr Giles later worked for Vauxhalls at Luton and Salmon and Sons at Newport Pagnell and Pianoforte Supplies at Roade.
During the war he completed a course on aircraft repairs at Derby and then worked on Whitley bombers at the works [Wolverton Works]. He was an NCO in "Dad's Army" under the late Capt. P Y Atkinson, and at the end of the war was treasurer for the newly formed Cosgrove Village Hall committee helping to raise £1500.
Mr Giles was presented with a fountain pen together with a pot plant for his wife by foreman Mr Reg Pateman.
---