Articles between 1960 and 1980 are from a private collection by Mrs Dorothy Warren, whose family donated the album in which she pasted them each week, and they are her personal selection. For instance, she didn't like sport! We believe she used mainly the Wolverton Express, but did not specify whether the articles were from there or from the Northampton Mercury and Herald, which she also read.

Wolverton Express 9th January 1970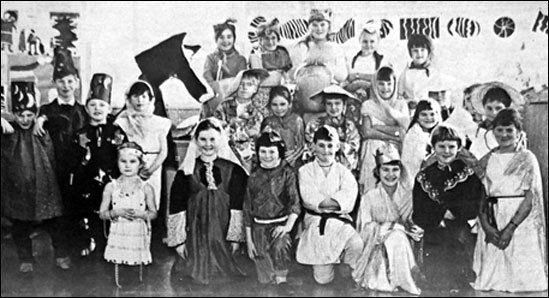 All the children at the Cosgrove Primary School – 47 of them – took part in a Christmas concert at the school on Wednesday and Thursday evenings. The concert was to have been held before Christmas, but had to be postponed because so many children were away from school suffering from flu.
The juniors presented "Aladdin" a musical pantomime, and the infants a short play, "The Spell of the Wicked Witch," and a nativity play. Last night (Thursday), the concert was followed by the Christmas party which should also have been held before the Christmas holiday. Proceeds from the concert will go to a charity, and a quarter to school funds.
---
Wolverton Express 6th February 1970
WE'RE DROPPING IN to land at Cosgrove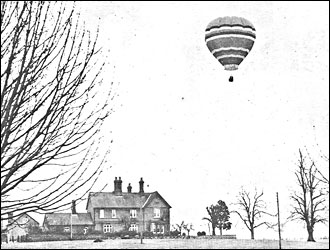 Hot air ballooning is a fast growing sport and local people had a chance to share the excitement when a balloon landed at Cosgrove on Saturday. Enthusiasts D. Cameron and P. Bingham, of Bristol, who started off from Dunstable, came down in fields behind Cosgrove Hall and local youngsters were soon on the scene to help pack away the balloon and basket.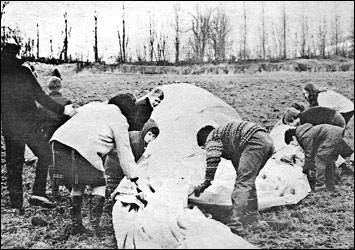 ---
Wolverton Express 6th March 1970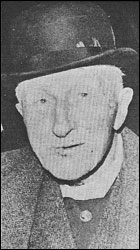 MR. FARMER AMOS, of the Dogsmouth, Cosgrove, was reminded of his schooldays when he read an article about the Trinity School at Old Stratford - in the Express recently. Mr. Amos was a weekly boarder at the school in 1883 and thinks he is the only living ex-pupil.
Farmer — that's his first - name — is 95, an ex-farmer and son of a farmer. He remembers that the school had five masters, plus a French master. Two boys used to share a bed but he remembers having to sleep underneath the bed at one time because he had ring-worm! He was taken to a chemist's in Stony Stratford to have it dressed.
Crowning the newcomers
When the Rev. James Thomas, who was the headmaster, died he was buried at Passenham. Mr. Thomas had four sons and two daughters, and the sons later took over the school. But shortly after this the school "went down" and was closed and turned into a private house. During the two years Mr. - Amos was at the school he said it was extremely good and the discipline was quite strict. Mr. Amos recalls how the - older boys used to "crown" newcomers with a chamber pot. The new boy then had to walk round and all the other boys tapped him on the head. But one boy got the pot stuck-on his head and it had to be broken off. All the other boys had to pay 2deach to recover the cost!
---
Wolverton Express 6th March 1970
Funeral of Mr. S. Slaymaker
The funeral service for Mr. Sidney George Slaymaker of 15 Main Street. Cosgrove at Cosgrove Church last Thursday was conducted by Canon S. C, Woodward. Cremation was at Milton.
Mr. Slaymaker who was 78, died at his home on February 22. Mrs. Elliot was the organist and the service included the 23rd Psalm and the hymn "Jesu lover of my Soul." Family mourners were: Mrs. E. L. Slaymaker (widow): Mr. and Mrs. P. J. Ware, Miss W. Slaymaker (brother-in-law and (sisters): Mr. and Mrs. H. S. Slaymaker, Mr. and Mrs. A. Chapman and Peter, Mr. and Mrs. F. Beales, Mr. K. Slaymaker (nephews and nieces); Mr. and Mrs. H. E. Goss, Mr. and Mrs. C. J. Goss, Mrs. F. Warner, Mr. and Mrs. H. Atkins (brothers-in-law and sisters in law): Mr. and Mrs. Stuart Goss, (nephews and nieces); Mr. and Mrs. Walter Franklin (cousins): Mr. and Mrs. C. Lancaster, Mr. and Mrs. R. Lancaster, Mr. C. Andrews, Mrs. A. Humphrey (friends).
Also in church were: Mr. C. E. Cole. Mr. G. Whiting and Mr. A. Chapman, representing the Royal Bucks Hussars Association: Mr. and Mrs. Henry Smith; Mrs. P. Y. Atkinson; Mr. A. Rickaby; Mrs. C. Wrail: Mrs. J. Davy; Mrs. Woodward; Mr. J. Lambert: Mr. A. G. Smith; Mr. and Mrs. A. Noble: Mr. M. Maycock: Mrs. Pateman: Mrs. Tee: Mr. J. Webster; Mr. R. J. Colton. Mr. and Mrs. J. Watson. Mr C H Holton; Mrs H Smith; Mrs J Taylor; Mrs Goodridge; Mrs. Hickford; Mrs. Barnes, Mrs. Fitzgibbons; Mr. and Mrs. S. Hinch; Mr. and Mrs. P. Clarke; Mr. A. Tack: Mrs. C. Wrail.
Floral tributes were from: Au revoir, not goodbye, fondest love, Edith: Dorothy and Stuart, Doreen. Gerry, Pauline and Roy. Sheila and Ron: Gladys Goodridge and family and Clara Williams: Mr. and Mrs. Rickaby: Edith, Jack and family: Bill, Susan and Gwen Barnes; Cosgrove Parish Council; Mr. and ' Mrs. Henry Smith: Jane and Bernard: Philip and Grace Atkinson; Alice; Auca and Charie:. Lesley and Peter Clarke: Ken and Coral; Mora and George Hickford; Freda; Harry and Ivy, Alice and Michael. Lesley and John; Win, John and Alice, Margaret and Brian: Stan, Jess and family; Frances and Harry; Walter, Julian and John; Eileen, Cecil, Leonard and Robert; Eva: Margaret and Cyril, Elsie, Cecil, Ray and Daph Lancaster; Nally Blv and Sammy.
---
Wolverton Express 12th March 1970
DEATH OF COSGROVE PUBLIC WORKER
CREMATION was taking place privately today of a prominent figure in the public life of Cosgrove and South Northamptonshire, Mrs. Mabel Jelley, who died at the age of 77. Mrs. Jelley, of 1 The Green. Cosgrove, died in a Northampton nursing home. At the time of her death Mrs. Jelley was the chairman of Cosgrove Parish Council of which she had been a member for 24 years. In May 1968 she retired from Towcester Rural Council after 21 years' service. Mrs Jelley was elected to the council in April 1947. She was vice-chairman of the Housing Committee for many years and

Former teacher
for a year from 1952 was vice-chairman of the council. She was proposed as chairman of the council but did not take up the position. At one time she was the only woman member.
Born at Wellingborough, Mrs. Jelley moved to Cosgrove in 1910 as a teacher. She married and she and her husband, Malcolm took over the village bakery and later the Barley Mow public house. Later Mr. and Mrs. Jelley moved to Linslade to take over the Bridge Hotel but afterwards Mr. Jelley established a bus service for Cosgrove and district with twice-weekly services to London. Mr. Jelley died 16 years ago. Mrs. Jelley was a founder member of Cosgrove Women's Institute and secretary of the village Conservative branch. She was a school manager of Cosgrove and Deanshanger schools. During the war she belonged to the ARP and was an organiser for welfare foods and welfare produce.
---
Wolverton Express 12th March 1970
A 20 YEAR OLD girl died after an accident near the Dogsmouth Cosgrove, Towcester magistrates heard on Monday. The driver of the car in which the girl was travelling, Brian John Willtams, of 71 The Limes, Stony Stratford, was found not guilty of careless driving. He was represented by Mr. G. Leaver. Thomas William Meakins of 36 Main Road Cosgrove, told the court he was driving a Jaguar car along the Cosgrove road towards the Northampton road on December 13. He noticed headlights in the distance and a car came round a bend in the road and went into a sharp skid. "It slid over to my side of the road, seemed to right itself and went into another skid," Mr. Meakins said.
The car, being driven by Mr. Williams, then collided broadside with Mr Meakins Jaguar, bounced back, went through a hedge and finally came to rest upside down in a spinney. P.C. Paul Jackson said the passenger door of Mr. Meakins car was extensively damaged. The seat was completely twisted and distorted and the back near, side seat was bent into the shape of a letter "S". Road conditions were bad on that particular night and there was black ice on the road where the accident happened. Mr Williams said he was driving from Northampton back towards Stony Stratford. The first indication he had that the roads were icy was when the car went into a skid. When this happened he tried to correct the skid but the vehicle just turned round the opposite way and skidded broadside into the Jaguar. He was travelling at about 30 mph.
Mr Leaver added that the accident in a tragic and ghastly manner with the death of the passenger, Miss Margaret Ann Robinson, of 24 Charles Street, Northampton.
"This accident was caused entirely by the treacherous road conditions at the time of the accident," he said.
---
Wolverton Express 27th March 1970
There was a lively discussion about traffic through the village at the Cosgrove annual parish meeting. The parish council was asked to press for a reduction in speed of vehicles using the village streets.
There was an attendance of 20 and Mr. E. R. Lambert, chairman, expressed sorrow at the deaths of two councillors recently, Mrs. M. Jelley — a member of the council for 24 years — and Mr. S. G. Slaymaker. Activities during the past year had included additional street lighting and repairs to roads and footpaths by the county council following requests by the parish council. Meetings had been held and objections made to the third London airport being sited at Thurleigh and about the R DC house refuse collection.
Mr. Lambert said the parish council supported the present kerbside collection and asked that notices be posted to inform elderly or infirm people that assistance may be obtained if required. In a reference to the Maud Commission proposals on the re-organisation of Local Government, Mr Lambert said the council thought the changes would cease to be democratic and it objected to the abolition of rural district councils.
Precepts of £47 for parish council expenses and £172 for street lighting were approved.
---
Wolverton Express 17th April 1970
OWES £52 IN FINES
A Cosgrove man who owes more than £52 in motoring fines appeared before Stony Stratford Magistrates on Friday. He was Stuart McIver of 15 Manor Close, who said that he was unemployed and on social security. The court was told that Mr. McIver had been fined at three courts for motoring offences and fines totalling £52 12s. 8d. were still outstanding. One of the fines dated back to November 1968. Mr. Mclver's offer of a £1 a week off the fines was accepted although the magistrates decided to review the case in three months. Mr. McIver, a married man with two children, said that he was receiving £11 a week supplementary benefit. He had been unemployed since the middle of January.
---
Wolverton Express 8th May 1970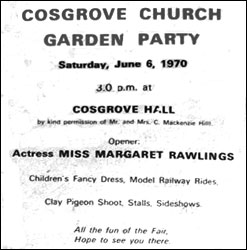 ---
Wolverton Express 22nd May 1970
1,000 cars a day pass his door
ON OCCASIONS up to 1,000 cars an hour pass Mr. Gordon Castle's door at Cosgrove. Mr. Castle appeared before a local valuation court at Towcester last Thursday to object to the proposed increased assessment of his bungalow in Main Street. The panel decided Mr. Castle had a genuine grievance and reduced the assessment from £155 gross to £140. The reason for the proposed increase was the addition of another bedroom said the valuation officer, Mr. W. T. Minards.
Mr. Castle explained that since Cosgrove Lodge Park opened the village had been subjected to increasingly heavy traffic. His bungalow was adjacent to the Park entrance. "The caravan and camping park is becoming popular and we suffer from increasing bouts of rowdyism," Mr. Castle said. "In the summer we can have 1000 cars an hour passing the gate. You get smoke and fumes, dust and dirt. People throw things out of the windows, and make a noise. "At the hotel late night functions are held and the music Is very noticeable.-The noise from the petrol pumps about 20 yards from the end of his bungalow, was intolerable. Mr. Castle said, and the fumes were very bad.
---
Wolverton Express 29th May 1970
A light green BSA sportsmans pedal cycle was stolen from Cosgrove Lodge Park on Tuesday afternoon. Valued at £10, it belongs to 12.vear-old Stephen Andrews of 25 Bullington End Road. Castlethorpe.
---
Wolverton Express 29th May 1970
STOLEN - ONE GENERATOR
Thieves were busy in the Old Stratford and Cosgrove areas over the weekend. A Simplex petrol driven pump, valued at £130 was taken from Kottler and Heron's building site at Old Stratford between Friday and Tuesday. Six red warning lights and two traffic cones were taken from road works in the village. A diesel generator and control unit valued at £250 were taken from the side of the A508 Northampton Old Stratford road at Cosgrove. They belong to John Crakes and Co. Ltd. of Camp Hill. Bugbrooke.
---
Wolverton Express 5th June 1970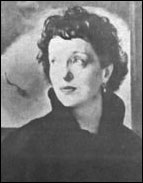 STAGE AND television actress Margaret Rawlings will open the Cosgrove Church fete at Cosgrove Hall on Saturday. Miss Rawlings began her acting career in the time-honoured tradition by running away to go on the stage. In her case she ran from Lady Margaret Hall Oxford, and since that inauspicious beginning her starring roles have included many successes. She has also made a number of television dramas including two of the first ever screened in the UK, and has just completed two more presentations which are awaiting screening. The object of the fete this year is to raise £300 to pay for repairs to the beautiful parish church. A wide variety of attractions has been organised, including an open clay pigeon shoot and an inter-village tug-of-war contest. Traditional items for the children have not been neglected and include a fancy dress competition, children's sports, miniature train rides and donkey rides. This photograph of Miss Rawlings is taken from a portrait by Annigoni.
---
Wolverton Express 12th June 1970
Putting on a bold front at Cosgrove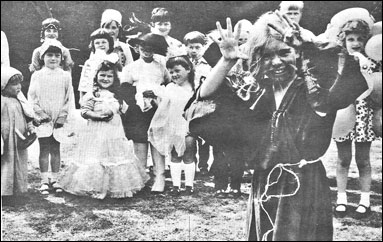 A young "witch", Juliette Bidgood, in the forefront during the parade of the children's fancy dress.
When Canon S. C. Woodward. Rector of Cosgrove, was a child and living in Japan one of his friends was a girl named Margaret Rawlings. Both his father and her father were missionaries serving in that country. On Saturday, childhood memories were revived when Miss Rawlings, the actress of stage and television fame, was at Cosgrove to open the annual garden party held in aid of the village church. The garden party was held in the grounds of Cosgrove Hall by kind permission of Mr. and Mrs. C. Mackenzie Hill and was visited by many people on a beautiful summer day. It was an occasion when the long-established residents and the newcomers to the village, busy serving, were able to co-operate. After declaring the event open Miss Rawlings was presented by Rebecca Runacres with a hand-made lace handkerchief that was made by an elderly local woman. The model railway and the pony rides were a great attraction for the children. There were also stalls and sideshows, children's sports, and fancy dress, judged by Miss Rawlings and Mrs. Mackenzie Hill and a clay pigeon shoot.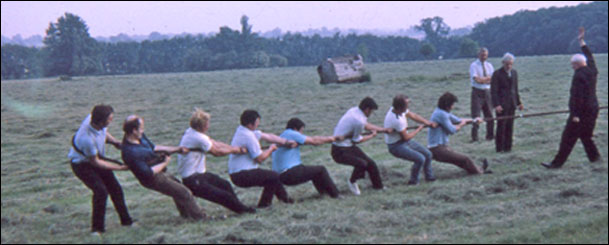 A tug o' war was won by the local team from the Barley Mow, Cosgrove. A band from Stowe School provided music and the lady helpers were kept extremely busy serving teas and ice cream. Gross takings were in the region of £200 and the church repair fund should benefit by about £150.
Miss Rawlings began her acting career in the time-honoured tradition - by running away to go on the stage. In her case, she "ran" from Lady Margaret Hall, Oxford, and since that inauspicious beginning her starring roles have included many successes. She has also made a number of television dramas including two of the first ever screened in the UK, and has just completed two more presentations which are awaiting screening.
---
Wolverton Express 20th June 1970
COSGROVE EVENTS
Cosgrove Playgroup comes to re end of its very successful first term and is already over subscribed for next term.
In April a very active evening followed a demonstration by the Greens Norton Folk Group. The next day many villagers were heard to complain of aching limbs and feet, though agreeing that these were small payment for a most enjoyable and friendly evening.
A whist drive is now a regular monthly event, organised most ably by Mrs Phyllis Holman.
After the village school Carnival on Saturday next there will be a carnival dance at the Victory Hall, when there will be dancing to Carnival Orange, a new experience for Cosgrove.
A local model soldier enthusiast has hired the hall for a war-gaming meeting the following day, Sunday, to which the whole village is invited.
There are also plans to hold an exhibition of local Arts and Crafts some time in the Autumn to cover the whole range of talents of the village.
---
Wolverton Express 3rd July 1970
ROMANS v. BARBARIANS - A DRAW
A discotheque group, Carnival Orange, introduced a new sound to Cosgrove on Saturday evening at the dance which followed the School Carnival. Both events were well supported and the disco dancing was especially appreciated by the younger people of the village.
The amount of interest and enthusiasm generated by both new and old hands made a sparsely attended Wargaming meeting held on Sunday a friendly and intimate gathering. The rudiments of wargaming were demonstrated using a naval encounter, and then two members of the British Model Soldier Society. Oxon. Bucks and Berks branch fought a "Romans versus Barbarians" battle. As always time was the deciding factor, and although the Romans seemed to have the situation well in control the game was declared drawn after two hours.
---
Wolverton Express 17th July 1970
Open Evening at Cosgrove School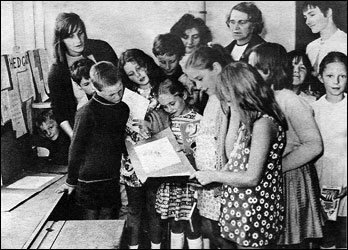 AN OPEN Evening at the Cosgrove County School included songs, poems and recitals by the pupils. Junior children gave a selection of poems and songs both as a class and in groups. Virginia Hardy played two French songs on the recorder and the infants sang and performed a dramatic poem. Prizes were presented by Mr. J. A. Taylor Brown, headmaster of Deanshanger Secondary School, who was welcomed by Mrs. N. Horton, head teacher at Cosgrove. Mr. Taylor Brown said he had had a long and happy association with Cosgrove School and advised the children that one of the first things they should learn was to be discerning and not believe everything they see on television or hear on the radio. Prizes went to school leavers David Smith. Bobby Brown, Denise Taylor and Jill Richardson. Prizes for good work: Alison Groom, Virginia Hardy, Geraldine Hardy, Kate Castle, Garry Maher, Elizabeth Woods and Adrian Hickford. Deborah Clark won a prize for a collection of wild flowers and Amanda and Andrew Gordon for observations made at London Zoo.
National Cycling proficiency test badges and certificates went to Bobby Brown, Amanda Gordon, Marion Howe and Virginia Hardy. Parents were later given an opportunity to view their children's work. Earlier in the week at the school sports day the individual cup was won by David Smith with Jill Richardson runner-up and green team won the Leroy Hart cup. Old Stratford junior school beat the juniors of Cosgrove School by one rounder in a match at Old Stratford. Afterwards the children enjoyed a swim in the school pool.
---
Wolverton Express 17th July 1970
Cosgrove bus stop protest
United Counties intends to place a bus stop in the lay.by outside the post office and to discontinue the service to the Old Plough at the lower end of the village, Cosgrove Parish Council was told. The clerk was requested to write to the county surveyor to query the removal of the Old Plough stop, and if further action is necessary the council is to protest to the Traffic Commissioners and Mr. Arthur Jones. MP.
The council was told that the water rate for the burial ground has been raised by 400 per cent owing to a leakage from the tap during the winter. Councillors raised the question of the advisability of leaving the water turned on in very cold weather.
The village is to become a member of the Council for the Preservation of Rural England by making a subscription donation of a guinea. It was decided to ask the C.P.R.E.'s help in applying for a preservation order to be placed on the beech tree in the children's playground.
An application is to be made to the Towcester R.D.C. for six garages to be built in Manor Close Bucks. Water Board is being asked to repair the road surface in Park Close which has been damaged by heavy plant vehicles on contract pipe-laying work. Two new lights are to be placed outside the houses in Stratford Road and two lights are to be re-positioned outside the rectory and the school.
Mr. H. McClean was nominated for election to the Executive Committee of the Northamptonshire Association of Parish Councils to fill the position left vacant by the death of Mrs. M. Jelley.
---
Wolverton Express 31st July 1970
Mission Hall plan opposed
A planning application to convert the Mission Hall at Cosgrove into a studio and residence has not been recommended by Towcester RDC. Reasons given for refusal are that the building is unsuitable for conversion as there is not enough amenity space, and it is not considered desirable to allow new dwellings without satisfactory vehicular access and off-road parking.
---
Wolverton Express 31st July 1970
GRADUATES WED AT COSGROVE
Mr. Richard Anthony Ward, a planning officer with British Rail, was married with Miss Mary Deborah Riddle at Cosgrove Church on Saturday. Mary is the daughter of Mrs. Gordon Castle of The Bungalow, Main Street. Cosgrove, and the late Mr. G. A. Riddle. In September she will begin work with a firm of chartered accountants in London. Richard is the son of Mr. and Mrs. E. Ward of 20 Alfriston Close. Worthing. Both the bride and bridegroom are honours graduates in geography, Mary from University College of Wales. Aberystwyth and Richard from Exeter College, Oxford.
Canon S. C. Woodward conducted the marriage service and Mr. L. Clark was the organist. The bride was given away by her brother. Mr. John Riddle and wore an empire line dress of white silk with floorlength medieval sleeves. She carried a bouquet of gladioli. Bridesmaids were Miss Elizabeth Castle and Anne and Judith Keeling (cousins). The chief bridesmaid wore a dress of apricot crystal satin in empire line and carried orange and white flowers. The smaller maids had empire line white voile dresses with apricot sashes and carried apricot and white flowers. Mr. Peter Barron was the best man. . A reception for 100 guests was held at Cosgrove Village Hall and the honeymoon was at the Algarve. Portugal, and in Paris.
---
Assumed to be from the Northampton Chronicle & Echo September 1970
THE NEW PUPILS AT DEANSHANGER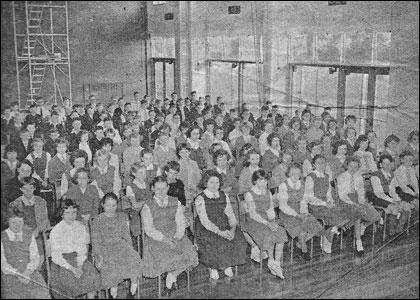 Built at a cost of nearly £100,000, the new Secondary Modern School at Deanshanger is one of three new schools that have opened for the first time this autumn term in Northamptonshire. The Deanshanger school is a two form entry and there is accommodation for 300 children, but the number at present attending is about 180.
The children come from the following villages: Deanshanger (56), Potterspury (31), Yardley Gobion (22), Cosgrove (13), Old Stratford (13), Wicken (9), Grafton Regis (1), Paulerspry (27), and Wakefield, Potterspury (5). Buses convey all the children other than those from Deanshanger and Wicken.
The school has a staff of ten and there are three vacancies. Mr J A Taylor Brown is Headmaster, with Mrs H G Hester, wife of the vicar of Buckingham, his deputy. Mrs M Jones, Mr J L Karus (a Polish graduate), Mr W H Foale, Mr C L Collings, Mr J Phillips, Mrs S J D Skinner, Mrs M J Husselbee (wife of the new Congregational Minister at Potterspury) and Mr R T Brown (son of the headmaster) are other members of staff.
---
Wolverton Express 4th September 1970
COSGROVE SHOW AGAIN
There were almost 100 entries on Saturday for the first Horticultural Show to be held in Cosgrove for about 15 years. This year the organisers were the local branch of the Conservative and Unionist Association, but it is hoped that in future years a local horticultural society will undertake to cater for the interest shown in this kind of event. Mrs. R. J. Fleming of Stony Stratford judged the flower classes, Mrs. Paton of Haversham the preserves, and Mr. Spetman of Hanslope the vegetables. The prizes were presented by Mrs. Jean Runacres wife of the chairman, to:
Collection of vegetables. Mr. Cattermole and Mr. Welch: lettuce, Mr. Pollard: runner beans. Mrs. Crossley and Mr. Welch: onions, Mr. Runacres: shallots. Mr. Welch and Mrs. Gayton; marrow. Mr. Lyman: root vegetable. Mr. Welch and Mr. Eglesfield; potatoes. Mr. Jelley and Mr. Loughrey; bowl of mixed roses. Mrs. Giles and Mrs. Groom; roses, one variety. Mr. Smith and Mr. McLean: dahlias. Mr. Welch; mixed flowers. Mrs. Runacres and Mrs. Groom: house plant. Mrs. Goodrich and Mrs. Johnson: succulent or cactus. Miss Eglesfield; floral arrangement. Mrs. Smith; the biggest and best weed. Miss Eglesfield: decorated cake. Mrs. Richards; scones. Mrs. Smith and Mrs. Goodrich: fruit pie or flan. Mrs. Smith; preserves. Mrs. Gayton: bottled fruit. Mrs. Gayton; apples. Mr. Eglesfield. Children's classes were won by: wild flowers, Marion Cattermole. David Cattermole. Jason Hart and Rebecca Runacres: cake decorated by child under 16. Trudi Cowan. A large basket of fruit presented by Mrs. A. Crossley. and a decorated cake made and presented by Mrs. W. Harris were raffled. A cash donation was made by Mr. S. Eglesfield of The Barley Mow. The proceeds from the show and auction held afterwards will be used to finance a senior citizens' outing and tea on Saturday October 3.
---
Wolverton Express 4th September 1970
Tower tours and art
Holidaymakers on the canal and on wheels have often asked if they could climb the tower of Cosgrove parish church. Last week their wishes were granted when hourly conducted tours were organised on Tuesday and Wednesday to raise funds for the church. At the same time, in the church, an exhibition of the work of two local artists was held: portraits in pastels by Mr. D. Humphrey of Wolverton and country scenes in oils by diocesan lay reader. Mr. C. Elliott. The proceeds cannot yet be computed because a number of commissions were given to the artists and these will bring in further sums. The arrangements were made by Mr. and Mrs. C. Elliott and stewards were Mr. H. McLean and Mr. F. Hall, assisted by . David Smith and Colin Kightley.
---
Wolverton Express 4th September 1970
PLANS by Cosgrove Lodge Park for a site for 480 caravans are likely to be turned down because of the district sewerage situation. Pollution Prevention Officer Dr. H. Clay told the Great Ouse River Authority at its meeting in Cambridge yesterday (Thursday) that the Northants County Planning Committee intended to recommend Towcester RDC to refuse planning permission for the caravan site. In addition to the caravan sites Cosgrove Lodge wanted 40 tent sites and more toilets. Planning applications were made to both the Northants and Bucks County planning offices. Dr. Clay reported that sewage from the proposed site would be pumped to the Towcester R.D.C. pumping station at Cosgrove.
---
Wolverton Express 11th September 1970
Collision on way home
A Cosgrove pensioner turning right to go home to the village, collided with another car at the traffic lights at Old Stratford. Towcester magistrates heard on Monday. Reuben James Colton of 8 Yardley Road, Cosgrove, wrote admitting careless driving on June 15 and he was fined £15. The court heard that Mr. Colton was travelling on the A5 from Stony Stratford and noticed that the traffic lights changed to green as he was approaching them. He approached with the intention of turning right into the Northampton road when his car collided with another which was turning right into Stony Stratford from Buckingham. In a letter, Mr. Colton explained that he had to brake hard to try to prevent a collision. He had no intention of hitting the other car and, in fact, was stationary at the time the other car hit him.
---
Wolverton Express 11th September 1970
On leave from Madagascar
THE REV. Peter Woodward has a family background of service overseas. Both his father and grandfather served as priests in Japan. Now he is back home on furlough with his wife and two young sons after serving overseas himself in the Malagasy Republic, better known as Madagascar. Mr. Woodward works abroad under the auspices of The United Society for the Propagation of the Gospel, one of the largest Anglican missionary societies.
The two home centres of Mr. and Mrs. Woodward while in England are with Mr. Woodward's father and mother, Canon and Mrs. Stanley Woodward, at Cosgrove and with Mrs. Woodward's parents, the Rev. and Mrs. H. T. Hall. St. Nathaniel's Vicarage. 13 Glentworth Road. Bristol.
Born in Tokyo. Mr. Woodward was educated at Kings School. Peterborough and Oakham School. He was a graduate of Cambridge and received his theological training at Bishops' College, Cheshunt. Ordained deacon in 1960 and priest the following year, he was curate of St Anne's Chingford from 1960-62 before going overseas the following year to work in Madagascar He had previously worked with Abbe Pierre and his rag-pickers In France.
---
Wolverton Express 11th September 1970
Diamonds are this man's good friend
Mr James Burwood, of Cosgrove has just qualified as one of the top 20 gemmologists in this country by passing the advanced course in gem diamonds for the Fellows of the Gemmological Association of Great Britain.
A jeweller and silversmith all his working life, Mr Burwood who has lived at 10 Stratford Road Cosgrove, for several years, has been a Fellow of the Association since 1960. When an advanced course on diamonds was arranged in conjunction with De Beers he decided to attempt the diploma. As a requirement for entry to the course is the prior qualification as a Fellow, there were only seven other people of several nationalities studying with him at Birmingham. As well as a theory paper on diamonds he had also to pass a practical examination which involved sorting diamonds in various stages of production according to form, cut, polish and coloration.
Mr. Burwood started his career with a small family jewellers in Coventry when he left grammar school in 1931. The unemployment situation was serious and one took any job offered, so he became an indentured apprentice for 10s a week. On completing his apprenticeship, he was awarded the freedom of the City of Coventry, the first jeweller in Coventry to be so honoured. During the war he spent four years in Capetown working with the R.A.F. on instruments and was able to see some of the diamond work an South Africa.
On returning to England he resumed his profession, continuing an interest an horology (clocks and watches) as well as gemmology, and he is now manager of Barratts in Northampton. His wife, also a jeweller, is assistant manager at Walkers, Northampton.
Part of Mr. Burwood's work is the valuation of plate for churches and the armed forces, etc, and he was even called to Chequers while Mr. Harold Wilson was in office. The tenacity which has enabled him to reach this peak in has profession is obviously a family one. Two of has brothers spent some years on a desert island and then went prospecting for gold. His father, also an unusual man, taught Lord Roberts to drive.
---
Wolverton Express 9th October 1970

About 50 senior citizens were taken for a 30 mile tour of the district by the Cosgrove Conservative Association on Saturday. They visited Gayhurst, Weston Underwood, Olney, Yardley Hastings, Castle Ashby, Horton, Hartwell, and on return had tea in the Victory Hall. From comments overheard, both drivers and passengers found the outing enjoyable.
After tea, ably organised by Mrs. 0. Johnson with several willing helpers, everyone was given a draw ticket. Mr. Clark won first prize of a bottle of whisky, other prizes wore won by Mr. Gayton, Mrs. Benjamin, Mrs. Harris, Mr. Tack, Mr Hill, Mrs Hill, Mr. Colton, Mrs. Lyman, Mrs Lovesy, Mr. Tompkins and Mr. Holman. Mr. Gayton was found to be sitting on the lucky chair and was given a box of chocolates.
Miss E. Hemelryk gave a fascinating talk about Persia illustrated by slides she had taken. Thanks were proposed by Mrs. Brockway and Mr. Lovesy and the association thanked New City Taxis of Wolverton who donated a taxi and petrol, and Mr. S. Eglesfield of Cosgrove who donated drinks.
---
Wolverton Express 9th October 1970
Trade plates fine
For failing to return trade plates to Northants Court, Council haulage contractor Dennis William Cowan of 4 Stratford Road, Cosgrove fined £5 at Towcester Monday.
---
Wolverton Express 10th October 1970
Opposition to park growth
Expansion of the Cosgrove Lodge Park has been recommended for refusal by Northants County Planning Authority. A planning application was made for an additional 170 holiday caravan sites, 60 touring caravan sites, 40 tent sites and associated toilet blocks. The planning committee felt that the additional traffic likely to use the "narrow and tortuous village streets" would increase the danger and inconvenience to people using the roads. Also development of the scale proposed would result in an unjustifiable and excessive concentration of this type of development and would affect the amenities of the residents of Cosgrove. Sewage disposal facilities would be inadequate to serve the proposed expansion, the report added.
---
unknown date assumed to be from the Northampton Chronicle & Echo c 1970
READY MADE RECREATION
Cosgrove Lodge Park, the 110 acre estate transformed from a gravel pit wilderness to a modern holiday centre, is being sold for around £250,000.
The buyer is Mackenzie Hill Ltd, whose chairman Mr Charles Mackenzie Hill lives at Cosgrove Hall, overlooking the park. The firm has bought the freehold from Cosgrove Lodge Ltd, a company set up by the Clarke family to develop and run the park. Mackenzie Hill will take over running the park and hotel from December 1, and a meeting between the companies will be held soon to finalise the deal.
The biggest headache inherited by Mackenzie Hill is a problem which has dogged Cosgrove Lodge for years – access. Only one narrow road through the village leads to the park and villagers have been up in arms about congestion and danger to children and the elderly from traffic. Over 1000 cars and caravans go through the village on a busy bank holiday.
Northants County Council has banned any further major developments at the park until a new access road is built, says Mr Peter Clarke, the 35 year old director and estates manager with Cosgrove Lodge Ltd.
They had looked into the question of another access road and immediately came up against the problem of where to put it. Only two routes seemed possible – from Wolverton, which would require a bridge over the River Ouse, or from the Northants side, which would mean bridging the Grand Union canal. Their estimates put the cost at between £100.000 and £200,000 for either of the schemes.
Mr Clarke, a civil engineer, explained that the company would be put into liquidation after the freehold was sold. He would still live at Cosgrove in his present home and continue as a rural councillor.
Mackenzie Hill director, Mr Bob Bristow, who has been handling the purchase, said on Tuesday:
"We intend to raise the standard of the whole thing because we believe the potential is there. I can't say what improvements will be at this stage." On the question of developing part of the estate for housing, Mr Bristow added, "There is no question of any housing in the grounds at the moment. Things will remain just as they are."
The park was bought by Cosgrove Lodge Ltd in July 1963, for a reputed £35,000, and the disused gravel pits were transformed into a popular leisure park.
---
Mercury and Herald Thursday November 12 1970
Closure averted
Cosgrove County primary School, which opened in 1912, was in danger of closing four years ago, when the number of children on the register dropped to about 30. It was saved by the influx of couples with young children into the new estates and now the school, of which Mrs Horton is head, has some 45 pupils.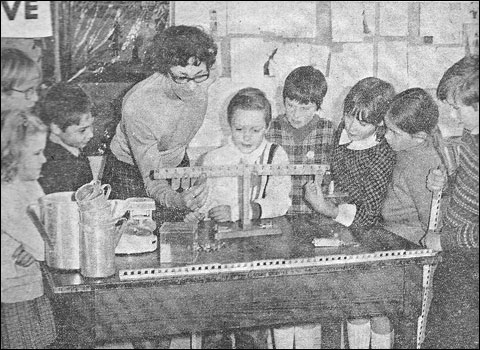 Miss M. Grimshaw gives schoolchildren some instruction in weighing with the aid of a balance.
---
Wolverton Express 13th November 1970
FIREWORKS IN SAFETY AT COSGROVE
A grand Village Bonfire held at the Victory Hall Cosgrove on Guy Fawkes' Night marked the beginning of the winter's programme for the village. Coffee, hot dogs etc were served in the hall, and committee members lit fireworks, which were handed to them by villagers, in a roped off area of safety.
The £4 profit will go to help provide a Christmas party on December 12 when Deanshanger School choir and an amateur folk group from Stony Stratford will entertain Cosgrove pensioners. Another entertainment for pensioners is to be provided by the "regulars" of the Barley Mow on December 5, when a film show will be lubricated with beer!
After a most successful nine months' work the Cosgrove Playgroup is to hold an Open Morning on November 19, combined with a Christmas Bazaar to raise funds for equipment. etc.
Another opportunity for present buying will be the customary Church Bazaar on November 27.
Two teenaged girls. Julie Holman and Jackie Hall, with the support of parents, have begun a Youth Club in the Victory Halt The members play table-tennis, snooker, listen to records. etc., on alternate Tuesday evenings, and the club is entirely self-supporting.
---
Wolverton Express 21st December 1970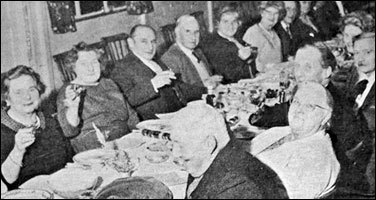 Sixty Cosgrove pensioners were entertained in the Victory Hall on Saturday. Deanshanger Secondary School choir sang carols and songs, and there was folk music by the Poachers. The evening was organised for the first time for many years by the Victory Hall committee and catering was in the hands of Mrs. Rickaby and Mrs. O. Johnson. Financial assistance came from Mrs. Rickaby. Mr. Jack Lovesey. on behalf of the pensioners proposed the vote of thanks and hoped that there would be many such events in the future.
---
Wolverton Express 21st December 1970
Death of `Farmer' Amos
THE DEATH has occurred at the age of 96 of "Farmer" Amos at his home The Bungalow, The Dog's Mouth, Cosgrove. A well-known figure at Northampton market, Mr. Amos came from a long-established farming family and most of his working life was spent at Malting Farm, Castlethorpe, where he was born and where his ancestors had farmed since 1790. At one time his father owned a set of steam ploughing engines and two sets of threshing tackle. Mr. Amos was educated at Trinity School, Old Stratford, and at Courteenhall, Bucking-ham and Brighton. He was employed in a wine and spirits merchants at Aldgate, spent some time in an auctioneer's office in Buckingham and was apprenticed to a Northampton butcher before returning to take over the family farm. He rode with the Grafton, Oakley and Whaddon hunts. Mr. Amos also bought the first ticket to Roade when Castlethorpe station was opened and saw the last train leave when it closed. His wife died five years ago at the age of 90. Mr. Amos leaves five sons.
---
Wolverton Express 25th December 1970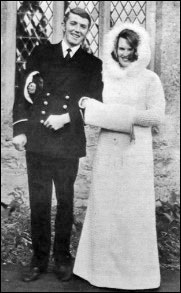 Schoolteacher Jennifer Lynne Boskett met her future husband in very romantic circumstances on the educational cruise ship Nevasa. Jennifer was in charge of a party of students and Clive was a ship's officer. The bride is the daughter of Mr. and Mrs. P. W. Boskett of The Old Bakery Cosgrove and teaches at Wollaston, near Wellingborough. Clive's parents are Mr. and Mrs. C. Taylor of Preston. Lanes. He is an officer with the .British India Steam Navigation Company. Canon S. C. Woodward conducted the marriage service at Cosgrove Church on Saturday and Mr. Arnold Jones was the organist.
Given in marriage by her father, the bride wore a classic 'A" line gown in heavy courtelle lace with a hood trimmed with swansdown. She carried a white fur muff. Her dress was made by a friend. Bridesmaids were Miss Gill Dow and Miss J. Maher (bride's friends). Master G. Maher was page boy. Gill wore a kingfisher blue velvet dress in similar style to that of the bride. The smaller maid's dress was trimmed with swansdown and both carried white muffs. Barry Taylor, bridegroom's brother, was best man.
---
Wolverton Express 1st January 1971
Mr. Farmer Amos dies at 96
A well-known character with a host of memories of events in the district over the past 90 years, Mr. Farmer Amos died on December 21, aged 96. Farmer Amos, who was named after an uncle, lived at the Dog's Mouth, Cosgrove, and was renowned for his remarkable memory. He was born at the Castlethorpe Maltings in 1874, and attended the private Trinity School at Old Stratford and schools at Courteenhall, Buckingham and Brighton. He was in an auctioneer's office at Buckingham, worked for wine and spirits merchants at Aldgate and went butchering with Farmers' Supplies at Northampton, before returning to Castlethorpe to take over the family farm.
His father and grandfather before him had farmed the Maltings and at one time they also had Cosgrove Mill and Maltings and Hanslope Maltings. Mr. Amos and his wife, formerly Miss Ethel Kingham of Tring" stayed at Castlethorpe until 1926 when they moved to Draycott, where their five sons were apprenticed to the building trade. Three of the sons, Farmer, Tom and Joe are still living at the Dog's Mouth. Another son is in New Zealand. Mr. Amos travelled on the first passenger train to stop at Castlethorpe in 1882 and he was among those who watched the last train pull out of the station in September 1964. He could recall when Castlethorpe Station was opened for goods in 1881, although he was only seven at the time, and his father driving the first truck of coal. In 1964 Mr. and Mrs. Amos celebrated their diamond wedding. His wife died five years ago. The funeral service at Castlethorpe Church on December 23 was conducted by the Rev. A. Otter. Mr. Amos's four sons, Farmer, Thomas, Stanley and Joseph were bearers.
---
Wolverton Express 15th January 1971
A father of seven who hit a 13 year old boy was given a conditional discharge for one year at Towcester Magistrates' Court on Monday. The Bench felt that he had reason to be worried for the safety of his own son.
Kenneth Cecil Bailey of The Lock House Cosgrove, pleaded not guilty to assaulting Ian Davies, of 134 Church Street, Wolverton. Lt. Col. A. V. C. Roberts, chairman, said: We are bound to find this case proved because you, on your own admission, hit the boy and provocation is no excuse. However, we feel you had reason to be worried at first.
On towpath
Mr. S. Waterworth. Prosecuting, said Ian Davies was walking along the towpath of the canal when he met Russell Bailey, Mr. Bailey's son.
Some jousting took place concerning whether Davies should throw Russell into the water. As a result of what someone told Mr. Bailey he later struck Ian because of the threats. Mr. M. Percival, for Mr. Bailey, said "There was more than one time when young Ian Davies got hold of the other boy and held him towards the water. There is a complex of waterways and the canal is dangerous. There must be a high risk of drowning in an area of this sort where the water is not clear.' Ian Davies said he asked Russell Bailey if he "wanted to go for a swim" in a joking manner and held him round the waist gently. Later they started to play together. As they walked towards Russell's house Mr Bailey was standing outside.
"Mr Bailey hit his son for being late home and then came over and started to talk to me about my threatening to throw Russell into the canal." Ian said. He told me to go and as I started to walk off he began to hit me round the head with his hand. Ian said his nose bled afterwards and he had to lie down before continuing home. He later went to see the doctor. Ian said he did not mean to throw the boy into the water and he was not cheeky to Mr. Bailey. R Turner said that when Ian reported the incident his hands were covered with dried blood, his face was puffed, he was in a distressed condition. His face, nose and mouth were covered with blood.
Dr. M. R. Coster said in statement Ian's nose was swollen and his left cheek was bruised - injuries consistent with a blow on the head. Mr Bailey said he sent his eldest son. Reginald out to check the lake and canal for fishermen. Later he went out to look for him. In the distance he saw two boys, the taller of whom was holding the smaller boy over the bank close to the water. As he got closer he saw it was his son Russell being held over the water. Russell later told him what had happened and he went to see Ian Davies The boy was cheeky and insolent, Mr. Bailey said and he admitted striking him. The blow was once on the shoulder and he meant to hit him again on the shoulder, but he ducked. Mr. Bailey added: "I have seven children and I know how to hit children." Russell Bailey said he was frightened of Ian Davies because he had threatened to throw him in the water.
---
Wolverton Express 15th January 1971
The priory that did not know a monk
HAVE YOU ever wondered which order of monks used to live at Cosgrove Priory? Well if you have, you can stop guessing. No monk ever did!
The truth is that the house is called The Priory because three women who used to live there thought it was a nice romantic and historical name! This is one of the interesting stories related by Mrs. D. Warren in her article "The Manors or Estates of Cosgrove" published in the Wolverton Historical Journal of the local archaeological society.
There are three buildings of importance in Cosgrove, The Priory, Cosgrove Hall and the Dower House. Cosgrove is rather unusual in that it never had a manor house as such. The Cosgrove estate was owned by several families but none of the owners ever lived in the village as they had more important estates elsewhere. But in the 17th century an old Cosgrove family, the Rigbys, who had made a fortune in London, returned to the village and built a mansion house which became known as the Manor House and eventually The Priory.
The Rigbys were followed by the Biggin family in the 1770s and one of the family, George Biggin, was a remarkable man. He did not spend much time at Cosgrove as he was constantly travelling in England and on the Continent in search of scientific knowledge. George Biggin was a great friend of the then Duke of Bedford and together they experimented with the barks of different trees in an endeavour to improve the tanning of leather. One of George's inventions was an improved coffee pot. As George never married, the estate was inherited by his nephew, George Mansel, who died at sea in 1808. By his will Cosgrove Manor passed to his eldest brother, John, and as the latter was already the owner of the Cosgrove Hall estate the two properties were merged.
It was after this that the Hall became in effect the Manor House, although the name was not changed and the old Manor House was renamed The Priory. First tenants of The Priory were the two Miss Lowndes from Whaddon, who lived there until 1817. Later The Priory was the home of two famous men, General Thomas Graham, Lord Lynedoch, a national hero second only to Wellington, who was followed by Admiral Sir Robert Moorsom, who had been with Nelson at Trafalgar. Another Miss Lowndes lived at The Priory about 1850 and after her death the house was let to men who took it for a year or so for a hunting lodge. About 1882 the building was sold to Mr. J. J. Atkinson, and the present owner is Col. P. Y. Atkinson.
Among the owners of the Hall were members of the Longueville family who were Lords of the Manor at Wolverton. It was either Henry Longueville, who died in 1713, or his son who built an entirely new house. A later owner, Major John Mansel, improved and added to the hall by filling in the centre. The present owner is Mr. Charles Mackenzie Hill.
---
Wolverton Express 18th January 1971
Maxine found 5d and a prize
Twenty-one children from Cosgrove enjoyed the first Christmas party held by the pre-school Playgroup. They played musical chairs, pass the parcel, as well as searching for 24 pennies hidden around the room. This treasure hunt was most successful and Maxine Harris, aged 24, became the winner by finding 5d. Each child had his or her own box of food and sweets for a "picnic" tea, though some children preferred to keep their boxes to enjoy at home. Before forming a circle to say "good-bye" to three children who were leaving.
---
Wolverton Express 22nd January 1971
To retire after 32 years as clerk
Mr. Albert Tack, Parish Clerk of Cosgrove Parish Council for 32 years is to retire in March at the end of the council year. This was announced at the January meeting and applications for the post will be welcomed by the chairman. Mr. E Lambert, of Manor Close.
The council has complained to the United Counties following a report that old age pensioners had to walk from Castlethorpe to the village because a connecting bus did not wait. Councillors are in the process of walking all the local footpaths, to ascertain the condition of the paths and to check the signposting. It was reported that the path by from the Dog's Mouth to Castlethorpe is blocked near the 40 acre field and the County Council is being asked for the re-opening no of pathway RC5.
The wrecked car which has been lying on the side of the path near The Stocks had been removed at last.
Two lights due to be fitted at the Quarles were delayed to because materials from the manufacturers were not ready, the electricity board stated.
Towcester RDC forwarded revised plans of 10 garages proposed in Manor Close. The annual parish meeting will be on March 17.
---
Wolverton Express 22nd January 1971
NOTICE
THE REGISTRAR GENERAL being satisfied that Mission Hall Cosgrove in the registration district of Towcester in the County of Northamptonshire has wholly ceased to be used as a place of worship by the congregation on whose behalf it was on 27th March 1906 certified in accordance with the Places of Worship Registration Act 1855, has cancelled the record of certification.
R H. SMITH for Registrar General.
---
Wolverton Express 29th January 1971
By direction of Mrs. E. Slaymaker
COSGROVE - Nr. STONY STRATFORD
Auction Sale of
Antique Furniture and Decorative items at "The Old Plough", 15 Main Street
comprising: Good quality antique marquetry corner cupboard; 3 silver rose bowls; 2 grandfather clocks; Georgian card table: antique and other chairs; antique oak gate-leg table; 3 tea-caddies; large oak-framed open bookshelves; books: Victorian chaise-lounge; fitted travelling writing desk; brass pole screen: occasional tables; mirrors; rosewood what-not:
a considerable collection of copper and brass items including 4 warming pans; candlesticks; kettles; preserving pans; horse brasses; bits; trays; ornaments; pewter teapots and tankards; rail fender;
decorative china: Staffordshire figures and groups, Spode bowls; toby jugs; china mugs; blue and white willow pattern; old jugs. 2 large Victorian wardrobes, double bed; modern oak wardrobe; pair Edwardian inlaid bedroom chairs; antique candle box; Victorian dressing table; carved mahogany z tester bedstead; glasses; crockery; mats and rugs; carpets; electric food mixer; garden and outside effects; white painted seat; wheelbarrow; handcart; flower pots; slates; firewood, etc.
IN ALL APPROX. 200 LOTS
Jackson-Stops & Staff
will sell the above by public auction
AT THE PREMISES in a marquee on
TUESDAY, FEBRUARY 9, 1971 commencing at 12 noon sharp.
On view morning of sale. No catalogues.
---
Wolverton Express 29th January 1971
BROTHERHOOD
Canon S C. Woodward, rector of Cosgrove, spoke to the 55 people who attended the Wolverton Brotherhood meeting last Wednesday week. The Bible reading was by Mr. H. Dowdy and prayers were led by the Rev. E. G. Mower. Soloist was Mr. R. Newton and Mrs W. C. Clarke pianist. Mr J Jones presided.
---
Wolverton Express 26th February 1971
"Seagull" was cry for help
When Mrs Joyce Bailey heard what she thought was the noise of seagulls outside her home at the Lock Cottage Cosgrove, she went to investigate. And found instead it was the cries of a woman cyclist who had fallen into the canal. If It had not been for a short power cut wich had interrupted her use of the vacuum cleaner, Mrs Bailey would never have heard the shouts for help. She raced along the canal bank to save heavily built Mrs Gladys Goodridge of 17 Bridge Road, Cosgrove from drowning. Mrs. Bailey told the Express the incident happened 11.30 am on Friday week. The canal bank near her home was muddy and slippery. Mrs. Goodridge, cycling along the bank, must have slipped on the mud. toppling both her and her machine into the water.
Fortunately Mrs Goodridge, though badly shocked, managed with Mrs Bailey's help to haul herself out of the canal.
Because of the power cut, added Mrs Bailey, she was unable even to give Mrs Goodridge a hot drink and had to ring Mr Goodridge to fetch his wife and take her home.
---
Wolverton Express 26th March 1971
Cosgrove Parish Council intends to press for a new road into the village to relieve holiday and weekend traffic congestion This assurance was given at the parish meeting after the council had heard a proposal for an alternative route into the Lodge Park had been turned down by Milton Keynes Development Corporation. It is thought the road was proposed to join or pass near to the new by pass crossing the Stony Stratford to Wolverton road.
The meeting was told that Towcester RDC proposes to extend the footpath from the Spinney to the Does Mouth bridge if approval is granted for £4.000 expenditure. A suggestion was made that the County Council could fit road safety strips to roads near the school to try and reduce the speed of traffic in the village. The County Surveyor felt unable to recommend a reduction of the 30 mph limit.
Other complaints included the unloading of heavy transporters in Bridge Street; the Condition of Main Street, where new houses are being built; the collapse and closure after repair of the footpath bridge over the River Tove.
Mud and dirt blocking the grids and channels in the canal aqueduct was a continuing problem, residents claimed, and the telephone kiosk was in an unpleasant condition.
Complaint was also made about the inadequacy of the road cleaning in the lower part of the village. Elections for the parish council will be on May 13.
After the public meeting the council heard that the county council is prepared to signpost footpaths as and when money is available. Residents of Manor Close had expressed concern about a foot path which was part of the proposed plan for garages to be built in the close. They felt the path was unnecessary and expensive. No reply had been received from United Counties in answer to a complaint that because double-decker buses could not negotiate the Navigation Bridge the service from Castlethorpe was not always fulfilled.
---
Wolverton Express 9th April 1971
Found Drunk Four Times
A defendant was brought from St Crispin's Hospital Northampton accompanied by a nurse to Stony Stratford Magistrates' court on Friday. She was Mrs. Muriel Eileen Ratledge (58) of Thrupp Wharf, Cosgrove, who pleaded not guilty to four cases of being drunk in the highway and to obtaining money by deception.
Chief Inspector Cyril Williams said Mrs Ratledge was seen by the police staggering around in Horsefair Green Stony Stratford, at 2.35 am on January 1st. She collapsed and was carried to the police car when she was first taken to the police station and then home. At 11 p.m. that same day she was seen by the police walking in the centre of the road near the police station at Newport Pagnell. She was again taken home.
On January 5. Mrs. Ratledge was found in a drunken state lying on a bench at St. James' Church, New Bradwell. She was arrested and arrangements were made for her to be admitted to St Crispin's Hospital as a voluntary patient.
On February 9 she was seen in the High Street, Stony Stratford staggering along the pavement drinking from a bottle of wine. She crossed the road and vehicles had to brake and swerve to avoid her. Mr. Thomas Dunkley, of 27 St Mary's Avenue, said he was in the High Street, Stony Stratford on February 9 when Mrs. Rutledge asked him for 2s. 6d. to go to New Bradwell. "I assumed she wanted to catch a bus." he said. She said she would pay him back. and he gave her 4s, But Mrs Ratledge then got into a car.
Mrs Ratledge told the court she could only say how sorry and upset she was about the whole affair. After the magistrates had found Mrs. Ratledge guilty on all the drink charges and not guilty of obtaining money by deception, Chief Inspector Williams said: "I would like to point out that the prosecution has been brought in the interests of Mrs Ratledge herself and the public at large. Mrs. Ratledge was put on probation for 12 months.
---
Wolverton Express 9th April 1971
TWO DRIVERS lost their licences at Stony Stratford magistrates court on Friday through faulty lamp bulbs. Each failed a breath test after being stopped for not having rear index plates illuminated on their vehicles.
Raymond John Mayne of The Stores and Post Office Cosgrove, admitted driving with more than the prescribed level of alcohol in his blood. He was disqualified from driving for one year and fined £20. He was also ordered to pay a £6 doctor's fee. Mr. Mayne was fined £2 for failing to have the rear registration mark of his vehicle illuminated.
Insp. G. James explained that the officer gave Mr. Mayne a breath test which proved positive. A blood sample showed 164 milligrames of alcohol per 100 millilitres of blood. Mr. Norman Groves representing the defendant, said Mr Mayes had eaten a meal before he went home and the time lapse between drinking and driving his vehicle was two hours. There was no complaint about Mr. Mayne's driving. Mr. Groves said.
---
Wolverton Express 7th May 1971
Cosgrove concert
A number of villagers joined an invited audience of senior citizens in the Victory Hall, Cosgrove to listen to the Orphean Singers of Hanslope. Under their conductor. Mr. Ron Faulkner and with Mrs. Curtis pianist, the programme included "The way you look tonight'. `Rock – a my Soul", "The Mexican Hat Dance" and ended with "Goodnight, Goodnight, Beloved". Solo performances were given by Mrs. Jacqueline Hardy, Mr. John Osborn. Mr David Marshall and Mr Frank Williams, accompanied by Mr George Webb. Presenting the singers with a donation for their funds, Mr Bill Castle thanked them on behalf of the Victory Hall committee and the audience. Refreshments were provided by the Victory Hall Committee.
---
Wolverton Express 7th May 1971
500 visitors see gardens
MR AND Mrs Charles Mackenzie Hill opened their lour acres of gardens and wood lands to the public for the first time on Sunday. Over 500 visitors took advantage of this special opening on Gardeners' Sunday and as a result £71 will be sent to the Gardeners Royal Benevolent Society. The model railway proved a crowd-puller and there was no shortage of people wanting teas. Mr. Mackenzie Hill plans to hold another open day next year but he tells me the grounds will be open when Cosgrove Church holds its annual fete there on June 19.
---
Wolverton Express 14th May 1971
Heavy lorries ignore bridge weight limit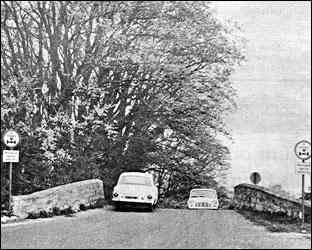 A four-ton weight limit imposed on the canal bridge near the Navigation Inn, Cosgrove, a month ago, is being ignored. Heavy lorries are still rumbling over the narrow hump-backed bridge, ignoring the weight: A local resident told the "Express": Coal lorries, cattle lorries, bulk corn lorries as well as some buses still use the bridge, ignoring the weight limit signs.
Mrs B E Brassett, licensee of the Navigation, said there has been very little change in the traffic using the bridge. "Heavy lorries still use it and some of them must weigh over four tons." But Mrs. Brassett said that large timber lorries from Salcey Forest that used to go past the pub two or three times a day no longer do so. Big double-decker cattle lorries were also apparently finding another route.
United Counties still runs its Stony Stratford to Castlethorpe service but uses a much smaller bus to conform to the restrictions. The weight limit is likely to stay for some time. Mr. P. H Cadman, deputy county surveyor, said that the bridge was to be widened as well as strengthened.
---
Wolverton Express 21st May 1971
Bailey bridge
The ornamental bridge at Cosgrove provides the only means of access to the Lodge Park and during the summer is used by up to 4,800 vehicles per day. But in 1969 the Ministry of Transport asked the County council to impose a permanent weight restriction order on the bridge as it was substandard. The council decided not to carry out the Ministry's request as it would prevent traders and public vehicles getting into that part of the village. Instead a Bailey bridge will be erected alongside the present bridge while that is either rebuilt or strengthened.
---
Wolverton Express 21st May 1971
Confirmation service at Cosgrove
The assistant Bishop of Peterborough, the Rt. Rev. A. R. Graham-Campbell confirmed 22 people at St. Peter's Church, Cosgrove, on Tuesday evening. He was assisted by the Rev. Canon J. E W. Hardy, rural dean of Towcester, and the Rev. R. D. Howe, vicar of Potterspury and Yardley Gobion. The Rev. F. R. St. John, vicar of Ashton and Hartwell, acted as chaplain to the Bishop.
The Rector of Cosgrove, the Rev. Canon F. C. Woodward, was present but was unable to assist as he has recently returned home from hospital. Candidates confirmed were: from Cosgrove. Denise Taylor, Robert Smith and Karen Tweedale: adults from Potterspury and Yardley Gobion. Colin Willis, John Hall, Maria Hall, Ivan Smith, Barbara Smith, Mavis Bull and Margaret Meakins and also Duncan Smith, Johnny Pearce, Huw Powell, David Norman, Linda Meakins and Bason, Trudie Dolling, Kim Lewis, Deborah Frame, Helen Mallion and Fiona Covington. There was one adult candidate from Hartwell, Mr. Neil French.
---
Wolverton Express 21st May 1971
HISTORY OF COSGROVE
When members of the Wolverton District Archaeological Society visited Cosgrove their president, Sir Frank Markham, gave a short history of the village from Roman times till the present day. Mr. B. Egan and Mr. Unwin showed slides of the village and Roman excavations and asked for information regarding dates and alterations, for any other old photographs and documents to be loaned for copying to complete the society's records. A small exhibition of household, agricultural and industrial tools was displayed. Refreshments were provided by Mr. L. Crossley.
---
Wolverton Express 21st May 1971
Mothers and toddlers
Cosgrove playgroup, in conjunction with the National Playgroup Week, held a mini-fair and open morning in the Victory Hall. Mothers and toddlers joined in the usual playgroup activities and a bring-and-buy and a cake stall raised £13.12 towards a new trampoline for the group. Children's paintings were on view and playgroup activities were discussed with parents. Mrs Margaret Groom, a playgroup organiser said this group was now well established and fully booked until January1972 and some good equipment has been bought during the last year. Future plans include an outside play area.
---
Wolverton Express 28th May 1971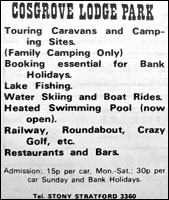 ---
Wolverton Express 4th June 1971
Hotel manager keeps licence
A speeding motorist who claimed he would lose his job if disqualified was allowed to keep his licence at Bletchley Magistrates Court last Thursday. Evaristo Caaveiro, the manager of Cosgrove Lodge Hotel. Cosgrove, who was liable for disqualification under the totting up procedure, admitted speeding at 54 and 56 m.p.h. in the 40 m.p.h area on the A5 at Bletchley and was fined £15. His licence was endorsed.
---
Wolverton Express 11th June 1971
A challenge from Cosgrove
COSGROVE village stalwarts have thrown out an open tug-O-war challenge to other local teams. The contest will be held during the village fete on June 19 and the prize is a pipkin of beer donated by Mr Mackenzie Hill. Challengers should contact Mr. Gerry Runacres at Stony Stratford 3685 for details.
The fete is to be held in the grounds of Cosgrove Hall by kind permission of Mr. and Mrs. Mackenzie Hill. Miss Cosgrove will be chosen during the afternoon and there will be a children's fancy dress show, a knobbly knees contest and a judo display.
---
Wolverton Express 25th June 1971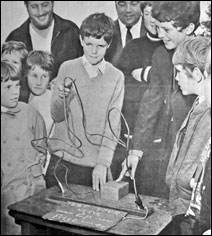 Two pence to test the steadiness of your hand — with 4p as the prize.
A beauty contest, knobbly knees competition, fancy dress, tug 'o war — Cosgrove Church Fete had all these ingredients and many more to make the event a great moneymaking success. The fete, held on Saturday at Cosgrove Hall. the home of Mr. and Mrs. Charles Mackenne Hill, raised more than £160 for church funds.
Mrs. Bryan Organ, wife of the Castlethorpe artist, opened the fete. She said how happy she was to see the old traditions in the village were being encouraged, particularly with a modern city like Milton Keynes being built close by. Hilary Groom presented a bouquet to Mrs. Organ also was introduced by the Rector. Canon Woodward.
Mrs. Organ later judged the fancy dress competition which was won by Rebecca Runacres who was dressed as a Red Dragon with Hilary Groom (Nell Gwynn) second and Dawn Rosser third. There were 15 competitors under eleven for the fancy dress. For the first time a Miss Cosgrove competition was organised but although the contest was open to married as well, entries were rather disappointing. Only a dozen people took part. The winner was Moira Stables of Rivercrest Road, Old Stratford with Isabel Cook second and Mandy Gordon third. The contest was judged by Jerry Runacres who donated a silver cup to the winner. The Rector presented the cup which will be competed for each year.
The menfolk were not quite so shy and there was a good entry for the knobbly knees competition with John Cattermole being the winner. Verdun Parker brought along a team of young judo experts who gave a demonstration of their skill. Seven teams took part in the tug 'o war contest which was won by Pianoforte Supplies of Roade with the Cosgrove village team second. Towcester Studio Band played during the afternoon.
---
Wolverton Express 25th June 1971
Beans and songs under canvas
Plans to hold a barbeque around a camp fire at the Quarries, Cosgrove for 56 mentally handicapped people from North Bucks last Friday had to be abandoned because of the rain. But this did not mean the end of the barbecue. Instead a small marquee was erected and the party enjoyed an egg, sausage and beans meal just as much. The barbecue was organised by the Wolverton Venture Scouts leader Frank Hale and Ray Clarke and Stanley Wootton of Wolverton Toc H. Afterwards the party joined singing accompanied by Brian Tite on the accordion.
---
Wolverton Express 2nd July 1971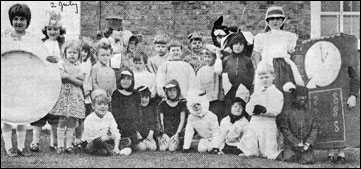 Although rain delayed the start of the Cosgrove County Primary School Fete on Saturday, visitors were able to enjoy the sound of Roade School Band before watching "Nursery Medley", entertainment sung and performed by the primary children, pictured above.
Competition prizewinners were:
Decoration on wheels: Under 7, Robert Ford: 7-9. 1 Hilary Groom; 9-11. Alison Groom.
Garden on a plate: Under 7, Angela Alderman, 2 Timothy Hudson. 3 Rebecca Runacres; 7.9, 1 Rosemary Groom, 2 Jessica Clark, 3 Andrew Gordon; 9-11, 1 Russell Bailey, 2 Deborah Clark, 3 Adrian Moseley.
Buttonhole: Under 7. 1 Robert Ford, 2 Timothy Hudson, 3 Angela Alderman; 7-9, 1 Jessica Clark. 2 Geraldine Hardy. 3 Hilary Groom: 9-11, 1 Shelley Hudson, 2 Russell Bailey, 3 Amanda Gordon.
Madeira cake: Under 7. 1 Adrian Hickford. 2 Annette Bailey, 3 Robert Ford; 7-9, 1. Stuart Forrester, 2 Geraldine Hardy, 3 David Moore; 9-11. 1 Virginia Hardy. 2 Russell Bailey. 3 Deborah Clark.
Mrs. Hudson won the basket of fruit and Mrs. Woodward the Humpty Dumpty in raffles. The treasure hunt was won by Mrs. Hillier. The cake competition was judged by Mrs. W. Harris and the other competitions by Mr. and Mrs. J. Garner of Old Stratford School. Refreshments were provided by the parents who earned the grateful thanks of the headmistress for their help.
---
Wolverton Express 2nd July 1971
MRS. V. ROTH moved to Cosgrove to get away from the noise and traffic of London. But since amenities at the Lodge Park have been developed the village was getting just as noisy, she claimed at a valuation court at Towcester. An appeal by Mrs. Roth to have the rateable value of her house reduced was upheld. The assessment of 1 Main Street Cosgrove was proposed at £122 gross, £84 rateable. After hearing Mrs. Roth's evidence the panel agreed to reduce it by 10 per cent to £90 gross (£58 rv)
Mrs. Roth explained that an enormous amount of traffic passed through the village to the Lodge Park. "At Bank Holidays we have to go away, it is so intolerable." she said. "We have to wait five minutes to Cross the road to post a letter.
"If there was another road out of the village it would be better but apparently there is no other possibility. We thought it was going to be a quiet village. But as the traffic comes down Bridge Road into Main Street people sound their hooters on the corner on the way there and again on the way back."
She said that late night functions at the hotel disturbed her sleep and people walking past her house at other times frequently dropped litter and removed stones from her garden wall. Mr. N. Turner for the Valuation Officer, said the traffic problems were experienced by many of the villagers and not just Mrs. Roth.
---
Wolverton Express 23rd July 1971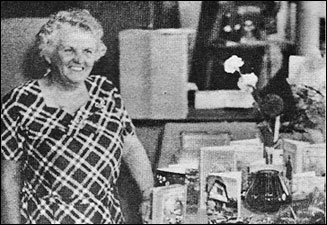 Last woman printer retires from Mac's
One of the few women printers left in the country, Miss Gladys Lord, has retired. Miss Lord, who lives at 7 Bridge Road, Cosgrove, has just completed 46 years' service with McCorquodales at Wolverton. In the printing department women are now employed as machine assistants, off-loading the work, checking and certifying the quality of the printed work
But when Miss Lord started at the factory women were employed as printers. At one time McCorquodales employed 40 printers but over the years the women left to get married or retired. Miss Lord was the last woman printer left and so ends a long tradition at the factory which was originally started with women in mind. Miss Lord received many cards and presents from her friends and employers and two bouquets.
---
Wolverton Express 23rd July 1971
Over a Bailey bridge to Cosgrove
Cosgrove Parish Council was told that the county has refused to accede to the Department of the Environment's request for a 5-ton limit on traffic over Sampson's Bridge because of the inconvenience this would cause the villagers. However, a temporary Bailey bridge is to be erected pending the strengthening or reconstruction of this ornamental bridge.
The county council also proposes to reconstruct the footbridge over the River Tove, but the parish council was told that the "path closed" signs had already been removed and thrown in the river. It was suggested these signs should be re-erected on Sampson's Bridge and the Green so that vandalism might be deterred. The ever-recurring cleaning of the aqueduct was raised again. Despite assurances from Towcester RDC that this area would be dealt with parish council was told that the pathway under the canal continues to give cause for concern.
Consternation
Following a request that a surgery might be held in Cosgrove because of difficulty in reaching doctors, the council was told of local consternation at letters from the Northamptonshire Health Executive informing a number of villagers that from December they would no longer be Dr. Douglass's patients, but no reason for removals had been given and no alternative doctors suggested. The Council is to ask the Health Executive for an explanation and further information.
Mansel Close has been adopted by the county council and official clarification regarding the adoption of Park Close was requested.
The police were reported to be checking Main Street regularly to prevent obstruction by badly parked vehicles.
---
Wolverton Express 30th July 1971
Cosgrove Parish Council is to press the National Health Executive for the provision of a weekly clinic in the village. The clinic is needed because of the increasing numbers of old and young people living in the village. This was decided at the annual meeting of the Parish Council in the Victors Hall last week. A presentation was made to Mr. Albert Tack, who has recently retired after being clerk of the council for 32 years. There was a bouquet for his wife who was unable to attend because of a recent illness. Mr. Ted Lambert was re-elected chairman with Mr. Harry Mclean as vice chairman. The new clerk is Mrs. R G Williarns of Old Stratford who was welcomed by the chairman.
Members discussed the replacement of the bus shelter which was recently destroyed by fire and the enforcement of the by law concerning fouling of the footpaths by dogs. Concern was expressed about the traffic dangers in the village and various ideas are to be explored.
---
Wolverton Express 30th July 1971
LETTERS TO PATIENT
Letters sent to a number of Cosgrove residents telling them that they were to be taken off the list of Dr. W. M. M. Douglass's patients were misunderstood. The letters were sent by Northamptonshire Health Executive, who gave no reason for the removals and did not suggest any alternative doctors. The matter was raised at Cosgrove Parish Council meeting and was reported last week. Dr. Douglass this week assured his patients that they would not be taken off the list. Any difficulty that arose was because the Executive did not know the present address of the patient, he said.
---
Wolverton Express 30th July 1971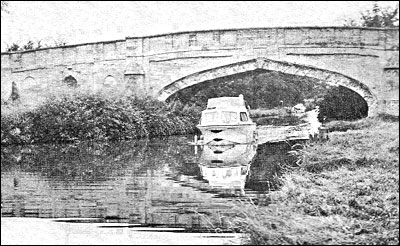 Sampson's Bridge over the canal at Cosgrove, which is to be closed to traffic while strengthening or reconstruction work is carried out. A temporary Bailey bridge is to be provided to take the traffic through the village.
---
Wolverton Express 6th August 1971
Police Constable Peter John Gurney was married with Miss Julia Christine Tweedale at Holy Trinity Church. Old Wolverton on Saturday. The Rev. C. Gonin conducted the service and the organist was Mr. S. Jones. Julia is the eldest daughter of Mr. and Mrs. T. Tweedale of 56 Stratford Road. Cosgrove and is a waitress at the Swan Hotel. Woburn Sands. Peter is stationed at Dunstable and is the only son of Mr. and Mrs. W. H. Gurney, of 110 Gloucester Road. Wolverton. Given in marriage by her father, the bride wore a full length white empire-line tree bark satin dress with a lace bodice and sleeves. A tiara head dress held a short veil and she carried pink roses. The bride's sisters. Karen and Helen, were bridesmaids and wore full-length cerise empire line dresses with headdresses of matching daisies. A reception for 40 guests was heId at the bride's home. Among the wedding gifts was a carving set from the bridegroom's colleagues, and blankets, pillow cases and sheets from the bride's friends at work. Julia's dress was made by two friends and she made the cake herself.
---
Wolverton Express 10th August 1971
A well-known local farmer, Mr. Sidney Ratledge, died on Monday at Tindal House Hospital, Aylesbury. Mr. Ratledge, who farmed a Northants County Council small-holding at Thrupp Wharf, Cosgrove, had been ill for two years. Other local farmers had helped him continue his business during this illness. Although he was born at Yardley Gobion, Mr. Ratledge moved to Cosgrove soon afterwards where his father took over the Thrupp Wharf farm. Mr. Ratledge was also well known for his footballing prowess and he played for WoIverton during the 1930s. The funeral service was due to be held yesterday (Thursday) at Cosgrove Parish Church, conducted by Canon S. C. Woodward.
---
Wolverton Express 3rd September 1971
FLOWERS HIT BY WEATHER
Commenting on Cosgrove's Grand Horticultural Show on Saturday, Mr. G. Runacres said that the quality of the produce was high but he thought that a better effort could have been made to improve the number of entries. Competitors had made special efforts in the floral decoration classes even though the weather had "crucified the flowers". Mr. S. Pateman of Hanslope judged the vegetables, Mrs. Odell of Stony Stratford the flowers, and Mrs. Paton of Haversham the cakes and preserves. Mrs. Hickford of Cosgrove presented prizes to
Mr. Welch and Mrs. Giles for runner beans:- Mr. Lyman and Mr. Runacres. onions; Mr. Welch and Mrs. Gayton, pickling shallots; Mr. Welch and Mr. Cattermole, cooking shallots; Mrs. Giles, vegetable marrow; Mr. Welch, root vegetables: Mr. Lyman, potatoes; Mrs. Richards and Mr. Runacres, six roses: Mrs. Cattermole, three roses; Mrs. Beavis and Mrs. Giles, dahlias: Mr. Welch, cactus dahlias: Mrs. Pol-lard, house plant; Mrs. Pollard and Mrs. Cattermole, floral arrangement; Mrs. Richards and Mrs. Cattermole, decorated cake; Mrs. Oakley, scones; Mrs. Taylor, fruit pie, marmalade and jam; and Mrs. Gayton, bottled fruit.
Children's prizes
In the children's classes Denise Taylor. Rebecca Runacres and Jacqueline Gomez were awarded prizes for a decorated cake. First prize for an animal made entirely of vegetables and matchsticks went to Josephine Stevens, 2 Rebecca Runacres and David Cattermole and Nicky Stevens tied for third place. Special awards were made to Rosemary Groom, Debbie Stevens, Julie-Ann Gomez, Dawn Stibbens and Mandy Gordon. Raffle prizes were donated by Mrs. Crossley, Mr. Eglesfield and the White Swan, Stony Stratford, who contributed the proceeds of a skittle match to provide a large box of fruit, won by Mrs. Pollard. Mr. Collier won the sherry and biscuits and Mr. Davey the beer and sherry. Mrs. Cattermole guessed the weight of a cabbage and donated this prize to the auction. Other donations of produce for auction were made by Mrs Giles, Mrs. Holman, Rebecca Runacres, Mr. Hickford, Mr. Smith, Mr. Whitaker. Mr. Pateman and Mr. Lee. Cash donations were received from the Rector. Canon S. C. Woodward. Mr. John Pollard and Mr. John Cattermole. Tea was provided and served by the ladies and the Show raised in excess of £10 which will help to provide a film show and tea for the Senior Citizens sometime in early September.
---
Wolverton Express 10th September 1971
MEMORIAL SERVICE
A memorial service for the Cosgrove couple killed in a road accident in Kenya was held yesterday (Thursday) at Leicester. Mr. Subhashchandra Patel and his wife Pamela of 6 Park Close Cosgrove, were killed while on a visit to Mr Patel's parents. Among those at the service were colleagues of Mr. Patel, who was an electronics engineer for Associated Octel at Bletchley. Mrs. Patel's parents live In Leicester.
---
Wolverton Express 24th September 1971
Taverners at home on canal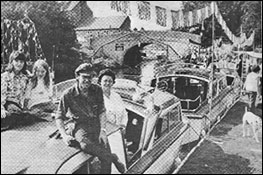 Proudly displaying the cup he won for the best engine installation at the recent national Boat Rally at Northampton is Mr. John Woollard, of the Taverners Boat Club. With him is his wife, Kathleen, daughter Jane (left) and friend Susie Todd.
The Taverners held their biggest and most successful show on Saturday on the canal at the Navigation Inn, Cosgrove. Two hundred people inspected the 17 boats and watched displays by the Northampton Canoe Club. Prize for a boat handling competition was won by Jack Johnson with "Merrydown". Fancy dress winners were Diane Clarridge, Mark Goff, Susie Todd and Judy and Jonathan Hillyer. Money raised will go to the clubhouse building fund.
---
Wolverton Express 1st October 1971
Dedication at Cosgrove Church
A congregation of about 100 attended the dedication of the electric organ blower by Bishop Graham Campbell at Cosgrove Parish Church on Saturday. The dedication was linked with a memorial to the late Mr. Clifford Elliot, whose efforts in the Parish of Cosgrove and Old Stratford had raised funds for the blower. A plaque to this effect was unveiled. The Rev. Hilary Davidson played several organ solos and Mr. Lewis Clark accompanied the singers, Mr. Emlyn Beeb. Mrs. Kathleen Jones and Mrs. Rose Elliot. The church had been decorated in readiness for the Harvest Festival on the following day. Children brought Harvest gifts to the altar during the morning service, and the Rev. A. F. Ridley of Paulerspury preached at Evensong.
---
Wolverton Express 22nd October 1971
Ban follows 'O' level celebrations
A 17-year old student from Cosgrove was fined £20 and banned from driving for a year at Towcester Magistrates court on Monday for riding a motor-cycle with excess alcohol in his blood. Rory Peter Gordon of Cosgrove House, Stratford Road, pleaded guilty to the offence and also admitted riding his motor-cycle without lights for which he was fined £2. Mr. Paul Sefton, prosecuting, said Mr. Gordon was seen by two police officers at the junction with Park Street and Brackley Road, Towcester on July 10. No lights were being displayed at the front or rear of the Yamaha cycle. His breath smelled of alcohol and a breath test proved positive. After a second test a blood sample was taken at Towcester police station. This showed 85 milligrammes of alcohol In 100 millilitres of blood. Mr. Gordon told police: "I was asked to go out for a drink with some friends to celebrate the '0' levels. I had two and a half pints.''
---
Wolverton Express 29th October 1971
Cheese and wine at Cosgrove
Mr and Mrs John Groom held a cheese and wine party at their home on behalf of the Parents Association of Cosgrove Primary School. About 40 guests at the party included the headmistress and her staff and Mr. and Mrs Rickaby, Mr Lambert, Mr. Hillyer and Mrs. Johnson, who were representing the school managers. Mr. Clifford Woods thanked the hosts for their efforts in raising money for musical instruments for the school.
---
Wolverton Express 12th November 1971
Children turn entertainers....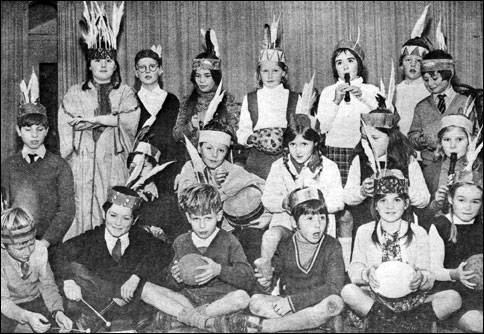 The picture shows the children at rehearsal.
It was standing room -only at the Victory Hall, Cosgrove, on Tuesday night when children from the village primary school entertained parents and friends with their first music night. The children performed items of choral speech and percussion accompanied by Wolverton and District Orchestral Society.
---
Wolverton Express 12th November 1971
BONFIRE
Despite of the unpleasant weather, many people watched the fireworks around the bonfire, built by the Youth Club, at the Victory Hall, Cosgrove last Friday. Hot soup, rolls and other refreshments provided by members of the committee were on sale and £6 was raised for Victory Hall funds.
---
Wolverton Express 3rd December 1971
FATHER CHRISTMAS AT COSGROVE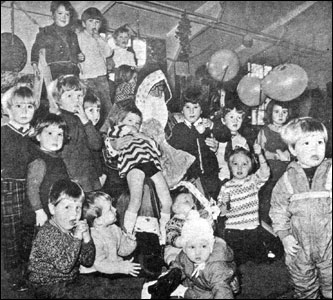 Just under £40 was raised at the Cosgrove Playgroup's coffee morning and Christmas bazaar on Tuesday. There were stalls for the sale of handwork produce and second-hand goods. The raffles were won by Mrs. Ford, Mrs. Eynstone and Mrs. Gloria Hickford: Mrs. Prosser guessed the weight of a large jar of sugar which was also the prize. The playgroup children closed the morning by singing "We wish you a merry Christmas". The proceeds bring the fund for an outside play area to £54 towards the £100 needed by Easter 1972.
---
Wolverton Express 17th December 1971
43 years in the Ministry
Canon Stanley Carr Woodward, for five years rector of St. Peter and St. Paul Church, Cosgrove, is retiring in April after 43 years in the ministry. Not that he wants to give up his job - "I only wish I could carry on but I don't think it would be fair to the parish. I have not enjoyed good health for some time,'" Canon Woodward, 68, explained this week. Before coming to Cosgrove in August 1966 he served at Uppingham, in Rutland. When he became rector of St. Peter's he was also appointed Rural Dean of the Preston Deanery but gave up the post when Preston amalgamated with Towcester. Canon Woodward and his wife will live at Buckden.
---
Wolverton Express 17th December 1971
Sherry and WI carols [possibly wrongly titled]
Although the. Conservative and Unionist Association's coffee morning at the Cosgrove home of Mrs A. Rickaby was well supported by members, organisers were disappointed that local and younger support was lacking. The bring and buy stall was quickly sold out and raffle for a pork luncheon and a bottle of champagne was won by Mrs. P. Holman and Mr. J. Baines, chairman. Miss E. Hemelryk announced a profit of £32.75 for the morning.
Cosgrove church bazaar
A Christmas bazaar held on Friday in the Victory Hall Cosgrove was opened by Miss Mary Wrangham-Hardy, sister of the Rural Dean. Mrs Bushell won the cake, Mrs. Prosser the doll and Mrs. Scott guessed the number of Sweets in a jar. £106 was taken during the evening. Profits are for Church funds.
---
Wolverton Express 17th December 1971
Keystone Cops at Cosgrove
Vintage comedy films were shown to 35 senior citizens in Cosgrove Victory Hall last week. Funds for the evening were raised by the Horticultural Society and the Hall committee provided refreshments. Donations for raffles were made by Mr S Eglesfield and Mr A Tustain and were won by Mrs. A Smith, Mrs Hooton, Mr. Tooley. Mrs. H Smith, Mrs. Holman, Mr. Lovesey, Mr. Freestone, Mr. Whittaker, Mrs. Lovesey. Mr. Colton, Mr. Chown, Mrs. Colton, Mr. Lyman, Mr. Holman, Mrs. Harris, Mrs. Spokes, Mrs. Watkins, Mr. Spokes, Mr. Tomkins, Mrs. Jelly, Mrs. Gayton, Mrs. Hillyer and Mr. Jelley.
---
Wolverton Express 17th December 1971
Come and Join the Carols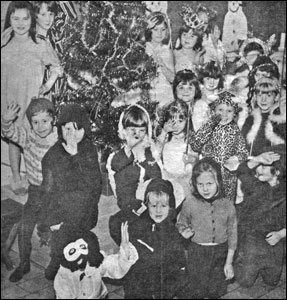 Parents, friends, brothers and sisters crowded into the Cosgrove Primary School hall on Thursday afternoon last week for the Christmas concert. The programme was linked by the singing of verses from a carol, and began with the Infant department's play, "The lost toys". A recorder group and xylophone item formed an interval before the school's Nativity Play, "The little angel", which was punctuated with carols. A collection was taken by the children and the concert was repeated on Friday evening.
---
Wolverton Express 31st December 1971
PARTY HATS AT COSGROVE
Cosgrove's W I party went with a swing when members and their guests enjoyed games, dancing and carols. A competition for a self-designed hat was won by Mrs. Olive Lambert and Mrs. Gloria Hickford, while another competition for table decorations made from cotton wool was won by Mrs. Lesley Clarke, Mrs. Dora Clarke and Mrs. Beryl Taylor. Raffle winners were Mrs. Tack, Mrs. Weldon and Mrs. Webster.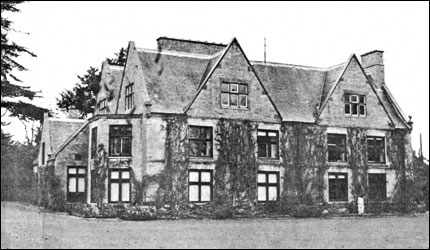 Cosgrove Priory 1971
---
Wolverton Express 4th February 1972
Committee will run playgroup
COSGROVE Playgroup is to be run by a committee following the resignation from the end of the present term of the co-founder and leader, Mrs. Margaret Groom. Mrs. Jean Ford and Mrs. Mavis Hudson will continue to supervise the children, with mothers help, and Mrs. C. Burry and Mrs. P. Fowlds have been voted treasurer and secretary, respectively. Mrs. V. Mayo. Mrs. P. Prosser and Mrs. S. Tustain are in charge of fund-raising in which the next objective is an outside play area. The group hopes to build this by Easter. Mrs. Groom says that she is sad to leave a happy and successful playgroup which has plenty of support from the mothers. Also retired is Co-founder Mrs. Jane Bidgood. Since her resignation, Mrs. Groom has accepted an appointment with Milton Keynes Development Corporation as children's play officer.
---
Wolverton Express 11th February 1972
COSGROVE FARMER
Mr. H. Tandy
A farmer in South Northamptonshire since 1920. Mr. Harry Tandy died suddenly at his home, Rectory Farm Cosgrove, on January 31. He was 79 and had been semi-retired for several years. Born at Kislingbury, Mr. Tandy served in World War 1 in Russia for three years. After the war he came to live at Yardley Gobion with his sister and started farming at Homestead Farm in 1920. He moved to Rectory Farm 3½ years ago with his wife, formerly Miss Jessie Gray, of Yardley Gobion. and son Robert. The funeral service was on Friday at Yardley Gobion Church conducted by the Rev. R. Howe. Family mourners were Mrs. Tandy (widow). Mr. R. Tandy (son). Miss R. Tandy (sister). Mr. and Mrs. George Tandy. Miss Eileen Tandy (nephew and nieces).
---
Wolverton Express 25th February 1972
COSGROVE PLAYGROUP
Undaunted by power cuts and the fog, Cosgrove Playgroup held a bring-and-buy coffee morning at the home of Mrs. Douglas Clarke - the final fling at fund-raising for the group's outside play area, work on which started this week. The amount raised was £12.76 swelled by another £6.37 from Mesdames Groom, Scott, Ford, Tustain, Hudson and Prosser.
---
Wolverton Express 3rd March 1972
Senior club for Cosgrove
COSGROVE to get a Senior Citizens Club. At a meeting on Wednesday of last week a committee was formed, the first meeting fixed for April 13 in the Victory Hall, and all over 60s invited to attend. Mrs. Phyllis Holman welcomed Mrs. Battle of the Northamptonshire Association for the Elderly and Mrs. Woodstock of the W.R.V.S. to tell the meeting of the need for such clubs. They combated loneliness and could obtain grants, foods and help for elderly people. Mrs. Holman offered to hold the first money-raising effort — a coffee morning on March 16. She agreed to join the committee with Mrs. E. Chown, Mrs. O. Lambert, Mr. and Mrs. Hill, Mr. J. Lovesey and Mr. Coulson. Club meetings will be held every second Thursday in the month.
---
Wolverton Express 9th March 1972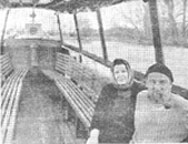 From the comfort of spacious Linda, Mr. and Mrs. Crossley enjoy the passing scene.
THE roof is off their winter home, and Mr. and Mrs. Charles Crossley have put rows of wooden seats where for the past few months they have sat beside a cosy fire and watched television. They are now ready for eight, months of hard, time consuming work, as they fill up their bookings diary with groups of people keen to explore Northamptonshire's waterways on their narrow boat "Linda,"
The Crossleys and "Linda" have been at Cosgrove since 1966. During the summer months, which in their business life stretch from early March to late October, they ferry people from Stoke Bruerne around the local canals and waterways, commentating on passing items of interest and providing refreshment.
"Linda" is their home in winter. The passengers' quarters are replaced by carpets, and equipment usually found in less buoyant sitting rooms and they construct a pre-fab `roof' to complete the little home. In summer they usually live in a small cottage at Cosgrove on the canal bank, to which their television, record player and other electrical gadgets are connected in winter. Not that they have much time for relaxation, since trips often take up 14 hours of the day in summer.
It goes without saying that both the Crossleys are very fond of boats and the boating life. Mr. Crossley was in the Navy in the Second World War, his first experience of narrow boats being when he worked for Lord Geoffrey Percy, who then owned the Wyvern Shipping Company. In 1956, he bought "Linda" for £400 from an old boatman, for which he had to pay entirely in 'oncers'— £1 notes. She was built in Saitley, Birmingham in 1912 as a cargo-carrying vessel, for which purpose she was used until Mr. Crossley bought her. When conversion work was completed, 'Linda' was moored at Market Harborough and her skipper employed a youth as crew to help him on the first passenger trips he ran. In 1957 Mr. Crossley married his second cousin, Anne - they were related through a common great-great-grandfather, Sir George Caley, known as the Father of British Aeronautics, since he was the first to fly a plane (a glider) in 1852.
In 1958 the 'Linda' was chartered by Mr. John Smith, MP for Westminster and a member of the National Trust to take a party of people from various trusts for a day's outing on the Oxford Canal to decide if they would take over the restoration of the derelict Stratford-Upon-Avon canal. The party's decision to do so was made during the cruise. In 1963 the Crossleys were given first option to run their boat on the partially restored Stratford-Upon-Avon canal, which they did for three years, she with computers and he on the engineering side. During this time 'Linda' was again honoured to be chosen to carry VIP's. This time it was for the Queen Elizabeth the Queen Mother, when she opened the Stratford canal. The Crossleys believe that it was the first time than an immediate member of the Royal family had ever opened a canal whilst on board a narrow boat — and they proudly keep their visitors book of the day, gracefully adorned with famous signatures.
While on trips, Mr. Crossley puts his mechanical brain to work on the running of the boat and also tells passengers anecdotes and gives facts about local monuments, houses and so on. His wife is in charge of the catering — which she does unaided. In their time, the Crossleys have taken a variety of different groups of people onto their boat. Ranging from members of the Blind Association - for whom there has, to be a non-stop commentary about the scenery, to staff and patients of Stoke Manderville Hospital and to jazz music fans who crowded on board for a party, complete with trail-type dynamic band.
The 'Linda's' appointment book is filling up fast at the moment. Parties very often book up for a return trip during the following season after a successful tour and by four weeks before the start of this season, they were fully booked until mid-June.
---
Wolverton Express 9th March 1972
BRIDGE WORK TO BE DELAYED
COSGROVE Parish Council was told that it was hoped to start strengthening work at Sampson's Bridge in early summer, but the council is to ask British Waterways to delay the work until the beginning of September because of expected congestion due to holiday traffic.
Mr. G. Runacres and Mr. A. Hitchcock volunteered to join a working party of representatives from local parish councils to follow closely the developments of Local Government Reforms now before Parliament. The East Midlands Electricity Board is to be requested to regulate the street-lighting in the village.
A letter from the Northampton County Council Area Surveyor stated that, because of financial restrictions, no full scale work could be done to repair the road surface between the Old School and the Towcester Rural District Council's Pumping Station.
After a suggestion from the Northampton Association of Parish Councils that parish councils should co-operate with old people's clubs to organise voluntary Car services, Cosgrove Parish Council is to enquire into the legal cover necessary for car and passenger insurance before taking further steps.
After some discussion it was decided to put a proposal to enter the Tidiest Village competition before the Annual Parish meeting next Monday. Because of heavy booking of the Victory Hall it was agreed to hold Parish Council meetings on the last Wednesday of each month, except for July, August and December.
---
Wolverton Express 19th March 1972
Mr. and Mrs. Charles Crossley aboard their narrow boat "Linda," in which they will run cruises from Cosgrove Lock throughout the summer The Linda, a traditionally painted narrow boat, carried the Queen Mother when she performed the opening of the Stratford-upon-Avon canal in 1964.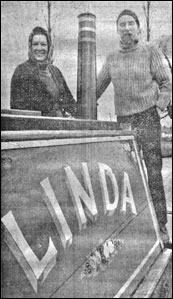 ---
Wolverton Express 23rd March 1972
CANON Stanley Woodward, who retires shortly as Rector of Cosgrove and Old Stratford after nearly six years' service, was presented with a cheque for £90 last week by his parishioners.
---
Wolverton Express 29th March 1972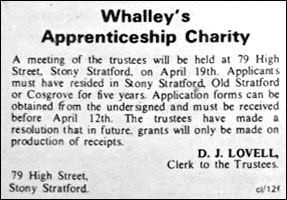 ---
Wolverton Express 7th April 1972
OLDEST INHABITANT MRS M J GILES
OLDEST inhabitant of Cosgrove, Mrs Mary Jane Giles, 92, died at her home, 10 Bridge Street, on March 11. She had lived in the cottage for 68 years. The funeral service was at Cosgrove Parish Church. Family mourners were Mr. and Mrs. A. Giles, Mr. and Mr, R. Giles, Mr. and Mrs L Giles (sons and daughters-in-law): Mr. and Mrs. F. Lambert (son in law and daughter): Mr. W. Taylor (foster son): Mr. R. Giles. Mr. and Mrs. K. Davis (grandchildren): Mrs. E. Boffin (niece): and Mrs. I. Frost (friend). Other friends on church were Mr and Mrs. Goodridge, Mrs. D Hitchcock and Mrs T. Cattermole.
---
Wolverton Express 14th April 1972
COSGROVE AIMS FOR TIDY VILLAGE TITLE
COSGROVE is to enter the Tidiest Village competition this year for the first time. In an effort to promote tidiness the Parish Council and Primary School are to donate cash prizes for posters and essays on the subject by children in the village. Mrs. N. Horton, head-mistress of the primary school, agreed to organise the competitions with the help of Mrs. M. Groom. The Dog's Mouth Bridge area was discussed and it was decided to ask the area surveyor to examine gullies alongside the road as it is not being properly drained in wet weather.
Towcester R.D.C.is to be asked to complete the footpath from the Spinney to the bridge. A parish precept of £264 for lighting and £134 for parish council expenses was approved. Extra litter bins are to be placed on the playing field near to the "Barley Mow" public house. The council decided to ask British Waterways to re-erect a telegraph pole in Priory Lane. They will also ask the County Council to move speed limit signs further along Yardley Road.
---
Wolverton Express 20th April 1972
Capt. P Y Atkinson
A memorial service for Captain [Philip York] Atkinson, a former High Sherriff of Northampton, was due to be held at Cosgrove Parish Church yesterday (Thursday). Capt. Atkinson, who was 85, died at his home, Cosgrove Priory and leaves a widow and a sister. His father, the late J. J. [Joseph Jepson] Atkinson, was a founder member of Northants County Council and Capt. Atkinson followed in his footsteps. He was High Sheriff in 1947.
---
Wolverton Express 20th April 1972
Former High Sheriff
THE funeral took place of a former High Sheriff of Northamptonshire, Captain Peter Y. Atkinson, who died aged 85 at his home, Cosgrove Priory. Captain Atkinson, son of the late Mr. J. J. Atkinson, a founder member of Northamptonshire County Council, also served that authority. He was a member of Potterspury Rural Council and Board of Guardians, and was High Sheriff In 1917. In the First World War he served in the 5th Dragoons, and was awarded the MC for gallantry. A lover of wild life, Captain Atkinson was a keen supporter of the Grafton Hunt and of horse racing. He leaves a widow and a sister who lives at Paulerspury.
---
Wolverton Express 21st April 1972
RETIRING from Wolverton Works next month are Mr. John Bricknall, 24 King Street, Stony Stratford, a carpenter with 34 years' service, and Mr. Alfred W H Meakins, 1 Manor Close, Cosgrove, a battery attendant in Cell Shops with 48 years' service.
---
Wolverton Express 21st April 1972
Golden Hour club
ABOUT 30 elderly people met in Cosgrove last week to form a new village club. The club, which is to be called the "Golden Hour" will meet on the second Thursday in each month, and the leader will be Mrs. P. Holman, with Mrs. O. Lambert as treasurer. The first meeting was attended by Mrs. J. Battle, Organising Secretary of the Northamptonshire Association for the Elderly with which the new club is to be linked. A number of local people have offered to form a team of helpers.
---
Wolverton Express 21st April 1972
Cosgrove playgroup party
A party held at the home of Mrs. P. Prosser, the Cosgrove Playgroup raised £8.40. Refreshments were provided and raffles of a telephone index and a whisk were won by Mrs. White and Mrs M Groom. The money raised will be used to buy children's goal posts for the playgroup's new hard area and towards buying a Wendy house. The playgroups are hoping to raise the balance by holding a lingerie party tonight (Friday) at 8 p.m. at the home of Mrs. Jean Ford, 8 Mansel Close.
---
Wolverton Express 5th May 1972
Parents keep busy
WHILE Cosgrove Playgroup mothers were enjoying themselves in a lingerie party on Friday evening. the fathers were busy laying foundations for a long awaited play area at the Victory Hall. The mothers raised £10.70 thanks to the hospitality of Mrs Jean Ford and this will pay for a Wendy House and more equipment. Mrs. P. Fowlds won a telephone index, Mrs. H. Tanner a paper knife and Mrs. I. Collins and Mrs. C. Hickford tights in raffle competitions. The fathers were again busy on Saturday morning laying six tons of tarmac to cover an area of 110 square yards on which the children hope to play at Tuesday morning's session.
---
Wolverton Express 12th May 1972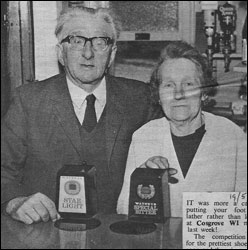 Sidney says goodbye to Barley Mow
WHEN Sidney Eglesfield was a boy, beer was 3d a pint. He remembers it well - he was born in a pub. Sidney is 67 now and the price of beer has gone up a bit. He still drinks it of course but he gave up living in a pub on Monday. Sidney has retired as licensee of the Barley Mow pub in Cosgrove and gone to live at 31 Manor Close. He is picture above with his wife Ada at the pumps of the Barley Mow. He was born in The Barge at Cosgrove where his father was licensee and ran the pub for 10 years until it closed in 1955.
He has been at the Barley Mow for 17 years. Looking forward to a rest "When you get to 67 you are entitled to a rest," said Sidney. "It was getting a bit too much for me. I was getting more trade than I could handle and I am looking forward to putting my feet up and having a rest." He is also a keen gardener and looking forward to the big garden in his new house. Sidney has two daughters and a grandchild. The new licensee of the Barley Mow is Mr. George Parker Becket of Rotherham.
---
Wolverton Express 26th May 1972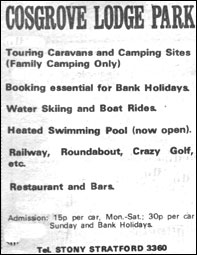 ---
Wolverton Express 2nd June 1972
Cosgrove Mill fire
The 400 years old mill at Cosgrove Priory was badly damaged by fire on Monday. Only a quarter of the huge thatched roof was saved and 50 per cent of the structure was destroyed. The large mill wheel was badly damaged by falling debris which set it alight. Antique carts housed on the ground floor were dragged clear by firemen before the first floor collapsed and the well preserved mill machinery crashed to the ground and was badly damaged. A strong wind hampered the work of firemen. Thatched roofs on two adjoining sheds were also badly damaged in the blaze. The late owner of the mill, Captain Philip Y. Atkinson, died a few weeks ago and his wife, Grace, was staying with relatives at the time of the fire. Cosgrove mill is thought to have been mentioned in the Domesday Book but since the 11th century it has almost certainly been rebuilt several times. The present building is thought to date back 400 years.
---
Wolverton Express 2nd June 1972
Alfred calls it a day
ALFRED MEAKINS retired from Wolverton Works last week - just two days before his 65th birthday. Mr. Meakins, who lives at Manor Close, Cosgrove, has been employed by the works for 48 years. During this time he has worked in nearly every shop including aircraft during the war, painter, cell maker and finally as a battery attendant in the Cell Shop. He spent two years at the Derby Works during the War. Eight years ago he was presented with a long service award after completing 40 years at the Works.
---
Wolverton Express 9th June 1972
Funds bid
Cosgrove Victory Hall Committee have decided to launch an all-out effort to raise funds for a new floor for the hall. Their first function will be a coffee morning on June 29 at Little Orchard, the home of Mrs. Lesley Clark. Among future plans arc a sponsored "knit-in" m the autumn.
---
Wolverton Express 9th June 1972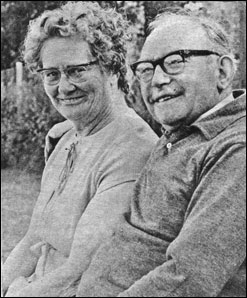 PENSIONERS Bill Castle and Annie Little became the first couple to be married at St. Frideswide's Church, Water Eaton, Bletchley on Saturday. Mr. Castle (71) and his 72-year-old bride were widower and widow and had known each other since their school days at Cosgrove. Mr. Castle is a member of Cosgrove Golden Arrow Club and Mrs. Castle belonged to the Water Eaton Evergreens. Our photograph was taken near their home 6 Bridge Street [Road], Cosgrove, this week.
---
Wolverton Express 9th June 1972
Cosgrove children praised
THERE was praise for the children of Cosgrove Primary School from Miss P. Annis, lecturer in primary education at Leicester University, last week. Miss Annis was judging the art entries in the tidiest village competition and commented "I have not seen such good work by such young children for a long time" The awards were presented by chairman of Cosgrove Parish Council. Mr. E Lambert, who thanked head-mistress, Mrs. N. Horton and her staff for all their work.
Award Winners in the poster section were: 11 years: 1 Virginia Hardy 2 Shelley Hudson. 10 years: 1 Mandy Hitchcock equal 2 Deborah Clark and Andrew Gordon. 9 years 1 Juliet Bidgood 2 David Moore. 8 years 1 Keith Bastion 2 Hilary Groom. 7 years 1 Helen Collins 2 equal Timothy Hudson and Angela Alderman. 5-6 years 1 Nickey Stevens equal 2 Beverly Tustain and Shaun Meakin. 4-5 years 1 Alison Collins equal 2 Susan Beavis and Josephine Stevens.
Collage 10 years 1 Alison Groom: 9 years 1 Juliet Bidgood: 8 years 1 Hilary Groom 2 Geraldine Hardy: 7 years 1 Sharon Beavis 2 Jessica Clark.
Mrs J. Ford accepted the award for the playgroup's frieze collage.
---
Wolverton Express 16th June 1972
SOME of the posters made by the children of Cosgrove primary school for the recent poster and collage competitions for the Tidiest Village Competition are to go on show in the village. At the recent parish council meeting, members thanked the headmistress, staff and children for their work. The news that Towcester Post Office is to be replaced by a sub-post office was met with "dismay and amazement". Members have written to say that even the present service is inadequate.
---
Wolverton Express 23rd June 1972
'Shy girls shun a beauty contest'
"WHERE have all the young girls gone?" that was the cry at Cosgrove village fete on Saturday when not one girl stepped forward to enter the Miss Cosgrove competition. The village girls were too shy to enter the competition which last year was won by Moira Stables, this year's Wolverton Carnival Queen. So the organisers had to take the trophy home again.
The fete raised £120 which was divided between the school and the church funds. Village school children paraded through the village and then opened the fete with an entertainment entitled "Time". Roade Secondary School Band provided a musical background to the exhibition of children's competitions sideshows and stalls.
Winners of the DESIGN OR COLLAGE competition were class 1, 1 Mervyn Alderman. 2 David Cattermole. 3 Richard Clark: class 2, 1 Jessica Clark, 2 Angela Alderman. 3 Annette Bailey. Class 3, 1 Deborah Clark. 2 Martyn Collins. 3 Hilary Groom.
In the FLOWER BUTTONHOLE competition winners were class 1, 1 Alison Collins. 2 Claudia Bastian, 3 David Cattermole, class 2. 1 Adrian Hickford. 2 Jessica Clark. 3 Timothy Hudson, class 3, 1 Karen Freestone, 2 Juliet Bidgood. 3 Keith Bastian.
Cake competition, class 2, 1 Timothy Hudson. 2, Angela Alderman. 3 Robert Ford: class 3. 1 Andrew Gordon. 2 Mandy Hitchcock. 3 Tony Robinson.
---
Wolverton Express 23rd June 1972
Bouquets were presented to Mrs Tack, on her 80th birthday and Mrs E. Chown and Mrs O. Lambert for their silver weddings at a meeting of Cosgrove WI last week. Lady Armstrong and her friend demonstrated how to make models of clay and members tried it for themselves. The demonstrators were thanked by Mrs. Lavendon [Lavington]. The competition for the prettiest cup and saucer was won by Mrs. S. Richards. 2. Mrs. L. Longman. The Red Cross collection organised by Mrs. M Kightley raised a record £15.30. Tea hostesses were Mrs. S. Barnes. Mrs. E. Barnes and Mrs. E. Chown.
---
Wolverton Express 7th July 1972
COSGROVE SPORTS
RED House won Cosgrove Primary School sports last Thursday. They scored 417 points compared with Blue House's 349. Green House's 342 and Yellow House's 190. Highest personal score went to Mandy Hitchcock whose 51 points won her the LeRoy Hart cup. Top scorer in class one was Beverley Tustain with Phillipa Bidgood second and Jeanette Bastian third. Mark Robinson came top in class two with Sallyanne Harling second and Martin Stephenson third.
Individual Results
Running- two laps – Russell Bailey; one lap David Moore; class 2 Mark Robinson; half lap Helen Tweedale; quarter lap Phillipa Bidgood,
Skipping Debora Clark; Wheelbarrow class 3 David Moore; class 2 Mark Robinson and Richard Castle-Smith.
Three legged race – class 3 Juliet Bidgood; class 2 Annette Bailey
Egg and Spoon race – class 3 Mandy Hitchcock; class 2 Richard Castle-Smith; infants Angela Alderman and Jeanette Bastian.
Ball in the Bucket – class 3 Mandy Hitchcock; class 2 David Moore; class 1 Helen Tweedale; infants Beverley Tustain. Slow bicycle race Andrew Gordon.
Relay Race Class 3 Blue House, class 2 Red House.
Throwing a ball Stuart Forester, Shooting a net ball Alison Groom, Bowling Adrian Moseley, Long Jump Russell Bailey, High jump class 3 Russell Bailey, class 2 Sallyanne Harling, class 1 Stuart Forester.
---
Wolverton Express 14th July 1972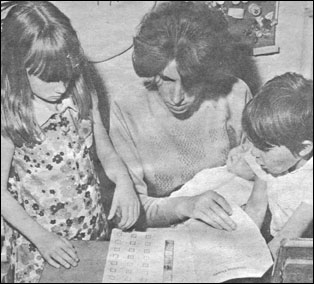 AMONG work on show at Cosgrove Primary School's open day on Thursday was the survey of trees which won first prize in class one of the "Men of Trees" exhibition in Northampton. This survey, together with a collage in seashells by Karen Freestone, is to form part of an exhibition to be held at Leicester which Mr. Peter Walker, Environment Minister, will attend.
Chairman of the governors. Mrs. Rose Rickaby, presented prizes for progress and effort to Nicholas Stevens, Annette Bailey. Helen Collins, Adrian Moseley, Mandy Hitchcock, Russell Bailey, Charles Bastian, Neil Stephenson and Tony Robinson.
Mandy Hitchcock was presented with the Leroy Hart cup for the best individual performer at the school sports day and Russell Batley accepted the House cup on behalf of Red House. National cycling proficiency certificates were presented to Mandy Hitchcock, Andrew Gordon, Russell Bailey, Karen Freestone, Alison Groom, Deborah Clark, Adrian Moseley and Stuart Forrester.
---
Wolverton Express 21st July 1972
HER 31st SEA CRUISE!
MRS. Lynn Boskett from Cosgrove has packed her bags once more and is off on her 3Ist sea cruise — yet it's all in a day's work. Mrs. Boskett is a teacher and her job includes taking parties of schoolchildren on educational cruises. She left yesterday (Thursday) on her latest trip to Iceland, accompanying 25 youngsters mostly from Deanshanger Secondary School, where she has been teaching for five years. The "Midnight Sun" cruise sails from Liverpool to Iceland. Expeditions around Reykjavik will be followed by coach and train journeys right into Iceland and Swedish Lapland. The pupils will see volcanic scenery, hot springs and the midnight sun before returning home on August 3.
The cruise was originally scheduled to include a visit to Murmansk in Russ but the Russian authorities suddenly withdrew permission for the visit. The itinerary had to be changed to include Reykjavik instead. Mrs. Boskett, who has been on cruises to many parts of the world, said the most exciting one was to the West Indies, visiting Jamaica and passing very close to Cuba. When Mrs. Boskett returns from Iceland it will not be long before she is thinking about her next trip which is to the Mediterranean at the beginning of the autumn term.
---
Wolverton Express 28th July 1972
Storm floods home at Cosgrove
WHILE water-soaked Cosgrove was mopping up this weekend after torrential rain in the early hours of Sunday morning flooded at least one home, the villagers heard of a further delay in a planned flood relief system. Firemen drained 300 gallons of water from the ground floor of one house, on The Green, and heavy rain caused slight damage to other homes and flooded several gardens.
Towcester Rural District Council has been planning to build a storm water overflow sewer at Cosgrove since last year when, in December, J. O'Shaughnessy Ltd. accepted a tender for the job but work has not started. Earlier this month the firm told the council that since December costs of materials had risen out of all proportion from the original figures quoted in the tender. At a meeting on Tuesday the council accepted a recommendation from the public health committee that the Staffordshire firm of Kelly Bros. (Contractors) Ltd. be approached to negotiate a new tender. Mr. Peter Clarke, the Cosgrove councillor, said that in view of the flooding in the village he must press the council for an early installation of the storm water sewer.
Meanwhile Mrs. Ann Oakley, of 18 The Green is counting the cost of damage caused by four inches of floodwater in her home on Sunday morning. "At least one carpet is badly damaged and there is still a smell about the place," she said. "I know about the delay with the overflow sewer but I am too realistic to be angry. I'm sure the council is doing all it can."
It was shortly after 4 a.m. on Sunday that Mrs. Oakley and her teacher husband were awakened by the thunderstorm and carried most of the furniture upstairs before the flood invaded their home. A drain in a low-lying yard behind the house over-flowed and firemen from Daventry removed a kitchen step to allow water to drain from the house. While Mrs. Oakley and her husband were wading ankle deep rescuing the furniture their 20-month-old son slept soundly upstairs. Firemen removed the kitchen step to allow the water to recede.
Mrs. Oakley added, "I think it is just unfortunate that we had a severe storm before they got round to fitting the overflow. Now they know it definitely is necessary. I don't think they were convinced before." Next door at No. 20 The Green, air-line pilot Nigel Flack had better luck. He had dug a trench to the west side of his cottage while building an extension and that stopped the floodwater getting into his home.
---
Wolverton Express 4th August 1972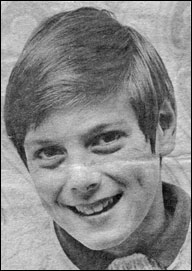 Michael Walpole.... plenty to smile about now after his kiss-of-life rescue at the Cosgrove pool.
AN 11-year-old boy who was found 'dead" on the bottom of Cosgrove Lodge pool was brought back to life by the pool attendant who gave him the kiss of life. It was nearly ten minutes before the boy, Michael John Walpole from Geddington, Kettering, began to breathe again. The attendant, David Norrie, who had never given the kiss of life before, revived Michael three times and was about to give him the kiss of life for the fourth time when an ambulance arrived and gave him oxygen.
Shortly before midday on Sunday, Michael's father, who was also in the pool, suddenly realised his son was missing. He looked round and saw Michael being dragged from the bottom of the deep end. Michael who could not swim, was either pushed or accidentally knocked into the 7 ft. 6 in. deep end of the Pool. It is thought that he was under for about a minute before being spotted by swimmer Peter Everett who dived down with a friend, John Dudley, and rescued Michael from the bottom of the pool. Peter, aged 26, from 38 Sandyhome Road, Towcester, said "I thought at first it was a lad swimming with a snorkel. I was a bit worried though, so I took a second look and called John. We dived down and found him lying spread-eagled on the bottom. "We brought him out. He was blue all over and we thought he must be dead." Meanwhile, David Allen, a friend of the two men who rescued Michael, ran over to Cosgrove Lodge Hotel, situated some distance from the pool, to telephone for an ambulance.
Mr Norrie, who was by the adjoining paddling pool at the time of the rescue, raced round and gave Michael the kiss of life. "He was not breathing, had no life at all and was really blue. I thought we had lost him," said 30 year old Mr Norrie, who lives near Weedon.
"It was about nine minutes before I felt any movement in his lungs. Everything seemed to happen so quickly. I was only concerned about bringing him back to life. There was no doubt about it – he was well and truly dead.
"I eventually got him to breathe and he started screaming. I wanted him to keep on because he had to breathe to scream." he said. 'He stopped breathing twice and I revived him. He stopped for the third time, but then the ambulance arrived with oxygen." Michael, who was camping with his family at Cosgrove, was taken by the ambulance to Northampton hospital where he made a speedy recovery and was released on Tuesday. Mr. Norrie, who has been an attendant at Cosgrove for just over a year, rescues on average one person a week. "It is so easy for someone to get into jeopardy. Cramp can come on so quickly." he said "I rescued two women as well as Michael on Sunday. And that night I seriously thought about giving the job up. But then I thought of the reward of bringing that boy back to life and the joy on his mother's face."
---
Wolverton Express 25th August 1972
Former High Sheriff left £78,000
LIEUTENANT-COL. Philip Y. Atkinson, a former High Sheriff of Northamptonshire, who died on April 12 at the age of 85, left over £78,000 in his will published today. Lt. Col. Atkinson left £78,317 gross £77,194 net, with duty of £9,105, and probate has been granted to Sir Hereward Wake and Lady Julia Wake, of Courteenhall. Lt. Col. Atkinson, who lived at The Priory, Cosgrove, served in the 5th Dragoons during the 1914-18 war, when he was awarded the Military Cross for gallantry. He was High Sheriff of Northamptonshire in 1967.
---
Wolverton Express 1st September 1972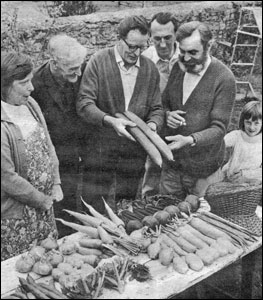 PROCEEDS from Cosgrove Flower and Produce show held at the Barley Mow on Saturday will provide a Christmas film show for the Senior Citizens Golden Hour Club. Net proceeds from the show, from the sale of exhibits and gifts, raffles and cash donations, and after deduction of prize money, was £19.30. Mr. Gerry Runacres who organised the show also runs the film show. Judges for the show were Mr. Bob Coulson of the White Swan, Stony Stratford for the vegetables, fruit and flowers, and Mrs. G. Beckett of the Barley Mow Cosgrove, for the domestic and children's classes.
Cash donations were received from Mr. E. Lambert, Mr. E. Brown and Mr. G. Runacres. Prizes for the raffle were given by Mr. George Beckett, landlord of the Barley Mow, and Mrs. Jean Runacres. Raffle winners were bottle of gin, Mr. P. Hickford, box of groceries, Mr. M. Hickford; cake. Mrs. Gayton; bottle of beer, Mr. P. Lyman.
---
Wolverton Express 7th September 1972
Threat to canal plan
OBJECTIONS have been raised by the Inland Waterways Association to the proposed siting of the A5 diversion for the new city of Milton Keynes. For if the diversion is built as planned, all chances of re-opening a stretch of canal from Cosgrove to Old Strati ford must be abandoned. Complaining to the Department of the Environment, the Association has urged a full public inquiry. Clearance of the stretch —which formed the Buckingham Arm part of the Grand Union Canal — was due to start during the winter, and the Association had planned to have it re-filled with water and opened by the Spring.
---
Wolverton Express 8th September 1972
A journey along the Russian Road
THE Russian Road to Samarkand was the subject of a lecture given by Miss E. Hemelryk, of Cosgrove, at Wolverton, on Saturday evening. Miss Hemelryk offered to give the lecture free of charge in order to raise funds for the Catholic Church Development Fund in Wolverton and Stony Stratford. Normally, she travels all over the country giving lectures on Islamic architecture. Saturday's lecture was at tended by a disappointing audience of only about 25 people but was well received, and it is possible that there may be another lecture at a later date. Miss Hemelryk told her audience that she travelled the Russian road to Samarkand last year in order to see the tomb of Tamerlane, one of the wonders of Islamic architecture. But she also visited Moscow and Siberia, and took photographs of the Red Square and Lenin's tomb. Her lecture was illustrated by a number of slides taken during her visit.
---
Wolverton Express 29th September 1972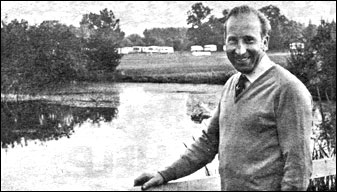 COSGROVE PARK SOLD FOR ¼m
by Mike Evans
COSGROVE LODGE Park, the 110-acre estate transformed from a gravel pit wilderness to a modern holiday centre, is being sold for around £250,000
The buyer is Mackenzie Hill Ltd., whose chairman, Mr. Charles Mackenzie Hill, lives at Cosgrove Hall, overlooking the park. The firm has bought the freehold from Cosgrove Lodge Ltd., a company set up by the Clarke family to develop and run the park. Mackenzie Hill will take over running the park and hotel from December 1, and a meeting between the companies will be held soon to finalise the deal.
The biggest headache inherited by Mackenzie Hill is a problem which has dogged Cosgrove Lodge for years - access.
Only one narrow road through the village leads to the park and villagers have been up in arms about congestion and danger to children and the elderly from traffic. Over 1,000 cars and caravans go through the village on a busy bank holiday.
Northants County Council has barred any further major development at the park until a new access road is built, says Mr. Peter Clarke, the 35-year-old director and estates manager with Cosgrove Lodge Ltd. They had looked into the question of another access road and immediately came up against the problem of where to put it. Only two routes seemed possible —from Wolverton, which would require a bridge over the River Ouse, or from the Northants side which would mean bridging the Grand Union Canal. Their estimates put the cost at between £100,000 and £200,000 for either of the schemes.
Mr. Clarke, a civil engineer, explained that the company would be put into liquidation after the freehold was sold. He would still live at Cosgrove in his present home and continue as a rural councillor. Mackenzie Hill director, Mr. Bob Bristow, who has been handling the purchase, said on Tuesday: "We intend to raise the standard of the whole thing because we believe the potential is there. I can't say what improvements will be at this stage.
On the question of developing part of the estate for housing, Mr. Bristow added: -There is no question of any housing in the grounds at the moment. Things will remain just as they are." The park was bought by Cosgrove Lodge Ltd. in July 1963, for a reputed £35,000, and the disused gravel pits were transformed into a popular leisure park.
---
Wolverton Express 6th October 1972
CONCUSSED
NIGEL Bailey (20), of Lock House, Cosgrove, was taken to Northampton General Hospital with concussion after his car had been involved in an accident at Hanslope on Thursday of last week. Mr. Bailey's condition was said by a hospital spoken man on Monday to be "comfortable".
---
Wolverton Express 6th October 1972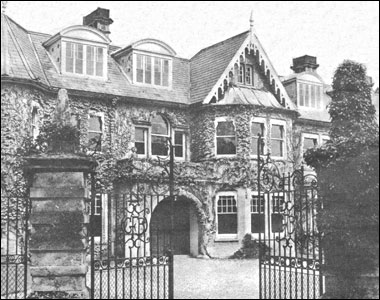 A view of the lodge taken at the time of the sale in 1961.
The initials "GFB" can clearly been seen in the ironwork of the gates.
WHEN COSGROVE LODGE WAS "BRANSON'S FOLLY"
MACKENZIE Hill Ltd., who have bought Cosgrove Lodge for a reputed £250,000, may think its 110 acre park has a future potentially rich in capital returns. But a glance at its history reveals a past rich also in colour and controversy. Colour was in the form of one George Frederick Branson, a 19th century version of today's football pools winner, who came into a fortune by luck and allegedly lost it through luxury, leaving Cosgrove Lodge as his only lasting achievement.
By MIKE EVANS
Controversy has surrounded the estate for generations, from gossip mongers speculating the naughty goings-on at Branson's Folly as the Lodge was originally called, to the opening of the grounds as a gravel pit and later as a leisure park with thousands of day trippers pouring through the village with cars and caravans. It all started, as some locals still recall, with "Squire" Branson's arrival at Cosgrove at the end of the century. This is how the "Express" recorded the story in 1961: "Drover's boy, potman, barman, he might have been but when he came to this small Northants village in 1898 he had quite a sizeable fortune.
SWEEPSTAKE
"He had won the money on a sweepstake in an out-post of the British Empire - some say Canada, others India, South Africa or even Australia. Anyhow this rotund, jovial man with a charming wife showed a sound business head. "Before coming to Cosgrove he set part of his winnings to work. buying up public houses, improving them and selling them to breweries at a handsome profit.
"It is a fact that Branson built the Lodge on the site of a former farmhouse in 1898 — and he made sure people remembered him. His name was cut on a foundation stone near the front door. His initials stand boldly in stone over the porch, inter-twined in the massive black iron gates and can still be vaguely seen on some well-polished brass door knobs.
"G.F.B. is carved over the Fireplace and in the hall —but the Bransons did not need the initials. People still talk of his fabulous extravagance, his generosity, his drinking and his all-night parties.
"Branson had a house in London and many were the rich friends he entertained at The Lodge with parties that set the village talking. Some people envious of his apparent wealth and contemptuous of his extravagance prophesied: 'He'll die a pauper."
They may well have been right. About 10 years after making his home at Cosgrove, Branson left - selling the house he had so splendidly built with all the best materials - and returned to London. Some say he died a poor man.
"That may be so. But his monument is at Cosgrove in his house and in the memories of his misguided generosity.
"On Branson's abdication, a Mrs. Bird made the 10-bed-roomed manor house her home for a short while. It was then empty for eight years before Mr. and Mrs. C. R. Whiting moved there in 1919. They stayed for 31 years.
In 1950 Mr. and Mrs. W. Betts and family took over the house for eight years, then Dowsett's set up offices there while the M1 motorway was being built. For two years it remained empty until Mr. J. H. White, of Barton Hartshorn Manor paid £7,300 for the house and land at a Northampton auction in May 1961.
It was at that sale that Cosgrove Sand and Gravel Company finally gave up the use of the vast gravel pits having exhausted supplies after years of excavation. Although Mr. White managed to get outline planning permission for a country club with sailing, fishing and sites for caravans, he did nothing to put this advantage to good use.
Two years later in July 1963 with these permissions the house and estate passed into the hands of the Clarke family for a reputed £35,000. With Mr. Harry Clarke, managing director of the newly formed company Cosgrove Lodge Ltd., at the 1 helm and his son Peter as estates manager, the disused gravel pits were transformed in the following years into a huge leisure park and the Lodge into a hotel.
---
Wolverton Express 6th October 1972
Access road has stifled progress
PETER Clarke, 35 years old estate manager and the main energy behind the success of Cosgrove Lodge Park has told why his family decided to sell the estate to Mackenzie Hill Ltd., after running it for nine years. Cosgrove Lodge Ltd. bought the 110 acre site in 1963 and transformed it from disused gravel pits into a modern leisure centre. But Northants County Council has barred all major developments at the park until a new access road is built to relieve traffic congestion on a narrow, winding road through Cosgrove which is the only means of access to the park.
The ban has brought to a standstill all plans for improving and developing the park. The company has said it cannot afford to build a new access road, which would mean bridging either the Grand Union canal or the River Ouse. Said Mr. Clarke: "I am a civil engineer by profession and when you are used to constructing things you are lost once you are unable to go any further. We have reached a stage where we have developed as much as we can with the present access road through the village. The capital involved in getting a new access to avoid Cosgrove village is too great."
The village itself would ben-fit all round from new developers taking over the park with money to construct another road into it," he added. The board of Cosgrove Lodge Ltd., managing director, Mr. Harry Clarke, directors Mr. Peter Clarke, Mrs. Lesley Clarke, Mrs. William Hayward and secretary Mrs. Audrey Hayward have decided to wind up the company when Mackenzie Hill Ltd., who are expected to pay £250,000 for the freehold, take over the park on December 1. Peter Clarke intends to, return to civil engineering having previously worked on a number of major projects throughout the country including the. Sheffield to Leeds motorway, Doncaster by-pass, an Atomic Energy Research establishment in Dorset and a power station at Birmingham. But he will continue to live in Cosgrove in his present home and will remain the village representative on Towcester Rural District Council.
---
Wolverton Express 20th October 1972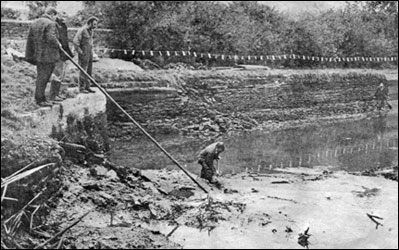 Repairs to the brickwork and the re-placement of the lock gates at Cosgrove has meant that the stretch of canal there has been drained all this week. The repair work started on Monday and should be completed this evening (Friday). All users of this stretch of the canal had been warned about the stoppage, and the work caused no inconvenience.
---
Wolverton Express 20th October 1972
Cosgrove Rector
THE REV. Robert Harold Beatty has been appointed Rector of Cosgrove in succession to Canon S. Woodward who retired in April. Dr. Beatty was ordained in 1951 and is a graduate of the University of West Ontario, and Trinity College, Toronto. In addition to being an honours graduate of Keble College Oxford, he was awarded a degree as a Doctor of Philosophy at McGill University in 1962. Dr. Beatty, who is 45, at present an assistant priest at St. Luke's, Oseney Crescent in North London. His wife is German and they have three small children. The date of Dr. Beatty's institution at Cosgrove has not yet been arranged but it is hoped that the Bishop of Peterborough will institute him before the end of the year.
---
Wolverton Express 10th November 1972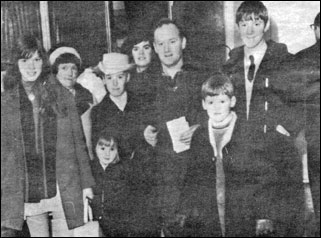 The Wallington family just boarding the ship on February 14th, three years ago, on their way to Australia Left to right are Sandra, Mrs. Marina Wallington, Steven (in the white hat) Jeanette Mr. Dennis Wallington. Trevor and John.
Double Tragedy as second son is killed
TRAGEDY struck a former Cosgrove family for the second time in a year last week. Mr. and Mrs. Dennis Wallington sailed for Australia three years ago full of hope for a new life. Now two of their sons are dead after road accidents. Mr. and Mrs. Wallington and their six children decided to emigrate from their home in Bridge Street, Cosgrove, in 1969. Their 14-year-old son Steven died in a car crash last April and last week 12-year-old Trevor was killed by a hit and run driver.
HEART-BREAK
Mr. Wallington's sister. Mrs. Lucy Beechey, of 24 Yardley Road. Cosgrove, heard the heart-breaking news this week from relatives in Birmingham. She said her brother and his family had seemed to settle down so well in Australia and were really happy His wife gave birth to another son, Dean, two years ago, and everything was going well for them. Then earlier this year Steven was involved in a car crash and died four days later from his injuries. Just as the family was getting over this terrible shock, tragedy struck again, and Trevor was killed while out cycling with a friend. A police hunt has started to try and trace the driver of the car that killed the boy.
NEW LIFE
Mr. and Mrs. Wallington lived in Cosgrove for 10 years. Mr. Wallington worked for British Waterways as a boatman. They decided to make a new life in Whalan, Mt. Druitt, New South Wales, Australia, where Mr. Wallington got a job in industry. The Wallingtons have four other children, Jeanette, aged 19. John 17, Sandra 16 and Andrea 8. "I don't know if they will stay there now. They will take it very hard." said Mrs. Beechey.
---
Mercury and Herald Thursday November 12 1970
COSGROVE CHURCH LIFE "VERY LIVELY" SAYS THE RECTOR
On the wall of Canon Woodward's study at Cosgrove Rectory hangs a large and detailed map of Japan. He knows that map well because he was born in Japan, where his parents were missionaries. His first three sons were also born in Japan, a daughter and a fourth son being born after Canon and Mrs Woodward had returned to England.
Canon Woodward was ordained in the Lichfield Diocese in 1927 and in 1930 returned to Japan as a missionary. On November 5th 1931 his fiancée landed in Japan for their wedding and on November 5th 1941 they set foot in England again.
Refugees
They left Japan nearly a year before Pearl Harbour, reached Los Angles with their three small sons, virtually refugees, and went on to Jamaica, where for some months Canon Woodward was able to resume his work for the church and do some teaching.
From 1942 to 1949 he was vicar of St Mark's Peterborough and then for 17 years Rector of Uppingham where he was also rural dean. He has been an examining chaplain to the Bishop of Peterborough since 1954; a non-residentiary canon of Peterborough Cathedral since 1956 and a Proctor in Convocation for 10 years.
He was appointed rural dean of Preston in January 1967 and relinquished this office on the recent merger of Preston with the enlarged Towcester Deanery.
Canon and Mrs Woodward's five children have chosen an interesting variety of callings. David, the eldest, is a senior probation officer at Brixton; the Rev Peter Woodward is a missionary in Madagascar, and with his wife and two small boys is now home on furlough; John, an industrial chemist, is doing research work in North Carolina; Margaret, a school teacher, married Mr John Woolley, a lecturer in mathematics at Kilburn Technical College, and Robert is a mental health welfare officer with Somerset County Council.
Difficult choice
Attached to Cosgrove for ecclesiastical purposes are the 200 people of Old Stratford who live on the Cosgrove side of the A5. The rector agrees that the arrangement presents difficulties for the elderly and infirm at Old Stratford. Is is not easy for them to get to church and they greatly miss a church in Old Stratford itself, the other choice, apart from Stony Stratford, being Passenham church.
When Canon Woodward arrived at Cosgrove some £1,500 had been spent on restoring the chancel at St Peter and St Paul, with about £500 owing to the diocese. This has been paid, and the report shows the fabric to be in excellent condition, although some minor maintenance work is estimated to cost some £300 or £400.
One great improvement effected after Canon Woodward's appointment to Cosgrove [1966] was the installation of electric heating at a cost of £700 in place of one coke stove behind the organ.
Lively Church
Church life at Cosgrove, says the Rector is "very lively with church attendance slowly but surely increasing – nothing spectacular, but a sound, healthy build up. Newcomers naturally take a little time to settle down but are doing so quite well."
He and his wife have been "very happy" at Cosgrove, which shares in a "strong Deanery sense" shown by both clergy and lay people.
The Churchwardens are Captain P Y Atkinson of Cosgrove Priory and Mr E R Lambert of Manor Close. Other good friends of the church include Mr F C Elliott, reader; Mr H McClean, church treasurer, and Mr Charles Mackenzie Hill of Cosgrove Hall, who has lent his gardens for the annual fete.
Lay Reader
Mr John Wootton, who has been a lay reader in Passenham and Deanshanger for a score of years, is Sunday School superintendent at Cosgrove and cycles from Potterspury on Sunday afternoons. The organist is Mr Lewis Clark, of Stony Stratford, and Mrs Woodward is enrolling member for the Mother's Union.
Small estate
One Mansel memorial at Cosgrove is the name Mansel Close, the small private estate built in recent years on the site of 17th century Manor Farm.
Mr Albert Tack, of 1 Yardley Road who has been parish council clerk for 31 years, and is an authority on the history of the village, has an old stone wall running down one side of his garden. Until Manor Farm was swept away to make room for Mansel Close that wall supported the roof of the farm's milking parlour, and close to that were stables, dutch barns and implement sheds. No wonder Mr Tack describes the new compact housing estate as "very much a change".
---
Wolverton Express 1st December 1972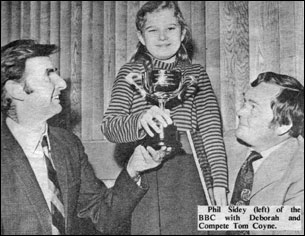 WITH the rest of her class at Cosgrove County Primary School, 10 year old Deborah Clark entered a painting competition marking the BBC's 50th anniversary. Deborah was the lucky one. She won first prize. On Monday, Deborah and her headmistress travelled to the BBC Midland headquarters at Pebble Mill, Birmingham, to receive the silver trophy which will be kept by the school as a permanent reminder of Deborah's win. Deborah was among more than 45000 Midlands schoolchildren who were invited to take part in a series of essay and painting competitions run by the BBC m Birmingham, She received the first prize from Phil Sidey for her painting "The Herbs" in the 8 to 11 years age section and also met compere Tom Coyne.
---
Wolverton Express 5th December 1972
NEW RECTOR AT COSGROVE
Bishop the Rt. Rev. Douglas Feaver instituted the new Rector of Cosgrove, Dr. Robert Harold Beatty at Cosgrove Parish Church last week. After the ceremony, the Bishop's first institution in the diocese, a reception prepared by the ladies of the Church was held at the Victory Hall. Dr Beatty, who is married with two small children, was working in Camden Town until recently.
---
Wolverton Express 8th December 1972
CANAL SPUR TO RE-OPEN?
A POSSIBILITY that a disused Branch of the Grand Union Canal between Cosgrove and Old Stratford may be reopened for leisure activities is being studied by Milton Keynes Development Corporation and the Inland Waterways Association. The idea is being probed in detail before the Secretary of State determines the line of the A5 road diversion through Milton Keynes. Mr. Ernest Pye, engineer and surveyor to the corporation, said this week that the new A5 diversion cuts to the east of Old Stratford, apparently cutting across the disused stretch of canal which is an old floating area.
"The Inland Waterways Association have now said they are hoping to resurrect this length of canal from Cosgrove to The Basin and the road would cut it off completely." he said. "We have looked at this to see if it would cost much to avoid the area and are of the opinion it could be very expensive to lift the road over the top of the basin. However, if there is to be leisure use of the canal, the matter is certainly worth studying in greater detail and because the IWA is so concerned we are presently considering the alternative of putting a new basin to the east of the A5 diversion.
---
Wolverton Express 8th December 1972
Cosgrove 'Golden' prizes
FORTY pensioners braved the weather to watch an hour long film show on Friday evening at Cosgrove. Entrance prizes were won by Mrs. Ruff, Mrs. Giles, Mrs. Stewart, Mrs. Tack, Mrs. Brockway, Miss Lord, Mrs. Clark, Mrs. Spokes Mrs. Ratcliff, Mr. Hickford, Mr. Berrill, Mr. Tack, Mrs. Hillyer, and Mrs. Lyman.
The evening was a joint effort provided with money raised by the flower show earlier this year, the Golden Hour Club and helpers. There were donations from Mr. George Beckett of the Barley Mow and Mr. and Mrs. G. Runacres. The Golden Hour Club continues its Christmas celebrations with a first party next Tuesday.
---
Wolverton Express 12th December 1972
Golden party
COSGROVE Golden Hour Club, formed in May, celebrated its first Christmas party last week. After a meal of salad, hot potatoes, trifle, mince pie, and Christmas cake, members were entertained by the Brooklands Singers from Newport Pagnell, and the Golden Melody, from Deanshanger and Old Stratford.
---
Wolverton Express 15th December 1972
Cosgrove bazaar
CHILDREN of the Cosgrove Playgroup entertained their mothers with a Christmas Nativity Tableau at a mini bazaar in the village hall. The bazaar raised over £34 for playgroup funds. Competitions and raffles were won by Mrs. S. Richards, Mrs. Beatty, Mrs. Brockway, Mrs. Spokes, Mrs. V. Mayo, Mrs. G. Alderman, Mrs. C. Bury, Mrs. Tanner, Mrs. J. Shackleford and Mrs. Hickford. Their next money raising activity will be a coffee morning on December 18 at the Mansel Close home of Mrs. P. Prosser.
---
Wolverton Express 15th December 1972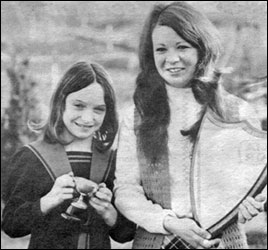 Boating family scores hat-trick
THE Goff family have pulled off a family hat trick by just messing about on the river. Our picture shows Virginia Goff aged 11 and her married sister Mrs. Sylvia Pitkin with their recent awards from the Taverners Boat Club. Sylvia won her award for her work during the year for the boat cruising club based at Cosgrove and sister Virginia was awarded her cup for the junior who had helped the club most. And Dad got into the act as well. He was presented with an award at the club's annual dance as Clubman of the Year. Sylvia (aged 22), of 68 Milton Grove, Bletchley, won the same award last year. She owns her own cruiser and spends most summer weekends cruising up the canals.
---
Wolverton Express 15th December 1972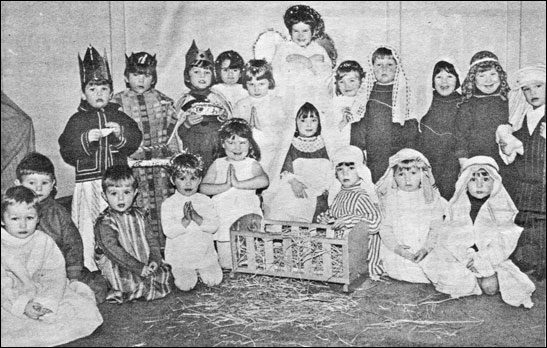 COSGROVE Playgroup presented its Christmas tableau - above - to mothers in the Victory Hall on Tuesday last week. The 20 children, all under five, were dressed as shepherds, the three wise men, and Mary and Joseph, with children watching the scene, to represent the Christmas story. They sang the first verse of "Away in a Manger" and were joined by mothers for the next two verses.
---
Wolverton Express 22nd December 1972
CAROLS AT COSGROVE
CHILDREN who went carol singing in Cosgrove last week had two aims - to raise money for charity and to advertise the production of the Christmas story at the Primary School. Money raised at the school will go towards funds for a trip to Wembley and £10.40 from carol singing will be sent to charity.
---