Northampton Mercury - Friday 24 March 1950
HOUSEMAID reqd. two in fam: wages and outings. Apply Mrs. Atkinson, Cosgrove Priory, Stony Stratford.
---
Northampton Mercury - Friday 19 May 1950
Cosgrove rider wins N.C.U. championships.
The Northants Centre N.C.U. Open and Centre championship was held on Sunday over 25 miles on a local course starting at Wootton Barracks. Out of an entry of 83, R. H. Herbert, of Cosgrove, won the whole event with a very fine time, despite difficult conditions, beating the best of two visiting teams, Westerley and Middlesex.
---
Northampton Mercury - Friday 26 May 1950
Under the temporary halls scheme, it was stated, Cosgrove and Naseby projects had been completed, and the hut at Moreton Pinkney was nearing completion. At Old the work had not yet started.
---
Northampton Mercury - Friday 21 July 1950
Following a public inquiry last month, the General Purposes Committee of Northamptonshire County Council are recommending the creation of a new parish at Old Stratford. Composed of parts of the existing parishes of Cosgrove, Deanshanger and Furtho, the new parish will have council of nine members and will also send a representative to Towcester Rural Council, thus increasing that authority's membership from 40 to 41. Under the proposed changes, the parish of Furtho will be abolished. The parts not transferred to the new parish will be embodied in the parishes of Cosgrove and Potterspury. The new parish will be in the Potterspury county electoral division and will come into being from next April, although the new boundaries will be used before this date for electoral or valuation purposes if this is necessary.
---
Northampton Mercury - Friday 04 August 1950
Victory Club & Hall, Cosgrove.
A GRAND DARTS TOURNAMENT
To be held in the above Hall on
SATURDAY, AUGUST 12, 1950,
Commencing 6.30 a.m.
FERMOR HESKETH CUP and 15 Guineas in Prizes.
Cup be presented by Major The Hon. John Fermor-Hesketh. Team of Four Players. Entrance Fee 10s. per Team. Closing Date Wednesday, August 9. Send Entries to J Hebson, 7, Yardley-road. Cosgrove. Wolverton, Bucks Rules sent on request.
---
Northampton Mercury - Friday 20 October 1950
HIS FIRST "STRAY" IN 50 YEARS
FARMER AMOS of Quarry Farm. Cosgrove, made his first appearance before Stony Stratford Magistrates to answer a summons for not having his name and address on a dog's collar. Neatly dressed in a jacket, riding breeches, gaiters and heavy farming boots, he pleaded not guilty.
P.C. N. Shaw said he seized a stray Welsh collie dog in the Market-square, Stony Stratford, and took it to the kennels at Newport Pagnell. It wore a collar, but there was no name or address.
Amos told the court he had been farming for 65 years and had bred Welsh collies for 50 years, and had never had one stray before. "I'm an old hand,'' he said. He explained that a lot of people went into the quarries and must have let it out. "It was only a few months old," he said.
The chairman, Dr. D. Bull, told Amos he would have to pay a fine of 5s as he had already paid for the keep of the dog at the kennels.
"Thank you, sir," said the farmer. Taking a little cloth bag from his pocket, he counted out the money and handed it to the clerk.
Then, with a whimsical smile, he donned his black bowler hat and left the court room, and as the magistrates continued with their task of administering justice, the metallic clink of the farmer's boots could be heard as he went down the steps to collect his little pony and trap with the "L" plate at the rear, which is a familiar sight in the town.
---
Northampton Mercury - Friday 24 November 1950
MASTER PLAYERS VISIT COSGROVE
A concert by the Master Players was held at Cosgrove Women's Institute In aid of the Blind Association. Cyril Shrives was the accompanist and the show was produced and compered by R. F. Manning. Mr. S. Jackson thanked the artists on behalf of the Blind Association.
---
Northampton Mercury - Friday 06 April 1951
WITH VACANT POSSESSION. BUCKS—NORTHANTS BORDERS
THE ATTRACTIVE FREEHOLD RESIDENCE known as
THE OLD DOWER HOUSE, COSGROVE.
Near STONY STRATFORD.
Three Reception Rooms, four Principal and two Secondary Bedrooms, usual Domestic Offices, Large Garden and Orchards, Garage, Stables and GARDENER'S COTTAGE.
Which MR. P. C. GAMBELL Is Instructed by the Executors of the late Miss E. C. Wells to Sell by Auction at THE SWAN HOTEL. NEWPORT PAGNELL, on WEDNESDAY. MAY 1951. 3 p.m. exact time (unless previously disposed of by private treaty). Vacant Possession will be given on completion of purchase. Further particulars and Orders to View may be obtained of the Solicitors; Messrs. Western and Sons, 35 Essex-street. Strand. London, or of the Auctioneer.
---
Northampton Mercury - Friday 24 August 1951
COSGROVE.
The Old School House.
Charming Detached Cottage Residence in lovely gdn; 3 rec. kchn scullery (h. and c.), 3 bdrms. bathrm (h. and c.); heated linen cupboard dual hot water system; perfect cond, gd garage STONE-BUILT and Thatched Farmhouse type House. 6 miles N'pton, on excellent bus route. Oak timbering, leaded windows, ingle nook: hall, cloakrm, 3 rec. kchn (h. and c.), 4 bdrms, bathrm (h. and c.). 2 w.c.s; main drainage, water, gas. electric light and power ail laid on; garage 15 x 20; outbuildings; and kchn gdn. £4.500.
---
Northampton Mercury - Friday 14 September 1951
FINED FOR TRACTOR OFFENCES
25-years-old agricultural worker, John Eric Gayton, of 2. Yardley-road, Cosgrove, was fined 30s. by Towcester Magistrates for driving a tractor without Identification markings and without a licence attached, at Old Stratford, on August 13.
---
Northampton Mercury - Friday 14 September 1951
Blind Darts team at Cosgrove.
Yesterday the blind darts team – 26 workers from the Northamptonshire Town and County Association factory in Parade, Gray-street, Northampton, and Wardington Court visited the Barley Mow Inn, Cosgrove, by the invitation of Mrs. Bushell. "She is very interested in our work," Mr. S. Jackson, association secretary - superintendent, tells me, "and has been a grand helper for many years."
---
Northampton Mercury - Friday 19 October 1951
Correspondence DISEASED TREES IN HEDGEROWS
Those who travel throughout Britain cannot to notice the number of dead and dying trees, mature and Immature, in our hedgerows, and to those in whose interest it is to observe more carefully, it would appear that number of diseased trees increasing steadily. The diseases vary according to the timber infected and they spread by various methods, but one uniform fact must be obvious, that an infected tree is a source of danger to sound ones. Trees cut soon after their infection becomes apparent will still yield useful timber, possibly prevent still further the spread of disease, remove the source of ultimately unsightly skeletons and at the same time assist the supply of home grown timber, of which there is such a shortage at the present time. Every landowner, large or small, should be appealed to watch his trees more critically with these points in mind.
F. W. Hurry. Little Manor. Cosgrove.
---
Northampton Mercury - Friday 02 November 1951
AUSTIN 16 hp for sale, not yet three years-old; one owner: excellent cond; black; disc wheels, wireless, heater, fog lamp. Price £ 1.000. No offers. Little Manor. Cosgrove.
---
Northampton Mercury - Friday 25 January 1952
Towcester R.D.C. to join in protest
Towcester Rural Council are to join with Wolverton Urban Council in protesting against the Government's refusal to allow work on the outfall works part of their £154,000 joint sewerage scheme to proceed. At Monday's meeting of Towcester Rural Council, the chairman (Mr W. H. Marlow) and Mr W. T. Groom were appointed to serve on a joint deputation with Wolverton representatives which is to seek an interview with the Minister of Local Government. Deep concern at the Ministry's decision was expressed when Wolverton Urban Council were Informed last week. It was stated that the Council regarded it as a decision which must be reversed as soon as possible. Work on other parts of the scheme which will provide sewerage for a large part of South Northamptonshire including Wicken, Deanshanger, Potterspury, Cosgrove and Yardley Gobion, has been proceeding for some time.
---
Northampton Mercury - Friday 06 June 1952
MISSING MAN FOUND IN RIVER
A verdict of death by drowning while the balance of mind was disturbed was recorded by the Coroner for South Northamptonshire (Mr. J. S. Budge) at an inquest held on Tuesday at the Barley Mow, Cosgrove, on Percy Swain, of The Green, Cosgrove.
Ernest Swain said he lived with his brother, who was 55. They were both leather dressers. For the past two weeks his brother had been very depressed. Last Tuesday night when witness went to bed his brother was reading the paper. The next morning he found his brother was missing. Witness made a search, but could not find him, so notified the police. He found a note among some papers which stated that his brother intended to take his life. In it his brother said that his nerves had given out.
Dr W. M. M, Douglass said he saw the body on Tuesday and thought death had occurred four to six days previously. The cause of death was drowning. Swain had been to see him, had said he was worried, but was not very communicative. Witness could find nothing wrong with him physically.
Richard Longman, 6, Bridge-street. Cosgrove, gave evidence of seeing the body in the river about 50 yards from the mill basin. Mr Budge said the note Swain had left showed his mind was unbalanced.
---
Northampton Mercury - Friday 05 September 1952
BELLRINGERS' OUTING
Thirty-four bellringers, with their wives and friends, from Cosgrove, Stony Stratford, and neighbourhood, visited the Irthlingborough district on Saturday for their annual outing. The first call was Irchester, and then to Higham Ferrers, Raunds, Irthlingborough, and Finedon. Tea was taken at Raunds. The visitors were full of praise for the lovely old churches visited. During their stay they rang various methods at the churches.
---
Northampton Mercury - Friday 26 September 1952
LEGION BANNER DEDICATED
Representatives from 10 branches of the British Legion Joined Cosgrove branch in parade to the village church where the new Cosgrove standard was dedicated by the Archdeacon of Northampton. Dr. C. J. Grimes He was assisted in the service by the Rev. J. Benson. The representatives were entertained to tea in the Victory Hall by Major the Hon. John Fermor Hesketh. Towcester Studio Band led the parade. Branches represented were Stony Stratford, Paulerspury, Potterspury, Hanslope, Bletchley, Whaddon, Roade, Greens Norton, Brackley and Syresham.
---
Northampton Mercury - Friday 10 April 1953
COSGROVE WEDDING OF MR. J. G. COLLYEAR
Mr. John G Collyear, Grey-Stones. Astcote, near Towcester, was married at Cosgrove Church to Miss Catherine Barbara Newman, of Furtho House, Old Stratford. The bridegroom is the son of Mr. and Mrs. J. R. Collyear, and the bride the daughter of Mr. and Mrs. W. J Newman. The bridegroom was educated at Towcester Grammar School and was commissioned In the Royal Engineers. He obtained his B.Sc. at Leeds University. The bride previously lived at West Farm, Astcote. The best man was Mr L. J. Williams (cousin of the bridegroom) and the bride was given away by her father. The bridesmaids were Mrs D. James, Miss M. Cooper (bride's cousins) and Miss P Robinson (fiancée of the bride's brother). The service was conducted by the Rev J. S. Benson.
---
Northampton Mercury - Friday 19 June 1953
Photographs of the Women's Institute's annual conference at the Royal Albert Hall, London. The top picture shows some of the Northamptonshire delegates having snack-lunch on the steps of the Albert Memorial. In the centre of this group —in Mrs. Joyce Griffiths, and on her left, Mrs. V. V. Adkins, both of Greatworth. The three delegates nearest the camera in the centre picture are (left to right): Mrs. T. Bamford (Old), Mrs. E. I. M. Fairey (Holcot) and Mrs, A. Ellis (president of Holcot W. 1.), On the left of the picture is Mrs, L. A. Clark, of Cosgrove, who took her "tatting" to the Royal Albert Hall, where she "did quite a lot in the lunch interval."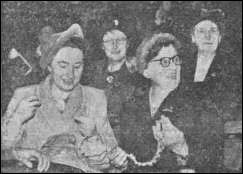 ---
Northampton Mercury - Friday 28 August 1953
Towcester R.D.C.
TENDERS FOR 56 HOUSES APPROVED
Tenders for the erection of 22 houses at Blisworth and 34 at Cosgrove have been approved by the Ministry of Housing and Local Government. But. Towcester Rural Council has been informed that the approval was subject to only half the houses being started before January 1. 1954.
---
Northampton Mercury - Friday 01 January 1954
A North Bucks representative in the honours list is Miss Marie Josephine Feil, The Green, Cosgrove, who has been awarded the M.B.E. Employed at the Foreign Office (London) she has held her present position for several years. Her family moved from London to North Bucks the beginning of the war. Her mother has been people's warden at the parish church for 13 years, and has taken an active interest in village affairs. She has two daughters and two sons. The younger son is studying the London School Economics.
---
Northampton Mercury - Friday 08 January 1954
GERMAN NEEDED MONEY, BROKE INTO A NEIGHBOUR'S HOUSE
BECAUSE he needed money to pay the debts of a woman, and furnish his Cosgrove cottage, Horst Schubert broke into a neighbouring house on two occasions and stole £67. At Northamptonshire Quarter Sessions yesterday Schubert (34), a German farm worker, of New Buildings, Cosgrove, was placed on probation for two years after pleaded guilty to the charges.
Probation officer for Towcester, Mr G. Lampard, said Schubert formed an association with a German woman, married to an Englishman, while was working in Cheshire. Due to this the marriage was broken up, [and he needed money] to aid the woman in her battle for the child's custody.
"These offences were a result of the financial burdens they had brought upon themselves," said Mr. Lampard.
The offences were outlined by Geoffrey Lane (prosecuting), who said Mr. and Mrs. William Betts lived in a house about 100 yards from Schubert's cottage. On October 18 Schubert climbed into the house through the window and stole £18 belonging to Mr. Betts. He climbed into the house a second time on November 8 and stole £40 belonging to Mr. Betts and £9 belonging to Mrs. Betts.
P.C. F. Wells said Schubert was a baker in Leipzig until he was called up to serve in the German Army in 1939. He served in the 10th Cavalry Regiment in France and Russia, and was taken prisoner at Cassino, Italy. He was released in 1947 and became a farm worker in this country. Schubert told the court he stole the money to help gain custody of the child. He had made arrangements to get a job where could earn more money so that he could pay it back.
CLIMBED INTO HOUSE
Last February, Schubert came to Cosgrove, and the woman followed in April. Since then she had been trying to obtain the custody of her child, and this had resulted in legal expenses. Even though earned only £5 14s. a week, Schubert had taken on the responsibility and had burdened himself with buying furniture to make a comfortable home.
---
Northampton Mercury - Friday 15 January 1954
COSGROVE MAN FINED FOR HIS DRIVING
Due to an accident on what the prosecution described as the notorious shady corner the road from Old- Stratford to Deanshanger, a Cosgrove farmer appeared at Towcester Magistrates' Court. Michael Roger Maycock (25), Manor Farm, Cosgrove, was summoned for driving a car without due care and attention at Deanshanger on December 15.
Maycock, who was represented by Mr. D. A, Wood (Messrs. E. T. Ray and Co., Stony Stratford), was fined £1 with £6 15s. costs and his licence was endorsed. He pleaded not guilty.
Supt. J. Lee said that on the "notorious shady corner" on the road between Old Stratford and Deanshanger, a car driven by Maycock collided with a motor unit driven by Mr. Cambell. William Henry Cambell, of Elmswell, Suffolk, said that the defendant's car was travelling at 30-35 m.p.h. when it was 60 yards from the bend. He considered the car was over the centre line of the bend when the collision occurred and that the speed of the car was the cause of the accident.
On oath, Maycock said it was very foggy at the time. His speed was 20 m.p.h. on the bend and he stopped two yards after the impact. During eight years of driving motor vehicles he had never before had an accident.
---
Northampton Mercury - Friday 09 April 1954
A Cosgrove delegate said they had a stove which heated six radiators in the village hall. The original cost was approximately £250. The average weekly bill for coke throughout the year was about 11s.
---
Northampton Mercury - Friday 30 April 1954
WATER SCHEME STORM AT TOWCESTER R.D.C.
DEANSHANGER LEFT AS A HANGING LIMB
A MINISTRY inquiry into the Deanshanger sewerage and regional schemes was called for by Mr. R. C. Ridgway at Tuesday's meeting of Towcester Rural Council when the words scandal and incompetence were used in a lengthy debate.
……the committee were perturbed that the temporary arrangements made at Paulerspury to supply water to Deanshanger. Old Stratford and Cosgrove, under the instalment of the water scheme, had proved inadequate. The consultant engineer* had pointed out that the arrangements were only makeshift, these parishes were not Intended, when the scheme was designed, to take a supply until the second instalment had been completed. It had been directed that the inadequacy the temporary arrangements should be notified to the Ministry of Housing to emphasise the need for an early starting-date for the second instalment
J. Roberts said there was considerable disappointment in because they were not going to receive a very appreciable amount of water under the scheme. They had got to continue with what the medical officer had described a most unsatisfactory supply……
This state of affairs was likely continue for at least two years. He said that their own supply ran short last year for four months. In one part of the village they were receiving water for about four hours a day for four months. In addition they had a sewerage schemes nearing completion and that was going lead to at least a doubling of the consumption water. Deanshanger, Old Stratford and Cosgrove were affected by this.
---
Northampton Mercury - Friday 25 June 1954
Bit of a spurious article but records the demolition of the plaster ceiling in the church "20 years ago" and revealing the oak ceiling, which would have been around 1934.
---
Northampton Mercury - Friday 25 June 1954
By Order of the Rev. J. S. Benson.
COSGROVE. 2½ miles to Stony Stratford. 4 miles to Wolverton. 10 miles to Bletchley.
SEVEN FREEHOLD BUILDING PLOTS
Pleasantly situated forming the walled-in kitchen garden and part of the grounds of The Rectory," three with frontage to the village main street and four with frontage the road leading to the Old Brewery.
Also A SET OF BUILDINGS and yard let to Mr. R. W. Hills on a quarterly tenancy at a rental of £30 per annum, tenant paying rates. Which Messrs.
HOWKINS SONS AND FATT
Will sell by auction in Lots at the Cock Hotel Stony Stratford on Wednesday July 14th 1954 at 7pm (if not previously disposed of).
---
Northampton Mercury - Friday 30 July 1954
COSGROVE FUNERAL OF BUS PIONEER
The funeral service for Mr. Malcolm Jelley, well-known in North Bucks and South Northamptonshire as a pioneer bus proprietor, was held in Cosgrove parish church on Wednesday. The service was conducted by the vicar, the Rev. J. S. Benson, and the church was filled with friends, fellow Freemasons and business associates. Mr. Jelley, who had recently attained his 65th birthday, had been ill since Whitsun, but his death in the Radcliffe Infirmary, Oxford, was very sudden Mr. Jelley was known to many as a bus-driver in his early years, but more recently had been associated with the London-road garage. Stony Stratford. The family mourners were: The widow: Mr. and Mrs. A. L. Brown (son-in-law and daughter); Mr. C. Jelley (brother); Mr. and Mrs. P. Jelley (brother and sister-in-law): Mrs. J. Low (niece); Mr, S. Popham (nephew) and Mrs. Popham; Mr. H. May (brother-in-law); Mr. K. Jarvis (nephew): Mr. G. Ruff (cousin) and Mrs. Ruff; Mr. and Miss Sephton.
---
Northampton Mercury - Friday 01 October 1954
MAJOR CRITICISES SURVEYOR FOR REPRIMANDING BOYS
"ACTION WAS JUSTIFIED ", REPLIES CHAIRMAN
THE action of the surveyor (Mr. G. Berridge) in reprimanding some boys who were alleged to have smashed windows in condemned cottages at Cosgrove, was criticised by a member at Tuesday's meeting of Towcester Rural Council. Major H. C. R. Luddington thought it was wrong for an official to have taken the initiative in the matter before it had been discussed by the council. "I think his conduct was reprehensible," he said.
The chairman, Mr. W. T. Groom, said: "I think he was justified in taking this action." And Mr. W. H. Marlow commented: "Does Major Luddington mean that if in future the surveyor sees boys breaking windows he will have to tell them 'Carry on until I have reported to the council'?"
[following a long discussion no action was taken beyond writing a letter to the boys' parents.]
---
Northampton Mercury - Friday 08 October 1954
MISSIONARY FESTIVAL
A Deanery Missionary Festival was held at Cosgrove. Tea was provided in the Victory Hall; and a film show, Flower of Tibet was given. The preacher was the Right Rev. F Houghton, a former Bishop in West China.
---
Northampton Mercury - Friday 31 December 1954
SOARED TO SUCCESS IN THREE YEARS
THE name Jimmy Knight is well-known to Stony Stratford's older cycling fans. In the 1920's, it was on everybody's lips—and rightly so —for this daring rider won national and international honours. Nowadays. Mr. Knight travels by more sober means —bus and car. He owns a corn merchant's business in Stony Stratford, but still retains close contact with the club to whom he brought much credit —Wolverton A.A.C.
A native of nearby Cosgrove, he served throughout the first world war and did not take on cycle racing until 1921. He soon soared to championship heights and was selected for the British Olympic team that raced in Paris in 1924.
Among his many notable successes were: Berks. Bucks and Oxon champion 1923; London Polytechnic champion 1925; railway champion 1926; Rudge- Whitworth and Lassoo cups for five miles; Polytechnic Remembrance trophy (twice); three firsts and three thirds in 50- kilometres races, when he had other great cyclists like Harry Grant, Syd Cozens, and E. Higgins as partners; and Northants Centre champion many times at all distances.
HIS GREATEST RACE
Mr. Knight raced for 14 years. Then he had to retire owing to an injury received at work. He considers his greatest race was winning the Danish Cup against representatives of four European countries. His key to success: "Hard work and plenty of training."
Besides his sporting activities, he has held many offices in the district. He has been chairman of Wolverton branch of the Salonika Re-union since the first war. In the last war, he was a major in command in the Stratford Home Guard.
---