Cosgrove WI was founded in 1932, with members initially meeting in one another's homes. Eventually they were able to meet in the Old School. After the Second World War some of the members were part of the team who helped build the Victory Hall, and the WI moved their meetings again to the new Village Hall when it opened in 1991. There are still WI members on the Village Hall Committee.
Wolverton Express December 16th 1932 Women's Insititute
The first monthly meeting of the Cosgrove Women's Institute was held on Tuesday afternoon at the Priory, by kind invitation of Mrs Atkinson (President), who took the chair. Following the enrolling of members and other business Mr Hillyer, of Gayton, gave a most instructive demonstration on cake icing. The President, on behalf of the members, voiced thanks to Mr Hillyer. The iced cake was afterwards raffled and was won by Mrs Lord. Tea was later served by Mrs Atkinson and helpers.
During the Second World War the WI gave families tips on cooking and making do with limited resources.
Northampton Mercury - Friday 11 June 1943
RATION BOOK PROTESTS BEAR GOOD FRUIT - VAN WELCOMED AT COSGROVE

Following protests by Cosgrove Women's Institute, a mobile bus arrived in the village yesterday to distribute ration books and identity cards. Previously villagers had faced a 22 miles journey via Northampton, the double journey taking 3½ hours, although Cosgrove is only nine miles from Towcester. Cosgrove Women's Institute passed a resolution urging Towcester Rural District Council to arrange for a sub-station in the village, or adopt some other means of distributing the remaining ration books. Copies of the resolution were sent to Lord Woolton and to Major Manningham-Buller MP for Daventry. Most of the villagers had already obtained their books and identity cards during the main issue from Towcester Food Office, and the mobile van was sent to help those who had not collected their books.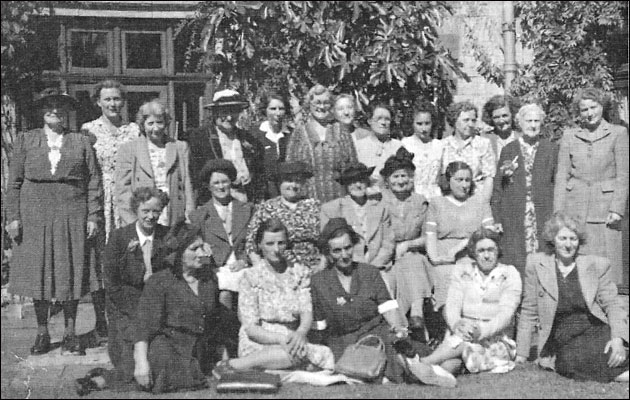 Women's Institute summer meeting at The Priory, Cosgrove, June 1950.

Back row left to right: Miss Gertrude Marlow, Kathleen Jones, Ethel Gallop, Dora Feil, Joan Brockway, Edith Brockway, Daisy Davis, Gertie Chown, Miss Ruby Kitsor (of New Zealand), Wyn Childs, Mona Hickford, Agnes Elderton, Alice Fitzgibbon.
Middle row: ?, Linda Lyman, Daisy Gascoigne, Florrie Castle, Mercy Clarke, Mrs. Bill Ratcliffe.
Front row: Mrs. Malcolm Jelley, Dorothy Hebson, Olive Johnson, Nellie Whitaker, Annie Tompkins
If you know the name of the WI member Middle Row left, please write it for us!