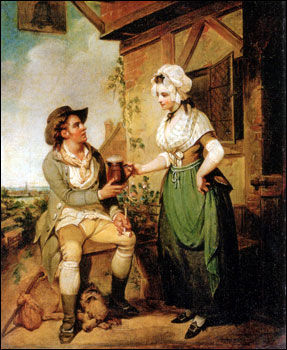 In the early 18th century we know that the Archers were brewing beer very near the Church, at an ale house at the sign of the Hen and Chickens. It seems likely that this later became the Barley Mow.
Betty Archer appears regularly in the Church accounts receiving money for beer and ale for meetings, and under her title "Goody" Archer also received money for washing and mending the priest's "Surpliss".
We get the impression that she handled her own cash whenever she got the chance! Her menfolk did odd jobs around the Church and grounds and they were clearly a trusted family.
It is likely that Betty brewed all the ale by hand and this would have been done frequently, as it couldn't be stored for long. We know that she was a great one for chasing up her payments, charging the Church a shilling "p to Betey Archer for Drink and vittles the workmen had of her".
She charged two shillings for each washing of the "Surpliss", which was done before the main services four times a year and had to be done in a smoke free tub as it was probably the most expensive linen in the village.


Betty, also made money on the bellringers' ale, "paid Elizabeth Archard [Archer] for Ale for the 4 Ringing days". These came to ten shillings, for King Charles II Restoration day (150 years after the event), Gunpowder Treason Day, the current monarch's "Crownation" day and a midnight peal on Christmas Eve. Betty must have been jubilant when any victory over the French happened, creating extra demand for her ale.