Agnes de cheine de Fortho widow
Between 1275 and 1300 Agnes owned property and land in her own right at Furtho. She was the widow of Peter [de Cheine of Furtho] who was descended from a Hanslope family.
The Cheine (Cheyney) family came to Britain with William the Conqueror.
Agnes is recorded in the Arnold catalogue as making exchanges of land at Furtho for many years after her husband died, until her son Alexander took over land dealings around 1287.
At some point during these years a Bishop from the Cheyney family, Henry Chen, visited or sent a message from Aberdeen. The seal matrix (stamp) was made of Bronze and was dropped at Furtho before 1328.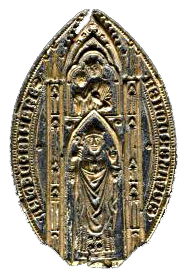 It was found again at Furtho in the 1940s and in 1947 was gifted to the Museum of Scotland at Edinburgh. They are having trouble finding it but we have asked for a photograph of both sides of it.
Did Bishop Henry drop it while he was visiting his Cheyney relations? We will find out eventually.