Wolverton Express 10th December 1964
COSGROVE WHIST
Cosgrove Village Hall funds have benefited by £23, the sum raised at a recent whist drive. Prizewinners included: Mrs. R. Humphreys. Mrs. E. Booth, Mrs. Williams, Mrs. Lane, Mrs. A. Loughrey, Mrs. Cooper, Mr. A. Rogoff, Mr. D. Hancock, Mr. J. Pollard, Mr. A. Pratt, Mrs. Walker, Mrs. L. Reynolds and Mrs. C. Matthews.
---
Wolverton Express 13th May 1966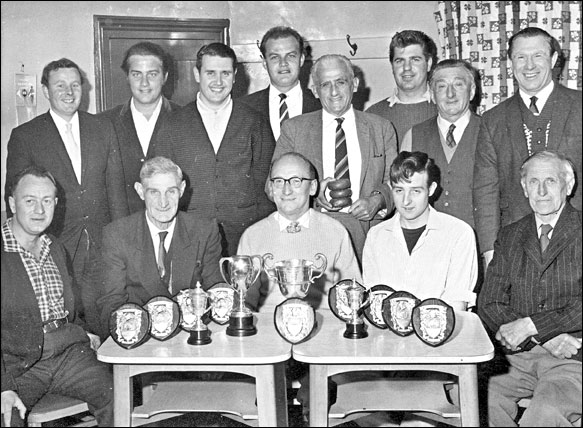 A FAIR
THROW
Members of the Barley Mow, Cosgrove, skittles team who won the
North Bucks Licensed Vituallers' League Trophy and also the doubles cup.
Back row Left - Right: ?, John Berrill, Tony Lavington, David Berrill, ?, Bomber Tustain
Front row Left-Right: ?, ?, ?, Colin Bushell, ?
---
Cosgrove Fete May 1967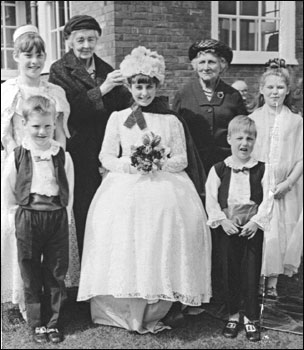 Diane Hill as Rose Queen at Cosgrove School aged about 10.
Back row L-R: Sandra Wallington, Mrs. P.Y. Atkinson, Mrs. Jelley, Vivienne Lovesey
Front Row L-R: Trevor Wallington, Diane Hill, Leroy Hart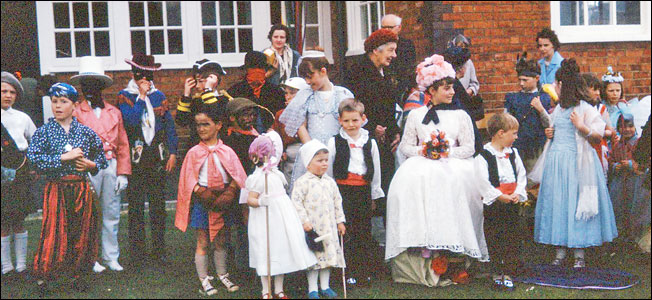 Wolverton Express 12 May 1967
Fete May 1967
Cosgrove pupil's May-time
Pupils of the Cosgrove Primary School organised their own May-time celebrations last Saturday to raise money for their annual outing to Dudley Zoo.
For the first time the children had their own May Queen, eleven-year-old Diane Hill, a special crowning ceremony, country and maypole dancing, side-shows, stalls and refreshments.
The event began with a parade round the village with the Queen and her attendants on a lorry and the rest of the schoolchildren in fancy dress on a trailer drawn by a tractor.
Afterwards Diane was crowned by Mrs. P. Y. Atkinson whose husband is a school governor. Mrs. Atkinson also judged the fancy dress, helped by Mrs. M. Jelley, chairman of the school governors.
In our picture Mrs. Atkinson crowns Diane, watched by Mrs. Jelley and four young attendants, Sandra Wallington, and Vivienne Lovesy, Trevor Wallington and Leroy Hart.
Every child in the school (there are 36 on the roll), plus one or two younger children took part in the fancy dress.
Winners were: 1 Alan Cowan (tramp), 2 Mandy Hitchcock (flower girl), 3 Colin Kightley (Lord Nelson). Consolation prizes were given to Adrian Moseley, Mandy Gordon, Reggie Bailey, and Robert Wray, Jill Richardson and Robert Smith.
The two teachers at the school, Mrs. G. Stopps the headmistress, and Mrs. N. Horton, the infant class teacher, made the arrangements. When it was all over the children had raised £27 7s 2d. for their outing which is on May 26.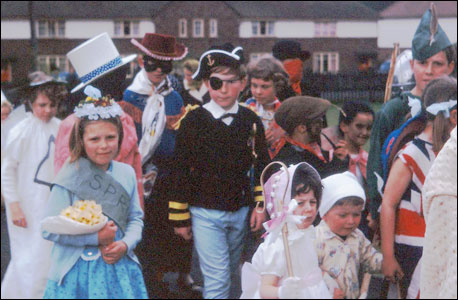 Theresa Cook, Roy Shervington (cowboy), Colin Kightley (Lord Nelson)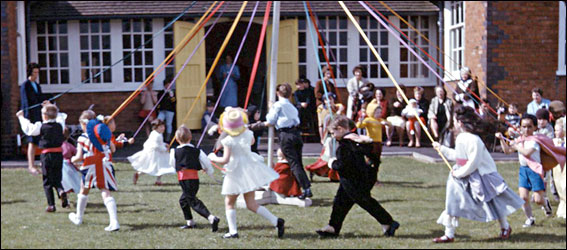 ---
Wolverton Express 23rd June 1967
First Church Fete for at least 15 years
Garden fetes are an accepted part of the rural scene. There was one at Cosgrove last Saturday. But it was the first Church event for at least 15 years. And this is something the Rector, Canon S. C. Woodward wants to alter.
He would like to see his parishioners get together more often socially—and this was the theme of his re­marks when he intro­duced Miss Mary Atkinson, of Paulerspury, who opened the fete.
The fancy dress winners were: 1 Miss Diane Hill (Sir Francis Chichester), 2 Miss. Jacqueline Hart and Miss Leroy Hart ("We've Got the Sack") 3 Janet Maher (Bo­Peep)
---
Fete at Cosgrove Primary School 1968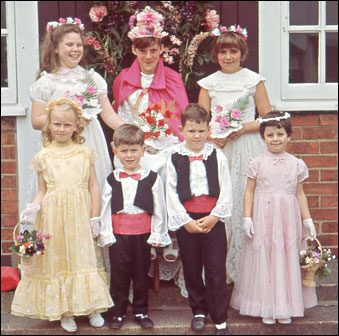 Back row: Vivienne Lovesey, Sandra Wallington, ?
Front row: Mandy Hitchcock, ... Maher, ?, Janet Maher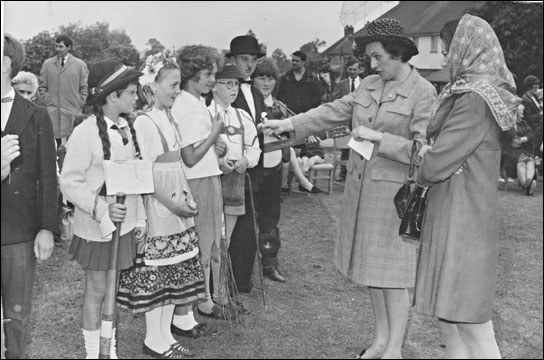 Left to right: Trudy Cowan (St. Trinians), Jackie Hart, Edwina Brown, Anthony Keele (Austrian), Roy Shervington (Chaplin), Colin Kightley (Don Partridge)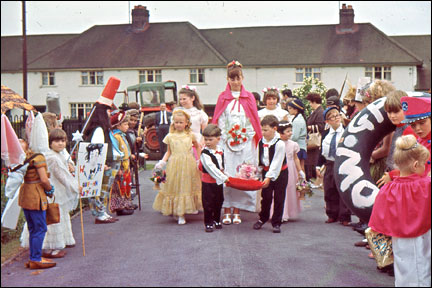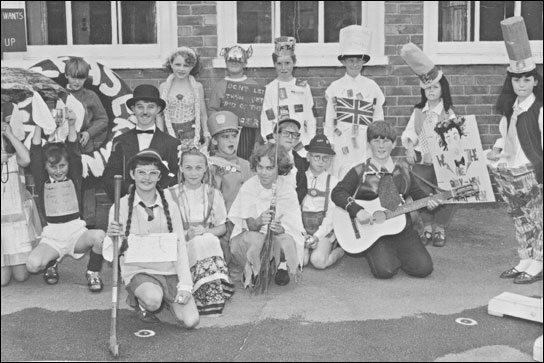 ---
Wolverton Express 16th August 1968

Cosgrove Church fete, held in the Rectory gardens last Saturday, was opened by Mrs. Maltby, wife of Colonel E F Maltby, of Potterspury. Mrs. Maltby was thanked by the Rector, Canon S C Woodward.
The opening was followed by a fancy dress and decorated bicycle competitions, organised by Mrs. Horton and Mrs. Symons. Then other competitors received prizes, but a particular attraction was Sandra Wallington as "Miss World Year 2000."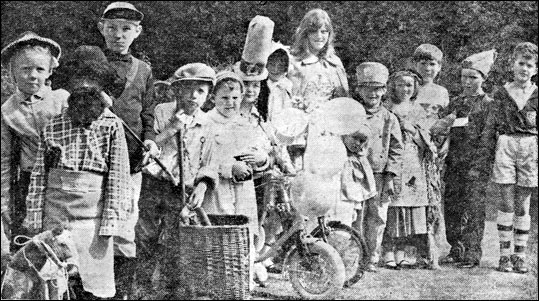 Some of the young competitors who took part in the fancy dress parade at the Cosgrove Church fete
Children's sports were organised by Mr. Edward Lambert, who, with Mr. D Woodward, also escorted parties up the church tower. Other attractions were Madame K, alias Mrs. King, who told fortunes; bowling, run by Mr J. Lambert; and the stalls: Sewing Guild, Mrs. S C E Woodward and Mrs. Barnes; produce, Mrs. Hickford and Mrs. Hillyer; refreshments, Mrs. McLean, Mrs. Brockway and Mrs. Smith; hat trimming competition, Mrs. Longman; treasure hunt, Mr E. Lambert; spinning Jenny, Mrs. M Symonds. Mr. A Meakins was the gate steward. The fete realized a profit of £61 15s.
---
Cosgrove Church Fete 1969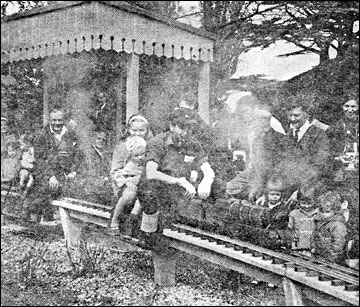 ---
Wolverton Express 6th June 1969
Big attraction at a successful garden party held by Cosgrove Church last Saturday was the model railway in the grounds of Cosgrove Hall, kindly loaned by Mr. and Mrs. C. Mackenzie Hill.
The model railway was staffed by members of the church and the model engineering club and they were kept. fully employed for over three and a half hours providing rides for people of all ages.
The opening of the garden party was by Mrs. S. Gee, of Paulerspury. There was a children's fancy dress parade, women's and children's flower arranging competition, games and competi­tions staffed by members of the congregation and visitors staying at Cosgrove Hall.
Another popular feature was the pony which patiently gave rides to the children throughout the afternoon.
Stalls, teas and ice cream were staffed by members of the FCC, Sewing Guild and Mothers' Union.
Proceeds amounted to £103.
---
May Queen Teresa Cook


Attendants Julie Holman and Jackie Hart

Flower girls Edwina Brown ,Trudy Cowan and Karen Tweedale,

Crown bearers Stephen Wallington and Anthony Keele


Wolverton Express June 27, 1969

May Queen in June at Cosgrove

A parade around the village of Cosgrove by the May Queen and her retinue launched the primary school's annual fayre on Saturday.

Showers delayed the parade but May Queen Teresa Cook enjoyed a sunny spell as she rode on her flower bedecked float with her attendants Julie Holman and Jackie Hart, flower girls Trudy Cowan, Edwina Brown and Karen Tweedale, and crown bearers Anthony Keele and Stephen Wallington. All the children in the May Queen's "Court" are leaving the school for secondary schools at the end of the term.

The fayre raised more than£32 for the school funds. The money was collected around the village and by the stalls and competitions held in the school grounds.

Safety work

The May Queen was crowned by the Safety Organiser, Mr. E. H. Cooper who asked the parents to support his work for the safety of their children.

The fancy dress completion, judged by Mr. Cooper, had an outstanding number of competitors with many unusual entries.

The winners were: under seven, Adrian Moseley (Snake Charmer), 2 Annette Bailey (Red Riding Hood), 3 Juliette and Phillipa Bidgood, Sir Walter Raleigh and Queen Elizabeth 1); over seven, Amanda and her performing poodle, Amanda Jane and Andrew Webster Gordon; 2 The one that got away, fish, Russell Bailey, 3 I can fixit, plumber, Mark Freestone.

A floral arrangement competition produced entries from five – year – olds which would have done credit to may adults. The winners wer: juniors, 1 Teresa Cook, 2 Karen Tweedale, 3 Peter Abbott; infants, 1 Rosemary Groome, 2 Adrian Bailey, 3 Susan Heywood.

A bonny baby contest was judged by a local doctor and won by: six month and under, Rachel Pack; under one, Bruce Taylor; under 3, Elizabeth Holland.

Competition winners were: guessing weight of cake, Mrs. O. Lambert; number of sweets in jar, Mrs. V. Foster; lucky programme number Mrs. J. Gordon; bowling, men, Mr. Maker women, Mrs. F. Hillyer.

Those who helped with the teas included Mrs. H. Smith, Mrs. J. Taylor, Mrs. J. Gordon and Mrs. Holman.