Cosgrove Events 1950 - 1959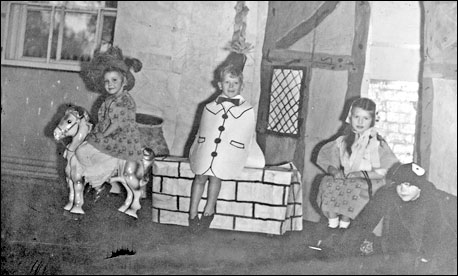 School play - Humpty Dumpty 1950
Left to right: Sue Coles, Sam Hickford, Gillian Markham, John Fitzgibbon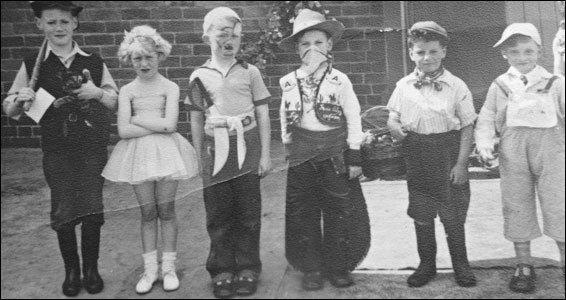 Fancy Dress c.1955
Left to right: ?, (fairy) Judith Hefford, (pirate) Michael Chown, (cowboy) Maurice Castle, ? ?
---
Northampton Mercury - Friday 04 August 1950
Victory Club & Hall, Cosgrove.
A GRAND DARTS TOURNAMENT
To be held in the above Hall on
SATURDAY, AUGUST 12, 1950,
Commencing 6.30 a.m.
FERMOR HESKETH CUP and 15 Guineas in Prizes.
Cup be presented by Major The Hon. John Fermor-Hesketh. Team of Four Players. Entrance Fee 10s. per Team. Closing Date Wednesday, August 9. Send Entries to J Hebson, 7, Yardley-road. Cosgrove. Wolverton, Bucks Rules sent on request.
---
---
Cosgrove Coronation Celebration 1953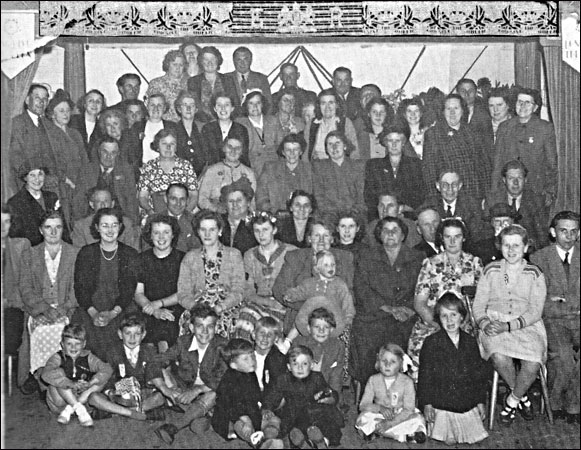 Celebrating the Coronation of Queen Elizabeth II in Cosgrove Victory Hall, 2 June 1953.

Back row, left to right: Dick Longman, Myrtle Hillyer. Rose Cummings, Ethel Barby, Harry Cummings, Fred Barby, Albert Tompkins, Don Chown.

Second row: Rob Brown, Mrs Malcolm Jelley, Mrs Rickaby, Mrs Castle, Olive Eglesfield, Lil Longman, Annie Tompkins, Cynthia Tompkins,
Mrs Sid Ratledge, Edie Barby -?-, Ena Lavington, Fred Tustain, Brenda Goodridge, Sylvia Whickham, Floss Lawson, Agnes Spence. Mrs George Noble.

Third row: 'Adgie', Rarcliffe, Wyn Harris. Doll Hebson. Doris Smith, Doll Tustain, Clara Williams. Fourth row: Mrs Alf Smith (standing), Alf Smith, Charlie Hill, Dora Feil, Joan Eglesfield, Carol Prater, Vince Lovesey, Dick Clark, Fred Williams, Mrs Dick Clark, Arthur Noble.

Front row: Mona Hickford, Mim Eglesfield. Sue Eglesfield (baby). Gladys Loughrey. Mabel Castle, Beryl Tompkins, Audrey Smith, Ada Eglesfield, Dot Cadd, Doll Williams, Pearl Lawson, David Betts.

Children; John Fitzgibbon, Roy Giles, Jimmy Pack, Tony Hefford, Billy Pack, Douglas Hillyer, Roger Kightley, Janet Eglesfield.
---
Programme


of

FESTIVITIES

at

COSGROVE


to celebrate the

CORONATION


of

Her Gracious Majesty

Queen Elizabeth II

---

Programme of Events

1st

2nd

3rd

16

Slow Bicycle Race, 50 yds. (Open)

4/-

2/-

17

Potato Race (Open)

4/-

2/-

18

Three-legged Race, 80 yds. (Open)

4/-

2/-

19

Tug-of-War, Teams of 8 (Open)

16/-

8/-

(Winners to hold Tug-of War Cup)

Present Holders (Barge Inn) Cosgrove

20

Obstacle Race, 80 yds.

4/-

2/-

21
Men over 40 years, 100 yds. flat

4/-

2/-

MIXED EVENTS

22
Three-legged Race, 80 yds.

4/-

2/-

23

Wheelbarrow Race, 80 yds.

4/-

2/-

24

Ladies over 60 years., 60 yds.

4/-

2/-

25

Men over 60 years., 60 yds

4/-

2/-

FANCY DRESS & CYCLE PARADE

26

Girls under 14 yrs, Best Dressed Cycle

5/-

2/6

27

Boys ,, ,, ,, ,, ,, ,, ,, ,,

5/-

2/6

28

Ladies Dressed Cycle

5/-

2/6

29

Gents ,, ,, ,, ,, ,, ,, ,, ,,

5/-

2/6

30
Girls, under 14 yrs., Fancy Dress

5/-

2/6

31
Boys ,, ,, ,, ,, ,, ,, ,, ,,

5/-

2/6

32
Ladies Fancy Dress

5/-

2/6

33
Gents ,, ,, ,, ,, ,, ,, ,, ,,

5/-

2/6

34
Climbing Greasy Pole (Open)

£1

Best Decorated Houses

| | | | | | | |
| --- | --- | --- | --- | --- | --- | --- |
| 1st | 2nd | 3rd | 4th | 5th | 6th | 7th |
| 15/- | 12/6 | 10/- | 7/6 | 5/- | 2/6 | 2/6 |

---------------------------------------------

Bonfire and Fireworks in Hall Field at dusk
DANCING and Social Activities in the Victory Hall



Entries for all Sports to be made on filed.
Enttries for Cycle, Fancy Dress, must assemble at the Old School
before 1 p.m.
Judges for House Decorations and fancy Dress will be
Mr. and Mrs. W. Betts, Mr. and Mrs. Rickaby, Mr. and Mrs. C. Dunkley,
Miss wake, Mrs. P. Y. Atkinson, Mrs. Heap, Mr. F. W. Hurry


Judges for Sports:
Capt. and Mrs. P. Y. Atkinson, Mr. W. Betts, Mr. Rickaby, Mr. Dunkley,
Mr. F. W. Hurry
Starters and Handicappers:
Messrs. A. Tompkins, R. Brown, H. Cummings, J. Johnson.



All winners must report to the Sec., J. Hebson,

immediately after each event.




"GOD SAVE THE QUEEN"

SERVICE IN PARISH CHURCH (Rev. J. Benson) 8-8.30 a.m.

Judging Decorated House between 9-11 a.m.


----------------------------------


Interval between 11 a.m. - 12.45 p.m.
for Television or Wireless Programme


------------------------------------


Cycle & Fancy Dress Parade.
Assemble Old School 1 p.m.
Judging 1.15. p.m
After parade all will proceed to Capt. P. Y. Atkinson's Field
where following events will take place:-

CHILDREN'S SPORTS

Commencing 2 p.m

Prizes

Events

1st

2nd

3rd

1

Girls under 8 yrs., 40 yds. flat

2/6

1/6

1/-

2

Boys under 8 yrs., 40 yds. flat

2/6

1/6

1/-

3

Egg & Spoon Race (Open)

4

Skipping Race, Girls under 8 yrs., 80 yds.

3/-

2/-

1/-

5

Three-legged Race, over 8 yrs., 80 yds.

4/-

2/-

6

Novelty Race

3/-

2/-

1/-

7

Three-legged Race, Boys over 8 yrs., 80 yds.

4/-

2/-

8

Sack Race, Boys over 8 yrs., 80 yds.,

3/-

2/-

1/-

9

Obstacle Race ,, ,, ,, 120 yds. (Open)

3/-

2/-

1/-

----------------------------------------------

TEA for Children under 11 years at The Priory (Capt. P. Y. Atkinson)


at 4 p.m

TEA for Children, 11 years and over, at The Lodge (W. Betts, Esq.)

at 4 p.m

TEA for Parishioners in The Victory Hall at 4 p.m.


Two sittings - Times will be issued on tickets.
Will everyone please bring their own knife , fork and spoons



ADULT SPORTS & Square Dancing

commencing 5.30 p.m.

Ladies, Single

1st

2nd

3rd

10

Thread the Needle Race, 80 yds.

4/-

2/-

11

Egg & Spoon Race, 80 yds.

4/-

2/-

12

Novelty Race, 80 yds.

4/-

2/-



Ladies, Married

13

Thread the Needle Race, 80 yds.

4/-

2/-

14

Egg & Spoon Race, 80 yds.

4/-

2/-

15

Novelty Race, 80 yds.

4/-

2/-

---

Ladies sack race

Left to right: Alice Fitzgibbon (standing) , Vera (Joan) Kightley, Lou Castle



---

The Wolverton Express June 5th 1953

The sports and the bonfire were postponed at Cosgrove,
but the 400 residents had two sittings for their tea in the Victory Hall.


Cosgrove Have Celebrations Still to Come

Cosgrove decided to postpone their sports programme. bon­fire. and fireworks until Saturday.

A service in the Parish Church, conducted by the Rector (the Rev. J. S. Benson), commenced the day. Judges of the best decorated houses and fancy dress were Mr. and Mrs. W. Betts. Mr. and Mrs. A. Rickaby, Mr. and Mrs. C. Dunkley, and Mr. F. W. Hurry.

They awarded first prize in the houses competition to Mrs. Gallop, of 2 Bridge Road, 2 Mrs. Lavingdon. 30 Main Street, and 3 Mrs. Fred Williams, 22 Bridge Road.

Fancy dress results were: under 8, 1 Wendy Markham, 2 Susan Coles, 3 Raymond Wilson; under 14 (girls), 1 Pat Bushell. 2 Gillian Markham; boys, 1 John Fitzgibbon, 2 (equal) Colin Busheil, Ivor Hickford, Tony Lavingdon, Tony Flack; ladies. 1 Mrs. Loughrey, 2 Miss M Hitchcock, 3 Miss B. Goodridge; gentlemen, 1 Mr. Hickford. 2 Mr. J. Loughrey; cycles (girls), 1 Julia Longman, 2 Gillian Hebson; (boys), 1 Dennis Wilson, 2 Maurice Castle; (adults). 1 Mrs. Johnson, 2 Cynthia Tomkins, 3 Bob Jones.

About 300 parishioners had tea in the Victory Hall in two sittings, and children under 11 were entertained at The Priory by Capt. and Mrs. P. Y. Atkinson, and those 11 and over by Mr. and Mrs. W. Betts, at the Lodge.

Later there was square danc­ing in the hall, with Mrs. W. Betts as leader, and a dance and social.

Mr. F. Hillier was chairman of the village committee, with Mr. J. Hebson as secretary and Mr. A. Rickaby treasurer. About £190 had been raised by collections, etc.
---
Northampton Mercury - Friday 08 October 1954
MISSIONARY FESTIVAL
A Deanery Missionary Festival was held at Cosgrove. Tea was provided in the Victory Hall; and a film show, Flower of Tibet was given. The preacher was the Right Rev. F Houghton, a former Bishop in West China.
---
Cosgrove School Fete 1955


School Fete and Rose Queen crowning. All the children dressed as stall holders in appropriate fancy dress.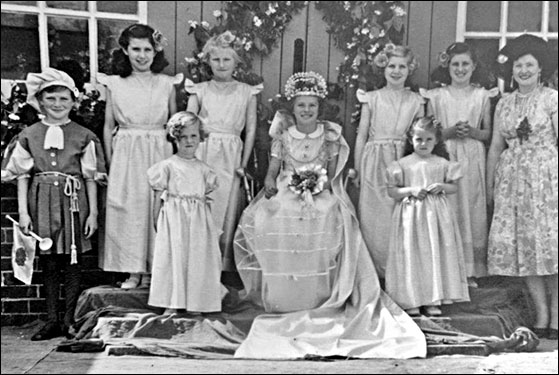 Back row left to right: Roger Pollard, Carol Prater, Sylvia Meakins, (Rose Queen) Gillian Markham, Sue Tustain, Julia Longman, Mrs. Course

Front row left to right: Wendy Markham, Janet Bailey

-----------------------------------------------------------------------
Wolverton Express 3rd July 1955
Rose Queen Crowned at Cosgrove
Cosgrove school's first fete, held on Saturday last, was a great success. There was a crowning ceremony of their Rose Queen, Gillian Markham, who had as attendance Carol Praeter, Sylvia Meakins, Julia Longman, Susan Tustain, with trained bearers Wendy Markham and Janet Bailey. The fete was opened by Miss Atkinson of Paulerspury and formerly of Cosgrove Priory. A bouquet was handed to her by Roger Kightley.
Stalls and sideshows were manned by parents and friends as follows: refreshments were supervised by Mrs. Johnson, helpers Mrs. Longman, Mrs. Bushell, Mr. Brockway; sweets Mrs. Markham, Mrs. Pollard; grocery, Mrs. Jones, Mrs. Kightley; fruit and vegetables, Mrs. Beasley and Mrs. Freestone; miscellaneous, Mrs. Ratledge and Mrs. Mapley; needlework and knitting, Mrs. Chown Sr. and Mrs. Chown Jr.; Books, Mrs. Jones and Mrs. Mead; spinning Jenny, Mrs. Whittaker; Bran tub, Mrs. Fitzgibbon; hidden treasure, Mrs. W Castle; skittles, Mr. Hefford; darts, Mr. Hickford; sport for adults supervised by Mr. Tustain, helpers Mr. Longman and Mr. Tack; photography by Mr. V Lovesey. The doll given by Mrs. Atkinson and named Mabel was won by Mrs. F. Williams. The cricket bat given by and cricketers name chosen by Mrs. A Rickaby was won by Mr. Crowder who kindly gave it back to the school for the boys to use. A parcel containing a coconut and made up by Mrs. N Horton and a teacher at the school was won by Mrs. A. Wootton of New Bradwell. Wines presented by Major Fermor-Hesketh, were won by Mr. S Bushell, R Pollard, Mrs. Tack and Mr D. Tompkins. A cake made and presented by Mrs. Barton and Mrs. Stubbs was won by Mrs. A Castle of Leighton Buzzard, weight 5lb 12oz. The hidden treasure, prize a chicken given by Mrs. Mapley, was won by Mrs. C Hill. Mister A. Tompkins was gatekeeper and Mrs. M Castle collected with the doll. Mrs. Kightley collected with the bat.
The staff of Cosgrove School wish to extend grateful thanks to all kind helpers and to all who sent gifts to the school. The amount taken was £62 9s.
---
Wolverton Express 6th January 1956
Cosgrove Legion Fete Raised £100
OPENED BY COMMANDER D. LAWSON
COSGROVE Hall grounds were an ideal venue for the fete last Saturday organised by the village branch of the British Legion. The residents gave their full support with many visitors enjoying the amenities of the well-appointed grounds. There were numerous attractions and the day proved most enjoyable and financially successful, the sum of £100 being raised.
Commander D. Lawson of Passenham Manor was introduced by an American visitor to Cosgrove Hall. and also present were the Hon. Mrs D. Lawson, the Hon Major John Fermor Hesketh, Capt P. Y. Atkinson (Branch President), and vice-presidents Capt. F G. Purser and Major-General W. A Scott. CB. CBE. Commander Lawson in declaring the fete open said one felt very proud to be in the British Legion because it existed to foster fellowship and comradeship. Those who had been in battle knew just what those works meant, but most of them could not define the words other than to say that it drew people together. The Legion was doing a great work and all members of the community recognised that it was a great service to ex-Service men and their dependants.
Many Crack Shots
Many Crack shots competed for the cash prize of £7 7s in the clay pigeon contest and this eventually went to game-keeper Mr. C J. Spademan of Wicken. In charge were Mr. A Tompkins and Mr. D. Tompkins.
There were many competitors for the beauty contest for which a Silver cup valued at £25 became the proud possession of 15 year old Margaret Smith, daughter of Mr. and Mrs Tom Smith of 11 Warren Road, Yardley Gobion. Mrs Steel was reputed to have the best shapely ankles for which the prize was a pair of nylons. Other prize-winners were: skittles Mr. D. Cannings (pin of beer): darts. Mr. R Hickford (bottle of port); stepping the chain, Mr. J. Martin (10s): treasure hunt, Mrs D. Hillyer (£1); bowling for pig (given by Mr. Maycock), winner Miss B Cummings Cosgrove: ladder contest. Mrs Hillyer (basket of fruit).
Mr W. Coles and Mr. P. Lyman (bowling for pig); Miss J Hefford (pony rides). A competition for giving the name to a doll was run by Mrs Horton on behalf of the Cosgrove Parent-Teachers' Association. A licensed bar was run by Mr. Den Horne of the Watts Inn, Hanslope, who was assisted by Mr. H Smith, Mr. Jones and Mr. J. Pollard. Music during the proceedings was arranged by Mr. J Boss of Hanslope Park. Gate stewards were Mr. F. W. Castle and Mr. O. Smith. The secretarial duties were ably discharged by Mr. E R Brown, with Mr. P. Long (chairman), Mr P. Lyman (vice-chairman), Mr. J. Pollard (treasurer) and Mr. R. Longman (Welfare Officer), assisted by the committee previously named, also Mr. A. T. Noble. Thanks of the committee are extended to all who generously supported the effort, the result of which will enable the Legion work to be carried silently in the village.
---
Wolverton Express Spring 1956
Spring Fayre at Cosgrove for Hall Funds
Cosgrove resident rallied round the trustees and officers of the Victory Hall in an effort to raise funds to provide new curtains and the cost of decorating the hall when a Spring Fayre was held last Saturday. The helpful sum of £65 was raised.
Mrs P. Y. Atkinson of the Priory introduced and welcomed Lady Hesketh, who performed the opening ceremony. Lady Hesketh said as it was a good thing for a village to possess a nice hall like that at Cosgrove where the residents could meet for sociaI occasions. She was sure many villages would like to have such a hall. A bouquet was handed to Lady Hesketh by Wendy Markham and thanks were voiced by Mr. J. Hebson (Hall chairman)
The Helpers
Stalls and workers: Mr. J. Hefford (skittles). Mr. L Lynham and Mr. D. Cannings (darts). Mr. and Mrs A. Rickaby (Tombola). Mrs. M Jelley, Mrs. N. Castle. Mrs Longman, Mrs J. Brockway and Mrs. Beasley (Womens Institute stall), Mrs. K. Jones, Mrs. J. Hebson and Mrs. J. Hefford (Jumble). Mrs. Lavington. Mrs. G. Hickford andd Mrs Chown (refreshments), Julia Longman and Bridget Cummings (soaps and handkerchiefs). Hazel Lavington and Sue Tustain (spinning Jenny), Mrs. T. Kightley and Mrs. J. Hebson (produce) Mr. L. Priestley and Mr. Gallop (ground skittles). Mrs Whittaker and Mrs. W. Castle (boots and clothing). Mr. Hebson and Mrs. Beasley (hidden treasure). Mr. A Noble was door steward. There were competitions for champagne given by Mr Wheatley, Stony Stratford and Chocolates by Mrs. Jelley and port and sherry by Major Hesketh. Mrs. B. J Rudd, Stony Stratford gave the bouquet.
A whist drive was held in the evening. Mrs. J. Johnson took a large share in organising the effort. The Hall officers are Mr. J. Hebson (chairman). Mr. J. Hefford (secretary) and Mr Rickaby (treasurer).
---
Wolverton Express July 1956
Many Attractions At Cosgrove Fete
The large crowd at Cosgrove Conservative Association fete last Saturday, held in the well-appointed Cosgrove Hall grounds, the home of Major the Hon. John Fermor Hesketh and Mrs. Hesketh, had plenty in which to entertain themselves. Lady Markham, wife of the North Bucks Member, opened the proceedings, and during the afternoon Sir Reginald Manningham Buller, Member for South Northants, gave an address.
Lady Markham said that in North Bucks they thought they had a grimmer fight than in South Northants, and they were thankful for all the help they could get. She brought the best wishes of her husband and members of the Bucking-ham Conservative Association. She continued, "Your Conservative Government has done very well in the time they have been in, in keeping up your standard of living and in •helping in every way they can. But they have a very grim task before them, as we go forward into this nuclear age with nuclear problems".
The speaker went on to thank other villages and towns who were helping with the fete. A bouquet was handed to Lady Markham by Julia Elder. Lady Markham had been welcomed by Mrs. Fermor Hesketh, who said her husband sent his good wishes from America. There were numerous side-shows, and entertainment during the afternoon included clay pigeon shooting bowling for a pig walking the greasy pole, and a comic dog show.
Fancy-Dress Winners Winners of the fancy-dress competition, judged by Lady Markham and Mrs. Fermor Hesketh, were: under 8 years, 1 Linda Pollard (Hawaiian girl), 2 Roger Kightley (Do it yourself); over 8, 1 Rodney Whatton (robot), 2 Lesley Kightley (witch). During the late afternoon Sir Reginald Manningham-Buller, Q.C., Member for the Division, addressed the gathering on current affairs. Stallholders were : Mesdames G. Goodridge, M. Ratledge, P. Loughrey (white elephant); Miss J. S. Messinger, Mesdames A. A. Greaves, W. Hefford, D. ISmith (cakes); Mesdames D. Gascoyne. A. Tompkins, and W. Betts (vegetables and pro-duce); Mesdames A. Rickaby, P. Millward, E. F. Maltby, C. R. Whiting, M. Holmes, S. Hinch, Bridge, and H. Dickens (tombola); Mesdames W. Brockway, F. Chown. D. Chown, and Dunkley (needle-work); Mesdames A. G. Cold-well, Wincott, Guy Watson, and Bignall (lucky parcel): Mr. J. C. Barton (treasure hunt); Mesdames Taylor, F. Marchant. Freemantle, Rosemary Tompkins. Miss Celia Freemantle. and Mr. Arthur Townsend (bottle stall); Mrs. P. Y. Atkinson (See Yourself as Others See You); Mr. J. Hebson (skittles); H. J. Smith, D. Chown (darts); Mr. Tomp-kins, Mr. Goodridge (bowling for pig); Mesdames 0. Johnson. J. Hebson. J. Kightley, Miss Marlow, Miss Hillyer (re-freshments): Mr. Hickford (greasy pole). Mr. D. Tompkins was in charge of dancing in the evening. Gate stewards were Mr. W. Brockway and Mr. J. Higgins. Comic Dog Show The comic dog show proved an interesting diversion from sideshows and this section was organized by the Hon. Mrs. D. Lawson, of Passenham Manor, and Mrs. J. McNeil. Winners were : Dog with cleverest trick, Miss Wake: most handsome dog, Mrs. Richards: dog most like its owner, Mrs. Fermor Hesketh; largest dog with shortest tail, Miss K. McNeil; smallest dog with longest tail, Mrs. Fermor Hesketh; dog with the prettiest owner. Caroline Lawson; dog and owner race, Miss Kay McNeil.
Farmers and gun enthusiasts came from a wide area to compete for the cash prizes for clay pigeon shooting. There was a continual stream of contestants and it was after 8 p.m. when the competition closed. Winner of the £10 prize was Mr. C. J. Spademan of Wood-newton, near Peterborough, a brother of Mr. S. J. Spademan, keeper at Wicken. Mr. Miles was the runner-up. The shoot was organized by Capt. P. Y. Atkinson and Col. E. F Maltby, C.B.E., with Mr. Jack Glenfield, the trapper, and the Misses Atkinson (scorers). Winner of bowling for a pig was Mr. Preston; darts winner for a pin of ale was Mr. Sid Ratledge; and table skittles (10s.), Mr. J. Skevington. At the close Capt. Guy Watson (Divisional Agent) thanked helpers and supporters for making the fete most successful. The organization was fortunate in having the energetic services of Mr. C. F. Dunkley, who discharged the secretarial duties most efficiently.
---
Wolverton Express 20th September 1957
ENTHUSIASM FOR ROCK 'N' ROLL
160 Attend Dance at Cosgrove
The Cosgrove Parent-Teacher Association began their winter season entertainment with the first of a monthly series of Rock Roll dances on Friday last. Close on 160 danced from 8 pm. until 1 am. to the music of Terry Carrot and his Rockets. As the attendance was so great, and the dancers so obviously enjoying themselves, the committee made a snap decision to extend the time until 1 a.m.
Rock `n Roll enthusiasts were in attendance from the surrounding district, and among the dancers were girls who had cycled from as far afield as Tingewick, Finmere, Akeley and Leckhampstead, evidence indeed of the growing popularity of this modern method of dancing.
The committee, comprising Mesdames J. Hefford, G. Beesley, D. Chown, E. Lambert, N. Castle, N. Horton, Messrs. A. Course, L. Reynolds, J. Hefford, N. Castle, under the chairman-ship of Messrs. A. Course, put in much work in the organisation and sale of refreshments, and thanked everyone who attended and helped to make this first effort such a success.
---
Wolverton Express 4th December 1959
CHRISTMAS BAZAAR AT COSGROVE
The annual Christmas Bazaar of Cosgrove Church was held in the Victory Hall last Friday evening and raised £80 for Church funds. Mrs C R Whiting of Old Wolverton opened the bazaar and was thanked by Capt P Y Atkinson. Miss Diane Stewart presented flowers to Mrs Whiting, who was introduced by Mr P Lambert, people's warden.
Stallholders and helpers were Mesdames P Y Atkinson, F Hillyer, Hickford, W Brodkway, C Brockway, D Chown, Beasley, E Lambert, Harris, Hebson, G Feil, Stubbs and Barton, Misses Marlow, Hillyer and M Feil, Mr G Feil, Mr E Lambert and Mr J Wootton (treasurer) and Mr K Stubbs (secretary).
---