Wolverton Express May 21st 1937
The Coronation celebration was prefaced on 4th May by the planting of a sycamore tree in the Priory Park, the residence of Captain and Mrs P Y Atkinson, by the members of the Cosgrove Women's Institute. Mrs R Whiting presented the tree and each member of the Institute deposited a spadeful of soil during the planting ceremony.
The cost of the celebrations in this village were met by voluntary contributions, and the £75 raised included £25 received from Mrs G H Winterbottom, of Cosgrove Hall, which was the result of two successful concerts she organised on behalf of the fund.
In the morning the judging for the best decorated houses in the village took place by Mrs P Y Atkinson, Mrs R Whiting, Mrs Heap, Miss Wells and Miss Balfour, whose awards were :
1. Mrs Noble, Bridge Row, Mrs Brown, 3. Mrs Eglesfield, 4. Mrs H Barby, 5. Mrs F Williams, 6. Mrs Herbert, 7. Mrs Gallop.
A service in the Parish Church was preceded by the parishioners assembling in the school grounds where the Union Jack was hoisted by Mr F Tustain.
The service was conducted by the Rev H N C Hewson (Rector) and was well attended.
The afternoon's proceedings opened with a fancy dress and cycle parade which was under the charge of Mr J Clarke, and the judges of the house decorations undertook the judging of the parade. Their awards were :
Cycles, girls under fourteen, 1. Miss Prisley, 2. Miss Evans; under sevens, 1. Miss Noble, 2. Miss Stewart, 3. Miss Castle; ladies, 1. Miss D Eglesfield, 2. M Brown; men, 1. J Lambert, 2. P Whiting. Fancy Dress, girls under fourteen, 1. Miss M Brown, 2. Miss Stewart, 3. Miss B Hillyer; boys under fourteen, 1. Master Holman, 2. Master Bob Gallop; ladies, 1. Mrs J Clarke, 2. Mrs F Barby; men. 1. Mr Brown, 2. Mr N Goodridge.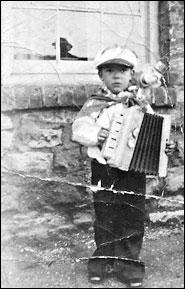 Master Holman 1st prize winner in the under 14 boys section
Children's sports were carried through during the afternoon in a field kindly lent by Captain P Y Atkinson, and these were under the direction of Mr G Hickford, who had the assistance of many male helpers.
Results: Flat Events, girls under eight, 1. M Castle, 2. B Tompkins, 3. M Stewart; skipping race, 1. M Brown, 2. E Prisley, 3. E Evans; three legged race, 1. M Brown and E Evans, 2. E Prisley and H Brown; boys under eight, 1. R Williams, 2. J Gayton, 3.J Hill; three legged race, 1. J Herbert and E Meakins, 2. G Hill and R Meakins; sack race, 1. Bill Castle, 2. D Brown, 3. J Gayton; obstacle race, 1. D Brown, 2. E Meakins, 3. R King; novelty race, 1. B Hillyer, 2. S Gallop, 3. E Clarke; children's race, under eight, 1. J Loughrey, 2. D Hillyer, 3. R Williams.
In an "endless chain" race for children under eight there were twenty nine starters and each one received a sixpence.
Men's races: slow bicycle, 1. M Whiting, 2. G Beasley; running backwards, 1. M Whiting, 2. S Welch; blindfold race, 1. A Loughrey, 2. H Smith; obstacle, 1. L S Welch, 2. H Smith; 100 yards over forty, 1. Prisley, 2. Capt PY Atkinson; mixed events, adults, three legged race, 1. H Cummings and F Ince, 2. Margaret Brown and E Noble; wheelbarrow race, 1. Sheila _____ and H Pay, 2. O Eglesfield and C Hill; 80 yards men over sixty, 1. Gascoyne, 2. W Castle.
In a tug of war married ladies beat single ladies.
Thread the needle race (single ladies), 1. F Ince, 2. D Eglesfield; egg and spoon race, 1. O Eglesfield, 2. D Eglesfield; novelty race, 1. F ince, 2. J Whittaker; Thread the needle race (married ladies), 1. Mrs Harmston, 2. Mrs Tompkins; egg and spoon, 1. Mrs Noble, 2. Mrs Tompkins; novelty race, 1. Mrs Ealey, 2. Mrs H Smith.
Sixty children of the village were entertained to tea at the Priory by Captain P Y and Mrs Atkinson, who also provided each child with a Coronation souvenir mug, which Captain Atkinson distributed. A very enjoyable time was spent by the young people.
Tea for adults was partaken in a large marquee and over two hundred sat down to well catered tables.
After tea the children each received a bag of sweets, a bar of chocolate and an orange, these gifts being purchased with surplus cash that had been allotted to the sports.
Dancing took place for a short while in the marquee, music being provided by Mr F Anstee, wireless and electrical engineer, of Church Street, Wolverton, but owing to the heavy rain this was brought to an early closure. A bonfire and firework display also had to be postponed through the same reason.
During the day beer and other refreshments was generously provided by Mr R Whiting and Mr R H Winterbottom.
Miss Marlow was convenor for tea and was assisted by members of the Women's Institute whilst the joint secretaries of the celebrations were Mr J Clarke and Mr A Noble.
The committee comprised Mr C R Whiting (Chairman), Captain P Y Atkinson (Treasurer), Mesdames P Y Atkinson, R Whiting, Heap, Misses Balfour, Wells, Marlow, Messrs G Hickford, H Ratcliffe, T Eglesfield, E Hillyer, A Kightley, B Stewart, H Herbert, T Payne, F Hall, P Swain, B Brown and F Tustain.