Do you know of the original photograph please?
Back row left to right: Mrs. Andrews (pianist) Mrs Thacker (School head teacher)

Girls left to right: Bessie Noble, Florrie Hall, Margaret Ashby, Ivy Williams, Dorothy Giles, Agnes Noble, Mary Ray

Boys left to right: Bill Lambert, Allan Castle, Archie Bushell, Bill Gascoyne, Keith Sergent, Jack Eglesfield

Date of the article in the Old Mail is unknown

Can you recognise any of the school team of Country Dancers in this picture loaned by Bill Lambert, taken approximately sixty years ago? This team visited the various fetes around the villages to show the skills of Country Dancing. The picture was taken at Castlethorpe in the grounds of Home Farm, then occupied by Mr Whiting,.

The following may be the occasion mentioned in the article above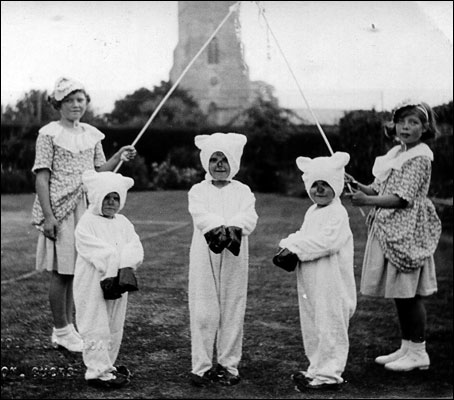 The Bucks Standard May 31st 1930 Church Fete at Castlethorpe on Saturday last, Mr. and Mrs. J. E. Whiting, with their usual generosity, kindly placing their picturesque and convenient grounds at the disposal of the committee. Entertainment: The following dances were given by a party of Cosgrove children: Helston Furry Dance, Peascods, Black Nag, If all the world were paper, Rufty Tufty, Sweet Kate, Butterflies, and Bo-peep. They were very charming and much enjoyed by all those present.