Stony Stratford emerged in Roman times as a place to change horses on the way to or from London on the Watling Street bridging point of the river Ouse. Later travellers stayed in coaching inns strung out along the medieval High Street, and behind the shops and inns jostling for space a warren of ostlers', blacksmiths', coachmenders' and farriers' workshops developed.
By the 20th century horse drawn vehicles were gave way to automobiles, but several of the workshops moved with the times and became garages and motor servicing companies, which were small but industrious and busy. One such was Wheatley and Wood, providing tyre replacement and fitting services, located in a workshop behind the two famous public houses, the Cock and the Bull.
By the 1960's, Wheatley and Wood had a Sports and Social Club of its own, hiring or borrowing sports grounds nearby. Five of its members were keen cricketers, and in 1963 Ken Ferguson, the Secretary, began to arrange a few evening fixtures against other tyre companies, even though he lived in Bedford and belonged to Harpur Sports Cricket Club, over 20 miles away.
The first match was played with equipment borrowed from a disbanded team. It was played on the Wolverton Town Ground on 28th May 1963 against G.K.Tyres of Bedford and was an18 overs match. The visitors won by four runs, although a month later Wheatleys won the return match by just one run. In that first season eight matches were played, and the little tyre company expanded, pleased to find that some of their new employees were cricketing men.
By the following season in 1964 the cricket team had persuaded the Managing Director and Club President, Mr Cyril Wheatley that the new venture was likely to be popular, and he funded a full set of kit, including stumps, ordered from a shop in Bedford by Ken Ferguson. Mr Wheatley was evidently pleased with his investment, as he mentioned the new team at the London Brick Company Head Office Annual Cricket Club Dinner.
Players of note in those early days of 1964 and 1965 were Brian Andrews ('Archie') and Cliff Brandom (the Club's chronicler) who were founder members, John Church, who played for Passenham, and Dick Ward, an Olney cricketer. Players did not have to work at Wheatley's to play, and friends like Reg Russell, who played for Stony Stratford, were invited to help the fledgling team.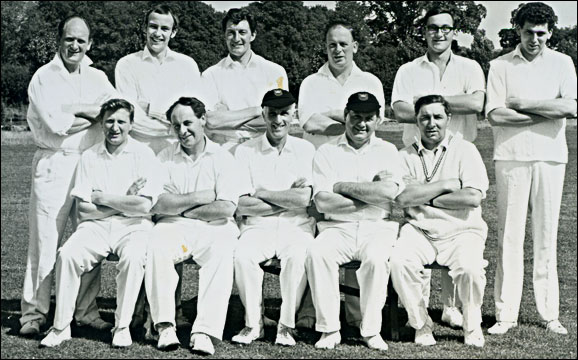 Wheatleys Team mid 1960s
Back Row left to right: Arthur Kightley, Roger Parker, Ken Foakes, Albert Kightley, Keith Belton, Roger Garner.

Front Row left to right: Brian Andrews, John Church, Cliff Barndom, Bert Wright, Reg Russell
Matches were arranged mostly with motor and tyre company teams as far away as Marble Hill in Richmond (due to the London Brick connection), and players enjoyed both the fixtures and the outings. On one occasion, playing at Wolverton against Passenham, Brian Andrews was on particular form from boundaries and hit a six into a neighbouring living room through the French windows, which held up the match for some time.
Players' wives seem to have been rather less enthusiastic about away matches. After playing at Cowley Bridge in Uxbridge two players recall eating fish and chips sitting on a wall in Aylesbury in the middle of the night and provoking some dry remarks about floodlit cricket when they finally got back to Stony Stratford.
In 1965 Mr Cyril Wheatley retired, but fortunately his successor, Mr Bill Donaldson, took a special interest in the Sports Club and its cricket section. At the end of that season the committee realised their dream of having their own ground, negotiated with local farmer Michael Maycock. After the last match of the season they set out for Cosgrove and fenced off an agreed section of Doctor's Piece, a field behind the Church running down to the Grand Union Canal, where football and cricket matches were often played. It had four posts, one in each corner, and three strands of barbed wire, and was about 26 yards square. The pitch was oriented from the cemetrey to the corner facing the lock. The next weekend they borrowed an Allen Scythe and Passenham Club's mower and cleared the ground for the winter. They couldn't afford new balls every game so they polished up the old ones with oxblood shoe polish. They used to say if you hit the ball inot the cemetery the umpire would call it a "dead ball".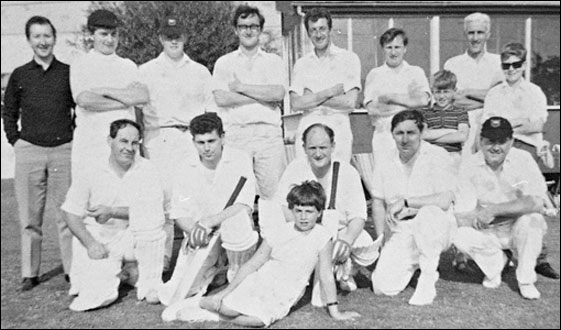 Back row left to right: Norman Brown, Dave Berridge, Alan Golding, Keith Belton, Ken Foakes, Brian Andrews, Clif Brandom,
(boys Graham Brandom, Alan Russell)
Front row left to right: John Church, Roger Garner, Arthur Kightley, Reg Russell, Bert Wright
Elaine Russell

Match played on 23 July 1966 Cowley Bridge, Uxbridge v Wheatleys - Wheatleys lost by 13 runs
Cowley Bridge 71 all out Wheatleys 58 all out

It was decided to hold an Annual Dinner to encourage the players. Cliff Brandom ordered three cups for batting, bowling and fielding as well as various shields and medals, to be presented at the Dinner. This was evidently much appreciated by Wheatleys Chief Auditor, Mr Geoffrey Bean, as he not only offered to pay for the trophies himself, but travelled from Surrey with his wife to attend the Dinner, which took place on Saturday November 13th at the Scout Hall in Stony Stratford.
The focus for the team for the rest of the winter of 1965-1966 seems to have been "obtaining" essential equipment. A huge old roller was spotted in a field in Old Stratford, rescued by tractor from under the nose of a scrap merchant to whom it had been promised by the owners, the disbanded Old Stratford Cricket Club, and towed (across the A5 crossroads) to a wheelwright's yard, Messrs Chapmans, to have a new frame fitted. Shortly afterwards a second hand motor mower was bought with the proceeds of a Christmas Draw from Messrs Rodgers of Great Barford.

Cosgrove cricket pitch on Doctor's Piece, the rollers screen and changing room and refreshment hut can be seen here
Back in Cosgrove the landlord of the Barley Mow, the pub just yards from the new cricket ground, agreed to let the team use a barn to store the new acquisitions and an upstairs room for changing and teas, all for a small annual fee. This led to the purchase of crockery for the teas and insurance for the players and spectators, and thus the club was official.
The roller was towed back to Cosgrove and with ten men hauling it at a time a cricket square was beaten into shape over many weeks which stood the test of time as a village pitch. Regarded as a "nine days' wonder" in the village, it actually served the team well for twenty years. The inaugural match was played against Swanbourne on 28th May 1966. Although Wheatleys lost, the real triumph was playing "at home".
Several new players emerged that year including Arthur Kightley, Derek Church from Stony Stratford and Roger Garner from New Bradwell, along with Cliff Brandon's ten year old son Graham, who took a keen interest in learning the game. Keith Belton made some remarkable scores, as well as the redoubtable Brian 'Archie' Andrews, who managed to hit the Old Brewery chimney half way up.

The Second Annual Dinner that year was held on Saturday October 29th at the Labour Hall, New Bradwell. Mr Lawrence, a Wheatley's director, and his wife, travelled 400 miles at attend the event.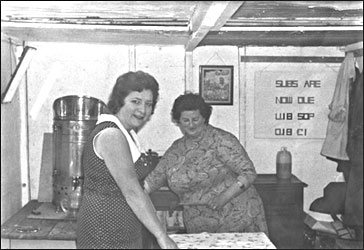 Molly Kightley & Barbara Church
Throughout the winter ground improvements continued. A site shed was bought and erected on the field [on the top corner where the new cemetery field is fenced off], and a local handyman, Cecil Ray, who worked at Cosgrove Lodge Park offered his services and the use of a set of gangmowers to cut the outfield, which he continued to do for three seasons. Behind the shed were two "bucket" toilets!
In the early days invasions by sheep, and worse, by cattle, caused a lot of additional work. The committee were surprised and thrilled by the farmer offering them an electric fencer and metal posts to fence off the outfield.
By 1967 the team was in high demand for fixtures and could not play all matches offered. They seemed to enjoy away matches with memorable grounds, such as the deer park at Woburn, the matting wicket and scoreboard with revolving numbers at Gayton and the sheer drop on the field at Aspley Guise. Ken Foakes hit the "most memorable ball" that year at Drayton Parslow into a truly rural pig sty.
Mr Norman Brown, speaking at the Third Annual Dinner, commended the club on a high standard of sportsmanship and club spirit, and set the tone for an emphasis on responsibility to younger members. During the 1968 season new members appeared and youngsters began to come through. Derek Hill moved into the area and was co-opted to the team, and a young assistant at Wheatleys, Colin Farmer, began to play regularly. Three players living in Cosgrove joined the team, Albert Kightley (previously a Wolverton player), Mick Stevens (ex Airflow Streamlines of Northampton) and Dave Berrill.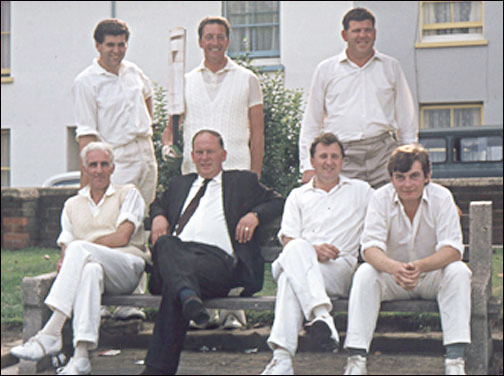 Portslade (near Brighton) 1969

Back row left to right: Roger Garner, Ken Foakes, ?

Front row left to right: Cliff Barndom, Albert Kightley, Brian "Archie" Andrews, Roger Kightley
We were enjoying our cricket, win, lose or draw. Keith Belton, returning after a season's absence, was soon on target with a seven wicket haul against Stoke Goldington. Derek Hill was once again in fine form with bat and ball. At Portslade we were well beaten and the first centrury to be scored against the club was by a former Sussex second XI opening batsman who scored 112 before being caught by Roger Garner off, yes, you've guessed it , that Man Belton. After our usual stop for liquid refreshment we set off for home, I had an idea that the brakes on the coach were a bit suspect and as we reached the bottom of a steep hill they failed to operate properly and the result was a bump into the back of a car waiting at the junction. Although the damage was slight it appeared that the car driver was a learner, no L plates or insurance, so the coach driver was a very lucky man, as far as the passengers were concerned, they were not at all happy to say the least. The bumper had been damaged so emergency were required, as usual we had a comic aboard, this time it was skipper Reg Russell who donated his boot laces to secure the damaged bumper. Once on our way again, we managed to arrive home safely without any further mishap.
There was apparently a fair amount of needle in fixtures arranged with Bladen village in Oxfordshire. They evidently scorned to play "comic cricket", but were trounced by Wheatleys on their home ground next to Blenheim Palace, and finally struck from Wheatleys fixture list for "unsportsmanlike incidents"!
The ground came under threat that year when Cosgrove Hall, which owned the field leased by the farmer, changed hands. The committee were asked to the Hall by the new owners, Charles Mackenzie-Hill, and despite their trepidation, Mr Mackenzie-Hill confirmed their use of the ground, offered a fixture with his eleven, and provided a strawberry and cream tea for the match with a nine gallon barrel of beer on tap. This fine arrangement continued until he left the Hall in 1975.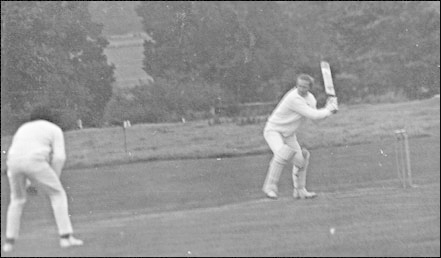 During the 1969 season, the Sports Editor from the Wolverton Express, Richard Pointer, joined Wheatleys, which led to better coverage for the team in the local press, together with headlines like "Tyremen Deflated". The site shed was extended and a site screen was made for the ground. The cricket went from strength to strength, and the club continued to take pride in encouraging and training young players from the local area.
In 1970 the introduction of computers at Wheatley and Wood indirectly led via the closure of the accounts department and reduction of staff to the closure of the Sports and Social Club. Wheatley and Wood became The National Tyre Service. Back in Cosgrove the cricket club committee decided to change the Club's name to Wheatleys and the game went on….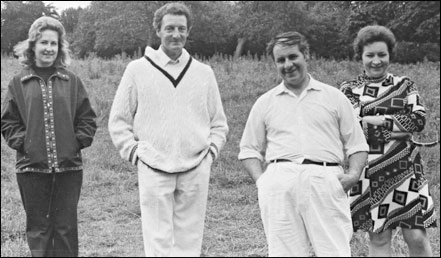 Mrs Foakes, Ken Foakes, John Church & Molly Kightley
Adding to successful bowling partnerships in the seventies and eighties were Mike Stevens and Dave Berrill, Colin Framer and Kevin Slaymaker and later John Dewick first with Tony Martin and then with Dave Tysoe. Players arrived from other villages and further afield, like Ron Wilson, who was a Geordie. Ron was particularly remembered by his cricketing friend when he died suddenly from a heart attack before the age of 40. Rod Stanley was co-opted to fill a team gap on another occasion and became a strong club member. Roger Parker, who joined as a schoolboy, enhanced the eleven by playing at weekends as a college student. Also at this time Derek Cannings' play began to feature in score reports for the club.
The club now had its own gangmower, a pair bought from Passenham club for £32, which nearly broke the bank in those days. This was nearly as handy as Basil Richards, a Cosgrove farmer, who not only joined the club as an opening batsman but provided the ground with the use of a tractor. He and his wife Sue were stalwart supporters from then on. Basil was a Passenham stalwart who made many appearances for Wheatleys.
Other supporters and helpers were coming to the fore – notably Bert Wright and Eric Stevens, who were called upon to be umpires, either from team retirement or being poached from other clubs. Ian Farmer's score keeping produced the neatest scorebook for miles. A fine team of ladies making cricket teas backed up the entire proceedings.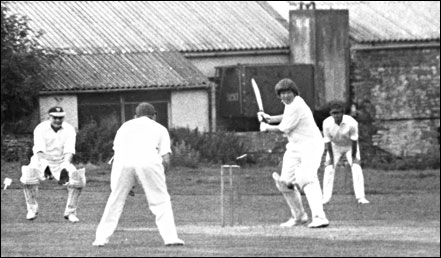 Wheatleys v Leighton Rovers 12th August 1973, Doctor's Piece, Cosgrove

Colin Kightley batting
By 1972 the club was in the position of rebuilding the team a little, as people retired or moved away and young players emerged. Colin Kightley, Roger Kightley and Graham Brandom, brothers Ian and Michael Wright and Greg 'Bubble' Williams were among these, several of them Radcliffe School students. The club was rightly proud of the fruiting from their early policy of training up young lads, and the local Grammar Schools had great facilities enabling boys to shine. Graham and Nicky Roberts from Old Bradwell represented Buck County Schools at all their 1973 matches, and Wheatleys eleven regularly included five or more young players.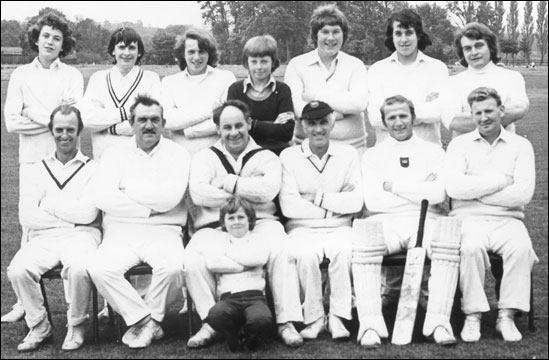 Wheatleys Team 1973
Back Row left to right: David Smith, Anthony King, Graham Brandom, Ian Farmer, Colin Kightley, Kevin Slaymaker & Roger Kightley

Front Row left to right: Doug Dormer, Derrick Cannings, John Church, Cliff Brandom, Colin Farmer & Roy Johnson,

Front Graham Church
1974 began to see small clubs disappearing from the fixture lists, and Wheatleys missed their opponents Cowley Bridge Cricket Club when it closed, not least for the hot pies and yards of ale always offered after matches. Wheatleys own Bletchley depot closed and staff moved to Stony Stratford, enabling the club to persuade Pete Roberts to join the side at Cosgrove.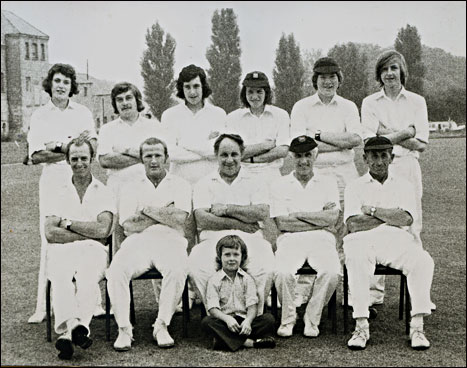 Wheatleys 1973
Back Row left to right: David Smith, Roger Kightley, K Slaymaker, Graham Brandom, Colin Kightley & Derrick Radcliffe

Front Row left to right: Doug Dormer, Colin Farmer, John Church, Cliff Brandom & Ron Missenden,

Front: Graham Church
New young players such as Michael Ballard, David Smith and Ian 'Herbie' Slaymaker joined the club, and a highlight of the season was a President's Eleven match between the club players and a side of former players, who travelled from far and wide to play with their beloved Wheatleys team once again.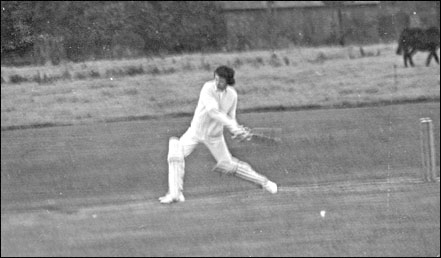 Doug Dormer, Dave Berridge, Kevin Millard and Adrian Stimpson were mentioned in dispatches during this period, and Wheatleys began to be noticed as the club with a seemingly endless supply of bright new players as 1975 began. As promising players were courted by bigger clubs in the area Wheatleys took on Trevor Howell from the tyre company and another Radcliffe schoolboy, Mick Chappell. In the following season, 1976, Tony Martin joined the bowling strength to add to the team, and Radcliffe School provided Terry Parker and John Dewick in 1977. Young players trained up by the team now led it, and Graham Brandom was captain that year.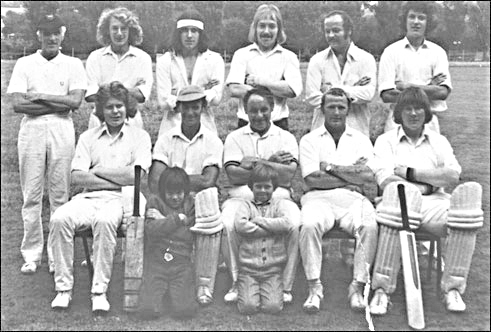 Wheatleys Team mid 1970s
Back Row left to right: Cliff Brandom, Micheal Ballard, Kevin Slaymaker, Bob Morris, Roy Willis, David Smith

Middle Row left to right: Adrian Stimson, Doug Dormer, John Church, Colin Farmer, Colin Kightley

Front Row left to right: Philip Dormer, Graham Church
It is evident that players delighted in playing for Wheatleys, as its friendly and social atmosphere drew them back time and again once they had moved on, to play as guests, or with the President's XI. By this time they had begun to raise money for Slated Row School for students with learning difficulties in Wolverton. The only thing that seems to have been unpopular with team players was "unsportsmanlike behaviour" from opposing sides, which was regarded with horror by Wheatleys men.
In 1978 John Cook and Tony Orme joined the club and began to appear in success reports along with Nick Dolton, and the club finally celebrated a century by Graham Brandom. His father, Cliff Brandom and another founder member John Church, were presented with engraved goblets that year at the ever popular Annual Dinner.
By 1980 Wheatley's were able claim their first victory in the Express Cup. They beat a new team, Lakes, which had a number of West Indian players. Although the turnover of players for Wheatleys seems to have remained high, not least because of the changing opportunities presented by the new city of Milton Keynes on the doorstep, a hard core of experienced players and youngsters seemed a winning combination. In 1981 Alan Bason made his debut with the club and they seemed more often defeated by the weather than the opposition.
Sheep were another perennial headache for the unseen heroes who continued to battle with keeping a good field surface for the team. A compromise was reached with late cutting of the outfield so that the grazing was preserved along with the sheep being removed on a Friday, the field mowed on the Saturday and then the sheep returned on the Sunday after the match!
By the Annual Dinner of 1982 Troy and Des Ratcliffe and Troy Smyth were regularly playing well, but in 1983 Wheatley's regular fixtures clubs were struggling and Tilehouse, a favourite, closed, as did the club's community window, the Wolverton Express. Maintaining the field and affording replacement equipment became a real problem for Wheatleys, as the "faithful few" tried to keep the club going. Players like Dave Ranson continued to make club records, but the Annual Dinner became a buffet affair in the face of increasing costs. By 1984 the Dinner had given way to a Presentation Evening, which was held in the Duke of Edinburgh pub in Stony Stratford.
The 1985 season saw several played leaving Wheatleys to play for other sides, some injuries and retirements adding to difficulties. Tony Vick, as well as three men from Bedford, McMellon, Crosbie and Shaw, stepped in to the breach, but it was becoming obvious that clubs which could provide facilities like showers and a bar were attracting players more easily than small village clubs.
The final game on the ground at Cosgrove was on September 15th, where a draw was reached with Aspley Guise. Neil Atkins was among the players with awards at the Presentation Evening that year and John Pittam was Player of the Year.
There was a strong connection between Wheatleys and players from Potterspury, and at the end of 1985 Potterspury Parish Council agreed to the rental of a cricket square at the Meadow View Sports Ground, along with the use of the pavilion. The square needed a lot of preparation, sited between two football pitches and unused for several years. Basil Richards towed the rollers over from Cosgrove with his tractor and slowly the square was beaten into shape. The team of ladies providing teas had been disbanded so the Potterspury players persuaded the landlady of the Cock Inn to perform this duty for a small consideration.
The weather prevented the first fixture from being played at Potterpury, but thereafter the pitch seems to have held up well enough to be safe, although it required intensive care to make it a good wicket. The landlords of the Cock Inn, Brian and Joan Hartwell had really been very supportive, and not only hosted the Annual Presentation evening but became vice-presidents of the club.
The 1987 season went well at Potterspury, notably Andy Massey's performance against Steeple Claydon, and in October Wheatleys was accepted for membership of the Milton Keynes and District league for the 1988 season.
A 25th Anniversary booklet was produced, with facts and figures, features and advertisements from sponsors. Brian Hartwell from the Cock Inn presented club colour sweaters to members at the presentation Evening at the inn, where skipper Alan Bason took top honours.
Sponsorship had become a main source of income for small clubs in recent years and John Church was amazed to be offered leading sponsorship from North City Motors of London Road, Stony Stratford. The year drew on with money issues largely dealt with, but problems in recruiting and retaining players still loomed for organisers. The Wheatleys Cricket Club finished its Jubilee year on a high note at the Cock Inn on Wednesday 9th November 1988.
---
Acknowledgement : "Tyres and Wickets" - Wheatleys Cricket Club 1963-1988 by Cliff Brandom (1988)

Details of matches, scores and awards are contained in the original source.

---
Wheatleys Patrons who resided at Cosgrove
President later Honorary Life Member

Norman Brown ,

Vice Presidents
Charles Mackenzie-Hill, John Gordon, Mrs. Kathleen Gordon,
Basil Richards, Albert Kightley, Peter Boskitt

---
Wheatleys Players who resided in Cosgrove
when playing (in alphabetical order)


| | |
| --- | --- |
| David Berrill | 1968 - 1972 |
| Peter Boskitt | 1970 - 1973? |
| Derek Cannings | |
| Albert Kightley | 1967 - 1973 |
| Colin Kightley | 1969 - 1975 |
| Roger Kightley | 1970 - 1973 |
| Anthony King | |
| Roy Mosley | 1973 - 1975 |
| Basil Richards | |
| David Smith | 1971 - 1978 |
| Michael Stevens | 1968 - 1972 |