In "Manno's Manor" by Bryan Dunleavy, published in 2013 by Magic Flute Publications, the first illustration is from John Hassell's "Tour of the Grand Junction Canal", a collection of engravings published in 1819.
The canal bridge from Wolverton in 1819


Tour of the Grand Junction Canal - John Hassell
"Passing Stonebridge House, by a very pleasant road, shaded with an abundance of lofty trees, we come to the village of Wolverton. The country here had burst upon us with peculiar beauty; the scenery on our right presented the navigation passing in long lines away to Cosgrove, which terminates in a succession of woods, towering above each other, with the seat of Major Mansel to the left, and Cosgrove church a little more to the right. The Grand Junction is here carried across the valley by an embankment originally built upon arches, but bursting its course a wooden trough was afterwards substituted, through which the barges were conveyed to either part of the canal. This trough has given way to one made of cast iron."
This is a view from what is now a new housing estate at Llewellyn Chase, across the canal at Old Wolverton. The building on the left is the Galleon Pub, once called the Locomotive, with the canal bridge in the foreground. There was apparently a winding hole (bottom right), and above this appears Cosgrove Hall. To the centre right is Cosgrove Church, replete with "Steepol"!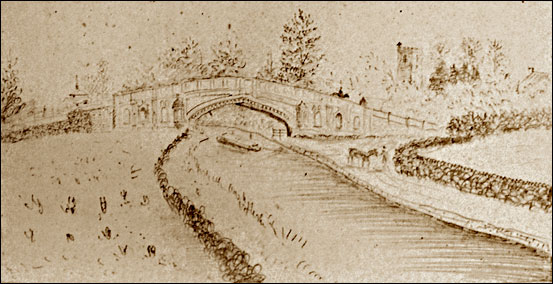 Interestingly the only other old drawing we have of the Church is this drawing done on April 25 1852, by George Clarke, showing the Tower without a steeple, contradicting the accounts, unless "steeple" had by then become a local name for the tower itself.
From 1707 to 1757 we come across references in the churchwardens' accounts to Cosgrove Church having had a steeple. We believed at first that this was an idiomatic name covering the tower. However, in the following references appears an interesting picture:
1707 The Disburstments of Rob Rand and Willm Turvey Churchwardens for the Year One Thousand Seven Hundred and Seven
Spent on the ringers and Other people for helping unload the Great Bell and for drawing her up into the Steepol 8s
The Disburstmnts of William Jarvis and William Cook Churchwardns for the year 1716 as followeth
pd to John Arther for sweeping the Steeple 6d
The disburstments of William Scott and Samuell Durrant Churchwardens of Cosgrave for the year 1734
for a Lock for the Steeple door 6d
The Disburstments of Samuell Durrant and William Turvey Churchwardens of Cosgrave for the year 1737
p for a Lock for the Steepl door 1s 6d
The Disburstmnt of Samuell Durrant Churchwarden for the year 1739
p Walker and Branson for pointing the Steeple £4 18s
spent at Shreeve when the Steeple was done 4s
p Joseph Roberds for work and Iron about the Church and Steeple 18s 10d
for the use of my Burkitts and beesoms at the Steeple 1s
p for drinks at Medlys when the Steeple was done 3s 4d
John Archer for ale when the Steeple was pointed for our own drinking and the workmen 9s 2d
P William Gervise for work and other things which he provided about the pointing of the Steeple £2 18s 9d
The Disburstments of Joseph Roberts & Thomas Shaw from Ester 1754 to Ester 1755 Churchwardens of the parish of Cosgrove for the above year
pd for 2 Locks for the dors at the botom and top of the Steeple 4s 6d
The Disburstments of Joseph Roberts and John Rye Churchwardens of Cosgrove for the year 1757
payd Edward Jons [Jones] stopping up the Steeple windows 4s 6d
payd for wood for the windows in the Steeple 1s