Priests and Rectors of Cosgrove from the year 1219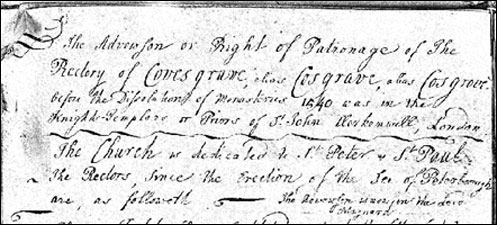 The advowson or right of patronage of the Rectory of Cosgrove (variously spelt 'Covesgrave' and 'Cosgrave') before the Dissolution of the Monastries in 1540 was vested with the Knights Templar or Priors of St. John at Clerkenwell in London. It is usual to date the beginnings of the established Church in England from this time, and it was about then that the See of Peterborough, which holds ecclesiastical authority over Cosgrove, was erected. Upon the dissolution of the monastries, the advowson passed from the Knights of St. John to the Lord Maynard, and the earliest local record mentions that the first incumbent after this time was instituted on the King's presentation.
The Church has, apart from a brief interlude, been dedicated jointly in the names of St. Peter and St. Paul, and the Rectors holding the incumbency were as follows ;-

DATE

PATRON
INCUMBENT




Hugh Revel



Hugh Revel renouncing his claim to the patronage. in 1219

1219

Hugh de Alneto, Prior of the Hospitallers
Richard Giffard

1225

Roberti de Diva Prior of the Hospitallers
William de Westwell,
Clerk

1227

Prior of the Hospitallers
Richard de Wigornia
Clerk (Sub Deacon)

1229

Michael de Sancto Albano

1230

Prior of the Hospital of Jerusalem in England
Mast. Robert de Oterington
Subdeacon

1240

John de Oxon
Chaplain

1265

John de Kirkeby
Clerk
John de Kirkby acquired much property in his native county of Leicestershire and in Northamptonshire and became Treasurer of England in 1284 and was Bishop of Ely from 1286-90. He was also Rector of Gedney in Lincolnshire and Oakley in Bucks.

1270

Henry de Auviters
Subdeacon

12..

Mat. Elias

1288

Stephen de Suchea
Deacon

1290

Walter de Gyse
Chaplain

1305

Mast. Thurstan de Hanslap
Subdeacon

1318

Richard de Wotton
Priest

1322

Benedict de Wodeford
Priest

1326

John de Clifton

1344

William de Brigham
Priest

1347

John Cole de Newport Pagnel
Priest

1350

Michael de Sharnebrok

1361

John de Hugeley
Priest

1365

Robert Archer
Priest

1370

Henry Knot

1374

Godynche

1374

Richard de Kempston
Priest

1398

John Rudley
Priest

1400

John Fraunces
Priest

1405

Sir William Yewdale

1415

Sir Henry Drayton
Priest

1415

Sir Richard Sloghter
Priest

1416

Sir Nicholas Doubrygge
Chaplain

1421

William Wattes
Priest

1431

Edward Litill
Priest

1443

Richard Botyll
Priest

1444

Herbert Baxter
Priest

1461

Alfred Northfolke
Priest

1470

Sir John Newton
Priest

1479

Sir Thomas Parker
Priest

14..

Mast. Robert Hawley

1524

Sir Ralph Boydell
Priest

1529

Mast. Thomas Russell

1549-1563

The King (Edward VI)
Thomas Todde
Clerk in Orders, was instituted on the King's presentation.

1563-1592

Robert Throckmorton
Christopher Emerson
Clerk in Orders, Rector of Furtho upon the death of Thomas. (or Evans, two sources disagree on this) - also rector of Furthoe. Died 1592.

1592-1601



William Bradshaw, B.D.
Upon the death of the previous incumbent. Died 1601

1601-1639

Arthur Throckmorton
John Whaley, B.D.,
Upon the death of the previous incumbent.
Resigned 1639, died 1647 aged 92.

1639-1660

?

John Whaley
Clerk in Orders, took the parish on the resignation of his father who lived to the advanced age of 92. John Whaley the younger was instituted on the King's presentation by reason of the minority of the young Francis, Lord Dacres, and gave two almshouses 'for the use of two poor families' .

1660-1663

?

Henry Sills
Succeeded to the previous incumbent. Died 1663

1663-1667

Lord Maynard
George Welstead, M.D.
Succeeded by reason of the death of the previous incumbent. He was a physician of some note who took Orders later in life and is the subject of a Latin inscription which still survives in the Vestry, although this was originally hung on the Chancel wall. Died 1667

l667-1690

?

John Naylor
Clerk in Orders, upon the death of the previous incumbent. Died 1690

1690-1691

Elizabeth Pollard
Walrond Cowley
Clerk in Orders. Died 1691

1691-1698

?

John Wildman
Clerk in Orders. Died 1698

1698-1729



John Mansel, M.A.
Succeeded upon the death of the previous incumbent. He was also a Rector of Furtho and held the Rectorship there for 51 years as well as being Rector of Cosgrove for 31 of those years. Died 1729 aged 86.

1729-1752

?

William Thompson, M.A
A student of Christchurch, Oxford, succeeded to the living on the death of the previous incumbent.

1752-1770

Pulter Forester, M.A.
Rector of Knapwell in Cambridgeshire, succeeded to the living on the death of William Thompson. Apparently Dr. Forester was a man of energy and scholarship who became a Prebendary of Caddington Major, installed at St. Paul's in London and took his doctorate at Cambridge in 1757. Closer to home, he repaired and rebuilt Cosgrove Rectory and 'improved the Yards and Garden left in Sad Condition his Predecessor, and new fitted up the Chancel in 1759' Doctor Forester continued a substantial career in Orders when he became Rector of Gayhurst with Stoke Golden (sic) in the County of Buckinghamshire and later was collated to the Prebend of Stratford in Salisbury Cathedral. He was elected Proctor in Convocation to the clergy of Peterborough and was appointed Preacher at St. Mary's Chapel, Grosvenor Square 1763. Died 1770.

1770-1809

Viscount Maynard's trustees
Charles Walker.



1809-1835

J. C. Mansel
Henry Longueville Mansel
Succeeded Charles Walker on his own presentation, the living now being in the gift of the Mansel family. Died 1835 aged 53
1835-1869
Mrs. M. Mansel
John Graham, M.A.
Fellow of Queen's College, Cambridge.

1869-1877

Mrs. M. Mansel
George Jenkins



1877-1892

R. Mansel (sole surviving son of Mrs. M. Mansel)
Patrick George McDouall, M.A.
Christchurch, Oxford, Vicar of Kirk Newton Wooler, Northumberland.

1892-1945

H. N. C. Hewson
Rev. Henry Newington Clarke Hewson AKC
Succeeded, being instituted in 1893. Rev. Hewson died in 1945 at the advanced age of 93.

1947-1960

Bishop of Peterborough
John Simmonds Benson
Late Chaplain to the Australian Imperial Forces and Rector of Corrimal, New South Wales, succeeded to the living here, and simultaneously held the benefices of Passenham with Deanshanger. The advowson having passed to the Mansel family in the 18th century had now lapsed and the Dean and Chapter of Peterborough now make the necessary presentation.

1960-1966

Dean & Chapter of Peterborough
Albert Edgar Bransby
Previously Vicar of St. George, Southwark with St. Andrew, Battersea.

1966-1972

Dean & Chapter of Peterborough
Stanley Carr Woodward, M.A.
Formerly C.M.S. missionary, Central Theological College, Tokyo, Japan, Vicar of St. Mark's, Peterborough, Rector of Uppingham, Rutland, Canon of Peterborough Cathedral, Proctor in Convocation for the Clergy of Peterborough.

1972

Dean & Chapter of Peterborough
Rev. R, H. Beatty, M.A., B.D., Ph.D.,
Succeeded to S. C. Woodward, M.A. on his retirement. Lately Priest-in-charge of the Parishes of St. Luke with St. Paul, Kentish Town, and sometime Lecturer at Huron College, London, Ontario and MaGill University, Montreal.

After 1983, no new incumbent was appointed.
The rectory was sold and the parish administered by the rector of Potterspury .

1984



Gordon Murray



1985



Rev. E. H. Lurking



1993



Rev. Michael Champneys



1999



Rev. Leslie Frederick Steel MA Lth. (Hons)



2004



Michael Wray



2012



Diane Whittaker



Source: Cosgrove Church Record of Baptisms, Marriages and Burials, 1691 - 1763, 1699 - 1885, with additions, 1966.


---
Lands of Religious Houses:- The Knights Hospitallers had land in Cosgrove as well as the advowson, described in 1295 as six virgates held of Earl Ferrers. In 1329 the prior claimed the view of frankpledge twice a year in Furtho from his tenants' there, in Cosgrove and elsewhere and in 1407 the Cosgrove tenants did suit to the prior's leet in Stony Stratford. After the Dissolution, common land in Puxley and Cosgrove and two further closes in Furtho, late parcel of the possessions of the Hospitallers' preceptor at Dingley, were granted to Sir Ralph Sadler in 1550. When Queen Mary tried to re-establish the order in 1558 the lands in Cosgrove, late of Dingley, were included in the grant.


Several medieval rectors held other livings with Cosgrove, or were given licence to do so such as Thomas Parker, rector of Althorp and Cosgrove who was given special dispensation by Pope Innocent VIII to hold a third benefice for up to three years. John Fraunceys was given licence to reside elsewhere for study. There were also several exchanges of clergy – in 1415 Henry Drayton, rector of Cheadle and William Yewdale, rector of Cosgrove, exchanged livings as did William Wattes, rector of Hannington and Nicholas Dowbrygge in 1421.


In the 16c Christopher Emmerson held Furtho and Cosgrove in plurality for 30 years (1563-92) as did John Mansel who was rector of Furtho for 50 years and of Cosgrove for 31 until he died in 1729 at the age of 86. John Whalley as rector for 38 years between 1601-39 before resigning in favour of his son of the same name who held office until 1660 and was remembered for giving two cottages to the parish for the use of poor families, although the benefaction was later lost. The 18th century rector Pulter Forrester (1756-78) was the outstanding rector of the time. He held Cosgrove in plurality with Passenham (as well as other offices) and was a generous benefactor to both livings, especially Cosgrove, where he refitted the interior of the church and rebuilt the parsonage.


Between 1835-69 the rector of Cosgrove was John Graham which was in a period where as elsewhere saw the establishment of a National school and also the restoration of the parish church, although H J Barton of Wicken, Barwick Sams of Grafton Regis and W H Newbolt of Paulerspury made a greater impact in their respective areas. After two further short incumbencies H N C Hewson was instituted to the living in 1893 (his family had purchased the advowson a year before), He remained there until his death in 1945 aged 93, apparently for the last two years of his life he was not capable of performing his duties. In 1943 the vicar of Potterspsury was asked to take a service in Cosgrove during the afternoon being paid to do this by the patron, Hewson's son, however the parish had no morning service during these years. Throughout Hewson's incumbency which began after the Mansels had left Cosgrove the leading supporters of the church were the Atkinson's at the Priory. J J Atkinson was the rector's warden for 40 years and was later succeeded by his son P Y Atkinson until he was removed in favour of the younger Hewson in 1939. After the elder Hewson died and his son left the district, Captain Atkinson resumed his position as the main pillar, social and financial of the PCC supported for a time by Joan Wake and Major Fermor-Hesketh, until shortly before his death in 1972. At this date there were fewer than 50 people on the church electoral role.


During the reign of Henry III, Henry clericus of Cosgrove made two grants totalling one and a half acres of land in Stansifurlong, in Cosgrove field, to Biddlesden abbey, which his widow Maud later quitclaimed. Also during the 13c Alice, daughter of William de Puxley and former wife of Hugh de Brochole, gave the abbey a rood of land near Watling Street. In 1330 the abbey released a rent of 5s due from John le Forester of Stony Stratford for the lands he held for them in Cosgrove and Stony Stratford.


What was described as "St John's friary" in Northampton owned an estate in Cosgrove, let in five holdings in the 15th and early 16c, one of which was called the 'Hall Place'. None of the friaries in the town was known by that name, although the Austin friars house stood opposite St. John's hospital.


Records show that Hugh Revell, who held land in Leicestershire (Puxley, Cosgrove, Buckeby) and Warwickshire (Fenny Newbold/Newbold Revell) from as early at 1183 which suggests he was born around 1163. It is fairly certain that Hugh married a de Wappenbury around 1190, Hush's father was Robert and he gifted the advowson of Cosgrove to the Knights Hospitaller. There seems to by general agreement that a Hugh Revell from Northamptonshire was a senior official of the Knights Templar from 1243 until he died in 1277, although the activities of this Knight Templar are well documented his birth is not..



Information gained from local historians, confirmed from Wikepedia web site, British Listed Buildings website and St John Museum.

---
The right of presentation to a benefice was attached to the manor after the Conquest. A Lord could give a manor or a benefice to a church establishment or a society, which happened when parts of Cosgrove were given to Snelshall Priory and to the Knights Hospitaller.
When a group thus obtained a manor or benefice by the King's license and the Bishop's consent, it became responsible as a spiritual corporation, to provide for the services of the Church, and to maintain the fabric out of the tithes, glebe and other dues.
It took the place of a parson or rector. It deputed a Vicar (from Latin "vice", like a vice captain) to be its chaplain deputy or substitute, to perform services. Usually the vicar was a member of the priory or group, but not always. His stipend was at their discretion and they could remove him as they chose. He was therefore worse off than a stipendiary curate today.
C1403 Henry IV enacted a law to say that a vicar should not be a member of a monastery or society, that his job should be permanent, canonically instituted and authorised by the Bishop.
At the dissolution of the monasteries large sections of church property was handed over to Laymen by the State. The vicar was not in control of all revenue from Church lands any more. In some parishes there would then have been both a vicarage, for the Curate who did the actual work and a rectory where a Layman who had been given the income and title of Rector by the State. This was called the "church living" and could be bought and sold to other people.
NB Cosgrove Priory was never a real priory, but was built on the site of a manor house and renamed in the 18th century by tenants.
The Rectory, now Medlar House, was a rectory, but other houses on the Green also belonged to the church living – at times, vicars may have lived there and certainly at times the Rectory itself was rented out.
---
Michael de Sancto Albano – following the Oseney Riot given permission to leave Oxford (university) notwithstanding a royal edict to the contrary along with six others. Bishop of Carlisle mainprised 11 May 1238. Renounced Rectory of Cosgrove, Northamptonshire.
CPR 1232 – 47
Emden Biographical Register iii 1623
Oseney Riot
23rd April 1238 a group of Oxford students travelled to Oseney Abbey, having earlier that day sent gifts to the Papal Legate, Cardinal Deacon Otto, who was staying at the Abbey. Nobody knows why they wanted to see the Legate. They were rebuffed and tempers flared. The Legate's chief cook poured boiling water on a poor Irish clerk who had come to beg alms – one of the students, a Welshman, shot the cook dead with an arrow. In the ensuing melee the Legate withdrew to the church Towere where he his until nightfall before fleeing to the King.
Henry III was outraged. The Legate placed Oxford under interdict and 22 individuals were imprisoned – no clerks were allowed to leave Oxford. Eventually all but the ringleaders were allowed to return to their parishes.
Michael was apparently mainprised (bailed) by the Bishop of Carlisle. This all seems to have happened after Michael's Rectorship had finished at Cosgrove.
Back to Top
---
Pulter Forester
History of Stony Stratford page 104
Rev W Cole of Bletchley gives this account in his Diary of a dinner held for Dr Pulter Forester, Rector of Cosgrove and Passenham, and who in 1767 was Chancellor of the Diocese of Lincoln. All the local gentry were invited to meet him.

1766 Oct 13

I went to dinner on a Turtle of about 80 pounds at the Bull at Stony Stratford at an Ordinary for the neighbouring Gentry, given by Mr Bigging [Biggin] of Cosgrove to Dr Forester, who gave it to the Public; by which he avoided the expense of a large company at his own house. It [the Turtle] was very well dressed, with an Elegant Dinner, by Mr Knightley's cook of Fawsley. Cards after dinner. The Company about 50, viz, Mr and Mrs Knapp of Little Lynford, Mrs Uthwatt of Great Lynford and with her Lawson Shann and his two unmarried sisters, Mrs Shepherd of Litcot and her 2 sons, Mr Robin Lowndes of Great Brickhill with Mr Pitts of the same, Miss Clara Lowndes of Astwood Bury, Dr and Mrs Forester, Mrs Bigging and her daughter [Mary Anne], Captain Mansell, Captain Rigby and his sister with Mr Mackanasse of Haversham, Mr and Mrs Shipton and their Daughter of Stanton-Barry, Mrs Ecklass, Mr Sabyn of Perry and his Daughter, Mr Hammer of Simpson, Dr Dayrell of Lillingstone Dayrell, Mr Arnold Rr of Perry, Mrs Deane of Cosgrove, Widow, Mr and Mrs Wilmer and Mr Bloxham with Mr Bradbury, all of Stony Stratford, Mr Smith of Wolverton, and others I cannot recollect. I got home about 8 o'clock.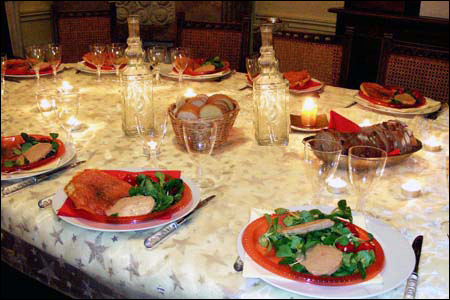 Apparently he did not stay for the ball which followed.

The picture above shows a proper turtle dinner - still served in the US, as in the Charboneau Reveillon Christmas Eve dinner.

---
College of St John the Evangelist, Cambridge University Part III
P 99 no 8
Richard Wadsworth was ordained Deacon 21 September 1746 by the Bishop of Norwich and licensed to the curacy of Stoke Ash, Suffolk. He was ordained Priest 20 September 1747 by the Bishop of Lincoln and licensed to the curacy of Wheathampstead with Harpenden Herts. He was instituted Rector of Little Wolston, Bucks, 5 Dec 1765 and held the living until his death on 23rd March 1781 at Old Stratford, Northamptonshire (Gentleman's Magazine 1781 p 194).
Cole has the following involved note on Mr Wadsworth: "a very worthy man, but deaf, curate to Dr Forester at Cosgrove, who procured him the living on the death of Nathan Drake, son of Mr Drake, Rector of Milton, of St John's College Cambridge and Minister of Thorney, in the Isle of Ely. He succeeded Mr Chapman 1764 (sic) and died soon after of a consumption and succeeded in 1765 by Mr Wadsworth" (MSS Cole xxxviii fol 421b, Brit Mus Addl. MSS 5839). Robert Chapman was instituted Rector of Little Wolston 5 April 1742, Nathan Drake succeeded him 27 July 1765. Nathan Drake was a member of the College, P 129 no 34; his father Joseph Drake was Rector of Milton Keynes, Bucks, from 1744 to 1752.
---
H. N. C. Hewson- Edward Carr by Divine permission Bishop of Peterborough
To the Churchwardens of Cosgrove in the County of Northampton and within our Diocese and Jurisdiction greeting
Whereas we have by writing under our hand and Episcopal Seal this day inhibited the Reverend Henry Newington Clarke Hewson Rector of Cosgrove aforesaid from performing any Clerical duty whatsoever within our Diocese and Jurisdiction
These are therefore to warn and require all Rectors Vicars Curates or Clerks and Churchwardens to whom the knowledge of these presents may come not to permit the said Henry Newington Clarke Hewson to officiate or perform Clerical duty in any Church or Chapel or elsewhere in our said Diocese
Given under our hand and Episcopal Seal this fifteenth day of July one thousand nine hundred and eight and in the twelfth year of our Consecration
Back to Top
---
Wolverton Express 8th January 1965
Rector is going to Northampton
THE Rev. Albert E. Bransby, R.D., who has been the Rector of Cosgrove, Deanshanger, and Passenham for the past five years, has been appointed Vicar of St. Giles', Northampton.

Mr Bransby has been the Rural Dean for the Preston Deanery for four years.

He is a governor of the Deanshanger Primary School and has played cricket for Deanshanger and Cosgrove, and for the local clergymen's team, the Towcester Crocodiles.

Married with three children, Mr. Bransby came to South Northants from Battersea where, since 1955, he had been the Vicar of St. George with St. Andrew's Church.

He received his theological training at Tynedale Hall Bristol, after serving almost five years as a navigator-bomber with the Royal Air Force. He was ordained deacon in 1949.

Before the war he played soccer for Lowestoft Town.

Mr. Bransby tells us that he will probably be taking up his new position towards the end of March. He regards the move to a much larger borough parish as a challenge.

"My family and I have been very happy here and we have made many friends. We shall be sorry to leave but this is an opportunity that I feel I ought to take," he added.
---
Wolverton Express 2nd September 1966
Canon S. C. Woodward (left) who was instituted as Rector of Cosgrove at St. Peter's Church last Thursday evening. The institution was performed by the Rt. Rev. W. H. Stewart, as Assistant Bishop in the diocese, on behalf of the Bishop of Peterborough. The new Rector was inducted to the living by the Archdeacon of Northampton, the Ven. Basil Marsh.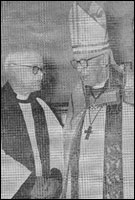 ---
Leslie Steel Cosgrove 1999 - 2004

Leslie and his wife Elaine were greatly loved in Cosgrove. Leslie's previous parish was the International Congregation at Geneva, and Elaine was Director of United World Colleges.

Leslie was always enchanted by old English customs, and was thrilled to preach from a narrowboat at this service at Cosgrove Lock, where he claimed that he felt like Jesus on the Sea of Galilee.

During his time at Cosgrove Leslie took part in our Millenium celebrations which included a building project installing a toilet and kitchen in the Church.

Leslie, a New Zealander, and Elaine, from the USA, retired to New Zealand when they left Cosgrove in 2004.

Back to Top
---