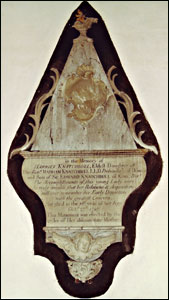 To the Memory of
HARRIET KNATCHBULL
, Eldeft Daughter of
The Rev.d
WADHAM KNATCHBULL L,L,D.
Prebendary of
DURHAM
and Son of Sir EDWARD KNATCHBULL of KENT,
Bart
The Accomplifhments of this young Lady were,
So truly amiable, that her Relations & Aquaintance
will ever remember her Early Departure
with the greateft Concern.
She died in the 19th year of her Age.
Octr. 27th 1767.
This Monument was erected by the
order of Her difconfolate Mother.
Signed above the angel's wing on the right hand side: Wm Cox, Northton. Fecit

Recorded in February 2007.