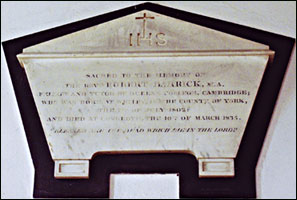 +
IHS
SACRED TO THE MEMORY OF
THE REVD ROBERT BARRICK, M.A.
FELLOW AND TUTOR OF QUEEN'S COLLEGE, CAMBRIDGE;
WHO WAS BORN AT WHITBY IN THE COUNTY OF YORK,
THE 7
TH
OF JULY 1802:
AND DIED AT COSGROVE, THE 16™ OF MARCH 1835.
'BLESSED ARE THE DEAD WHICH DIE IN THE LORD'
M.W. JOHNSON,
NEW RD. LONDON


Recorded in February 2007.