During the 1920s the Rectory was leased to various tenants, including Richard Kingsley-Johnson.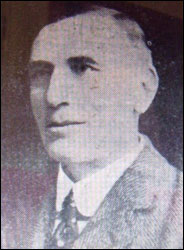 Wolverton Express April 16th 1926
Cosgrove
The affairs of Mr. R Kingsley Johnson
The official receiver (Mr D. Hellier) has issued the statement of affairs in connection with the bankruptcy of Mr. Richard Kingersley-Johnson of Cosgrove Rectory Stony Stratford.
Mr. Johnson, who is a tutor, was liberal candidate for North Bucks at the General Election in 1924, and afterwards was adopted prospective Liberal candidate for the next election.
The gross liabilities amount to £1000 18s 1d of which £1575 /18/1 is expected to rank. There are no net assets and the deficiency therefore is £1575 18s 1d. A deficiency amount filed by the debtor shows household and personal expenses of self and wife, tutor, and two boys for past year £1015/18/1 interest to moneylenders £825 political expenditure on campaign £285 total £1850/18/1 from this is deducted £350 net profit from business and £25 excess of assets over liabilities leaving £1575/18/1.
Debtor alleges his failure to have been caused "through being adopted prospective candidate for parliament and consequential expenses in connection therewith, and inferential effect it had on securing pupils in the first term of 1925."
In his observation the official receiver stated that the receiving order was made on the 26th of March on a creditors petition the act of bankruptcy being noncompliance before 7th of March with the requirements of a bankruptcy notice issued with two professional money lenders in respect of judgments for over £1000.
Debtor age 53 has been engaged in scholastic work since 1891, and has been a teacher in various parts of the country. In December 1922 he rented Cosgrove Rectory partly furnished, and coached for the Army Navy etc.
In October 1924, he was nominated as parliamentary candidate, and states that at that time he was solvent, and his personal expenses in respect of that election did not amount to more than £25.
In December of that same year he was adopted prospective candidate for the next election, and in consequence of his activities has spent, he sates, about £200 in trying to revive the constituency. He attributes his present insolvent position to this, and to the fact that in, February 1925, he had recourse to professional money lenders.
Of the unsecured liabilities £1110 is in respect of money borrowed, and the balance for household and personal expenses.
Debtor also states that he became aware of his insolvency in 1925, and has contracted debts, since that time, hoping that he might obtain a fair number of pupils.
---
The following article also about Kingsley-Johnson may be of interest.
Banbury Advertiser September 19th 1895
ALLEGED FALSE PRETENCES
Baron Henry de Worms, of Henley Park, Surrey, summoned Mr R Kingsley Johnson, assistant schoolmaster, of Shalford, at the Guildford County Bench, for obtaining a sovereign by false pretences. The allegation was that the money was sent by the Baron as a subscription to the Guildford, Godalming and District Schoolmasters' Football Club, of which defendant represented himself to be the secretary. Inquiries shewed that no such club was in existence. Defendant was committed for trial.