The
Navigation Inn


The Navigation Inn is whithin the parish of Cosgrove, Northamptonshire, but is called Castlethorpe Wharf or often Thrupp Wharf




Navigation Inn, Castlethorpe

Canal trip starting at the Navigation Inn




| | |
| --- | --- |
| | |
| Horse and barge postcard dated 1915 | The Navigation Inn c1930s |




| | | |
| --- | --- | --- |
| Ref: | Date | Occupant |
| Northamptonshire Licensed Victuallers 1822 | 1822 | John Ayres |
| Census | 1841 | Sarah Ayres |
| Whellan History of Northamptonshire | 1849 | Sarah Ayres , vict., Navigation Inn [and wharfinger] |
| Census | 1851 | Sarah Ayres |
| Kelly's Directory | 1854 | Ayres Sarah (Mrs.), 'Navigation,' & coal merchant |
| Census | 1861 | Sarah Ayres |
| Kelly's Directory | 1869 | John Ayres |
| Census | 1871 | John Ayres |
| Newspaper | 1877 | John Ayres - leaves (see below) |
| Post Office Directory | 1877 | John Panter , Navigation inn, & coal merchant |
| Census | 1881 | John Panter |
| Kelly's Directory | 1890 | Joel Lack , Navigation Inn, & coal merchant |
| Census | 1891 | Joel Lack left October 1891 (see sale below) |
| Kelly's Directory | 1894 | Matthew Willison |
| Kelly's Directory | 1898 | Matthew Willison |
| Census | 1901 | Ernest Weston |
| Kelly's Directory | 1903 | Thomas Weston |
| Kelly's Directory | 1906 | Thomas Weston - auction E. Weston (see below) |
| Kelly's Directory | 1910 | Spencer Thos. Collier |
| Census | 1911 | Thomas Collier - Farmer Coal Merchant & Publican |
| Kelly's Directory | 1914 | Spencer Thomas, C. |
| Newspaper | 1916 | Spencer Thomas - auction (see below) |
| Chronicle & Echo 28 November | 1923 | [Robert Bavington] licence transfer from |
| Chronicle & Echo 28 November | 1923 | Joseph James Pickering licence transfer to |
| Kelly's Directory | 1924 | Joseph Jas Pickering |
| Kelly's Directory | 1928 | Joseph Jas Pickering |
| Kelly's Directory | 1936 | Joseph Jas Pickering |
| Kelly's Directory | 1940 | Alfd. Ernest Pacey |
| Newspaper | 1934 | Alfred Pacey manager for 19 years left c.1953 |
| Newspaper | 1954 | From Mrs. D. E. Ashby to Bernard Leslie Bennett |
| Newspaper | 1983 | David & Toni Hanagan |

---
Castlethorpe Church Records - Richard Soden buried December 14th 1865, aged 65, of Castlethorpe Wharf.
NRO Northants Will Vol. 4 No. 4 page 492
This is the Will and Testament of me Richard Soden of Castlethorpe in the County of Buckingham Innkeeper and farmer I appoint my sons in law John Ayres and Peter William Pringle Executors of this my Will I devise all estates vested in me upon trust or by way of mortgage unto and to the use of the said John Ayres and Peter William Pringle their heirs and assigns Upon and subject to the trusts and equity of redemption affecting the same respectively I devise and bequeath All my real and personal Estate of every sort and description unto the said John Ayres and Peter William Pringle their heirs executors administrators and assigns Upon trust absolutely to sell dispose of and convert into money all my said real and personal Estate so soon as conveniently may be after my decease in such manner as my Trustees and executors shall think proper with power to buy in and rescind contracts for sale and to resell without liability for consequential loss And I direct that my Trustees and executors shall stand possessed of the monies to arise from the sale and disposition of my said real and personal Estate Upon trust thereout to pay my funeral and testamentary expenses and debts and to pay and divide the residue of such monies unto and equally between my three Daughters Sarah Dent Elizabeth Ayres and Fanny Pringle share and share alike Provided always that if any or either of my said Daughters shall die in my lifetime leaving children such Children shall take equally between them if more than one the share which his or her parent would have taken if living but if any or either of my said Daughters shall die in my lifetime without leaving any Child or Children her surviving and who survive me also then the share of my Daughter so dying shall go to the survivors or survivor of them my said Daughters living at my decease I declare that the receipts of my Trustees and executors for the time being shall be good discharges to purchasers or other persons paying money under this my Will and exonerate every such purchaser and other person from liability in respect thereof I authorize my Executors and Trustees to compromise or settle any disputed claim and to deal with my property in such manner generally as they shall think most advantageous I also declare that my Executors and trustees shall not be responsible for any more monies than shall actually come to their respective hands and shall and shall be at liability to deduct and retain all costs and expenses incurred in relation to this my Will or the trusts thereof I revoke all former Wills by me made In Witness whereof I have hereunto set my hand this sixteenth day of February one thousand eight hundred and sixty five

Richard Soden

Signed and declared by the said Richard Soden the Testator as and for his last Will and Testament in the presence of us present at the same time who in his presence at his request and in the presence of each other have hereunto subscribed our names as Witnesses
John Parrott Solr. Stony Stratford
John Parrott Jr. his Clerk

Proved at Northampton the 9th day of January 1866 by the Oaths of John Ayres and Peter William Pringle His Executors to whom Administration was granted.

The Testator Richard Sodden was formerly of Castlethorpe in the County of Buckingham Innkeeper and farmer and late of Cosgrove in the County of Northampton Gentleman and died on the 7th day of December 1865 at Cosgrove aforesaid

Under £1,000 John Parrott Solicitor Stony Stratford
---
Croydon's Weekly Standard 10 June 1876
In Liquidation.
CASTLETHORPE WHARF
In the parish of Cosgrove, Northamptonshire.
VALUABLE
FREEHOLD ESTATE,

Consisting of a Full Licensed Free Inn, with excel-
lent Wharf Yard, Corn Warehouses, Weighing
House with Weighing Machine, Lime Kiln, Stabling
for eleven horses, Coach House, Brewhouse, Grana-
ries, Piggeries, large Barn, capital walled Garden,
and other Appurtenances.

Together with
21 Acres of excellent Pasture and Arable
Land, adjoining,
To be Sold by Auction,
BY W. J. PEIRCE

By order of the Trustee of the Estate of Mr. John
Ayres, on FRIDAY, the 16th day of JUNE, 1876, at
The COCK HOTEL, STONY STRATFORD, at Five for
Six o'clock in the evening, subject to such con-
ditions as will be there produced, and in one or
More Lots as may then be agreed upon.

All the very valuable Free and Full-licensed
HOUSE, known as the NAVIGATION INN,
Sitiate in the parish of COSGROVE, in the county of
Northampton, and on the road leading from Stony
Stratford to Castlethorpe and Hanslope, containing
large parlour, tap room, kitchen, scullery, three bed-
rooms, three good attics, capital cellar and brewhouse;
together with

The excellent WHARF-YARD, with landing for
tying-up eight boats; coal and coke yards, lime-kiln,
capital warehouse (capable of storing 150 quarters
of corn), salt-house, granaries, weighing-house, with
weighing machine; stabling for eleven horses, lock-
up coach-house, large barn, with slated roof;
piggeries, excellent walled kitchen garden, and
other appurtenances thereto belonging.
There is a COTTAGE, containing three rooms,
Adjoining, which is now used as a warehouse.
And also all the CLOSE of first rate Arable
LAND, containing 9¾ Acres, or thereabouts, adjoin-
ing the before mentioned Property, and fronting the
road aforesaid; together with
A CLOSE of excellent Pasture LAND, containing
11½ Acres, or thereabouts, adjacent thereto, with
good thatched hovel, and appurtenances created
thereon, the whole being now in the occupation of
the said John Ayres.

The Grass Land has a never-failing supply of water,
And there is a spring running through the foddering
yard.
Arrangements may be made for early possession
of the property.
To view apply on the premises, and for further
Particulars to W. R. Parrott, Esq., Solicitor, Stony
Stratford, or the Auctioneer, Derngate, Northampton.

---
Northampton Mercury 21 March 1885
CASTLETHORPE.—FOUND DROWNED IN THE CANAL. —On 13th inst., whilst a boat was passing along the canal, the boatman saw in the water the body of a man which had been moved by the passing boat from the bottom of the canal. With assistance the body was pulled out of the water. P.C. Wilson, of Yardley Gobion, was communicated with, and the body was recognised to be that of James Brown, of Paulerspury. Deceased was seen the previous day Hanslope Steeplechases. He started for home in the evening, and on his journey he stopped at the Carrington Arms Inn, Castlethorpe, and left at ten o'clock, the landlord being the last to see Brown alive. The body was taken to the Navigation Inn, and the inquest was held on Saturday, when a verdict in accordance with the above facts was returned.
---
Northampton Mercury - Saturday 27 July 1889
STONY STRATFORD. PETTY SESSIONS. SATURDAY

Before Mr. M. G. S. Knapp (chairman), and Mr. S. R. Harrison.
SUNDAY SELLING
Joel Lack, of the Navigation Inn, Cosgrove, was charged that on Sunday morning, the 14th inst., he did sell ale and whiskey during illegal hours. P.S. Butlin and P.C. Allen proved the case. Fined £4 and 10s 6d costs.
---
Northampton Mercury 29 May 1891
CASTLETHORPE
Fire.—On Tuesday evening it was discovered that haystack belonging to Mr. Joel Lack, of the Navigation Inn, was on fire. A person was immediately sent for the Stony Stratford Fire Brigade, who were soon on the spot, but found the rick in a blaze, and almost beyond all hopes extinguishing it. After brief consultation between the agent of the Northern Insurance Company (Mr. J. S. Tibitts, Stony Stratford) and the superintendent the brigade, it resolved not to bring the engine into operation, as there was no immediate danger, and the rick was comparatively small. The damage is covered by insurance.
CHARGE OF ARSON.
At Towcester, on Thursday, before Mr. R. W. Watkins, William Compton, Castlethorpe, painter, was charged by Joel Lack, Cosgrove, innkeeper, with unlawfully and feloniously setting fire to a hayrick belonging to prosecutor, at Cosgrove, on the 26th inst.—The prosecutor said on the 26th inst. he had a stack of hay standing in a grass field adjoining the road from his house to Castlethorpe. When prosecutor left the rick a few minutes to four it was quite safe, and when he went home he saw the prisoner sitting there. Prisoner left about seven, and few minutes after a boy (George Eakins) ran into prosecutor house and informed him his rick was on fire. There were between 14 and 16 tons of hay, and it was all consumed. A piece of it had been cut away in the meadow. Prosecutor had refused to serve prisoner with beer the house.—George Eakins, of Castlethorpe, spoke of giving the alarm and of seeing prisoner near the fire. —Inspector R. Matthews, stationed Towcester, proved apprehending prisoner, and he was then committed for trial at the Assizes, and was admitted to bail —himself in £50, and two sureties in £25 each.
---
Northampton Chronicle and Echo Saturday 20 June 1891
STONY STRATFORD. DIVISIONAL PETTY SESSIONS. FRIDAY—Before the Rev. C. W. Selby-Lowndes (chairman), and Mr. M. G. S. Knapp.

ALLEGED ASSULT.

Joel Lack, of Cosgrove, was charged with assaulting Martha Willison at Cosgrove on June 1st.—Mr. Clare (Bedford) appeared for the defendant—Martha Willison said defendant abused her and tried to stamp on her toes, and kicked her on the thighs and legs.—Dr . Duffy said he found the complainant had been bruised on both sides from the hip to the thigh.—By Mr. Clare: He was of opinion that Mrs. Willison must have been on the floor, as the whole of the bruises could not have been caused by a kick.— Martha Willison was also summoned for assaulting Joel Lack at the same place and time.—Joel Lack said she put her fist in his face, and struck him with a plate.—Case dismissed.
---
Northampton Mercury 02 October 1891
NAVIGATION INN, CASTLETHORPE WHARF,
STONY STRATFORD.
WILLIAM BEESLEY has received instructions from Mr. Joel Lack (who is leaving
in consequence the expiration of his lease),
TO SELL BY AUCTION,
On Thursday next, October 8th, the following
STOCK and EFFECTS,
Comprising two capital half-bred mares, sow and 11 pigs, two iron-arm carts with gearing, timber carriage with top, iron plough (Howard), horse hoe, set harrows, two chaff cutters, bean mill, three cylinder roll, coal machine and weights, two weighing machines, winnowing machine, barn tackle, rick cloth and pole, ten yards by eight ; trace and thiller harness, two sets drilling tackle, 35-round ladder, two ladders, pitchforks and ropes, forks and rakes, corn drags, sack cart, sack barrow, corn bin, sieves, hay knife, iron bar and tools, halters, buckets, shovels, coal bags, churn and dairy vessels, wire netting, barbed wire, &c.; beer engine, mugs, jugs, and glasses, pewter measures, three iron bedsteads, three pairs palliasses, three bolsters and four pillows, two sets drawers, two washstands and ware, three dressing tables and glasses, seven bedroom chairs, elbow ditto, towel horse, carpeting, chamberware, &c., eight horsehair seated chairs, twelve Windsor ditto, horsehair couch, chiffonier, pier glass, wardrobe, set drawers, square table, oil cloth, gun, and sundry other articles.
Sale to commence at Eleven o'clock.
---
The Bucks Standard 12 December 1896

A BOAT CHILD DROWNED IN THE CANAL.- On Monday last T. M. Percival, Esq., coroner, held an inquest at the Navigation Inn, touching the death of Emily Elwell, an orphan child, aged 13, employed on a canal boat. Reuben Green, of Brierly Hill, Staffordshire, canal boatman on the Grand Junction Canal, said the deceased was no relation of his. She was an orphan, and the daughter of Joseph Elwell, late of Brierly Hill, and she was 13 years old. The grand-mother put her in witness's charge, and she had been with him since Whitsuntide, travelling on his boat with his wife and self. The deceased helped witness and his wife in looking after their children, and occasionally after the horse when witness had his meals. Witness did not know that deceased's life was insured. Last Saturday they stopped at the Barley Mow, Cosgrove. Witness went to get his horse at five o'clock on Sunday morning, and they started about half-past five; it was quite dark. Witness had the little girl with him on the towpath to assist him coming round the corner of the bridge close to the Navigation Inn, at Cosgrove. When he got through the bridge with his horse he asked her if she had pegged the line to the mule. She said "yes go on." Just as witness got up to the stretch of the line he said, "Emily, come here"; and his wife shouted, "Oh Lord, she's in the cut." Witness stopped the horse, undid the line, and ran back with the line. His wife also got the shaft and felt about for deceased, and three men ran down with lamps and shafts, but they could not see her in the water. Witness got the drag on the line, and dragged for the deceased. The drag pulled her to the side, and witness dragged her on to the towpath. The landlord of the Navigation Inn came down to the towpath, and they brought her to the Inn. Efforts were made to restore animation, but without avail. Witness did not know how she got into the canal, and did not know she was in until his wife called out. He never heard her scream, and witness did not know whether she was trying to get into the boat. He had told her to get into the boat. From the time witness's wife called out to the time she was found would be about 25 minutes. Hannah Green, the wife of the witness, also gave evidence. Mr. Charles Simpson, surgeon stated that he was just temporally acting for Mr. Maguire during his illness. He was sent for on Sunday morning between nine and ten to go to the Navigation Inn, and he saw the body of the deceased, who had been dead apparently about four hours. He examined the body, which was that of a well nourished child. There was no evidence of violence about the body with the exception of a small unimportant bruise on the lower part of the left side of the abdomen. From various signs present he had no doubts the cause of death was asphyxia from drowning. The Coroner having summed up the evidence, the Jury returned a verdict of "Accidentally drowned," and added the following rider: "That the Jury wished the Coroner to write the Secretary of State informing him of the facts of the case, and to state that neither the witness Green or his wife was in a position to state the age of the child, neither had they the pass book that is necessary under the Elementary Education Acts, and that the jury believed that the provisions of the Acts relative to those duties were frequently neglected, and they considered some more active steps should be taken to see that the Acts were more efficiently carried out." The Coroner promised to forward the recommendation to the proper quarter.

---
| | |
| --- | --- |
| | |
| | The Navigation Inn c.1965 |
---
Northampton Mercury - Friday 22 May 1903
COSGROVE and FURTHO
About a mile from Castlethorpe Station, on the Main Line of the L. and N.W. Ry., and intersected by the Grand Junction Canal.
VALUABLE FREEHOLD PROPERTIES,
Comprising the substantially-built FREE and
FULL-LICENSED PUBLIC HOUSE, known as THE NAVIGATION INN,
Together with THORP WHARF,
With Yard, Outbuildings and Cottage; also Three Enclosures of Excellent ARABLE and PASTURE LAND, with Buildings, containing about 32a. 2r. 0p., a portion of which forms an ELIGIBLE BUILDING SITE, and in the Village of Cosgrove SEVEN well-built COTTAGES with Gardens.
WILL BE OFFERED FOR SALE BY AUCTION, BY
GEORGE BENNETT and SONS, at the NAVIGATION INN (Thorp Wharf), COSGROVE, on Thursday, June 11th, 1903, at Two for Three o'clock precisely, in Convenient Lots.
The tenant of the Navigation Inn, Wharf and Land, is Mr. Ernest Weston, and the Seven Cottages are occupied respectively Messrs E Gee (2), W. Pedley, W. Wise, W. Toombs, J. Godfrey, and G. Lovesey. Particulars, plan and conditions of Sale may be had gratis of Messrs. Bell, Steward, May and How, 49, Lincoln's Inn Fields, London, W.C., Solicitors; of Messrs. Ford, Lloyd and Co., of 38, Bloomsbury-square, London, W.C., Solicitors, at the Place of Sale; and of the Auctioneers, Buckingham.
---
Buckingham Express Saturday 13 June 1903
COSGROVE. On Thursday afternoon last at the Navigation Inn, (Castlethorpe Wharf), the freehold properties comprising the said Inn and premises with Wharf and buildings and about 32 acres of meadow and arable land in three enclosures were offered for sale by auction by Messrs. Geo. Bennett and Sons, of Buckingham, and eventually sold together in one lot to Mr. William Webb, of Old Stratford.
The group of seven cottages in the villages of Cosgrove was knocked down to Mr. Edwin Higgs at £415. The solicitors for the vendors were Messrs. Bell, Steward May, and How, of Londo
---
Northampton Mercury 07 February 1906
NAVIGATION INN. CASTLETHORPE,
STONY STRATFORD.
THOMAS ARIS has received instructions from
Mr. Ernest Weston,
TO SELL BY AUCTION,
On Monday, Sept. 24th, 1906,
The Whole of his FARMING STOCK,
IMPLEMENTS and MACHINES;
Also a Few Lots of HOUSEHOLD FURNITURE.
Full particulars in future advertisements.
NAVIGATION INN. CASTLETHORPE, STONY STRATFORD. THOMAS ARIS has received instructions from Mr. Ernest Weston, TO SELL BY AUCTION, On Monday, Sept. 24th, 1906, The Whole of his FARMING STOCK, IMPLEMENTS and MACHINES; Also a Few Lots of HOUSEHOLD FURNITURE. Full particulars in future advertisements.
---
Northampton Mercury 14 September 1906
NAVIGATTON INN. CASTLETHORPE
STONY STRATFORD.
THOMAS ARTS, having received instructions
from Mr. E. Weston,
WILL SELL BY AUCTION,
On Monday, September 24th. 1906.
THE WHOLE HIS FARMING STOCK,
MACHINERY, &c., comprising—
HORSES. —Roan Cart Mare with foal at foot," Royal Guardian" Roan Cart Horse, 3-year-old Cart Colt. 2-year-old ditto, both by "Royal Guardian"; Bay Cart Mare, 3-year-old. has been worked in chains; Chestnut Harness Pony, 13-2; Black Mare, quiet to ride and drive; Roan Pony, 13-2
Set of Silver-mounted HARNRESS, and TRAP (by Lee, Newport Pagnell).
CATTLE.—Red Cow in milk and in calf, 3 Weaned Calves.
IMPLEMENTS. —Iron Plough (Roberts), set of pair-horse Harrows, 2 Carts (Roberts), nearly new; Coal Trolley, Coal Scales and Weights, Coal Bags, 2 Navvy Barrows, 2 sets Thiller Harness, set Trace Harness, sets G.O. Tackle, set of Pony Harness (all brass-mounted), 3 Nose Bags, Corn Bin, Skip, Halters, Governess Cart (in capital condition). Hand Drags, Rakes. Forks, 2-knife Chaff Machine, Bean Mill, Paraffin Tank (15 gallons), 2 Stoves. Double-barrel Gun, &c.
ABOUT 30 COUPLES OF FOWLS.
Also a Few Lots of SURPLUS FURNITURE.
Sale to Commence 12.30.
---
Northampton Mercury 28 January 1916
MONDAY NEXT.
THE NAVIGATION INN, COSGROVE.
Three-quarters of a mile from Castlethorpe Station.
Merry and Co.
Are instructed by the representatives the late Mr. T. C. Spencer,
TO SELL AUCTION,
On MONDAY NEXT. 31st JANUARY, 1916,
On the above Premises;
4 HORSES, viz.; Two Brown Cart Horses, both 9yrs. old and good workers; Brown Cart filly, rising 2yrs. old; and a Strong Chestnut Cob, quiet to ride and drive, and well-known.
2 STIRKS
10 GRASS TEGS.
19 PIGS, viz.; 10 Berkshire Stores and 9 Strong Store Ditto.
RICK OF EXCELLENT CLOVER
(About 12 Tons), and a
RICK OF GOOD TWO-YEAR-OLD HAY,
About 12 Tons;
Stump of Straw; about 2 Tons of Wheat Straw (all to go off); 6 Quarters Oats; and a Quantity of Seed Potatoes.
60 HEAD OF POULTRY, mostly Pullets. '
AN ASSORTMENT OF AGRICULTURAL IMPLEMENTS and MACHINES
Include: Harness. Ploughs Cultivator, Root Pulper. Chaff Machine, Grass Mower, Harrows, "Hornsby's" Self Binder,
TWO SCOTCH CARTS.
FOUR-WHEEL COAL DRAY,
Coal Scales, 70 Coal Bags, Double-Barrel Gun, Keg of Oil, Paraffin Tank, Salting Lead, Churn and Dairy Utensils.
DOG CART. GOVERNESS CAR.
HOUSEHOLD FURNITURE,
Comprising: Brass and Iron Bedsteads and Bedding, Mahogany and other Chests Drawers, Dressing Tables, Wardrobe, Dressing Glasses, Fenders and Irons.
SUITE OF WALNUT DINING-ROOM
FURNITURE,
Mahogany Tables, Engravings, Linoleum, and Kitchen Utensils, etc., etc.
The Sale Trill commence with the Furniture at one o'clock.
---
Northampton Chronicle and Echo Wednesday 02 February 1916
FARM SALE.
MESSRS. MERRY AND CO.'S AUCTION
AT COSGROVE.
Messrs. Merry and Co., Northampton, held a successful sale of live and dead farming stock and household furniture on the premises of the late Mr. T. C. Spencer, the Navigation Inn, Cosgrove, on Monday. The best prices realised were:—implements: 40-round ladder, £1 8s.; sets thiller harness. £3 5s. and £1 7s.; set trace harness, £1 18s.; cultivator, £3 2s. 6d.; grass mower. £3 10s.; Hornsby self-binder, £7 10s.; iron-arm Scotch carts with gearing (Roberts), £10 5s. and £10; light four-wheel coal dray, £11; 22 coal bags, £3 11. 6d.; 21 ½ cwt coal bags, £4 7s. 9d.. Horses: Brown cart horses, 50gs. and 25gs.; brown cart filly, 33gs.; chestnut cob, 27½gs. Live stock: Yearling shorthorn heifer, £11 7s. 6d.; weaned stirk, £5 12s. 6d.; ten grass tegs, 42s. each; ten Berkshire store pigs, 13s. 6d each; nine ditto. 24s. 6d. each. Hay. etc.: Rick clover, about 12 tons, £42; stump mixed straw, £6 2s. 6d.; two tons trussed wheat straw, £4 5s.; also 60 head poultry, mostly pullets, at 3s. 5d. per head. The best prices for the furniture were: Inlaid walnut dining-room suite £4 15s; marble-top washstand, £2 17s. 6d.; feather bed, bolster and pillow. £1 8s.
---
The Bucks Standard August 27th 1921
HOSPITAL FETE AT CASTLETHORPE
£176 FOR THE NORTHAMPTON INSTUTION.
Castlethorpe and Cosgrove combined in a laudable mission of mercy last Saturday, when the second fete to raise funds for the Northampton Hospital was held in the fields which adjoin the Navigation Inn, and proved an unqualified success. Last year the two villages contributed a cheque for £100 to the hospital, but on present occasion Mrs. Bavington, who was the moving spirit in promoting the fete, and also carried out the secretarial duties in a most able manner arranged a more ambitious programme, with the happy result that a sum of no less than £176 10s. 11½. was realised. The sum included a handsome donation of 320 from Mr. and Mrs. Agar (Cosgrove). £ 3. from Mr. Waydelin, £2 2s. from Mrs. Fergusson (Cosgrove Hall), £1 1s. from Mr. A. Masterman (Castlethorpe), £1 from Mr. H. Cook, 10s. from Mr. Anderson, and other generous contributions from residents in the two villages. Captain Fergusson was the president of the fete, and the vice-presidents were Messrs. R. Whiting (Cosgrove) and J. Whiting (Castlethorpe), Mr. Malcolm Jelly was chairman of the Cosgrove section and Mr. H. Dollings filled a like capacity at Castlethorpe. Mr. R. Bavington was treasurer of the fund.
A varied and interesting programme included a flower show, athletic sports, fishing competition (for which there were more than 200 entries), various side shows, an auction sale conducted by Mr. P. C. Gambell, of Newport Pagnell, and dancing in the evening. A number of young ladies from the two villages sold roses both on Friday and Saturday and paid £10 9s. 11. to the fund, and by the sale of scented cards £4 9s. 11d. was raised. There was a large attendance of the public gate receipts amounting to £12 8s. 9d. Mr. C. Harding, of Castlethorpe, gave his services as gatekeeper. Entries for the fishing tournament brought on £11 7s.
The fete was opened in a brief appropriate speech by Mrs. Fergusson, whose services were fittingly recognised by the presentation of a bouquet of choice flowers by little Miss Markham on behalf of Mrs. Bavington.
Mr. S. Williams was secretary of the flower show, and was assisted by the following committee; Messrs. G. Williams, -. Lord, T. Lord(Cosgrove), H. Maltby, H. Cook, F. Sawbridge and H. Bruce (Castlethorpe).
The prize winners were:
| | | |
| --- | --- | --- |
| Kidney beans. | 1 R. Pettifer | 2 W. Wise |
| Carrots | 1 S. Lord | 2 G.F. Haynes |
| Celery | 1 G. Haynes | 2 J. Horn |
| Cauliflower | 1 W. Wise | 2 M. Carter |
| Peas | 1 W. Wise | 2 F. Sawbridge |
| Marrows | 1 H. S. Giles | 2 J. Bearman |
| Shallots | 1 F. Hall | 2 R. Pettifer |
| Spring onions | 1 G. Haynes | 2 W. Wise |
| Autumn onions | 1 W. Wise | 2 A. Childs |
| Tomatoes | 1 S. Lord | |
| Potatoes white round | 1 W. Wise | 2 G. Haynes |
| Red round | 1 W. Wise | 2 R. Pettifer |
| White kidney | 1 R. Pettifer | 2 W. Williams (Whittlebury) |
| Red kidney | 1 G. Haynes | 2 G. Williams |
| Plums | 1 R. Brown | 2 W. Williams |
| Cooking apples | 1 T. Lord | 2 M.Carter |
| Dessert apples | 1 T. Lord | 2 T. Payne |
| Hardy flowers | Mrs. S. Williams | |
| Bouquet of flowers | 1 Mrs. Childs | 2 T. Lord |
| White eggs | R. Brown | |
| Brown eggs | R. J. Stewart | |
| Duck eggs | Mrs. R. Bavington | |
| Collection of vegetables, also onions | W. Wise | |
| Collection potatoes | 1 J. Williams | 2 A. Childs 3 R. Pettifer |
| Heaviest marrow | H.S. Giles | |
| Bouquet of wild flowers | 1 Iris Lord | 2 B. Panter, 3 Lizzie Williams |
| Highest aggregate | W. Wise | |
The sports section under the direction of Messrs. R. Panter (secretary), A. Bavington, H. West (Castlethorpe). W. Wise, M. Beasley and Dicks (Cosgrove). The sports judges were Capt. Fergusson, Messrs. R. Whiting, W. Markham, W. Clarke, A. Masterman and Mr. J. Whiting carried out the duties of starter.
Sports prizewinners:
| | | | |
| --- | --- | --- | --- |
| Under 10 girls | 1 Violet Williams | 2 Louise Gascoyne | 3 Kitty Willison |
| Boys | 1 B. Symons | 2 F. Copson | 3 A. Dolling |
| 10 to 14 girls | 1 Doris Willison | 2 May Willison | 3 Dorothy Jelley |
| Boys | 1 W. Luck | 2 A. Jelley | 3 L. Dunkley |
| Ladies egg and spoon | 1 Miss L. Jelley | 2 Mrs. Stewart | 3 Mrs. Spencer |
Mr. C. Bywater (Castlethorpe) is deserving of hearty congratulation for the excellent arrangements he made for the fishing contest which took place in the waters of the Grand Junction Canal. His committee comprised Messrs. W. Ward, A. Beasley, A. Jelley, M. Carter and F. Key.
The competition established a record for the district. Altogether 182 fish were caught by six prize winners alone, making an average catch of 30 fish. The winning anglers were: - 1st prize, given by the Mayor of Northampton, W. Singlehurst, 2lb. 15¼ozs. (62 fish); 2nd pair of boots given by Mr. Oakshott, Done, 2lb. 1(illeg)ozs. (44 fish), 3rd. fishing rod given by Poole, F. Earl, 2lb. 10ozs. (13 fish), 4th, fishing bag, H. Bason, 2lb. 5ozs, (25 fish), 5th, bait bag, F. Jarrett 2lb. 2¼ozs. (26 fish), 6th, pipe and pouch, E. Tolley, 1lb. 13½ozs. (9 fish). The "lucky ticket," No. 195, was drawn by Mrs. Waydelin on the field, and the prize of 15s. was won by Mr. H. Herbert of Cosgrove.
Various side shows were in charge of the following: Hidden treasure, Mr. R. Penson; ground skittles, Messrs. R. Brown, jun., and Egglesfield; table skittles, Messrs. H. Barby and J. Knight; coconuts, Messrs. R. Pettifer and M. Jelley.
A fruit and sweet stall was under the supervision of Mrs. Maltby and Misses Maltby; jumble stall in charge of Mrs. Harding and Mrs. Panter; bran tub, Miss I. Harding and Miss B. Panter; and splendid teas and refreshments were served by Mrs. Bavington, assisted by Miss Waydelin, Mrs. Pate, Mrs. Barby, Mrs. Beasley, Miss V. Harding, Miss P. Bavington, and Miss I. Maltby.
There were many competitions, including guess the name of the doll, worked by Miss Wise, guess the weight of cakes kindly given by Mrs. Jelley, Mrs. Childs and Mrs. Carter, and supervised by Mrs. Penson, Mrs. Copson and Mrs. Carter; guess the weight of the marrow, Mrs. Stewart; Mrs. Knight sold artificial roses, and flowers were sold by Mrs. Copson.
The auction sale proved a big success. Among the gifts were a ton of clover given by Mr. W. W. Dickens (Old Stratford) which realised £10; a ton of coal given by Messrs. J. K. and B. W. Gobbey (Castlethorpe), £3 10s.; a lamb given by Capt. Fergusson, £4; a calf given by Mr. Whiting, £6, a ton of coal given by Mr. John Hall (Stony Stratford), £3 8s 6d. and poultry given by Messrs. B. Nicholls, F. Amos, Carter, Pettifer, Bonner, Ratledge, Harding and W. Clarke. A bag of soot given by Mr. Nicholls (Yardley Gobion) realised 5s. The Auction sale realised £54 10s. 6.
Other amounts paid in addition to those mentioned were: - Hidden treasure £3 10s.; table skittles, £2 19s.; ground skittles, £3 0s. 6d.; paper roses, 16s. 2d.; fortune doll, 19s. 7½d.; cakes, £2 13s. 10½d.; guessing doll's name £1 17s. 3d.; guessing weight of marrow, £1 11s. 11d.; fruit and sweet stall, £5; jumble sale, £3 7s. 7½d.; teas, 311 12s. 8d.; bran tub, £1 7s.; coconuts £7 1s. 3d.; flower show entries £1 7s. 6d.; prizes won and returned £1 2s.
During the afternoon the Stony Stratford Boy Scouts, under Scoutmaster T. Dicks, gave a very clever display.
The fete was finely organised and Mrs. Bavington and her committee are to be congratulated on the splendid financial success which attended their labours for a good cause. With other events they have yet to be brought off the committee feel confident that the contribution of the two villages to the hospital this year will be quite £200.
---
Northampton Chronicle and Echo Monday 23 July 1923
CASTLETHORPE HOSPITAL FETE.
The inhabitants of the adjoining villages of Castlethorpe and Cosgrove combined on Saturday for their annual effort for the Northampton Hospital. As in previous years, the proceedings were staged in a field near the Navigation Inn, midway between the two village. Sports were held, and a flower show, in addition to other amusements and other means of money raising. The fete was opened by Mrs. Seton, of Castlethorpe, and on the platform were Mr. Mr. Dolling (in the chair), Sir James Crockett. Mrs. Earl (Mayoress of Northampton), the Rev. R. Stanham (Cosgrove), and Mr. J. Whiting (Castlethorpe). Sports, telling the ticket, pillow fight over the canal, and walking the greasy pole over the water, created endless amusement. There was a thread-needle race, and a tug-of-war between teams of six representing the villages of Castlethorpe and Cosgrove.
The flower show, under the secretaryship of Mr. S. Williams, attracted over 60 entries from the two villages. The exhibits were judged by Mr. Buckingham, of Wicken Park, and Mr. Pitson, of Wicken Rectory. Later in the day the exhibits were sold by auction for the fete funds. The auctioneer was Mr. Johnson, of the firm of Messrs. Wigley, Sons, and Gambell, Newport Pagnell, who also offered for sale a number of fowls which were gifts to the fete committee, and miscellaneous articles. One outstanding article offered was "a coin of the realm, not seen for many years." which was given by Sir James Crockett. The value or nature of the coin was not disclosed until after a sale had been effected, when it, was found to be a gold sovereign.
A fishing competition attracted over 80 entries, all the winners being Northampton anglers as follows: 1 Miss P. E. Darnell 2 W. Wright, 3 S. Robinson, 4 W. Johnson, 5 C. R. Jones, 6 J. Singlehurst; smallest fish caught, P. Love. Miss Darnell was the only lady angler amongst the competitors, the greater portion of whom were from Northampton. Side-shows were under the charge of Mr. H. Dolling. and were conducted by Messrs. P. Mills (table skittles), Brown (ground skittles). Mrs. C. Harding (sweet, etc.), Messrs. F. Clarke and P. Dolling (bowling for a pig given by Mr. J. Whiting, Castlethorpe, Miss Phyllis Barrington (cake guessing competition), Mr. M. Jelley (cocoa-nuts) Mrs. Benson and Miss E. Burbidge (refreshments). Mr. C. H. Battle, secretary of the Northamptonshire Hospital Week movement, was present in the evening and rendered practical assistance to the Promoters. The Yardley Gobion Britannia Band, under the conductorship of Mr. J. Horton, played during the afternoon and dance music in the evening. On Friday a number of ladies visited Wolverton selling artificial roses for the fete fund. The fete committee, a representative body of the two villages, has as its chairman Mr. S. Williams (Cosgrove), with Mr. H. Dolling (Castlethorpe) vice-chairman, and Mrs. Bavington (Castlethorpe) secretary.
---
Northampton Chronicle and Echo Wednesday 04 April 1928
NAVIGATION INN, COSGROVE (Fully Licensed). UNDER NEW MANAGEMENT

TEAS, ETC.
TERMS FOR VISITORS.
PLAIN COOKING AND CLEAN BEDS
PARTIES CATERED FOR
GOOD FISHING
---
Wolverton Express 5th May 1964
Skittle Trophies On View - Navigation Inn Dinner
The successful Skittle team showed off their trophies last Friday, when the Navigation Inn Social Club, Cosgrove held their first dinner.
On view was the Charles Wells cup first presented in 1962 to the winners of the North Bucks LVA League. The Navigation, in the first year in this league, were champions. They were runners up in the Hanslope and District league and winners of the straight three league.
Mr. Bill White, who was captain of the team in the North Bucks League and of the second team in the Hanslope League, was presented with a silver tankard by the landlord, Mr. James Minney, for his work over the years. Mr. White is Secretary of the Hanslope League, and Mr. Minney thanked him for running everyone around and added that they appreciated his work for the teams. Mr. White, a founder member of the Hanslope League, felt that the Navigation had a successful season, especially winning the North Bucks League at their first attempt.
---
Wolverton Express 30th April 1965
Licensee Moves
A protection order was granted to Mr. Arthur William Lawson at Towcester Magistrates Court on Tuesday in respect of the Navigation Inn Cosgrove. Mr. Lawson moves from the Brave Old Oak in the Watling Street, Towcester. Mrs. Q M Bottomley, of the Victoria Hotel, Dartmouth, was granted a protection order in respect of the Brave Old Oak.
---
Wolverton Express 11th June 1965
Many Years at Navigation - Death of Mr. A E Pacey
The Rev. Nicholas Chubb conducted the funeral service for Mr. Alfred Ernest Pacey at saint leonards church, Yardley Gobion. Mr. Pacey who was 77 years of age, died at his home 32 Warren Road, Yardley Gobion, on May 27.
A native of Far Cotton, Northampton, Mr. Pacey was well known in this district. For 10 years he was manager of the Navigation Inn, Cosgrove. While at the Navigation, Mr. Pacey also helped at the County ground, Northampton and was a barman during the cricket season.
With his wife, Mrs. Gertrude Pacey, he left the Navigation almost 12 years ago, and went to Grafton Regis where he took over the White Hart. After three years, Mr. Pacey retired and moved to a house in the village which he left three years later. He then moved to Yardley and lived in Warren Road ever since. During the 1914 - 1918 war Mr. Pacey joined the Forces and was a driver and then a butcher. He leaves a widow, one son and one daughter. Cremation at Milton followed the service.
---
Wolverton Express 24th March 1967
Cruising Down the Canal
The annual Fitting-Out dinner of the Navigation Cruising Club was held at the Navigation Inn, Cosgrove, last Friday when 40 members and wives were present. The club Commodore, Mr. E C Stanbridge, who presided, mentioned the encouraging response to efforts for new members. He introduced the club president, Mr. L B Baillon, of Phipps Northampton Brewery Ltd.
Mr. Baillon expressed pleasure at the growth of interest generally in the inland waterways and appealed to all who were interested to join in the activities of the Cruising Club. He was certain that it would be found a most rewarding pastime. Mr. Baillon announced that he was donating a trophy to be competed for annually. The dinner was followed by a social evening during which colour films of cruising activities were shown.
---
Wolverton Express 4th April 1969
NAVIGATION INN
COSGROVE
Come and enjoy yourself this Easter in pleasant surroundings and good company_
The boating season has now begun and there are many activities of interest.
We have a large children's room where the family can be all together.
THE QUADRANGLE FOLK FIVE
will be here again on Easter Saturday evening at 8.30 p.m.
---
Wolverton Express 6th June 1980
Cosgrove pub in top twelve
The Navigation Inn Cosgrove has achieved a rare distinction – it has been chosen as one of the top twelve "Pubs Which Welcome Children."
Jimmy Young – no relation to the DJ – has researched 23,000 pubs in his time – he even featured in the Guinness Book of Records as the man who had visited the most pubs in Britain.
For his book Pubs Which Welcome Children, David and Charles £1.95, he actually visited 600 which were known to make special facilities for families. Mrs Betty Brassett, a widow with grown up children and grandchildren, keeps a special family room.
---
Wolverton Express 10th October 1980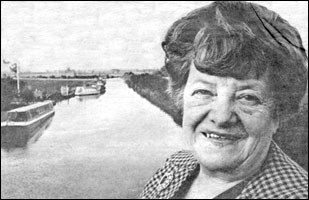 LEAVING THE CANAL FOR AN ADVENTURE DOWN THE NILE
Report: Stephen Bell
INNKEEPER Beryl [Betty] Brassett, left the helm of the Navigation Inn, Cosgrove, last week for a trip down the Nile. Mrs Brassett left this week for her 10-day trip to Egypt which includes the trip down the Nile. "I'm being very adventurous, I'm going on my own," said Mrs Brassett who is keen on archaeology. With her husband Trevor, Mrs Brassett, 56, took over the Navigation 15 years ago. After her husband's death 10 years ago, Mrs Brasseti, ran the pub with help from her son, John, now 28.
Mrs Brassett, who in January decided to retire, has spent most of her life in Stony Stratford and Cosgrove - where she was horn. "I think the Navigation is really me. I've put my stamp on the place in the last 15 years. It's been happy all the time I've been here," she said. "I feel I have done my thing and just want to retire. It will be an awful wrench tonight," she said on her last day at the canal side inn. Last night, her customers for the last 15 years gathered to give her a send-off. "It was absolutely super. It was a full house and to my delight there was not one who was not a regular."
The customers chipped in to present her with a bouquet of red carnations and a ring. The Licensed Victuallers Association gave Mrs Brassett a floral display and a cheque. She also received numerous cards and telegrams. "I'm quite looking forward to it. I'm going to lead a full life," she said of her retirement. But locals need not worry that they have seen the last of Mrs Brassett. The pub is being taken over by Hamilton Taverns and the company plans to redevelop it with emphasis on the canal side aspect, though the plans have not been finalised, says the firm. When the overhaul has been completed Mrs Brassett says she will be back, at the invitation of the new owners, to pull the first pint.
---
Flying High: David and Toni Hanagan

The Navigation, a snip at £98,000
Mirror on Sunday 27th February 1983
IT'S ALL PLANE SAILING FOR DAVID

by Stan Szecowkao
Airline steward David Hanagan and his air stewardess wife, Toni, are coming down to earth with a £130,000 bump!
For they have just forked out a fortune on the Navigation Inn at Cosgrove.
Their £98,000 bid at a public auction at the Coffee Pot, Yardley Gobion, on Tuesday, was enough to secure the historic canalside pub.
Although they didn't have a lot to do with the proceedings, as David, 31, who at present lives in High Street, Woburn, explained: "We had a solicitor and a friend there doing all the work. It was the first time my wife and I have ever been to an auction and it was rather fraught."
Potential
"I kept very quiet. I don't think my heart could have kept up with the bidding. Yes, it is a lot of money, but this is the sort of place we have been looking for a couple of years. It is a long term investment and I can't see us moving out for another twenty years. It was really a case of paying for potential – the Navigation will certainly have that when the Blisworth Tunnel re-opens."
The inn will probably have to close while extensive renovation work takes place. The Hanagans say they are talking of spending another £30,000. They are being joined in the venture by David's parents, William and May, who have been running the Anchor pub at Aspley Guise for the last three years.
Meanwhile David and his wife Toni, 32, will have their heads in the clouds for a little longer working for British Airways. Although that won't be for ever, as David explained: "It's a young man's job and it's time for a change. We'll be concentrating full time on the pub and hopefully by the end of the summer I would hope we would have got it to our liking."
---