Mrs Dorothy Warren researching in the mid 20th century, wrote that
"In the early 17th century Sir Arthur Throckmorton of Paulerspury was lord of the manor of Cosgrove and owned 320 acres,* but Edward Furtho, lord of Furtho, owned 420 acres in Cosgrove, and actually lived there, his own house and church at Furtho being ruined. Besides the large house he lived in, he owned another capital messuage or mansion house, and the quarries appear to have been his. Bechier, an antiquary who was active at that time, said Edward Furtho was lord of a manor in Cosgrove, and although it has been impossible to find out how he became so, it does seem likely that he was descended in some way from the Rivel family. For some years before his death he was steadily accumulating stocks of stone and lime from the quarries with a view to rebuilding his manor house and church at Furtho, but he died in 1619. He was succeeded by his only son Edward who did rebuild Furtho church but perhaps not the manor house. He died unmarried only two years after his father, and his property was divided between his two sisters, Ann wife of Anthony Stanton of Great Brickhill, and Nightingale wife of Samuel Mansel, a lawyer of the Inner Temple, but descended from the ancient family of Maunsell. Ann received the Manor of Furtho and sold it to Sir Robert Banastre of Passenham.
Nightingale had the Cosgrove estate and Knotwood which really was a wood at that time. There were also houses at Old Stratford and Stony Stratford, and land there, which was divided between the sisters. Samuel and Nightingale Mansel settled at Cosgrove.in a house which no longer exists and which it is impossible to locate precisely, but it is supposed to have stood on the site of the present Hall. Samuel had Knotwood cut down and ploughed up to make a new farm of about 35 acres, quite a sensible proceedure one would think, but it caused trouble for Nightingale later on. After the death of Samuel in about 1632, Nightingale married Francis Longueville the 7th or 8th son of Sir Henry Longueville of Wolverton. A year or two later she received a demand from the crown for payment of £156, being a fine imposed on her because Knotwood had been destroyed without a licence from the king, it being part of the Royal Forest of Whittlewood. Samuel, being a lawyer, must have known that he ought to have asked for a licence, but like many other landowners at the time he risked it. Nightingale sent a petition to King Charles I begging to have the fine remitted or reduced as it was not her fault, and indeed was to her disadvantage. She had ten small children for whom she had no bread. We need not take seriously the statement that her children were starving, but it would be interesting to know if she really had ten children. Unfortunately the early registers of Furtho and Cosgrove, which might have enlightened us, are lost, thrown away, no doubt, by a tidy-minded churchwarden or cleaner."
In 1620 the [Furtho] estate included 23 a. of coppice, underwood and woodland at Knotwood, (fn. 63) and in 1666 woodland there was assessed separately from the arable, meadow and demesne lands of the parish when poor rate was levied.
He [Edward Furtho] also owned Brownswood Green, late parcel of the possessions of Snelshall priory; a cottage and land purchased of Thomas Ely and George Merrell; Knotwood Coppice (23 a.), purchased of Sir John Ramsey and Thomas Emerson; and Brownswood itself (8 a.); all of which were held directly of the Crown.
In the mid 17th century the parishioners of Furtho paid a periodical levy for the relief of the poor and the repair of the church assessed at varying rates for different types of land. The manorial demesnes and meadows were rated at 3d. an acre, the arable and leys at 1½d. an acre; Knotwood, the main area of woodland in the parish, was rated at ½d. for each 'haigh'. Houses with no land paid 4½d. each. A levy on this basis in 1666, collected by the overseer and signed by the rector and three others, produced £5 19s. 11½d., of which Banastre Maynard paid over half (£3 5s.) for the demesnes, which were reckoned to extend to 260 a. Altogether the assessment listed 359 a. of demesnes and meadow (a heading which also included Knotwood) and 218 a. of arable and leys, a total of 577 a., about 83 per cent of the statute acreage of the parish. Either some land was exempt or (as seems more likely) the acreages were notional, used only as a basis for rates and taxes and not intended to be an accurate measure of the actual size of each holding. In addition to the parishioners of Furtho, the assessment also listed four holdings in Potterspury (totalling 9 a.), ten in Yardley Gobion (36 a., including 4 a. for Moor End) and four in Old Stratford (two houses with half an acre each and two other houses with no land). (fn. 64)
23N.R.O., Old Stratford parish recs., letter from J. W. Marchant, Knotwood Farm.
NRO, Map 4210 General Topic c.1600
This is early C18 copy of map of Whittlewood, apparently of c. 1600. mainly stops at A5 but shows one piece of green (for woodland) on Furtho side of road opposite Shrob Lodge (in Passenham). This is an inverted L-shape which must represent Knotwood. Includes the house shown as Knotwood on OS 1:25,000 (on A5) and five fields adjoining. Mark up on 1:25,000.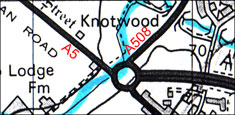 Knotwood Farm

Year

Age

Occupation

Where born

County

1841

Joseph Day

45

Farmer

N

1851

James Rendall

70

Farm Baliff

Syresham

Northamptonshire

1901

William Robinson

70

Grazier

Thurleigh

Bedfordshire

1911

William Robinson

80

Grazier

Thurleigh

Bedfordshire
The Electoral Rolls reveal names of people who rented Knotwood Farm.
From 1833 to 1842 Joseph Day is registered at Knotwood Farm as an occupier.
From 1880 to 1882 David Price occupied it and registered to vote.
In 1885 John James Horn was an occupation voter.
In 1887 Albert Morris moved from Passenham parish to occupy Knotwood. In 1889 John James Horn moved back from Cosgrove to Knotwood Farm, and William Austin Robinson was a tenant there. Both appear until 1891.
In 1901 Knotwood Cottage was part of the Furtho Census.
In the 1939 Electoral register the occupants of Knotwood Farm were Henry Holland Downing and Grace Alice Downing.
---
Early in 1950 local residents began to campaign for the creation of a civil parish of Old Stratford. After a public inquiry the county council made an order to establish a parish, with a nine-member parish council and one rural district councillor, consisting of 806 a., taken from Cosgrove, Deanshanger and Furtho. After local objections to the proposed northern boundary of the new parish, an additional area, including Shrobb Lodge (in Deanshanger) and Knotwood Farm (in Furtho), was added to Old Stratford, bringing its size up to 1,334 a., closer to those of adjoining parishes. As modified, the order was confirmed and took effect on 1 April 1951.Seven street lamps on the Cosgrove side of Watling Street, installed in 1949 by Cosgrove parish council, were transferred to the new Old Stratford council.
---
Wolverton Express 10th April 1959
FARM SALE
On instructions from Mrs. E. L. King, Messrs. Osborne and Son conducted the sale of Knotwood Farm, Old Stratford, at the Cock Hotel, Stony Stratford, on Friday last. The farm comprises 45 acres 2 roods 14 poles, and is situate on the main Watling Street. A good company attended the sale and after spirited bidding the farm was sold at £5,050, the purchaser being Mrs. J. Oliver, of Brackley. The solicitors acting for the vendors were Messrs, Athay and Lorimer of Buckingham.
---
Buckingham Advertiser and Free Press - Saturday 10 July 1954
DEATHS: KING. On Wednesday, 7th July, 1954, at Knotwood Farm, Old Stratford, Albert King passed peacefully away, aged 58 years.
Service and interment at Cosgrove Church, Saturday, 11 a.m.
Period property – or property … period!
This derelict building is being put up for auction on November 9 and the advertisement board describes it as a period property for conversion.
The house known as Knotwood Farm has been empty for about 20 years and the only sign of life around it has been the occasional tramp using it for a resting place.
STRATFORD
Period Northamptonshire stone farmhouse
suitable for modernisation, with various
outbuildings and 3 acres land.
FOR SALE BY AUCTION
(Unless sold previously by Private Treaty)
at the Cock Hotel, High Street,
Stony Stratford.
at 3 p.m. on THURSDAY, NOVEMBER 9,
1972
Following our article last week about Knotwood Farm, Old Stratford, being auctioned as a period residence, a correspondent has given me some interesting facts about this ancient building, which has been empty some 10 years.
The deeds date back to 1580 and the farm probably got its name through being an Elizabethan gatehouse to the forest that covered a great part of this area.
Built at the side of the A5 its easy accessibility gave it added importance – not only from an agricultural point of view.
The deeds show that during the 18th century the farm was owned by a succession of Guards officers in London. And there was an equally long list of tenants, all of whom were spinster!
It is understood the reason the farmhouse has been empty for ten years is the delay in finalising plans for the A5 diversion. It is only now that a decision has been made not to use the land for road works that the property can be put on the market.
John Marchant, of Knotwood Farm, retrieved from the Priory a campaign trunk containing straps and bags from WW1. The metal plaque on the top declares the trunk as belonging to P Y Atkinson, and the stencilling on the kitbag shows his unit as 5th Dragoon Guards.

This is now kept in the Upper Room at Cosgrove Church, for use on Remembrance occasions.
NRO, Old Stratford parish council records 1985 Philip Riden notes
In a folder of cones. re footpaths is an exchange of letters with John Marchant of Knotwood Farm, Cosgrove Road, Old Stratford, 1985, re diverting a footpath. The letterhead describes the firm as Marchant & Son, farmers, est. 1948: J.W. Marchant (i.e. John) and D.J. Marchant.
Also some letterhead on same folder for D.F. Sansome, farmer, Furtho Manor Farm (1981) re footpaths over his land. Possible that his landlord will be making applications in near future for minor diversions.
Another paper on file (memo to members of parish council) from Marchant states that he has farmed Knotwood area since 1962. Built a house in 1969. You will see in yard our collection of World War II vehicles; my hobby is to restore them. Am interested in local archaeology and have found many sites in area over years. In field OS 92 I have found an old track; perhaps over centuries path was diverted to run as it does now through OS 90 instead of 92. with a sketch map. Also a comment at end that his address has always been Knotwood Farm, 'plant is Furtho pit' (apparently where he keeps old plant). Copy the plan.