Cosgrove Bakery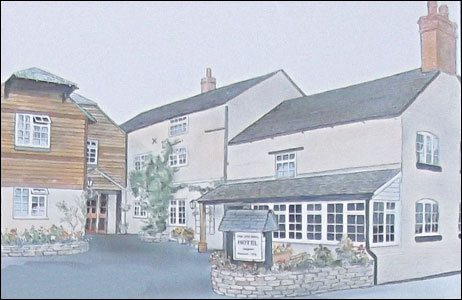 Painting of the Bakery 1992
This 17th Century former village bakery, standing in Main Street, has been a focal point in the village for generations and when the Grand Union canal was cut through the village in 1800 the bakery was an important staging post for the canal bargees to purchase rations and stable their horses. At about the time of increased trade the bakehouse oven was enlarged to cater for the canal people. The bakery continued to trade until the commercial business on the canal ceased. The last bread was baked in 1964.
---
Northampton Mercury - Saturday 20 November 1869
COSGROVE, near Stony Stratford.
ALL the HOUSEHOLD FURNITURE, BAKING UTENSILS, useful HORSE, SPRING CART and HARNESS, Two-knife CHAFF MACHINE, WEIGHING MACHINE and WEIGHTS, and other EFFECTS
TO BE SOLD BY AUCTION, By BEESLEY and SONS,
ON THURSDAY NEXT, NOVEMBER 25TH, 1869, by order of
the Assignees of Mr. THOMAS CANE.
See Handbills.—Sale at Twelve o'clock.
THE HOUSE and BUSINESS TO BE LET and entered upon immediately.—Apply to Mrs. Foster, on the Premises; or to Mr. Thomas Higgins, Hanslope.
---
Northampton Mercury - Saturday 10 December 1870
Oct 27th, at Chicago, America, of typhoid fever, John Cane, late of Mare Fair, Northampton, eldest son of Thomas Cane, late of Cosgrove, Northamptonshire, aged 27, deeply lamented.
---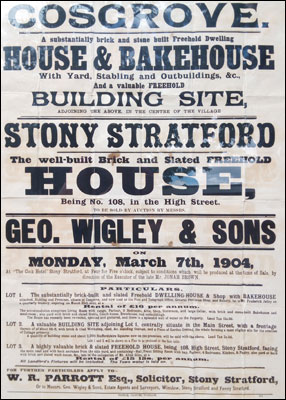 COSGROVE.
Substantially Brick and Stone-built Freehold
DWELLING HOUSE and BAKEHOUSE,
With Yard Stabling, and Outbuildings, Etc.; and
A Valuable Freehold
BUILDING SITE,
Adjoining the Above, in the Centre of the Village
STONY STRATFORD.
The Well-built Brick and Slated Freehold
HOUSE, Being No. 108, in the HIGH STREET,

ON
MONDAY, March 7th, 1904,
At "The Cock Hotel" Stony Stratford, at Four for Five o'clock, subject to conditions which will be produced at the time of the Sale by
direction of the Executors of the late Mr. JONAH BROWN.
PARTICULARS.

LOT 1. The substantially brick-built and slated Freehold DWELLING HOUSE & Shop with BAKEHOUSE
attached, Stabling and Premises, situate at Cosgrove, and now used as the Post and Telegraph Office, General Provision Shop, and Bakery, let to Mr. Frederick Jelley on a quarterly tenancy, expiring on March 25th next, at a

RENTAL OF £16 per annum.

The accommodation comprises Living Room with range, Parlour, 2 Bedrooms, Attic, Shop, Storeroom, and large Cellar, with brick and stone-built Bakehouse and meal-room; also yard with brick and slated Stable, Coach-house, Brewhouse, and outbuildings.
The House has recently been re-roofed, spouted and guttered, and there is a splendid well of water on the Property. Land Tax 15s 0d.

LOT 2 A valuable BUILDING SITE adjoining Lot 1. centrally situated in the Main Street, with a frontage thereto of about 60-ft with brick & tiled Workshop, shed, &c. standing thereon, and a Piece of Garden Ground, the whole forming a most eligible site for the erection of a Cottage property.

A quantity of building stone and about 2,000 Staffordshire Squares now on the premises, will be sold with the above Land Tax 2s 0d
LOT 3 A highly valuable brick and slated FREEHOLD HOUDE, being 108, High Street, Stony Stratford, facing the main road and with back entrance from the side yard, and containing - Hall, Front Sitting Room with bay, Parlour, 4 Bedrooms, Kitchen, & Pantry, also yard at back with brick and slated wash-house, &c., late in the occupation of Mr. Allan Giles, at a
Rental of £15 15s. per annum.
All Landlord's Fixtures will be included. The Town water is laid on.
TO BE SOLD BY AUCTION, BY
MESSRS. GEORGE WIGLEY and SONS, on MONDAY, MARCH 7th, at the COCK HOTEL, STONY STRATFORD, at Four for Five o'clock, subject to conditions which will produced at the time of Sale, by direction of the Executor of the late Mr. Jonah Brown.
For further particulars apply to W. R. PARROTT, Esq., Solicitor, Stony Stratford; or to Messrs. George Wigley and Sons, Estate Agents and Surveyors, Winslow, Stony Stratford, and Fenny Stratford.
---
Northampton Mercury - Friday 27 June 1947
WANTED Baker to assist in bakehouse and rounds (motor); start at once: good references; house available.—Electric Machine Bakery. Cosgrove.
---
Northampton Mercury – Friday 19 March 1948
WANTED Exped Man for Bakehouse, as second; electric mixer; seide flue: 25 sacks weekly; over T.B. wages: house available: Gd references.
Norman, Cosgrove
---
Wolverton Express 3 January 1964
Fires go out at village bakery
The delicious smell of baking bread is rapidly vanishing from the villages of North Bucks. and South Northants, where at one time almost every village had its own bakery.
The latest bakehouse to close down is at Cosgrove, where Mr. Eric Harold Norman, of 60 Stratford Road, let the fires out for the last time on Saturday.
Nearly 40 years
Mr. Norman explained that deeds for the property near the aqueduct show its dates back to 1740 – but he is not sure how long it has been a bakehouse.
His father, Mr. A. W. Norman, began baking at the age of ten, and when he and his young son Eric moved to the village in 1926 they took over the bakehouse and began their own business. Mr. Norman, sen., Died 12 years ago, but helped by Mr. Jack Johnson, Mr. Eric Norman continued to bake and go out to Castlethorpe, Hanslope, Old Stratford, Stony Stratford, Deanshanger, Wicken, and even Leckhampstead.
For the past few weeks Mr. Johnson has been waiting to enter hospital, and Mr. Norman had been carrying on with what help he could get. Unable to replace Mr. Johnson, he thought it best to see to his rounds and discontinue bread making. As yet he has not sold the old bakehouse with its oven made by Robert's at Deanshanger 70 or more years ago.
The business has been sold to Messrs. Simmons, of Leighton Buzzard, the firm that trade under the upside-down name of Snowwis.
Oven fresh
During his period at Cosgrove, Mr. Norman tells us that he made a tremendous amount of bread which was the "real McCoy." He claimed that his bread sold in preference to "this plant stuff" because customers would rather have the oven-fresh loaf.
When cut and wrapped bread first came out trade dropped, said Mr. Norman. Now trade was back to normal and as good as ever. The oven fires would never be re-lit, he said, adding that he did not know of a similar bakehouse between the village and Northampton.
Bakers had, finished at Deanshanger and Handslope, and Mr. Norman said he had gained a percentage of these rounds. Now, although his customers were disappointed, they would have to go over to the "plant stuff'.
With only one daughter, who is married and living away, Mr. Norman could not hand down the bakery to his family, and therefore when this latest shortage of manpower affected the working of the business, he decided to sell out.
---
Wolverton Express 22nd July 1966
By Instruction of Mr. V. G. F. Coleman.
THE OLD BAKERY COSGROVE NORTHAMPTONSHIRE
With Vacant Possession
DETACHED COUNTRY PROPERTY WITH GARAGING FOR THREE CARS
A delightful property with attractive and unusual elevations, offering: 3 reception rooms, conservatory, kitchen, 4 bedrooms, bathroom, large playroom, attic room; attractive gardens with garaging for three cars.
This FREEHOLD PROPERTY will be offered for Sale by Public Auction (subject to conditions of Sale to be then produced and unless sold previously by Private Treaty) at THE COCK HOTEL, HIGH STREET, STONY STRATFORD, on WEDNESDAY, AUGUST 17, 1966, at 6 p.m. Solicitors: E. T. Ray and Co., 79 High Street. Stony Stratford, Bucks (Tel. 3232/3). To view and for all further particulars, apply to the Auctioneers:—
PHELAN AND AGUTTER 18 MARKET SQUARE NORTHAMPTON Telephone 32322 (4 lines)
---
Old Mail June 1986

"When my father and I came to take over the bread business in the Old Post Office, the bread van which was then in use was a 1919 model, sent from Birmingham by rail and the ignition through the post. It was so old and so bad. Many times I had to use a reverse gear to climb up the Canal bridge to get onto the level road. As for starting – it was completely hit and miss! The ultimate way was to jack up one of the rear wheels, use the starting handle and then be careful it didn't fall off the jack! But a good advert for Fords!!

The old place those days was supplied with water by the wind pump, and to use it, my father used to charge one shilling per year to keep it in repair. Cheap enough. But the interesting thing about the water well was that I should think it was 40 yards deep and 6 feet across and lined with what I should think were lime stones, which is most unusual. I'm guessing that the well was 400 years old.

Another most unusual thing was that on about three or four occasions a man came down Bridge Road carrying a bucket. He would stop, turn the bucket upside down and sing on it, standing on his hands. Then he would go round the houses with his hand out. They probably gave him something to get rid of him. I didn't see this actually happen but the story was widespread."


By Mr and Mrs Eric Norman of Stratford Road
---
Recollections of the Old Bakery and Post Office
By Rosemary Burch, nee Norman
Where does one start?
My father ran the Bakehouse in the village and I can vividly recall every inch of the building. My mother worked as ladies' maid to Mrs Winterbottom at Cosgrove Hall for several years, till meeting and marrying my father.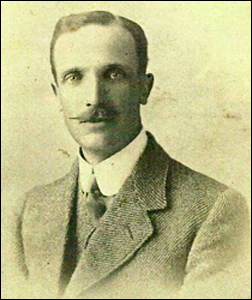 Alfred William Norman father of Eric Harold Norman
Born in 1941, at 60 Stratford Road, Cosgrove, the first years of my life are somewhat vague, but I recall on several Sunday afternoons my paternal grandparents, Alfred and Ada Norman, would take me for a drive in their car – leather seats, in those days. I used to visit them both when they lived down at the Green. And I can remember the usual, now collectable, pug dogs, on the living room mantelpiece and eating a luxurious Quality Street chocolate.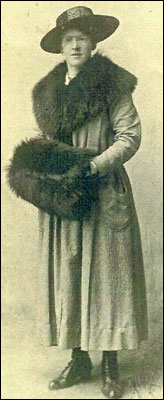 Ada Norman wife of Alfred
Nanny Norman also walked me to the Locks on the canal where the Buckingham Arm meets the Grand Union. I can remember the barges going through the Locks in pairs and the smell of the coal en route to London. We also fed the ducks alongside the towpath.
Vague memories of when my grandparents moved up the village to the Post Office and Bakery. The names of Horace and Florence Brassington come to mind. As a child, I thought what an unusual name. The garden that ran at the side of the garages was blessed with many loganberries, which of course, I enjoyed.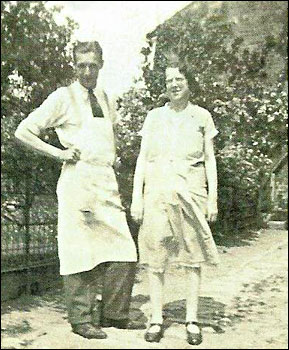 Eric Norman with his mother Ada in the driveway at the side of the bakehouse.
As I grew older I can remember my father, Eric, taking me to the Bakehouse on a Sunday morning whilst he made up his "Rounds" book in what looked like a lot of squiggles, probably Baker's Shorthand! His office left a lot to be desired, with papers everywhere, cobwebs everywhere too, and a large safe in the corner, obviously for the week's takings.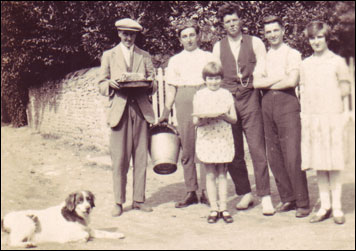 Taking the Sunday dinner down to Cosgrove bakehouse for cooking which cost 3d.
A. Andrews, Sid Eglesfield, his daughter Janet, Sandy Key, Ted Eglesfield, Olive Eglesfield.
Sunday mornings were Sunday roast times. People came with tins covered by tea towels; payment was put in a blackened bread tin. I often wondered how people recognised their own particular roast, and did it keep warm till they reached home?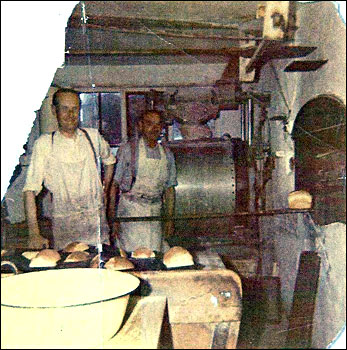 Eric Norman and Jack Johnson in the bakery.
There is still a cottage in Bridge Row called Jack's House where he lived.
I have never mastered the art of breadmaking, but can still see the great troughs full of dough, my father and Jack Johnson weighing pieces of dough quickly, popping them into the tins and the lovely aromatic smell of crusty bread coming from the oven. Fresh water came from a well near the Bakehouse door until hygiene regulations forced my father to install hot and cold water. What luxury!
I used to go on the bread round with my father during my youth. Great fun at first as it must have served a purpose, but as I got older, after school [Olney Convent School] and work, I used to dread it, but you never said No to your parents.
Christmas was very special to me as my father used to let me watch him make and decorate what seemed many, many Xmas cakes displayed on top of the dough troughs. I clearly remember "lifting" the odd glace cherry from a deep commercialised tin whilst his back was turned.
Memories are always to be treasured, both good and bad, so I put pen to paper to record my link with Cosgrove.
---
| | | |
| --- | --- | --- |
| Ref: | Date | Occupant |
| Kelly's Directory | 1847 | Thomas Cane, baker & grocer |
| Whellan History of Northamptonshire | 1849 | Thos. Cane baker & grocer |
| Kelly's Directory | 1854 | Thomas Cane, baker & shopkeeper |
| Census | 1861 | Thomas Cane |
| Kelly's Directory | 1869 | Thomas Cane, baker & shopkeeper |
| Census | 1871 | Joseph Barker |
| Census | 1871 | Matthew Willison ? |
| Census | 1881 | Joseph Barker |
| Kelly's Directory | 1890 | Willison Mary (Mrs.), baker |
| Census | 1891 | Timothy Whitlock Wake (stepson Fred Canvin Willison) |
| Kelly's Directory | 1894 | Timothy W. Wake, baker |
| Kelly's Directory | 1898 | Arthur J. Jelley, baker, Post Office |
| Census | 1901 | Fred A Jelley Postmaster - Baker |
| Kelly's Directory | 1903 | Arthur J. Jelley baker, Post Office |
| Kelly's Directory | 1906 | Arthur J. Jelley baker, Post Office |
| Census | 1910 | Arthur F. Jelley baker, Post Office |
| Kelly's Directory | 1911 | Arthur Fredrick Jelley - Baker & Farmer Postmaster |
| Kelly's Directory | 1914 | Malcolm Eckford Jelley, baker, Post Office |
| Kelly's Directory | 1920 | Malcolm Eckford Jelley, baker, Post Office |
| Kelly's Directory | 1931 | Alfred Wm. Norman, baker & Post Office |
| Kelly's Directory | 1940 | Alfred Wm. Norman, baker & Post Office |